'Travelling the world' is a desire pretty high on most peoples bucket lists, right? Getting the chance to escape routine, to have a lie in instead of going to the gym to workout, to wake up to the ocean, to sit on the beach whilst the sun rises with a mug of freshly brewed coffee, to road trip, to scuba dive etc etc. There's just so much out there to see and we're ready to get out there and see it! Most likely the exact reason you're on this blog post / following me!
The wanderlust is real.
Life on the road takes travelling to the next level. It's a lifestyle adopted by so many entrepreneurs and content creators now that a career online is so viable. I have personally spent the last 3 years on the road (pretty much), living out of a suitcase and pursuing all the curiosity I have of the world.
Whilst I once had the desire to escape every sighting of routine, vowing to never 'settle' for that lifestyle – I have now exhausted that mentality and find myself desperately craving routine on longer adventures.
I've just this week got back from 8 weeks in Australia and I've noted now that probably after about 4 weeks into any trip / seriously busy period in my schedule, if I'm not careful my health and mentality begins to slide. My priorities slide, I get lost in a never ending to-do list and I don't regulate my sleep or give my body the love it desires. I burn out.
A lot of 'the burn out' comes down to the energy exerted and consumed through things like navigating a new country, being in transit, jet lag and generally through the high level of adventure and workload associated with my job on a daily basis. This can leave me feeling mentally and physically exhausted after which I have to take a step back (or a few days off) to realign. The last thing I want to do at this point is go to the gym.
It can be hard to find a balance.
I have no desire to stop travelling.
Don't worry – this isn't my 'I quit' speech at all. My transitional period is simply going to take me from a life on the road to life with a little more balance and with a little less travel. And with that little bit more balance, I hope to be able to put dedicated time aside for the parts of life I've neglected in recent years: friends, family, relaxation and exercise.
Exercise and movement have always sat at the very core of my mental clarity and health.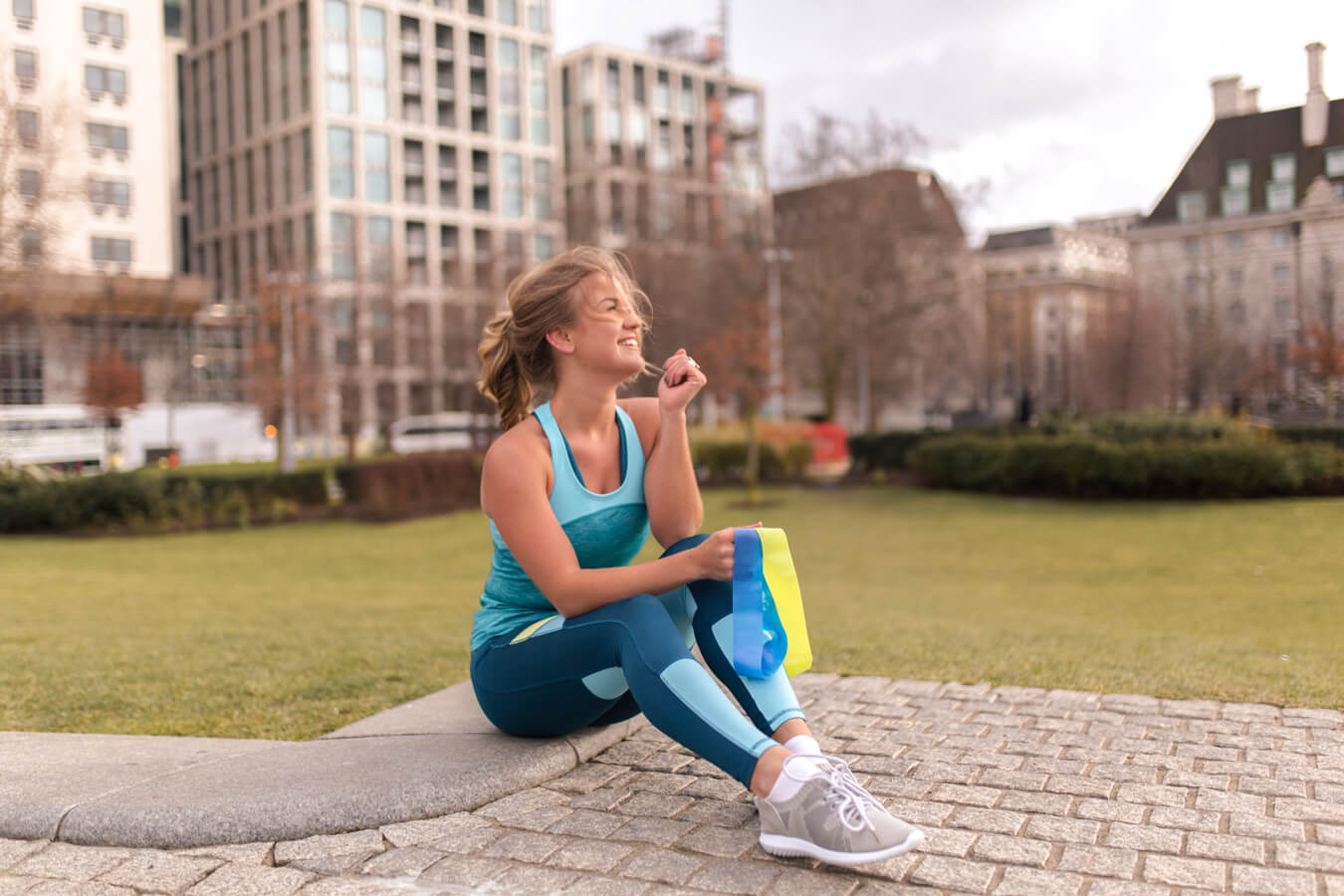 This post is sponsored by Matalan as they recently reached out to me with their 'Value Of Movement' campaign. They wanted to know and wanted for me to talk about why workouts, movement and exercise play such a key part in my life. A topic that I feel is very relevant for me right now as I go through this transition from life on the road to life at home.
Shop my all Matalan workout outfit here:
P.S. How beaut is their gymwear?! I had no idea! The leggings are seriously figure hugging and 'hold it all in'. Dreamy! I had so many compliments when wearing them.
Matalan have teamed up with some incredible athletes on this campaign to find out why exercise has had such a huge impact on their lives. To read more about their stories and see the full Soulluxe collection click here.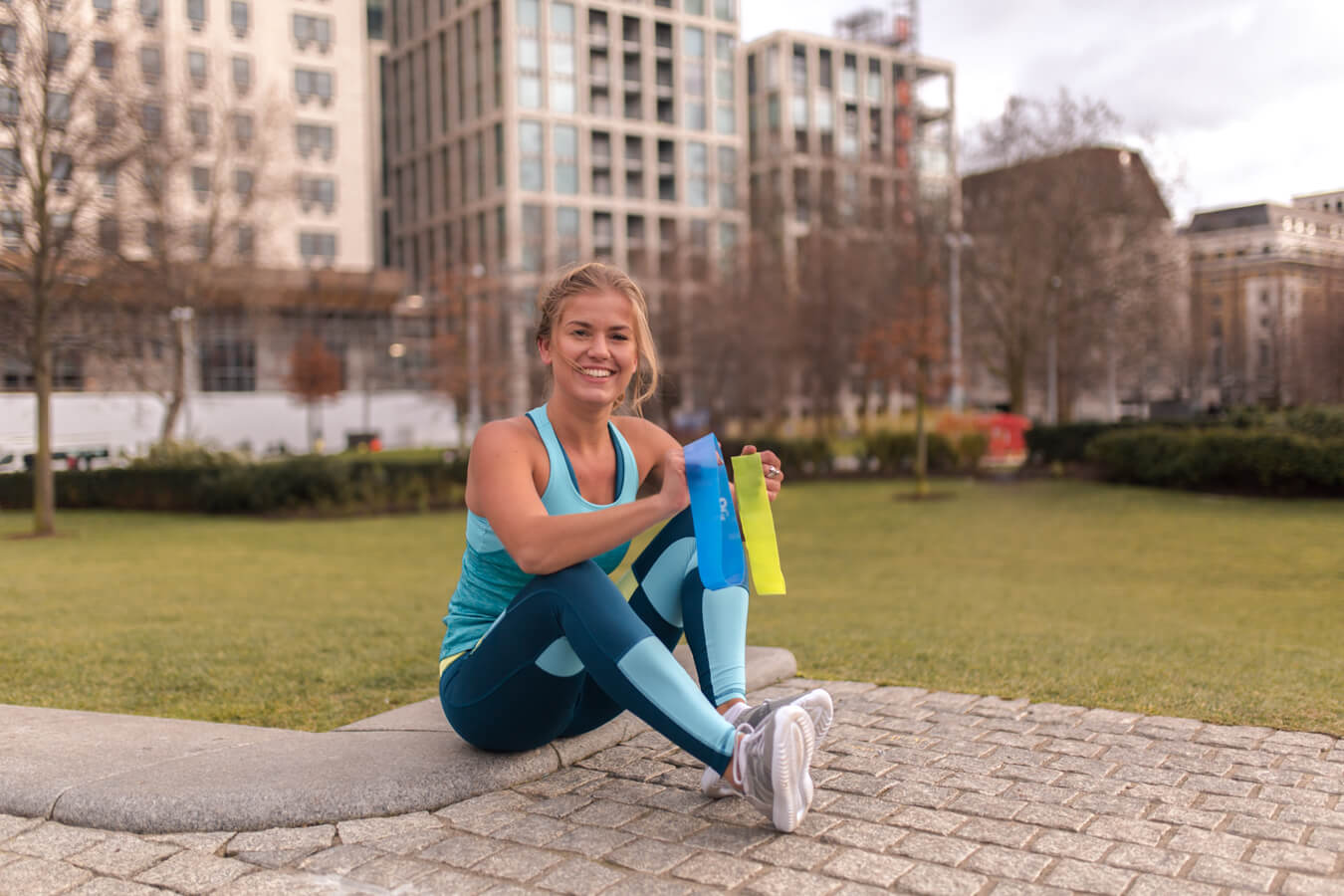 Movement for me, be it a gym workout or class, hiking a mountain, cycling or walking around a city, is essential on pretty much a daily basis for many reasons including:
It provides structure to my days as a freelancer.
It releases happy chemicals (endorphins) which motivate me to work.
I'm always adventure ready because it keeps my body supple and strong.
It encourages mental discipline through task setting followed by achievement, which I can apply to my life.
Often it's social, but it's also something I can do alone when I need space.
It's a great form of self-care – For more self-care tips, click here.
Most of the time it encourage a deeper state of breathing.
Fresh air is a natural therapy for stress relief, and I love working out outside.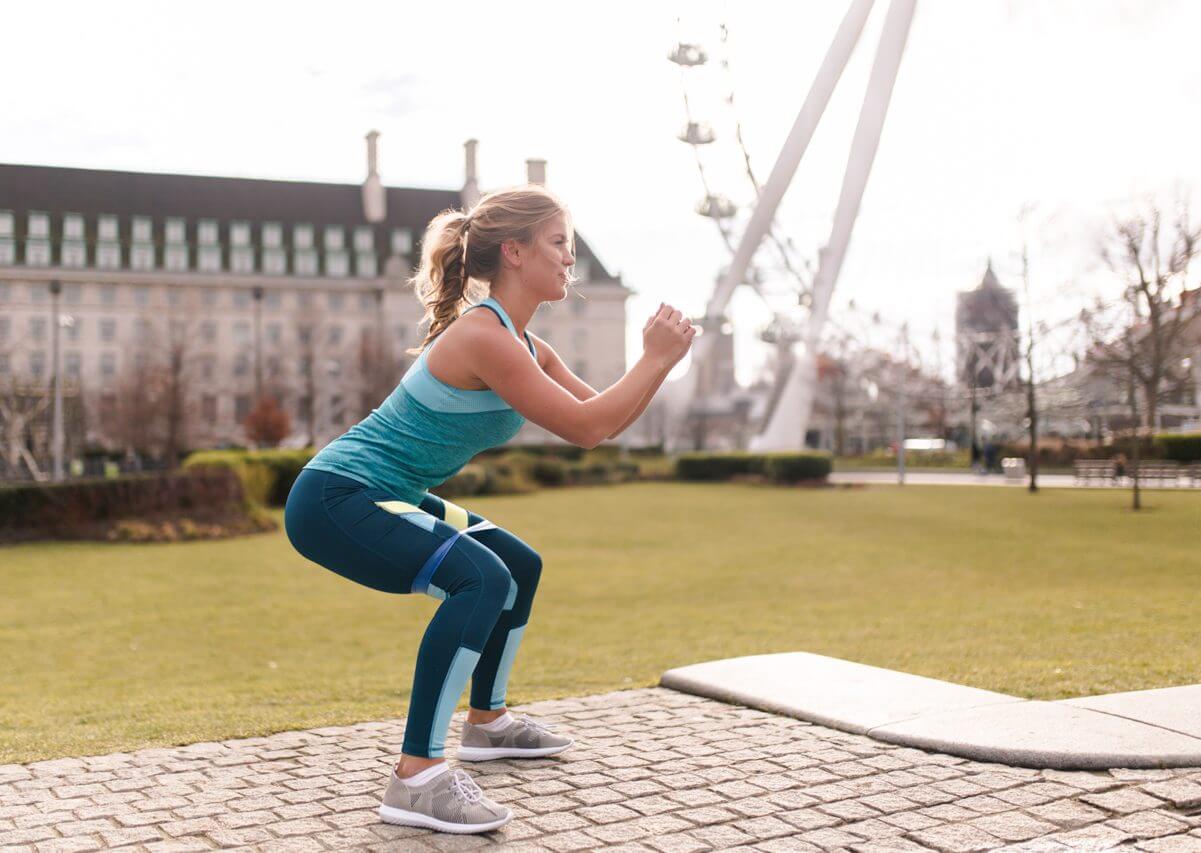 Today I want to share one of my go-to travel workouts.
A workout for when I haven't got the time to find a gym but I need to release some endorphins and to sweat out last nights cocktails.
All of the workouts I do, including this one, work in rounds so I can do as many rounds as I have time for and I can do them wherever I am. I switch up the exercises in the rounds depending on the part of my body I want to work out and I can rearrange them also, according to the equipment I have access too.
Recently I've been travelling with these resistance bands which have allowed me to develop my exercises a bit and increase strength training on the go.
The workout…
What you will need:
2 resistance bands (one for squats one for lat pull down)
A timer to structure the circuit and rounds
How Does It Work?
40 seconds on, 20 seconds off.
4 rounds of the following 5 exercises.
30 second rest between rounds (1 round = 5 exercises).
The 5 exercises:
1. High knees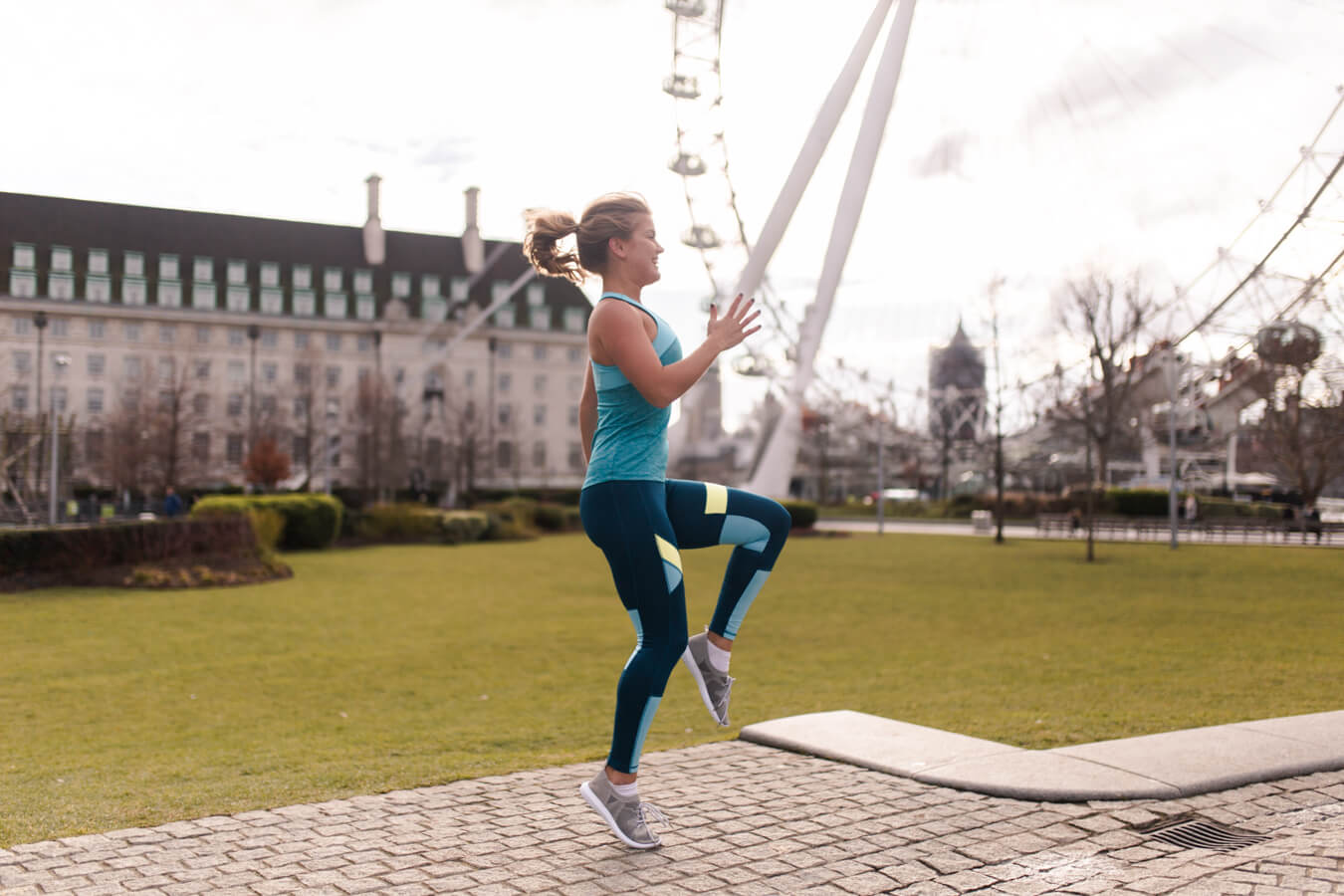 2. Resistance squat (20 Seconds) with resistance squat jump (20 Seconds)
If you don't have resistance bands then squat (20 seconds) with squat jumps (20 seconds).
3. Squat hold with lat pull down
5. Toe touches / Ab crunches / Mountain climbers
I usually alternate this exercise with each round.
Have you got a go-to travel workout?
What are your favourite exercises? I'd love to know!
Love as always + happy adventuring,
Did you find this post helpful? I'd love you to share it for me.
I can't do this without you.
Pin and save this blog post for later…