Birthdays are a WONDERFUL excuse to get everyone together, and as you probably know, mine was this week.
I grew up in Berkshire (South West of London), so I have a bunch of my best friends back here and then a bunch of friends up in London where I engage in all my blogging/ singing work.
We headed somewhere a little different.
Somewhere I have heard people endlessly raving about, but never actually been myself.
Top Golf in Surrey
Other UK locations include: Chigwell (Essex) & Watford (Herts)
THERE ARE LOADS OF LOCATIONS IN THE US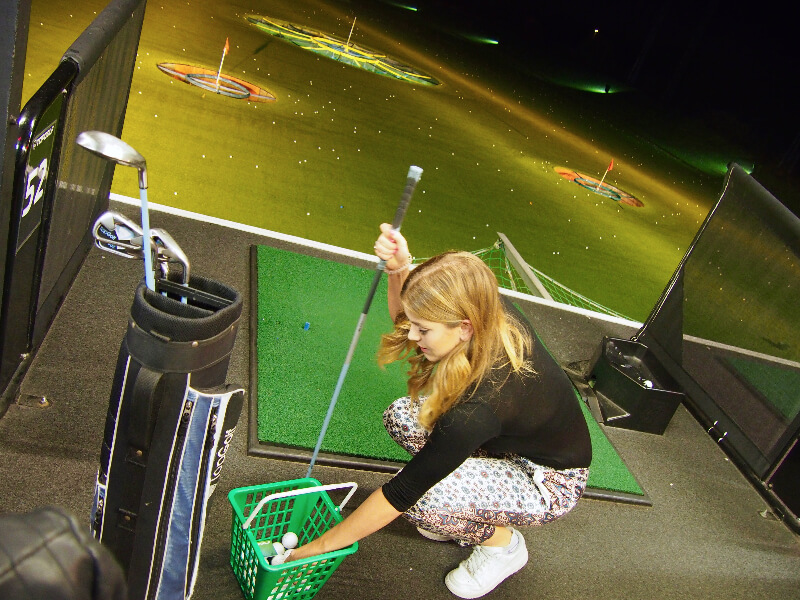 ↠
SO… What on earth is Top Golf?
Be it a date night, a weekend session or a chilled catch up with your best mates, Top Golf offers a venue, an activity and guaranteed entertainment.
You'll be allocated a booth for the evening from which you hit microchipped golf balls into an array of targets on the green.
The Top Golf system will do the math and a score board located in each booth will reveal the leaderboard.
Get competitive or get ridiculous… the choice is yours!
The best thing?
You can order food and drink to your booth
(where you have a table and chairs also)
so you can play, eat & sip your cocktails all night long.

(The food menu is REALLY good. I'm talking… pulled pork burgers, calamari, nachos, sweet potato fries)
FAQ's
Do you need to have played golf before?
NOPE! Only a couple of the girls had been to Top Golf before. The worse you are… the funnier it actually is!
Do you need your own golf clubs / outfit?
Nope! Rock up in whatever you fancy (there are heaters but it's basically outside) & golf equipment is all provided.
How do you get involved?!
First grab a group of friends, choose a location, pick a day…
Top Golf hold special nights (the music and atmosphere gets turned UP) on Fridays & Saturdays –
see more here
↠
Us girlies loved it so much we have decided to make it a regularly occurrence – an excuse to catch up more often.
Next time we may to try the FootGolf (same concept but with a football) haha!!
Amazing.
Thank you Top Golf for having us 🙂
♡
My Top Golf Experience in photos:
↠
HAVE YOU SEEN MY LATEST VIDEO?
↠
Watch my Canadian Adventures come to life in video:
LET'S GET SOCIAL!
Come and join me on Instagram – molliebylett
I'D LOVE YOU SHARE THIS POST USING THE BUTTONS BELOW…