I'm currently sat outside Pie Face in Brisbane Domestic airport, rinsing their wi-fi and waiting for my last connecting flight to Hamilton Island.
YES I'm in AUSTRALIA! WOOHOO!
Being sat with this coffee in London seems like a lifetime ago now, yet it was the last thing i did…
I'm planning to blog as i go throughout my trip here in OZ so i'll leave my reasoning for being here, until the next post…
↠
25 hours ago… you would have found me in a little cafe in London that satisfied my wanderlust nearly as much as standing on foreign land.
Nearly, i said… but not quite.
I'd like to tell you about a little hotspot crawling distance from Waterloo station, a place in itself thriving with travellers making their way in and out of our beautiful capital…
Four Corners Cafe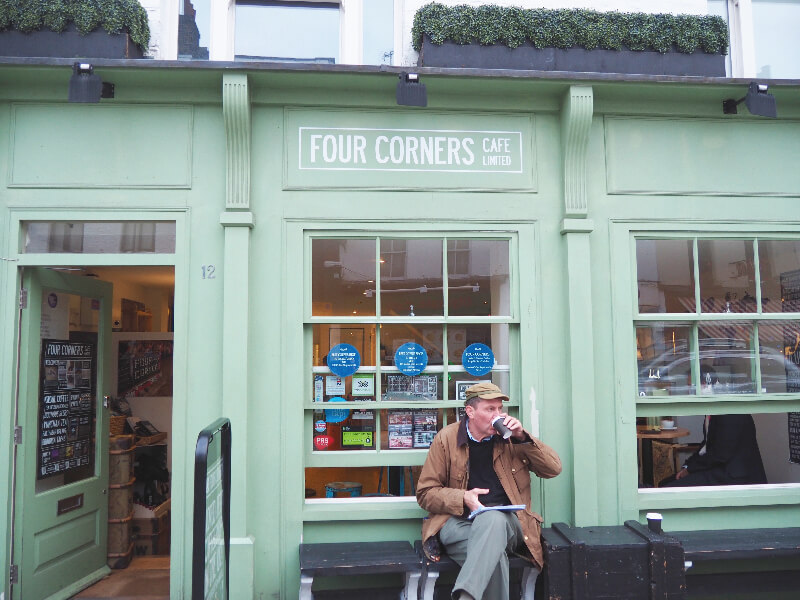 If there's anything that gets a silly childish grin on my face, it's maps, bucket lists, quotes, and basically anything and everything travel related.
From the moment I walked into Four Corners Cafe, i don't think that grin left my face, not even for a moment.
Let me show you round…
Filled with nothing but travel momentos, memories, inspiration and furniture, it goes without saying that this cute (yet little may i add) cafe is solely designed for us daydreamers (& coffee lovers).
Oh and just to assist you whilst you daydream, they have an incredible selection of coffees and cakes, alongside some daily soup cauldrons.
Just to give you an idea of the goodies on offer, we shared a slice of banana, butterscotch and popcorn cake, alongside a slice of the most incredible gooey flourless brownie.
Need I say more.
I couldn't go another day without telling you.
H E A V E N.
↠
So if you find yourself waiting for someone at Waterloo, or with a spare hour as you wait for the Peak hour to disperse, hop on over.
Pop this address in your Google maps:
12 Lower Marsh
London
SE1 7RJ
and thank me later!
P.s. They are open
Mon – Fri 7.30am – 6.30pm
Saturday 9am – 5pm
& closed Sundays.
↠
Thank you for reading!
P.s. would any of you guys be interested in travel meet ups? I'm thinking of hosting some, in London, and eventually around the world!
Leave me a comment below if you think you'd be interested and where you are in the world 😀
♡
Mollie xxxx
↠
HAVE YOU SEEN MY LATEST VIDEO?
Watch my Canadian Adventures come to life in video:
LET'S GET SOCIAL!
Come and join me on Instagram – molliebylett
I'D LOVE YOU SHARE THIS POST USING THE BUTTONS BELOW…