Due to the busy lives we lead at home we had only come to Poland for a flying visit, this meant we had one day to explore Krakow city, and one day to tour the camps.
Why not a long weekend in Spain? (i wish).
My dad turned 60 in January and has always wanted to come to Auschwitz so me and my brother thought it would be the perfect time to treat him.
3am Saturday morning start.
We arrived at the Galaxy Hotel in Krakow at around 10.30am polish time, bounding with energy and ready to start the day…
…slight exaggeration maybe.
We had a cuppa and fuelled ourselves with a naughty bit of sugar ready to start the day!
The sun was out, the walking shoes were on and we begun walking along the riverside to explore the Kazimierz (Jewish) District.
Meet my dad…
Usually what attracts me to a holiday destination is beautiful views, buildings, lots of buzzing restaurants, people, the sun etc.
But admittedly Poland wasn't showing much of this, neither was it what we came for.
There was an eery atmosphere, one of which you can tell there is a lot of history behind, but without a tour guide we were left quite clueless.
For now we had only walked 10 minutes up the road and quite frankly were only interested in 1 thing.
LUNCH.
My dad is a sucker for a restaurant promoter and as they caught his attention on the roadside, he was sold.
Seeing as it was his birthday he was chief chooser.
But a good choice it was – NEGATYW. (I think thats what its called.)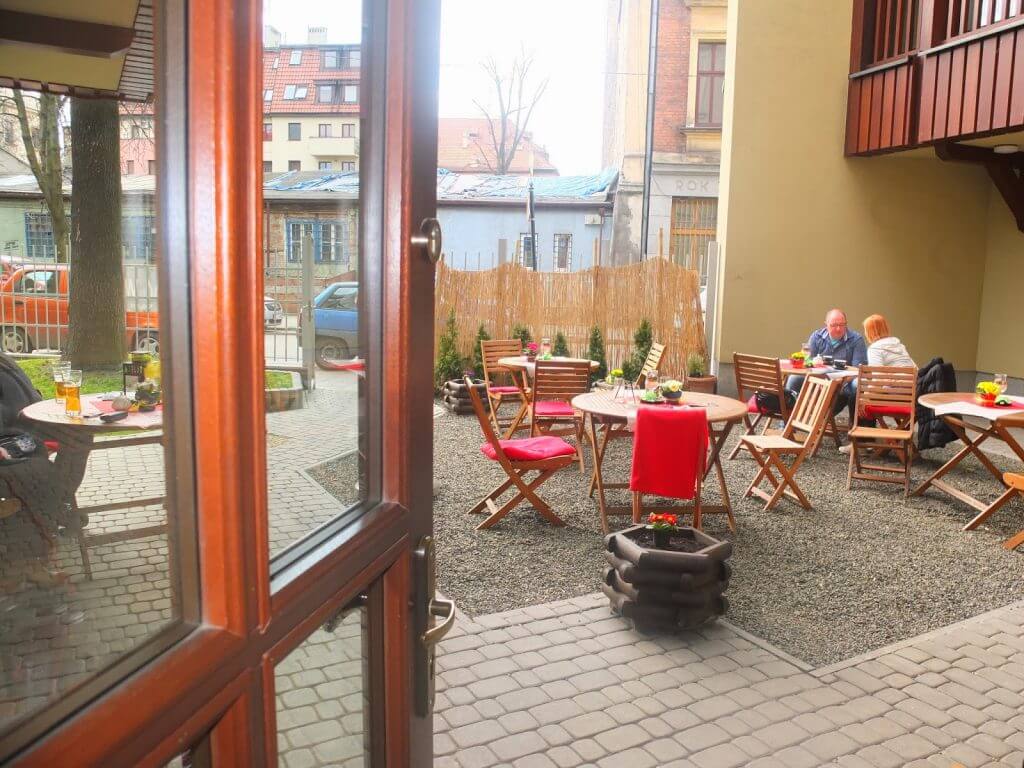 Mozarella, Tomato and basil starter.
And then the 3 of us shared (and demolished) a LARGE funghi pizza.
The food was fresh, satisfying AND cheap!
This was our first experience of purchasing in Poland and out meal came to 60 PLN which is £12! For 3 of us!
Feel like i'm back in Thailand!
Leaving the restaurant smug and full, we walked back along the riverside and crossed over the bridge to find a Love Lock Bridge I knew was hiding somewhere…
Found it!
The Bernatek Bridge.
Write yours and your loved ones initials on a padlock, lock it to the bridge and throw away the keep. So your love is locked forever.
Cute.
We continued over the bridge and begun walking in the direction of The Schindler Factory…
On the way we stumbled across the 'Ghetto Heroes Square' which consists of 68 Bronze chairs facing the direction of Auschwitz which represents the number, in thousands, of the Jews that were shipped from here to the camps.
There is one chair, as you can see below, facing another direction, representing 'hope'.
After getting lost 100 times, we finally made it to the Schindler 's Factory/Museum.
I would highly recommend paying for a little trip on these carts so that you don't get lost. It wasn't sign posted very well and not many people spoke English when asking for directions…
By this time is was 3pm and we were getting pretty tired having already been up 12 hours.
We didn't get a guided tour in the Museum and so piecing the information and pictures together with a tired brain wasn't the easiest thing in the world.
Hey ho. I'd say book a little tour for this, just so someone can do the dot-to-dotting!
We grabbed a little buggy taxi tuk tuk thing and heading back to our Hotel in desperate need of a nap.
Dad and bro passed out up stairs and I headed down to the Spa underneath the hotel for a swim and a sleep.
A couple of hours passed and we were woken by rumbling tummys, so we walked back into the Kazimierz District for a bite to eat.
Don't be deceived by the McDonald's look of the potato pieces (above left) they were AWESOME. The Calamari was yummy, but there was a fair share of batter on it and the Calamari didn't break too easily.
There was actually only one Sea Bass left so me and my brother shared it along with a Seafood Paella (my first Paella experience!).
The fish was really really good, the Paella clearly preheated, but honestly I had no idea what food to expect in Poland and this certainly didn't disappoint.
They even gave my dad and brother a little hip flask present as we left.
Amazing service, friendly, spoke english and made us feel welcome 🙂
As the sunset over Krakow we walked sluggishly back to our Hotel ready to get up at 7am for the real deal. What we had really come here for.
The Auschwitz Tour.
Stay Tuned for a post well worth reading…
♡
Mollie xoxo
Please do come and join me on my other social media for updates, photos and more 🙂