'I had only planned to spent 2, maybe 3, days in Lagos. I'm not sure what happened?'
Yep, I can confirm the rumours are indeed true, Lagos will get you, in the best of ways. After 2 weeks and many failed attempts to leave, I have officially drawn myself away from this little pocket of paradise on the Algarve, here in the South of Portugal to continue my road trip around the country.
In this Lagos travel guide, I am going to share with you all the reasons I fell in love with this gorgeous town, the best places to see and the things you must add to your bucket list!
Lagos is one of the best places to spend your time in Portugal. There are so many beautiful things to do and see in Lagos, making it very easy to fill your time (and lose track of it).
When planning a trip to Portugal, many will have the Algarve and the likes of Lagos at the top of their list. Why? This region, Portugal's southern-most, is famous for its golden beaches, surf hotspots, coastal resorts and warm year-round climate. An incredibly sought after location for obvious reasons, particularly in the late European summer months for that last squeeze of the summer sun.
Whether you're planning a day trip from Sagres, Faro or Lisbon down to Lagos or planning a holiday here in Lagos itself, this Lagos travel guide will give you the best places to go in Lagos, the best places to eat in Lagos and the best things to do in Lagos. Including my favourite surf spots, restaurants, sunset spots and more.
Other travel guides and blog posts you may enjoy:


A guide to exploring Lagos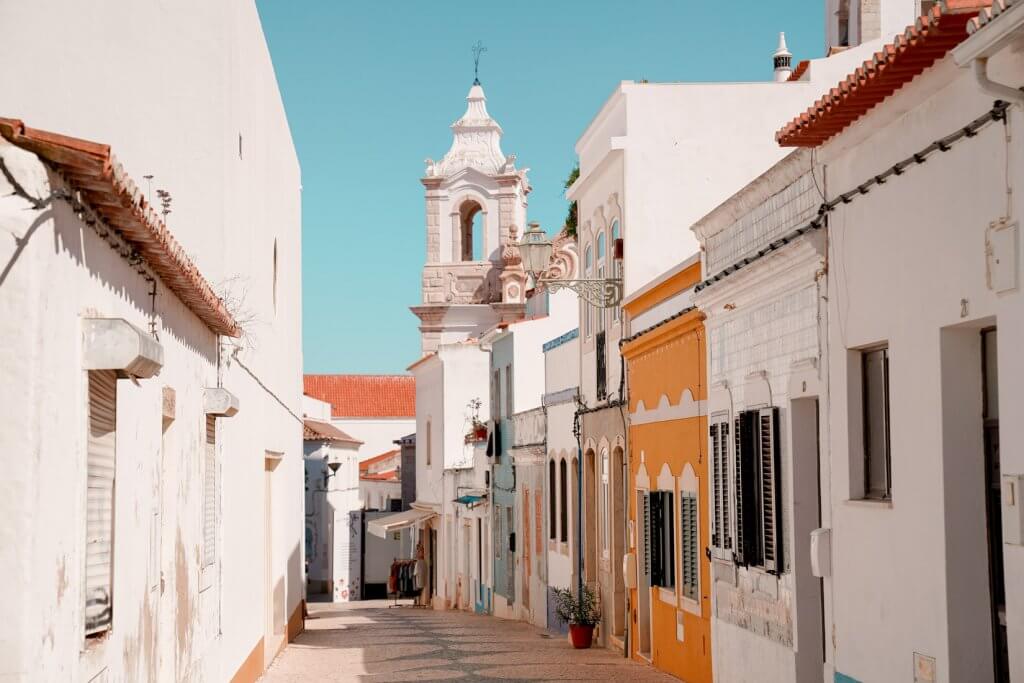 If you're arriving internationally, by plane, into Lagos then you have two options…
I actually drove all the way from England to Portugal before making my way down to Lagos. So if you're keen on planning a similar road trip to Portugal from the UK consider catching the ferry from Dover to Calais.
Read my best things to do and see in Portugal here.


Where's the best place to stay in Lagos?
Lagos is a pretty small town so it's very easy to get around to the main attractions. I'd decide your location depending on what you plan to do when you're in town? If you're looking for a…


The best places to eat and drink in Lagos
Oh gosh. So many. Here are a few of my favourite places to eat and drink in Lagos from experience.


The best things to do in Lagos
You literally cannot come to Lagos and not get in the water. When staying in Lagos you have access to so many beaches nearby including the main Lagos beaches and so many more on the south and west coast. There are waves suitable for all abilities so check the waves and hire yourself a board.
Some beaches to check out:
Looking for a surf school?
I can highly recommend The Surf Experience in Lagos and Dream Sea surf camp on the west coast!
2. Explore the Old Town of Lagos
Filled with the colourful patterned tiles, buildings, cafes, doorways and houses that Portugal does so beautifully, the Old Town of Lagos is nothing short of charming.
You can spend an entire day here wandering through the cobbled streets and browsing the little surf shops, cafes and squares.
Lagos Old Town has an old romantic feel to it, almost like you're in a movie. If you're lucky enough to witness the sound of live music welcoming you as you step around the street corners, I have no doubt you'll fall in love a little harder than before.
Should you wish to dive into the energy of the historic roots Lagos is grounded in, be sure to head to the Slave Market Museum, the Forte Ponta da Bandeira or Igreja de Santo António (to name a few).
Incase you're looking for a tattoo...
My gorgeous friend Ruby lives here and does incredible stick and poke tattoos. Check her Instagram here @rubytuesdayashh
3. Enjoy sunset or sunrise at Ponte da Piedade
It's likely that you'll have come across a picture of Ponte da Piedade if you've done any research on Lagos prior to reading this blog post. Gorgeous isn't it?
Just a couple minute drive from Lagos centre, this famous headland shows off a group of rock formations consisting of yellow-golden clifflike rocks standing up to 20 metres high.
There's a free car park right by the headland so it's super easy to jump out if you're pushed for time. I would also highly recommend exploring more of the coastline here, don't just limit yourself to getting 'that shot' and leaving. It's a gorgeous area to walk around and even more so at sunrise with a coffee or sunset with a bottle of wine!
4. Eat traditional Portuguese cuisine at Restaurante A Forja
Make sure you tuck into some traditional Portuguese dishes whilst you're visiting Portugal. I actually never got around to eating at this restaurant but my Portuguese friends recommended this restaurant straight off the cuff when I asked him.
If it's given the seal of approval by a local, you can guarantee you won't be disappointed!
5. Check out the local beaches
Change up your beach day locations and make sure you tick off a few of the gorgeous beaches surrounding Lagos including:
6. Have a Meia Praia beach day
Meia Praia beach is the largest beach in the Lagos region and is the perfect place to pitch up and relax for the day. The 4km continuous stretch of golden sand that makes up Meia Praia is so big, it never really feels crowded even on those summer days. The sand is super fine here and there are a few dreamy beach bars dotted along for a lunchtime refreshment/evening cocktail.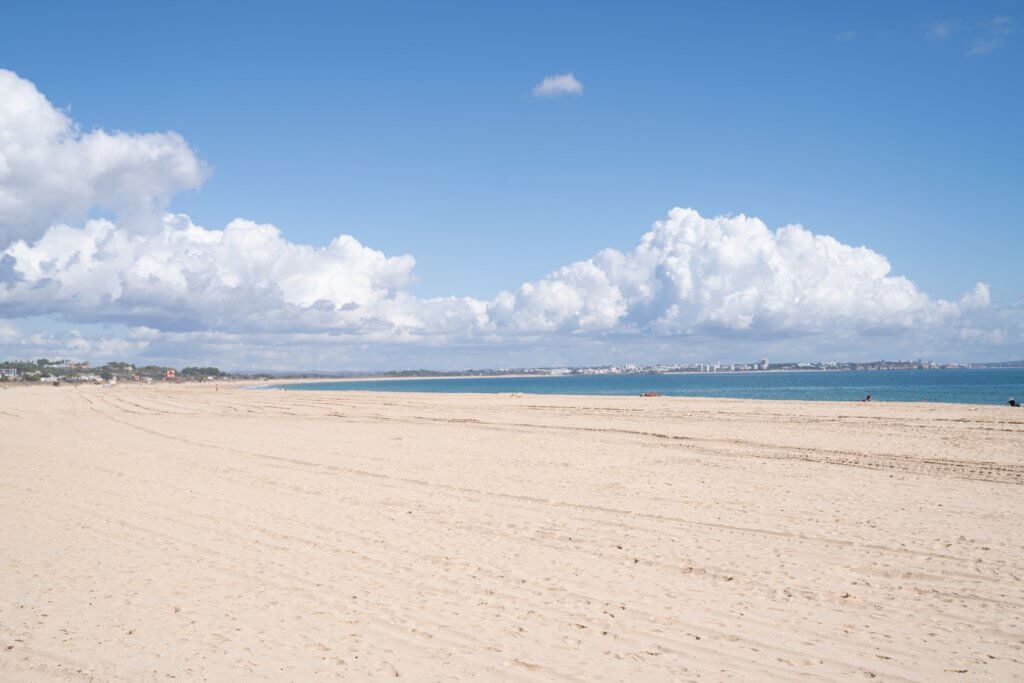 7. Coffee and brunch at Black and White
Part of me feels guilty for seeking out a western brunch spot when I travel because I guess I feel we should embrace the local way of doing things?
However, balance is the key to everything… right?
Oatly flat white and avo on toast for breakfast, Portuguese tarts for lunch?
No, but seriously, the coffee and brunch are amazing here! I also went to InLight yoga studio around the corner for a Vinyasa class and sound healing after if anyone looking for some well-being options in Lagos.
8. Kayaking / SUP around the coastline
If surfing isn't your thing, take to the water with a SUP/kayak. One thing you cannot leave Lagos without exploring is the coastline!
There are lots of tour desks by the marina so if you're seeking to browse and find the perfect activity to you, I'd recommend heading there for some inspiration!
9. Take a day trip to the caves at Benagil
Possibly the most visited spot on the Algarve… but hey, there's a very good reason for it. See image below.
Located along the southern coast of the central Algarve (east of Lagos) between the popular tourist destinations of Praia do Carvoeiro and Armação de Pêra, Benagil is a small fishing village made famous in recent years because of the caves it hosts on its coastline.
You can access the caves by boat, SUP or kayak, depending on your preferences.
We rented a double kayak from the beachfront at 9am for €40 (2 hours) and explored the caves and beaches in the first light. This is a great idea to avoid the swarms of tourists also!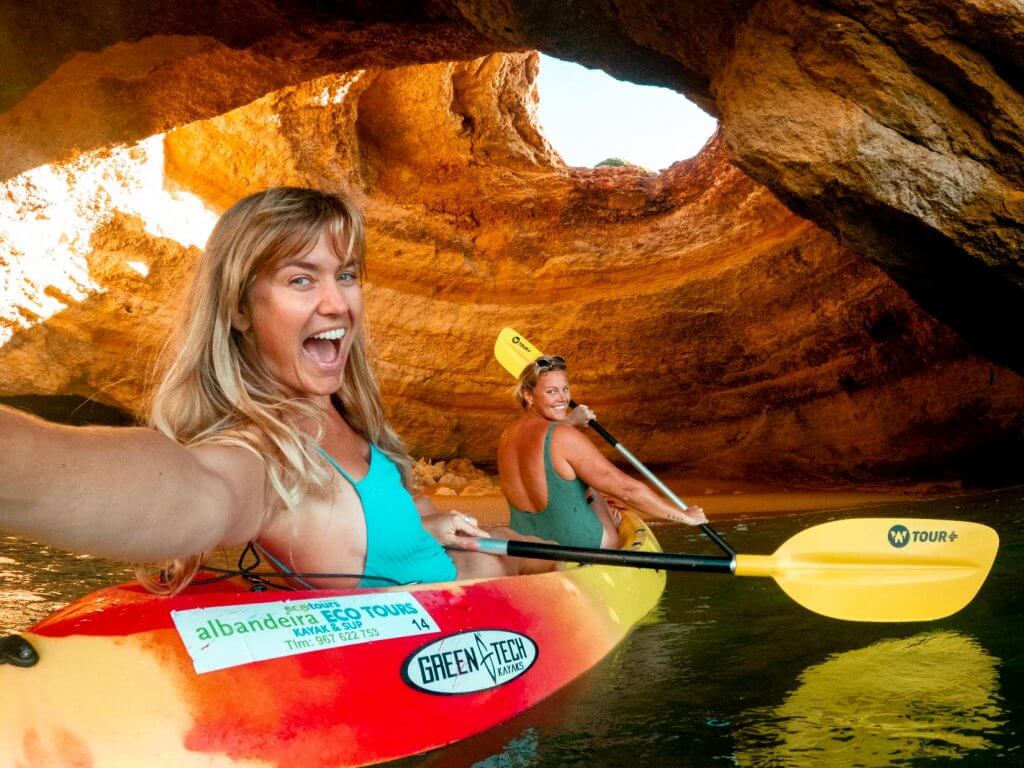 Another incredible way to see the Algarve and its gorgeous coastline is by boat. You can jump on a boat tour / rent a boat to gain this stunning perspective of the rock formations. If you choose to take this option you can tick off two activities at once and get up close and personal with Ponte da Piedade.
Head to Marina de Lagos to chat with the tour / boat companies and to book your boat adventure!
Other travel guides and blog posts you may enjoy:




Where are your favourite things to do in Lagos? Anything you'd add?
Love as always and happy adventuring,


Did you find this post helpful? I'd love you to share it for me.
Pin and save this blog post for later…