Every time I chat with you guys about your adventures in Australia, there are always two stand out destinations that are top of your bucket list and that are at the centre of your questions… Fraser Island and the Whitsundays. For good reason, these are two of the best things to do in Australia and definitely cannot be missed if you are travelling the East Coast!
The thing we all want to know is… How do you travel Australia on a backpacker budget?
So today, I thought I'd tackle the topic of how best to visit the Whitsundays on a budget and how to visit Fraser Island on a budget. In this Australia travel guide, I will take you through the most affordable way without compromising on quality.
Fraser Island and the Whitsundays are at the top of every Aussie bucket list for a very good reason.
Other blog posts / travel guides you may find useful:
Visiting Fraser Island and The Whitsundays: Australia on a backpacker budget
When I first travelled the East Coast of Australia I'll hold my hands up and say that I left it way too late when booking my trips. Spontaneity got the better of me and both my trip and my experience suffered as a result. I still had fun for sure but we aren't here to just have a good time, are we? We're here to have the best time. Right?
Leaving it last minute and travelling in peak season meant that I was left with little choice and in the case of the Whitsundays, I ended up on an average tour that wasn't any cheaper than the better rated and more affordable options. Travelling Australia on a backpacker budget requires you to do your research and to book your Fraser Island and Whitsundays tours way before you often even arrive in Australia.
Learn from my mistakes! Don't miss out and end up paying more for an average experience.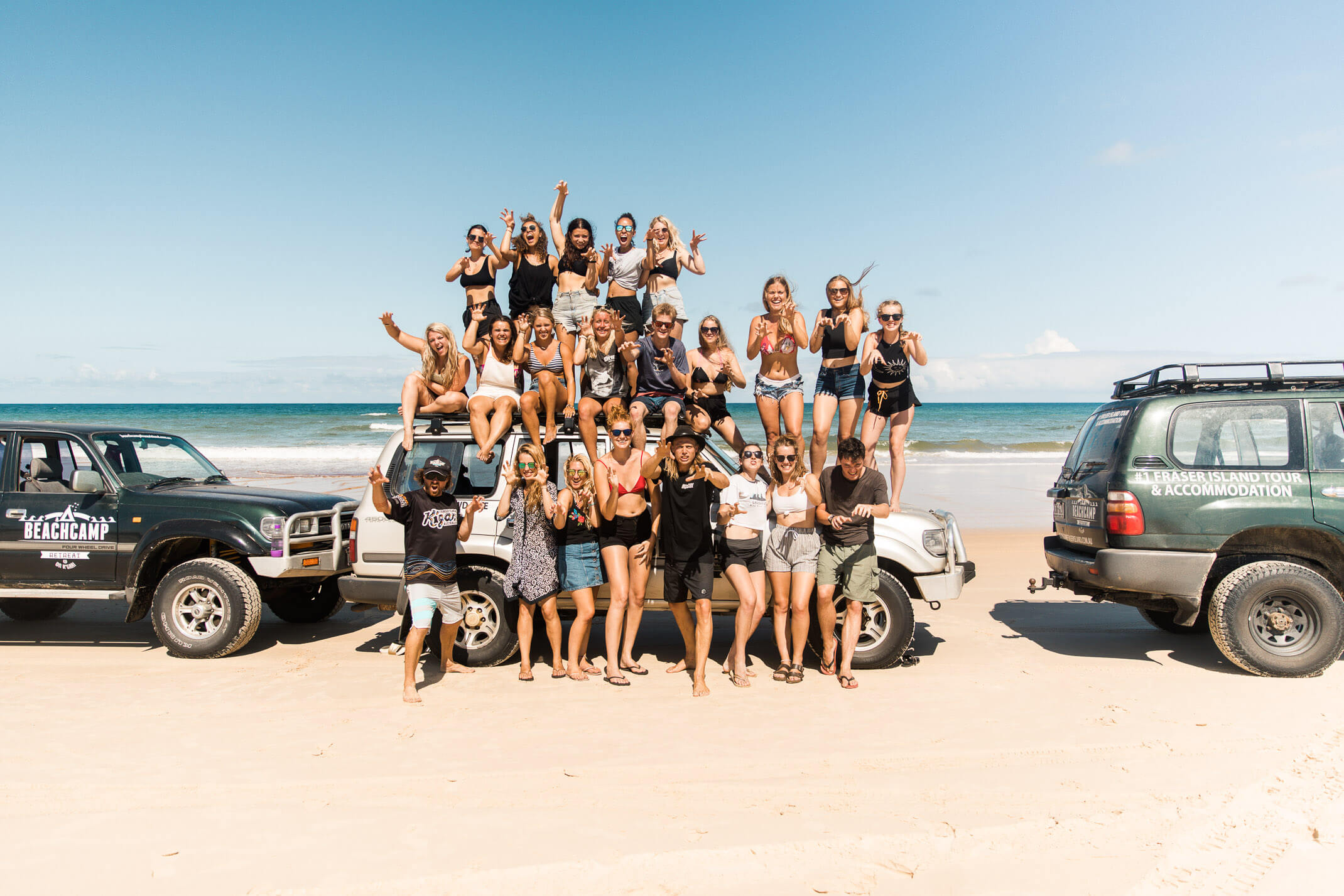 You might be wondering how to avoid that last minute panic to book trips? Well that's where Sammy and the RatPack Travel crew come in. You may have read before that my friend Sammy owns RatPack Travel. He can help you to plan your Australia and New Zealand adventures and save you money in the process!
One of the great things about Fraser Island and the Whitsundays is that there are different experiences to suit everyone's travel vibe. If you have questions after reading this blog then, honestly, send Sammy a message. Sammy has a knack of knowing exactly what tour will be perfect for you based on the type of traveller you are and who you'll be travelling with.
There are also day trips available if you're time down under is limited but you can't bear the thought of missing out this once in a lifetime location.
Which tours offer the most social and affordable experience?
With the help of Sammy I've popped below two trips that are perfect for solo travellers, friends and young couples looking for a really fun but budget-friendly experience. The vibe on the two tours below will be super social and perfect for backpackers travelling the East Coast of Australia. The tours will welcome you to enjoy a drink with the group (if you want to) in the evenings but will keep an emphasis on the beautiful locations rather than silly party games.
First up…
Fraser Island
Our backpacker budget selection: The 3-day/2-night Pippies tag along tour:
I love a family owned and operated business and Pippies is one of the last on the Island. It has an incredible reputation and is the most affordable trip on the market (win win!). The tour is a 3-day 2-night jeep tour which departs from Rainbow Beach. You get to explore the island in a convoy of 4 jeeps, and you even get the opportunity to drive if you are over 21 with a full license. Don't worry if you don't have a license or don't want to drive, you can simply enjoy the ride and be the jeep DJ.
The awesome thing about this experience is that you'll have an Aussie guide who leads the way and will show you all the secrets of Fraser Island and those famous hotspots such as Lake Mackenzie, Maheno Shipwreck, Champagne Pools and Lake Wabby.
This is an off the grid experience. You'll be camping right by the beach and exploring the island: adventure mode is ON! As you bring your own drinks, you can choose your favourite drink to enjoy under the stars with the rest of your campmates.
Fraser Island FAQs
How do I get to Fraser Island?
Fraser Island is off the coast of Queensland (the east coast!). You'll meet the Pippies tour group at Rainbow Beach where you'll start the tour and get the ferry over to Fraser Island. Rainbow Beach is a stop on the Greyhound route and there are hostels in this small beach town. Other tours depart from Noosa so if you need an option from here just shoot Sammy a message using the WhatsApp link I used earlier in the blog.
What is included in the tour?
The short answer is EVERYTHING. You literally just need to rock up at the hostel the day before the trip. You need to take a small school size rucksack over with you; your large bag or suitcase can stay in the hostel. All food, transport, petrol, ferry costs, national park fees, accommodation and of course the tour guide is included. You only need to bring you own alcohol if you choose to; the rest is done for you.
Is the accommodation camping?
Yes! Time to be at one with nature. Camping is the ultimate way to spend your time on Fraser Island and even better the Pippies crew do all the hard bits and you get to relax. The tents are all set up for you and the price includes the accommodation. Think drinks under the stars at night and watching the sunrise on the beach. It's the ultimate switch off and explore adventure.
Do I have to drive?
To be able to drive the 4-wheel drive jeep you'll need to be over 21 and have had a driving license for over a year. If you don't fancy driving, that's also absolutely fine; every jeep needs a DJ!
How does the tour work?
The tour is a convoy of around 4 jeeps. The first one is driven by your tour guide who will take care of everything during the trip. Your accommodation, route, timings and meals are all sorted out by your guide, so you have nothing to plan. The first day you'll head over to the island, bond with the rest of the crew, head to camp and visit some hotspots. The second day is your full day on the island where you will be exploring some unreal places such as Lake Mackenzie, Maheno Shipwreck, Champagne Pools, Lake Wabby and more. During the evenings you'll enjoy dinner with the crew and some drinks if you wish. Then on the third day you'll head back to the mainland to Rainbow Beach.
What should I take with me?
Minimal stuff! With these adventures, you need to leave your main bag at your hostel's luggage storage and take just a small bag for the tour. I recommend taking a couple of outfits, a hoodie for the evening, swimstuff, gym gear, flip flops, trainers, towel, toiletries, sun protection and an offline spotify playlist.
How much money do I need to take?
Just enough for some drinks at the shop and snacks if you fancy – just be prepared to pay 'island prices'. Alcohol is a little bit more expensive on the island as it has to be brought over from the mainland. To save money if you're on a backpacker budget, take your alcohol and snacks with you!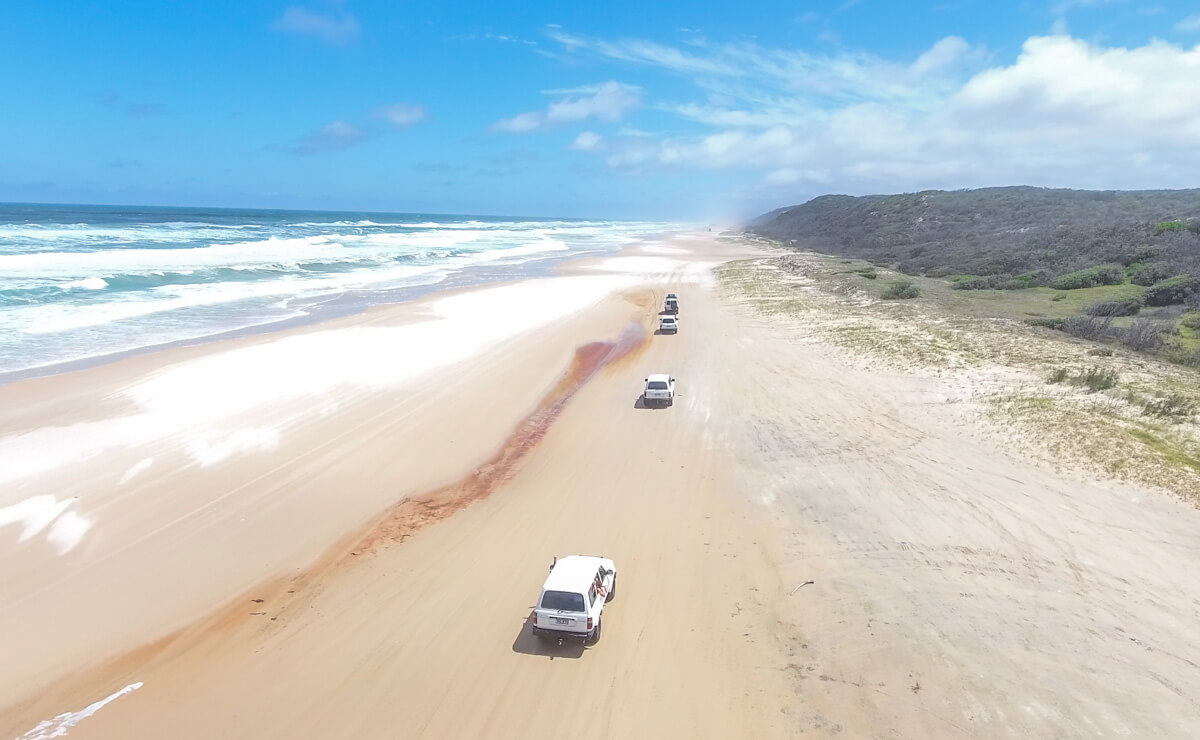 Second up…
Sailing the Whitsundays
Our backpacker budget selection: The New Horizon
If you're looking for an experience that dishes up a perfect combination chilling and fun, then you'll be best suited to the super social backpacker boat that is the New Horizon. This boat is an awesome tall sailing boat with the perfect balance of party and chilled out vibes, all whilst taking in the incredible views of the Whitsundays. This is the most affordable and popular option out of the Whitsundays boats with around 30 people on board.
You'll be sailing around the Whitsunday Islands and of course, be taken to the most beautiful beach in the world. Whitehaven Beach. During the daytime expect a lot of fun including snorkelling, paddle boarding; there's even a waterslide on board!
If you enjoy having a couple of drinks under the stars at night and you like relaxing in the daytime with a group of social and fun backpackers, this experience is perfect for you. You'll be looked after by the professional crew who will cook for you, provide entertainment and tell you all about the beautiful Whitsundays.
Whitsundays FAQ's
How do I get to the Whitsundays?
The Whitsundays are a group of 74 islands off the coast of Queensland. You've guessed it, to get there you have to take a boat! You'll start your tour at the marina at Airlie Beach. I'd recommend staying in Airlie Beach the night before so you don't run the risk of missing any buses. You can get to Airlie Beach by Greyhound bus and there are plenty of hostels and campsites if you are travelling by campervan. Your tour will take you from the marina out to the islands.
What is included in the tour?
Again, like the trips to Fraser Island, the Whitsunday tours are all inclusive: food, accommodation, and national park fees. Just bring your own alcohol and you are good to go.
Do I sleep on the boat?
You sure do! What a unique experience! On the New Horizon you'll be sleeping in cabins underneath the deck. There are 3 different cabins where you will all sleep. It's definitely cosy but a great adventure. There are of course showers and bathrooms on the boat too as well as a kitchen and a chill out area.
Do I need to know how to sail? How does it work?
Nope – whilst you are onboard the boat you do not need to worry about a thing (apart from topping up your reef safe suncream). The crew will do everything. You'll have an awesome team that includes a captain and a skipper, a chef and more. They'll sail the boat, wake you up, cook you dinner, provide snorkel gear and they'll even bring around snacks in the afternoon. Dreamy, right?!
What should I take with me?
Just like Fraser Island, you'll only need minimal stuff! With these adventures, you need to leave your main bag at your hostel's luggage storage and take just a small bag for the tour. I recommend taking a couple of outfits, a hoodie for the evening, swimstuff, flip flops, towel, toiletries, sun protection and some cards for those evening drinks.
Who else will be on the tour?
A group of legends! There will be plenty of other backpackers on this tour from all over the world. You'll find that the crew are often Aussies and all of the guests are backpackers from far and wide including the UK, Germany, France, Netherlands, USA, Canada and more. You'll come back with a whole heap of friends, which makes this the perfect experience if you are travelling solo.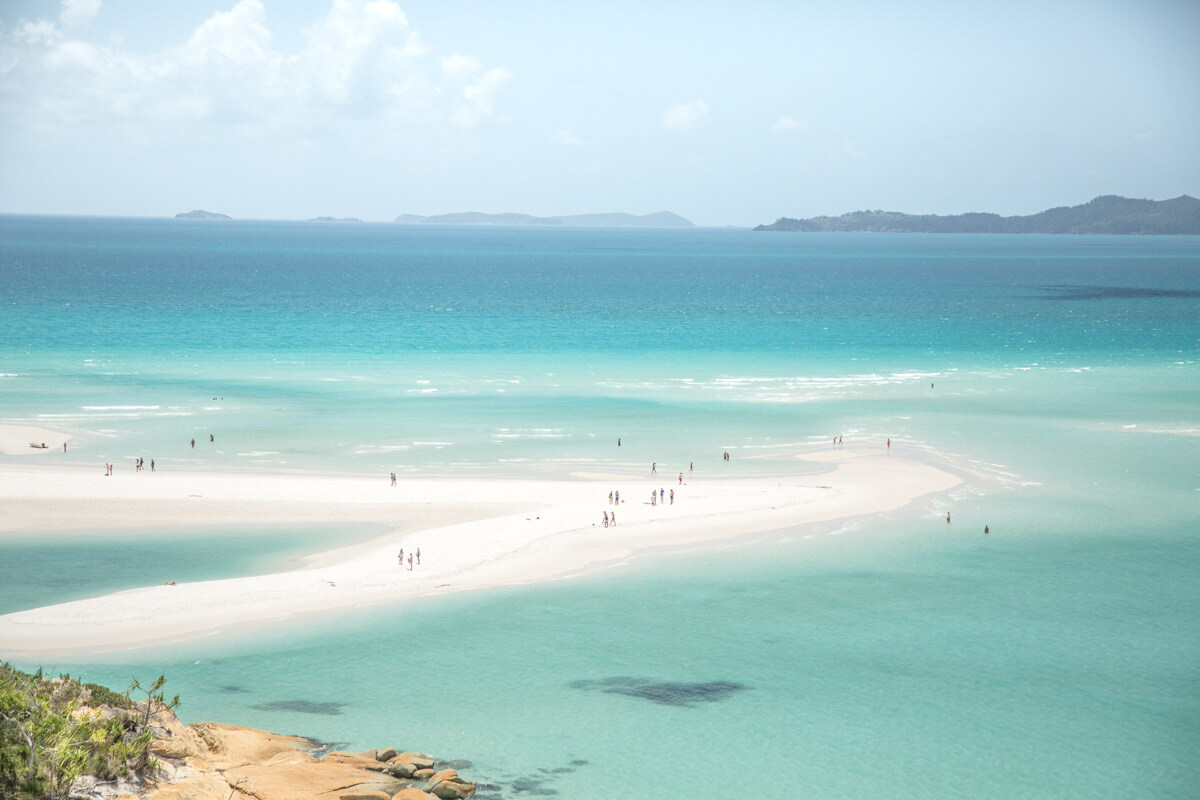 The Whitsundays and Fraser Island should be on every travel bucket list. There's a reason people head to these destinations and it's because they are absolutely incredible. How amazing will it be to look back and say you've been to one of the world's best beaches and that you've driven around a remote island that is completely made of sand? It's these experiences that make travel memorable, exciting and worth it!
When you're ready to book or just chat over booking your Whitsundays and Fraser Island experiences, Sammy at RatPack Travel, is your man. Sammy will give you genuine advice and some very real discounts. Trust me, you won't find a better crew than the RatPack Travel team. Don't forget to use my code MOLLIE10 for 10% discount off any trip to Australia and New Zealand.
If you love the look of these trips, but you are not sure of the date you'd like just yet, drop Sammy a message at www.ratpacktravel.com and he will make you a personalised calendar based on your dates.
Seen a different Whitsunday or Fraser Island trip you like the look of?
There are other options that RatPack sell (and that you can use MOLLIE10 on for 10% discount), including day trips, so if you've seen something you prefer drop RatPack Travel a message and they will sort you out. These were simply the most affordable and fun choices for seeing Australia on a backpacker budget!
Have you been to Australia on a backpacker budget?
What were your favourite spots? I'd love to know!
Love as always and happy adventuring,
Did you find this post helpful? I'd love you to share it for me.
I can't do this without you.
Pin and save this blog post for later…