Portugal is one of the most beautiful corners of Europe to explore, particularly if you're an ocean lover and keen for an active holiday. Saying that Portugal is also very ready for you to come and check into one of its many oceanside hotels for complete relaxation.
Do you know what it's also epic for? A road trip!
I'm guessing you've arrived at this post because you're thinking of doing the drive from England to Portugal but have a few questions or concerns about it? I know I did beforehand! Driving England to Portugal by car is a mission indeed but it can also be broken up and turned into an extended adventure. In this post, I am going to answer the following questions that you may have on your mind…
What happens when I reach the borders of France? Of Spain? Of Portugal?
What do I need to take with me?
How easy is the drive?
Where should you stop off along the way?
What you should remember to take with you when you drive from England to Portugal by car?
What do you need to be careful of?
I've got great news for you, we are going to run through all of the above in this guide to driving from England to Portugal by car.
At the beginning of September, I drove from England to Portugal in my converted VW transporter, spent 7 weeks exploring and living the dream and then a couple of weeks ago I did the big drive back. So from my first-hand experience, here are my top tips for you!


Driving from England to Portugal
When planning the drive from England to Portugal the first thing to consider is which ferry route you're going to take from England because, of course, you need to cross the channel to arrive in mainland Europe.
Popular ferry options: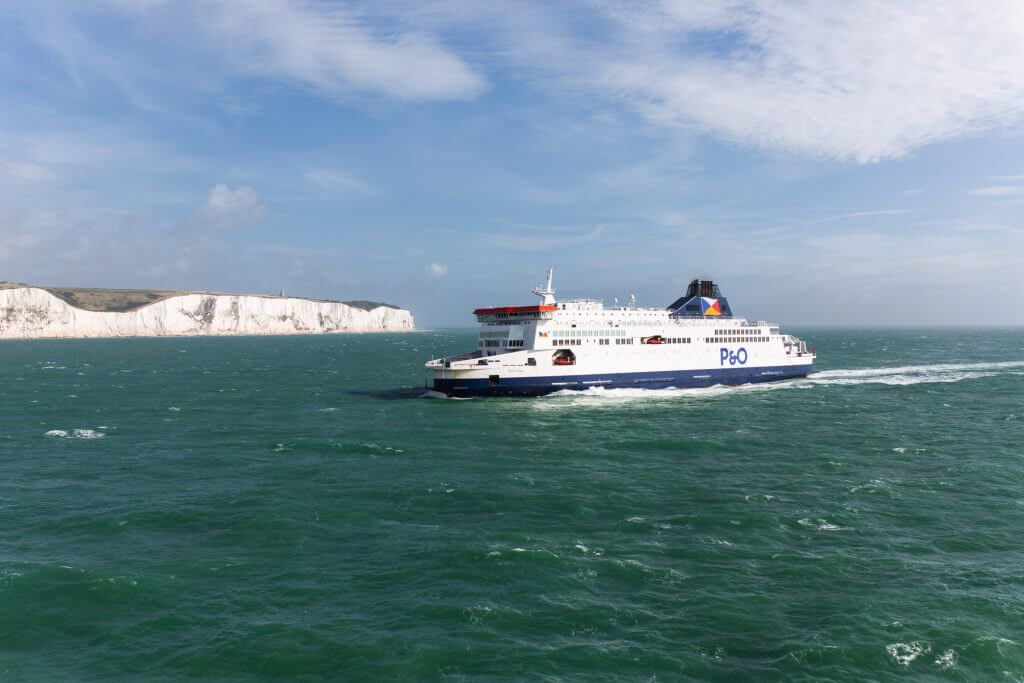 Driving via France vs. driving via Spain
Which route has the least driving?
If you can get a ferry from Portsmouth to Santander (Spain) then the time you will be physically driving on the road will be significantly reduced. I think from Santander to Lisbon it's only around 853km (8 hours) as opposed to 2,043km (19 hours) from Calais when you take the France route.
Which ferry is the quickest?
Though the ferry from Portsmouth to Santander will cut your driving time significantly shorter, the crossing itself is a lot longer than the Dover to Calais. Portsmouth to Santander is a 24-hour overnight ferry and the Dover to Calais is 1.5 hours.
I met people that had encountered a pretty rough 24 hours on the ferry because of the weather so if you're inclined to get seasick, the long drive and short ferry option may be better suited to you, just incase.
Which route is the cheapest?
It completely depends on when you book. If you can get a good deal on the Santander ferry then, of course, you will be spending way less on tolls and fuel. However, if like us, you book last minute and the Santander ferry is £400-500 (inc. cabin) then the £120 average ferry from Dover to Calais plus petrol and tolls will work out around the same.
As an example, driving back from Portugal to England I spent:
£130 on the ferry ticket, £130 on tolls and £200 on diesel. Totalling £460.
We may have saved a bit of money here (once you take into account the petrol cost on top of the Santander ferry) but we actually went for the drive option because we wanted to break up the journey and see a little bit of France along the way. Plus pick up some wine!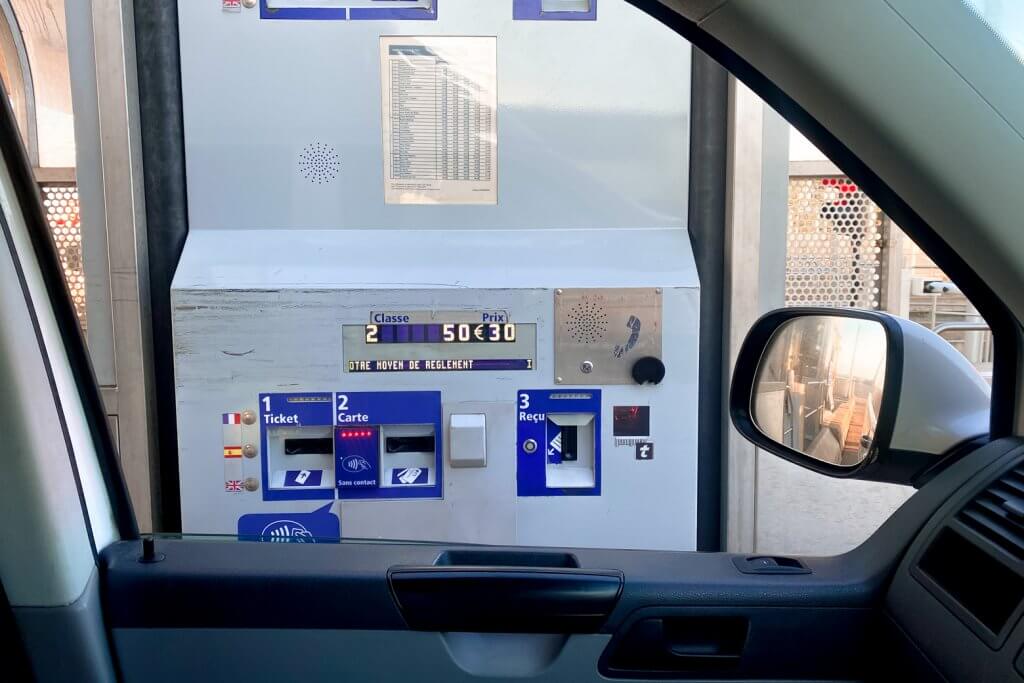 Things to remember before you leave for the ferry:
When driving in another country it is important that you arrange, in advance, with your insurance and breakdown cover to make sure that you are covered in the desired countries. I have RAC breakdown cover in the UK and extended it to Europe 1 week before my trip.
Check the documents you need to have with you when driving in Europe here.
When setting out on big drives like this one it's also really important to make sure your vehicle has been thoroughly checked (MOT and service are up to date) and to make sure all the fluid levels in your vehicle are topped up. Particularly that windscreen fluid, long drives at speed = lots of squished bugs dirtying your vision.
Watch my video below and make sure you've covered all the essential checks before you set off.


We decided to head back to England from Portugal on a bit of a mission and left the drive until the very last minute. Why? Because the universe delivered THAT big swell at Nazaré on the day we were due to leave. See the images from once we witnessed in Nazaré here.
I wouldn't advise rushing the drive back in any way as you really need to allow time for you to be tired when you're tired and for you to stop lots on the way. Responsible driving always. We didn't drive dangerously but we did drive some extremely long drives powered by caffeine.
Day 1
Nazaré – Deba (860km / 8 hours)
Day 2
Deba – Hossegor (120km / 1.5 hours)
Hossegor – Vouillé (418km / 4.5 hours)
Day 3
Vouillé – Calais ferry port (630km / 6 hours)
Places to stop along the way if you drive through France...
When driving through France from Calais there are lots of places to consider stopping off in to add some adventure to your road trip…
Normandy region – a short detour but a beautiful coastline to explore.
Consider a seafood dinner in Fécamp, the famous chalk cliffs and L'Aiguille formation in Etretat and the gorgeous town of Honfleur. The Saturday market is a gorgeous French experience, a perfect excuse to pick up a croissant and wander!
See my 3-day Normany road trip itinerary and images here.
Épernay – the capital of champagne.
Stopping here will take you a different route to 'the quickest route', adding around an hour to the total journey. However, if you're keen to adventure it's the perfect place to toast to your road trip with a glass of the finest bubbles!
See my 3-day road trip itinerary via Epernay here.
Bordeaux – for obvious reasons.
Bordeaux, famous as a wine-growing region, is a city on the Garonne River in southwestern France. Stop at a vineyard, pick up some wine to take with you or have dinner and a glass of the finest.
Hossegor – world-class surf spot
If you're heading to Portugal for the surf, why not stop on the way at another world-class destination? Hossegor is a beach resort set amongst the pine trees of Landes just 30km north of Biarritz in south-west France. Hossegor is one spot along 150km of golden sands on this coastline reaching north to Arcachon. Hossegor's vibe has that Byron Bay come SoCal feel to it. If that's your vibe, you have to stop here.
There are surf outlets here to shop in, gorgeous cafes, restaurants and bars. We stopped here at Waxed coffee, a great place to grab coffee, work and shop!
Biarritz – elegant surf town
Another dreamy surf spot on southwestern France's Basque coast. It's been a popular holiday destination for European royalty for years – evident in its array of gorgeous dining options and hotels. A great place to grab a surf lesson or some beautiful cuisine on the coast!
Places to stop along the way if you drive through Spain...
To be honest, if you take the route from Portsmouth to Santander and you drive the fastest route, I don't have any suggestions unless you take a little detour and visit San Sebastian. Which is absolutely worth visiting…
San Sebastian – a short detour
San Sebastian is a resort town on the Bay of Biscay in Spain's mountainous Basque Country. I am yet to visit here but I have heard so many amazing things. It's said to be extremely picturesque and the perfect place to spend a few days, eating and drinking well in the old town and beyond.
There are however places worth stopping off in inland Portugal, depending on where you're heading first?
Mountain villages like Monsanto and Sortelha to name a few.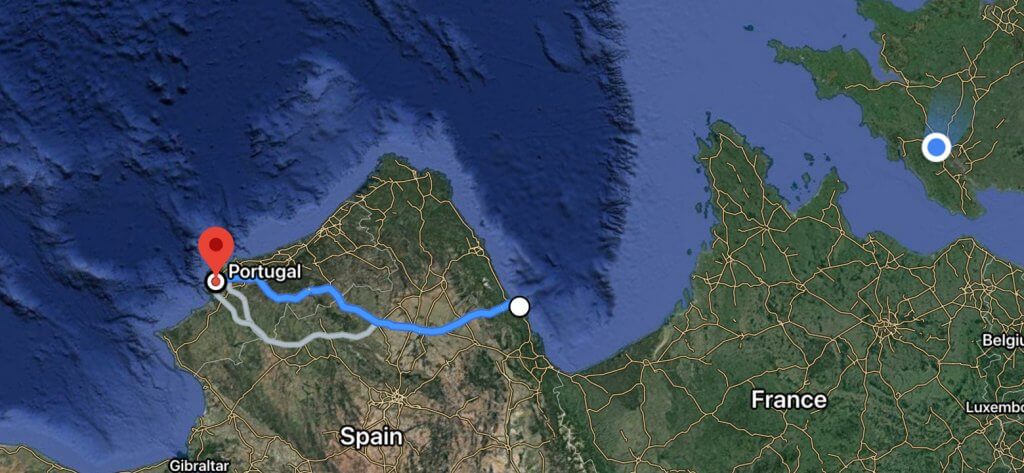 Where to head to first in Portugal?
Okay so you've booked your ferry, have landed in mainland Europe from England and you're approaching Portugal's borders.
Where should you spot first in Portugal?
It depends on what kind of trip you're after, what time of year you're visiting and how long you have?
I had 6/7 weeks to play with so I headed straight for Ericeira and then drove slowly south down the coast through the likes of Guincho, Cascais, Sintra, Carcavelos, Lisbon and Caparica before heading down to the Algarve.
Take a look at my Portugal travel guides here for help planning your itinerary.
If you're starting in the capital city, see my travel guide to Lisbon here.
If you're heading to the Algarve, check out my travel guide to Lagos here.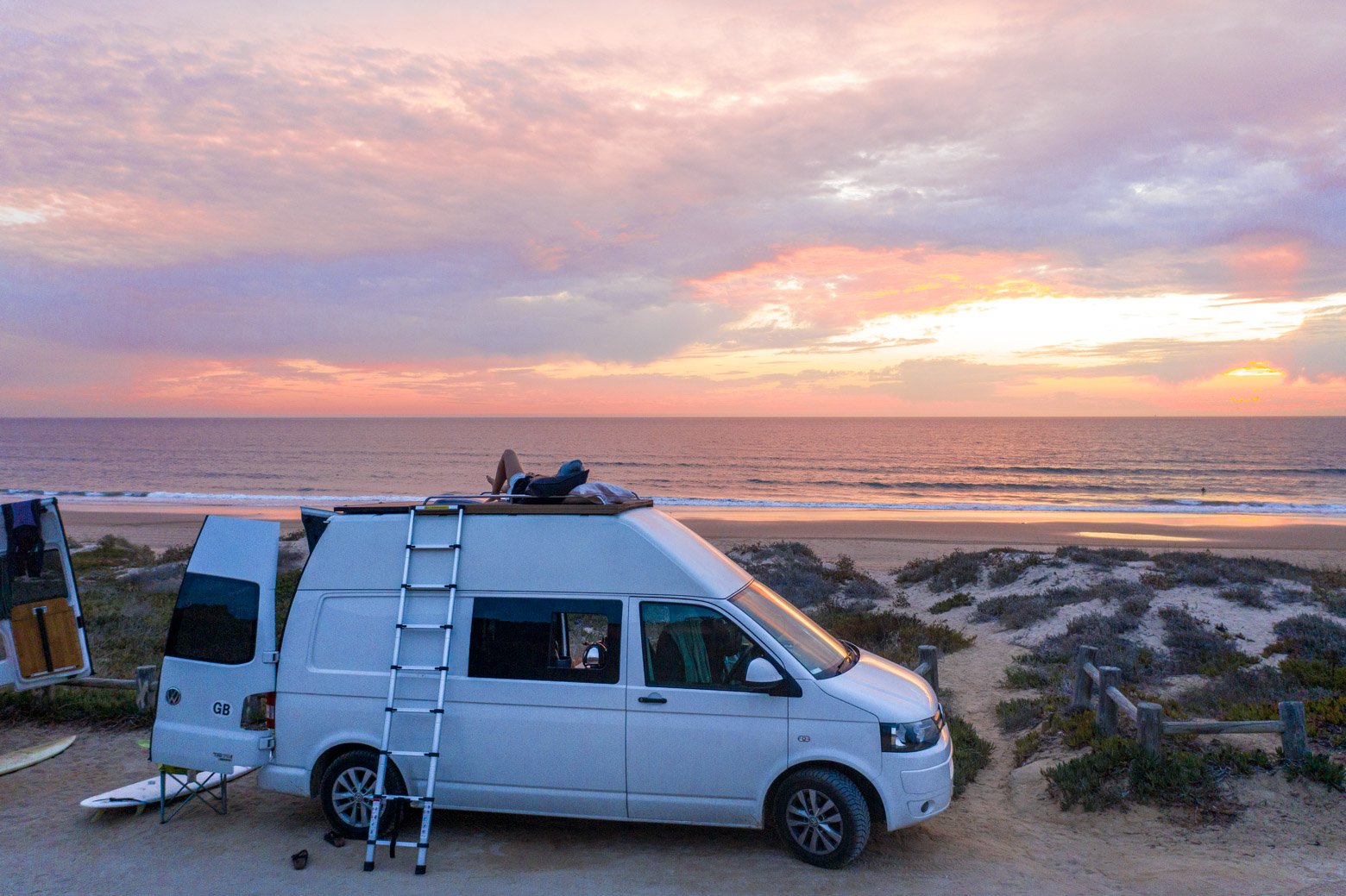 Have you driven from England to Portugal?
Where did you stop off? Anything you'd add?
Love as always and happy adventuring,


Did you find this post helpful? I'd love you to share it for me.
Pin and save this blog post for later…