Are you considering a trip to Portugal? If you're planning a trip to Portugal, after this blog post, you are going to have a Portugal bucket list as long as your arm and you might want to even consider extending the duration of your trip.
Portugal is 100% a stop off you should make on your European road trip or adventure whether it's for surfing, exploring the stunning city of Lisbon or relaxing on the Algarve.
There are many beautiful things to do in Portugal. You are honestly so spoilt for choice. In this blog post, I am going to share the best things to do in Portugal to inspire your adventure.
I'm currently writing this post from Portugal as I road trip the full coastline in my van. I'm getting to spend time in all the nooks and crannies that Portugal has to offer and, let me tell you, the best things to do in Portugal are going to blow your mind.
Whether you're an avid surfer, walker, camper or beach bummer – Portugal is going to cater for you… and some. In this Portugal bucket list, I have compiled adventures to suit all types of travellers, to help inspire your next visit to this Portuguese paradise.
The climate? It's what draws most people in to visit Portugal. Portugal has one of the longest summers in Europe, plus warm spring and autumn seasons and relatively mild winters when compared with a lot of Europe. The weather depends on where you go.
July and August are the hottest months in Portugal with average temperatures of 24-30°C. You'll find your longest days in August when the average sea temperature is around 18-20°C.
The climate here is influenced by exposure to the Atlantic Ocean which in many parts can bring with it high winds. The southern region of the Algarve has a more dry and sunny microclimate. In the interior, on the border with Spain, the climate is a bit more continental. Portugal is the perfect destination to head to for the late months of the European summer, in September and October, as you can enjoy temperatures still in the mid-late 20s. Hence why I'm here now. I can confirm it's raining in England and I'm working by the beach at 27°C.
Let's get stuck in shall we? 20 places, experiences and adventures you can't miss in Portugal! Look no further, here are the best things to do in Portugal…


The best things to do and see in Portugal
1. Explore, camp and surf in Ericeira
Ericeira (pronounced eri-sarah) was the first stop I made on my Portugal road trip. It's a super small seaside community 45 minutes north of Lisbon, the capital. Ericeira is the unofficial surfing capital of Europe due to its exceptional surf conditions. You can absolutely stop off for the day and get a good feel for the place.
The old town is just so beautiful and there are plenty of 'vibey' cafes and Portuguese restaurants for you to choose from.
A couple of my favourites include Cafe amour (well-being cafe), Oh la la ( amazing Acai bowls) and Magic Quiver.
There's one main spot if you're looking to park up your van – Ericeira Camping and Bungalows. We turned up at 10pm with no booking and paid €7.50 (one van, no electrics) for the night. There's hot showers, laundry service, washing up and… you're a 10 minute walk from the town.
Ericeira is on most peoples best things to do in Portugal list – I'd recommend it 100%
2. Surf day and sunset picnic on the cliffs of Arrifana
Arrifana is another of the best things to do in Portugal and a popular spot for surfing and enjoying the good life. You won't be short of friends here. Located on the West Coast of Portugal, Ericeira is worth a stop of even if just for the views.
Check the conditions are right for you using the Magic Seaweed app ahead of going (or go old school and turn up to check out the swell).
We stayed to watch the sunset on the top of the cliffs before dinner at See You Cafe just around the corner (walking distance).
Highly recommend!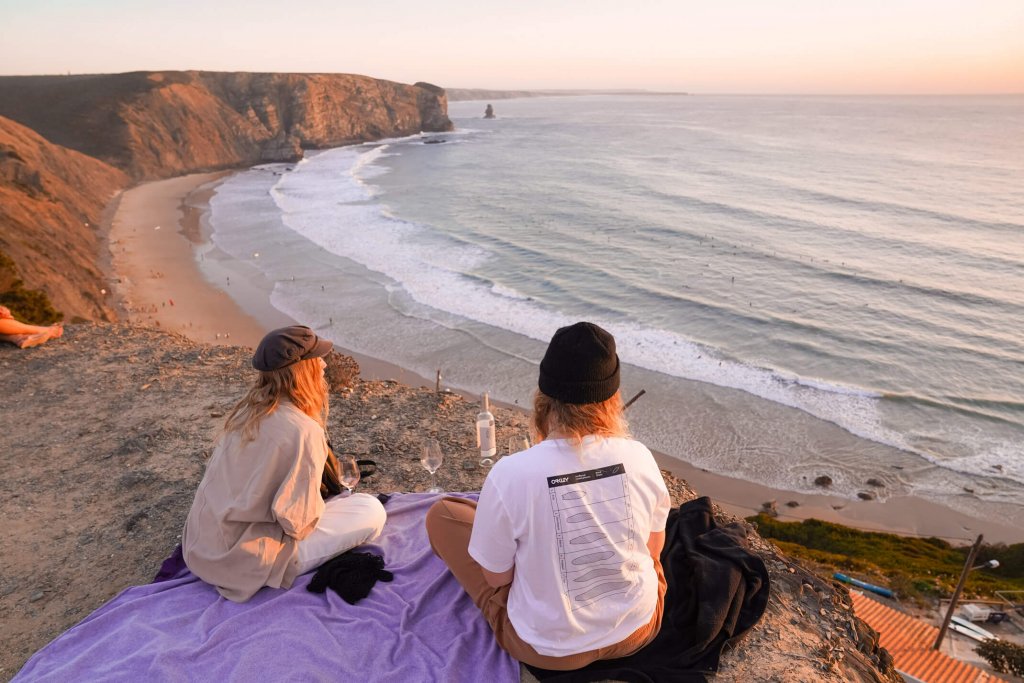 3. Watch the big waves in Nazare
Nazaré is that surf spot in Portugal. You know, the location of those famous images. Without a doubt, if you managed to time it divinely, watching the big wave surfing at Nazare is the best thing to do in Portugal.
We somehow managed to time our trip perfectly and the swell fell on our final days in Portugal.
A guide to Nazaré, Portugal: Home to the biggest wave in the world
See all the images and the Nazare prints I shot at this spectacle here.
Due to the presence of the underwater Nazaré Canyon converging with the incoming ocean swell and local water current, Nazare experiences some of the biggest waves in the world. It is the largest underwater canyon in Europe, about 170 kilometres along the coast, reaching a depth of 5,000 metres.
The highest chance of catching the big waves is between November and January. Add it to your bucket list and keep an eye on the weather forecast!
Did you know?
On December 22, 2019, were the highest waves ever forecasted with up to 37 meters.
4. Explore the coastline with a hike
Fancy planning a big adventure?
Consider the Rota Vicentina route... 450km of paths down the coast of Portugal.
5. Explore Cascais old town
Cascais is a coastal resort town in Portugal, just west of Lisbon. Everyone told us to stop here and I'm so glad we did. It's a best things to do in Portugal for sure!
It's known for its gorgeous sandy beaches in the town centre, it's busy plush marina and the stunning old town (home to the medieval Nossa Senhora da Luz Fort and the Citadel Palace).
Even if just for the afternoon and for world-class ice cream, you must stop off in Cascais!
Some must do's:
6. Explore the caves of the Algarve
As touristy as Benagil Cave is, it's so worth a visit on your Portugal trip. See below left image.
Though you don't have to visit this one, exploring any of the caves is on the bucket list of the best things to do in Portugal.
The coastline is filled with many sea caves and unique rock formations due to the erosion from the sea. The two most popular ones on the Algarve are Benagil caves and Zorreira caves. These caves are only accessible by boat or kayak.
Top tip: Get there early and rent a kayak / SUP to get a unique experience of the caves. We packed breakfast in a dry bag, rented a kayak in Benagil for 2 hours (€40 between us) and enjoyed our breakfast on our own private beach! The absolute dream.
7. Explore the history and fairytale that is Sintra
A trip to Portugal, most will say, isn't complete without exploring Sintra. Sintra is a resort town in the foothills of Portugal's Sintra Mountains, near the capital, Lisbon. Famous for its mixture of lush wooded hills and extraordinary pleasure palaces, its no surprise Sintra was declared a World Heritage Site by Unesco in 1995.
Sintra is a very popular day trip from Lisbon and is also well paired with a visit to Cascais if you're hiring a car and heading this way.
Someone also recommended me a Tuk-tuk trip around Sintra to see the initiation well. That would be so cool to do! See if you can beat me to it?
8. Sunset at Cape St Vincent – the most south-westerly point of mainland Europe aka the end of the world
If you spend time on the West Coast whilst here in Portugal, you won't be short of sunset spots. Setting on the West Coast, Portugal is sunset heaven (and a daily ritual).
One of the 'famous' places to watch it go down is here in Cape St. Vincent in Sagres. What better way to see out the day than to match a Sagres sunset with the legendary local Sagres beer here?
A Sagres in Sagres… definitely one of the best things to do in Portugal.
9. Have seafood and watch the kitesurfers on Guincho beach at bar du Guincho
We had the dreamiest of afternoons eating seafood at sunset at Bar do Guincho and watching the kitesurfers do their thing.
Say no more. If you're impartial to a cocktail (or three) and some good fish. This place is for you.
10. Explore the gorgeous city of Lisbon
Lisbon is the stunning capital of Portugal and a city that many people I know have fallen head over heels in love with. Lisbon is Portugal's hilly, coastal, stunning capital city. Lisbon is one of the best places for a city break in Europe due to its affordability, it's diverse tourism offerings, it's plethora of day trip options and, of course, it subtropical/typical Mediterranean climate.
From exploring the Tagus River, Time Out Market, LX Factory and Alfama to hiking up to Castelo de São Jorge, snapping Torre de Belém, Rossio Square and the 25 de Abril Bridge, Lisbon offers it all.
Be sure to explore the neighbourhoods of Bica (laid-back and picturesque) and Chiado (elegant and artsy), along with Praça do Comércio (the famous square) and Rossio at the very heart of Lisbon.
I actually came here briefly for work a couple of years back and did a bungee jump which was EPIC!
Lisbon is without a doubt one of the best things to do in Portugal, it's where you'll likely start / end your trip so be sure to leave a few days to soak it up!
Cabo da Roca is the furthest point west on mainland continental Europe. It's touristy but beautiful and is a gorgeous place to do a coastal walk. Bring coins to use the toilet, hair band for windy hair and trainers to walk the coastline.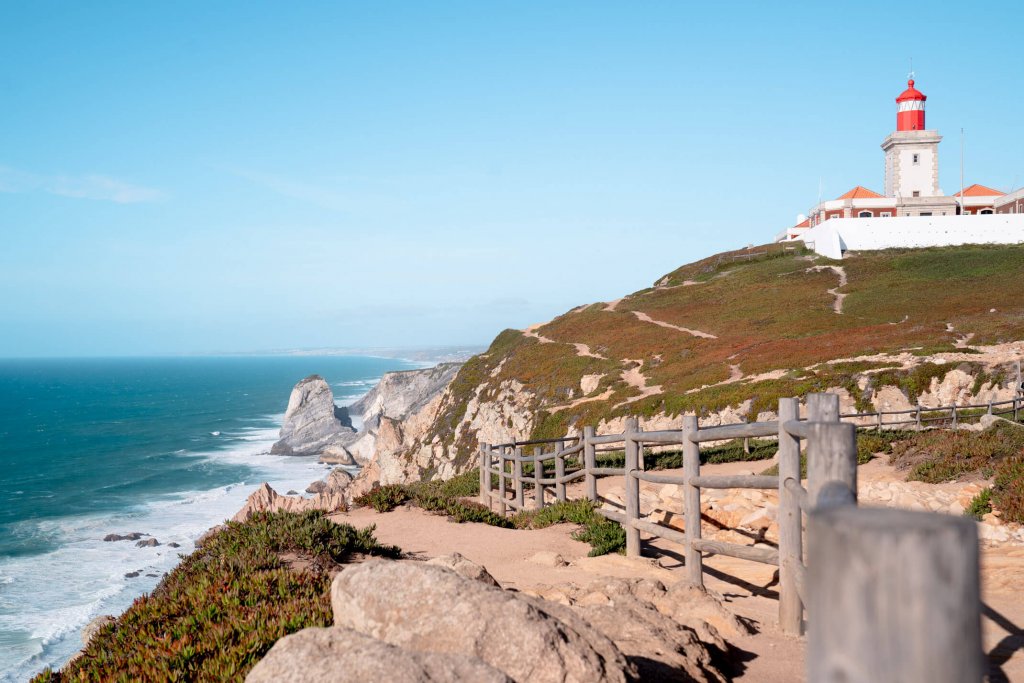 You simply cannot come to Portugal and not get in the water. Even if it's just once. You're in the European capital for surfing after all!
This is the reason most people come to Portugal so obviously it's on my best things to do in Portugal list.
There are SO many spots for surfing so put aside at least a day, rent a board/book a lesson and immerse yourself in the salty water!
Looking for a surf school?
I can highly recommend The Surf Experience in Lagos and Dream Sea surf camp on the west coast!
Be careful, Lagos is known for taking people hostage! Including us!
Lagos has such a beautiful surf town feel to it. The kind of homeliness you get in the likes of Queenstown, Canggu and Byron Bay.
Catch some waves, dive into some Tacos, explore the cliffs and of course, toast a cocktail or two in town. It's what Lagos does best!
Read my Lagos travel guide here.
Lagos is no doubt up there with the best things to do in Portugal – don't miss it!
Porto is a coastal city in northwest Portugal known for its stately bridges and port wine production. If you're passing through the North – make sure you add it to your itinerary!
15. Explore the unique villages of…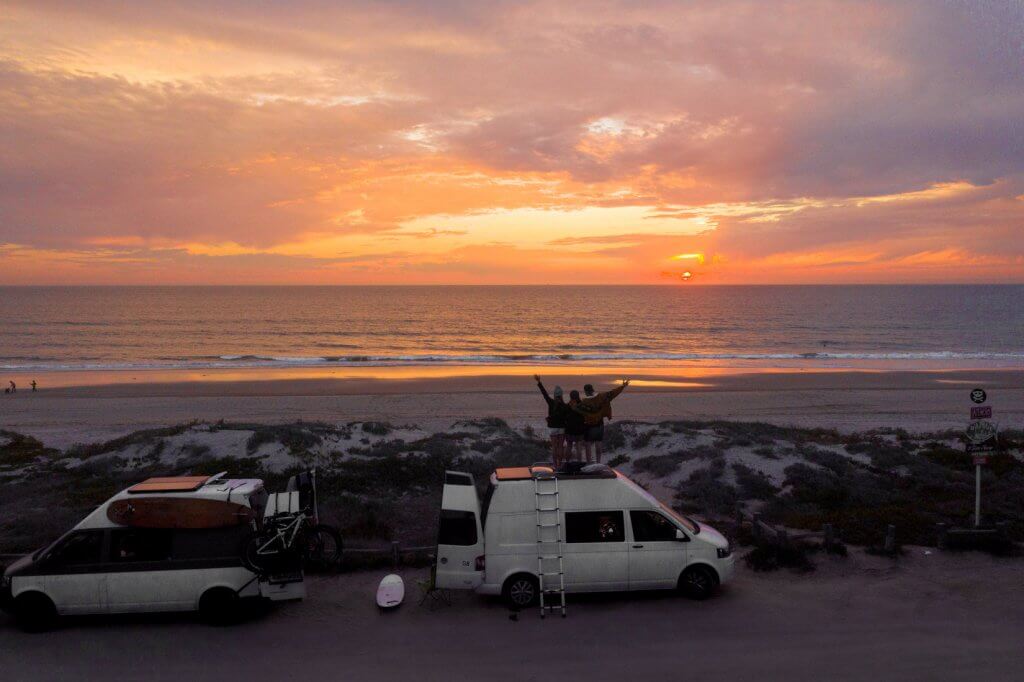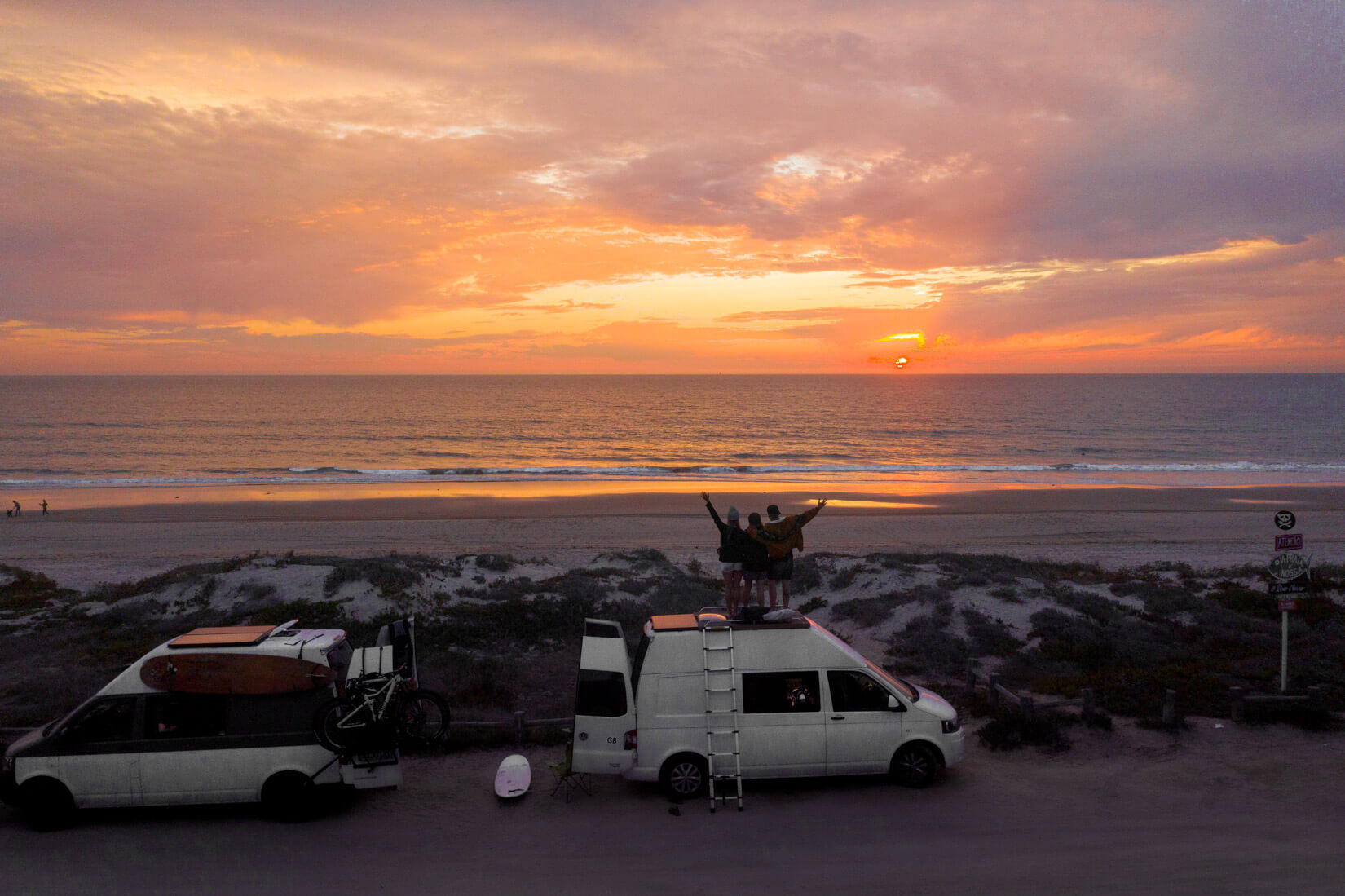 Have you been to Portugal?
Where are your favourite things to do in Portugal? Anything you'd add to the best things to do in Portugal?
Love as always and happy adventuring,


Did you find this post helpful? I'd love you to share it for me.
Pin and save this blog post for later…