Queenstown really has it all: beautiful weather, stunning scenery, and loads of fun things to do. If you're thinking of backpacking in Queenstown, you've made an excellent choice!
One of New Zealand's biggest charms, as you travel through it, is how sparsely populated it seems. Unlike a lot of places and cities I've travelled through, even the real big gems of New Zealand feel wonderfully untouched. You'll visit lakes, mountains and trails and be the only one there half the time. It's magical, honestly. Like nowhere else I've been.
New Zealand, on the whole, isn't a destination that you come to party in. Not like you do up and down the East Coast of Australia. Most come to New Zealand to rent a camper van/vehicle and soak up the world-class road trips and nature on offer in this incredibly stunning country.
However… Queenstown is a little anomaly. Many would say, Queenstown has it all.
If you're looking for things to do in Queenstown or what to do in Queenstown, or if you're thinking about going backpacking in Queenstown and you're wondering what all the fuss is about… this is the New Zealand travel guide for you!
From the Queenstown to Milford Sound flight to loads of hikes and walks in Queenstown, you won't be stuck for fun things to do here. See all the best things to do in Queenstown here.
Other blog posts you might be interested in…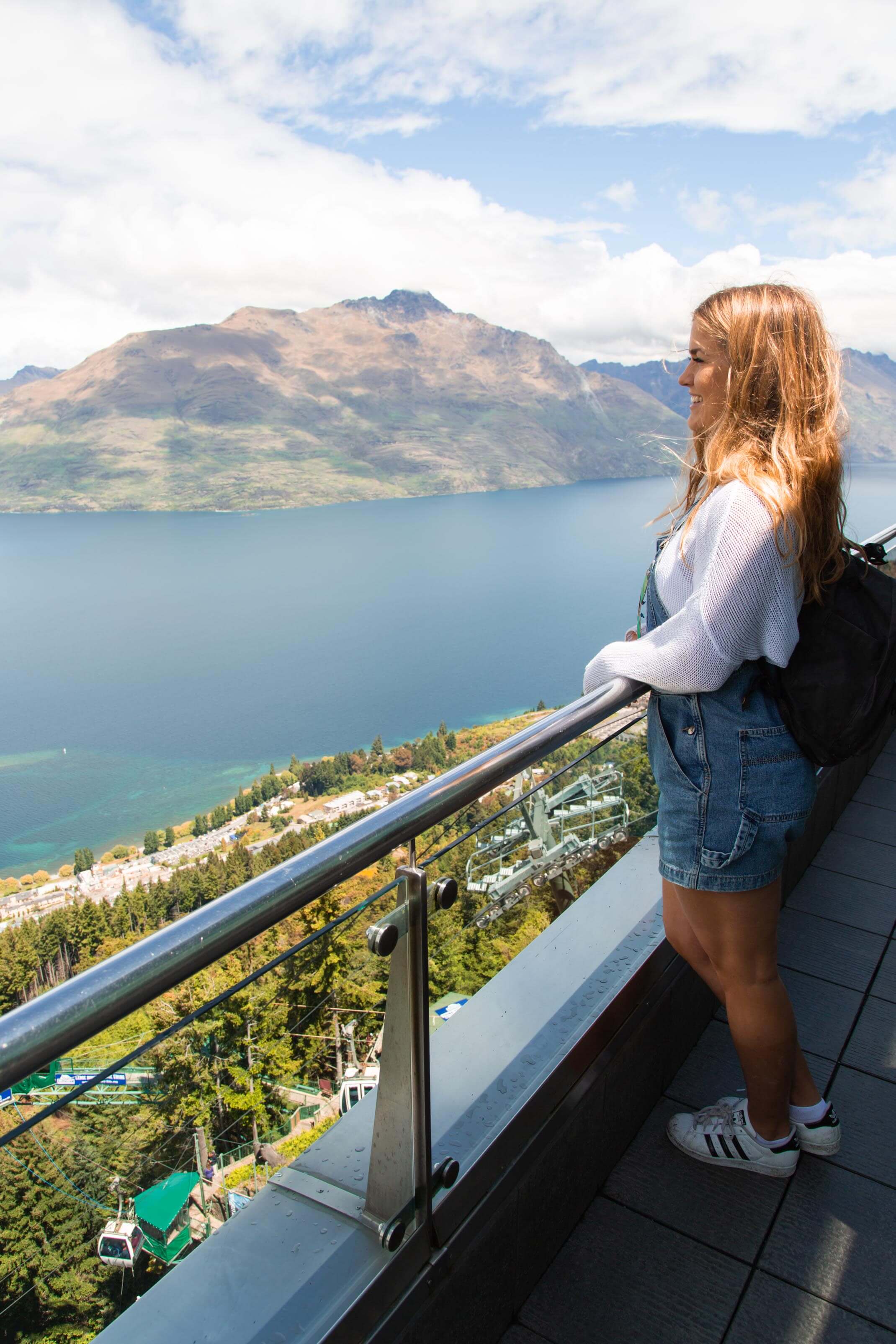 Queenstown is hands down one of my favourite locations in the WHOLE of New Zealand, if not the world.
In summer you have glorious hikes, lake sports, cocktails on the waterfront, bikes rides, picnics and BBQs to enjoy. Come winter, you have some of the best skiing in the world (The Remarkables), gorgeous apres ski bars, snow-covered landscapes and sightings of the Southern Lights (If you didn't know about these, check them out here!)
So basically, backpacking in Queenstown is an all year round spectacle that will suck you in to feeling like you're at home very quickly.
Within a couple of days and nights out crawling between the ski shack bars and waterfront cocktail hideouts, you will start noticing friendly faces left, right and centre and you'll be delaying your departure date from Queenstown at every opportunity. It's one of the best places for first time backpackers!
Did I mention Queenstown is the adrenaline capital of the world with bungee swings, white water rafting, sky dives and thrill seeking activities coming out of its ears?
Backpacking in Queenstown is definitely one of the best things to do in New Zealand.
Oh and did I also mention Queenstown, as well as all of the above, is one of the most visually impressive landscapes I've ever witnessed. Take a look at these pictures. I speak no word of a lie.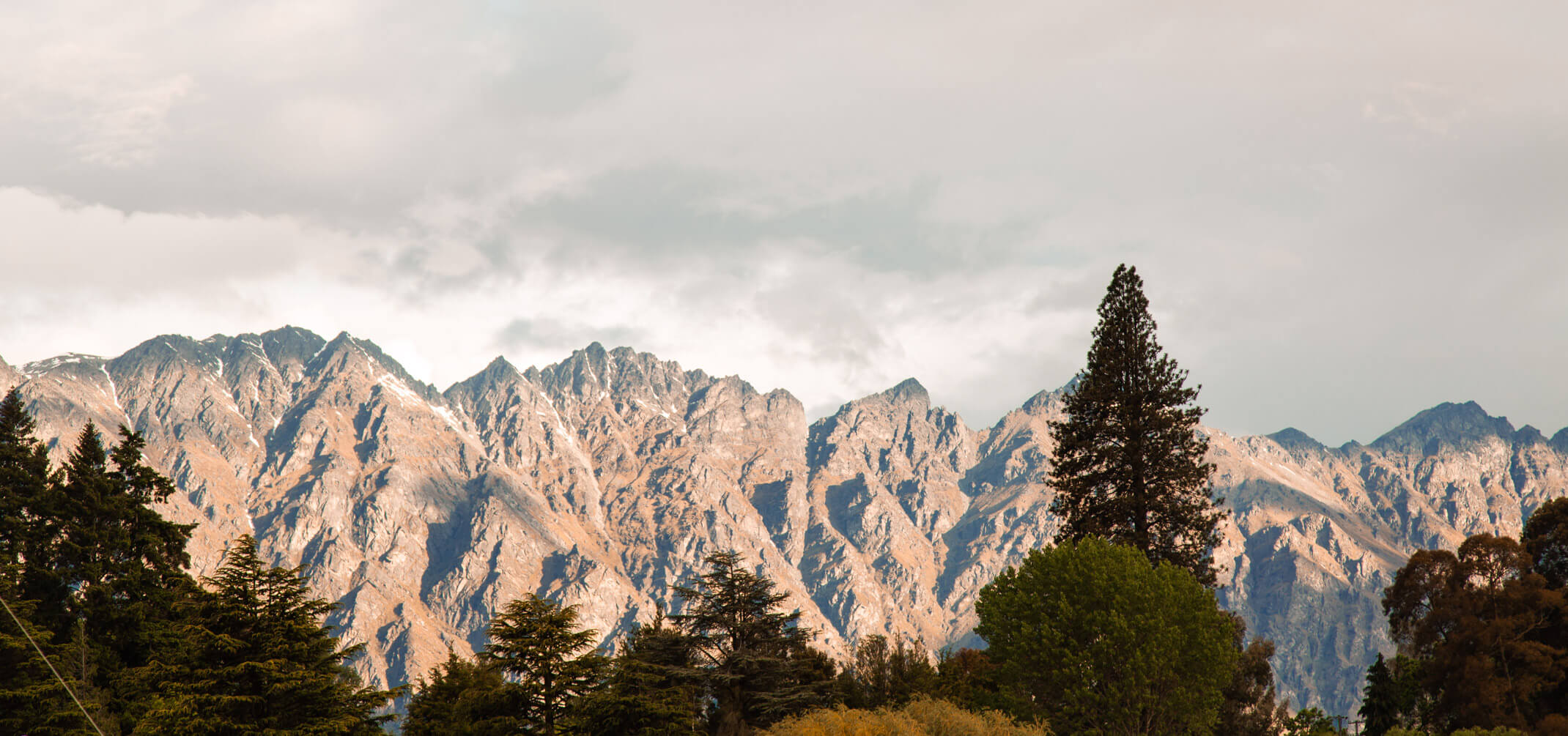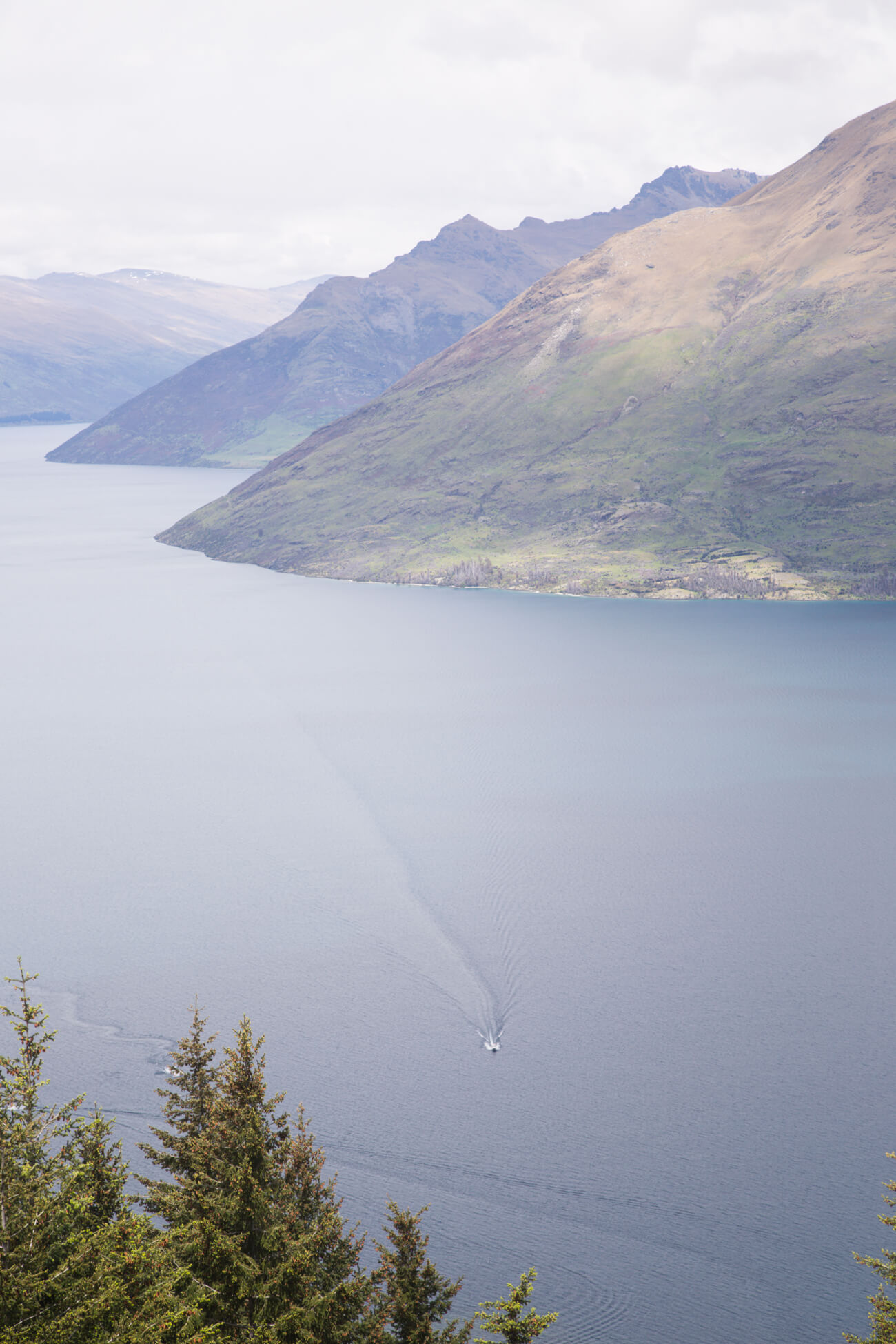 Here's my guide to backpacking in Queenstown, New Zealand…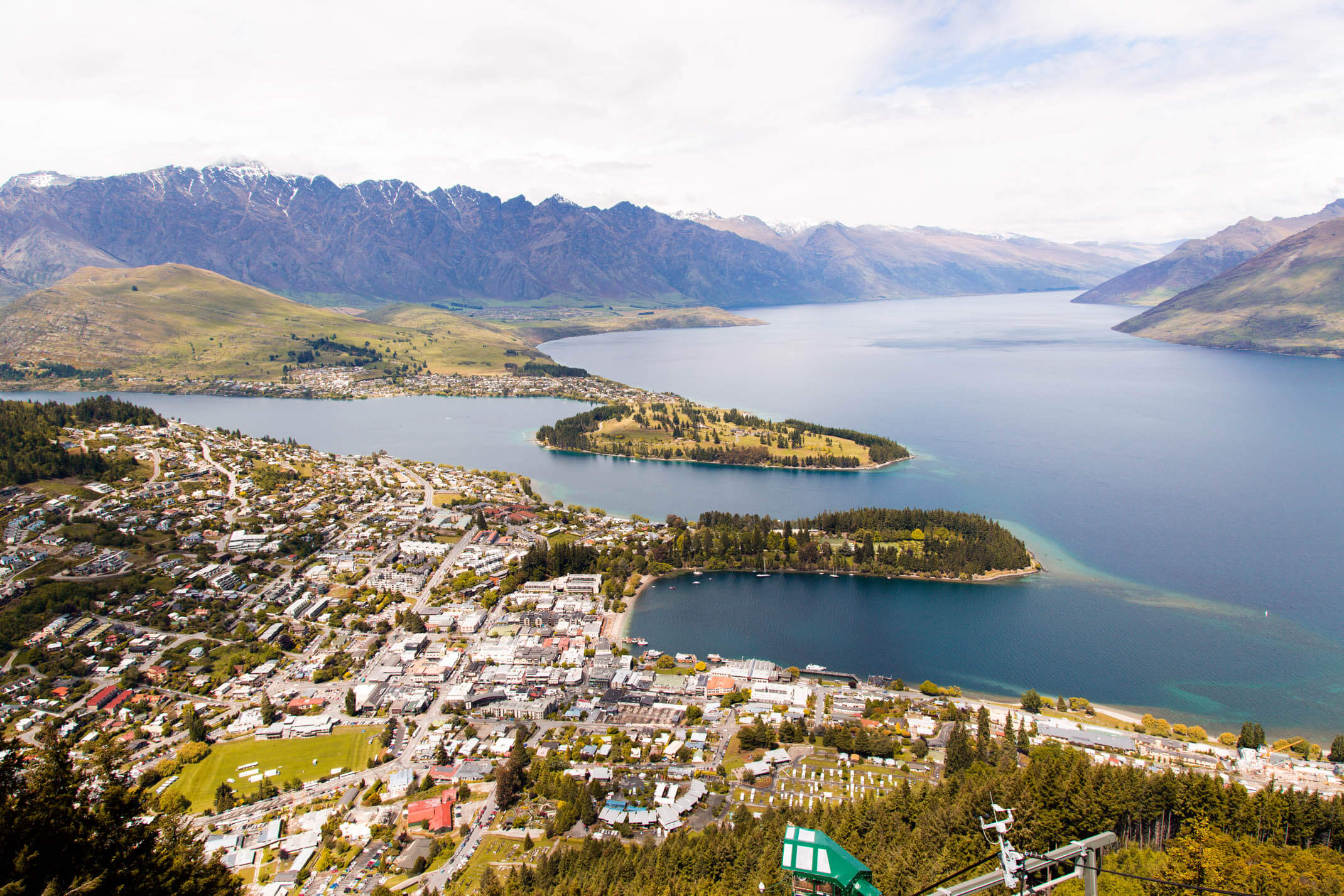 How do you get to Queenstown?
Queenstown airport (ZQN) is an international airport and so many of you will be able to fly straight there! If not, it's easy enough to fly to Auckland and then get a domestic flight over to Queenstown.
If you're backpacking in Queenstown then you're probably looking for some money saving tips! The cheapest way to get from Queenstown airport into the centre of Queenstown (unless you hitch hike) is to use the Orbus which is a public bus. Taking the bus costs $10NZD one way, with departures every 15 min from right outside the airport. You can purchase your bus ticket in the airport terminal or when you board the bus, whichever you'd prefer. It takes 20 minutes (7km) and can drop you at various destinations within Queenstown. See more information here.
Of course there are shuttles and taxis too if you have a more luxurious backpacker budget.
If you are coming from elsewhere in New Zealand, there is lots of public transport towards Queensland. Or, it may well be that you ride on into town on the Kiwi Experience. See my complete guide to the Kiwi Experience here.
How much money will I need for Queenstown?
Honestly, it completely depends on how frugal you are, what experiences you want during your trip, and your general lifestyle while you are backpacking in Queenstown.
To help you out, I've put together two money-related posts about New Zealand
A lot of it will depend on which things to do in Queenstown you decide on – naturally, bungee jumping is going to cost you more than going on a hike!
How much time should I spend in Queenstown?
You'll love it more than you think you will! I'd go for 4-7 days, depending on how long your trip to New Zealand is.
Where should you stay in Queenstown?
I've been to Queenstown twice and stayed at Nomads on both occasions. If you're backpacking Queenstown, I honestly don't think it gets much better. The location is right on the waterfront, it's crawling distance from all the bars and the hostel has a fairy large capacity, meaning there's a high chance your new found friends will be staying there too. Add free dinner and breakfast included in your stay and you're onto a winner.
The only reason I wouldn't stay there upon my return would be if I was coming with a group of friends, in which case I'd split the cost of an AirBnb which would be more unique and probably cheaper too. Use this link to get £15 off your first Airbnb stay!
If you're looking for that backpacker experience though, Nomads is the one.
Other popular backpacker choices that consumed word on the street include: Base backpackers, Haka Lodge.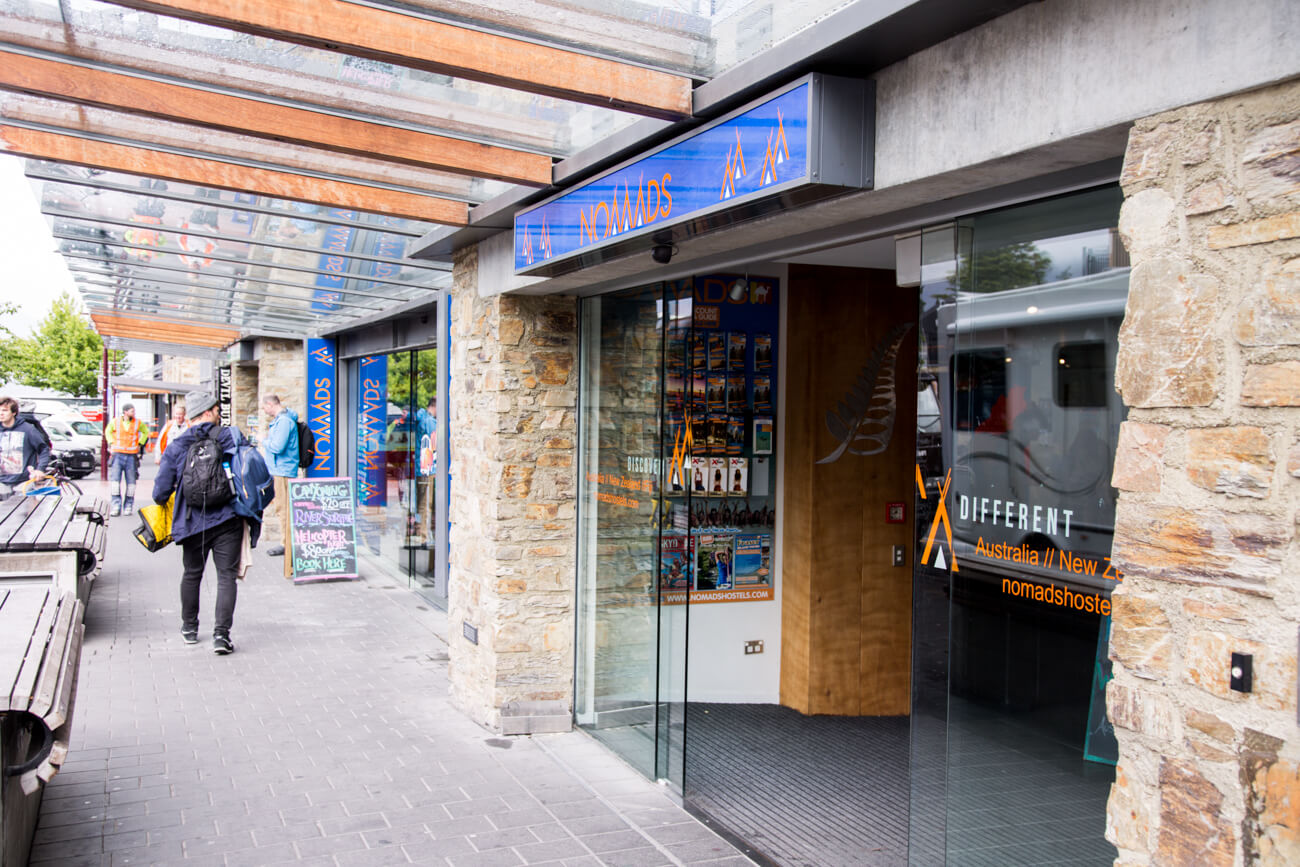 Where should I eat in Queenstown?
If you have a few dollars to spare, here are some of my favourite places to eat in Queenstown:
Ferg burger (because that's what everyone says and they are pretty good. They are also open 8.30am until 5AM so you can get a cheeky post-night out fix when the queue is shorter. Go in the day and you can wait up to an hour to get served and eat, so I'd avoid it at main meal times!
Coyote Grill (the margaritas and fajitas are inSANE) See website and menu here.
Rehab (for the best wholesome food and smoothies when your body is begging you for goodness)
Fat Badgers pizza (one for you and the squad to have a feast in!)
Little Blackwood for the BEST cheese and meat platters with even better cocktails and wine.
Pita Pit for no other reason than I love a fresh wrap to go.
Happy hour at Cookie time (2 for 1 on cookies between 6-7pm daily).
However, the cheapest way to eat in New Zealand is buy food from the supermarket and cook, unless there's a backpacker meal deal at your hostel or local eatery, or if you have dinner included in your stay.
What are the best things to do in Queenstown?
1. Hike up Queenstown Hill to the basket of dreams.
There are many beautiful views to see in Queenstown, some of the best being the ones looking down over the town. We did the Queenstown hill walk up to the 'Basket of Dreams'. If you're feeling super energetic (and not hungover) then there is a crazy good view from a higher peak called Ben Lomond. I didn't get the chance to do it (sadly) but it's one for my Queenstown bucket list!
Check out this blog post for all the best hikes to do in Queenstown.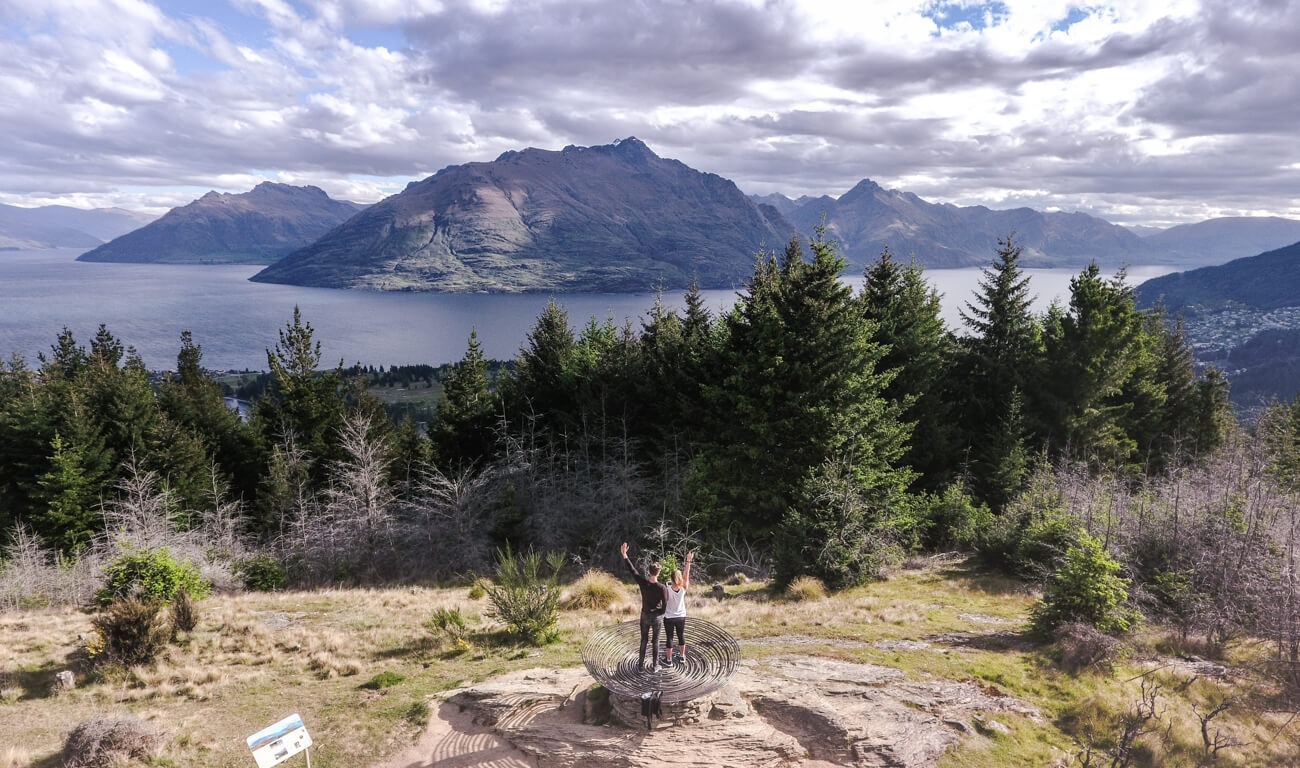 2. Hike up to the top of the gondola in Queenstown and have a drink or dinner at the top.
You can use the gondola if you don't want to hike. Once you're at the top, there's some awesome activities including luging (meant to be super fun!) and bungee jumping off and over the surreal view at the top2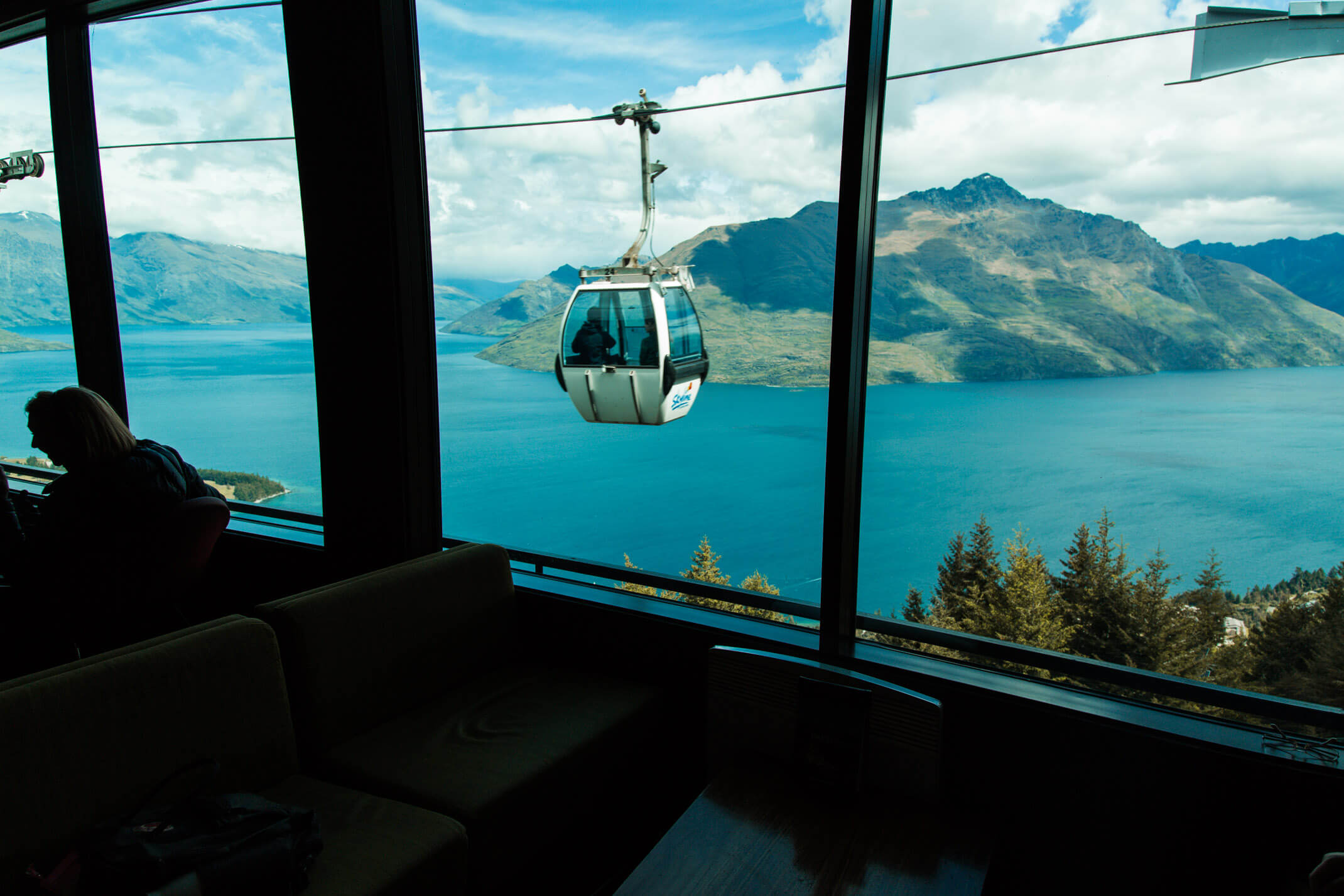 3. Do an adrenaline-rushing activity
It doesn't matter which, but you gotta do something! Queenstown is the adrenalin capital of the WORLD offering over 200 activities for those seeking a thrill. Activities include, canyoning, bungy jumping, sky diving, jet boating, flyboarding, white water rafting etc.
I really wanted to do a skydive, but the girls I was with were set on doing the Bungy, something I said I would never ever do. Weirdly, another case of FOMO kicked in and well, when I was backpacking in Queenstown, somehow I found myself signed up for a bungy and next thing I knew I was preparing to face my fear on the 3rd largest bungy in the world. Brilliant. Life begins once you step of out of your comfort zone… right?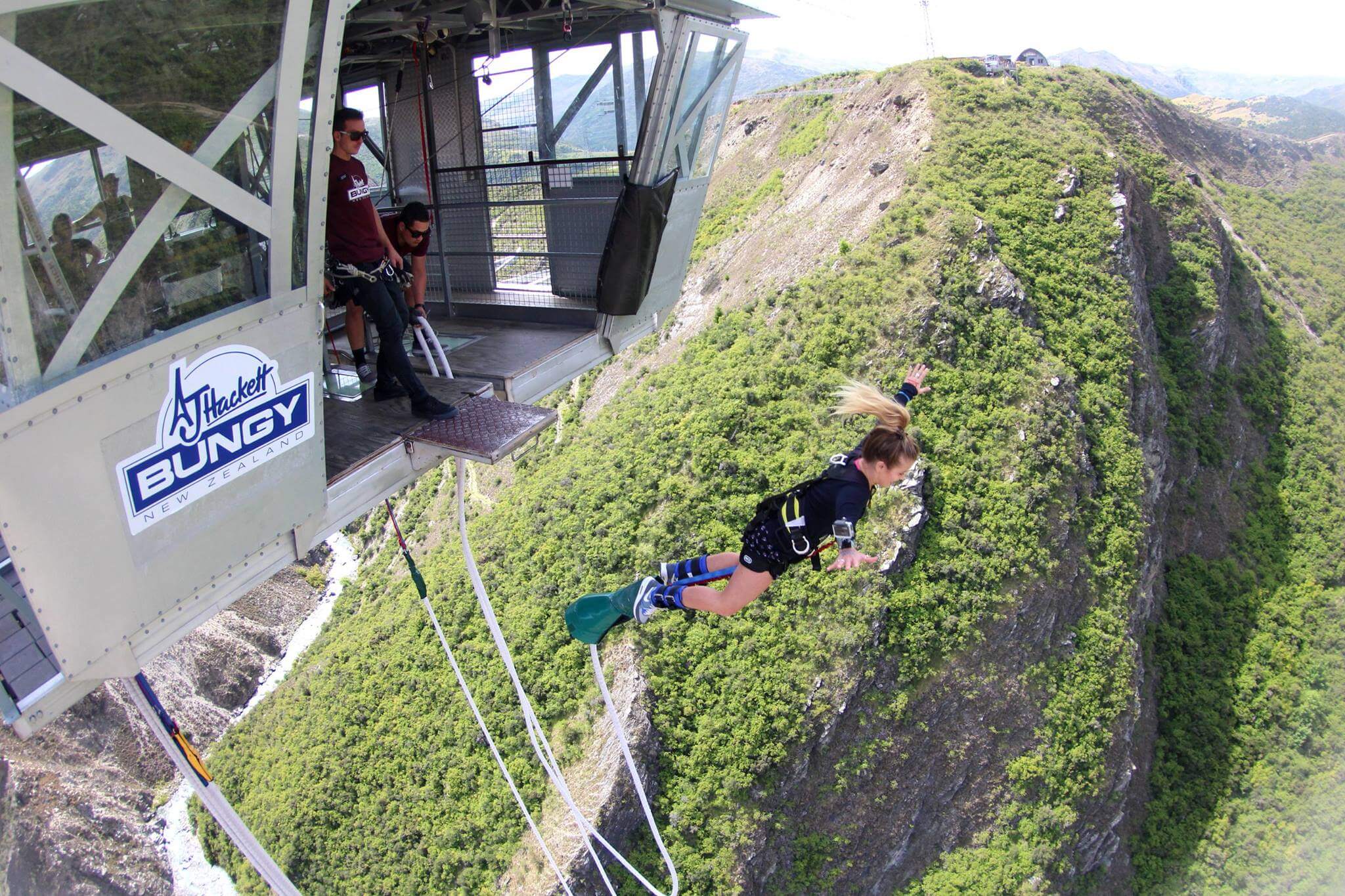 4. Take a day trip over to Milford sounds
They say not doing this trip is like going to Egypt without seeing the pyramids. Basically an essential. Unfortunately, we had booked on a day that was overcast so some of the peaks were hidden in the cloud and it was a little cold, but it was still so worth it and an absolute must-do for your Queenstown bucket list!
The Queenstown to Milford Sounds bus takes you on a 4-hour drive to the sounds where you board a boat for a couple of hours and have lunch before heading back. Our bus driver gave us a geography lesson en route on how the Glaciers work and how they formed this beautiful piece of nature, which I actually had no clue about and found extremely fascinating. I was then able to appreciate the views a lot more because I could understand what I was looking at.
It's a very long day, 7 am start and 7 pm return, but like I said it's a must. Highlights of the trip? Filling up our bottles from the fresh waterfalls, seeing the Fur seals lazing on the rocks & getting right under the waterfalls on the Milford Cruise. Fully recommend the Queenstown to Milford Sounds bus trip!
5. Hire a bike in town and cycle down to Sunshine Bay.
Being one of the best beaches in Queenstown, Sunshine Bay is the perfect spot to visit when you're backpacking in Queenstown and a must-do on any Queenstown bucket list. The beach is excellent and the views of the mountains surrounding Lake Wakatipu are stunning.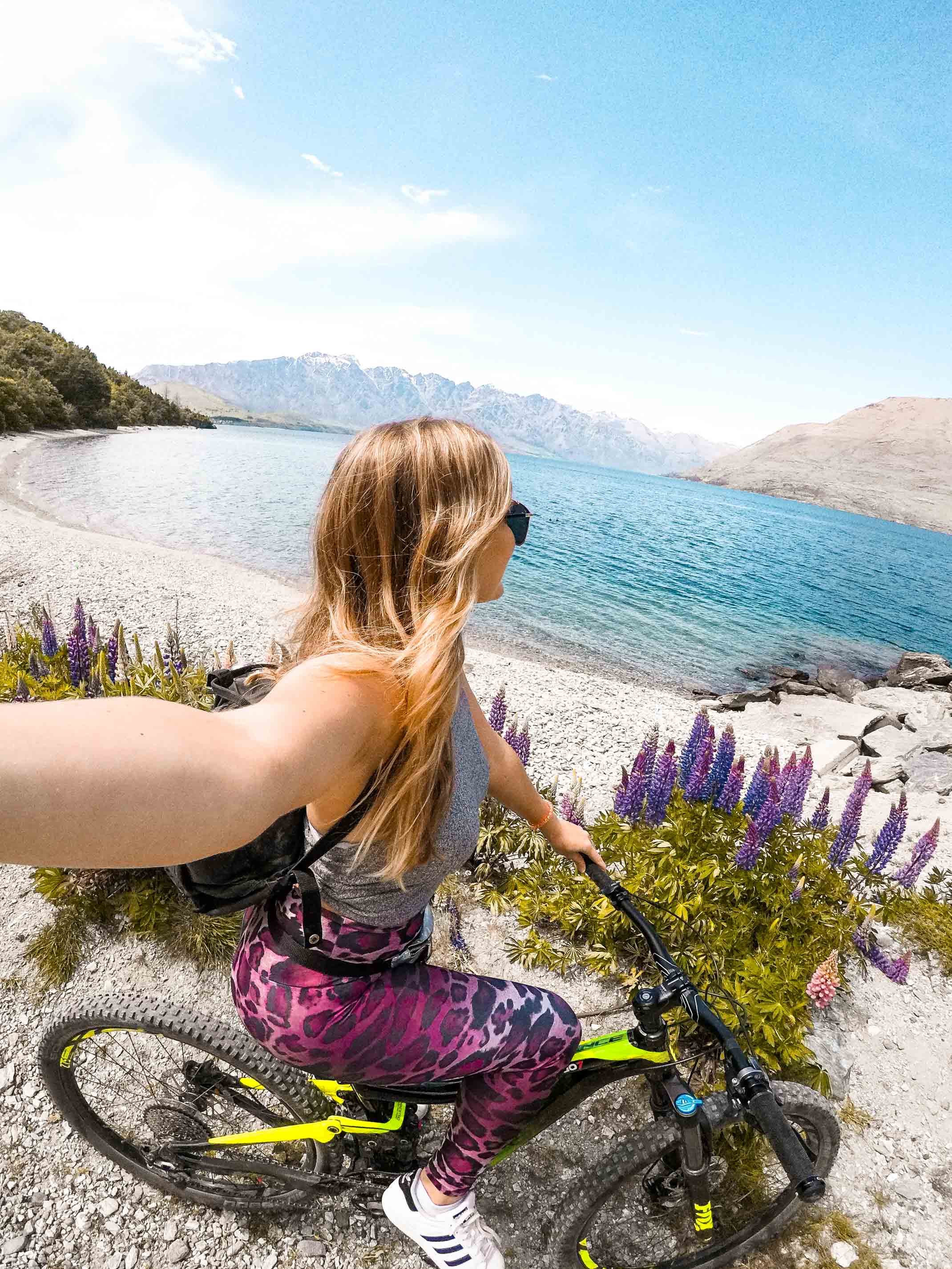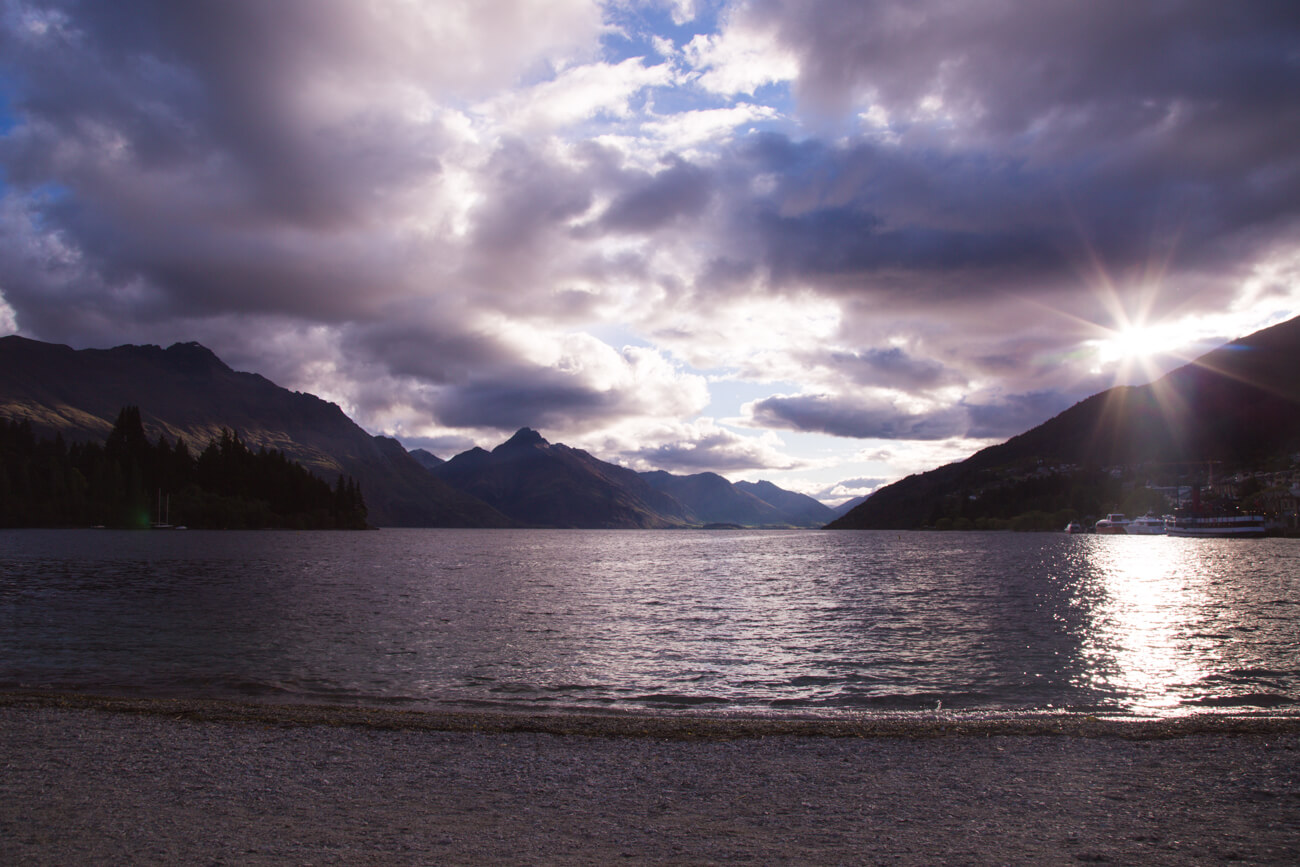 7. Partake in a water activity, be it the shotover jet, fly boarding or kayaking.
The water here is crystal clear, so one of the best things to do in Queenstown is to get in and enjoy it!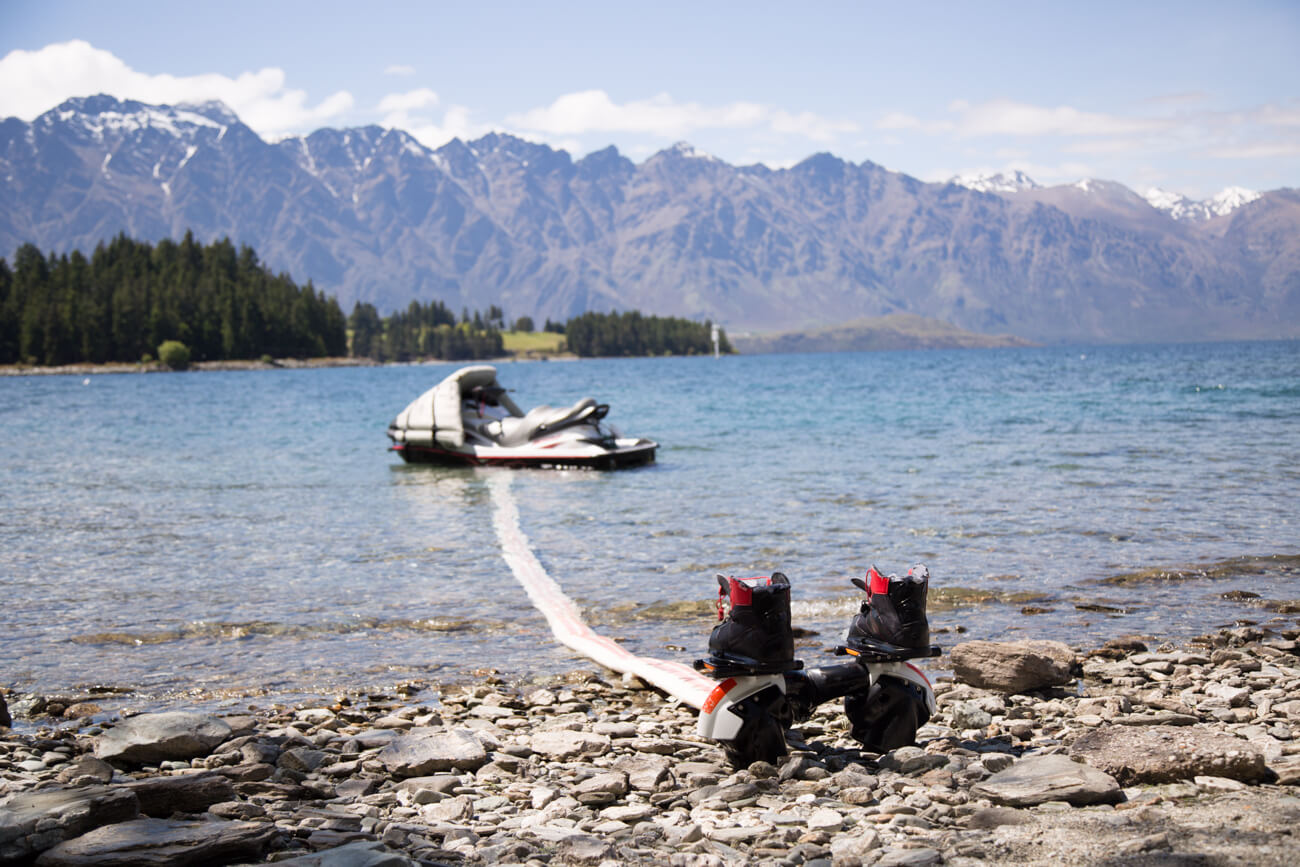 8. Take a morning run or walk around the waterfront path in Queenstown Gardens.
There are some benches plotted along the route for you to stop and soak up the incredible views. Continue walking around to Frankin (25 minutes from QT) and you'll pass some cafes right on the lake front to grab a hot beverage or lunch in!
9. Take the bus or drive to Lake Wanaka.
Wanaka is about an hour's drive from Queenstown. The lake here is absolutely stunning and worth a full day trip in my opinion! While you're admiring the lake, don't forget to check out #ThatWanakaTree, a lone willow tree which is so famous that it is the most photographed tree in New Zealand. The best times to visit are for sunrise or sunset for that gorgeous glow on Lake Wanaka and the Southern Alps behind the tree.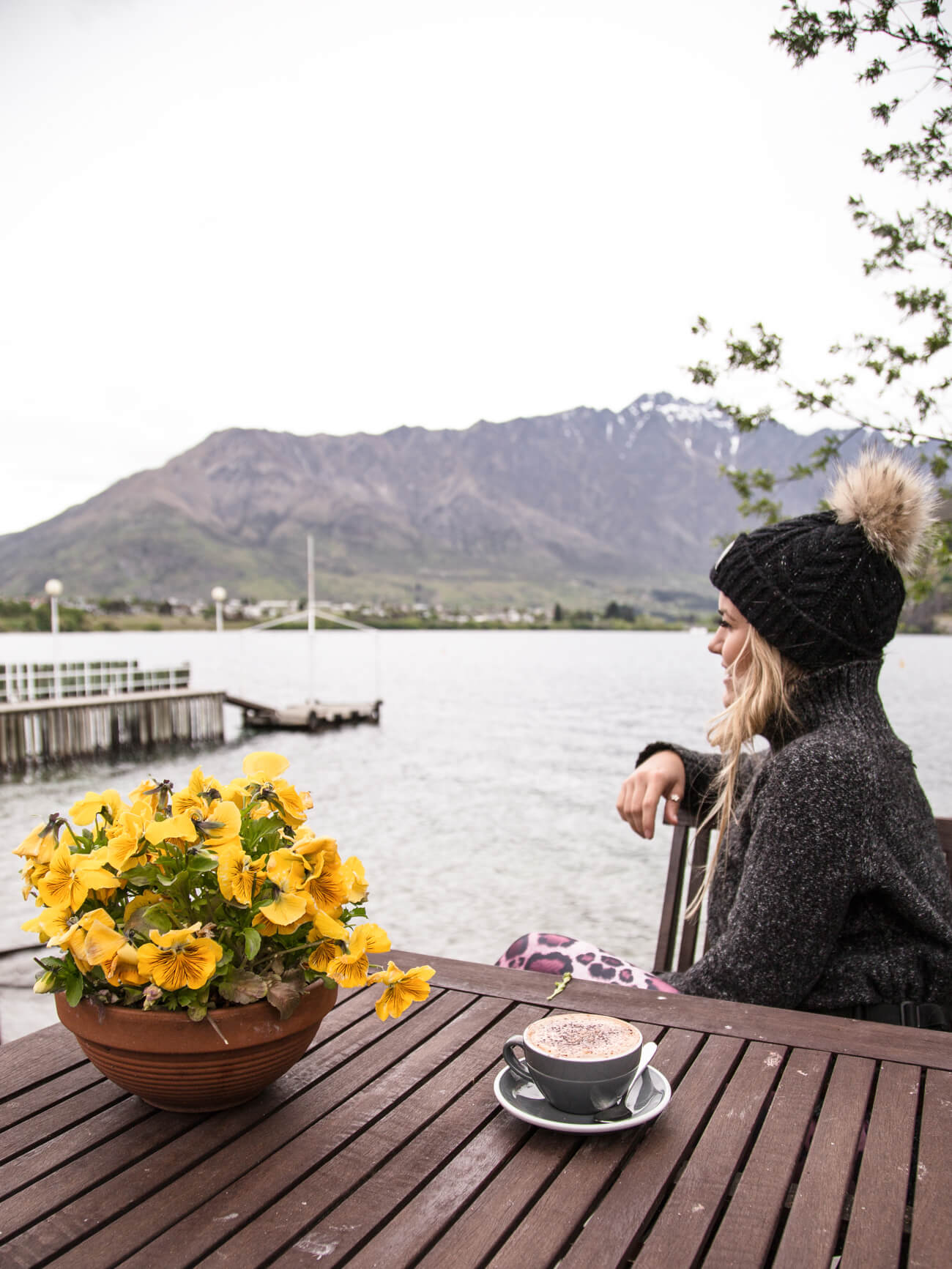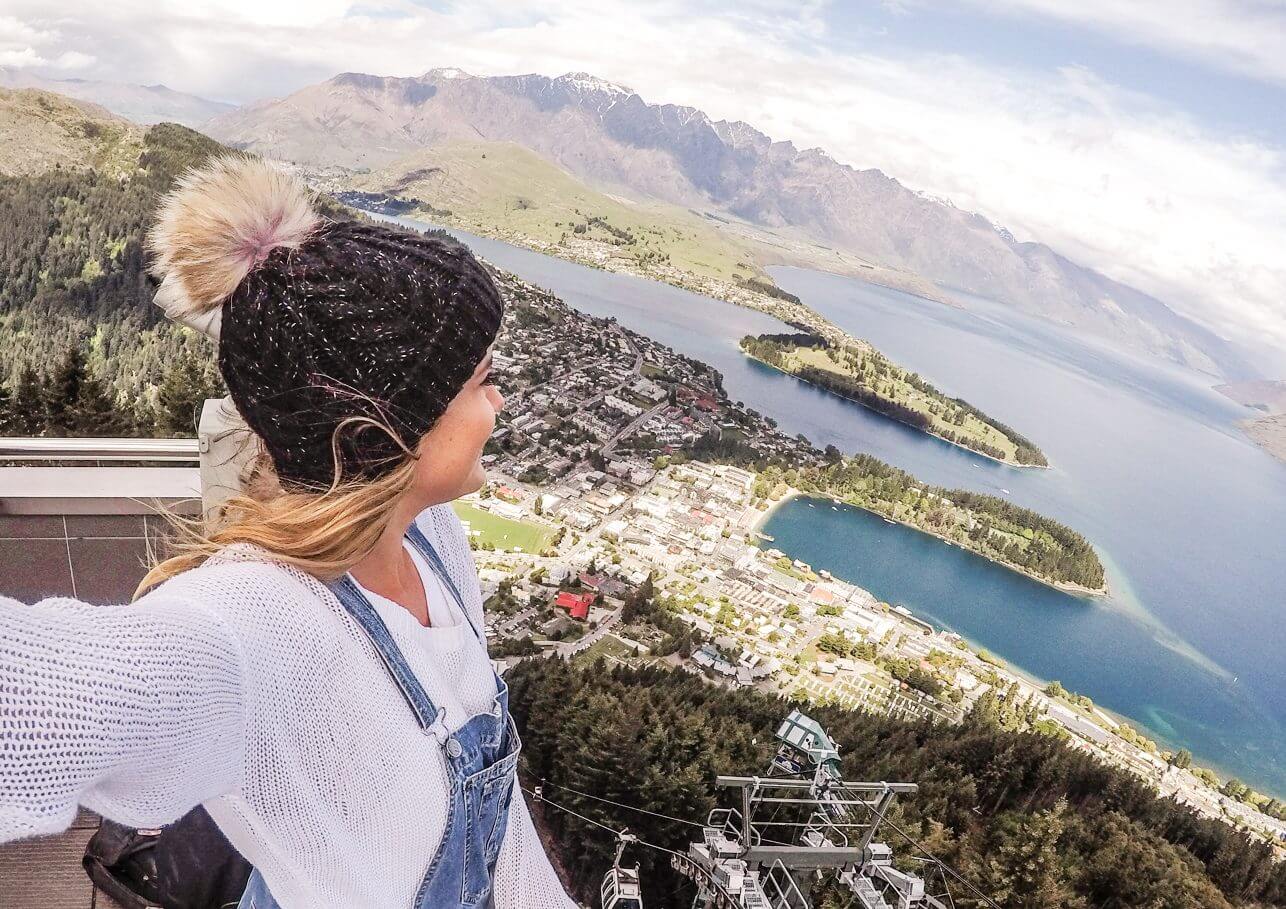 Looking for more tips for backpacking in New Zealand? Check out this video…
Have you been to Queenstown?
What were your favourite things to do in Queenstown? I'd love to know!
Love as always and happy adventuring,
Did you find this post helpful? I'd love you to share it for me.
I can't do this without you.
Pin and save this blog post for later…