If you haven't been to New Zealand or done any research on it, you'll probably just associate New Zealand with the All Blacks and the earthquakes caused by the many fault lines the country sits upon. Noteably the famous 2016 one that struck Christchurch measuring a whopping 7.8 magnitude. In case that's you, and you're considering your next big trip, I have put together a little list of all the things I loved most about New Zealand having just spent the last month of my life there, hopefully giving you many reasons to visit New Zealand.
New Zealand is mind blowing in so many ways. Seriously.
Whether you're looking for a few weeks of relaxation, epic road tripping, adrenaline, mountain escape, water side living, wine drinking or city living… New Zealand offers all of the above to the highest of standards. Yes, it's a little further a plane ride away for most people, but it is SO worth it. There aren't many places in the world that can compete with the adventure and landscapes that New Zealand has to offer.
Here are my 10 reasons why you should visit New Zealand:
1. Incredible, fresh seafood at your fingertips.
Charlotte's Kitchen in Paihia where I indulged in the best Oysters I've ever had.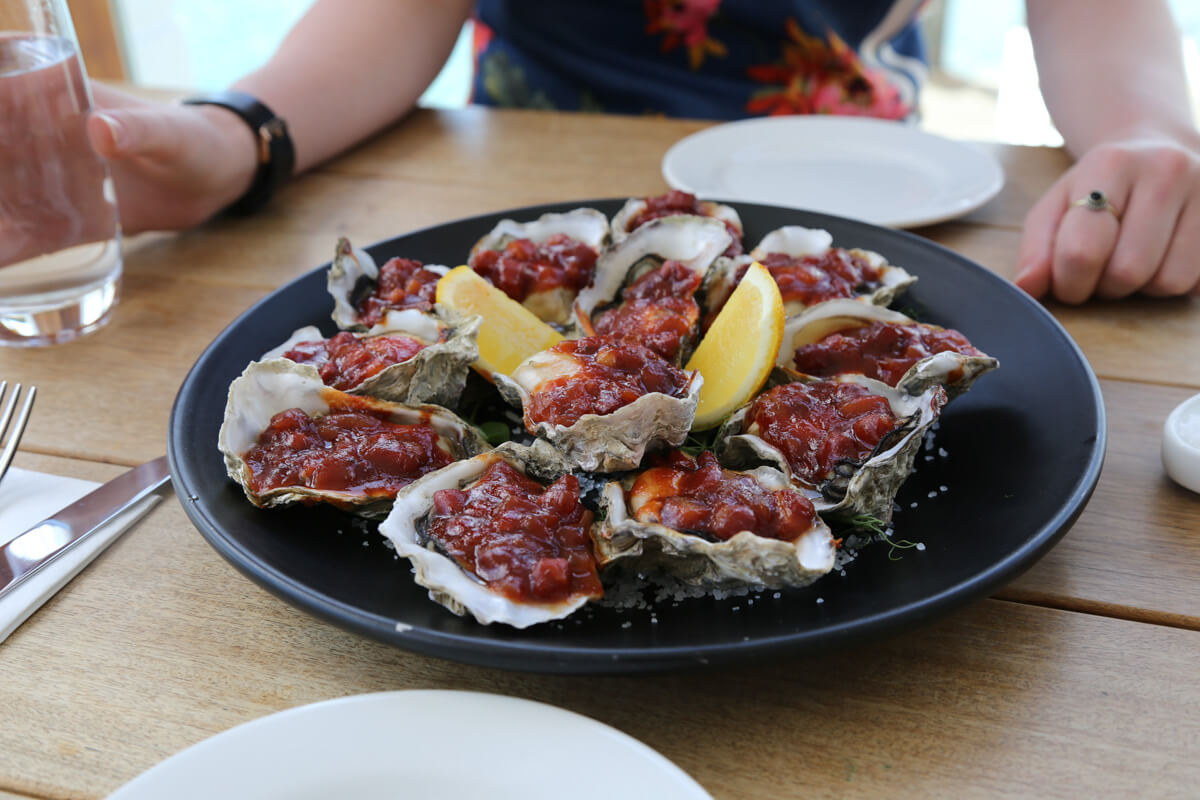 3. Some of the best hikes in the world.
4. You'll fall back in love with nature and geography.
Pohutu Geyser, Rotorua.
5. Maori culture is so humbling and beautiful to learn about.
Tamaki Maori Village, Rotorua & the largest remaining Kauri Tree, Waipoua Forest (you have to book onto the Footprints Twilight Encounter).
6. Land of the Kumara and Avocado.
An abundance of the two are spread all over the New Zealand menus! When I was in the Northland they were so cheap to buy (and then slightly more expensive as I travelled south). I got 8 avocados for $3 in the Northland which is about £1.50! Happiness.
7. You can witness the magical glow worm caves.
Waitomo Caves, NZ
8. New Zealand is home to the best and most beautiful road trips.
Omapere, NZ
9. Vast lakes showing off the most beautiful of colours.
Kai Iwi lakes, where I enjoyed lunch all by myself over looking the beauties. I swear, if you were anywhere else in the world, somewhere as beautiful as this… it would be mobbed with people. New Zealand is so peaceful and often you can enjoy incredible hot spots in your own company. That sounds sad doesn't it… but it's so magical to turn up somewhere and not have a swamp of tourists taking photos. It really makes you feel like you are 'discovering it'.
10. Kiwis are so friendly and life in New Zealand is super chilled.
As if you needed more reasons to visit New Zealand, the locals here make the trip an absolute dream.
Cathedral Cove, NZ