Classed as one of the best day hikes in the world, and most certainly the best in New Zealand, the Tongariro Alpine Crossing is a 'must do' if you are reasonably active and want to see some of the best landscapes that New Zealand has to offer.
I completed the hike in November 2016 after having had it on my bucket list for a good few years. The scenes were absolutely incredible and whilst the walk itself was rather challenging, it was worth every second and every fall onto my bum. I spent half my day on it.
If you're thinking about taking on the Tongariro Alpine Crossing, check out my complete guide to the Tongariro Alpine Crossing here. That will assist you with preparation and successful (comfortable) completion of the track.
But if you'd just like to see the photos, get a little inspiration or see what the route entails, you're in the right place…
Here's my Tongariro Alpine Crossing route & photo diary…
Typical completion time: 7-9 hours
Distance: 19.4km
Start: Mangatepopo Valley
End: Ketetahi Road
Additional Extensions (you leave the track and then return back to it):
Mt.Ngauruhoe aka Mt. Doom (6km return, 2287m above ground)
Mt. Tongariro (3km return, 1967m above ground)
The Tongariro Alpine Crossing (even without the extensions) gets pretty challenging at points and it was definitely harder than I first anticipated. Here's a little breakdown of what you encounter along the route and the time I completed it in.
Stage 1: Mangatepopo to Soda Springs
Time started: 7.10am
The hike starts with a pretty easy path along the boardwalks with, already, some spectacular views thrown in.
Stage 2: Soda Springs to South Crater
Time started: 8.10am.
It's time to get down to business with the Devil's Staircase (staircase of death!)
Additional challenge: Begin the Mt. Ngauruhoe summit.
Time started: 8.50am
When the bus driver said it was a dangerous climb I dismissed it, only later to find, she was not kidding. At all. Watch my video here. Yup, I fell on my bum around 15 times.
Reach the Summit of Mt. Ngauruhoe.
Time check: 10.25am
Enjoy the views (we had a snack at the top and recovered for about an hour), capture your incredible surroundings and prepare for the way down. The hard work is far from over! We had a 25-minute recovery at the bottom too, to empty shoes and get a snack.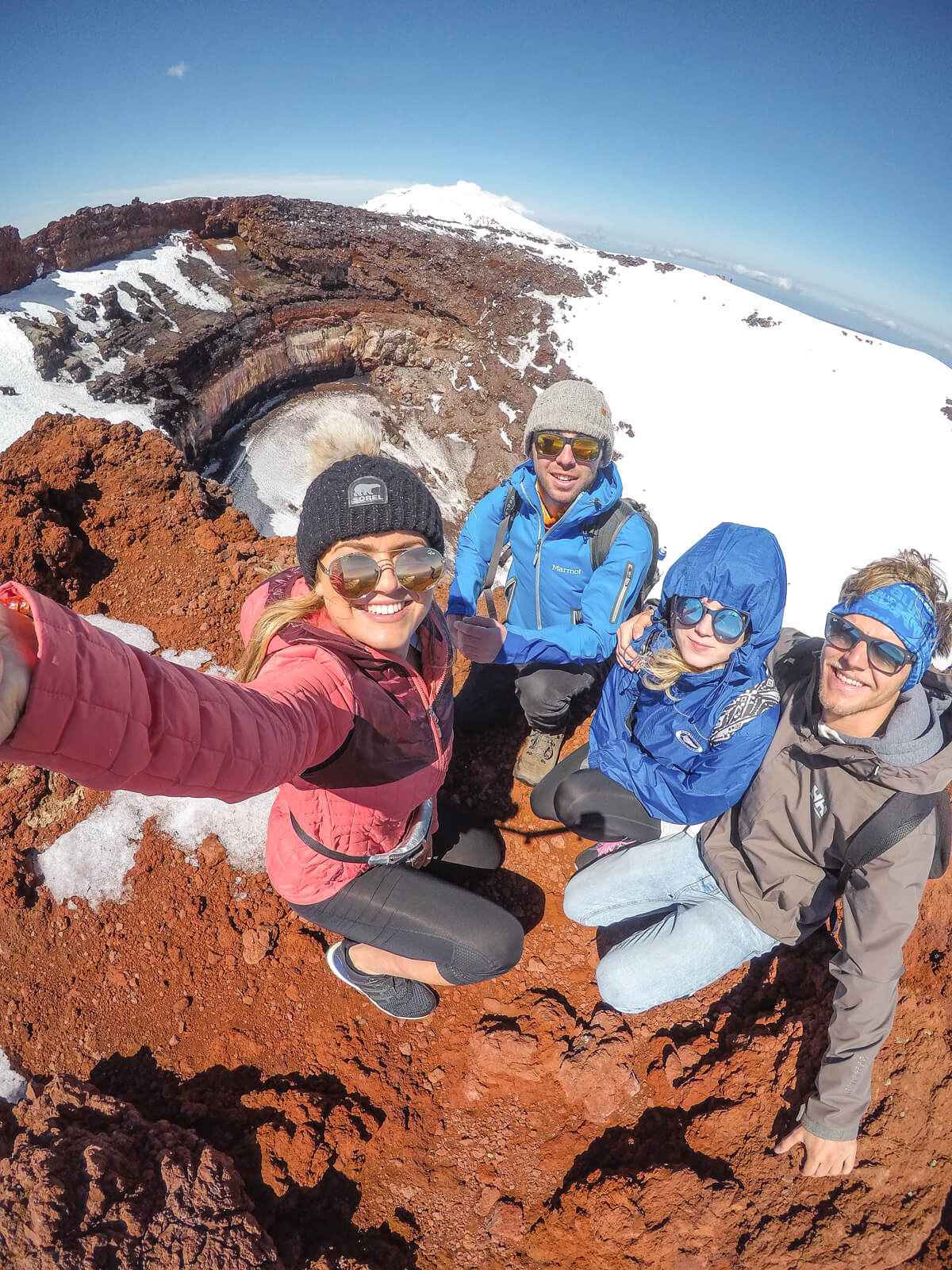 Stage 3: South Crater to the base of Red Crater Ridge
Time started: 12.25pm
Stage 4: Red Crater Ridge
Time started: 1.35pm
This is the steepest part of the original track. Winds can get strong so don't veer off the path or near the edge. Take caution and make sure you have the correct footwear to assist you. Check out my guide to the Tongariro Crossing here.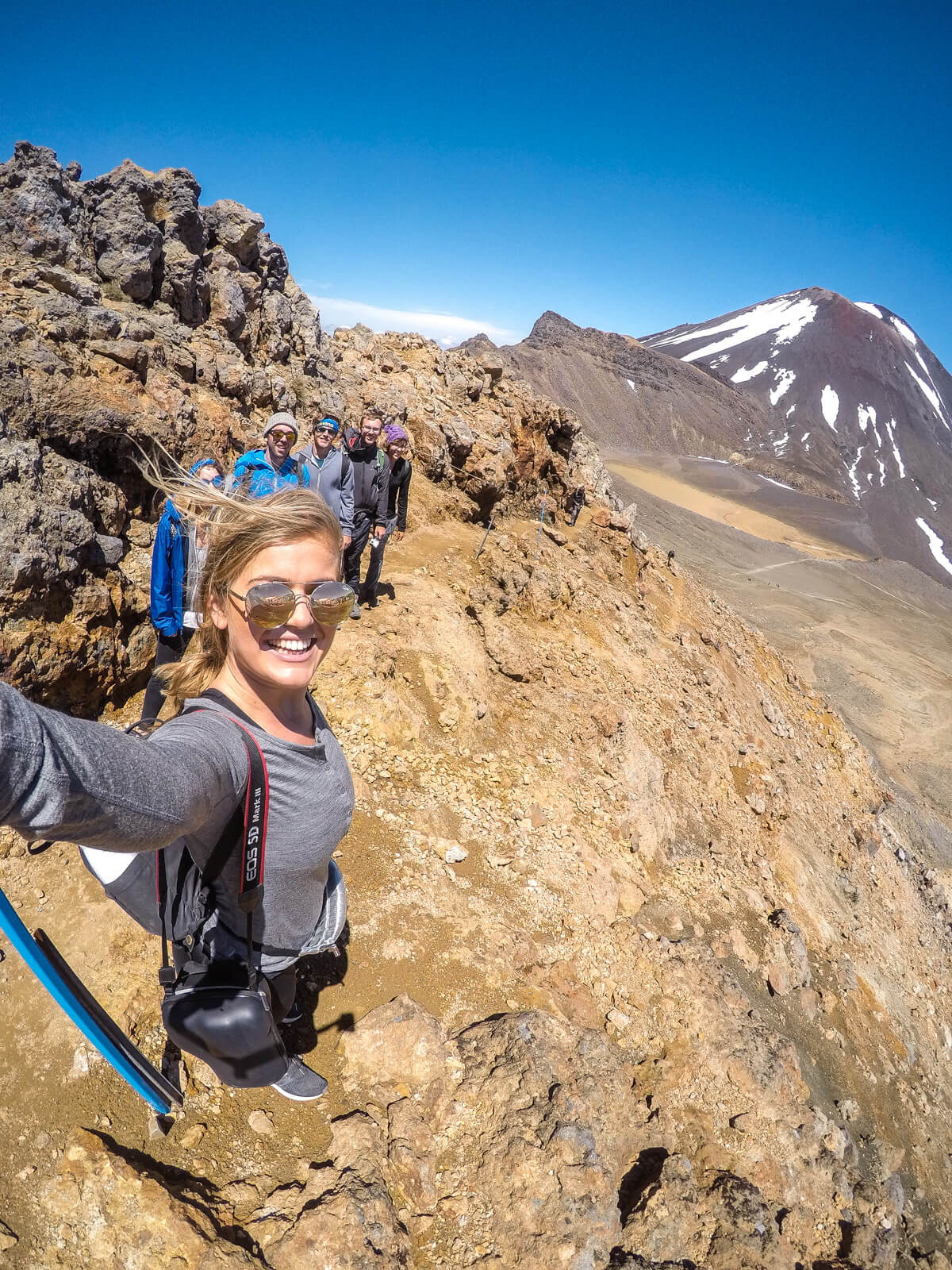 Additional challenge: Summit Mt. Tongariro.
You most likely won't have the time or energy to do this and Mt. Nhauruhoe, so pick between the two. This one is easier, but still leave 3 hours to return.
Stage 5: Red Crater to Emerald Lakes
Time started: 2pm
The scree is similar to that on Mt Ngauruhoe: footing is easily lost and very challenging. Another point: walking boots are appreciated. Shop mine here.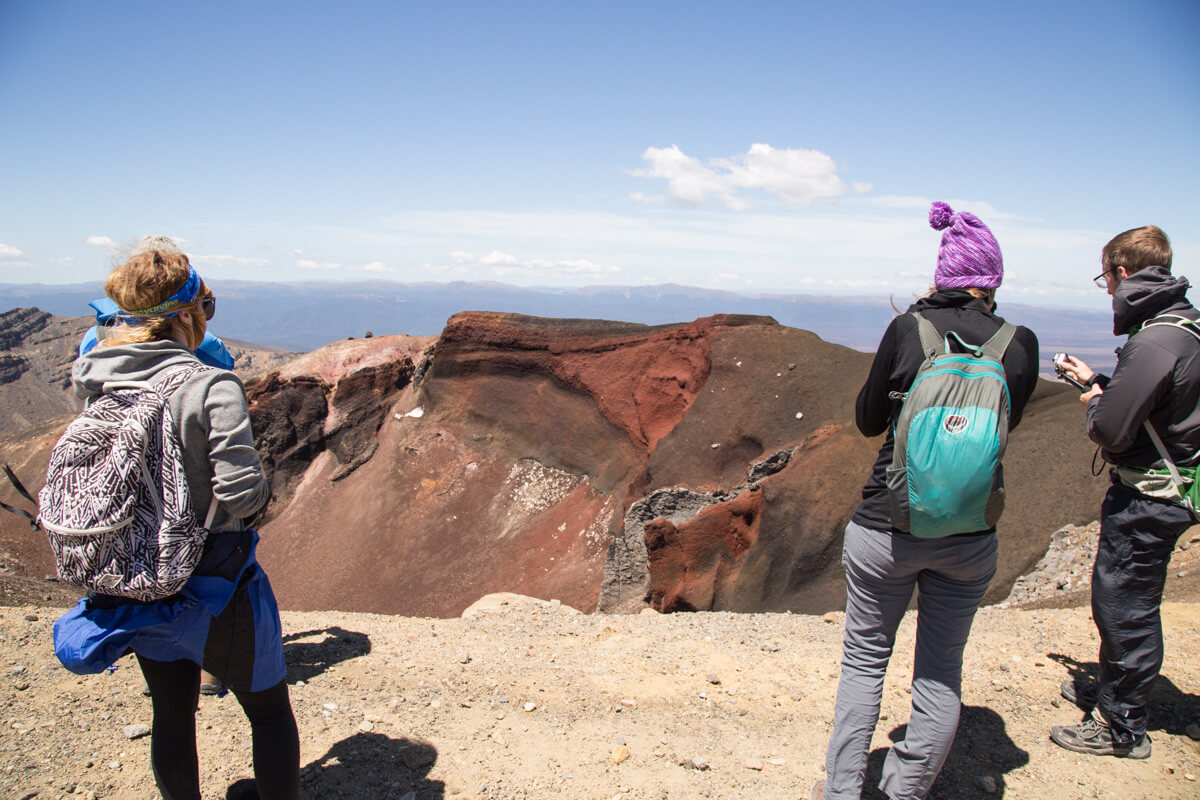 Stage 6: Emerald lakes to Blue Lake
Time started: 2.15pm
Stage 7: Blue Lake to finish!
Time started: 2.30pm
Don't get too excited. There are still 3 hours of walking to do! In an hour you'll pass Ketekahi Shelter where there are some toilets and then it's time for the never ending path…
Completion time: 4.50pm
We completed the Tongariro Alpine Crossing route, with the addition of Mount. Doom, in just under 10 hours!
Safe to say we had a big dinner and beer to celebrate a truly epic day!
Watch my Tongariro Alpine Crossing adventure come to life here…