Are you going to Cuba and looking for top tips for travelling in Cuba? Then look no further! In this blog post, I'm going to highlight all the best Cuba travel tips and everything you need to know before travelling to Cuba, one of the best places to visit in North America. We're going to cover everything from what to pack before you go, currency when you arrive, what to expect from the food, and more!
Cuba is a fascinating country that is on many people's bucket lists. A visit to this nation is guaranteed to feel like a time traveling experience, with countless, colourful old towns to visit, and vintage cars that go back to the 1930s to ride in.
On top of its rich and visible history, Cuba boasts a wide variety of natural beauty, from waterfalls to rainforests, mountains to wetlands and of course, the white sand beaches and turquoise waters typical of any Caribbean location. This, all combined with the endless music, mojitos and salsa dancing spilling onto the streets, easily makes this country one of my favourite destinations in the world.
However, travelling in Cuba tends to be slightly different to other places, so if you're planning a trip to this beautiful Caribbean island, here are my Cuba travel tips including everything you need to know before you go…
Other travel guides you might find useful…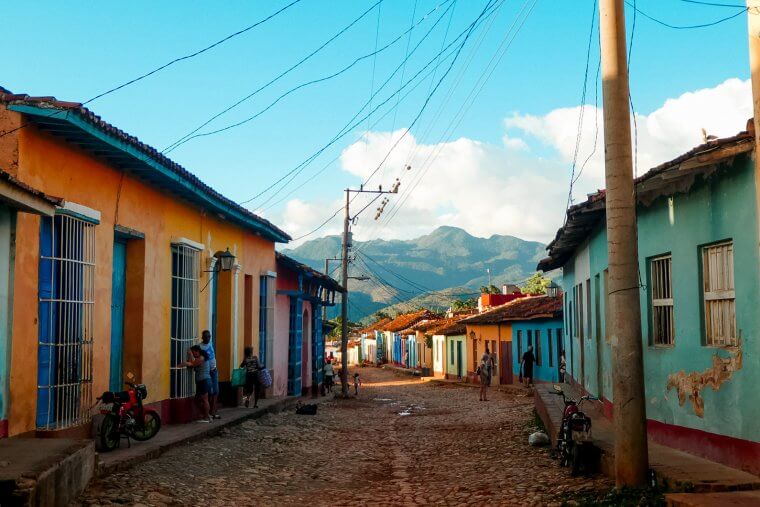 Cuba travel tips: 21 things you need to know...
1. Visit Cuba in shoulder season for the best balance of weather and prices
If you're wondering when to visit Cuba or when the best time to visit Cuba is, then I would say shoulder season, in March / April.
Cuba has a hot, sunny, tropical climate with dry and wet seasons: the dry season runs from November to April, the wet season from May to September. However, even during the wet season, you can still expect hot temperatures – people who travel at this time say the rain doesn't last long!
Peak times to travel to Cuba are mid-December to mid-March, and all of July and August.
March & April are the best months to visit Cuba if you're looking for a good balance of nice weather and reasonable prices without too many crowds!
2. Check visa requirements for Cuba
Anyone who does not have Cuban residence is required to have a visa to travel in Cuba. You can apply for the visa through the Cuban embassy, through your airline, or through several websites. Find out more details through your airline or your local government website.
Note that travel from the US to Cuba for solely touristic purposes is banned, and you need to travel for one of these 12 reasons.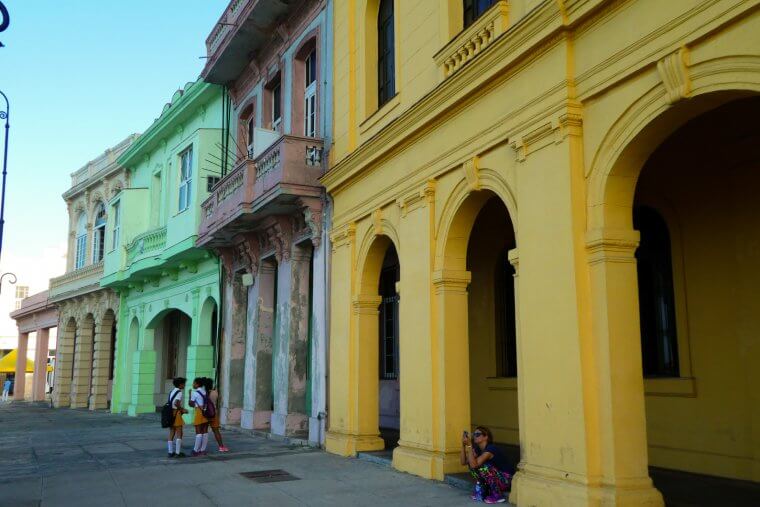 3. Bring print outs of all required documentation
With internet roaming charges being high, another of our Cuba travel tips is bringing print outs of all documentation you will need to show at the airport: boarding passes, vaccination certificates, visas, accommodation bookings, health insurance, and an onward flight booking.
Keep these documents safe in case you need them during your stay and you can't get to them online!
4. Cuba is a communist state; be mindful of talking politics
Cuba is a communist state, and very different to what we are used to in the west. Seeing this can be fascinatiing, but you need to be mindful.
There is no advertising or branding, and the internet is censored. Even coca-cola is banned! Food and other items are bought using ration tokens and due to import sanctions, there isn't a whole lot of it. You may also notice the little maintenance that has taken place in the country, with some buildings even left crumbling into the street.
You'll likely be curious about the history and politics of the state, so maximise your experience by attending museums, but be aware that all the information put out is state-controlled. It is also important to remember that while politics may be interesting for you, many Cubans are not comfortable speaking openly about the government and these topics should be dealt with sensitivity.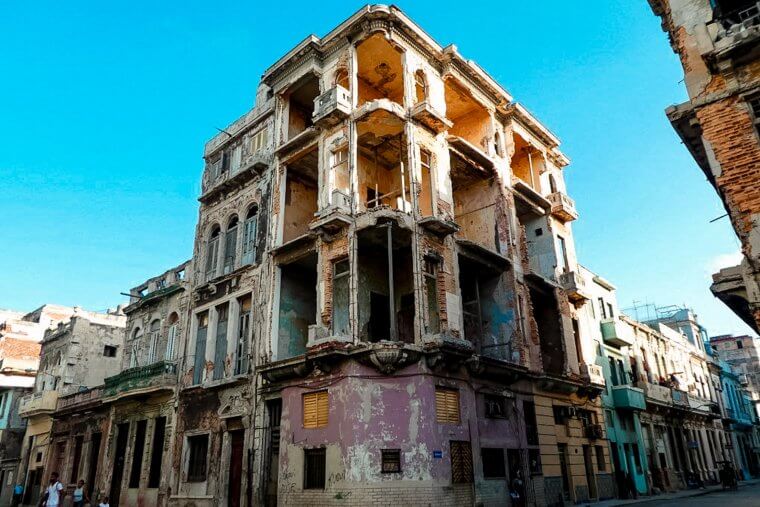 5. Pack everything you need: rationing and import sanctions can mean supplies are limited
Due to the import sanctions, stores in Cuba are different to what you're probably used to. They might have very little stock, especially in terms of anything fresh, but are also extremely expensive where you might not expect it. To avoid paying upwards of £10 for one pack of toothpaste and some shampoo, one top tip for travelling in Cuba is to pack all the toiletries and goods you may need, including medication, before coming to Cuba.
Tap water is not clean enough to drink in most places and bottled water is wasteful and expensive, so bring a water steriliser if you have that too!
You might also want to pack some little toys or candy to ive to the local children as a gesture, as you may not always have the coins to give to those in need. You won't have much luck finding these items in a store in Cuba, so pack some before you head off on your travels.
6. Don't bring a drone to Cuba
Drones are banned in Cuba, so to avoid having it taken away at customs and paying a holding fee to collect it on your way out, don't bring yours!
7. Book your accommodation in advance
At least for the first few nights…! With the internet being expensive and not always easy to access, and there sometimes being problems with apps like Airbnb, Cuba is a destination where I'd suggest booking accommodation in advance. You usually need to show an accommodation booking at the airport customs.
Having said that, owners of casa particulares often know someone else in another town, so they can sort you out with a local recommendation if you dare to be more spontaneous!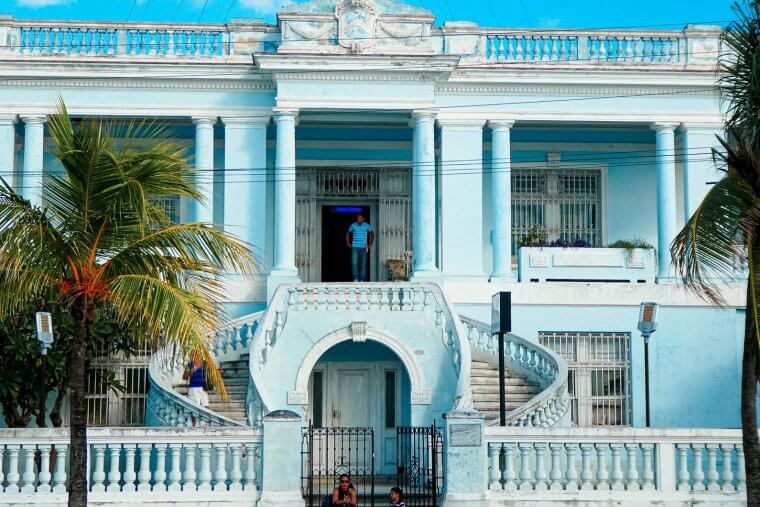 8. Live with locals in casa particulares
Despite some things separating tourists and local Cuban people, there are many ways to share experiences and get to know the country more authentically. While you'll likely be more than welcomed to play dominoes with them, try your salsa moves with them or practice your Spanish over a mojito, the best experiences I had came from sitting around a dinner table together.
Under the system of casa particulares, host families are allowed to open up spare rooms in their homes as accommodation for tourists – like a B&B, but usually in the owner's home. You are likely to come out of your stay with a new friendship and local knowledge, as Cubans are such welcoming, kind and friendly people. This was an absolute highlight of my trip and one of the best things to do in Cuba – I even remember shedding a few tears as I parted from my Havana host family because they were that amazing!
You can book casa particulares on booking.com, Airbnb, hostelworld, or turn up and see what you find! I'd recommend booking in advance where you can, at least for your first stay – you usually need to show an accommodation booking at the airport customs. If you use Airbnb to book a casa particular while you are in Cuba, use the browser because the app doesn't work well.
9. Plugs in Cuba are 110v.
Many hotels and other accommodation providers will have a plug converter, but one of my Cuba travel tips is to pack one just in case!
10. Currency in Cuba is the Cuban Peso (CUP) - bring all the cash you want to exchange
Cuba recently underwent an economic reform, so there is now only one currency in Cuba: the Cuban Peso (CUP). There are a few shops that will also only sell in "hard currency" (euros, GBP, dollars) or with credit cards in these currencies.
You cannot buy CUP outside of Cuba; the best way to get money is to bring cash with you in euros, GBP or Canadian dollars, and exchange at the airport. You'll need to look for the CADECA office (you will also find these offices in larg towns like Havana).
While paying by bank card and using cash machines is becoming more common, ATMs can be far and few between and usually have significant surcharges so bring as much cash as you can (maybe bring a money belt or stash some in a suitcase pocket).
More Cuba travel tips in terms of money include…
American owned cards are not accepted so bring a Visa or other card.
Euros, GBP and Canadian dollars will get a better exchange rate than US dollars (there's an extra 10% fee on US dollars).
Don't expect the same low prices as other neighbouring Central American and Caribbean countries – Cuba can be surprisingly expensive for this region.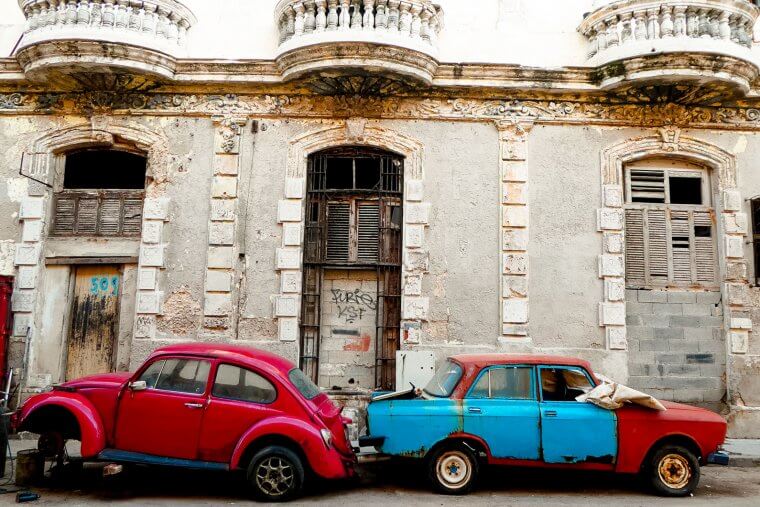 11. Internet access can be limited in Cuba
Internet is more accessible than it used to be, but still somewhat restricted in Cuba. Whilst it is not totally unavailable, you certainly won't be able to access it at all times or without a steep price, so be prepared to spend some time off the socials and away from the work emails. Another of our top tips for travelling in Cuba is to check with your accommodation as to whether there will be wifi; it's becoming more common, but don't take it for granted that it will be there.
If you find yourself in a park and everyone is looking at their phone, you've likely hit a public wifi hotspot. Public internet hotspots in Cuba are mostly in parks or other gathering spots. This is the cheapest way to get access to the internet in Cuba (SIM cards and data roaming are expensive). You can see a complete list of all the public wifi spots in Cuba on the ETECSA website.
To access wifi at public hotspots, hotel bars or gathering places, you'll need an internet card to connect to the internet. These Cuba internet cards, called NAUTA cards, can be purchased at ETECSA stores. You can also purchase them from people near public hotspots, but they are often more expensive. They have a password on the back which you enter on your internet browser, and will give you a certain time period in which to use the internet on your deveice's browsers/apps.
Less frequent internet access also means less researching on the ground, or if you are like me, less scouring at reviews on Google Maps while you are strolling through a city. A travel guide, a printed/downloaded map and some research before you land will definitely stand you in great stead when visiting Cuba. I urge you to do all three of these things because as useful as the travel guides can be, their recommendations see price inflations over time and you will be totally lost if you misplace the one book you have to guide you around the country!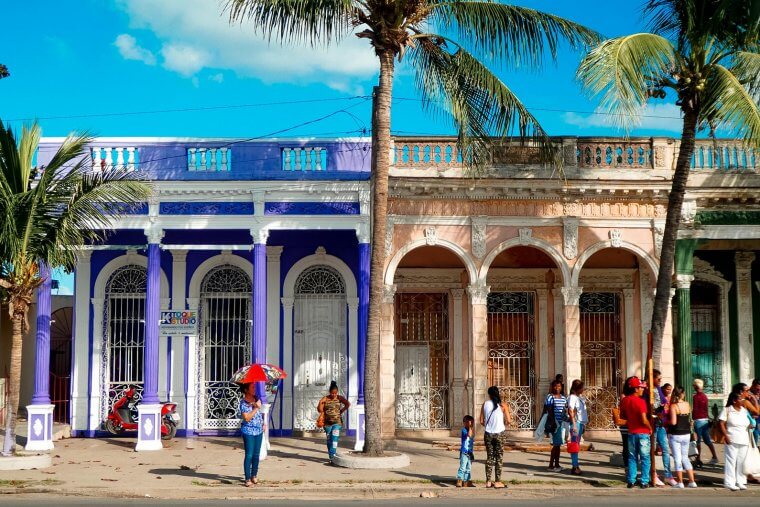 12. Cuba is an extremely safe country
Cuba is an extremely safe country. Not only are crime rates very low, but in my experience, Cubans were some of the kindest people I've ever met and there is a sense that people are more prepared to look out for you, than ever hurt or harm you.
On top of that, you can also feel extremely safe in terms of your health. With the health insurance that you purchase before travel you're in safe hands with Cuban doctors if you get sick. (Note: bring over-the-counter medication with you for ease).
The only experience that took me by surprise at first, was the (quite relentless) catcalling. Yet, after some research, including listening to Chen Lizra's TedX talk on the culture of seduction and flattery in Cuba, I came to realise that this country of Salsa and Rumba, has a different attitude towards catcalling.
In a place where there is no advertising and images of supermodels on every other building or product, beauty is recognised and appreciated in everybody. When I noticed how being called 'linda' and 'preciosa' was occurring to women of all ages, shapes and sizes, I began to recognise it for it's more innocent meaning, which is flattery or 'piropos bonitos'.
Obviously, this is a very different culture to what many are used to. It's not to say you must agree with it, but simply to highlight the general harmlessness of catcalling in Cuba. I can confidently say that despite all the attention, I never felt threatened or in any danger in these situations, unlike how I feel about catcalling elsewhere in the world, where it can be more rude, sexually threatening and certainly have more malicious intent.
13. Travelling around Cuba by bus is easiest
Travelling in Cuba is really easy by public trasnport; the tourist buses are run by a company called Viazel. The roads in Cuba are good, the bus fares are reasonable, and the drivers are sensible.
A top tip for travelling in Cuba by bus is to bring some layers with you – they often blast the air con and it can get chilly!
14. Use the Cuba-Taxis in Havana
These nifty, little cabs are the Cuban's take on the tuktuk. They are the most bizarre, but worthwhile mode of transport to take you through Havana, as they whiz through the crowded streets with unrivalled navigation and speed. Not only will they fulfill your thrill-seeking needs, but they cost half as much as the vintage taxi! Definitely a money-saving Cuba travel tip you need to know!
15. Tourists and locals have different experiences
You may notice a difference in where and what tourists and locals can go and do. Since the monthly Cuban salaries are around $25 a month, a $10 meal in a restaurant won't be bought by many locals. In the same vein, transport and certain areas can often be separated so don't be shocked if you are rejected for a local bus or area for being a tourist; it is just the way things function in Cuba. In part, this can make travelling feel less free, especially as travelling 'off the beaten path' can be more difficult and expensive.
However, as long as you avoid all-inclusive resort destinations such as Varadero you are bound to have an authentic Cuban experience.
16. The food and coffee are different to what you might expect... and don't drink tap water in Cuba.
Don't go to Cuba expecting the type of street food you'd get in Mexico, regardless of how close the two are. Due to import sanctions and rationing, food is quite limited and often pretty simple – get used to rice and beans!
Also, coffee always seems to be on the weak side – ask for a double shot or extra strong if you rely on your coffee like I do.
Remember that you cannot drink the tap water in Cuba, so either drink bottled water (which can be expensive and hard to find – check petrol station shops if the local supermarket doesn't have any) or, to save on plastic, one of our Cuba travel tips is to bring a water steriliser with you.
You might be able to cook in your casa particular but it's more likely that the family will offer to cook for you. In my experience, this was mainly a breakfast service which was a great way of trying local, homemade cuisine, plus the portions were always extremely generous and fuelled us well for our long days out in Cuba.
Having said that the food is plain in many places, more restaurants are opening up and we did eat some great food at the following places:
Lamparilla 361, Havana – amazing tacos.
Cafe Real, Trinidad – great food and live music.
Cafe Arcángel, Havana – cutest interior!
Lo de Monik, Havana – best Cuban sandwiches.
Cafe Laurent, Havana – great fish.
Los Toneles, Holguin – Family run, lovely atmosphere.
Many professions in Cuba such as waiters, taxi drivers, tour guides and cleaners rely on tips to support their income. One of our Cuba travel tips is to always carry some coins with you to tip local staff, e.g. waiters in restaurants, taxi drivers (the ones you have a meter – if they don't they are private drivers, and you should negotiate the rate before you leave), and toilet attendants.
Just bear the exchange rate in mind before you tip – wages for these kind of jobs are often around 20-30 USD a month, so 1-3 USD tips are very generous without ruining your budget.
18. Bring mosquito repellent for the sandflies at the beaches
You might not think to bring mozzie repellent for the beach typically, but this is one of our top tips for travelling in Cuba. You'll find sandflies at the beach and protecting yourself against them will stop them ruining a relaxing day in the sun!
19. Go to El Nicho Waterfalls with a local tour guide
The incredible Cascate El Nicho is not the easiest and cheapest spot to get to in Cuba, but make it happen if you can, it's worth it as it's one of the best things to do in Cuba. I found the best option was to go with a group and a guide, which included the transport, food and access to the waterfalls for the whole day. There are several falls in this lush forest, and the guides are great at explaining all the flora and fauna around you. There are plenty of swimming and rock-jumping to enjoy in the emerald waters of el Nicho, so it's the perfect addition for a bit of adventure in your Cuban itinerary.
20. Bring your dancing shoes!
Cuba is home to Salsa – one of the most beautiful, sexy and exciting dances in the world, and you can tell this nation is its origin… On practically every street corner of Havana there will be some music playing and people dancing and singing. So bringing your dancing shoes / outfits or confidence – whatever is necessary, and start twisting those hips! My favourite places to do this were:
Disco Ayala el Cuevo, Trinidad – a nightclub inside a cave!!
Bar restaurant 1838
Club de la music, Trinidad
21. Brush up on your Spanish before you go
Very few Cubans speak more than basic English, if at all, and Spanish is a relatively straightforward language, so start practising your Spanish or bring a little Spanish dictionary – it'll certainly make life easier! Learning Spanish is one of our top tips for travelling in Cuba that can also come in handy all over the world, as Spanish is an official language in 21 countries!
One of our favourite apps for learning languages on the go is Duolingo. Check out other useful travel apps here!


What are your top tips for travelling in Cuba?
Have you been to Cuba before? Any Cuba travel tips you'd add?
Love as always and happy adventuring…
Did you find this post helpful? I'd love you to share it for me.
Pin and save this blog post for later…