Padstow is a postcard-perfect town and one of the most popular tourist locations in the whole of Cornwall. If you're looking for the best things to do in Padstow, you're in the right place. In this Padstow travel guide I'm going to share with you all the best things to do eat and see here in this stunning coastal town in England.
It's not hard to see why it makes it on the top things to do and see in Cornwall, it's gorgeous. You'll have fallen in love at first sight and that's before you've even tucked into the Michelin-star restaurants and the activities on offer here. Padstow is known as the 'foodie' capital of Cornwall so if you're someone that appreciates fresh fish, award-winning ice cream and pasties – you're heading to the right place.
In this post, I'm going to take you through the best things to do and see in Padstow to help you plan your Padstow trip.
Where is Padstow? This stunning gorgeous fishing post is located on the North Coast of Cornwall and is sat on the Camel Estuary opening it up to a plethora of activities beyond exploring the maze of quaint streets and old fisherman's cottages' that lead you through the village itself.
Padstow is a 16-mile drive (30 minutes) north of Newquay, making it the perfect addition to a Cornwall road trip if you're in the area.
If you're planning a trip to Cornwall, Padstow is a wonderful place to stop by but do make sure you also check out the best beaches to visit in Cornwall and 10 beautiful villages to visit in Cornwall.
Other Cornwall travel guides and blog posts that you may like: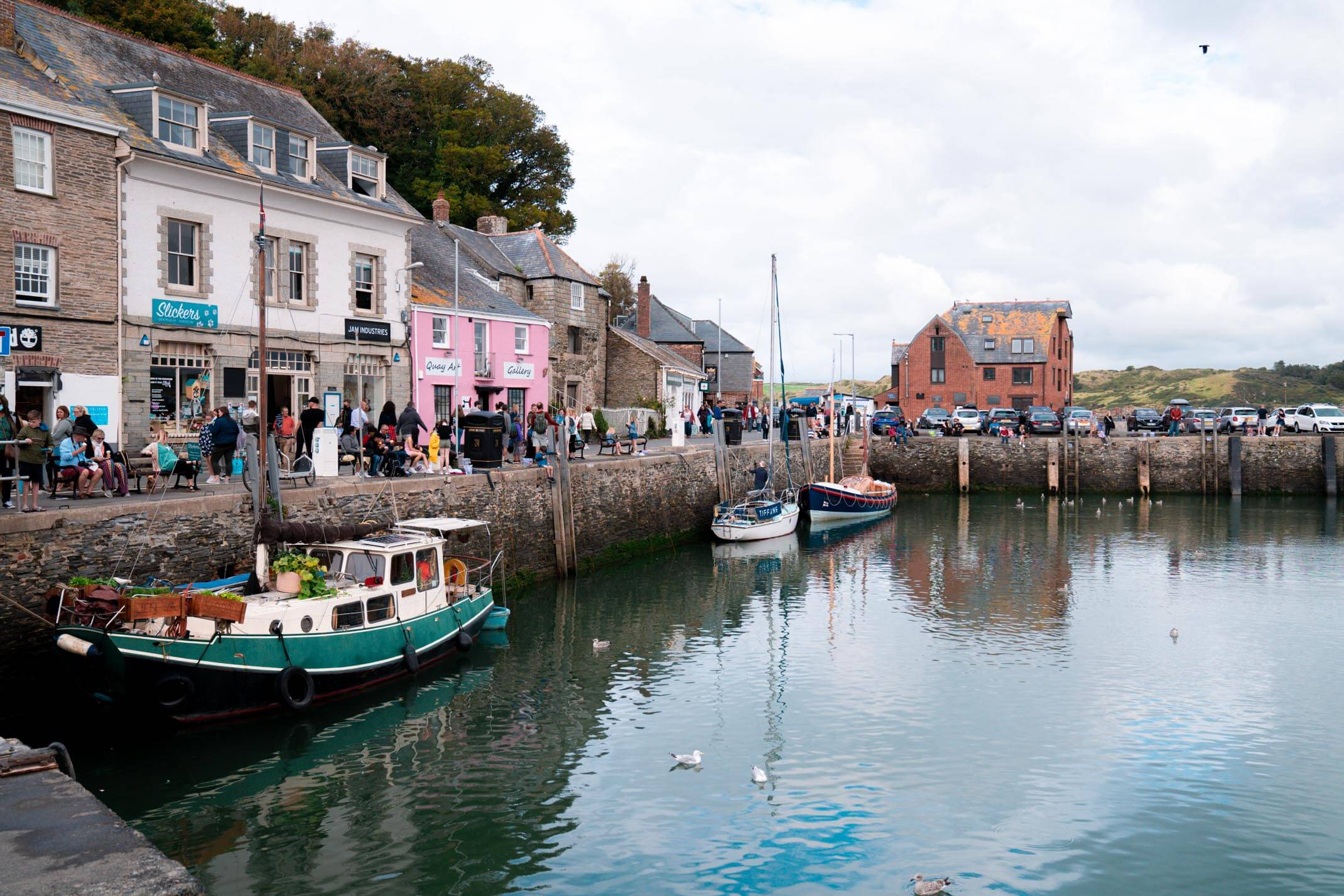 The best things to do and see in Padstow, Cornwall
Whilst exploring Padstow, I parked up my campervan at Padstow Holiday Village, a gorgeous camping and touring park by Lovat Parks. My favourite privilege that came with my stay was (aside from the hot showers obviously) that it removed the faf of finding a parking space in Padstow which, let's face it, can be hard to come by in the summer months of July and August when tourism peaks.
From Padstow Holiday Village you can leave your campervan/tent in safety and take the 25-minute walk through the countryside down and into the village. This saves both time and money when you remove the parking situation.
I loved my stay and am excited to check out their other Cornwall campsite (Morgan Porth) and their New Forest (Wiltshire) campsite in the coming months.
Looking for somewhere to park your camper van, caravan or tourer in Cornwall?
If you're planning on travelling in your caravan or tourer, Campsites.co.uk has a huge range of 50+ Padstow caravan parks for you to choose from! Take a look.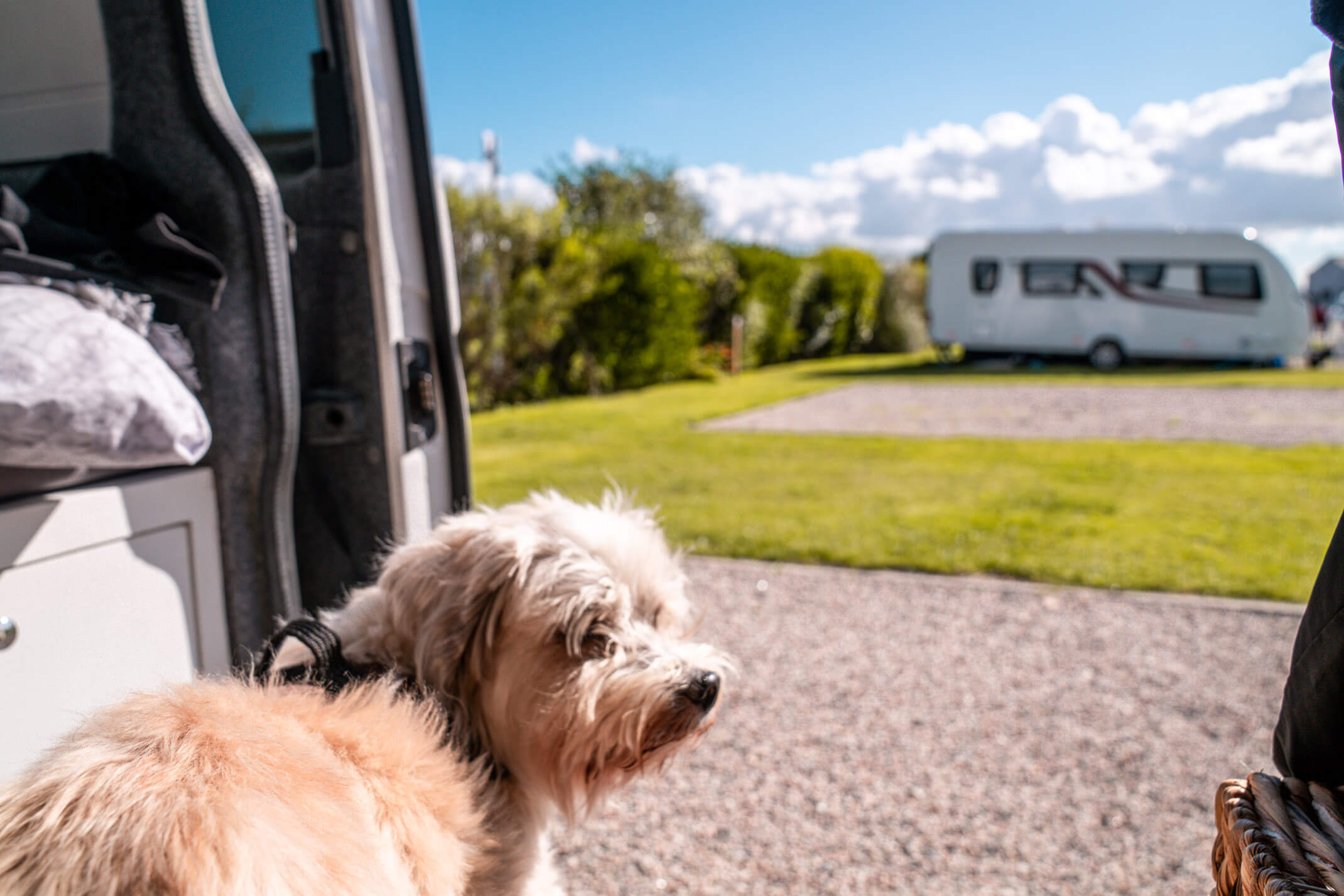 1. Grab a pasty from The Chough Bakery
A port of call you must make in Padstow. After winning the World Pasty Championship in 2013, The Chough pasties have gone viral. Produced on the outskirts of town, these award-winning pasties are delivered fresh every day to the harbour front location.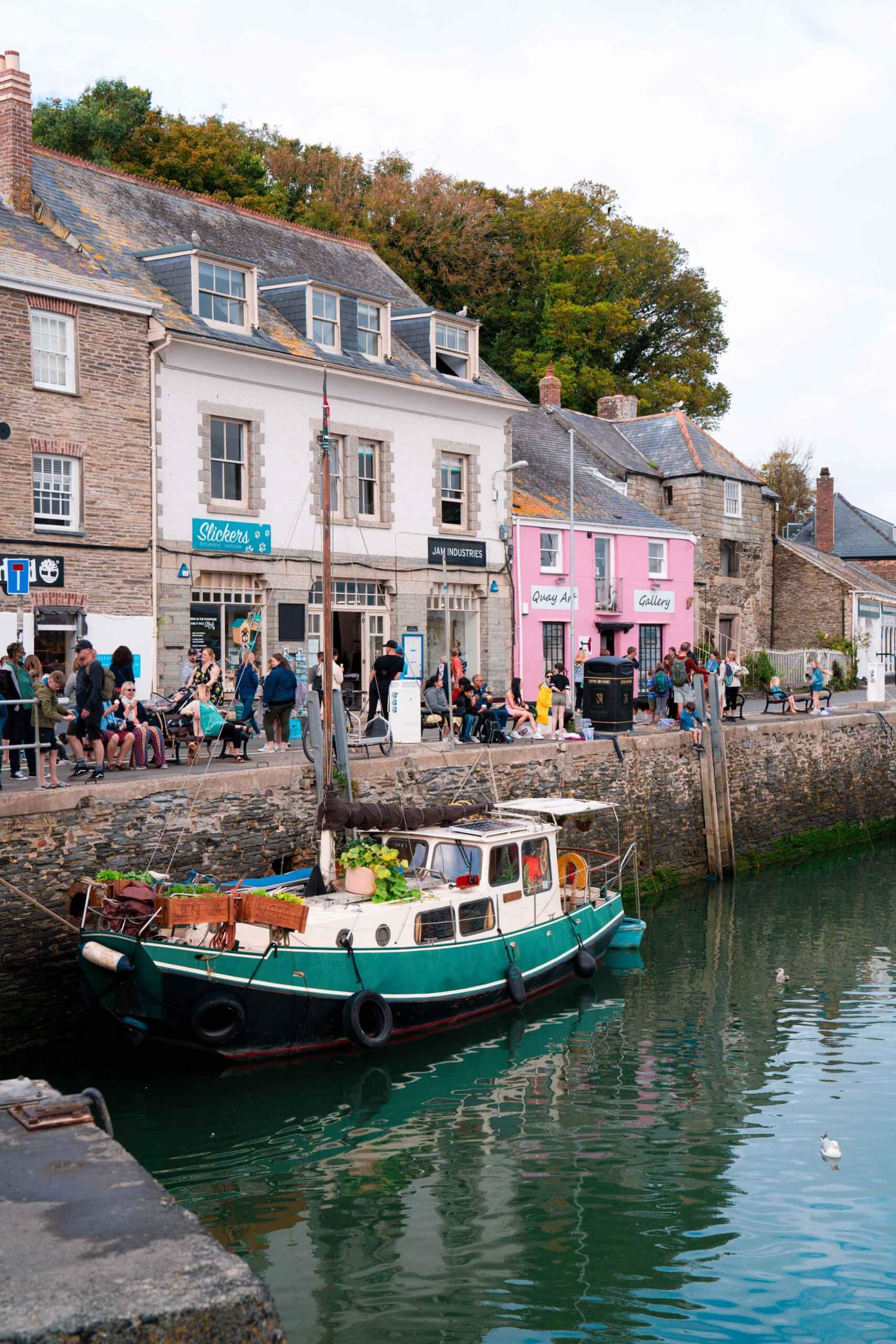 2. Hire a bike and explore the Camel Trail
Time it with a little sunshine and you have yourself the dreamiest adventure. We did anyway!
We hired two bikes from Padstow Cycle Hire (located right on the main car park) and completed 15miles on our bikes whilst chatting away and soaking up the beautiful route along the Camel Estuary from Padstow to nearly Bodmin.
Tip: Particularly in peak season the bikes get booked up. You can reserve for the mornings but if you miss that bike boat, you can turn up and do a half-day hire from 3pm! Which also saves you £5. You just need to return them by 8pm.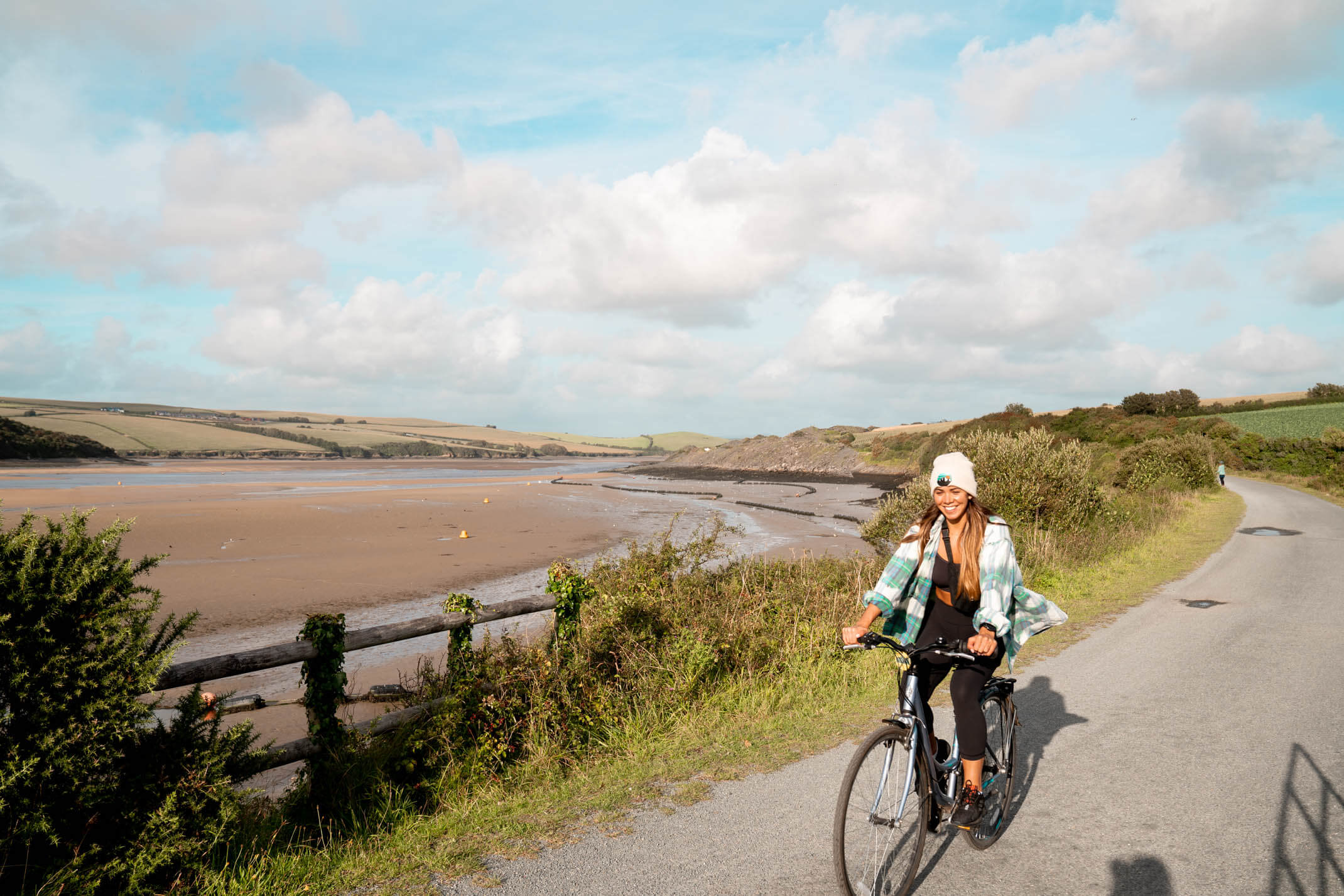 3. Pick your ice cream flavour of choice at Roskillys in the harbour
Roskilly's ice cream is another must when in Cornwall and luckily for you… they have a shop right on the harbour front. Perhaps a post pasty treat?
What makes the ice cream so special? They only ever use their own milk and cream from their lovely Jersey herd, which graze on pastures that have been farmed in a traditional and sustainable way for generations down here on their organic, working farm on the Lizard peninsular in Cornwall.
If you make it over to the Lizard peninsular, you can visit their farm!
4. Enjoy your ice cream or pasty on the harbourfront
Padstow for me is exactly this… Grabbing a takeaway and sitting on the harbour wall. There's nothing better than watching the world, the seagulls and the boats go by as you are comforted by the sound of other explorers discovering Padstow. You're never too far from someone with a crab line either. A popular activity for all ages on the harbour here. Grab a fishing line from one of the many shops here for a post pasty activity!
One thing I would say though if you enjoy your lunch outside… Be careful of the seagulls!
5. Dine at one of Rick Steins restaurants
I'm not sure that in 1975 when founders Rick and Jill opened a small seafood bistro on the harbourside in Padstow, they imagined it would turn into the business it is today. Rick Stein is the word on everyone's lips and for good reason. If you like seafood, this is you sorted.
You simply haven't completed Padstow if you haven't grabbed some scampi and chips from Stein's Fish and Chips, taken a cooking course at Rick Stein's Cookery School, shopped in the Deli or dined at one of the Rick Stein Restaurants (Stein's Cafe, The Seafood Restaurant, Seafood bar).
I've dined in the Seafood bar before and last week I grabbed scampi and chips from Stein's Fish and Chips. I can confirm, they do it will.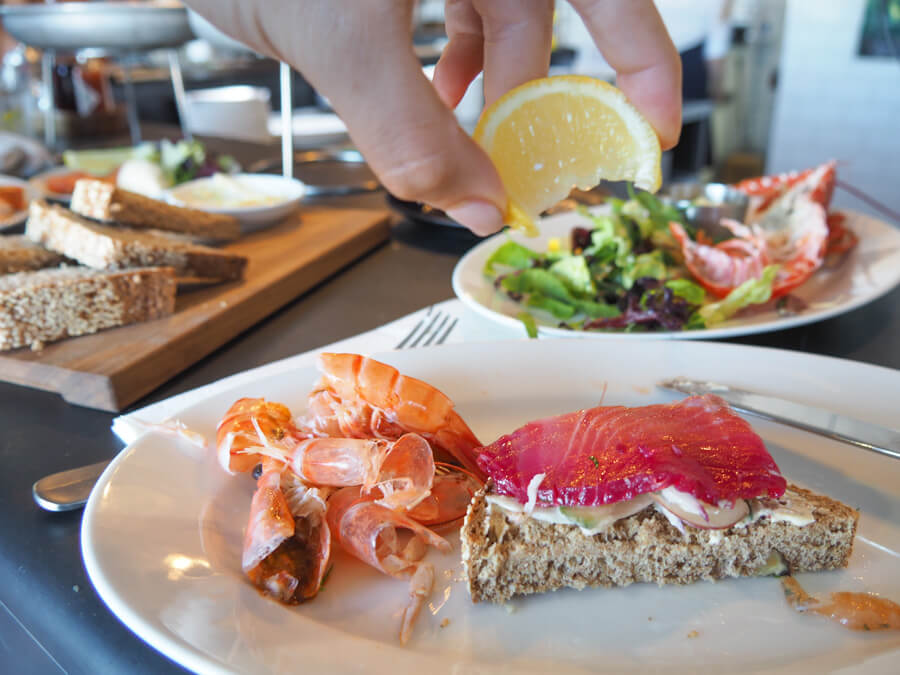 6. Go wine-tasting at Trevibban Mill
This gorgeous property is set on a vineyard just a 5-minute drive outside of Padstow. It's open 12 pm – 5 pm Wednesday to Sunday for you to enjoy a wine tasting, a guided tour (inc. wine tasting) or just a glass of wine.
It's recommended to book in advance for the wine tastings, especially during the holidays. We actually turned up spontaneously and there was no room for a wine tasting but what you can do is order a selection of your favourites in a 125ml size and create your own. I can highly recommend the cheese board of local cheeses too!
Book your wine tasting here.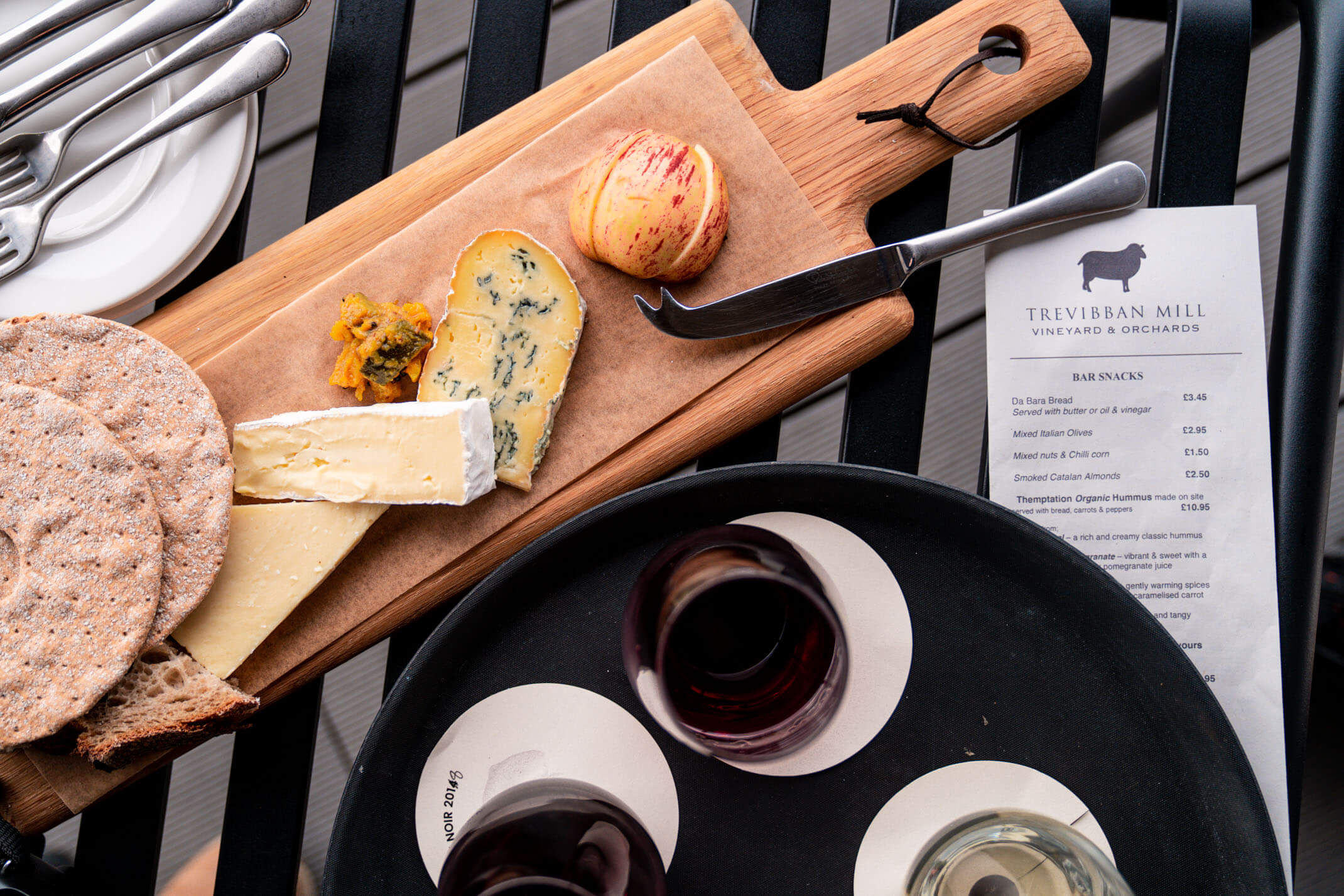 7. Get the ferry across the harbour to Rock village
If you're staying in Padstow for a few days and are looking to switch up the adventure and explore the surrounding beauty, consider taking the Black Tor ferry across to the coastal village of Rock which you can see across the water from the harbour.
The ferry takes 5-10 minutes as opposed to the 30-minute drive and sails across the Camel at 20-minute intervals to the east bank. The service runs from 8.00 am until 4.30/5.30pm out of the summer season and until 7.30 pm during the summer holidays. Adults are £3 and children are £2.
P.s. Dogs are welcome to join too (charged at ferryman's discretion) £1.00 return
8. Surf or SUP at Harlyn Bay beach
If you're looking to get in the water during your trip to Padstow, there are a few nearby beaches that will be perfect! One of the most popular, particularly when it comes to surfing is the nearby Harlyn Bay. At Harlyn Surf School you can choose between a range of watersports to suit your desires. There are surfboards and surf lessons, there are paddle boards, there are kayaks and you even have the option of going coasteering! SO much fun.
You can't come to Cornwall and not jump in the ocean. Question is… which activity are you doing?
9. Walk to Trevose Head Lighthouse via Padstow lifeboat station
Park up at Boobys Bay and walk along the coast to Trevose Head Lighthouse to soak up the gorgeous (sunset side) views across the rugged coastline and beaches of the north coast. Make sure you stop off at the Padstow Lifeboat station, an impressive award-winning boathouse redesigned and finished in 2006.
Station Address: Trevose Head, Mother Iveys Bay, Padstow PL28 8SL
Station Opening Times: 10:00am to 4:00pm weekdays.
10. Padstow and Stepper Point coastal hike
Starting in Padstow village is this 5.8 miles route that brings you along the coastline and back into the village over steady and mostly level terrain. On this route you'll enjoy gorgeous estuary views, beach views, you'll see the original spot of the RNLI Padstow boathouse and of course get more than a generous dose of that famous Cornish coastline. See the route details and step-by-step instructions here.
If you have it in you to go a little further, continue on around and witness the stunning Tregudda Gorge, see below.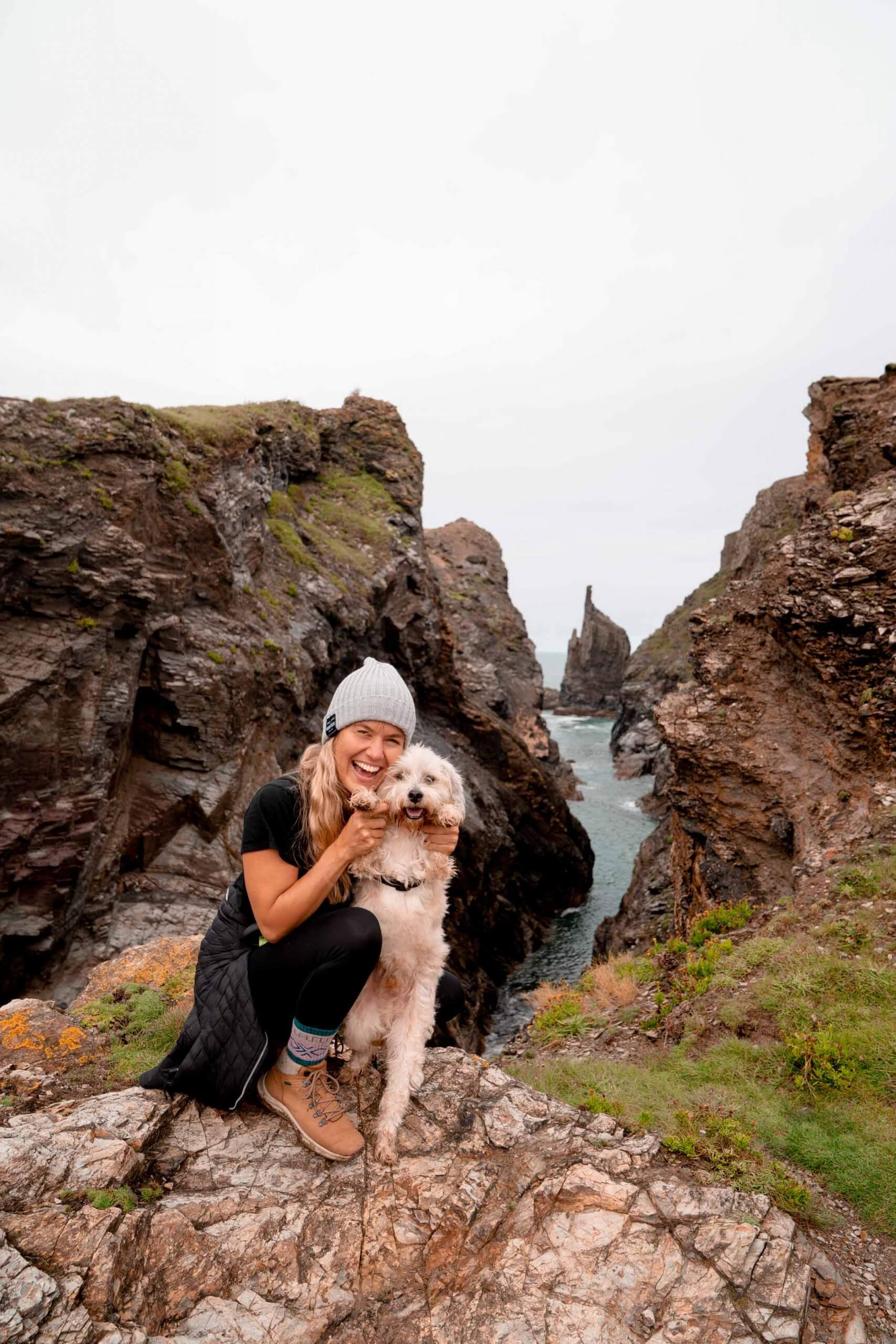 Have you been to Padstow?
I'd love to know your favourite spots?
Love as always and happy adventuring,
Did you find this post helpful? I'd love you to share it for me.
I can't do this without you.
Pin and save this blog post for later…