Are you planning a trip to the stunning southwest coast of England? Are you heading to Newquay and wondering what the best things to do are in the Newquay area?
You've arrived at the right place and you're making a wonderful choice. Cornwall is one of the most beautiful places in the whole of the UK to visit.
In this blog post, I am going to share the best things to do in Newquay, the best things to see in Newquay and the best places to eat in Newquay. I've spent many a summer down here and recently bought my first home here so I feel absolutely ready to deliver you a Newquay Travel Guide.
If you're planning a trip to Newquay, after this blog post, you are going to have a Newquay bucket list as long as your arm and you might want to even consider extending the duration of your trip. Newquay is 100% a stop off you should make on your UK road trip, if you love ocean time, lively crowds, and coastal walks. Newquay is without a doubt one of my 28 places you should visit in England.
In 2019, I took my converted VW camper van (@wheresmolliesvan) down for a month of Cornwall adventure. I visited some of the most beautiful Cornish villages, Cornwall beaches you'd think were in the tropics and I spent a good few days hanging out in Padstow on the north coast. But the place I kept coming back to? Newquay.
Whether you're an avid surfer, walker, camper or beach bummer – Newquay Cornwall is going to cater for you… and then some.
Other travel guides and blog posts that you may like:


The best things to do in Newquay, Cornwall
When should you visit Cornwall?
Let's talk weather. In Cornwall, temperatures vary and you will likely experience microclimates in different parts. For example, The Roseland Peninsula has its own micro-climate that allows palm trees, agave plants and other subtropical flowers to flourish!
Generally speaking though, as with the rest of the UK, July is the hottest month in Cornwall with an average temperature of 16°C and the coldest month is February. You'll find your longest days in August when the average sea temperature is 17°C. In the winter, you'll most certainly be needing a thick wetsuit in the ocean!
June and September tend to be great months to visit, they are a little less busy but you're still likely to get some gorgeous sunshine and reap the full rewards of an English beach holiday.
Let's get stuck in shall we? Here are the best things to do, see and eat in Newquay Cornwall.
If there are any you think are worthy of adding to this list, pop me a comment!
1. Enjoy the world class Fistral Beach
This is without a doubt one of the main attractions here in Newquay. You'd be mad to not at least take a walk along this glorious stretch of sand that sits between the Pentire headland and Fistral headland.
Come summer, as you can see in the image below (summer 2020), this beach is packed with tourists. Fun, but crazy busy in the water. Consider a sunrise or sunset visit if you're looking to avoid the crowds. Or of course, come out of season. I've spent the winter walking this beach every morning, there's nowhere quite like it.
Fistral beach never fails to connect me to nature in a big way. Whether it's enjoying the world-class waves (there are 3/4 breaks off Fistral alone), the expanse of beach available for a good walk come low tide, the number of outdoor adventurers you find here, or the fact that the sunsets perfectly on the horizon here on the north coast of Cornwall.
You should also check out the nearby Porth Beach, Towan Beach, Watergate Bay and Crantock Beach!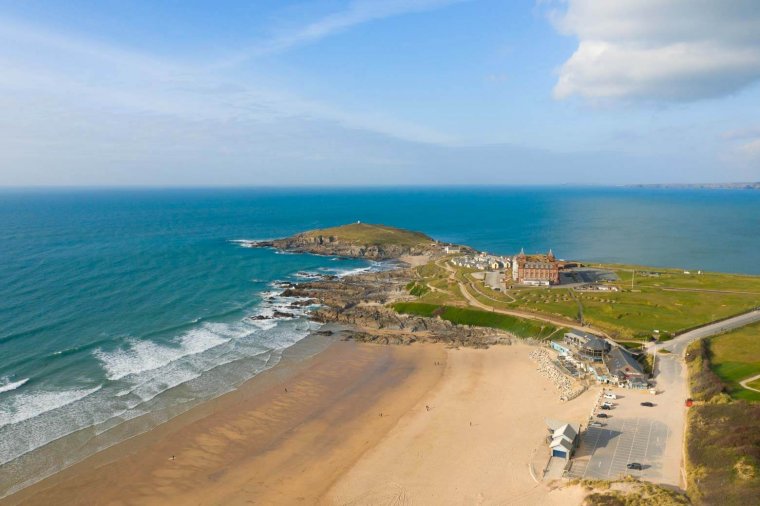 2. Grab an ice cream / coffee on the Esplanade
The esplanade is one of my favourite places to hang out in Newquay. It's the road running alongside the ocean on the Pentire (on the left if you're looking out to the sea at Fistral).
There are no cafes here but there are a couple of epic vans that pull up with refreshments. Perfect pre / post-surf or as you're walking by!
I spotted the Pink Flamingo van parked up on the Pentire headland (Esplanade road on the oceanfront) all summer 2020. I can confirm that they are back and have made it through the pandemic! Woohoo!
Yummy ice cream and the perfect lunchtime pick me up after a dip in the ocean!
There's also a coffee and bakes van which serves up THE BEST coffee and vegan goodies right on South Fistral.
3. Walk along the coast up to Fistral headland
To the right of Fistral beach is Fistral headland (pictured below). One of the best things to do in Newquay, come rain or shine, is take a walk up to the top of the headland and soak up the panoramic views over the Atlantic Ocean.
Keep an eye on the swell forecast, in particular Cribbar. When the swell comes in big here, you can stand at the top of the headland and watch nature do it's THING!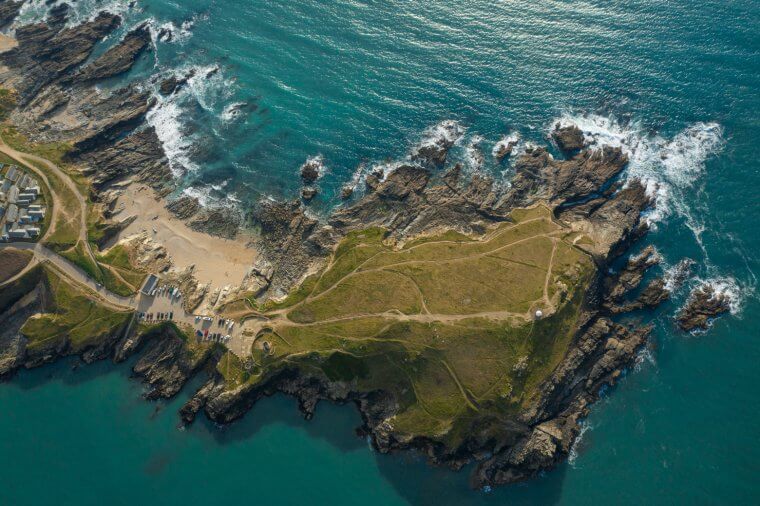 4. Have dinner / drinks on Fistral beach at sunset
Once you've enjoyed a glorious day on the beach, it's about time you celebrated life (why not) with your friends/family at one of the Fistral Beach restaurants.
Grab fish and chips, a pot of thai noodles, fresh lobster and some bubbles, a pizza or your favourite cocktail and watch the sun set perfectly over the horizon.
The Gin and Tonics at Fistral Beach bar are wonderful, see the delightful garnishing below. Definitely, the best thing to do in Newquay in my eyes!
5. Time for a lunchtime Cornish pasty in town!
Classic travel blog recommendation.
But if you can't have a Cornish pasty when you come to Cornwall, when can you have one?
There are plenty of bakeries and places to pick up a freshly cooked Cornish Pasty! Best lunch on the go in Newquay.
6. Walk across the Gannel Estuary at low tide
You can either park on the Pentire Headland and walk down to the estuary from there or you can park in Crantock and walk across to the Pentire and back.
One catch. You need to check the tides before going. Yup, when you're planning the best things to do in Newquay you have to work WITH the ocean.
At low tide, there is a walkway that presents itself and allows you to cross the estuary. You can then continue to walk across the beautiful Crantock beach and beyond. You'll need to make sure you leave enough time to get back across before high tide. That or bring your swimmers haha!
The coastline is gorgeous, depending on how far you'd like to walk so it's easy to get carried away!
Miss the low tide? Go for a cold water dip instead! The Gannel is absolutely breath taking.
7. Grab a good coffee / smoothie and enjoy it on the harbour front
Grabbing a coffee/smoothie during the first light of day and walking down to the harbour to look out over Towan Beach is my favourite pastime. There are quite a few amazing coffee spots in town now so you aren't ever far from good coffee and Gorse bakes (the amazing local bakers!)
A few of my favourites:
coffee at Milk
matcha latte at Box & Barbour
coffee at Grounded
coffee at Pavillion
coffee / cakes / breakfast bap at Basket
fresh juices and smoothies at Kook
All of your earthy turmeric / matcha / cacao goodness at Sprout Health Foods. Oh and they also have a daily homemade dish – YUM.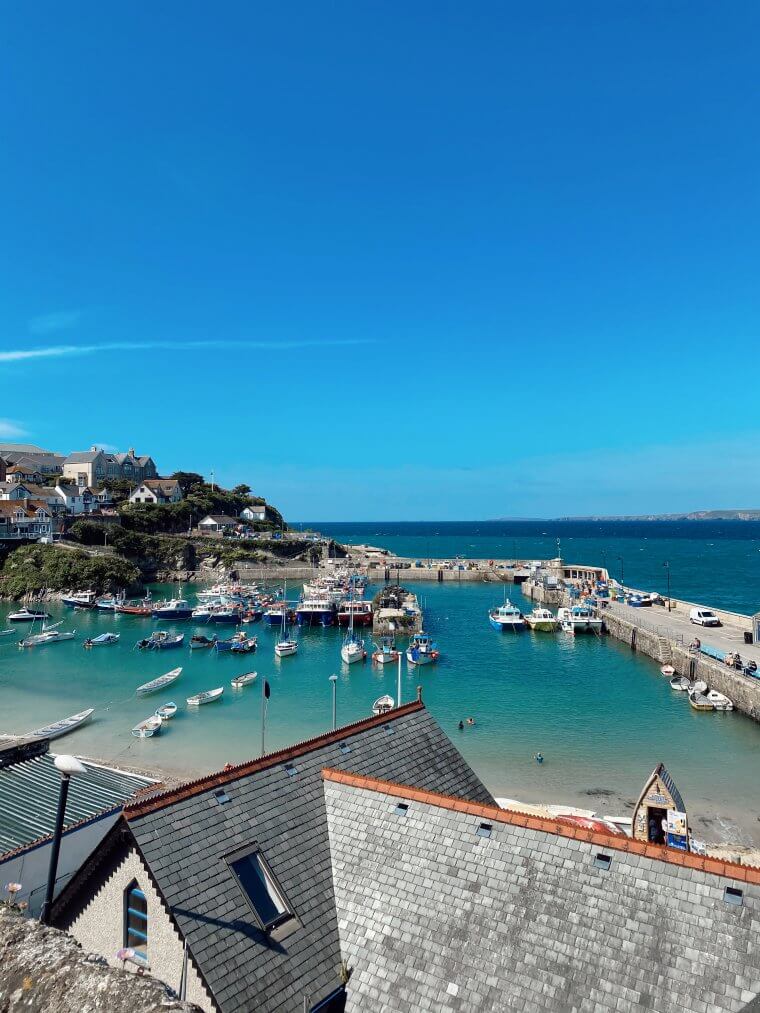 8. Boot up and do one of the many coastal hikes nearby
Another absolute must when you come to Newquay is to go on a coastal hike. I'm going to assume you love the ocean if you're planning a trip to Newquay so whilst you're here, plan at least one day to go and explore the coastline. The stunning South West Coastal Path runs through Newquay so jump on board and hike a section of it!
You could head north to Watergate Bay or Trevose Head Heritage Coast.
You could head south and walk Crantock to Holywell, or you could head a little further to explore the St.Agnes heritage coast.
If you fancy a good bike route, I recently hired a bike in Padstow and did the glorious River Camel route.
You can see all of my favourite walks in Cornwall (car parks included) in the Cornwall Google Map Legend.
Get inspired for walks in and around Newquay here.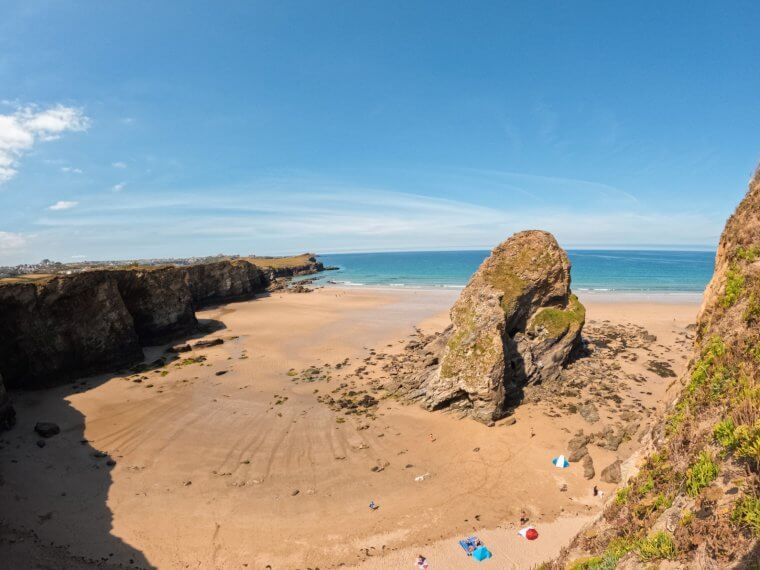 9. Enjoy fish and chips on the harbour and watch the surfers
Freshly battered cod and chips with a pot of mushy peas, a side of seagulls swirling overhead and a view of the surfers in the ocean…
That's what we call the British summer dream!
Keep those chips away from the seagulls or wave goodbye to your meal!
10. Get in the ocean for a cold dip - Wim Hof styley!
The Atlantic may not be the warmest of waters at the best of times but there's absolutely nothing stopping you from getting in for a dip!
A cold water dip in the winter months bought me to life every day. If you haven't read into / heard about Wim Hof yet, I highly recommend you do.
Cold water immersions are incredibly good for your physical health, for your immune system and for your mental health.
You'll find yourself missing the icy water temperates and the thrill that comes with them in the summer!
11. Book onto a coasteering adventure!
Looking for an active adventure whilst you're in Newquay?
If surfing or bodyboarding isn't your thing, why don't you try coasteering?
Climb, jump and swim your way along the Cornish coastline with one of the experienced guides and enjoy the stunning perspective from the water.
I bought one of my Global Travellers adventures down here for a day of coasteering and it was SO fun!
We booked on with and can highly recommend BareFeet Coasteering. See more information and enquire here.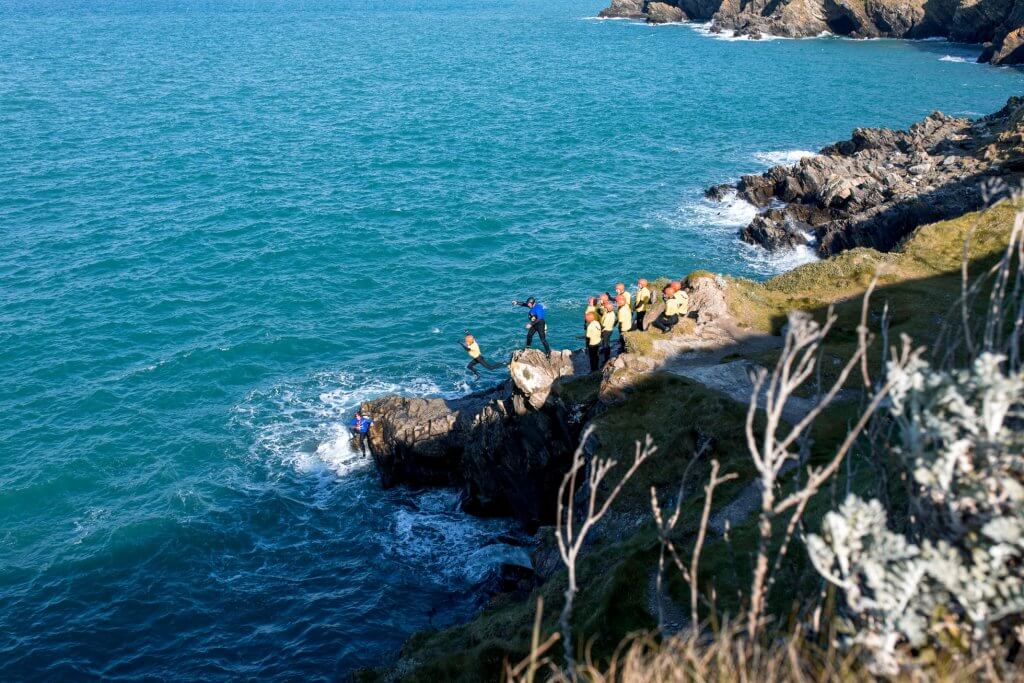 12. Enjoy the sunset in Newquay
On the north coast of Cornwall, you enjoy the sunset side of the county.
This means that when you get the clear (or partly clear) skies, it makes for a ridiculously gorgeous evening.
Wrap up, take a picnic blanket and head to Fistral dunes to enjoy the sunset. Another of my favourite things to do is take a BBQ up to Pentire headland where you can enjoy views over Crantock and have an ocean dip in the sunset light!
Alternatively, drive along the coast and find a secluded spot for a glass of wine and dinner on the camp stove!
Sunsets in Newquay are magical. Absolutely one of the best things to do and enjoy in Newquay.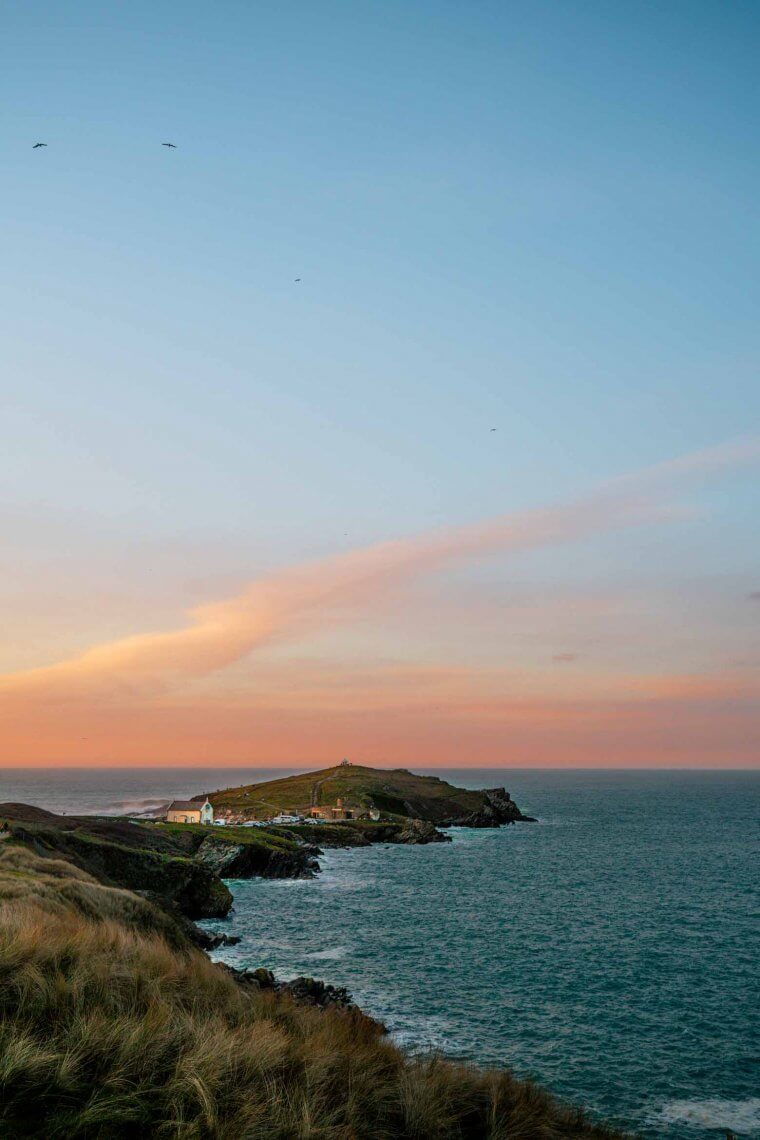 13. Get a smoothie and a bagel from Milk
Oh wow. There's bagels and there's Milk bagels.
I've been every couple of days since I first tried them. They are made to order and come in 5/6 flavours. I can't remember the name of the one I get but it's stuffed with avocado and sea salt. It is divine!
The little hut is located right by Sainburys in town and always has people queuing outside.
Milk also serves smoothies, coffees and baked goods. Their salted caramel brownie is another win.
14. Look out for dolphins, porpoises and seals!
It's not uncommon to spot a grey seal, common dolphin or bottlenose dolphin off the harbour / out in the bay. Stay long enough and keep an eye on the horizon.
Those who don't believe in magic, may just never see it.
One of the best things to do in Newquay is to definitely spot a dolphin! If you walk down to the harbour you can actually book a boat trip/fishing trip, should you want to take your ocean adventures to another level!
Whether you're a complete beginner, have surfed a few times or have been surfing your whole life… one thing you must do in Newquay is get in the water and surf!
The amazing thing about Newquay is that there are SO many breaks and beaches to choose from. If central Newquay for some reason doesn't have the wave you're after, chances are you won't have to drive far along the coast to get your perfect wave.
When the waves are big at Fistral (usually where the swell is best), head to Towan beach in town for more sheltered surfing.
The choice is ridiculous, there are so many beaches in Newquay and the surrounding towns – theres something for everyone. There are so many places to hire a board and a wetsuit too – no excuses!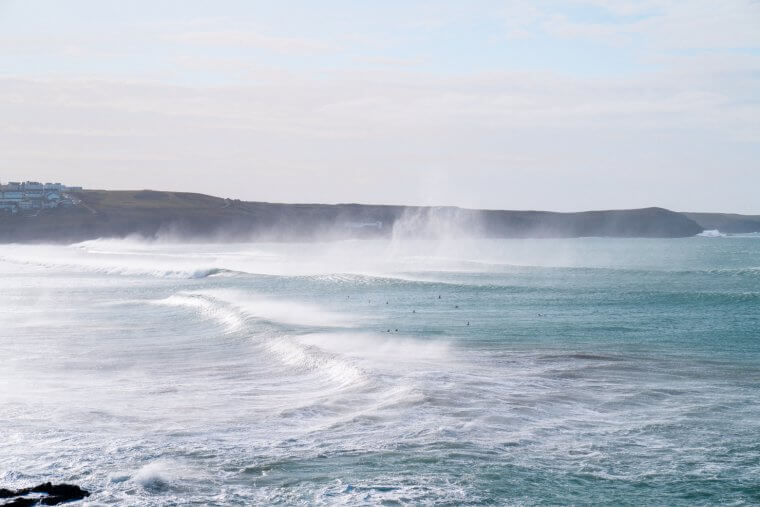 16. Discover one of the nearby coastline tidal pools
One of my favourite things to do this winter in Newquay was to discover unique places to go for a cold water dip.
Surprisingly gorgeous pools and caves, like the one pictured below, are not hard to find along the Cornish coastline. The coastline is rugged and went the tide is low, it leaves lots of little tidal pools exposed and ready for you to dip in!
The famous one on this coastline is in Porthtowan but there are so many along and near Perranporth, Newquay and beyond!
Take half a day off, check the tides and go explore to find your own tidal pool.
17. Keep an eye out for events at Bedruthan Hotel
During your stay in Newquay, if you're looking for something unique to do or for a fun evening out, keep an eye on the Bedruthan events page. The Bedruthan Hotel is located just a 15-minute drive north of Newquay on the coast and, visit it during the day, it offers unrivalled and stunning views across Mawgan Porth beach (another Cornish gem).
From arts and crafts days, baking experiences and spa days, all the way to themed dinners (we attended a Fire and Feast ticketed evening) and seasonal days out – events at the Bedruthan are guaranteed to add a special flavour to your Newquay getaway!
What are you favourite things to do in Newquay, Cornwall?
Did I cover all the best things to do in Newquay? Anything you'd add?
Love as always and happy adventuring,


Did you find this post helpful? I'd love you to share it for me.
Pin and save this blog post for later…