Are you considering a trip to the stunning southwestern tip of England? Are you wondering what things to do in Cornwall?
If you're planning a trip to Cornwall, after this blog post, you are going to have a Cornwall bucket list as long as your arm and you might want to even consider extending the duration of your trip. Cornwall is 100% a stop off you should make on your UK road trip and is without a doubt one of my 28 places you should visit in England.
There are many beautiful things to do in Cornwall. You are honestly so spoilt for choice.
I have family that live in Cornwall and I spent many of my younger years holidaying down on the Cornish coastline so I can vouch for its beauty. I most recently took the Global Travellers Facebook family down on a 3-day adventure through Treyarnon Bay, Padstow and Newquay and the summer just gone, I took my converted VW camper van (@wheresmolliesvan) down for a month of adventure. I visited some of the most beautiful Cornish villages, beaches you'd think were from a tropical island and spent a good few days hanging out in Padstow on the north coast.
Whether you're an avid surfer, walker, camper or beach bummer – Cornwall is going to cater for you… and some. In this Cornwall bucket list, I have compiled adventures to suit all types of traveller, to help inspire your next visit to the Cornish region.
The weather? In Cornwall, temperatures vary and you will likely experience microclimates in different parts. For example, The Roseland Peninsula has its own micro-climate that allows palm trees, agave plants and other subtropical flowers to flourish! Generally speaking though, as with the rest of the UK, July is the hottest month in Cornwall with an average temperature of 16°C and the coldest month is February. You'll find your longest days in August when the average sea temperature is 17°C.
Let's get stuck in shall we? Here are 20 places, experiences and adventures you can't miss in Cornwall.
Other blog posts you may love: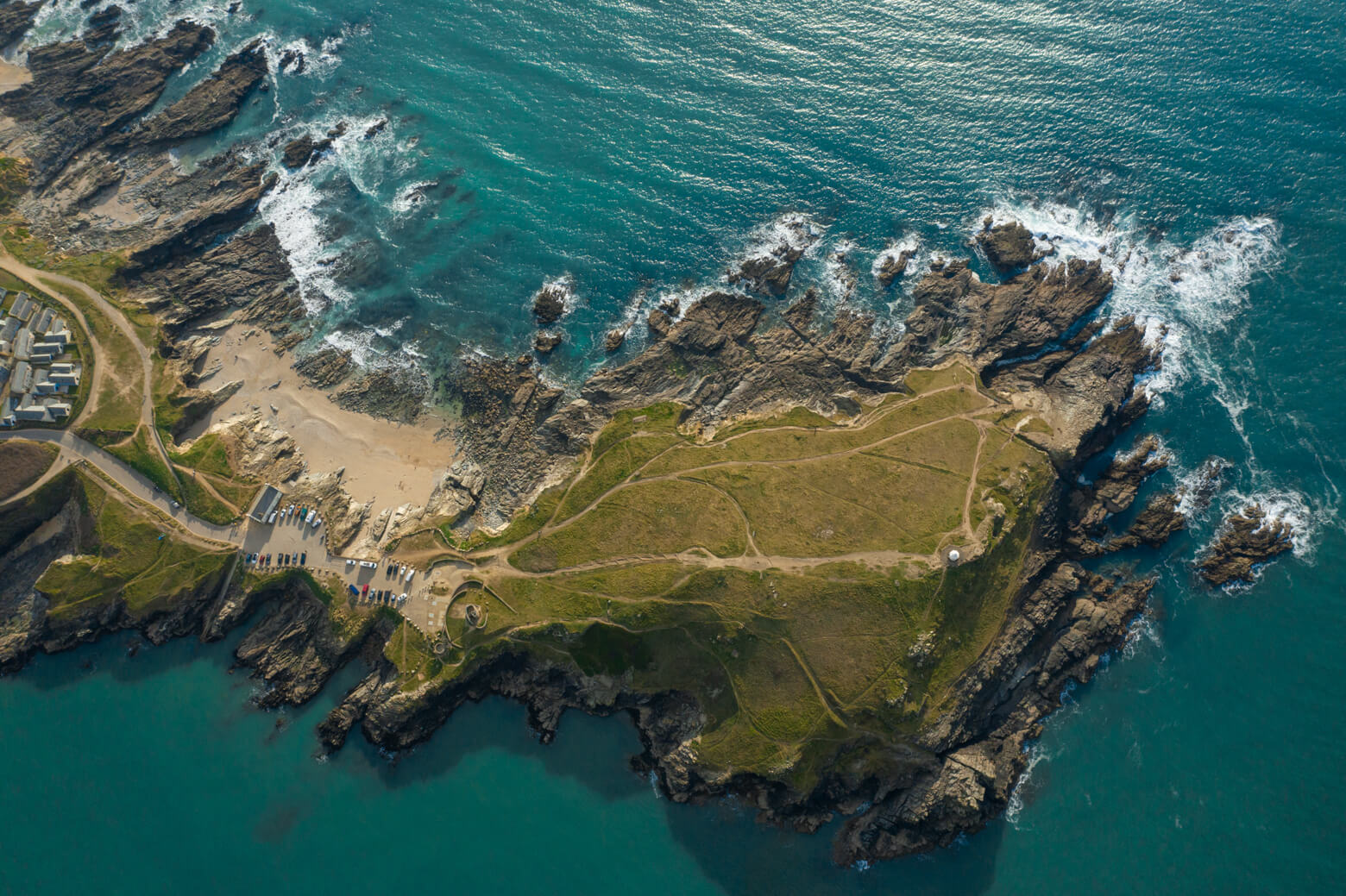 The best things to do and see in Cornwall
1. Sunset at Treyarnon Bay
I have to kickstart this Cornwall blog post with this sunset spot because, though it's not on your usual 'top things to do in Cornwall' list, the sunset I watched on this beach is one of my favourite memories in the UK to date.
It's quiet and when you get those dreamy conditions, the sunset here is absolutely phenomenal.
I organised a trip for the Global Travellers Facebook family here in 2018 and we had a campfire on the beach to toast the sun disappearing beyond the horizon. Magic.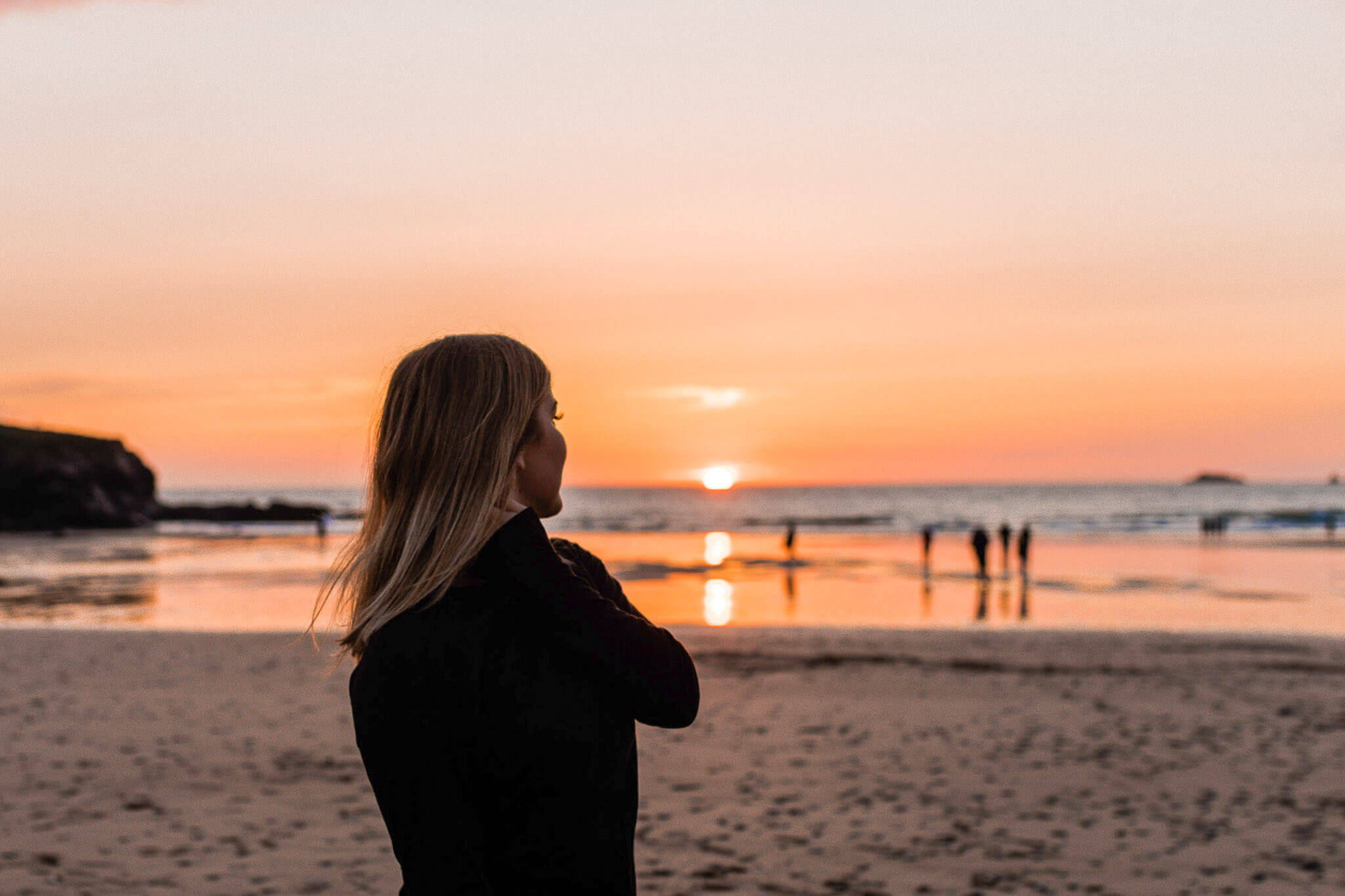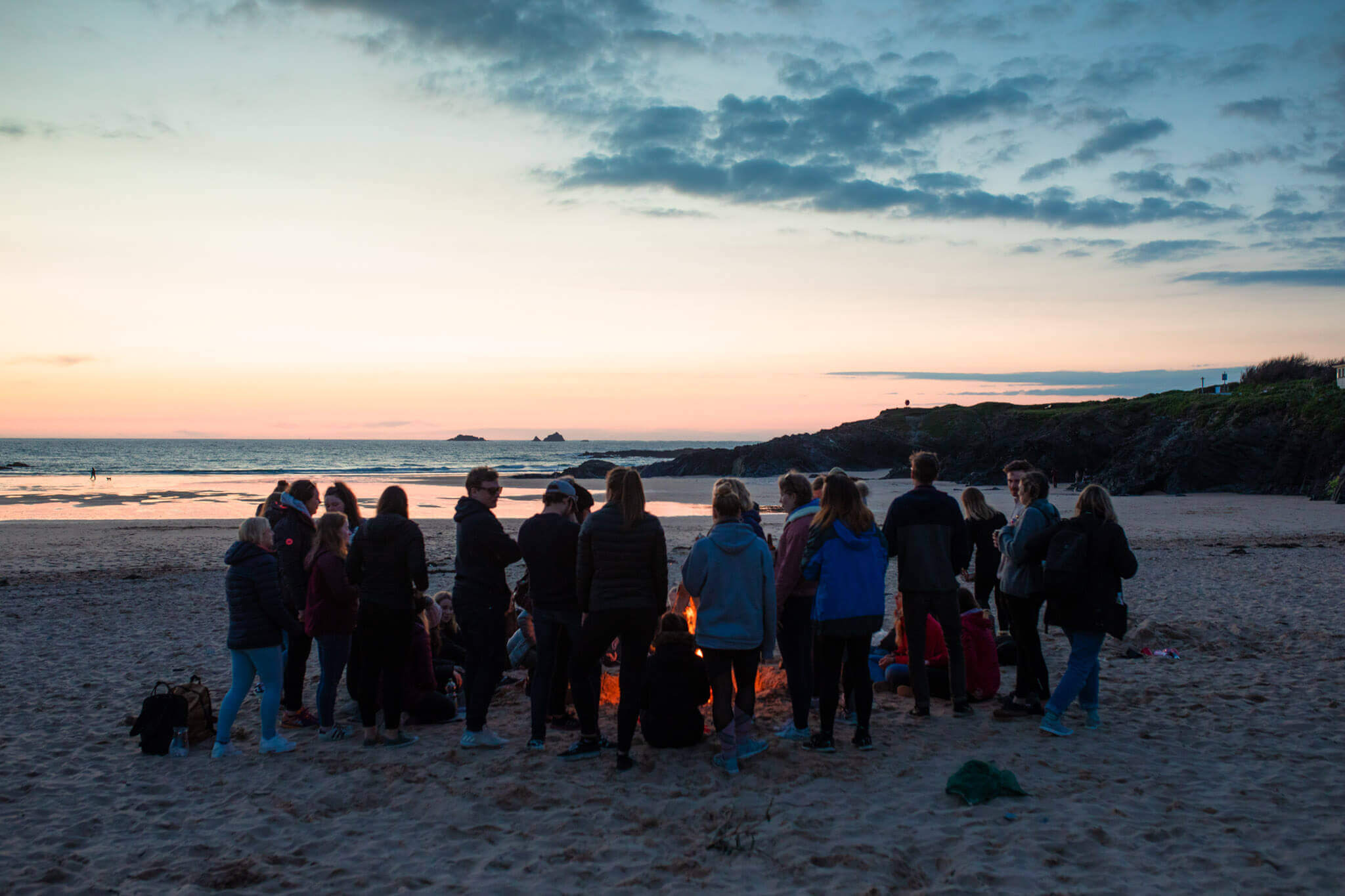 2. Walk around the Lizard Peninsula
The Lizard Peninsula is an outcrop of land on the South Coast of Cornwall and is the UK's most southerly point. How cool! The landscape is ridiculous and it's relatively underdeveloped leaving plenty of natural beauty for you to enjoy. You'd be crazy to not walk at least a section of The Lizard Coastal walk, an 11 km walk that takes you along the coast from Kynance cove before going inland and returning to where you started.
Kynance Cove is definitely a must and should be on your Cornwall things to do list!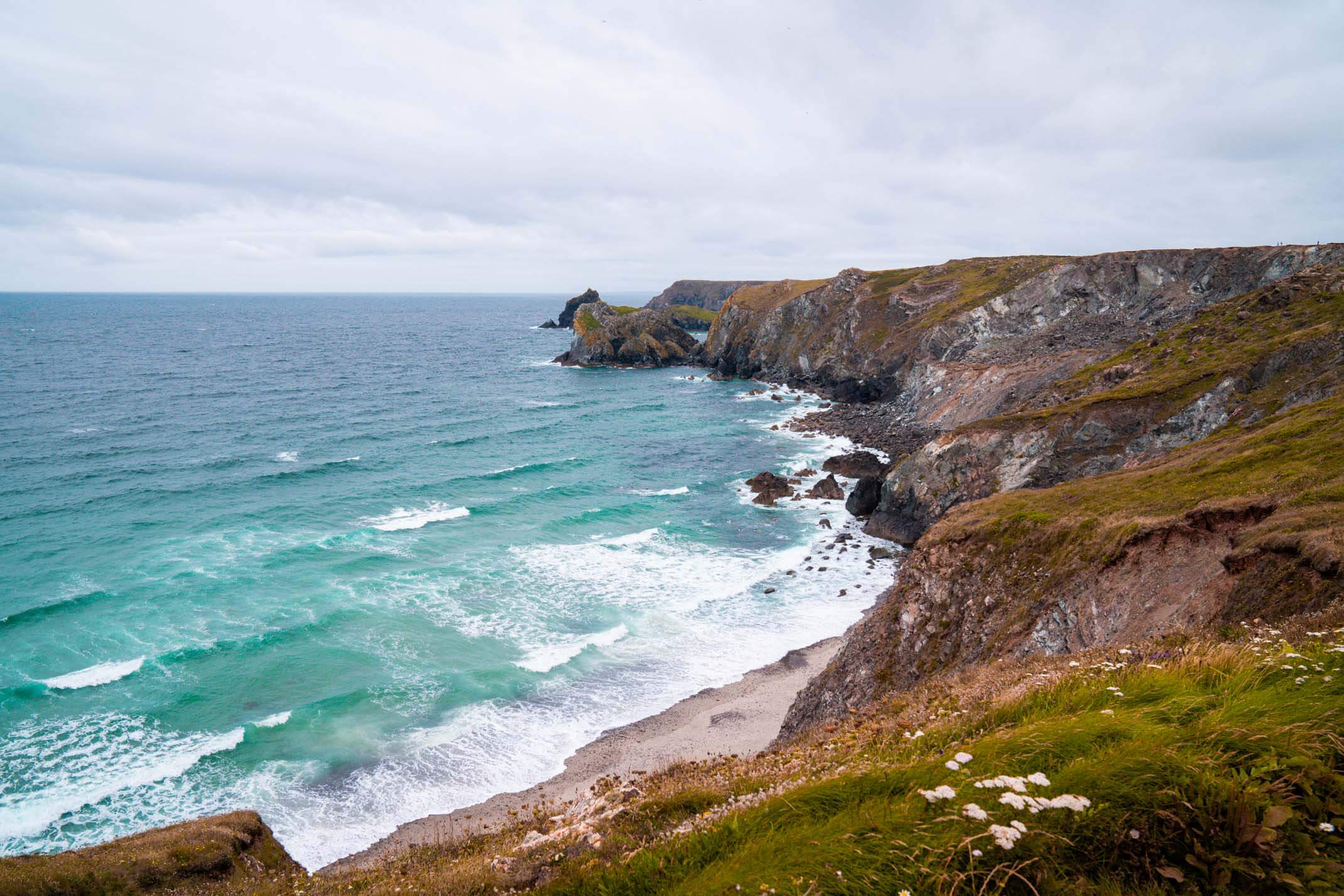 3. Grab fish and chips on the harbour in Padstow!
Things to do in Cornwall? You cannot miss Padstow!
10 miles north of Newquay is Padstow, a town and fishing port on the north coast of Cornwall. Most people would encourage you to dive into some of Rick Stein's fish and chips here and i'm going to agree. I can also highly recommend the Seafood Bar which is a casual, come as you like, dining experience perfect for a snack or a full-blown feed as we did. The crevettes, lobster and beetroot cured salmon were my favourite dishes here. If you're a massive seafood lover consider booking onto one of Rick Stein's cooking classes here.
Oh and you cannot leave without trying Roskillys Icecream. Salted caramel for the win.
P.s. Mother Ivy's Bay isn't too far whilst you're in the area!
For the best villages to visit in Cornwall, check out this post!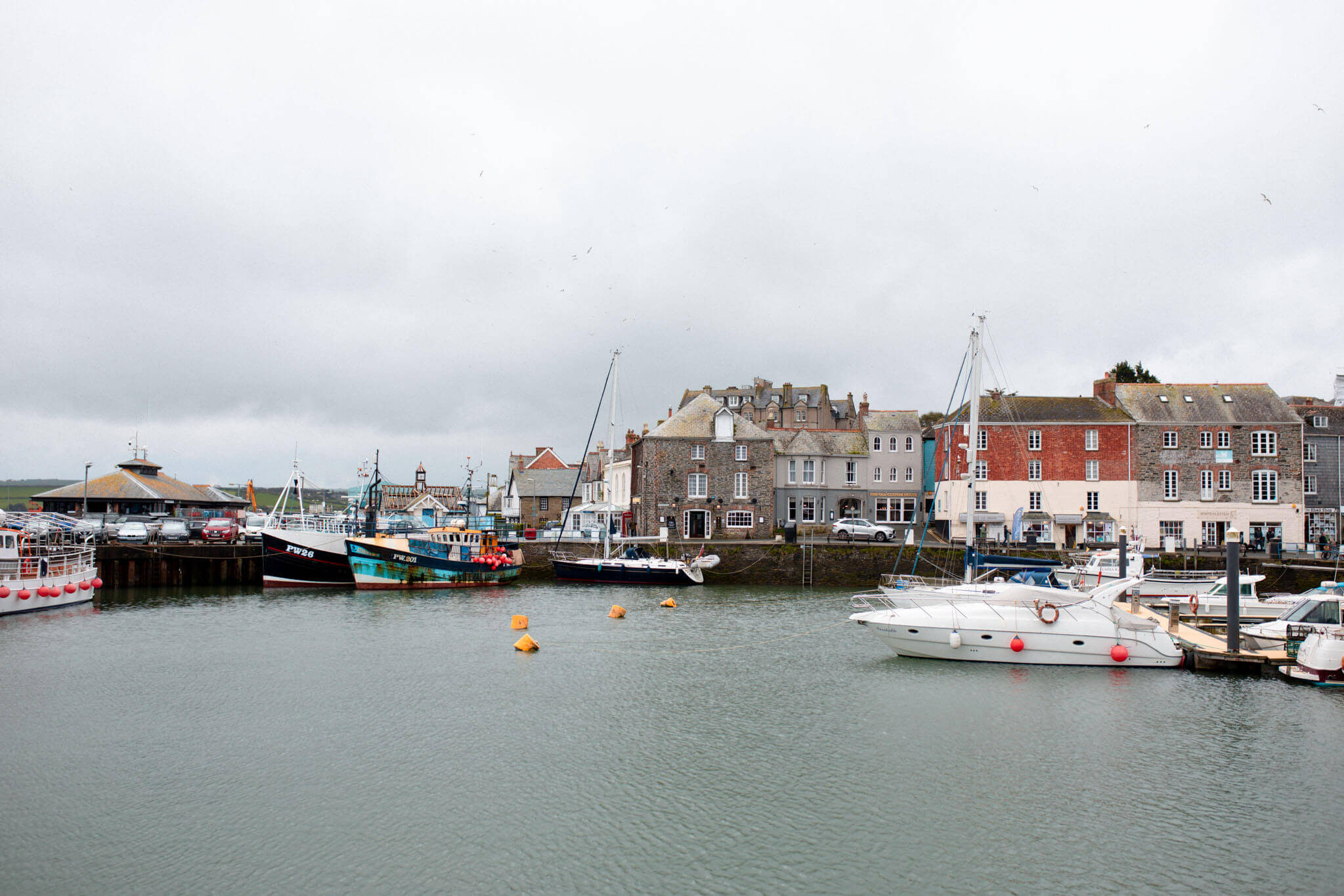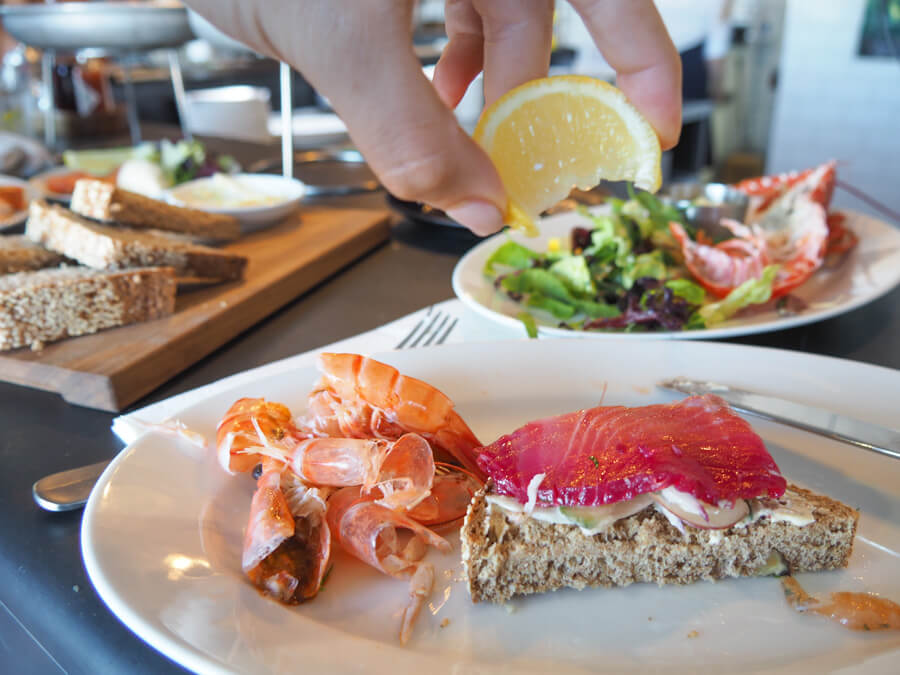 4. Visit Kynance Cove
Kynance Cove is a cove on the eastern side of Mount's Bay in Cornwall. It is situated on the Lizard peninsula approximately two miles north of Lizard Point (where the Lizard Coastal walk i mentioned previously begins).
Just a stunning place to stop off and spend some extra time! Snorkels and swimmers at the ready!
5. Visit at least one of the many stunning beaches in Cornwall
If you've seen my best and most beautiful beaches to visit in Cornwall post, you'll know how legit the beaches are in Cornwall. Seriously, when the sun is out, you can forget about the Caribbean, we have some serious rival beaches here in Cornwall England. I remember a few years ago sitting in Porthmeor Beach Cafe (right on the beachfront) and looking out across the ocean like WHAT ON EARTH IS GOING ON. IS THIS ENGLAND.
If you're looking to fill your itinerary and want the best things to do in Cornwall on there, add at least one of the following Cornwall beaches to your list.
Here's a list of beaches to note, should you pass them on your Cornwall trip:
Constantine Beach (one of the most beautiful on the north coast)
Pedn Vounder Beach (you will not believe your eyes)
Gwithian Beach (spot the windsurfers!)
Bedruthen Steps (small beach but gorgeous)
Sennen Cove
Polzeath Beach
Hayle Beach
Holywell Bay
Fistral Beach
Lusty Glaze Beach
Leave me a comment if I've missed a BEAUT one out?! For my complete list of the best beaches in Cornwall, check out this blog post!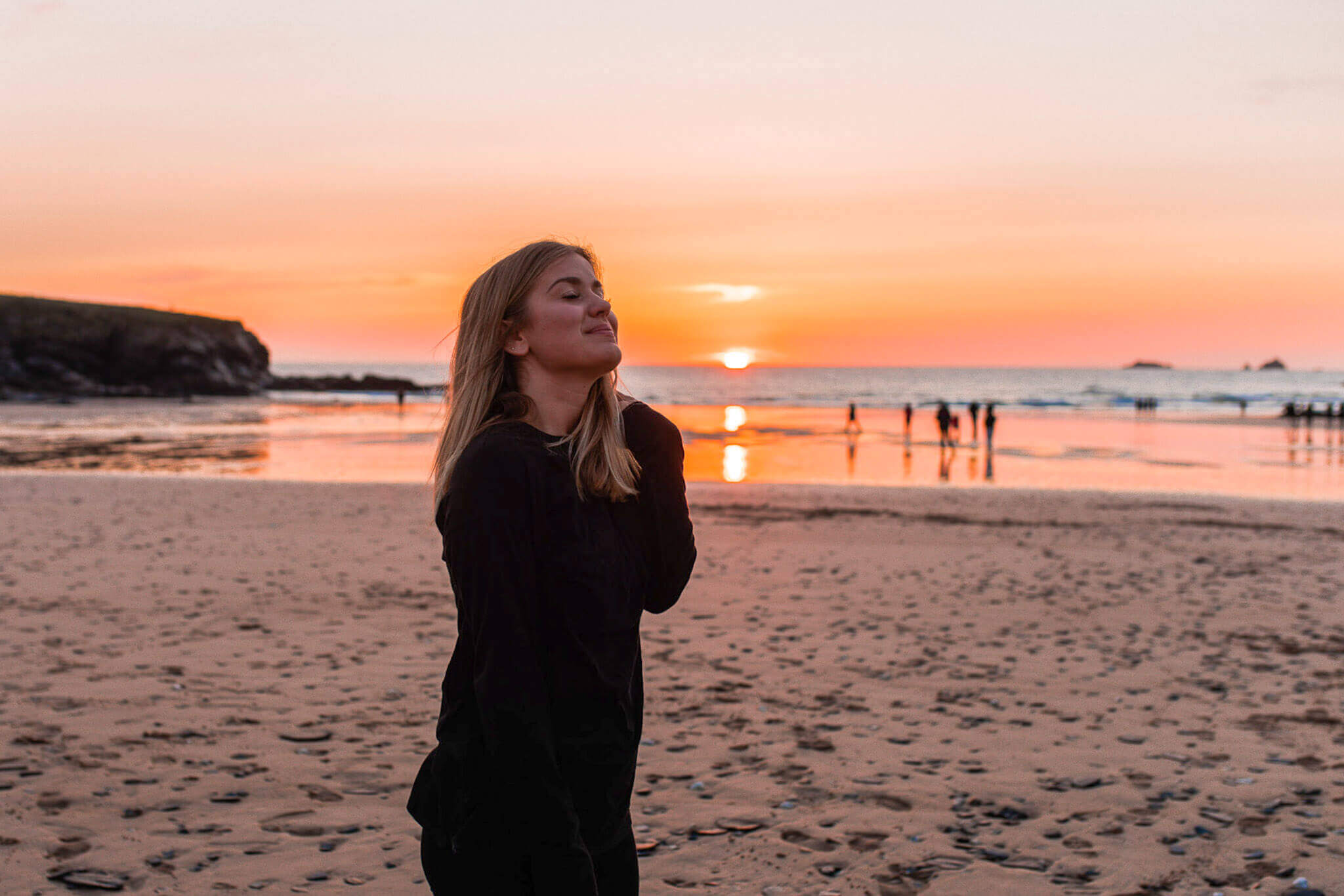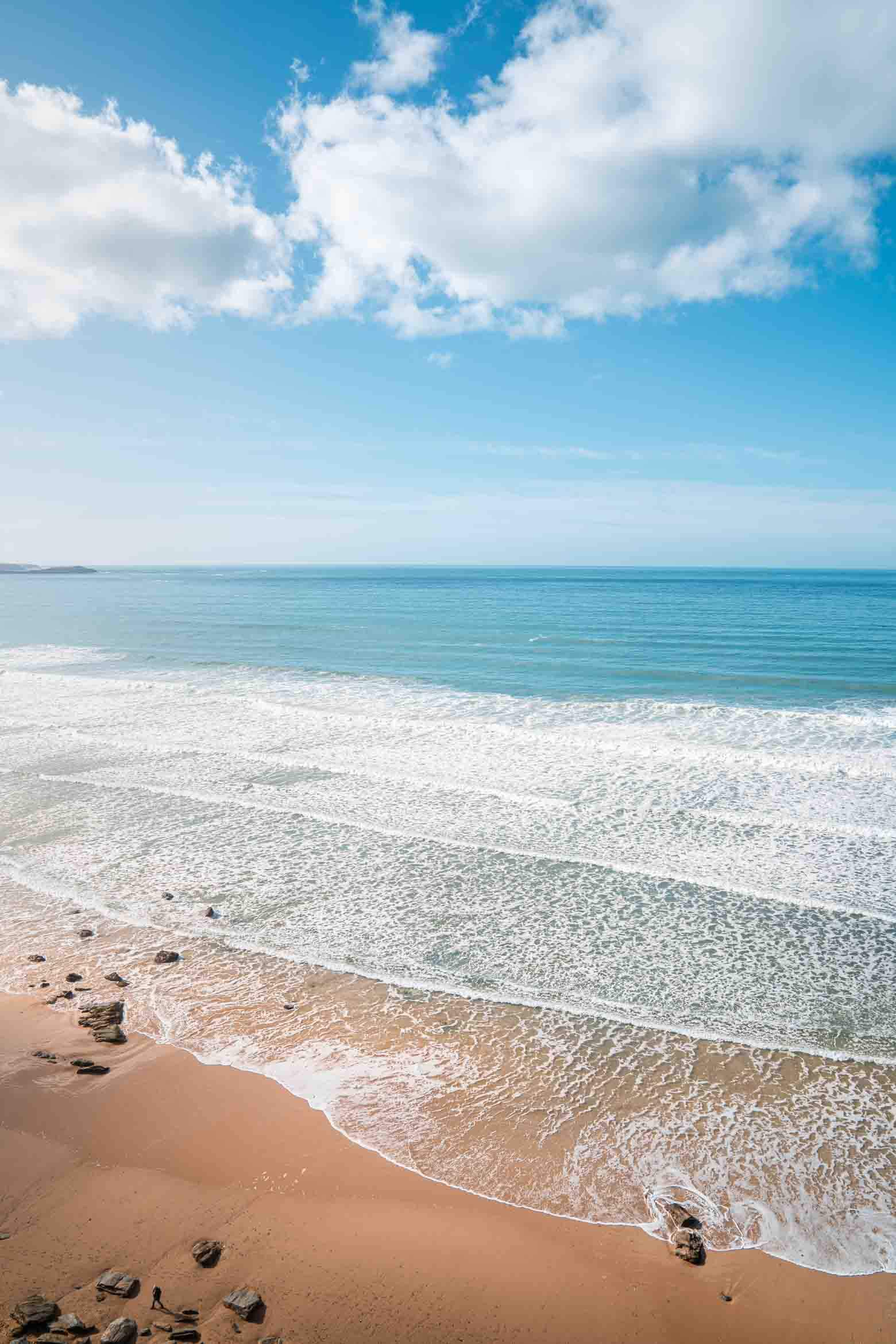 6. Dive into the ocean with some water activity in Newquay!
Newquay is where I'm currently living and is a stunning town on the North Coast, home to sandy Fistral Beach and Watergate Bay. Newquay is the adventure centre of Cornwall and is most famously known for the beach that is Fistral. This is the place to come to learn to surf and catch some epic, strong waves from the Atlantic Ocean.
But surfing isn't all you can do, you can swim, snorkel, SUP and go coasteering (amongst many other things!).
A couple of years back I was in Newquay I took the Global Travellers family coasteering with Barefeet Coasteering. We explored our way along the coast, swimming through crystal blue water and climbing up coastal cliffs before leaping up to 30 feet into the sea. The sun was shining and we grabbed a pizza and beer at Fistral Beach Bar afterwards, overlooking the ocean!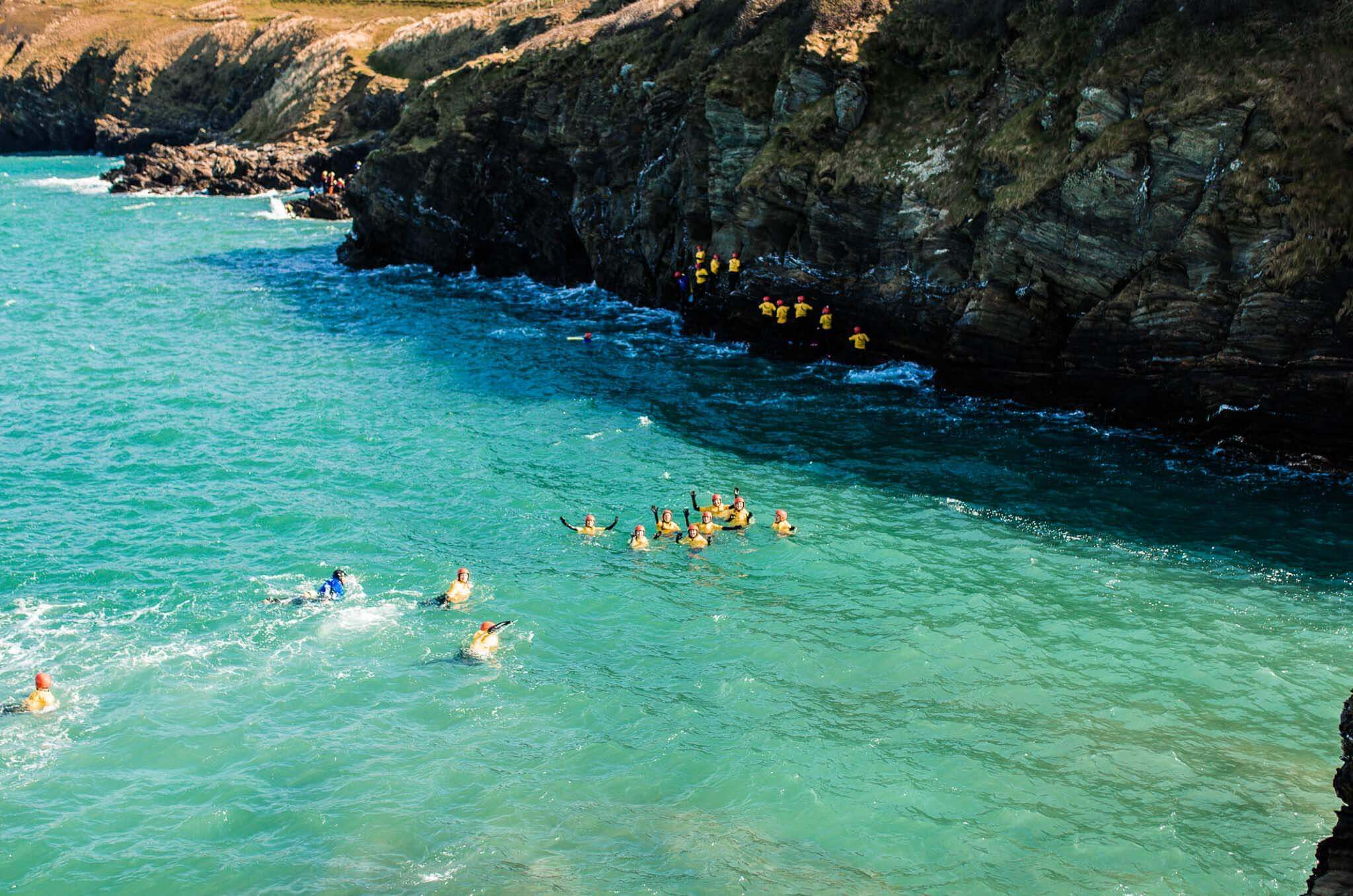 7. St. Mawes and the Hidden Hut!
I spent a couple of summer holidays growing up in St.Mawes, it's a stunning small village on the Roseland Peninsula on the south coast of Cornwall on the opposite side of the water to Falmouth.
The Hidden Hut is a stunning spot to mention nearby. Tucked away along the coast path near Portscatho on the remote Roseland Peninsula, the Hidden Hut is a special spot to enjoy freshly cooked food out in the sea air!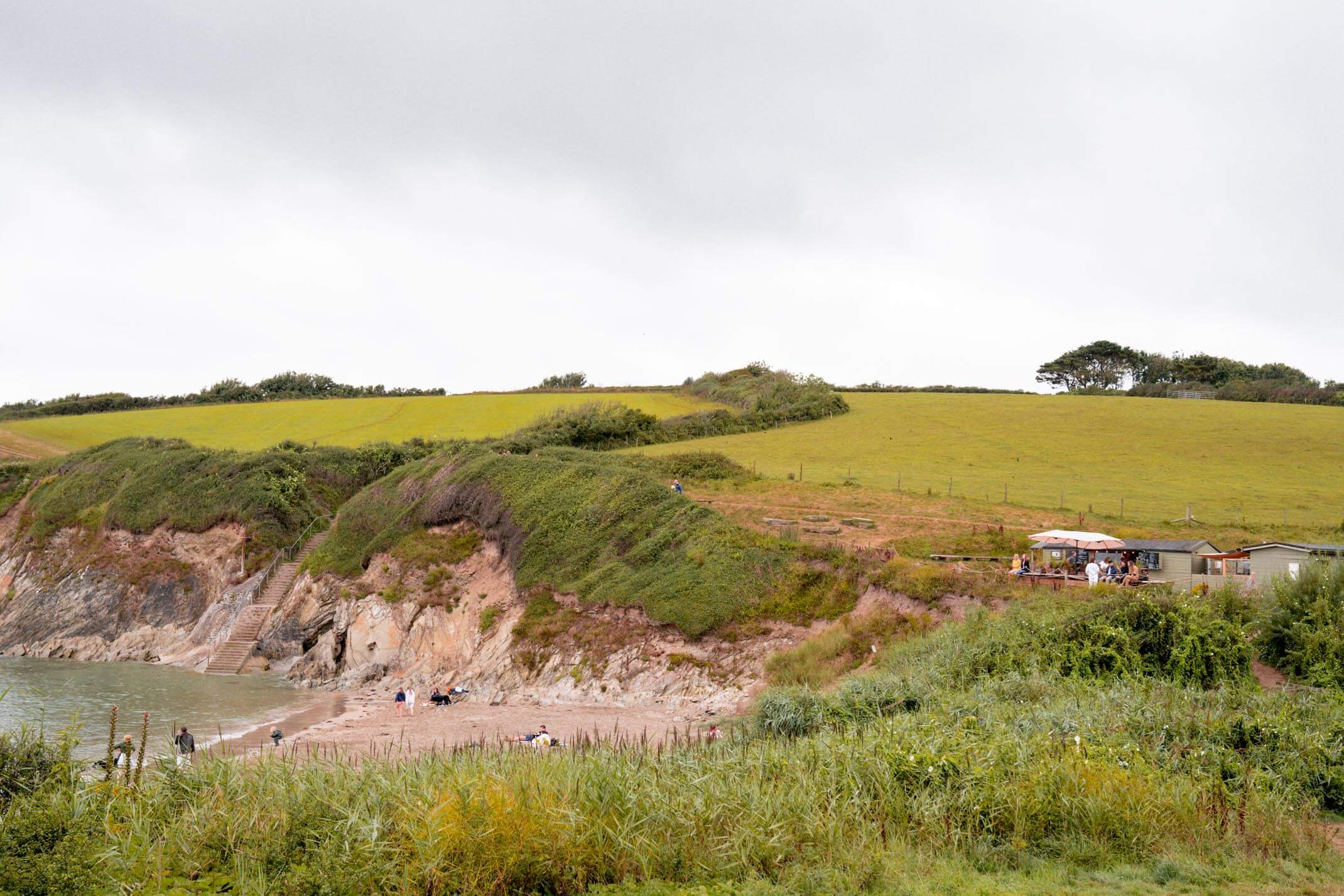 8. Visit St Ives
When asking around (or Google) you'll get told St. Ives is one of the best things to do in Cornwall.
St Ives is a town in Cornwall, known for its surf beaches. The seafront Tate St Ives gallery has rotating modern art exhibitions, focusing on British artists and the town has many beautiful boutique shops and food joints to meander through. In peak season it's hard to find a parking spot and the seafront town is very busy so consider taking the slow train along the coast which arrives right into the heart of the town. (You could part at St.Erth and catch the train from there for example).
Don't leave without lunch at Portmeor beach cafe! It's literally on the beach. View for days and outdoor seating too!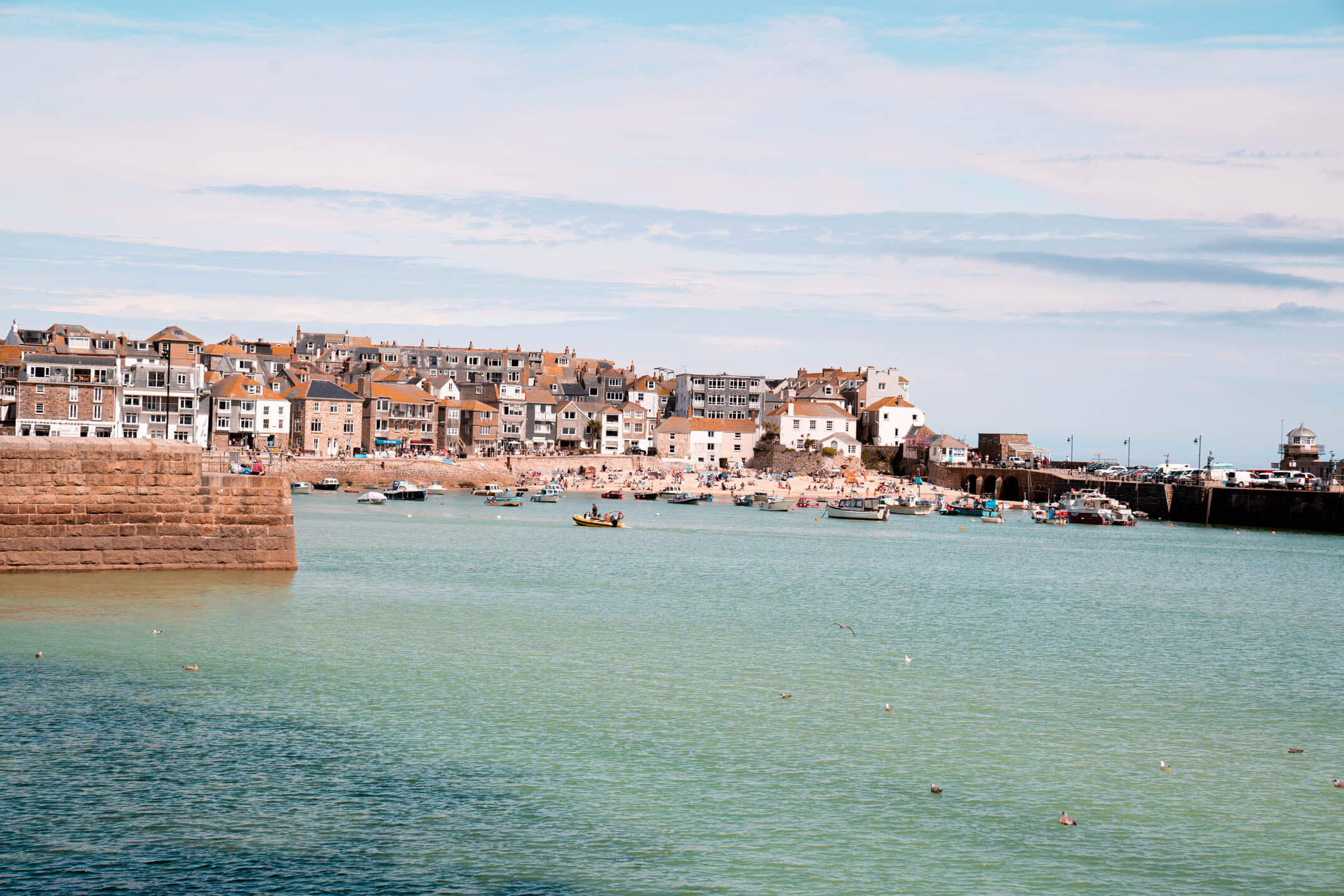 9. Visit Lands End
Land's End is the most westerly point of mainland Cornwall and England, it's that point right down on the tip. The furthest you can drive (i think). It's a great place for a tourist shot and a great place to tick off on your list. Grab a coffee or hot chocolate in the hotel there overlooking the sea!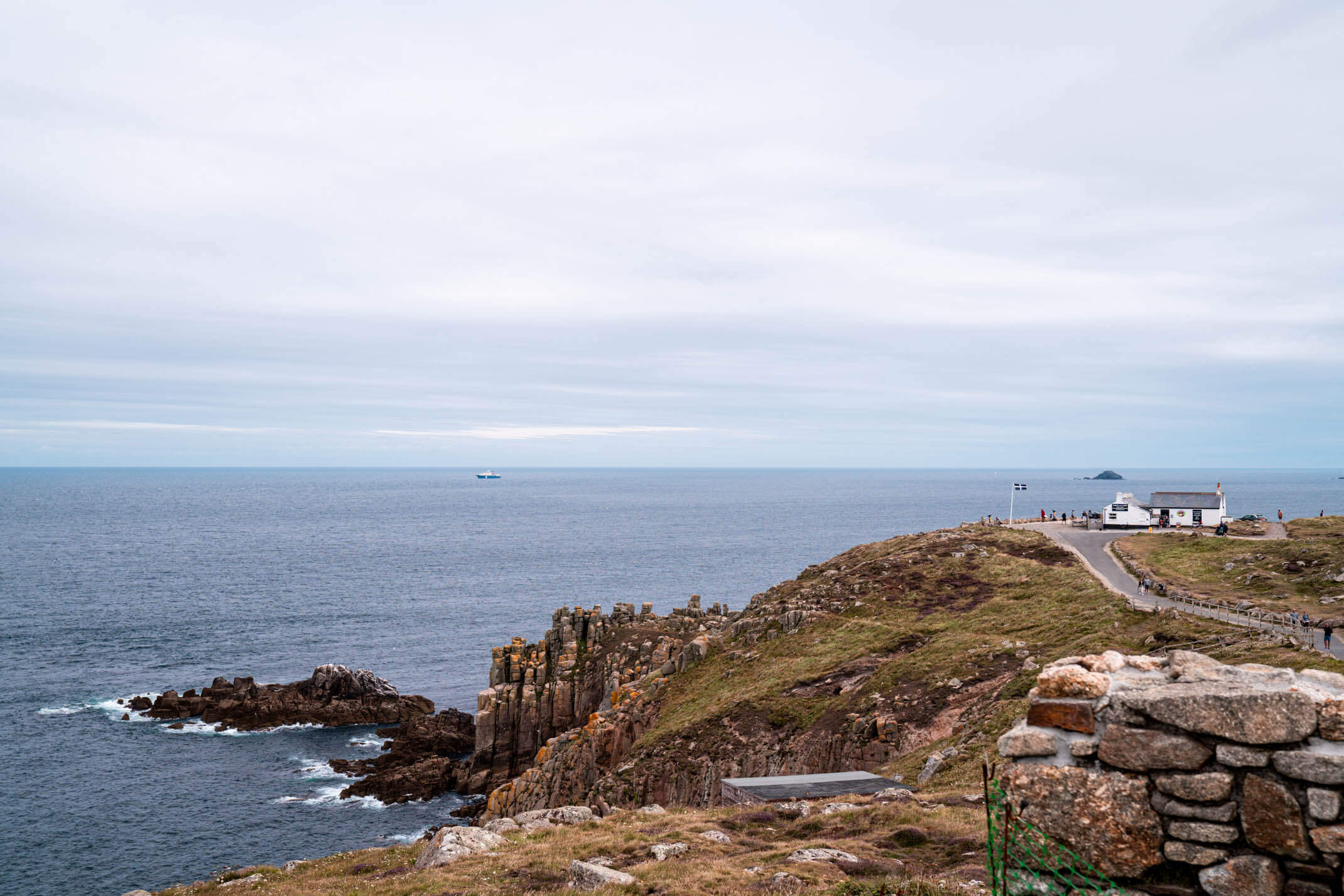 10. Spot the seals at Mutton Cove!
Mutton Cove, just up and past Godrevy head, is home to a large colony of Grey Seals which can be spotted year round. Numbers begin to increase in Autumn, and by January sightings peak! Park at either the National Trust Car Park at Godrevy, or slightly further up towards the headland.
11. Visit Tintagel Castle and do the coastal walk
Tintagel is located along the coastline between Padstow and Bude. Here there are plenty of breathtaking hikes suitable for all ages. One of the main features in this gorgeous Cornish town is Tintagel Castle (a national heritage site that costs £9.50 for adults, £8.60 concessions to enter).
Top tip: If you take the coastal path south here you can view the castle from afar for free.
Not sure how much hiking you can take? All along the SW coastal path, there are benches where you can enjoy the views while snacking on a pre-packed lunch. We parked up in the main Tintagel car park and then walked for an hour before turning around again. All the views.
Location for sat nav: Tintagel Visitors Centre, Bossiney Road, Tintagel, PL34 0AA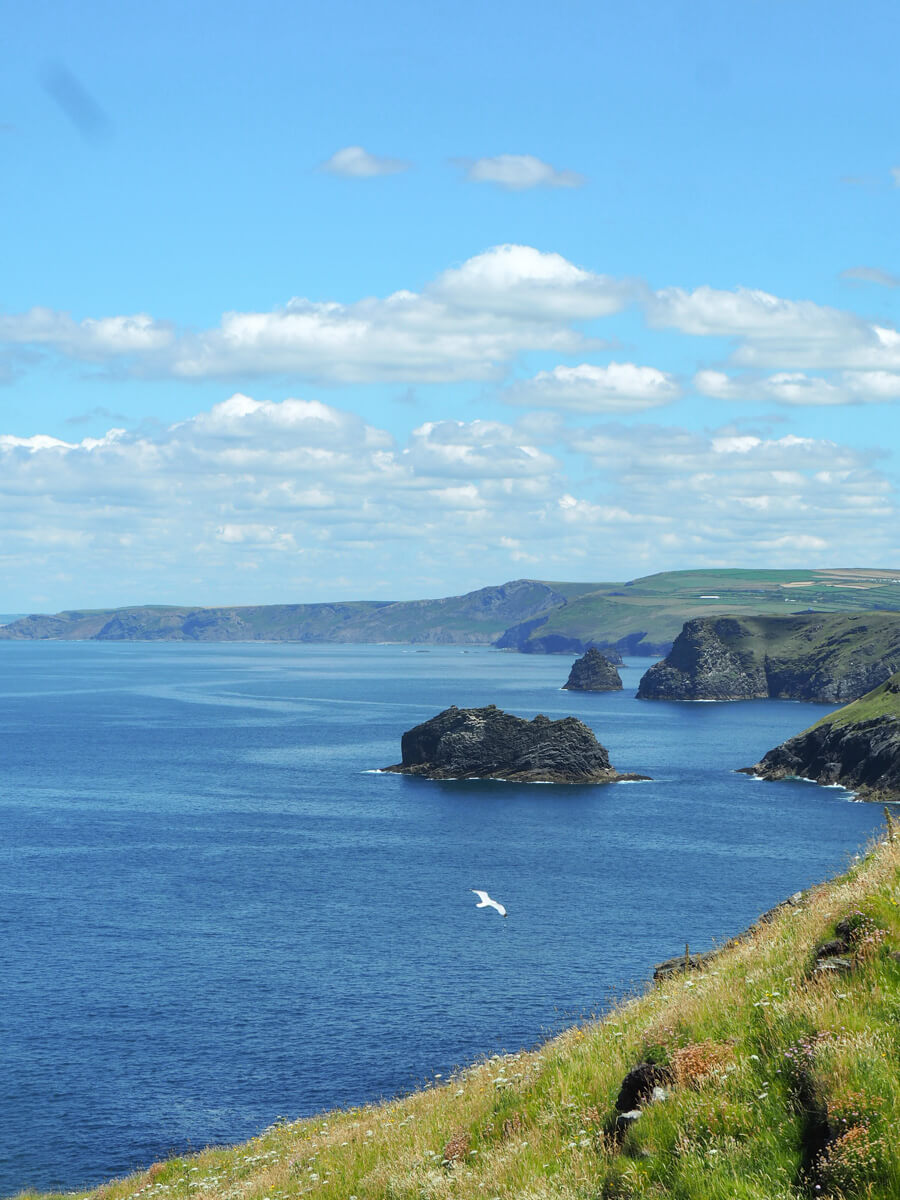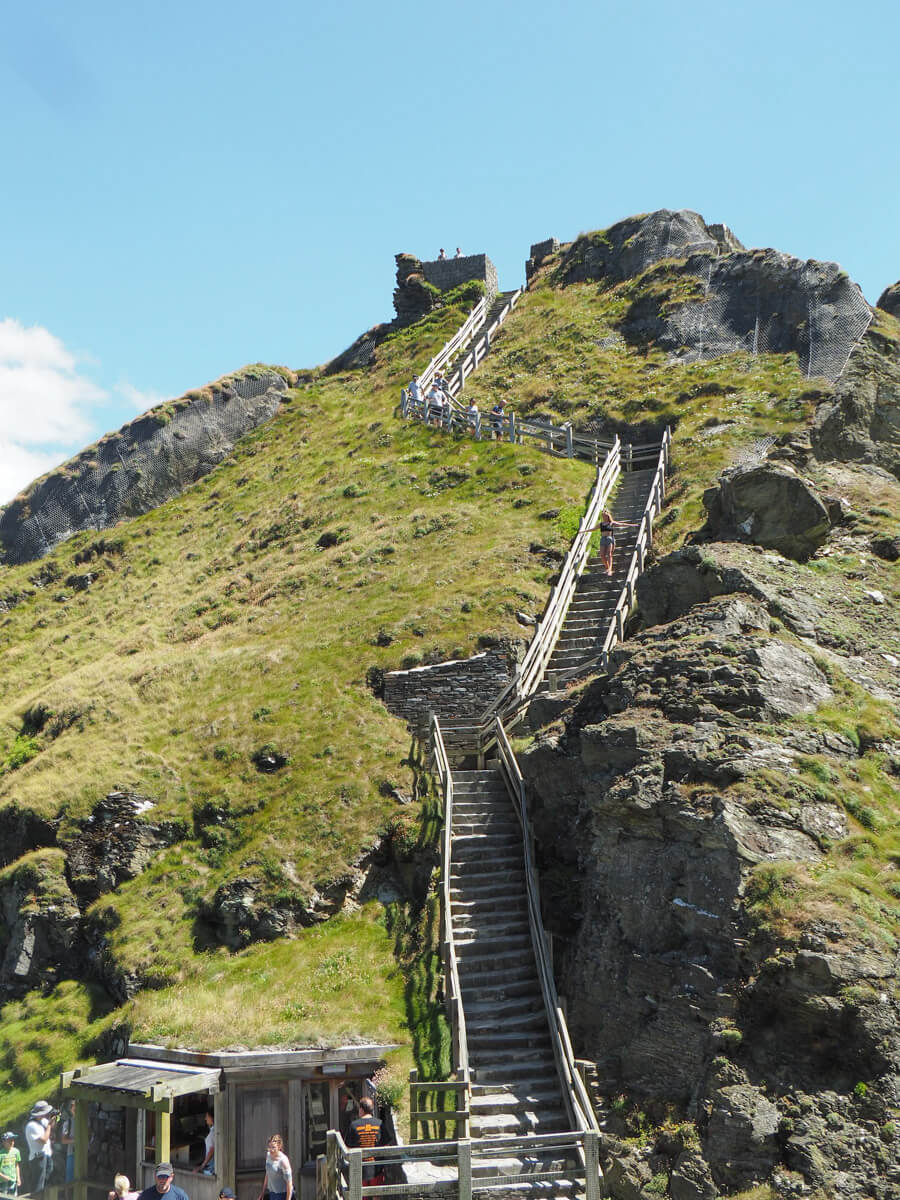 12. Visit the Eden project and do the zipline!
The Eden Project is one of Cornwall's most popular attractions and home to the biggest indoor rainforest in the WORLD. Great news for you adrenaline junkies, there's a zipline you can do across the project. So fun!
For music lovers, be sure to check out line up for The Eden sessions during your Cornwall trip. Live music in an epic venue!
Nearby I'd also recommend stopping at the beautiful Carlyon Bay.
13. Watch a show at the open-air Minack Theatre
I still haven't made it to the Minack Theatre yet, but it looks ridiculous and is always recommended as one of the best things to do in Cornwall. Such a unique experience and located down in Penzance. An open-air theatre perched on the cliffs high above the Atlantic ocean? I think SO.
Add it to your Cornwall bucket list.
14. Have a cornish pasty!
Well, I wasn't going to leave here without mentioning this was I…
Having a cornish pasty has got to be one of the best things to do in Cornwall.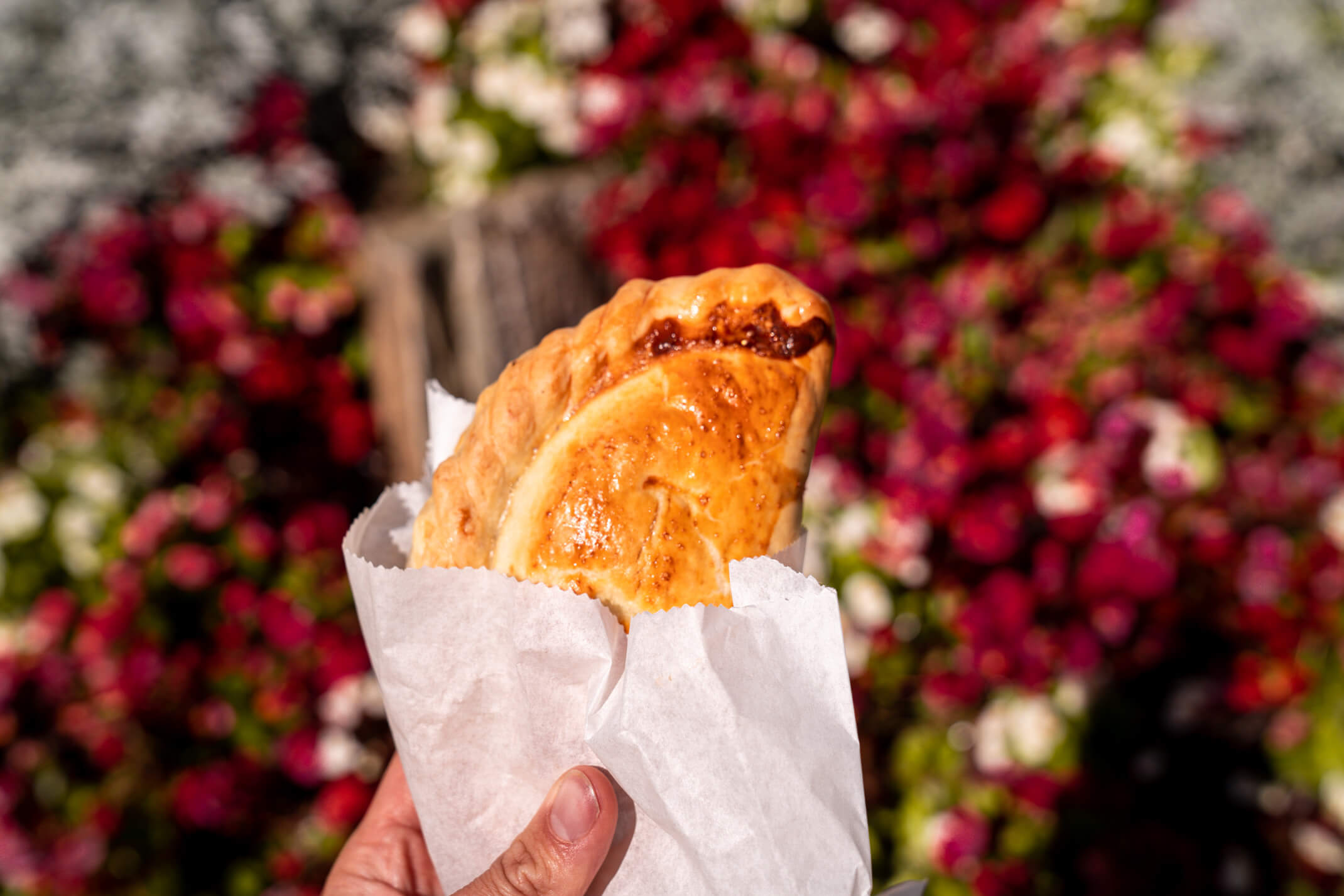 15. Road trip in a vintage VW camper!
Okay so whilst we are on the topic of unique experiences, consider hiring a vintage VW camper from The Cornwall Camper Company. My mum and I hired one a few years back and it was insane.
Sure, driving a 43-year-old VW camper isn't always smooth sailing, but it is so much fun and it adds so much character (and so many memories) to the adventure. Stunning rugged coastlines, beautiful pastel camper van and all the conversation it instigates? Happy travels!
See my 4-day Cornwall road trip in the vintage VW camper van here. See my Cornwall road trip come to life in this vlog.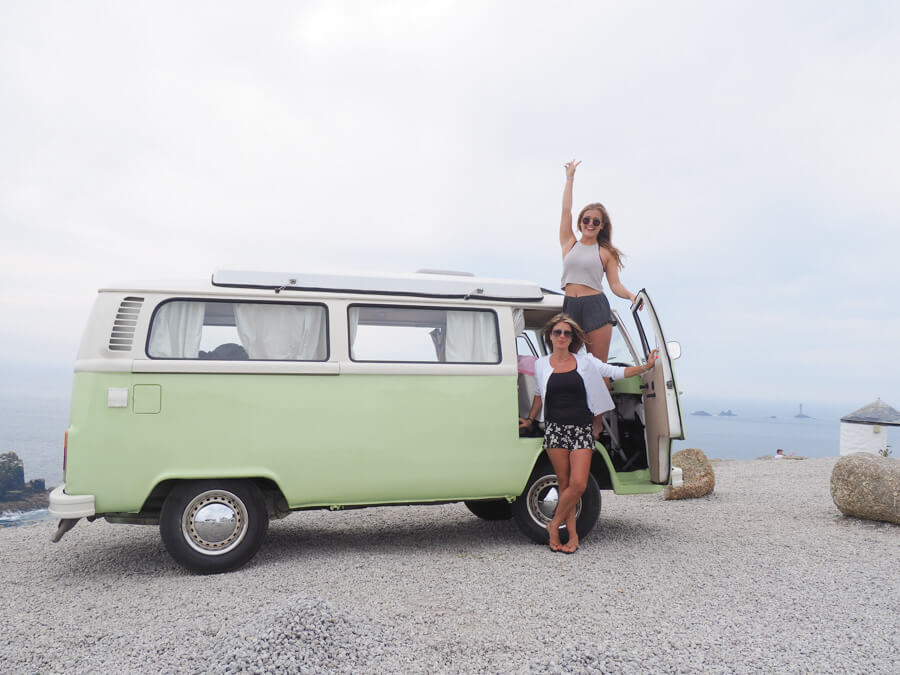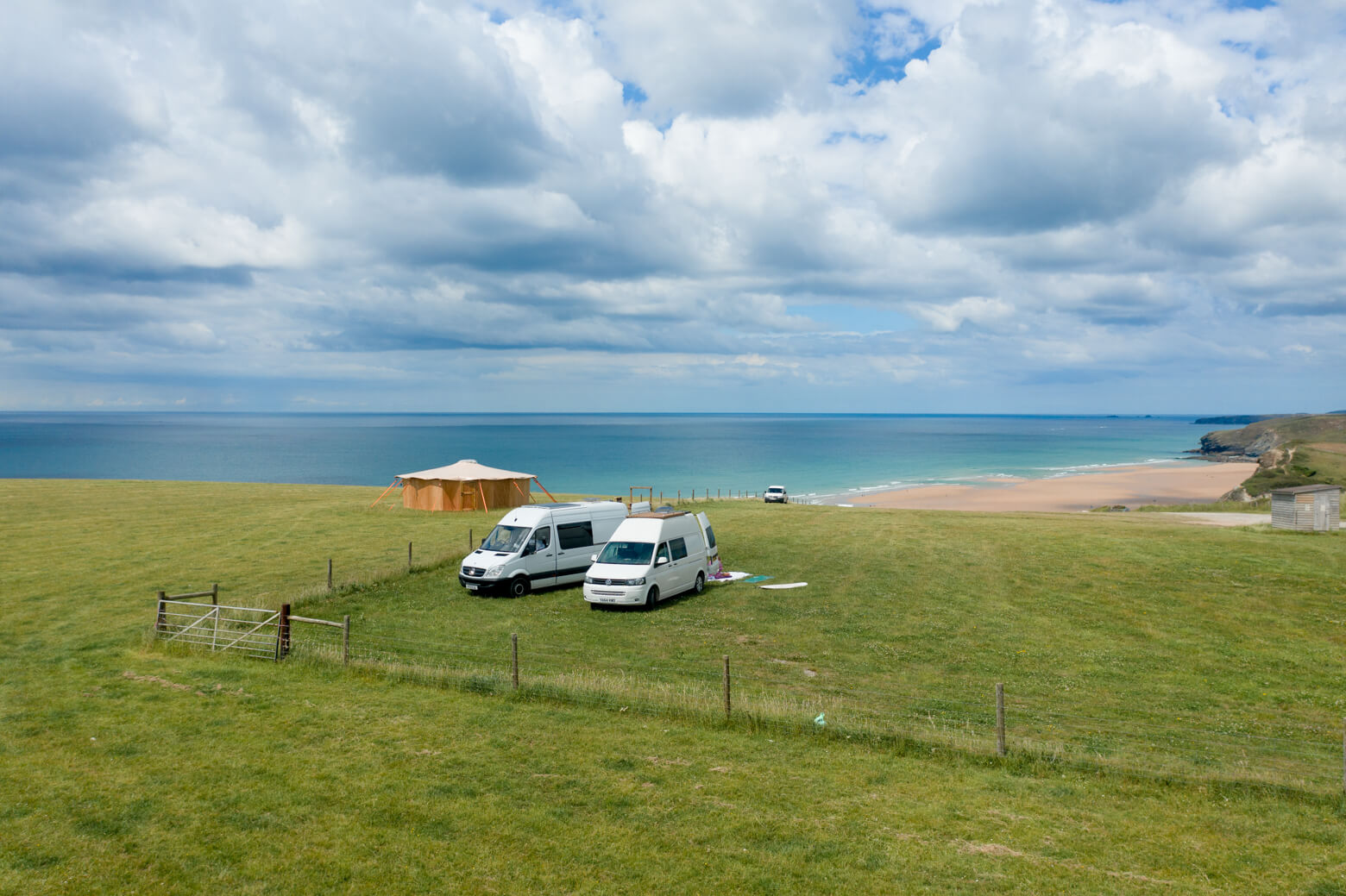 16. Walk the SW coast path from Sennen to Porthcurno
This is a beautiful 10km walk that despite a good distance, isn't too challenging. It starts at the gorgeous Sennen Cove and hugs the coastline all the way to Lands End and on to Porthcurno.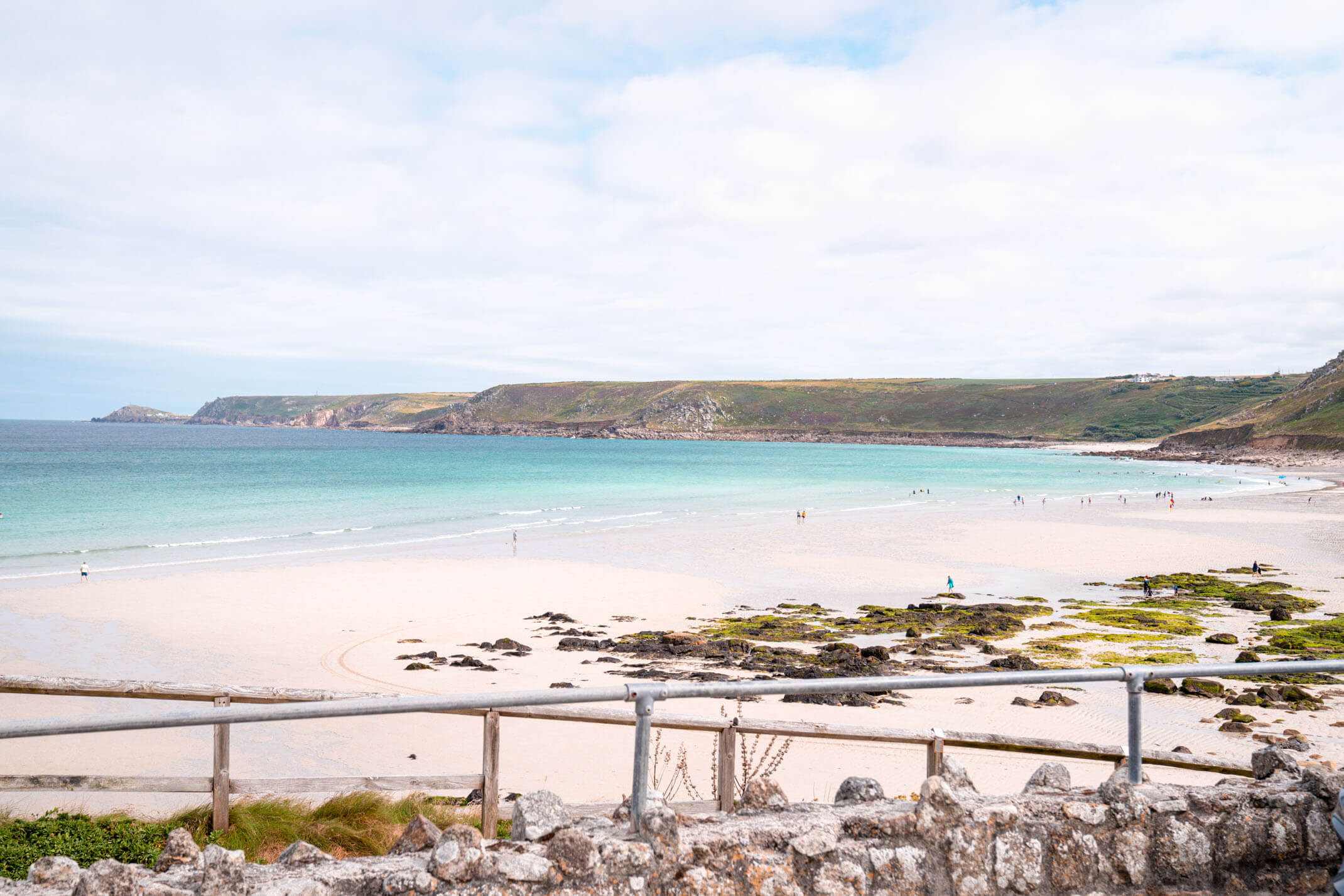 17. Walk to St.Michaels Mount at low tide
St Michael's Mount is a tidal island in Mount's Bay, Cornwall. You'd most likely pair this adventure with exploring Marazion, an old town with beautiful beaches, shops and waterfront dining. My mum actually has a holiday cottage here that she rents out (brb going to get the information and link it here).
At low tide, you can walk out on the causeway to the island (for free) and when it's high tide you can pay a small fee to travel by boat. It's a beautiful day trip and on a clear day… the colour of the water is nuts!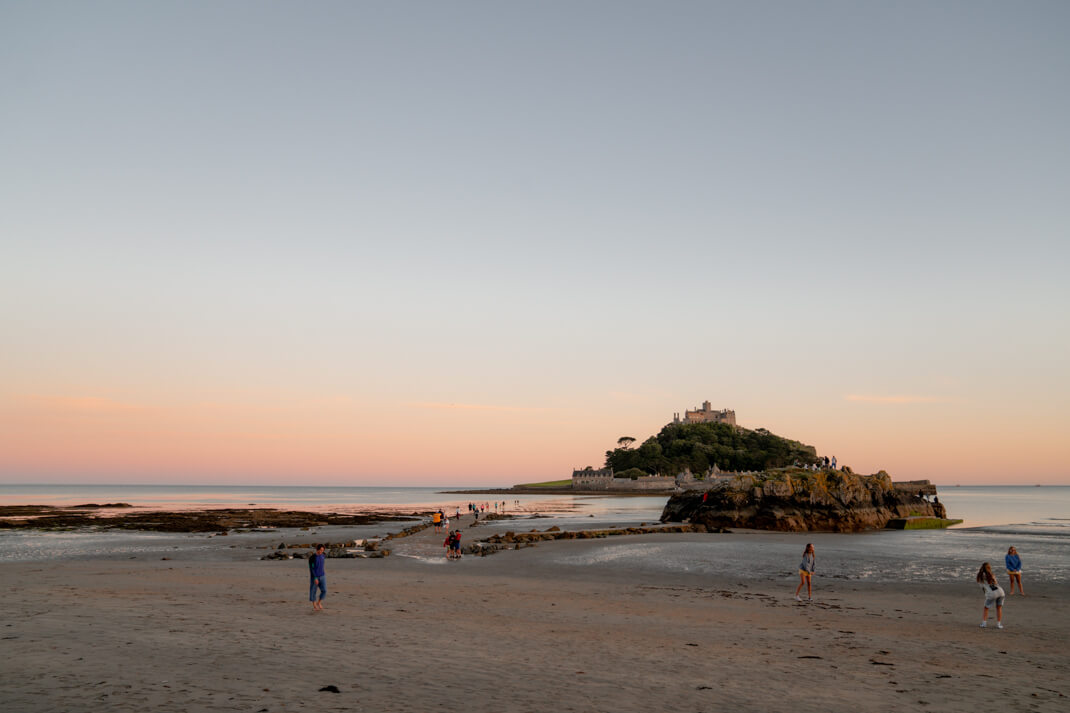 18. Go surfing!
Cornwall is one of the best, if not the best, surf spots in the UK. It's the reason a lot of people come here so it's definitely considered one of the best things to do in Cornwall – and something you should try! I haven't surfed much but rumour has it Constantine Beach, Fistral and Godreevy are incredible spots to dive into the big blue and give it a go!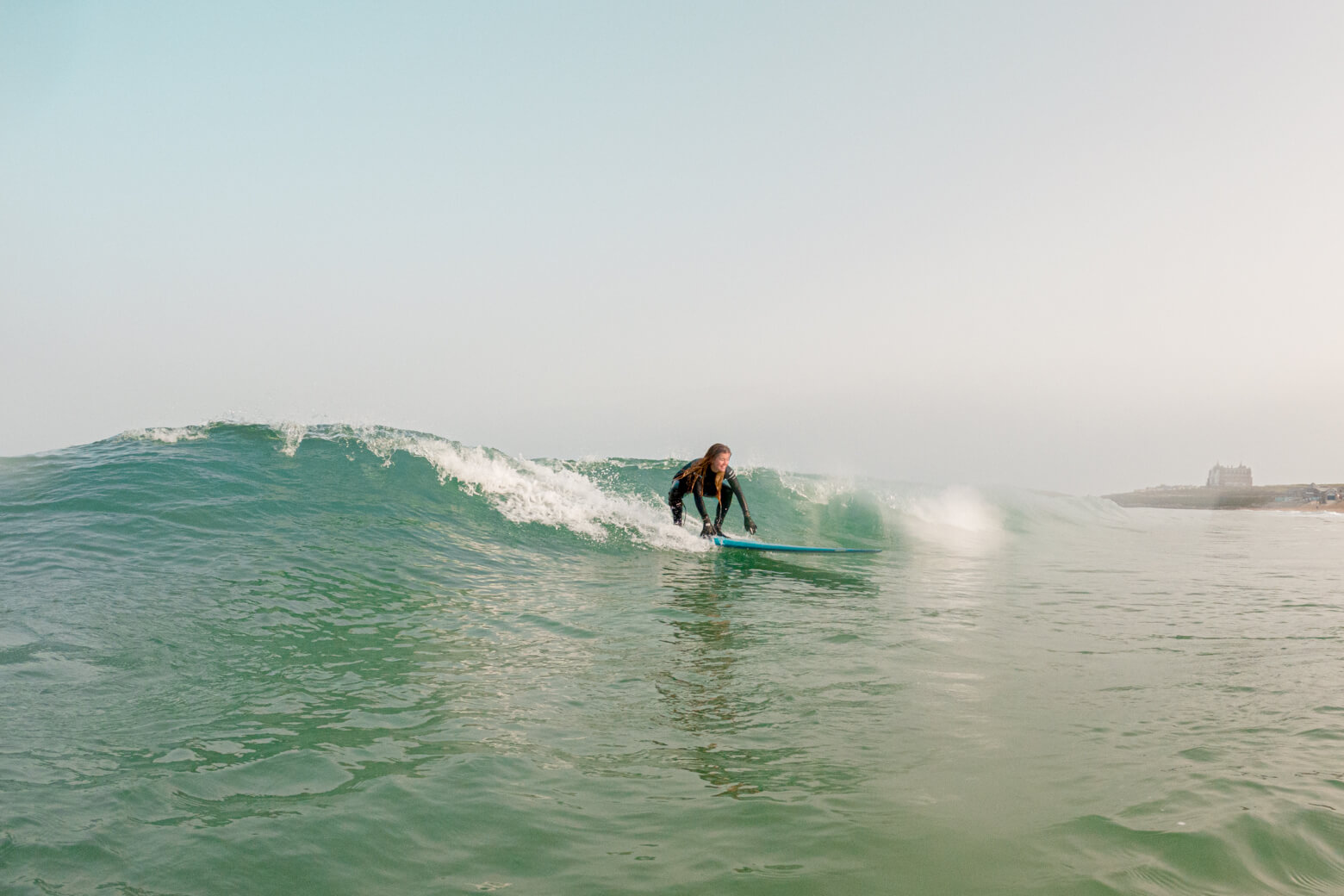 19. Chase some waterfalls!
I literally had no idea Cornwall has waterfalls until I put together this post. Next trip I'm heading to St. Nectan's Glen and Golitha Falls! See you there?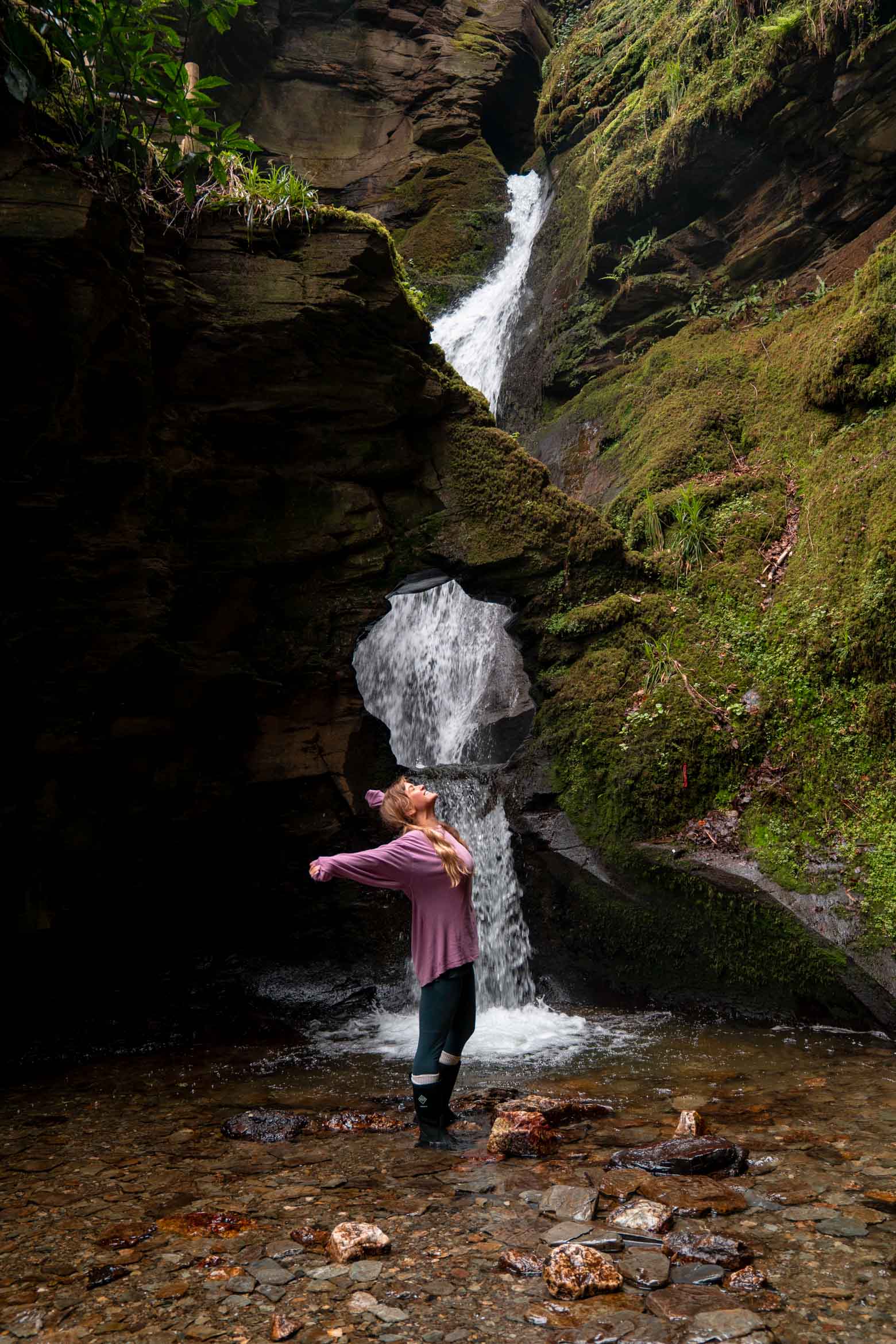 20. Porthtowan tidal pool
A small, secluded tidal pool protected from the crashing waves of the Atlantic and filled at high tide can be found hidden along the Cornwall's north coast. At Porthtowan's main beach, follow the coastal path until you come across a steep set of steps leading down to the tidal pool! It is stunning!
21. Pedn Vounder Beach
If you've been following my van life adventures on IG (@wheresmollie / @wheresmolliesvan) you'll have spotted this beach on my grid. Ridiculous. It's a hidden gem in Cornwall and not the most accessible beach but there is a path that leads down. I would suggest wearing trainers! Prepare for some steep, rocky paths and a little climbing on the final descent. It's worth every second!
You can park up at Treen car park for the day for just £2. You'll need coins for the machine but you can always get change for your notes at the cafe on site!
Tip: Check the tide times before you visit. At high tide there is very little beach to enjoy and if you want those shallow blue waters and sand pockets, you'll want to come at low / mid tide!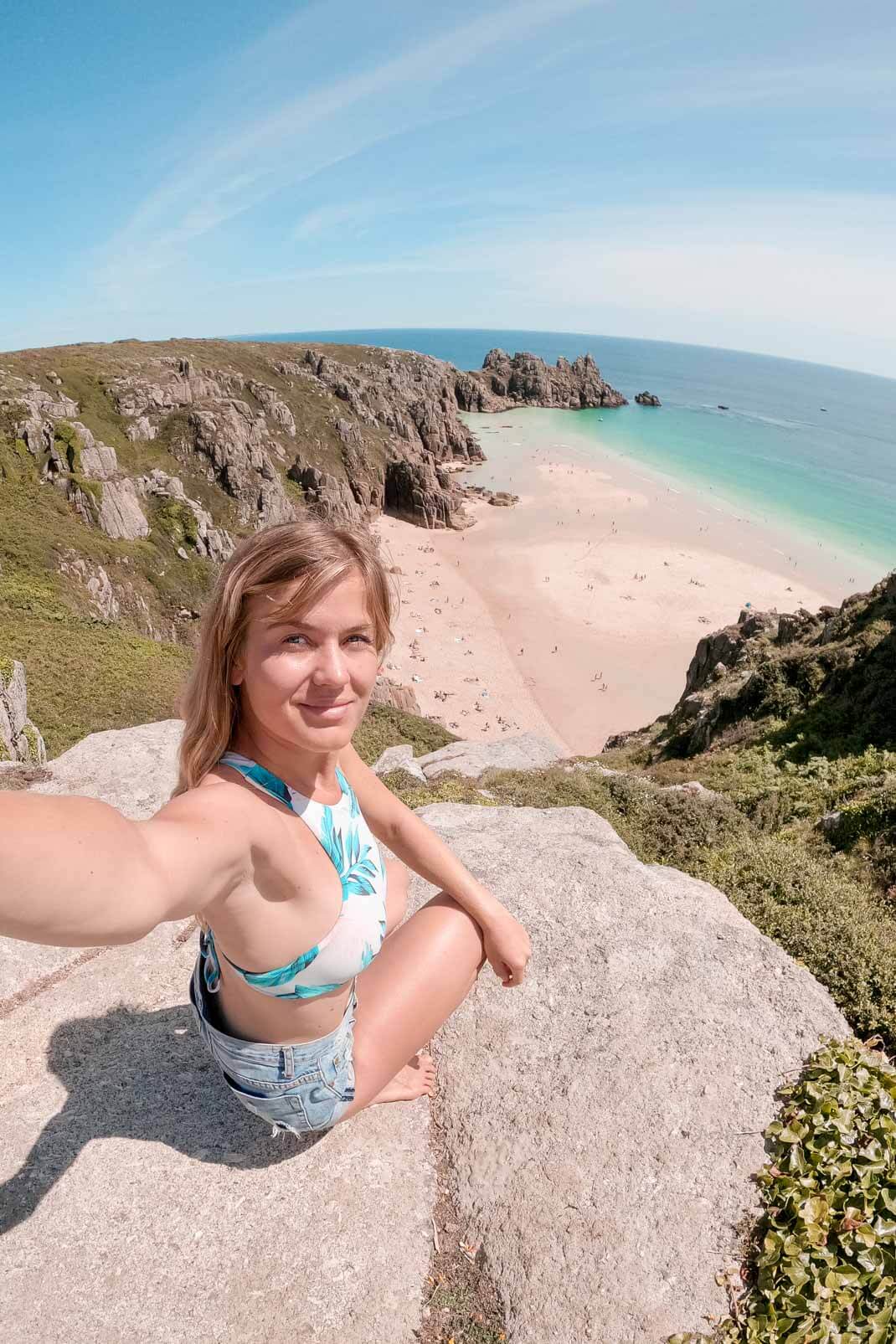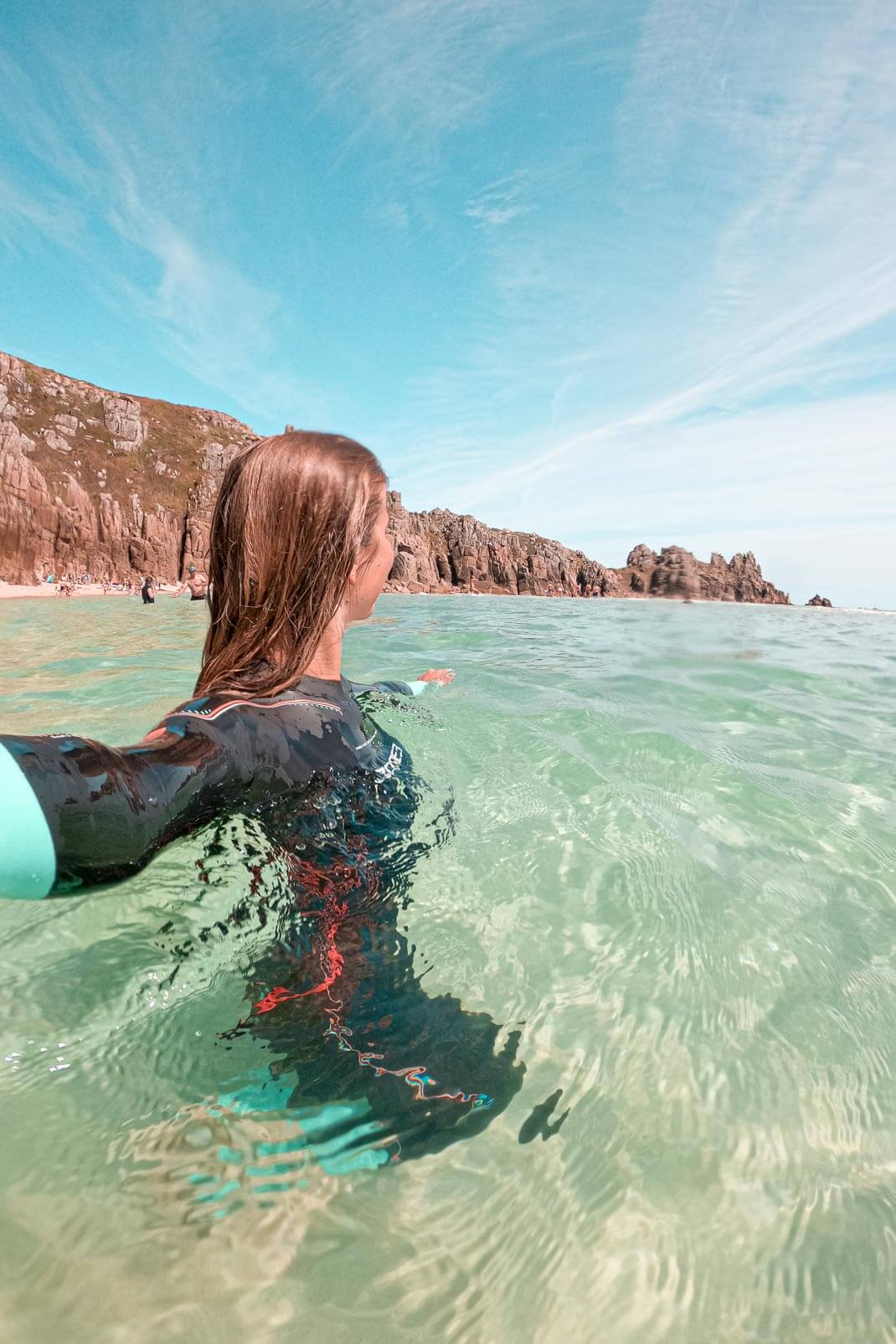 22. Drive-in Cinema at Watergate Bay (summer pop up)
The Wavelength drive-in cinema returned this year once again to Watergate Bay, a short drive from Newquay.
Showing a mixture of cult classics, family favourites and surf movies, this drive-in cinema is the perfect option for a date night, evening with friends or for a special family outing.
Either bring your own food or pick up some food and a cocktail on-site (they have a variety of vendors to choose from and live music too!).
Time it with a gorgeous evening and you'll witness the sunset magically beyond the horizon from the comfort of your vehicle. It's a must!
See opening dates, movie line-up and book your tickets here.
21. Walk the coast from Maenporth Cove and return for lunch/dinner at The Cove
There's no day better spent than one getting a deep dose of fresh sea air and then cosying up in a warm restaurant where the food and the hospitality warm you from the inside out. The Cove is one of Michelin-star chef Michael Caines's (MBE) restaurants here in Cornwall and is a real unassuming gem set right on the Maenporth beachfront, just a little further south on the coast from Falmouth.
I suggest parking up at Maenporth Beach, wandering the coastal footpath and then tucking into the seasonal menu at The Cove. The menu combines the freshest, locally sourced Cornish produce with unwavering style. The presentation was divine. If it's sunny, grab a table on the terrace for sun rays and ocean views!
The Stone Bass main was exquisite and the After Eight dessert well and truly blew my mind. Both were filled with flavour, texture and fresh local flavours.
I'd honestly come back just for the pudding.
View the menu here. They also have a veggie / vegan menu!
Have you been to Cornwall?
Where are your favourite places to visit in Cornwall? Did I miss anything? I'd love to know!
Love as always and happy adventuring,
Did you find this post helpful? I'd love you to share it for me.
I can't do this without you.
Pin and save this blog post for later…