Cenote diving in Mexico has been on the very top of my bucket list for a long time, so when I found myself working in Mexico for the summer, I had to take the once-in-a-lifetime opportunity. If you're looking for the best places to go diving in Mexico or the best places to visit in Mexico, this is the post for you!
Mexico has been for many years, and still is today, one of the best places to visit in the world for holidaymakers, honeymooners, backpackers and scuba-divers alike. Tulum and Playa del Carmen, located on the Yucatán Peninsula, are especially popular right now with digital nomads and content creators, and are also some of the best places to go diving in Mexico. However, the area is uniquely attractive to a certain kind of diver due to its abundance of cenotes (pronounced: say-no-tay).
Cenotes are ancient sinkholes that are filled with water, where the limestone cave ceiling has collapsed. All of the cenotes are connected by the two longest underground river systems in the world. They were the only source of water for the Mayan civilisation and are considered sacred to the Mayan people; the meeting place of the heavens and earth.
Now, they're visited for swimming, snorkelling, kayaking and some for scuba diving, which has boomed in recent years. And because there are so many cenotes, there's something for everyone; whether you're a newbie diver testing the cave-diving waters for the first time, or whether you're tec-qualified and want to push your limits with cave exploration.
In this guide, I am going to highlight my favourite cenotes and their unique jaw-dropping features, my favourite places to go diving in Mexico, plus everything you need to know for planning a cenote diving trip.
Other travel guides you might find useful…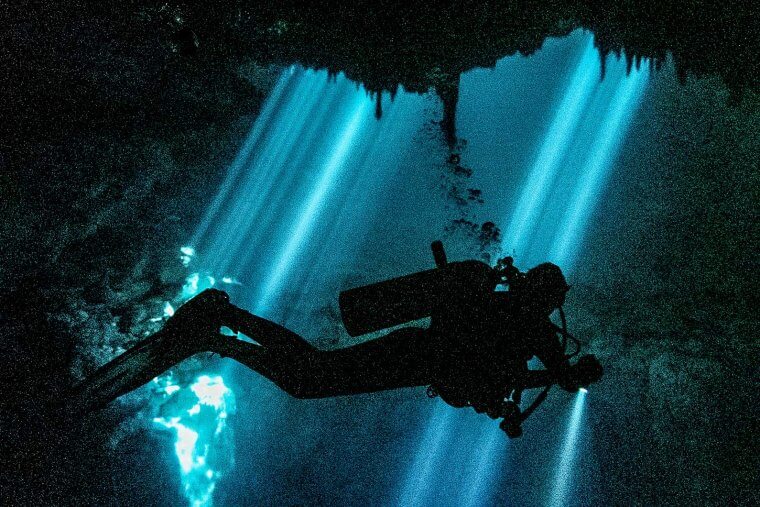 Where are the cenotes in Mexico? Where to stay in Mexico…
Mexico has over 6000 cenotes (those are just the ones that have been discovered), many of which are located south of Cancun, surrounding Playa del Carmen down to Tulum in the Riviera Maya, in the state of Quintana Roo.
If you're looking at going cenote diving in Mexico, it's possible to stay in any of the towns situated down this coastline as transport is relatively easy to organise and dive shops are plentiful. I was staying in Akumal (home to the green sea turtle) for work, however you'll have a wider choice of eateries and accommodation in PDC or Tulum.
How to get to Mexico… How to get to the Yucatán Peninsula…
Most people fly into Cancun International Airport to get to Mexico. Check out flights on skyscanner here.
To get from Cancun airport to the Yucatán Peninsula, it's a simple journey down Highway 307; to PDC it's 75 minutes and to Tulum it's just over 2 hours. You can take the ADO bus straight from the terminal, they're big and comfortable with a TV playing movies in Spanish. A ticket to Tulum is around $200 Mexican pesos (£7) and there's one change at the PDC bus terminal. Alternatively, you can take a taxi, organise a private transfer or hire a car, all of which are more expensive options, but may be better if travelling in a group.
If you want to access the cenotes without diving, to simply explore, snorkel or freedive, you can either hire a car and drive there directly or go with a snorkel tour operator. Most of the cenotes are down long dirt tracks, so taking a collectivo (taxi) along the highway is not feasible.
For cenote diving in Mexico specifically, you'll need to choose a dive centre. There are a ton of dive shops that offer a range of cenote diving; from beginner cavern dives to full cave training, so there's plenty to choose from! They will tend to offer a standard price for a cenote dive, ranging anywhere from $100 to $250 US (£70 – £180). They'll likely offer bundle packages, so the more dives you do, the higher the discount you'll receive. Safety is paramount, so make sure you're happy with their procedures, equipment and ethos. For example, the dive guide should always have twin tanks in a cenote. I used Akumal Dive Center and their amazing guide named Chepo, who knows the cave systems like the back of his hand.
Scuba certification requirements for diving in Mexico…
Many of the cenotes are accessible with an Open Water diver certification as they are not enclosed, however it is recommended that you are an experienced diver, comfortable with small spaces and with excellent buoyancy. For the more advanced dives (such as those with more caves), you will require at least Advanced Open Water, if not Cavern Diver, Intro to Cave Diving, or full Cave Diver certifications.
Read everything you need to know about getting PADI certified here.
Top tips for cenote diving in Mexico…
When to go diving in Mexico?
You can dive the cenotes all year round, however the best time for good visibility and light (and therefore photos) is May – October.
How cold is the water in Mexico?
Water is fresh or brackish, so the temperature is much colder in comparison to the ocean in Mexico; a cool 24 °C (77 °F). I recommend wearing a thick wetsuit (I wore 2 x 3mm suits), and maybe even a hood if you are susceptible to the cold like I am. Many professional cave divers wear full drysuits.
More top tips for diving in Mexico…
If you bring a camera, make sure it's attached to your BCD in case you need to use both hands. You'll also be needing a high-power torch.
Many cenotes charge a fee for bringing in a camera, or don't allow the use of them at all, so check before you go
Shower before you enter the water to remove any products, such as mosquito repellent
Only use a mineral or reef-safe sunscreen to protect the cenote ecosystem
Most have changing and toilet facilities
Don't touch the rock formations or mangrove roots
Don't litter or leave anything behind
Leave only bubbles; take only memories.
See more top tips for sustainable, eco-friendly travel here.


The best places to go cenote diving on the Yucatán Peninsula...
The best introduction to cenote diving in Mexico
This is the perfect cenote diving in Mexico if you've never experienced cavern or cave diving before. Instead of a sinkhole as you might expect, Casa Cenote is a long stream that connects one of the world's longest underwater cave systems to the ocean.
It's located in the middle of thick rainforest, surrounded by mangroves and the water is emerald green, giving the feeling of diving directly under the jungle. The cenote has large open areas and so has lots of natural light.
The dive has some fun swim-throughs, made even better when combined with the incredible halocline. A halocline is caused by waters of different salinities. These waters don't mix, so they form layers with the saltwater sinking and leaving the freshwater on the surface. The layer looks like a mirror, but when you dive through a halocline, it creates a surreal blurred effect, like a more extreme version of hot air shimmering above tarmac.
There's also an abundance of wildlife, from blue swimming crabs to guppies and tarpon and is home to resident crocodile Panchito! On my first dive here, Panchito – who normally floats on the surface amongst the mangroves – joined us in the water by swimming above us. Panchito is quite used to humans, but it's always wise to respect wild animals and avoid aggravating them.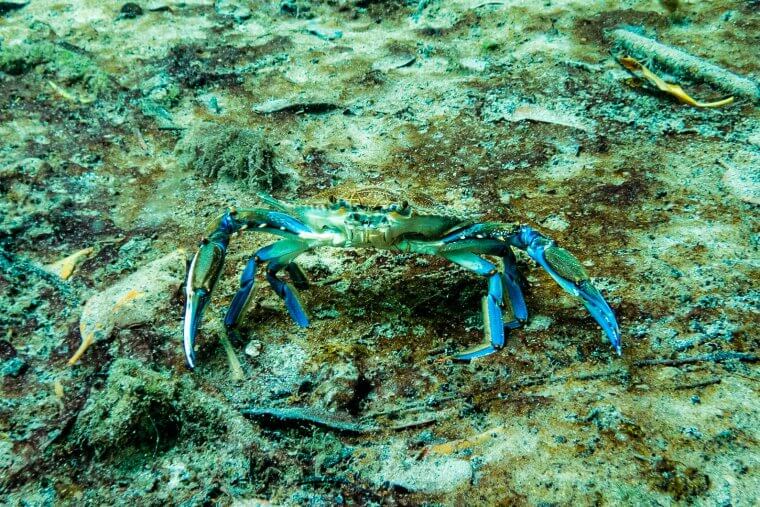 The best cavern diving in Mexico
Translated as Two Eyes, Dos Ojos is two cenotes connected by a passage, so from an aerial view it looks like a pair of bright blue eyes. There are 28 known sinkhole entrances and exploration of this system still continues! Dos Ojos is one of the most popular cenotes in the area, so I'd recommend arriving early in the morning or late afternoon.
There are two different circuits to take here, so we did both, with a little break in the hammocks in between to warm up. The first dive, called Barbie Line, is rated as Easy. This is more of a cavern dive, with overhangs and passages but you're never far from the surface and there is always natural light. The stalactites and stalagmites go on forever, with some being bright white, having formed millennia ago during the ice age.
The second dive is called Bat Cave, and of course there is a hidden bat cave where you can surface and watch the bats fly above! This is rated as Medium difficulty, having more winding passages and swim-throughs with lower light levels.
The best advanced cavern diving in Mexico
This is an extremely popular place to go diving in Mexico for its rock formations (it's our dive guide's favourite of all the cenotes) and is ranked one of the most beautiful in the world. However, it is rated as Difficult due to tight spaces and is only suitable for divers with excellent buoyancy control.
Before you even begin, the cenote entrance itself is beautiful, hidden in dense jungle (along with thousands of mosquitoes). There are two dives here – upstream and downstream. Once underwater away from the cenote, there is not much light that reaches in. However, if you look back towards the entrance, it's an incredible sight to see the light passing through the trees into the water. The darkness is eerie and peaceful, with full cave systems branching off into total blackness.
There is a cave you can surface into mid-dive completely filled with stalactites. It is one of the quieter cenotes, so you'll likely be the only ones diving there. There are even a few terrapins near the entrance.
The best deep cenote diving in Mexico
My favourite cenote dive of my trip, and one of the best places for diving in Mexico, the Pit is all about light beams. The sun's rays hit the surface of the cenote in such a way that the light penetrates down deep into the crystal-clear water. Our dive guide was eagerly showing us the rock formations and fossils, but I could not peel my eyes away from the rays. For the most intense light rays, dive around 10:30 am on a sunny day.
At 119m, the Pit is the deepest cenote discovered yet. When you're diving at the edge of the Pit looking inwards, you really gain a sense of just how deep it falls and how high up you are. At 15m is the halocline, where you drop down from fresh into salt water and at 30m is a layer of hydrogen sulfide, or a gas cloud. This is an extremely eerie sight, especially when passing straight through it, which is compounded by the dead trees and rocks situated among it.
The best place for "a bit of everything" when diving in Mexico!
If you don't have a favourite feature to see on your cenote dives in Mexico, Tajma-Ha might be for you; it has a little bit of everything: stalactites and stalagmites, vibrant light rays, fossils, caves, small passageways, large caverns and the most incredible halocline I have ever dived through. The light rays appear as you turn corners from dark caves, lighting up the entire area blue. The halocline is so extreme it feels like your mind is playing tricks on you; like you're floating above a mirror, or that you've surfaced into air when you've really just moved into the next layer. Some of the rocks even glow when you shine a light on them. There will be something in this cenote to make your jaw drop.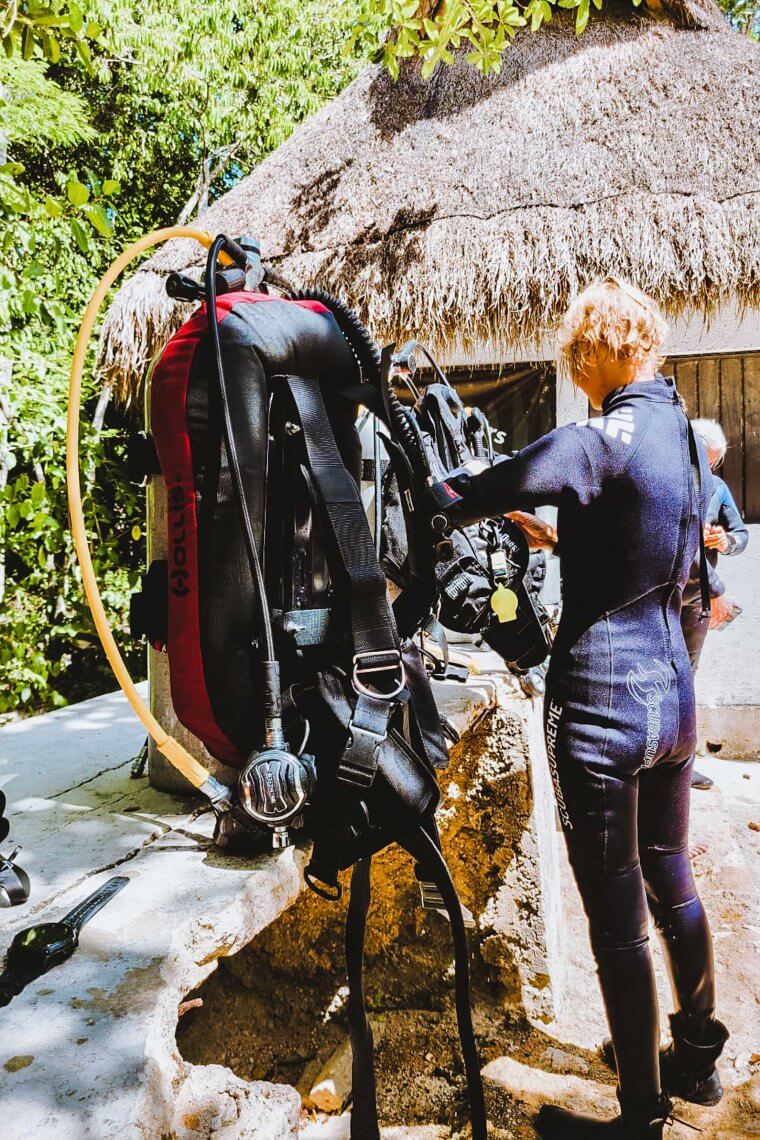 More places to go cenote diving in Mexico...
With over 6000 cenotes, it would take forever to explore them all. I'll mention a few more places to go diving in Mexico that I've heard are exceptional:
Angelita – hydrogen sulfide layer and dead trees
Cenote Aktun-Há (Car Wash) – flowering gardens underwater
El Jardin del Eden (Ponderosa) – light rays and mangroves
Sac Aktun (Pet Cemetery) – animal bones and fossils
After spending so much of my time off diving in Mexico and exploring these cenotes, I am totally hooked and already planning my next trip back to explore even more!


Where are your favourite places to go diving in Mexico?
What are your top tips for diving? Anything you'd add?
Love as always and happy adventuring…
Did you find this post helpful? I'd love you to share it for me.
Pin and save this blog post for later…