When I arrived in Nusa Lembongan, I was on my third visit to Indonesia and was itching to uncover more of the Balinese lifestyle that is now so often overshadowed by western influences. After being totally disheartened on my return to the once idyllic Gili T, I was on the look out for a new Indonesian paradise.
This was when I stumbled across another archipelago of islands just 30 minutes off the east coast of Bali – Nusa Lembongan, Nusa Penida and Nusa Ceningan. The islands are most easily accessed by a short 1-hour boat ride from the west coast town of Sanur, Bali.
My guide to Nusa Lembongan…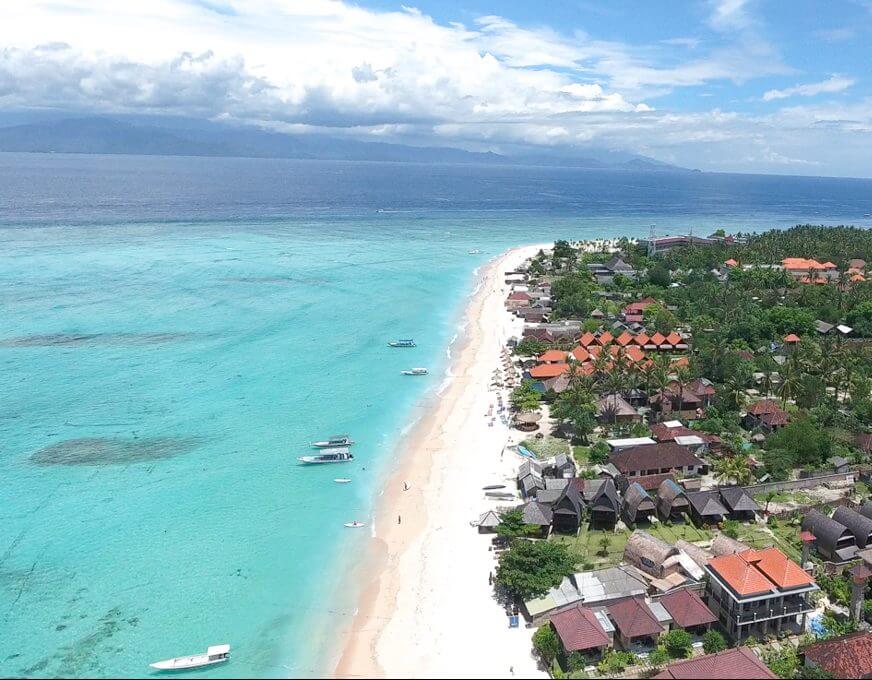 Nusa Lembongan is around 8km square in size and is the most popularly travelled of the three islands. It is connected to its neighbouring island of Nusa Ceningan by a yellow bridge that has actually just been rebuilt after tragically collapsing in October 2016, so you can definitely combine exploration of the two islands in your visit.
Nusa Penida is the third island of the trio and can be done in a day trip too, though it has enough going on to justify its own stay. I didn't explore Nusa Penida on land, but I did explore a few of the dive sites on day trips from Nusa Lembongan, so I had a taste of its beauty from the water.
Contrary to my usual working travel style, I hadn't researched anything upon arrival to Nusa Lembongan and was totally clueless when my mum and I turned up.
We had no idea where the 'main area' was, or where the recommended places to stay were. Not because we couldn't locate WiFi, but because there wasn't much coverage of Nusa Lembongan online (bar a couple of articles), and this exposure is something I usually rely heavily on for ideas. However, spontaneously stumbling upon a hidden gem is great sometimes, and Nusa L is pretty beautiful…
Feeling totally lost upon arrival, we made a spontaneous decision to head to Mushroom Bay which, at the time, I thought was the main area.
After a 12-day stay I've now come to realise the main area is Jungut Batu (where the boats come in) and Mushroom Bay is, I would say, second in popularity and contains more secluded and luxurious types of accommodation. So, backpackers and those looking for the hustle… head to Jungut Batu beach.
I visited Nusa Lembongan in January 2017, which is technically the rainy season and a time a lot of people avoid. I would say though, that for every overcast or rainy day, we had one full day of sun… so not bad at all.
There isn't a ridiculous amount to do on Nusa Lembongan, but that's the beauty of it. It feels like it's just you, the locals, a few convenience shops, a few warungs and some dive schools. Oh, and obviously a gorgeous, tropical beach to kick back and relax on…
Did I mention that Indonesia, and particularly Nusa Lembongan, is one of the best dive spots in the world?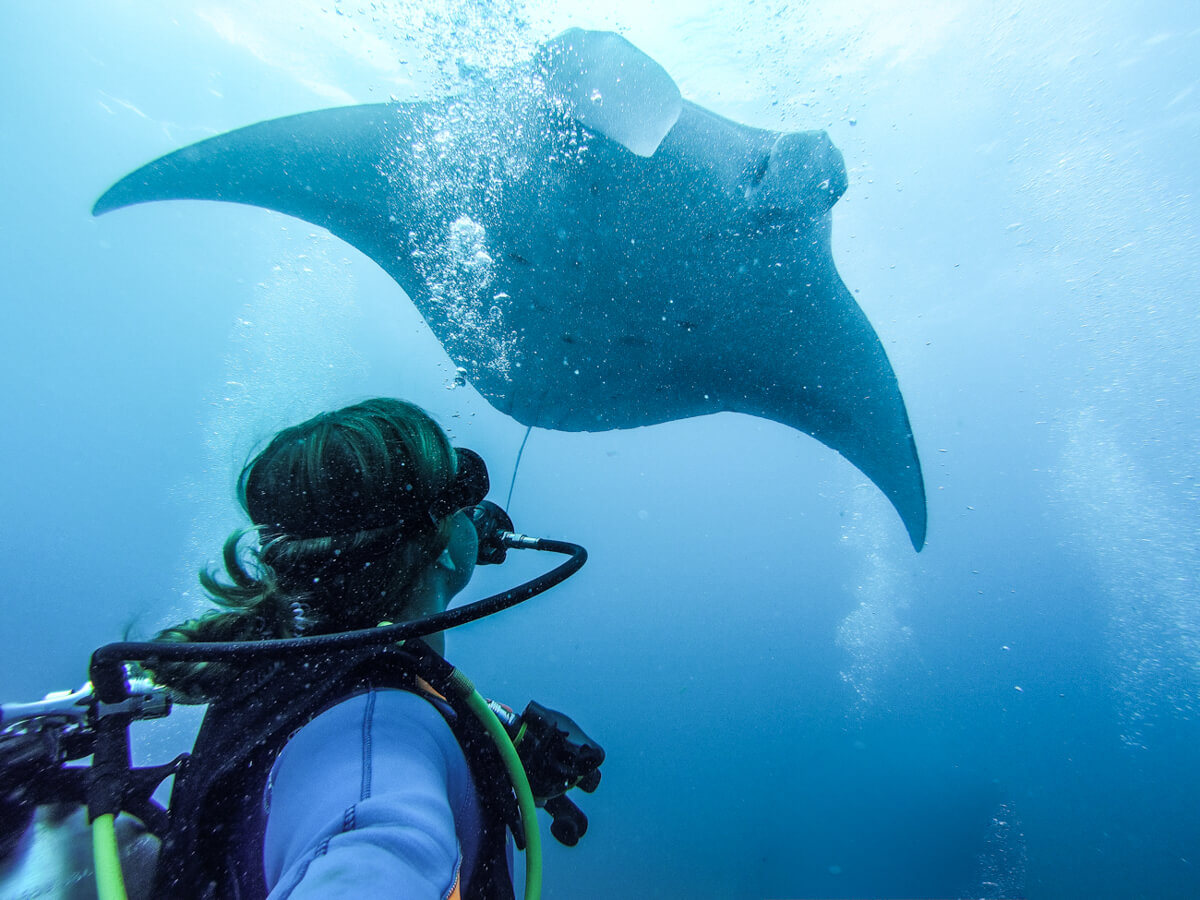 Sadly however, there are already major signs of development on Nusa Lembongan, and I think big change will overturn this island in the coming years. I most certainly wasn't 'discovering' this island.
So, if you're heading to Nusa Lembongan soon… perfect. This guide holds true to what you'll experience. Later, I think a guide update will definitely be due.
Here's a Google Map with all my Nusa Lembongan hotspots and discoveries…
Where to stay in Nusa Lembongan…
There are plenty of gorgeous beach huts and bungalows to choose from in Nusa Lembongan with the average price (based on 2 sharing) being 350,000-600,000 IDR a night (£18-36).
If you're on a 'proper holiday' and have a good budget, some of the nicer accommodation you should check out includes Tigerlillys, Lembongan Beach Club and Resort, Tjendana Villas and Batu Karang Spa Resort.
If you're mid-range budget and want something decent but not too expensive, try Suka Beach, Mushroom Beach Huts or Yogi Bungalow.
AirBnb is also an option – get up to £30 off your first stay here.
And if you're travelling on a budget (like me) and want something as cheap as possible, try 5 Brothers home stay (where I stayed), Blue Corner Dive hostel, or enquire at any home stay you come across when you get there.
If you really want a bargain, you can turn up and negotiate prices with home stays. 5 Brothers was initially 200,000 for a fan room per night, or 250,000 for A/C. Because I knew I was staying a week, I negotiated 200,000 IDR a night for an A/C room. Basically, the longer you stay, the better the deal you can get.
Budgeting for your trip to Nusa Lembongan…
Accommodation – 250,000IDR for a two-bed room with A/C
Laundry – 20,000IDR per kg
Eating in an Indonesian run Warung – 20-45,000IDR for a main meal
Food in a western eatery – 50-95,000IDR for a main meal
Local food – 10-25000IDR
Hiring a moped for the day – 50-60,000IDR
A full body massage – 80,000IDR an hour
Cafes and restaurants I loved in Nusa Lembongan…
I spent a lot of my time in the Eco Deli, seeing as they have the fastest internet on the island and it was two doors down from where I was staying. The menu is pretty healthy and the prices aren't too high, but it's certainly a western establishment. Eco Deli do a good muesli fruit bowl and super berry smoothie. Oh, the banana bread and lime & coconut balls were good too.
Great eggs and avocado + smoothie bowls.
Great tuna steaks and the BEST smoothie bowls on the island.
If you're looking for good seafood, try the local warungs in the north of the island on the way to the Mangrove Forest.
If you're looking for some awesome pizzas, I've heard nothing but great things about Hai Bar over on Mushroom Beach.
For Mexican dining and an awesome sunset spot (where the party usually starts) head to Blue Corner Dive.
For an unbeatable brunch spot with a view, head over to the south side of Jungut Batu and walk up onto the cliff side, where you'll find half a dozen bars and cafés overhanging the turquoise waters.
The Deck is a slightly more expensive but popular brunch spot. Think Nikki beach: white details, immaculate seating arrangements and glass design. Other choices on this stretch with similar views: Lembongan Reef Bar and Restaurant or Ware Ware
Staying active in Nusa Lembongan…
Go scuba diving or snorkelling
Nusa Lembongan is the perfect place to get your diving certificates! I got my PADI Open Water at Blue Corner Dive School (read about my experience here)
If you don't fancy diving, there are some great snorkelling day trips you can do. Both water activities allow you to experience the island's famous Mantas.
Chill out and take a yoga class.
You can drop in at Serenity Yoga or the Yoga Shack for around 100,000 RPH a class. The more classes you sign up to, the cheaper they become.
Want to take it to the next level? Get your yoga certification! I met the Santosha yoga institute owner whilst I was on the island, who was just finishing up the water front complex, which looks nothing short of dreamy. If I was going to get my teacher training certificate, I couldn't think of a more idyllic location…
Nusa Lembongan has a world famous surf break and I met many a surfer on the island that had travelled there for that exact reason. Get a surf lesson, or grab your board and grab the short boat from the shore to the break.
Rent a bike and plan a road trip around Nusa L and Nusa Ceningan. That may sound overwhelming, but the islands are smaller than you think and it's totally doable in a day! See the map above for my island highlights.
My top tips for visiting Nusa Lembongan…
On a clear day you get stunning views of

Mt.Agung

over on Bali. Watch out for it and snap it as soon as you get the chance; I only briefly saw it twice during my 12-day stay.
Remember your mosquito repellent spray (buy natural mosquito repellent here). And if you forget your spray, invest in some Bokashi rub oil to soothe those mozzie bites!
Take cash out before you go. There is an ATM, but there is only one on the island. Pretty much everywhere requires you to pay with cash, and the ATM is often out of cash or out of order so don't rely too heavily on it.
The best sunset spots are at Sunset Point, and on Jungut Batu Beach. A lot of people will gather with cocktails on the bean bags at Blue Corner Dive.
Some of the only places I found to get a free water refill were the Eco Cafe and Vegan cafe (you obviously have to be a paying customer there). Shop my reusable water bottle here.
Eco Deli is the best place to secure a decent WiFi connection (good to know if you're on a working holiday and need it}).
Bring a torch. The island's power supply went down countless times during my stay, and I actually stayed during their longest black out which was nearly 24 hours.
Take a poncho for the wet season, or buy one for a couple of £s there. When it rains, it pours.
Extra backpacking tips…
I couldn't find any hostels apart from Blue Corner, where they have dorms at 5-10$ a night
The lack of hostels means no shared kitchen and meal making. The cheapest way to eat is to eat the local food!
If you're looking for a bit of nightlife or a social gathering, again Blue Corner Dive is your best bet. Every Friday they have a BBQ and party.
Have you been to Nusa Lembongan?
What were your favourite spots? I'd love to know!
Love as always + happy adventuring,
Did you find this post helpful? I'd love you to share it for me.
I can't do this without you.
Pin and save this blog post for later…