I remember when I decided I wanted to explore the underwater world and try scuba diving for the first time. I was excited to dive right in but had no idea where to start. All I knew was that I wanted to scuba dive and get my PADI license.
Word on the street was that Southeast Asia was the second cheapest place in the world to embark on a PADI adventure, after Honduras.. Once I had figured that out, then came all the overwhelming questions that related to wanting my PADI certification.
How much is it going to cost? How long will it take? Which diving school should I go to?
I didn't want all those questions to stop me from entering the underwater world… and neither should you!
Where's Mollie? contributor Robyn recently got back from getting PADI ceritified in Thailand. Since it's been almost three years since I got my certification in Indonesia, I decided to pick her brains about everything scuba diving related to create a handy little guide for you.
Here is everything you need to know about getting your PADI license…
What does PADI stand for?
PADI is an acronym for the Professional Association of Diving Instructors and it is a certification that allows you to dive recreationally. There are two main scuba diving certifications you can obtain:
PADI

SSI (Scuba School International)
I would recommend choosing PADI as its the world's most recognized scuba license. You will pretty much have the freedom to explore all the oceans, which make up 71% of our world….how cool?!
Choosing your diving school…
Once you begin your research you'll notice how many diving schools there are located on the islands of Thailand. I decided on a school on the island of Koh Tao, located in the Gulf of Thailand.
Before you choose what school will be best, there are a few questions you will need to ask yourself:
Firstly, you will need to decide on the level of diving you want to achieve. You start by training for your open water diving course and then if you love the thrill that comes along with that…you can continue your education and train for your Advanced Diver, Rescue Diver, or if you're really committed to your new underwater adventure then the Divemaster certification could be an option.
Secondly, ask yourself how much you're ready to spend on your PADI certification. There are a range of options for you, and if you're on the fence about whether you want to get your PADI or not, a lot of schools will offer you a practice dive in their pool to get a feel for it.
And last but not least…you need to be able to swim. Before you're introduced to your new diving kit you will have to physically show the school you can swim. Now you don't have to be the world's best swimmer, you just have to show that you are comfortable in the water, that you can swim 200 yards and tread water for 10 minutes.
The good thing is that there is no time limit, you just can't stop. So take your time and enjoy the swim!
Once you've figured out those few little things then it's time to choose your school. I decided on Davy Jones Locker diving school and their team was epic! I chose them because…
They train in small groups (maximum 4 people) which means you get the full attention of your diving instructor.

Their diving instructors come from all over the world and are very passionate about their job.

All their PADI instructors are master scuba divers.

They have a pool on-site which means you can learn to dive before heading out to the ocean.

They have cold drinks and tasty food in the school. After training every day we got to sit and chill with the instructors which was a great experience. I highly recommend their Massaman curry…it was to die for!
How long does it take to complete? How much did it cost?
The open water diving course took 4 days to complete and cost 11,000 THB which is around £290.
What equipment will I need?
Good news…you don't need anything, except for yourself and a swimming suit of course! Everything you require is supplied by your diving school.
When you start diving after you complete the course, you can either decide to purchase your own gear or hire it.
During your training, you will be introduced to all the equipment. You will become familiar with different parts of the scuba gear including a regulator, buoyancy control device (BCD), compass, scuba tank, wetsuit, goggles and a weight system.
What to expect from training for your PADI Open Water Certification…
So you've chosen your school and sorted out the finances. Now it's time to start training.
Here's what to expect over the 4 days:
Day 1: During your first day you will be introduced to your instructor and start learning the history of scuba diving along with the diving techniques you will be using in the water. It includes coursework, instructional videos and small quizzes at the end of every lesson.
Day 2: In the morning you will review everything you learned during the theory day, followed by your first dive in the pool.
Day 3: READY FOR THE OCEAN! You will pack up the boat with your gear and snacks and complete two open water dives in the ocean.
Day 4: You'll get up early and complete two open water dives in the morning. Then you'll take the test and celebrate passing the open water PADI scuba diving course!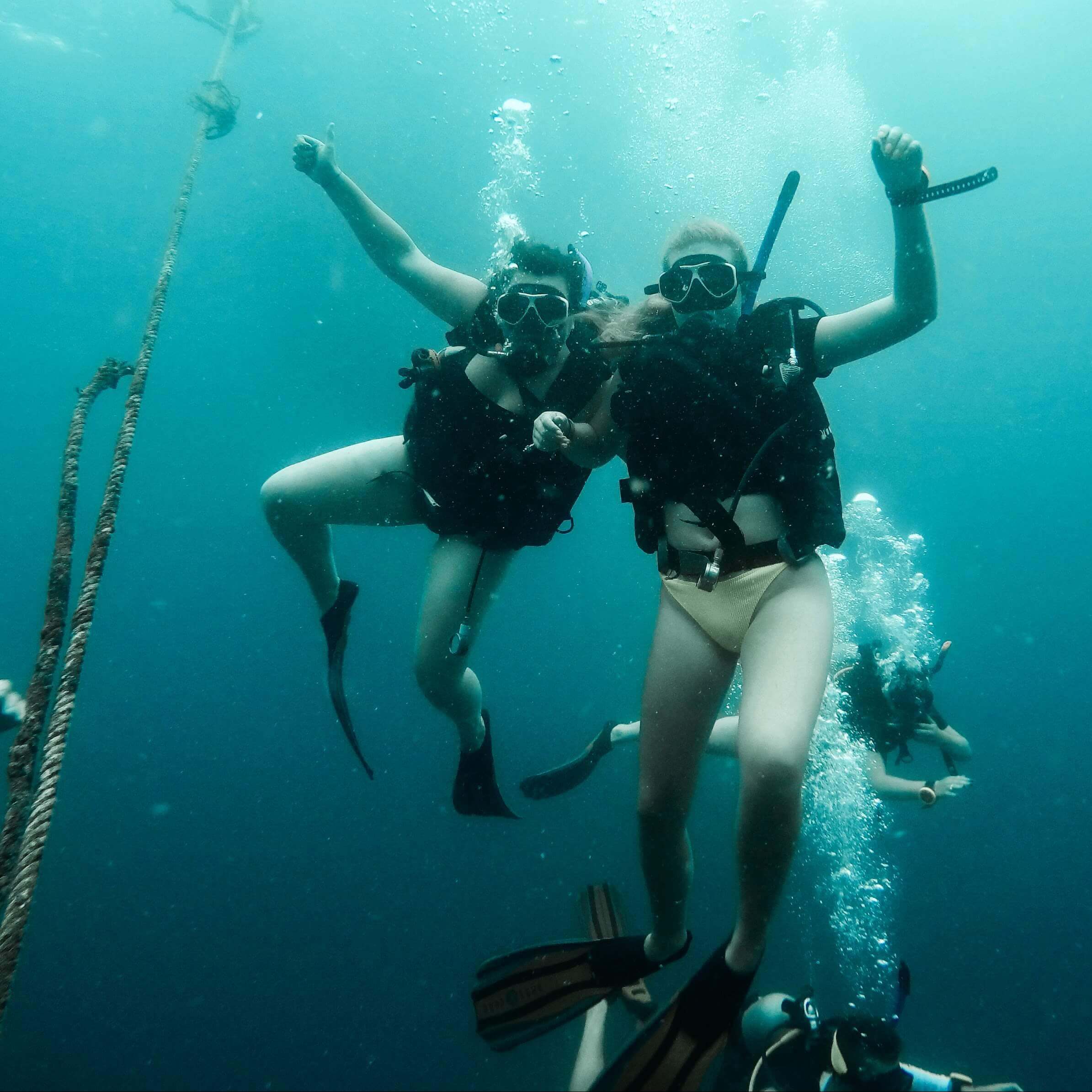 Things to remember:
You are the number one priority: You are in very safe hands with your diving instructor. They are extremely patient and will coach you safely through whatever questions or concerns you have.
Do NOT consume alcohol the night before or morning of your diving training: It is against the rules to get in the water if you have consumed a large amount of alcooal within 24 hours of diving. It is extremely dangerous, so take that into consideration before your dive.
Trust yourself, your gear and your instructor: The moment you take your first breath underwater is surreal. The feeling of being weightless and breathing underwater is hard to grasp at first, but once you get the hang of it, the magic kicks in.
You will have to pass a test at the end of the course: At the end of your dives you will be required to take a small test at the end. It covers everything you've learned over the 4 days. It has a very high pass rate so no need to worry, as long as you pay attention during the course!
Just like that you've completed your training and you are now a qualified PADI open water diver and allowed dive around the world.
I completed my PADI open water in Koh Tao in June 2019. I fell in love with the life of a scuba diving and I'm even considering a season away to train as a PADI instructor.
If you read through this and decided that scuba diving is for you then…. get ready for some of the most magical memories to come.
Start your adventure on the PADI website here.