A road trip down The Great Ocean Road had been on my Australia Bucket List for a while and this week I finally got to tick the adventure off.
The Great Ocean Road is one of the most beautiful stretches of coastline in the world to take a road trip down and in this blog post, I'm going to take you through our itinerary and all the top tips and tricks to help you when planning your adventure.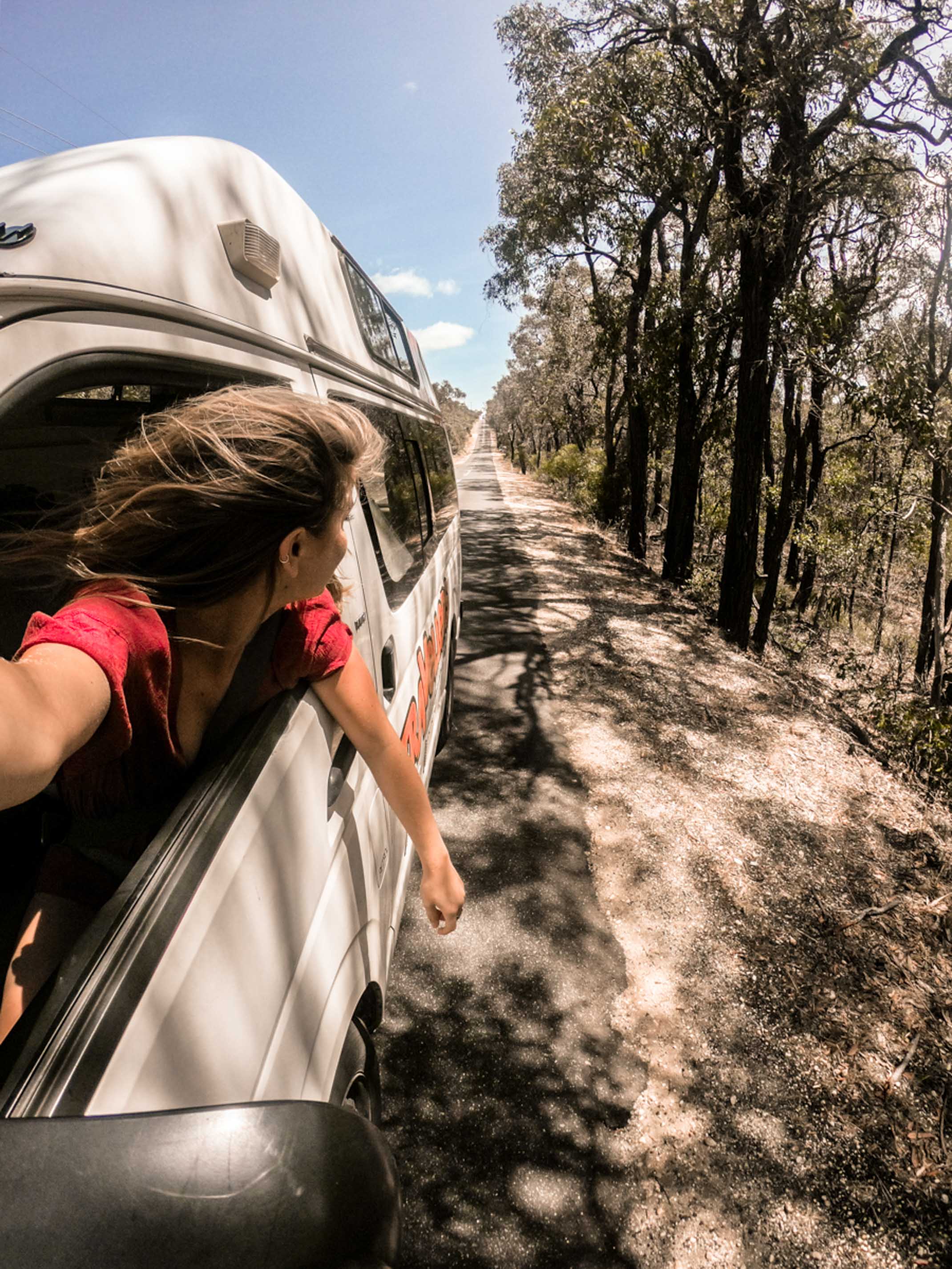 There are not many things I love more than a good road trip because of all the freedom and unpredicted chaos that comes with it. Road trips always make for an interesting adventure.
Let's just say if you decide to freedom camp in the bushes of the national park, there is a chance you'll come across some wild boars. I speak from experience.
And so on Monday, it was finally time to head out on one of Australia's finest routes. My best friend and I grabbed a camper and we set out on the 243km drive from Melbourne toward The Twelve Apostles.
Watch our adventure come to life here…
My guide to planning your Great Ocean Road road trip…
First things first, unless you have a friends you can borrow, you'll need to…
We hired a camper from the absolute legends at Ratpack Travel and got ourselves a 3 birth adventure mobile from Travellers Autobarn.
It was pretty basic in design and had clocked nearly 600,000 miles but it got us safely from A to B and came equipped with a bed come dining table, a fridge, a microwave, a double hob and extra storage.
Of course you don't have to go with a camper. You can also rent a car and stay in hotels or hostels along the way.
It totally depends what adventure level you're ready for and whether you're ready to embrace all that van life has to offer.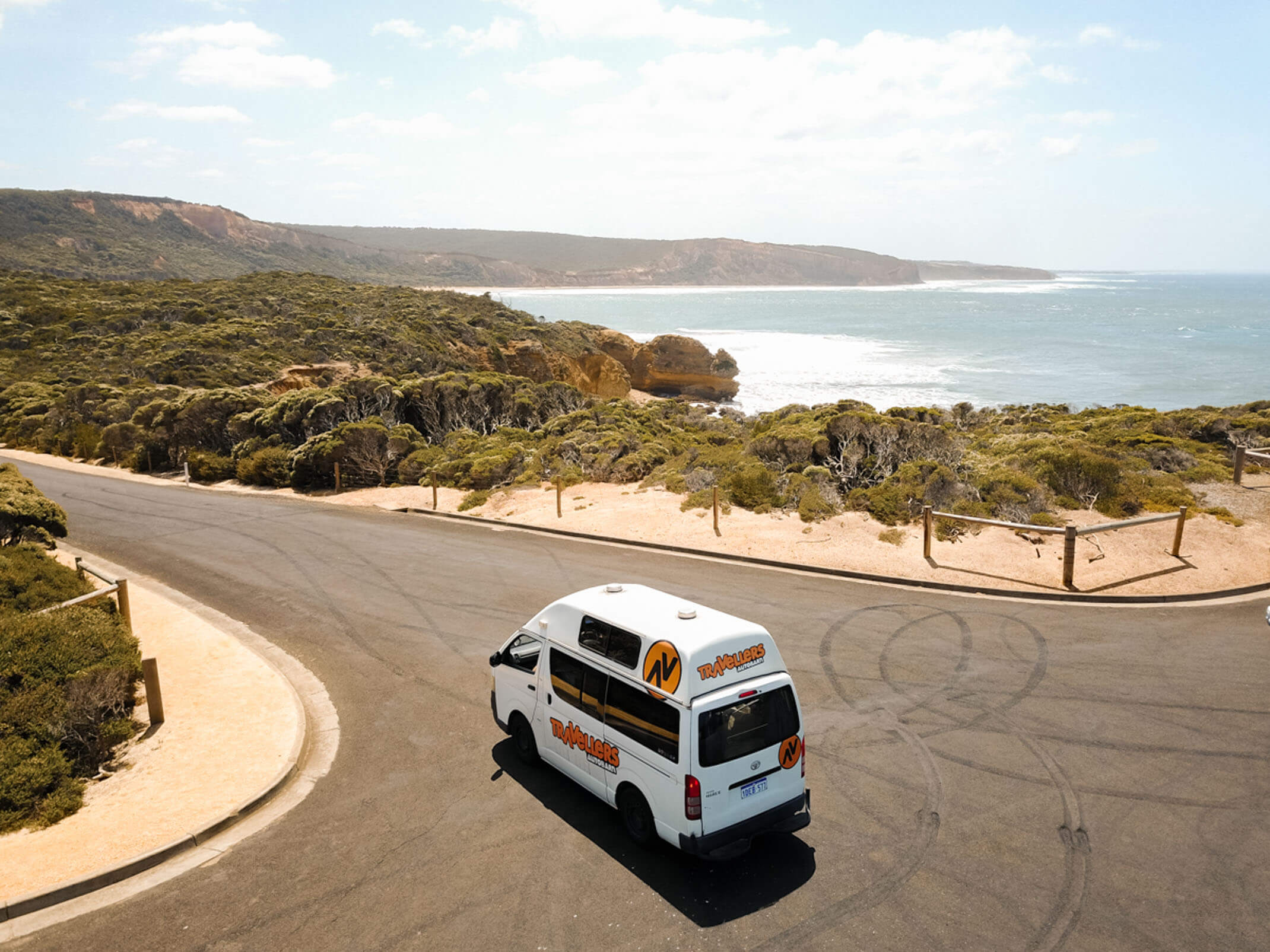 How much can you expect to pay for a camper van?
For our 3 birth van for we paid the basic rate of $89 per day.
On top of that (I assume most companies operate in a similar manner) we were charged for:
gas (to operate the cooker)
camping chairs ($15 each)
a kitchen and dining package
an extra driver ($3 dollars a day)
extra insurance cover ($15 a day)
If you're looking to get a quote and hire a car or camper yourself, I would definitely recommend dropping my friend Sammy from Ratpack Travel a message to discuss your options. He will definitely get you a better price than anywhere else.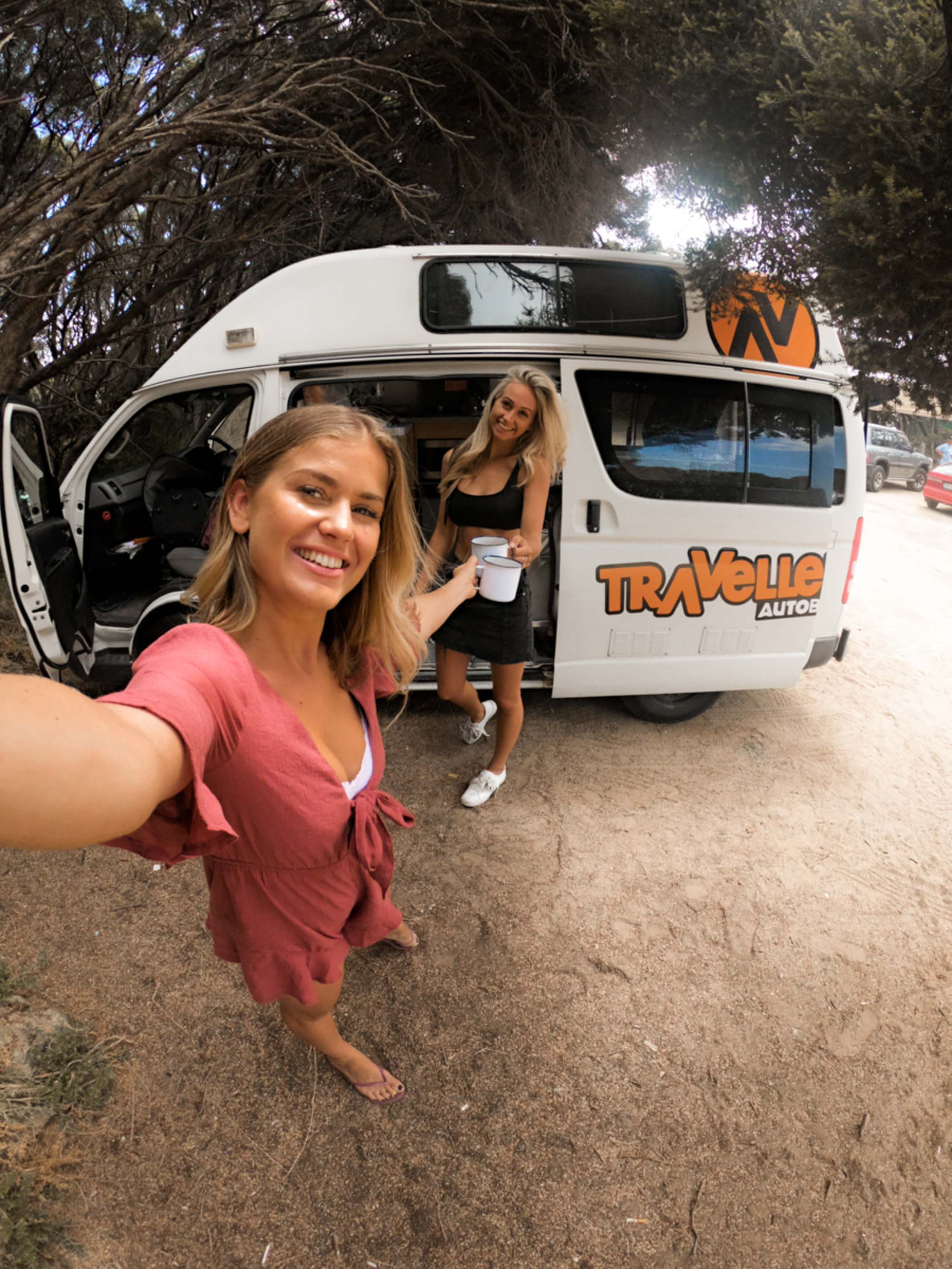 What other expenses do you need to account for?
These were the other outgoings on our road trip:
Petrol – $140 in total between us (had to return the camper full)
Campsite fees – $60 (2 nights at Bells Backpackers) + $39 (Port Campbell) + $0 (Gypsy night) = $99 AUD
Groceries for 5 days – $35 shop between us
Additional coffees and snacks – $10 a day
The ultimate Great Ocean Road itinerary…
In this itinerary I'm going to note both the places we went on the Great Ocean Road but also the places we heard about along the way. We didn't have time to do it all, but I'll lay it all out on a plate for you and let you make your choices.
You can locate all that is mentioned in this blog post on the Google map that I have created for you below…
DAY 1
Assuming you'll be staying in Melbourne or choosing this destination as the nearest to fly into, Day 1 will have you venturing to the pick up spot of your vehicle. For us that was Travellers Autobarn located out in an industrial estate near Melbourne (Tullamarine) airport.
If you're picking up from here too, catch train to Flinders Street and then take the tram (59) to Hawker Street. Travellers Autobarn is 10 minute walk from there.
Melbourne to Torquay main surf beach
Drive time: 1 hour 18 minutes (110km)
This was our first taste of beach life on the Great Ocean Road and it was beautiful. We cooked dinner out the back of the van by the beach as the sun set and the surfers went in to catch their last wave.
From here we hadn't booked accommodation and had been told it's a bit risky to park up in the Torquay area. The council are hot on the fines. Add in the fact our van was extremely obvious it was a camper, and we would have been silly to risk it. Campsites were closed by this point but we found Bells Beach Backpackers on the main road which is a hostel with space out the back for campers to park up. Operating on a cash only basis, we handed over $30 and secured our van in the back of the property with access to the hostel kitchen showers and bathrooms. Perfect!
Overnight in Torquay at Bells Backpackers
Notes: Free WiFi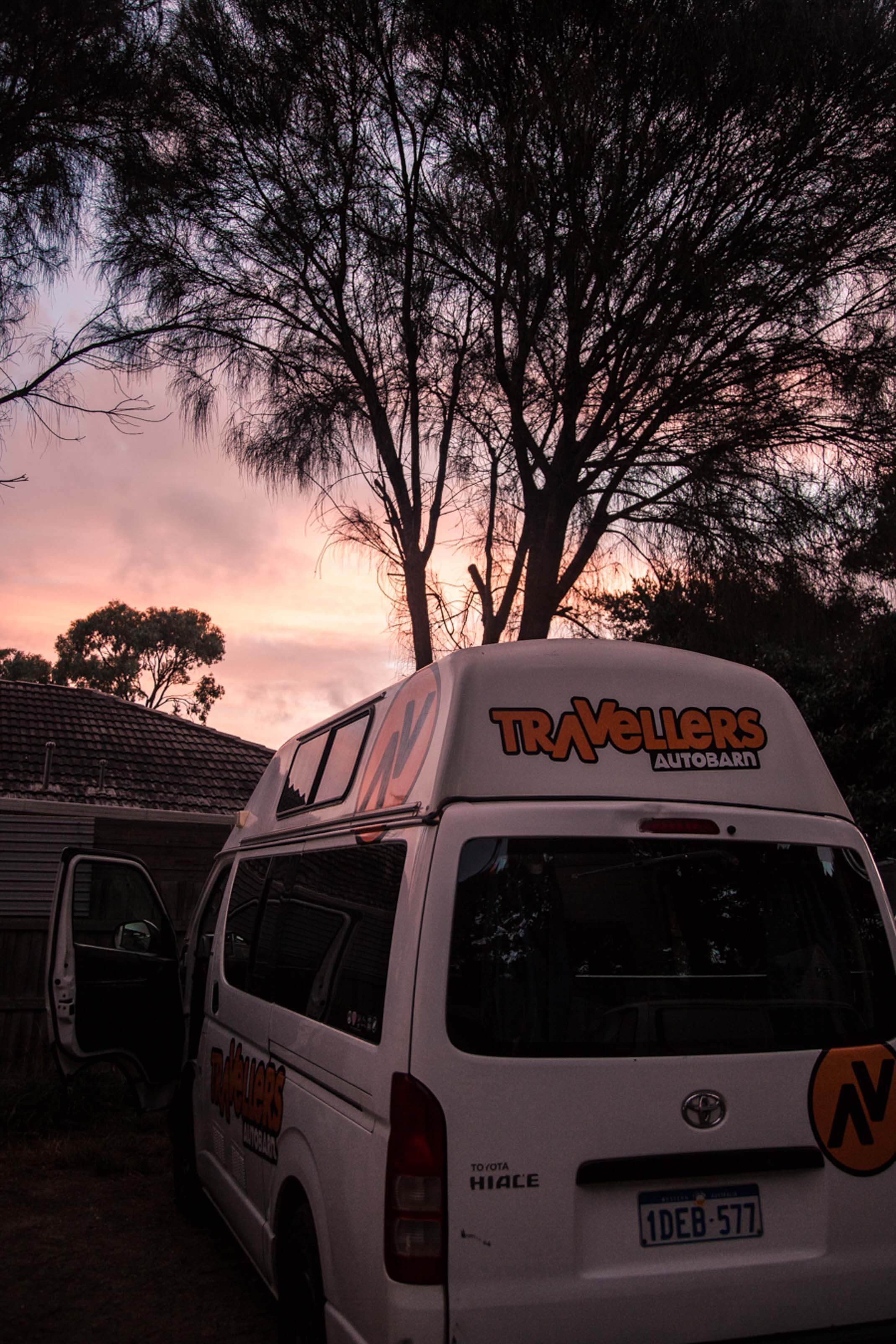 DAY 2
Drive via Bells Beach to Point Roadknight Beach (near Anglesea) and cook up breakfast
Coffee recommendations:
There's a cute little coffee on Point Roadknight beach called 'Point Roadknight Kiosk' – you won't miss it. It's got gorgeous pink doors and wooden decor – super instagrammable and unreal coffee!
Otherwise, 10 minutes down in the direction of the Great Ocean Road, hop out at Laneway 73 and get your fix of amazing Ozzie coffee!
Next up it's the infamous Memorial arch which is only 20 minutes (15.8km) down the road from Anglesea. It's time to get that shot.
Afternoon adventure options…
Erskine Falls
Teddy's Lookout
Kennet River (prime spot for koalas)
This next stretch (which you will have witnessed from a near birds eye view at Teddy's Lookout) was by far my favourite to drive on the Great Ocean Road with the road hugging tightly against the rugged coastline for miles and boasting insane views across the blues of the ocean.
The weather (as you can see) was insane which definitely added to the wow factor, but regardless I'm always blown away when roads allow you to drive this close to the ocean.
We continued to drive on through Lorne where we picked up groceries, cooked up dinner in Apollo Bay and decided to gypsy a parking spot to sleep for the night in a layby within Otway National Park.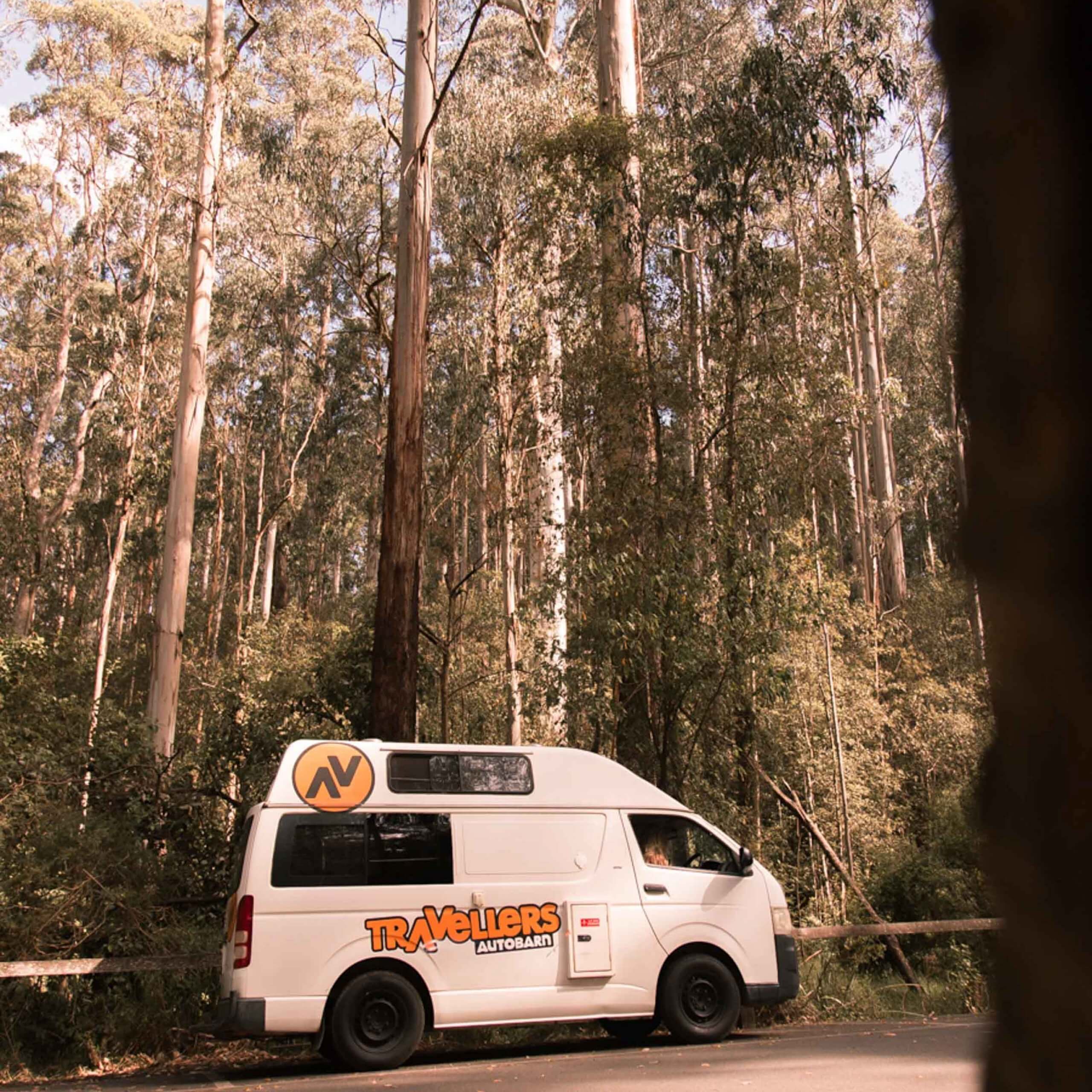 Try and make it into Great Otway National Park for sunset and drive down to the lighthouse. The Light Station is gated and shuts by 5pm, but the road down there is beautiful.
There are some pretty striking landscapes to witness.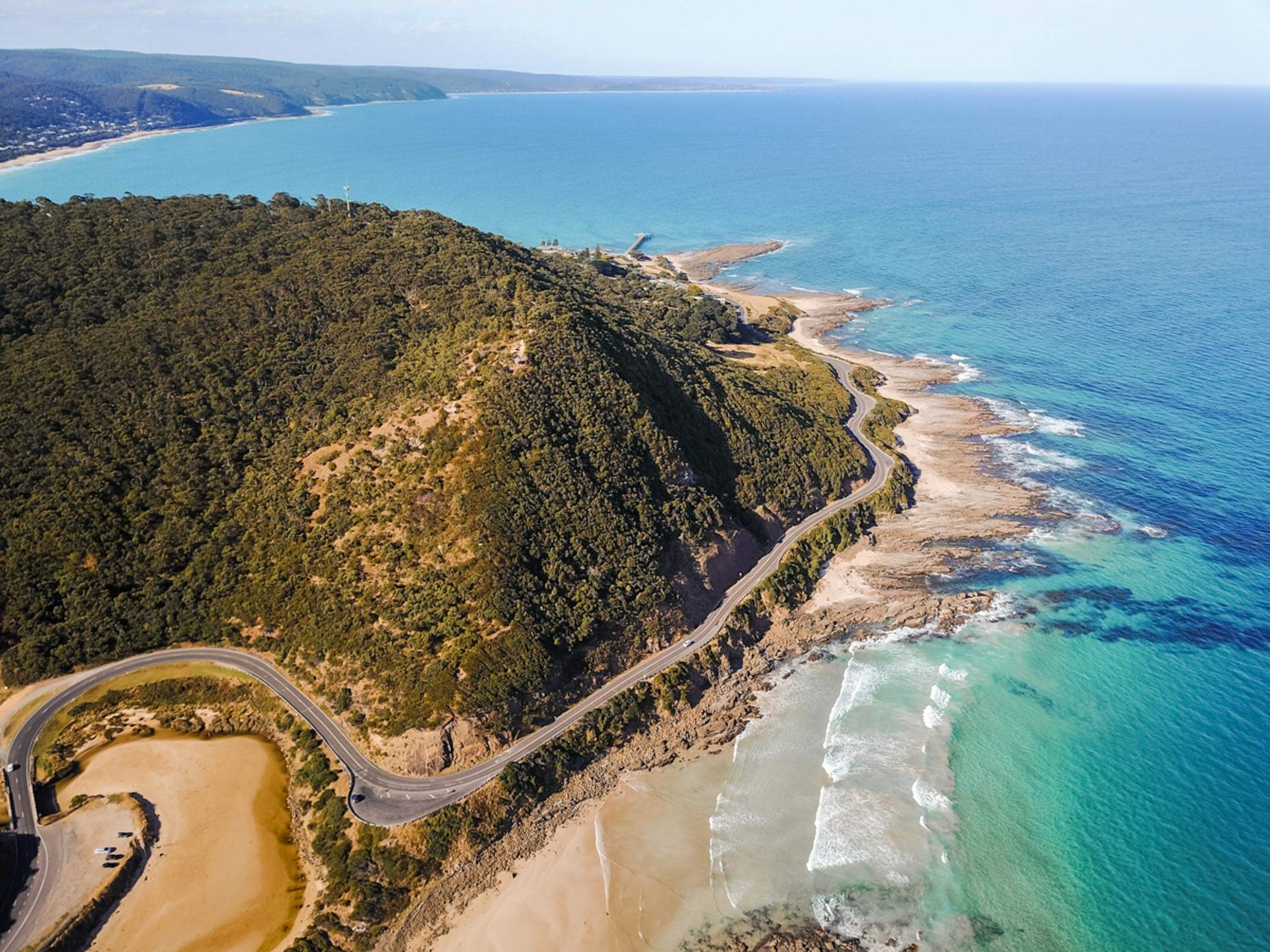 DAY 3
After waking in the rainforest we dipped back 15 minutes into Apollo Bay to use the shower and kitchen facilities at Skenes Creek caravan park. At $4 per person it's a great shout after a night in a camper. Alternatively if you're camping or looking for a spot to park up it's a great ocean front location.
We were then due a coffee and checked into Waves in Apollo bay great for a soy flat white a and a dose of internet. Waves is a perfect internet spot with plugs on the beach front to get some work done! They also serve yummy crepes!
Today's start location is the perfect base for a few adventures in the National Park, all of which are in close proximity to each other.
Adventure options to check out:
Maits Rest rainforest walk
Triplet Falls
Hopetoun Falls
We noticed that the days following were due to be a wash out and so we decided to head north a little earlier than planned to catch Gibson's steps at sunset, as this may have been the only good light to catch the Apostles in.
Even though the light was still poor (from a photographers POV anyway), it ended up being the only one of the Apostles we witnessed.
Next we headed to a teeny tiny town on the coast with a few coffee shops, a small supermarket, a couple of restaurants and a couple of holiday parks. A real tourist town, thriving off the great ocean road tourism: Port Campbell.
We spent the evening in Port Campbell where we paid $39 ($20 each) for a powered site. This was the only night we plugged the van in and it allowed us to use the microwave and charge up all of our cameras!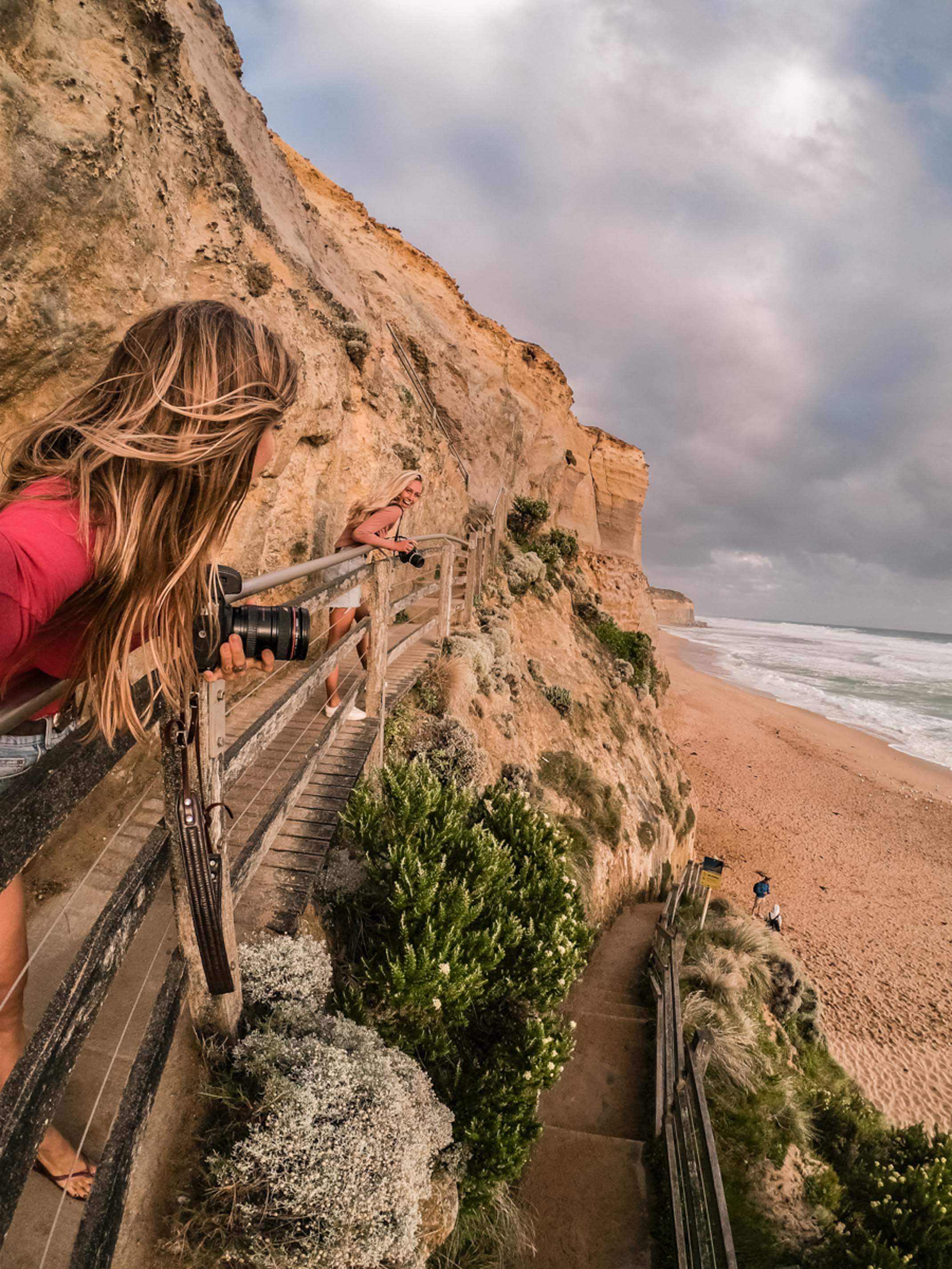 DAY 4
On day 4 we woke up, grabbed a takeaway coffee in town (nothing worth writing home about but still, great) and continued straight onto the morning's adventures.
Choices include:
The Grotto
London Bridge
The Arch
We were then super unfortunate with the timing of the Twelve Apostles lookout on our itinerary. The heavens opened and the visibility dropped. We hung around in the car park for about 40 minutes before making an executive decision to drive on.
So if any of you guys go… show me your epic pictures!!!
There is no actual official end to the Great Ocean Road, but the Twelve Apostles is considered the big finale. If we had had another day, we would have driven up to Port Fairy and also adventured inland to check out the cheese factories and wineries!
Anyway, we decided to use the bad weather day to make the majority of our way back to Melbourne. That way we could relax with the driving and enjoy the sunshine due the next day.
Suggestions for afternoon activities en route back to Torquay:
Lorne
Sheaoak Falls
Park up overnight at Bells Beach Backpackers.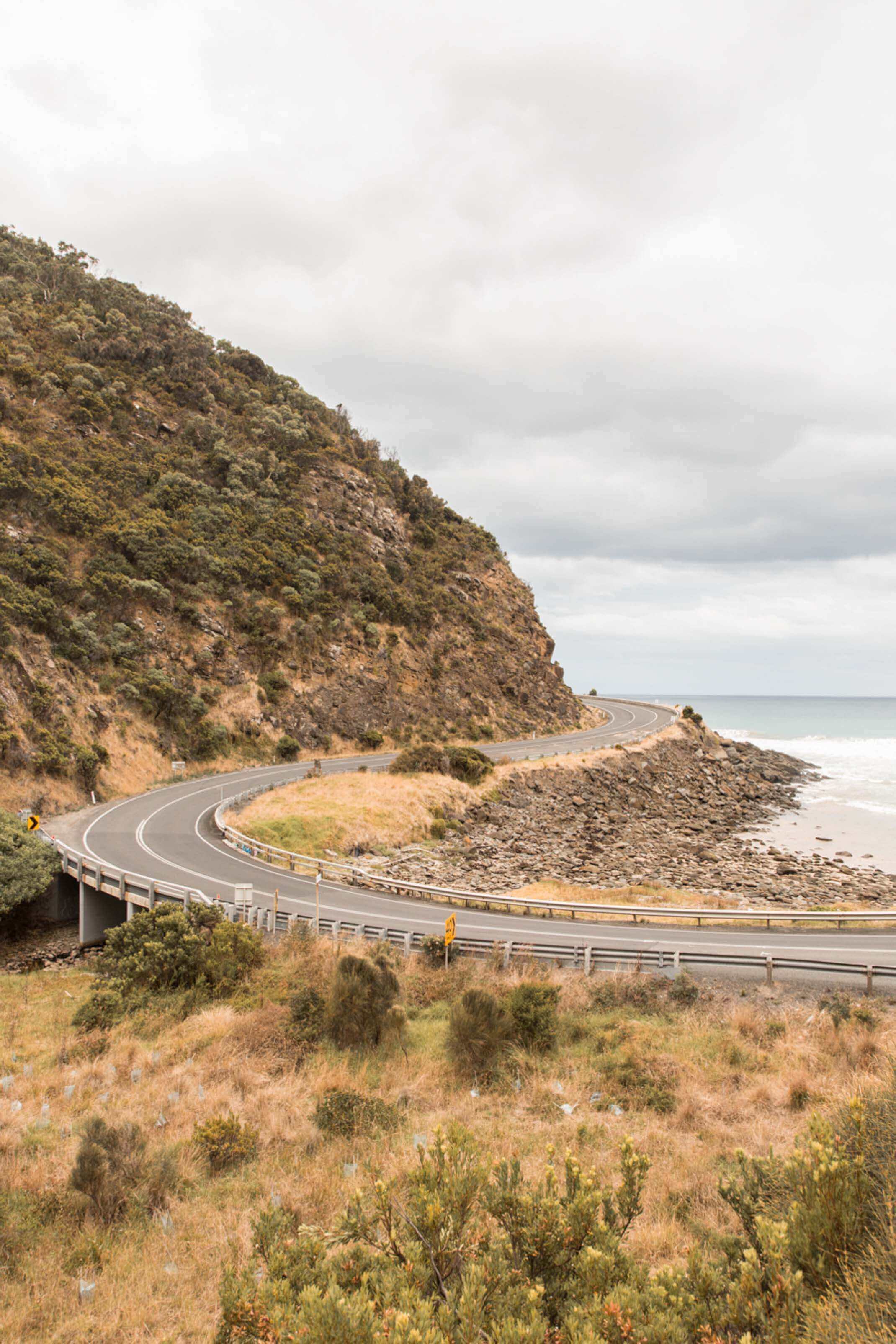 DAY 5
We started the last day of our roadtrip with a coffee from our favourite cafe Laneway 73 before cooking up some eggs and rye in the gorgeous Point Roadknight beach car park. It's a really gorgeous spot and it only had a couple of other locals occupying it. It felt super special.
We soaked up the sunshine and shared our English tea obsession with some local surfers that had come to check out the waves. One of those moments you couldn't write or buy.
Pure bliss.
Just before we hopped on the M1 for the final hour drive back to Melbourne we diverted onto the two most beautiful of roads down to Bells Beach Lookout and Southside beach lookout. The roads were Jarosite road and Bells Boulevard. This was the straightest and most epic of drives that led you right out to the ocean on both occasions…
Cameras at the ready for these ones!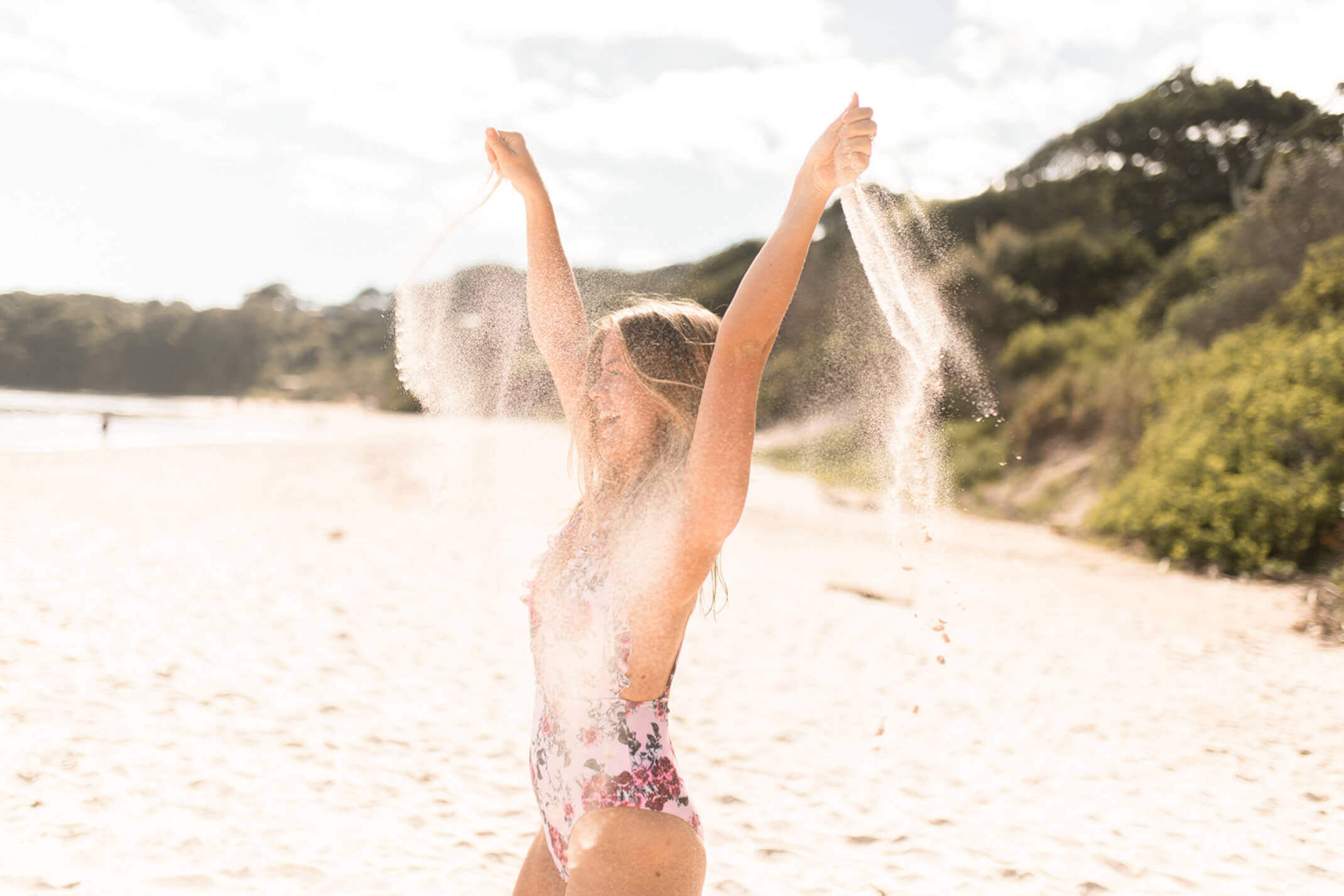 And that was our absolutely stunning 5-day Great Ocean Road trip! I hope my itinerary has assisted you in mapping out your adventure!
Have you done a Great Ocean Road trip?
What were your favourite spots? I'd love to know!
Love as always and happy adventuring,
Did you find this post helpful? I'd love you to share it for me.
I can't do this without you.
Pin and save this blog post for later…