If you're planning a trip to Indonesia and have come across the Gili Islands, you've come across paradise. Gili Trawangan is known as the most popular of the 3 tiny islands that sit just off the shores of Lombok Island and Bali.
Though just like the neighbouring island of Bali, tourism has increased significantly over the last 10 years, and word has caught on about these little pockets of paradise. The Gili Islands aren't as serene as they once were but they are still breathtakingly beautiful and worth a trip.
If you're looking to travel to Gili Trawangan and need some help planning your trip then you have come to the right place. In this post I am going to take you through the best things to do, see, eat and experience on this beautiful Indonesian island.
A guide to Gili Trawangan Island, Indonesia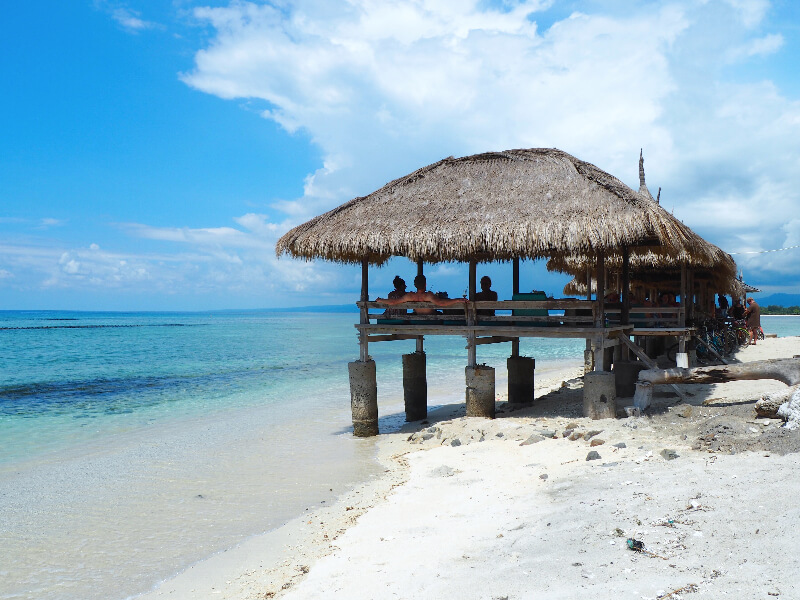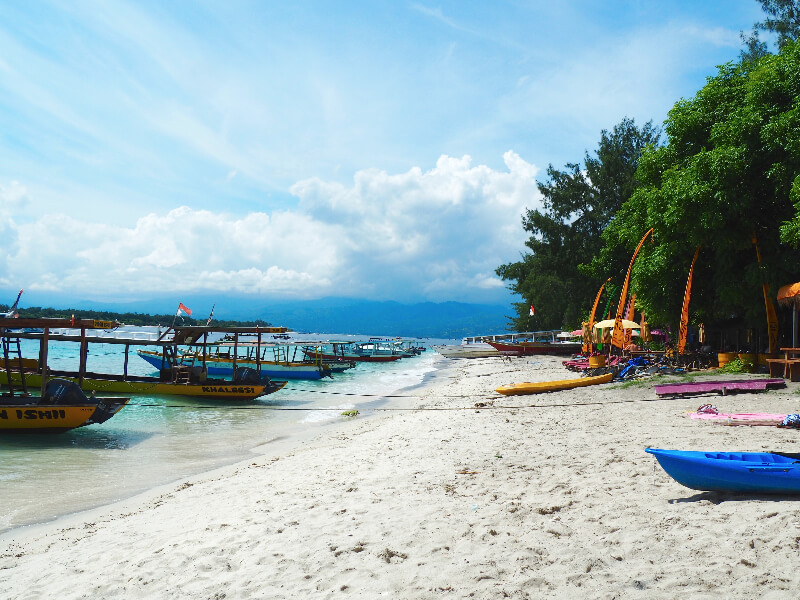 Where is Gili Trawangan?
The Gili Islands are a group of 3 tiny islands – Gili Trawangan, Gili Meno and Gili Air, most popularly accessed by boat from Bali or Lombok.
Gili Trawangan is the largest of the three islands and typically attracts the most visitors. From Bali, boats depart from Serengan or Padang Bai. Ticket prices include pick up from most towns in South East and South West Bali (Ubud, Seminyak, Uluwatu).
We paid 600,000 rph (£30) for a fast boat return ticket (with pick up from Seminyak and drop off at the airport) which we purchased from a travel agent in Seminyak Highstreet.
There are many companies that operate boats ranging in price and speed. I would recommend the Eka Jaya fast boats. You can buy your boat tickets here
We were due to get picked up from our hostel in Seminyak at 10 am, but the driver didn't arrive until 11.50 am which meant we missed the fast boat we were due to get (arriving in Gili at 3pm) and ended up on the slow boat (arriving in at 5pm).
Eventually, we made it to the boat and off we ventured to Gili Trawangan. Gili Trawangan is the most popular of the 3 islands for backpackers and nightlife. Gili Meno and Gili Air are known to be the quiet and more relaxing islands of the 3, their beauty remaining intact and less spoilt.
Upon arrival in Gili Trawangan, we were so overdue a beverage. So, at the first bar after walking out of the ferry port, we dumped our bags and kicked back with a £2 mojito. Yes really, that is the price of a standard cocktail here in Indonesia!
The perfect start to our island adventure.
Turning up again, like we did in Seminyak, with no accommodation booked, we finished our Mojitos. Then we began wandering down the single main road that runs around the circumference of the island. When I say road, I mean a soil trodden pathway which breaks into sand or concrete at different points along the way.
The only things you'll see occupying the path are pedestrians, bicycles and horse and cart transporting travellers and their luggage around the islands. No cars whatsoever. I could tell straight away the differences from when I was last here on Gili Trawangan.
The island still had a divide between the resort side and the touristy backpacker side. But now, 3 years later, the divide was even more so. The addition of numerous bars and restaurants was so evident and the island feels I so vividly remembered were overshadowed by pumping music. The main pathway that I previously mentioned was now so consumed by tourists on foot and on bike that we found ourselves continuously dodging the traffic.
I guess word had gotten around about the beauty of the Gili Islands…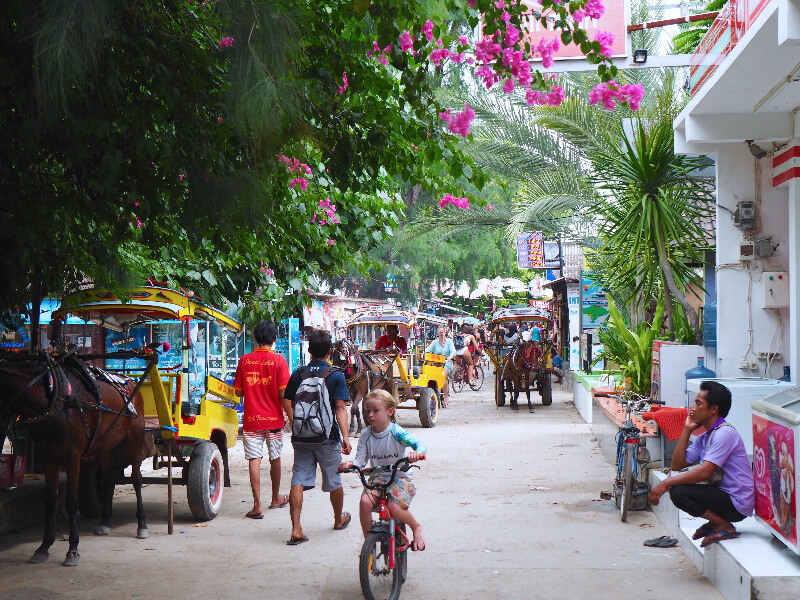 With no motivation to lug our backpacks around any further, we stopped at the first hostel we recognized from Trip Advisor's recommendations, Gili Beach Bums, and we freshened up.
Teaming up with a girl we met on the boat over we payed 166,000Rph each (£8) for a 3 bed dorm with A/C, which was pretty basic. For the money we could have got something a lot nicer, but we were tired and simply wanted to drop our bags and be done with it. So, we settled.
Due to a recent change in island policy, you are now allowed only 3 people max in a dorm. This is frustrating because it pushes the price per person up and takes away from some of the social side of backpacking.
But hey ho, we had a bed. And, it was perfectly located in the hustle and bustle of everything with just a 10 second walk to the beach.
On the second night we moved into Flush Bungalows, which are a cute selection of huts still on the beach front. Here we had a hut for the two of us.
The bungalows were really cute (super instagrammable) and only £7 a night with A/C. They are in the perfect location if you are on Gili T and wish to partake in the night life. They are by no means luxurious but they are clean and we had no problems whatsoever. (There was no hot water for the showers but because of the temperature it didn't bother us one bit and was rather refreshing! Something to consider though if you are going in the cooler months!)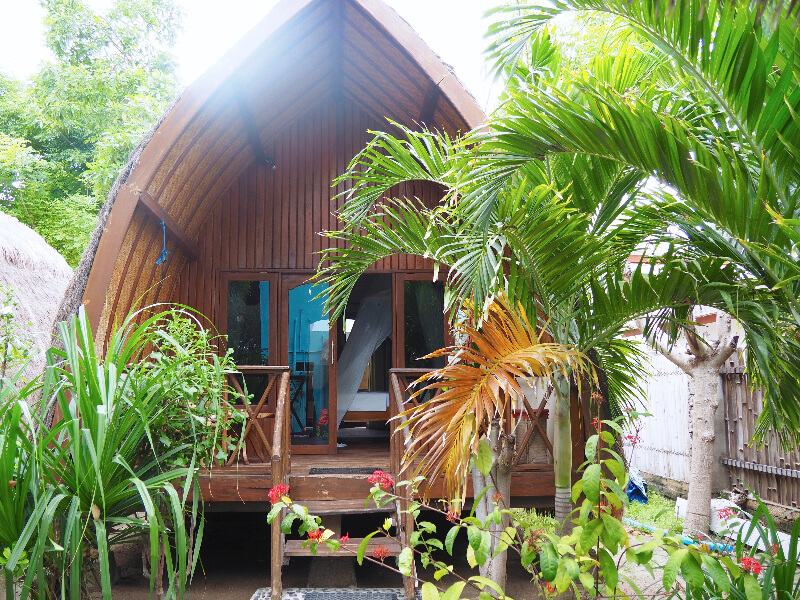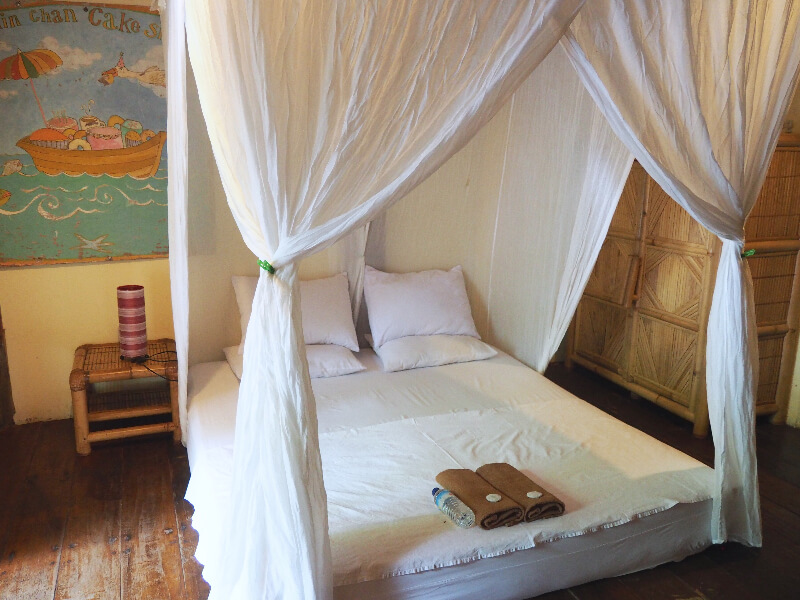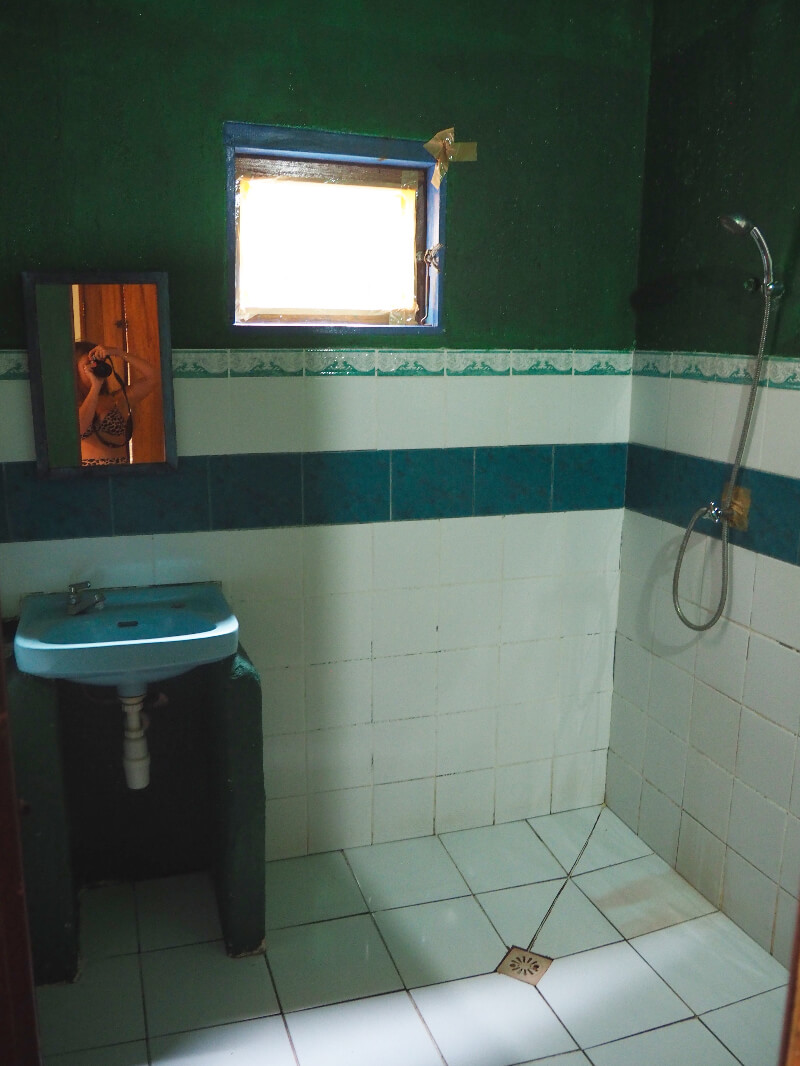 Where should you stay on Gili Trawangan?
If you are looking for a 'nice' hostel… I heard a lot of people say M Gili is a really good choice for cleanliness and value for money. Close enough to the nightlife, but far enough away to get a good nights sleep.
I've also heard great things about La Boheme Hostel
If you are looking for a hostel with fitness facilities… then Gili Fit have a gym and run a weekly schedule of classes and bootcamps!
If you are looking for a cheap each bungalow type stay… I haven't a bad word to say about Flush Bungalows.
If you are looking more for a luxury stay… (it's still cheap!) then I can recommend The Yoga Centre or The Aston Hotel (which is on the quieter side of the island),
Prices to expect on Gili Trawangan:
Accommodation per night:
Dorm: 100-160,000 Rph (£5-8)
Bungalow / private room: 120-220,ooo Rph (£6-11)
Hotel room: 400,000-800,000Rph (£20-40)
Both the hostel and bungalow I stayed in included breakfast in the price, with a choice of either a banana pancake or an omelette.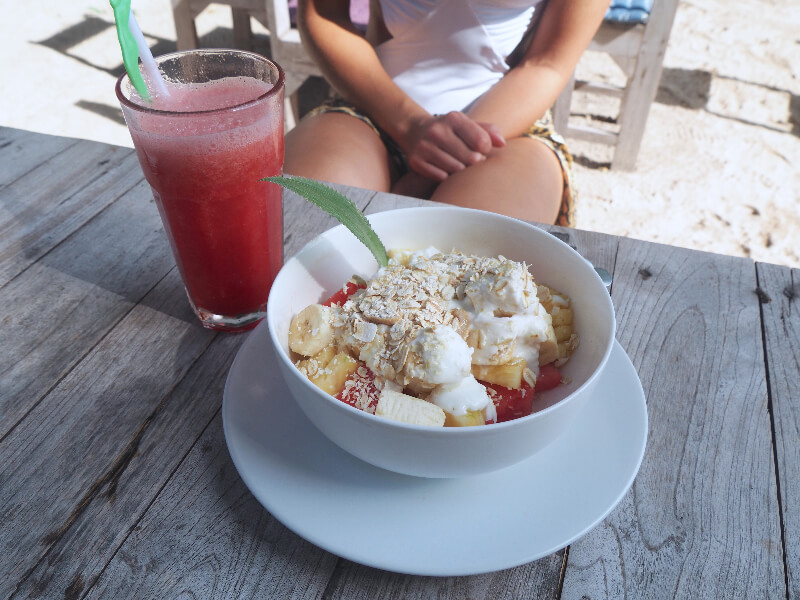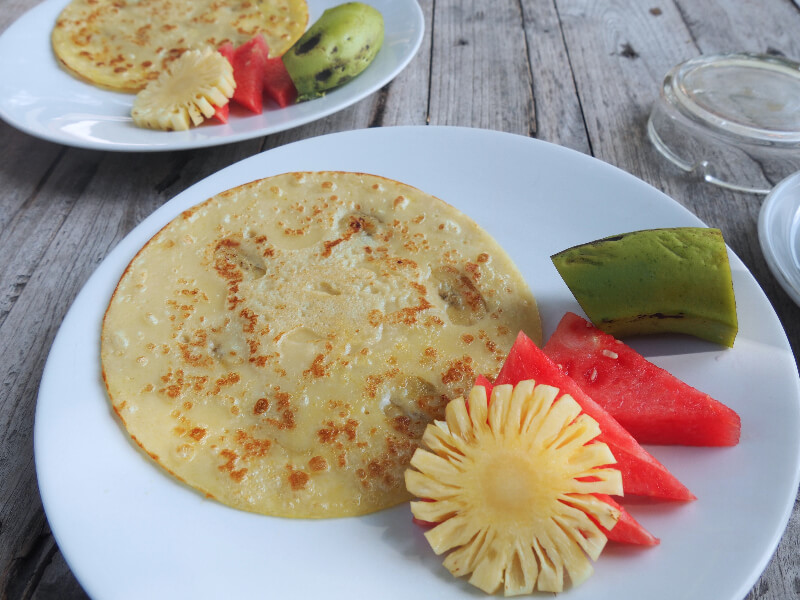 Things to do on Gili Trawangan
Kick back and relax on one of the beaches
Be it on a bean bag or on the sand, and look out onto the gorgeous clear blue waters.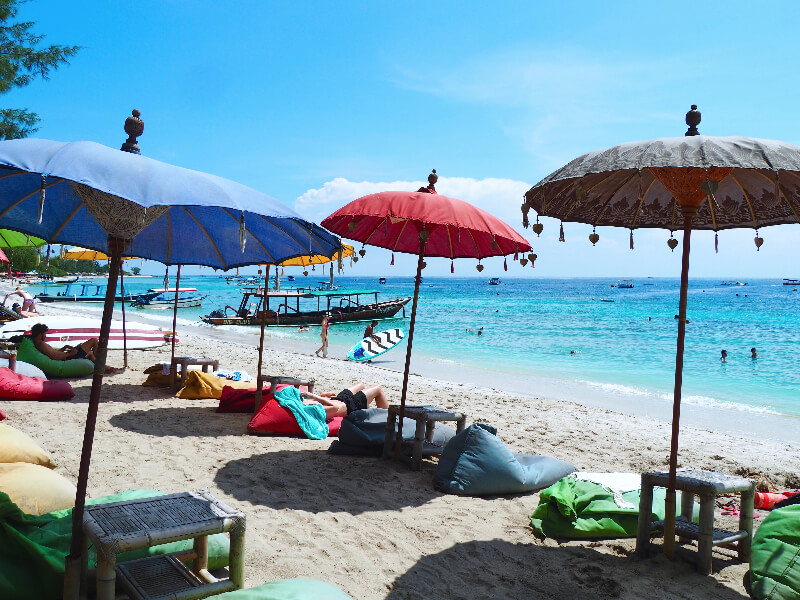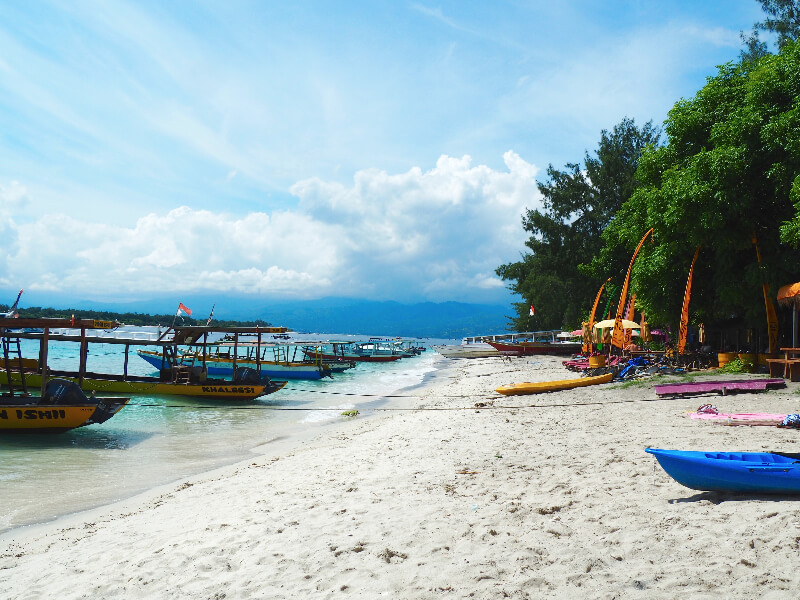 Head out for drinks in the evening
One bar hosts the 'main party on the island' each evening making it easy to know where everyone's heading. (You'll hear the rumours.) It was here on Gili T I discovered Joss energy sachets… if you go out-out, you'll soon find out what they are!
Pop along to one of the classes at Gili fit hostel
Including classes like Boxing and beach circuit training
Take part in a yoga class
I took a class at Yoga Centre for 100,000 Rph (they have multiple classes a day and they are amazing!)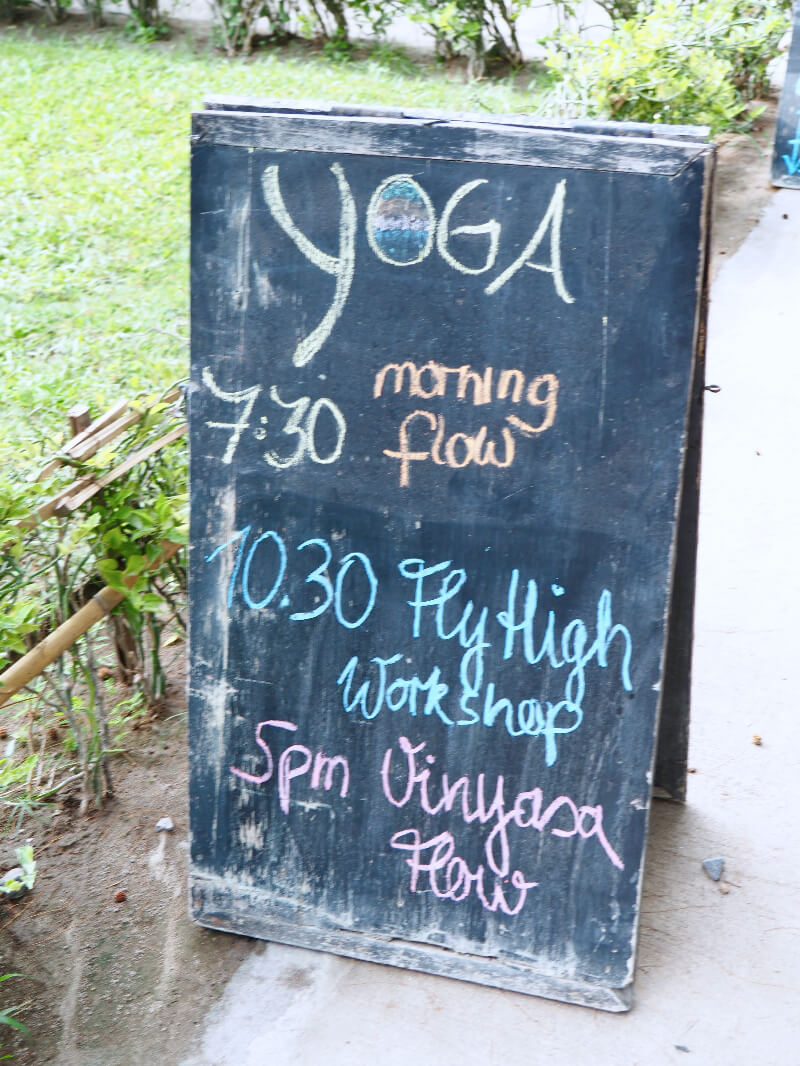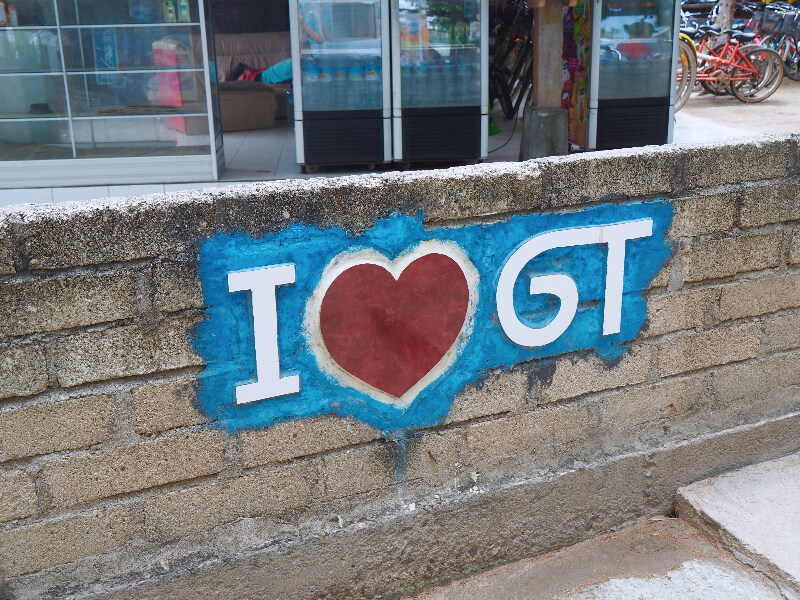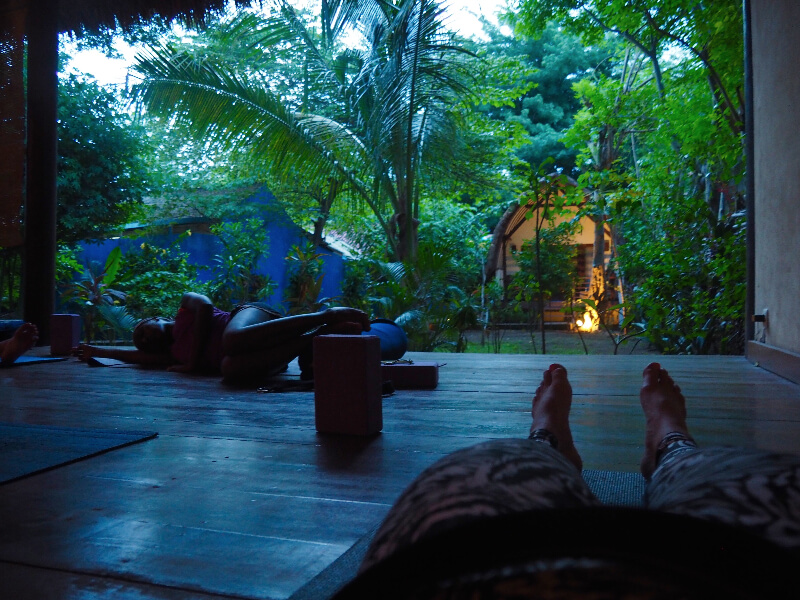 Learn how to recreate traditional Indonesian dishes
at Sweet and Spicy Cooking School
…in this unique school where you'll train in the swimming pool with a mermaid tail before heading to the ocean to swim with the tropical fish!
We paid £1.50 for the day and cycle around the island stopping off at cute bungalows, huts and resorts for refreshments. A trip around the island without stopping would take you about an hour.
Watch the sunset on other side of the island (the quieter side of Gili Trawangan)

Grab yourself THAT swing photo
Go on… you know you want to!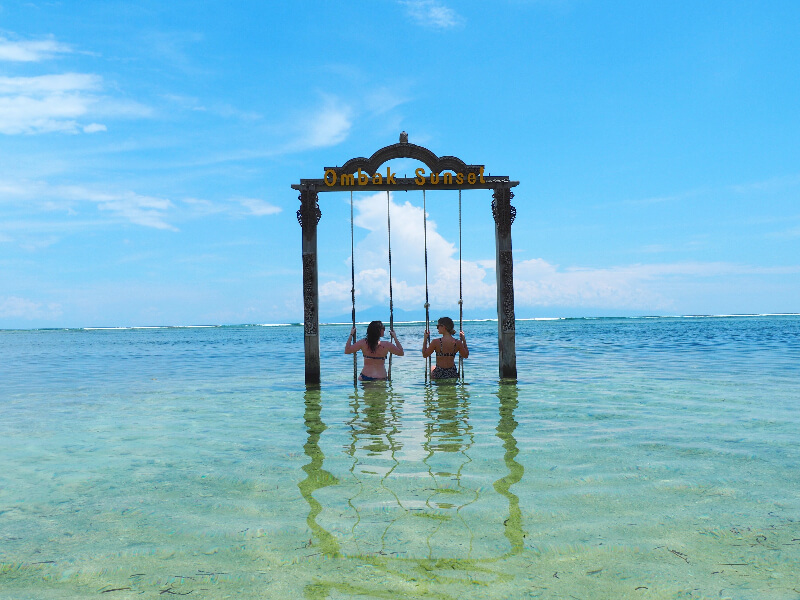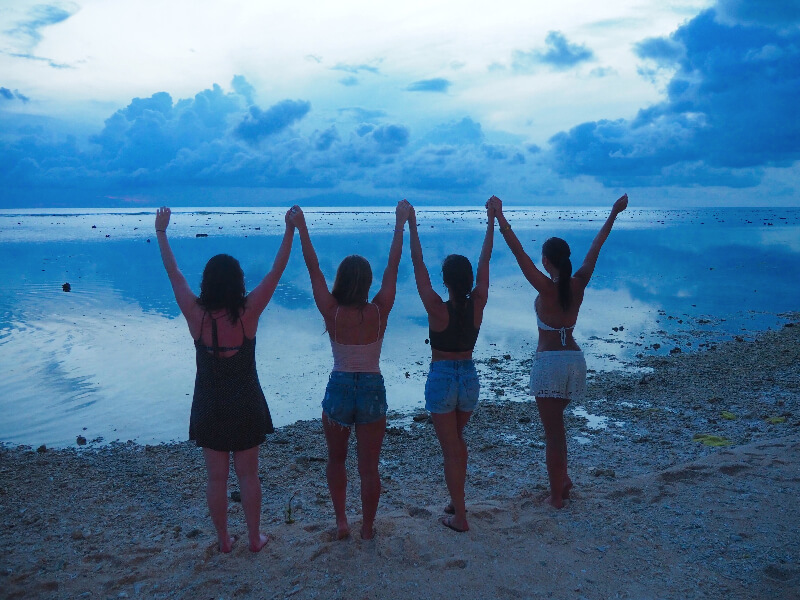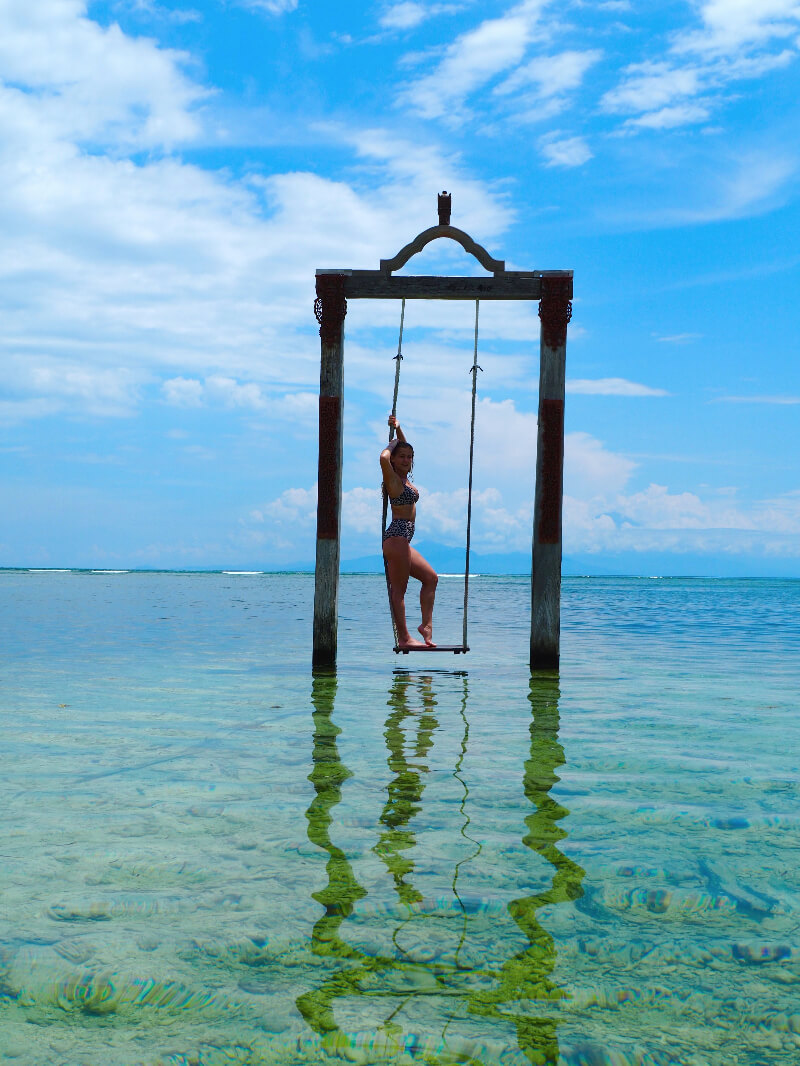 Head out on a day trip snorkelling
This costs typically around 100,000 rph = £5. You can book these at numerous travel agents dotted around the island.
Get a boat over to Gili Meno or Gili Air for the day and explore

Put aside 3 days and get your PADI diving qualification
This costs around £260. The Gili Islands are one of the cheapest and best places to get your certificate in the world.
Partake in a one day dive (no certification received)
Head down 12 meters to view the gorgeous marine life surrounding the islands. Turtles are pretty much a given here in the Gili Islands, with a high chance of rays and sharks too. We did this option and absolutely loved it!
Experience the Oreo shake at Aston beach bar

Dine in these little huts and grab a refreshment
Located on the other side (to the popular side) of Gili Trawangan island. The food options were really not great (very tacky and standard… burgers and chips etc) but the location is priceless.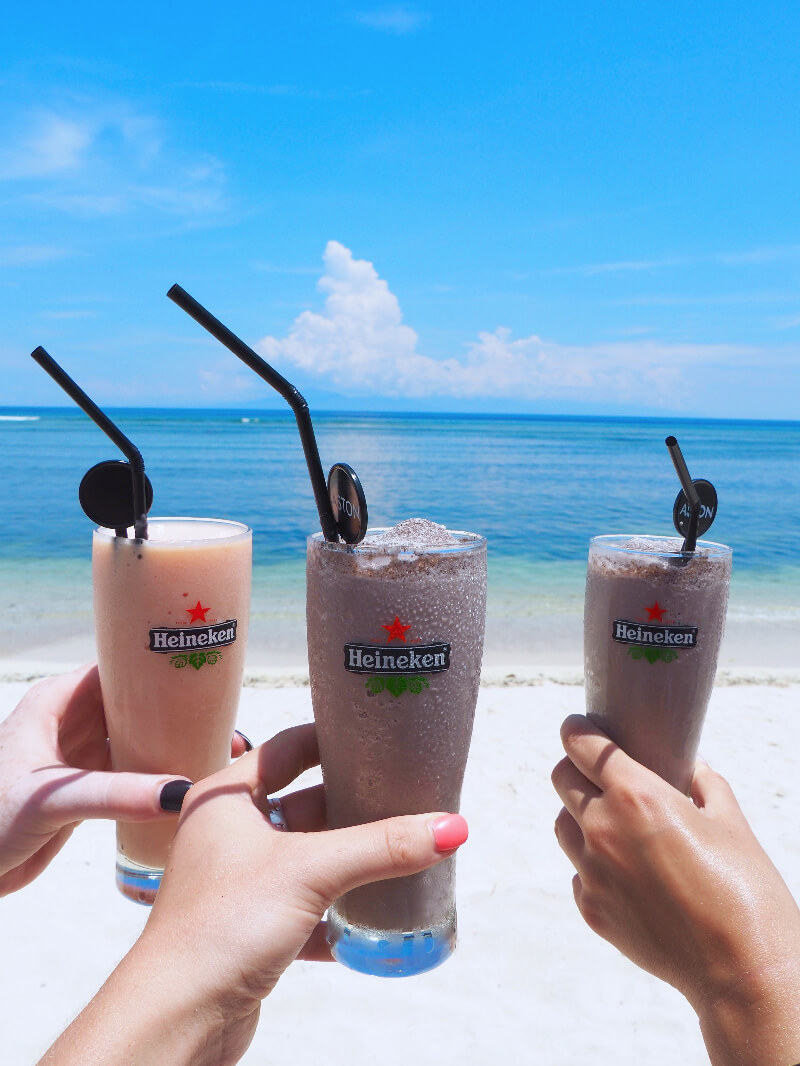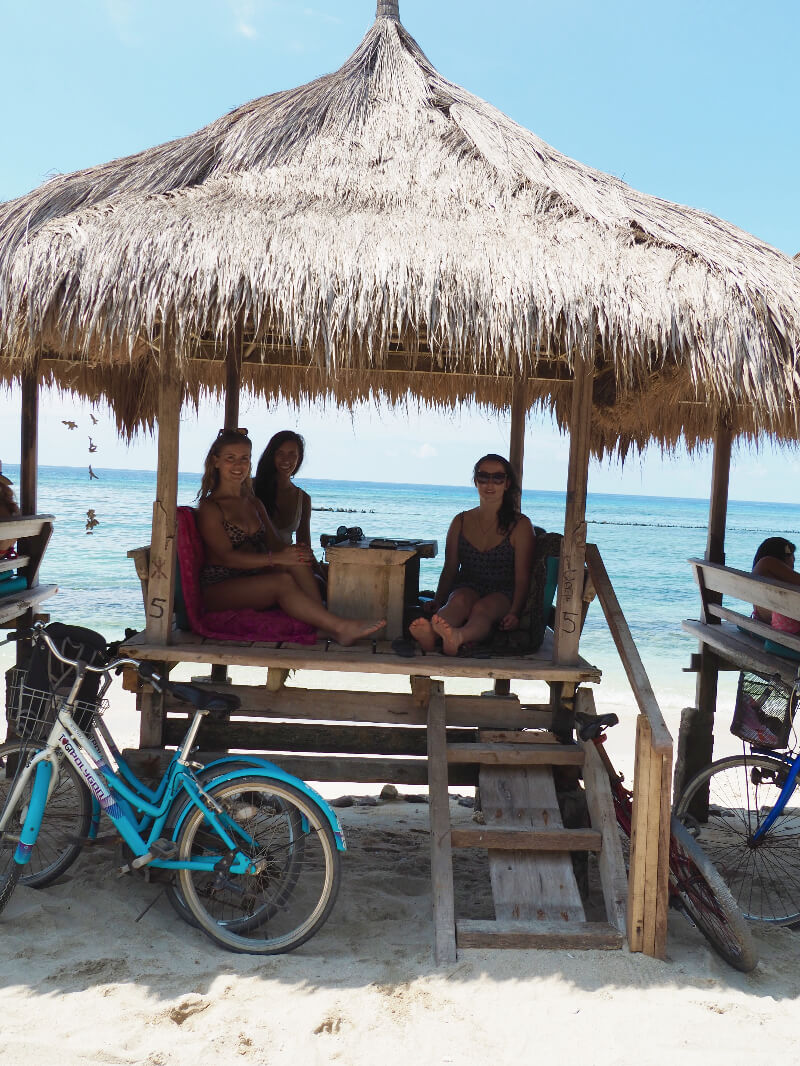 Dining on Gili Trawangan
You can get rice and meat wrapped in a banana leaf from local sellers for as little as 10,000 Rph (50p)
You can eat in restaurants for around 60,000-100,000 (£3-£5) each
And, you can indulge in a proper more fancy dining experience for around 165,000rph £8/9
My favourite place?
Still, after 2 visits, it's the market located on the busier side of the island. It opens at around 6pm and consists of numerous stands selling and cooking fresh meat on the BBQ for you. Then you choose your sides and sit amongst other travellers on communal picnic benches.
I spent 65,000 rupiah (£3) for a mahi mahi kebab, a chicken kebab, 4 vegetable sides and a bottle of water.
My recommended places to eat:
Kayu cafe for organic, healthy + nutritious dishes. This cafe is filled with yummy goodness at a ridiculously reasonable price. (I love the Cinnamon Granola)
The Yoga Centre. Set back off the main path, the 15 minute walk to this little gem is worth every second. No wifi whatsoever, just the chance to engage in good conversation and indulge in gorgeous nutritious food
Scallywags BBQ. Pick your meat or fresh selection of sea food to go on the BBQ and accompany it with an unlimited salad bar. With an additional drink my meal cost me 165,000 (8.50)
100% head to the Food Market I mentioned previously. I could live off this food every day
Grab a juice! We LIVED off of them! Dotted all over the islands are places to get the most tropical and gorgeous selection of fruits served as a snack or in a smoothie. My favourite combos: avocado, banana and coconut (+chocolate if I'm feeling sweet) or avocado, pineapple and banana.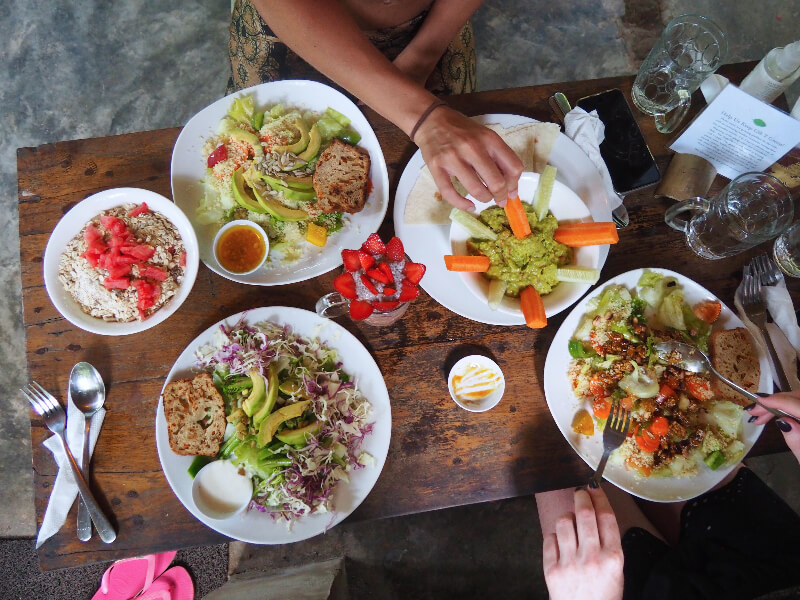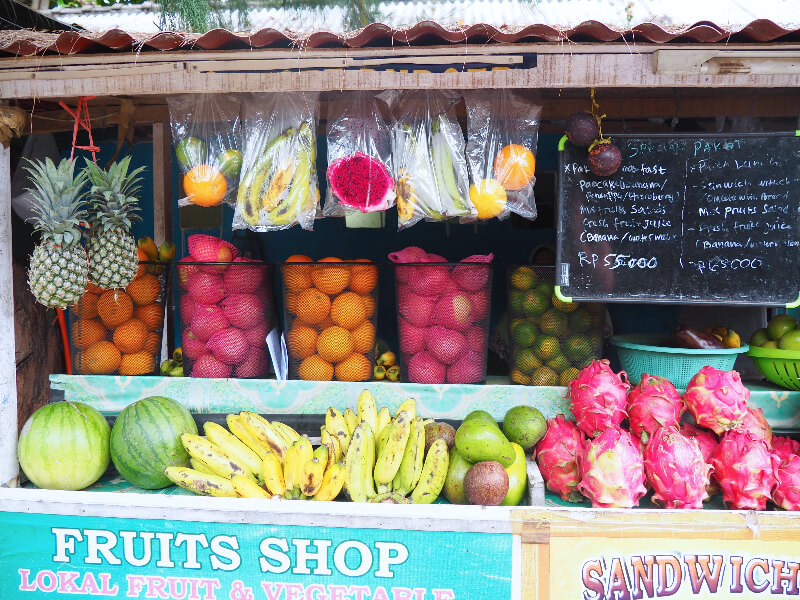 Nightlife on Gili Trawangan
As I mentioned right at the beginning, Gili Trawangan is definitely the most popular option of the three islands among travellers and backpackers. This also means it's the one that comes most alive at night.
Nightlife on Gili Trawangan is very much on one side of the island (the side the ferry drop you off on). Due to the small size of the island, you won't miss the party should you seek it.
If you're looking for a quieter experience, with a few cocktails and some chilled vibes then Gili Trawangan still offers that on the other side of the island, as do Gili Air and Gili Meno.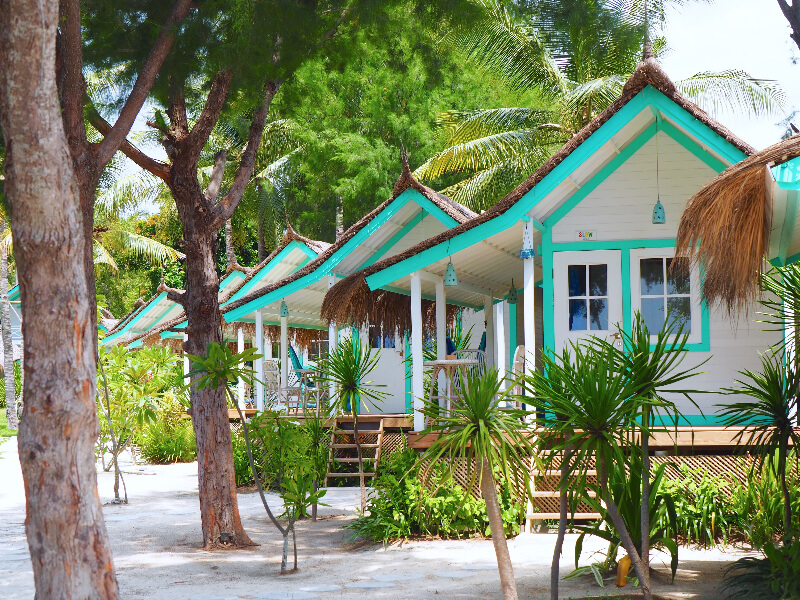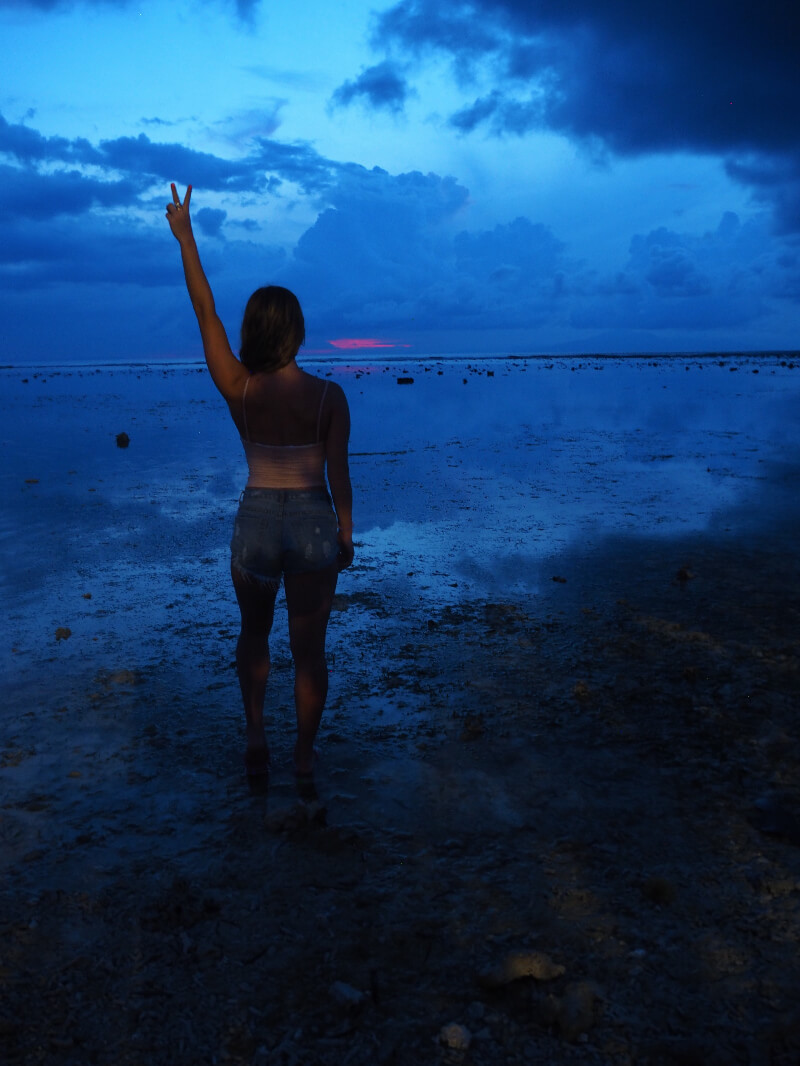 Have you been to Gili Trawangan Island, Indonesia?
What were your favourite spots? I'd love to know!
Love as always and happy adventuring,
Did you find this post helpful? I'd love you to share it for me.
I can't do this without you.
Pin and save this blog post for later…