Bali is one of my favourite places in the entire world, a destination that stole my heart in 2013 and has had me return to explore the island and dive deeper several times. There are so many things to do in Bali that no matter how many times I go back, there will always be new adventures to be had.
If you're planning a trip to Bali, Indonesia and you're looking for the best things to do in Bali, wondering what to do in Bali and putting together your Bali bucket list, look no further. Whether you want to visit Ubud, Canggu, Seminyak, Uluwatu, Sanur or somewhere else, I've got you covered.
So, as you're waiting for your time in Bali, deciding where to go in Bali, where to visit in Bali, and what to do in Bali, it's time for some Indonesia inspiration! If you've never been to Indonesia, Bali is a great place to start. Full of culture, nature, good food and wonderful people, Bali is also a great place for solo travel. See my solo travel guides here.
Want to have a great time in Bali? Here are some Bali blog posts you might find useful…


15 best things to do in Bali...
1. Go surfing / learn to surf in Bali.
Bali is home to some of the best surf breaks in all of Indonesia. If you love a water adventure, this is the place for you! The surf season in Bali is generally from April to October, although Bali attracts year-round surfers too (the waves aren't as large, but they are consistent). Bali is also good for surfers of every level: if you're a beginner surfer, try Kuta, Seminyak, or Canggu.
If you're a more experienced surfer, consider visiting Uluwatu, Balangan or Bingin.
Warm waters, consistent waves and acai bowls/beers awaiting you post-dip. That's what we call living the dream. It's all here in Bali and surfing is one of the best things to do in Bali.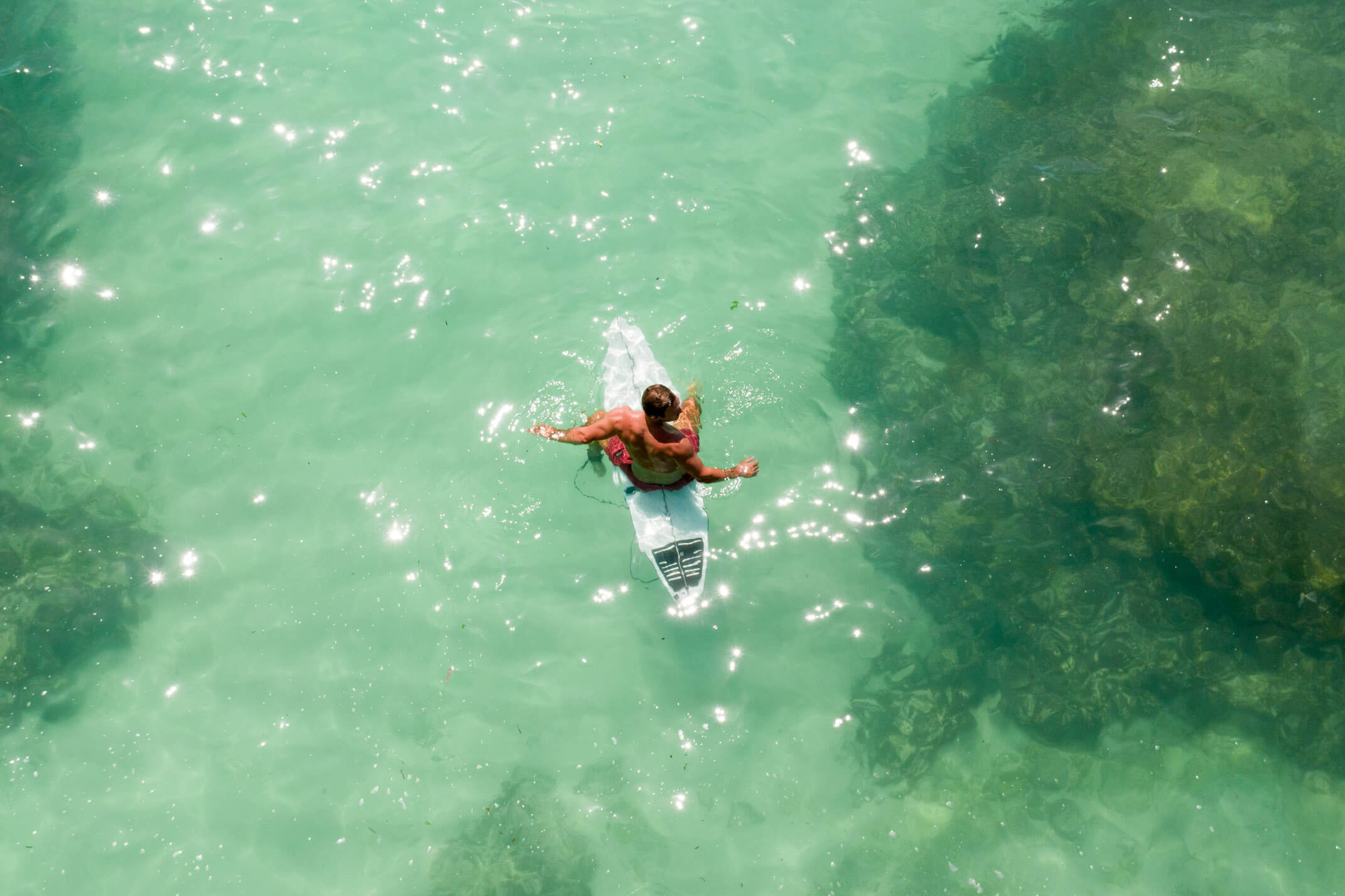 2. Learn about the local cuisine in a cooking class, or try the Balinese cuisine in a warung.
Balinese food and cuisine is a huge part of Balinese culture, and when you visit Bali you should definitely try the local food, it's one of the best things to do in Bali! Whether that be simple eating in a local warung or learning from a local in a Balinese cooking class. Expect beautiful combinations of strong flavours and fresh ingredients!
There are so many western restaurants in Bali now and whilst they offer some colourful nutritious dishes too, I highly recommend asking a local for their favourite Indonesian spot.
3. Visit the beautiful temples.
Bali is home to many, many beautiful Hindu temples, and one of the best things to do in Bali is to visit one (or many!) of them. Remember to always dress appropriately when you visit a Balinese temple.
Some of the best Hindu temples in Bali include:
Ulun Danu, Lake Beratan Bedugul
Tanah Lot, Canggu (can only be accessed at low tide. Particularly beautiful at sunset!)
Tirta Empul (with sacred natural spring water)
Pura Luhur, Uluwatu (beautiful architecture surrounded by the Indian Ocean)
Taman Saraswati, Ubud (beautiful architecture, lotus ponds, and regular Balinese dances)
Goa Gajah (also known as the 'elephant cave').
Besakih temple complex (considered the holiest by the Balinese Hindu people)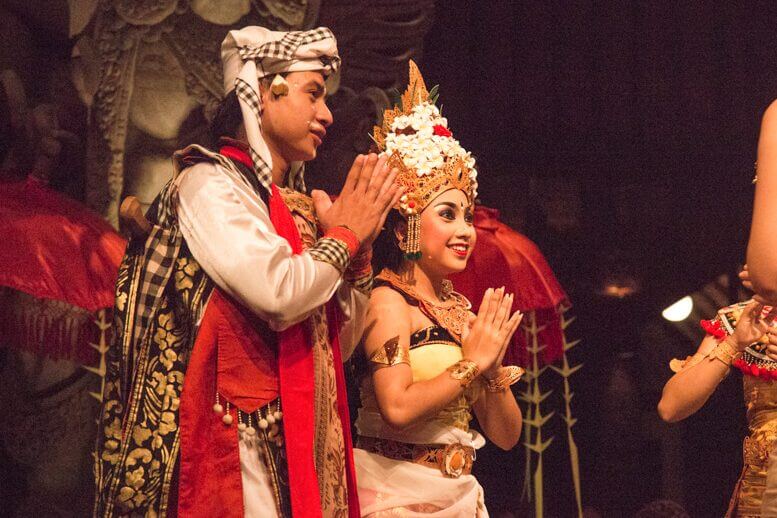 4. Go diving or snorkelling in Bali.
One of the best things to do in Bali is to say hello to the sea life! Indonesia is one of the best places to go diving or snorkelling in the world, and Bali is no exception. For diving in Bali, head to Padang Bai, Tulamben or Menjangan island. There are lots of great places for snorkelling in Bali, but one you should definitely try is Amad.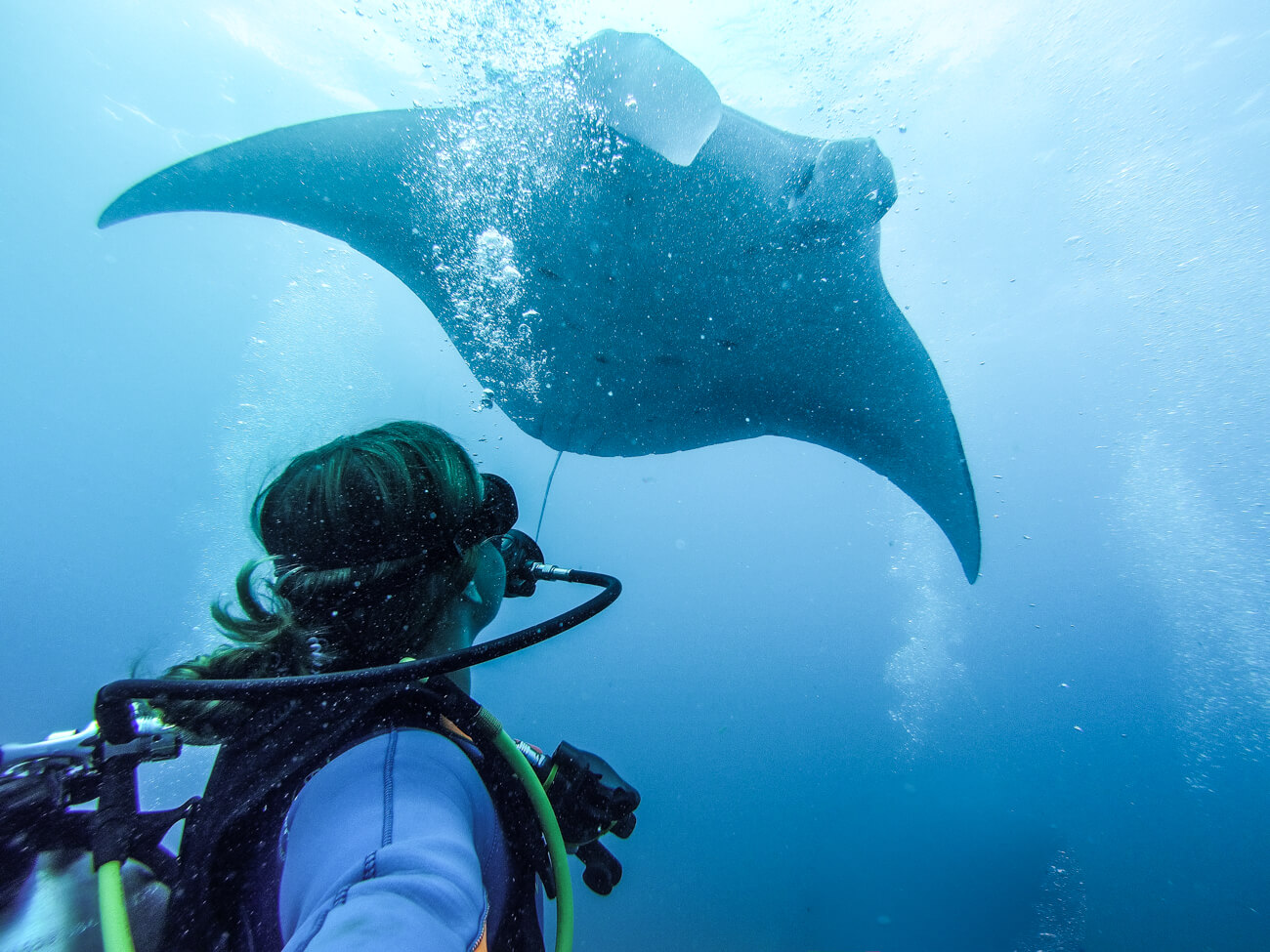 5. Attend a wellness retreat in Bali.
Bali is well-known worldwide for being a health and wellness hub. There is so much that we can learn from the way of life here.
Dip your toes into the wellness offerings with a yoga class, a full body Balinese massage or even with a stay at one of the many holistic resorts in Bali.
The massages in Bali are second to none and you won't walk far without passing a spa. On my last visit to Bali, I spent 5 days at the Sukhavti Retreat just inland from Canggu and also spent 3 days at Spa Village Resort Tembok, North Bali. Both I highly recommend.
Bali is also a popular location for aspiring yogis to complete their yoga teacher training. Ubud is the spiritual epicentre for wellness but there are schools and yoga centres all over Bali.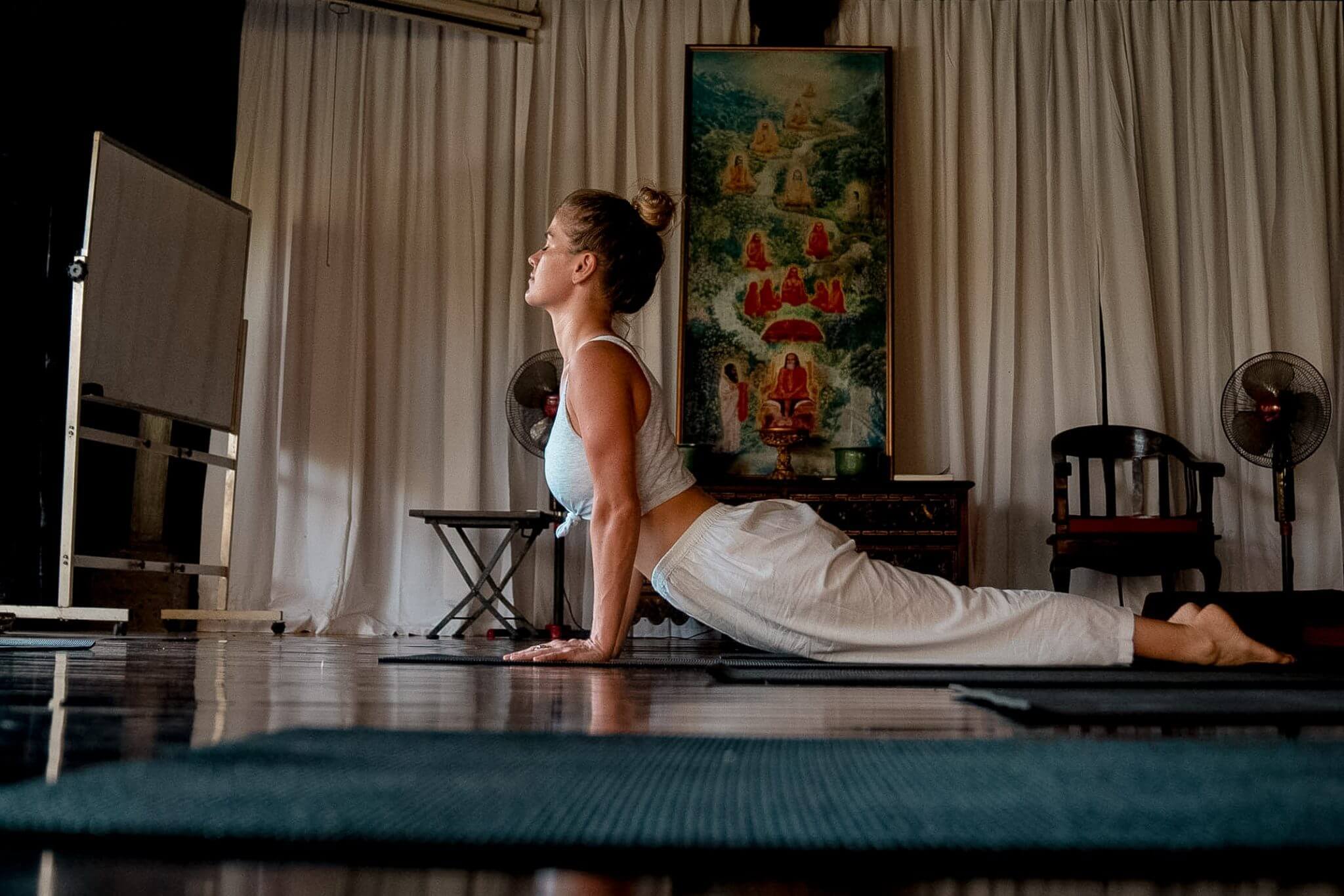 6. Hike Mount Batur at sunrise.
Mount Batur is one of the best hikes in Bali, especially at sunrise. It's absolutely stunning, especially when you get above the clouds and watch the sun come up in beautiful shades of pink and red. Climbing Mount Batur at sunrise is one of the most popular things to do in Bali, so make sure you book your tour in advance.
7. Experience Balinese culture in Ubud.
Ubud is said to be the cultural and creative hub of Bali, and there are so many things to do here that show this.
From exploring rice paddies to marvelling at the temples, to visiting the Monkey Forest in Ubud and buying Balinese souvenirs such as jewellery, ceramics, sculptures, it's easy to see why Ubud is a popular place to visit in Bali.
Check out my guide to Ubud here including all my favourite places to eat, relax and explore in Ubud.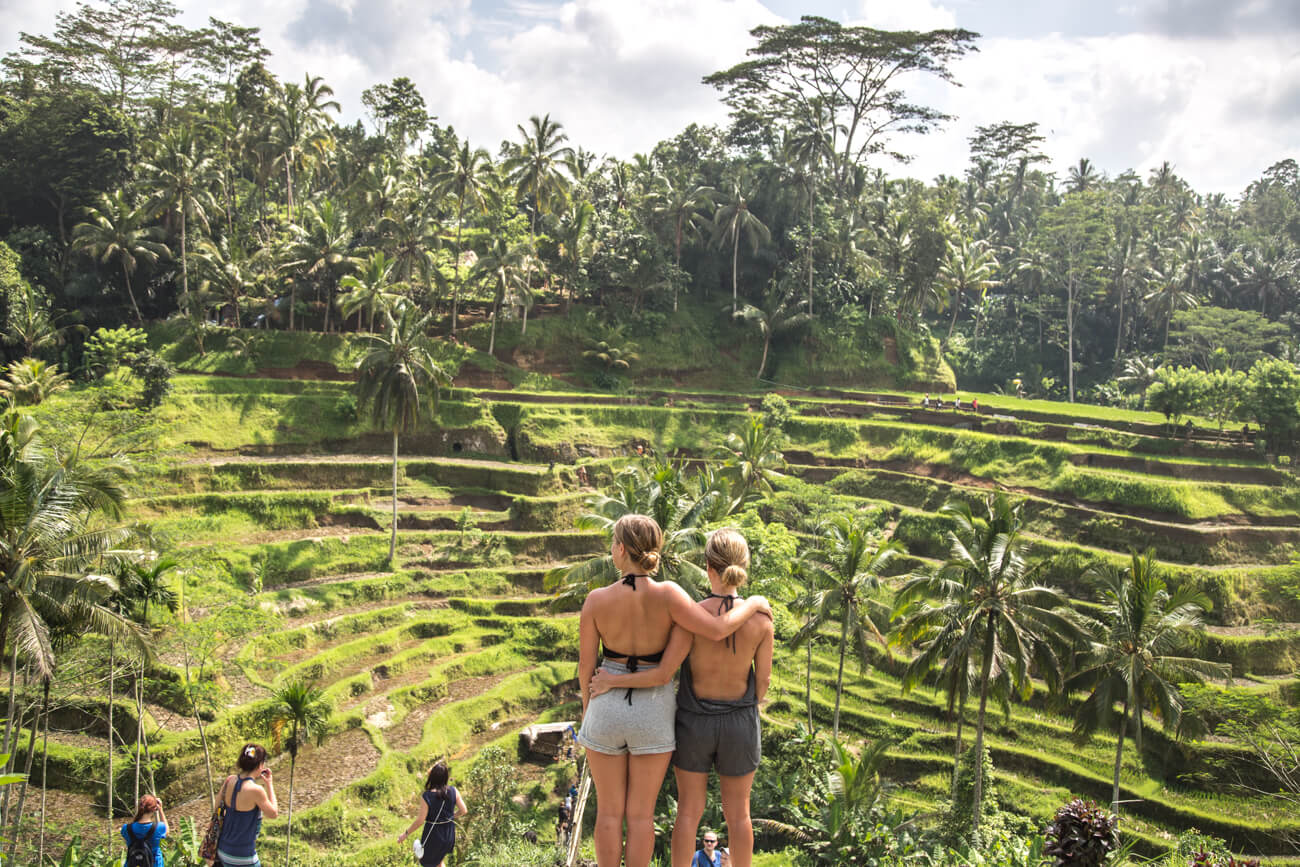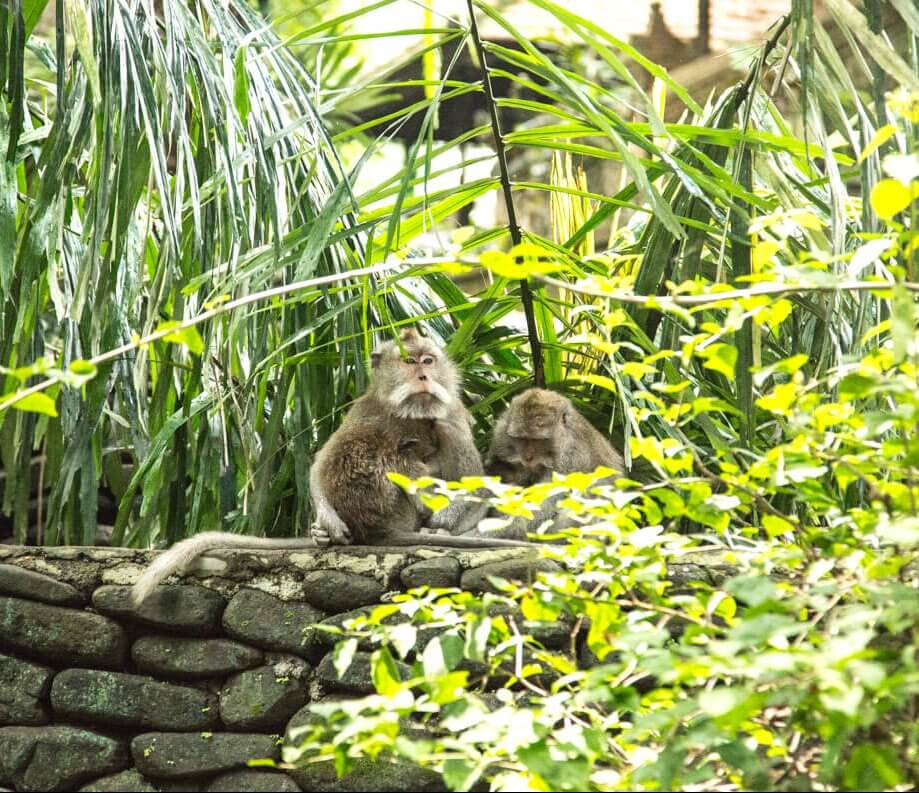 8. Dive deeper into Balinese culture off the beaten track.
One of the things I really want to do in Bali is to explore more of the hidden gems and the places that fewer tourists visit, for example Sidemen. This town is located in a valley, and you can visit rice paddies and waterfalls as well as go trekking… some say it's like a quiet version of Ubud! Karangasem is another quiet area of Bali off the tourist track that I would love to explore more on my next visit.
Hire a bike (remember to have your IDL ready) and go explore the island!
9. Stay at a luxury, unique Airbnb in Bali.
In Bali, you can stay in a unique, luxury Airbnb for a fraction of the price of what you'd pay anywhere else in the world. Bali accommodation is some of the most beautiful in the world, in my opinion. From treehouses, eco-lodges, surf shacks and beachfront living – if you love unique accommodation – you're going to be in heaven in Bali.
Treat yourself to a night out of your hostel in one of these best Bali Airbnbs.
10. Watch the sunset in Seminyak.
Seminyak can be quite overcrowded with tourists, but one thing that draws me back here is the beautiful sunsets it has. Grab a drink and watch the sky turn from blue to pink to dark on the beach. Check out my guide to Seminyak here.
You could also hire a fishing boat and see the sunset from the water, another amazing thing to do in Bali!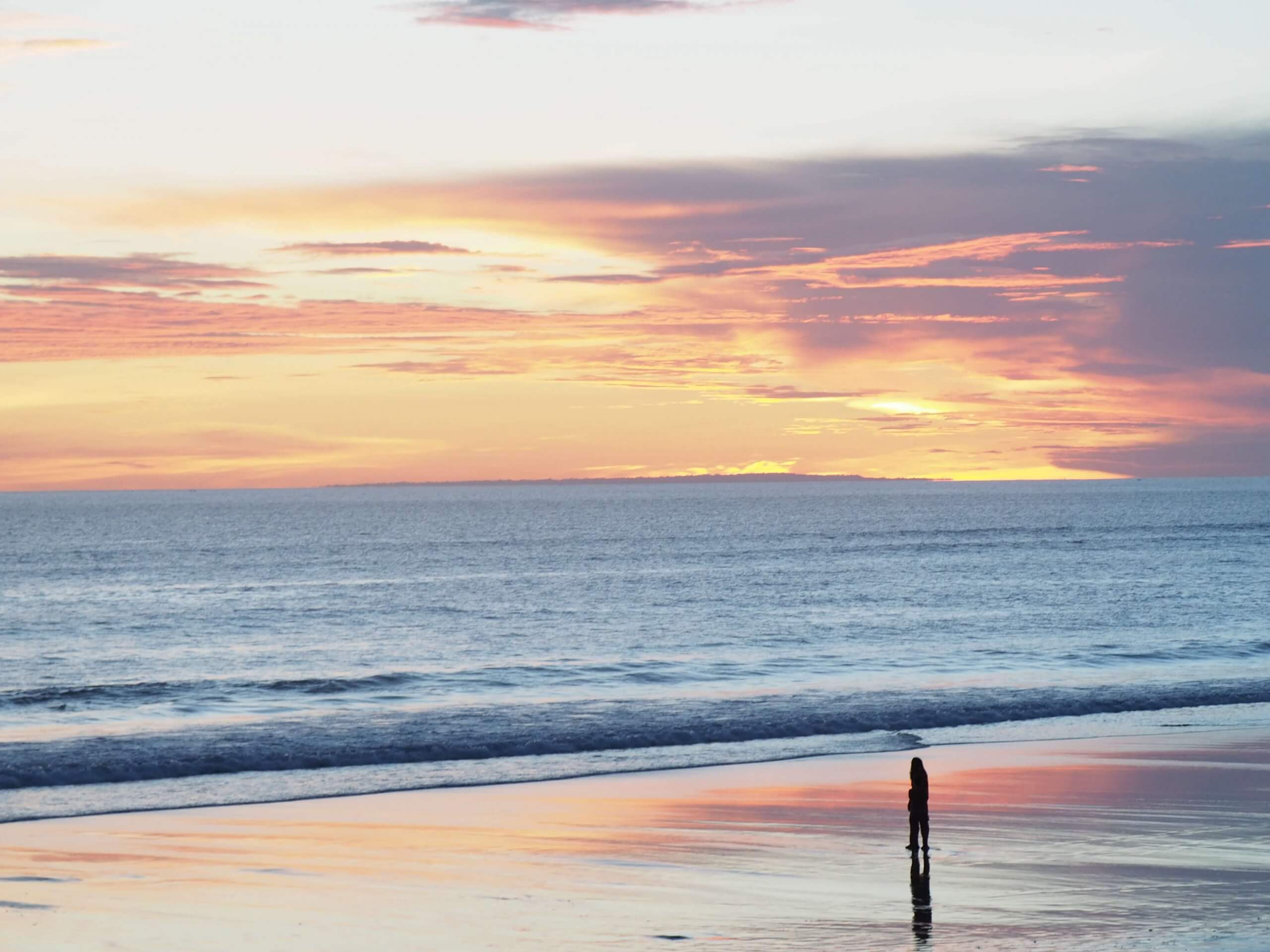 11. Go chasing waterfalls, seriously.
Bali is home to some absolutely stunning nature, and one of the best things to do in Bali is to go trekking through the National Parks (or even outside of them) and see some stunning waterfalls.
Some of my favourite waterfalls in Bali include the ones in Sekumpul, Munduk, and Gitgit.
I'd recommend doing some research when it comes to waterfalls in Bali as the 'main ones' get very packed and will have ticketed entrances. Ask around and get a recommendation for a less touristy one and experience the unseen parts of Bali for yourself. It's magic.
12. Visit the dolphins in Lovina.
Seeing dolphins in Bali is something that many people look forward to when they visit this beautiful island. Dolphins are intelligent and beautiful animals and a delight to watch. Lovina is the best place in Bali to see dolphins, so make sure you add a trip here to your Bali bucket list!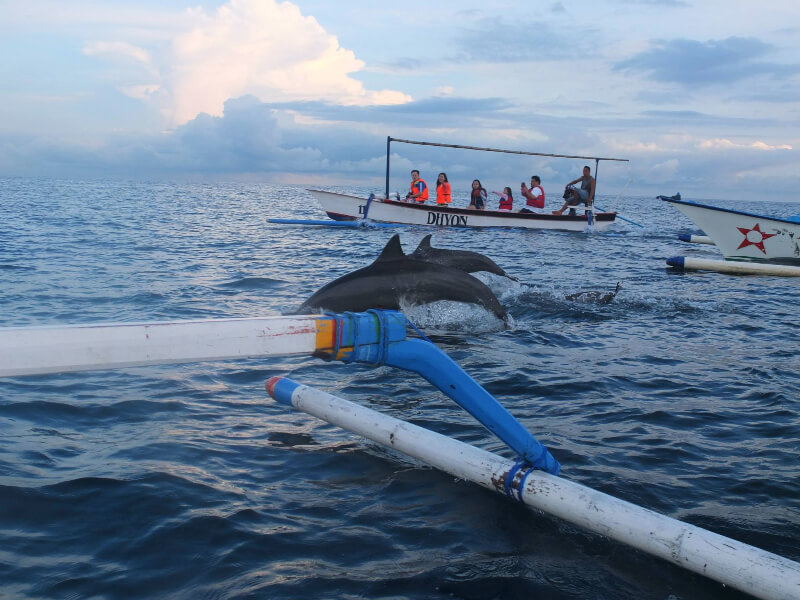 13. Try extreme sports or water sports in Bali.
As well as surfing, Bali is the perfect place to try water sports or other extreme sports.
In Bali you can go paragliding as I did, kitesurfing, stand-up paddleboarding in Sanur, rafting on the Ayung river, or even try a water 'jetpack' ride in Tanung Boa!
See details on this paragliding flight over the Bukit Peninsula at sunset in my Uluwatu Bali travel guide: The best things to do, see and eat.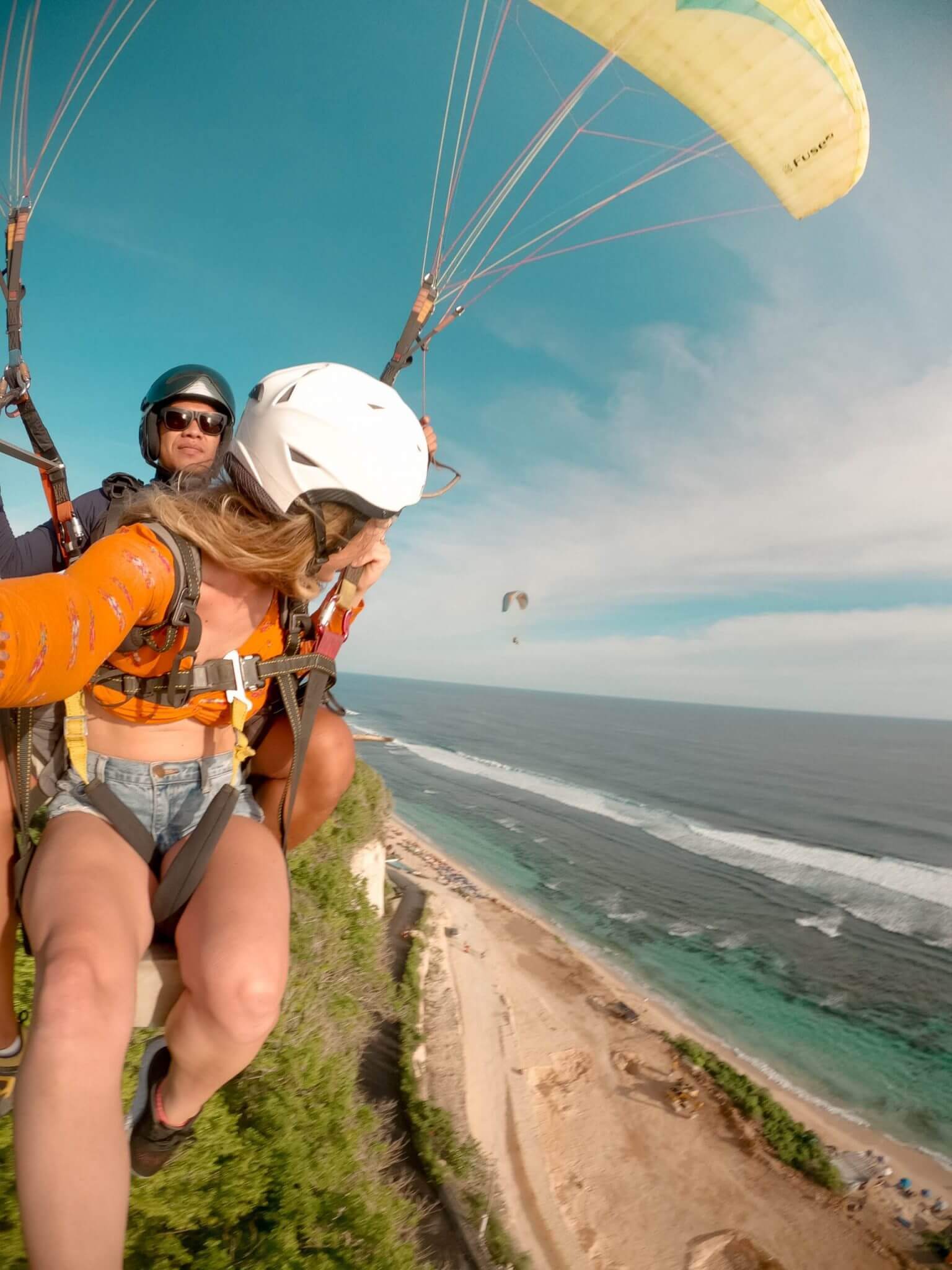 14. Soak up the sun on some of the best beaches in the world.
Bali is home to some beautiful beaches, and so it comes as no surprise that one of the best things to do in Bali is to soak up the sun, enjoy the water, kick back and relax!
Sanur, Uluwatu and Canggu are some of the most popular beaches in Bali. For a more secluded Bali beach trip, visit Candidasa or Balangan.
One of my favourite ways to spend the evening in Bali is to pack a picnic and watch the sunset with friends and beers. There's nothing quite like a Bali sunset.
There's are also many spots that have seafood restaurants on the beach like Bingin beach below in Uluwatu. The most famous spot for seafood and sunset on the beach is Jimbaran.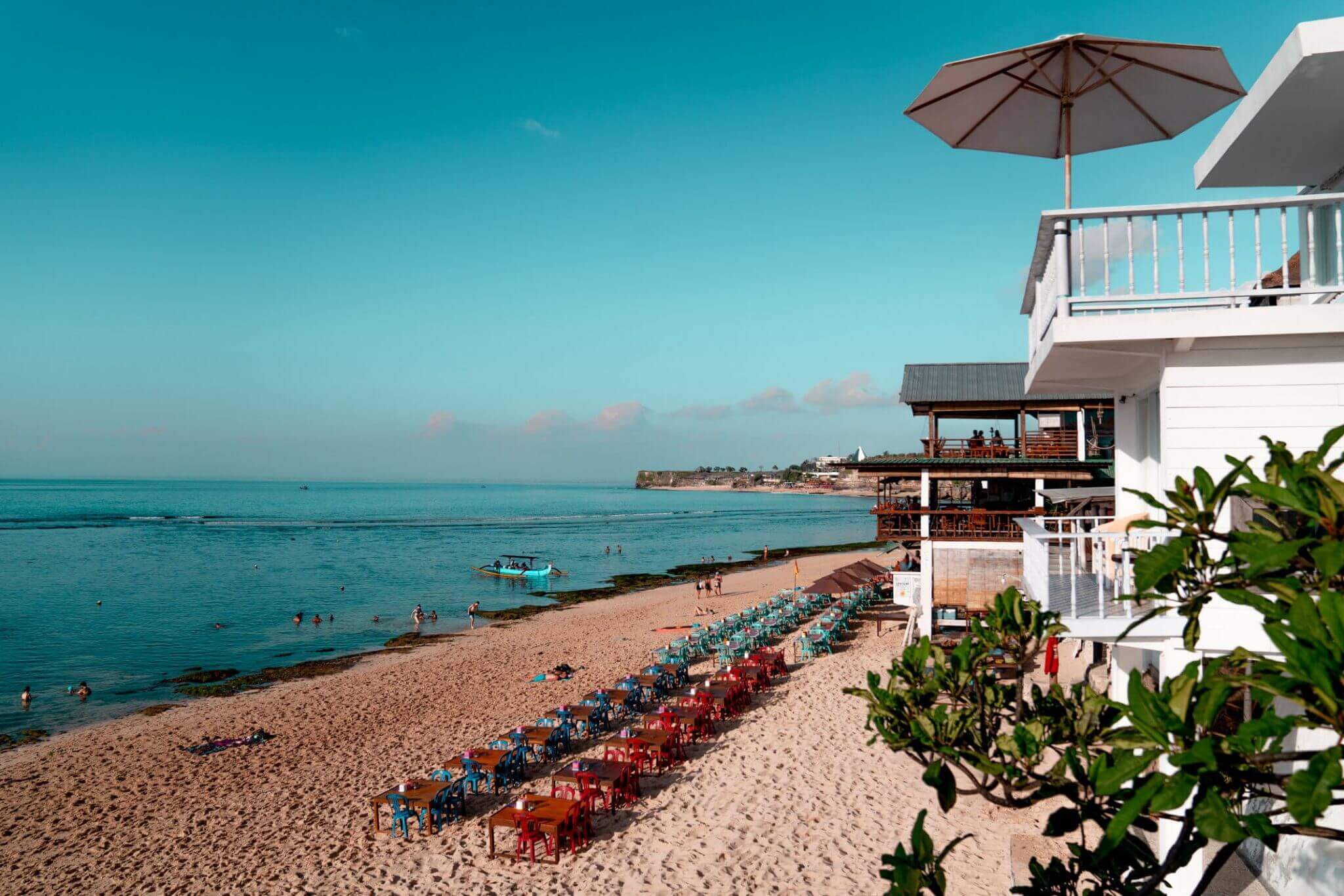 15. Visit Pod chocolate factory in Sanur.
Indonesia is one of the biggest producers of cocoa in the world, so why not try the chocolate at its origin!


What best things to do in Bali have you done?
What are your favourite things to do in Bali? Anything you'd add?
Love as always and happy adventuring,


Did you find this post helpful? I'd love you to share it for me.
Pin and save this blog post for later…