So, you have decided you want to visit Bali but you have no idea where to stay in Bali?
You've arrived at the right blog post, in this Bali blog I am going to take you through the most popular areas in Bali and what they can offer in terms of adventure, vibes and accommodation. That way, you can choose a location in Bali that suits you perfectly.
Firstly, let's look at Bali on a map. This will help you to get a feel for where the best places in Bali are, in comparison to each other, and perhaps you could plan to add more than one location into your Bali trip?
Where to stay in Bali – see Bali on a map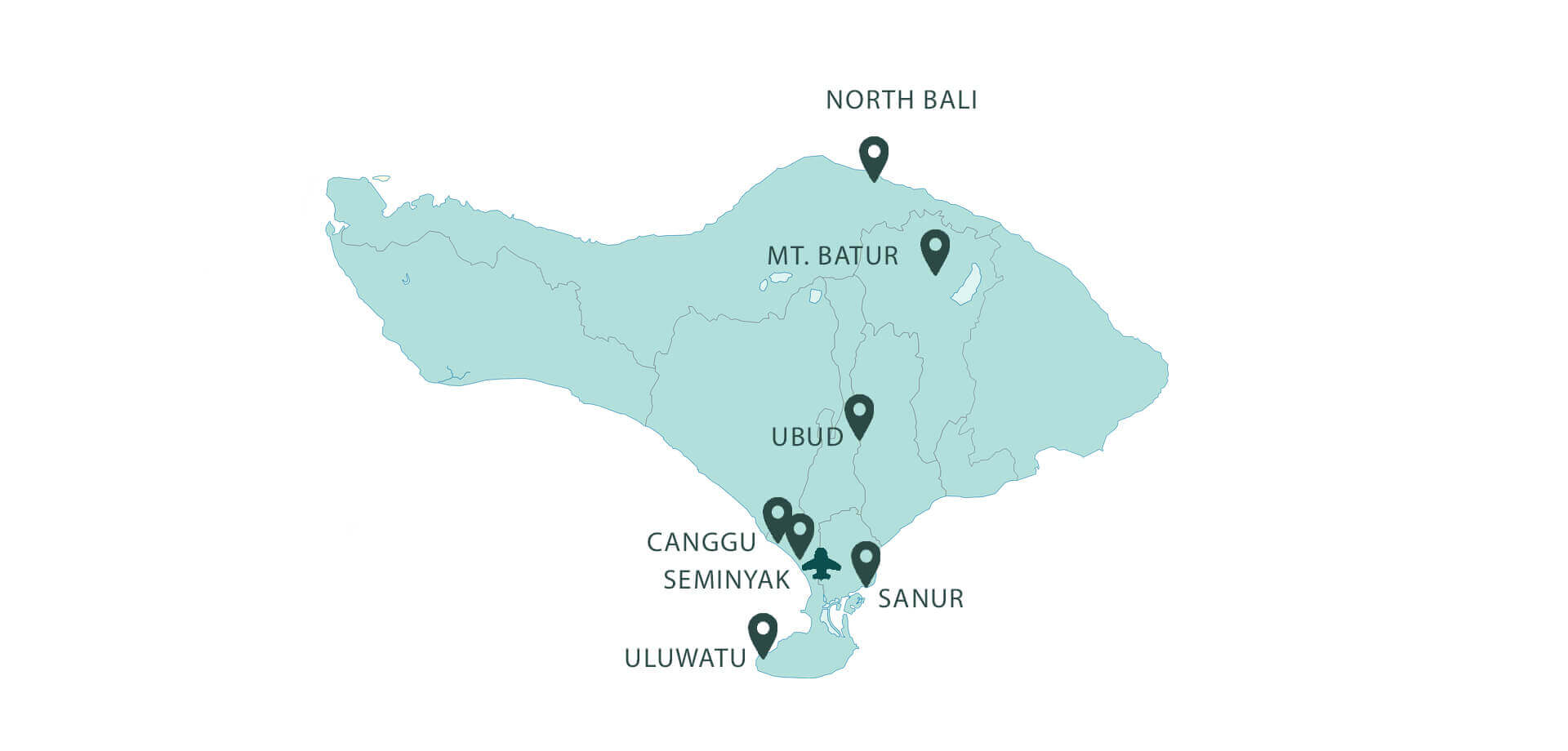 Areas to consider staying in Bali
Of course, the entire island is just stunning and there are endless nooks to pitch up and enjoy the tropical vibes from, however, there is definitely a selection of locations that are worth highlighting to you. I popped a pin for those on the Bali map above so that you can see where there are relative to each other. I hope that is useful!
I'd recommend having a think about the type of Bali life you're looking for and wanting to experience and then matching it to the vibes of the areas in Bali below. It's highly likely that you'll want to visit more than one place on your trip to Bali and I highly encourage that. It's very easy to get around in Bali by scooters and taxis and so plan a little route for yourself. Spend a few days in Uluwatu, a few days in Canggu, a few days in Ubud and then go off the beaten track and explore some hidden gems in Bali.
Bali is one of the most beautiful destinations on the planet. I am too excited for you to see for yourself.
Where in Bali should you stay? Consider…
Ubud is known as the cultural hub of Bali with temples, holistic centres, yoga studios and local markets on every corner of the street. With access to locally grown produce of every variety, it is here in Ubud that the vegan and raw dining culture was born. The food and drink options are incredible, as well as the options to explore the famous rice fields, the nearby Mt.Batur and the legendary Monkey Forest.
See my ultimate guide to Ubud here. Check out my hike up Mt Batur here.
As a result of the tourism takeover in Seminyak, the limelight seems to have now shifted over to Canggu, or 'the gu' as locals call it. Canggu is the younger sibling of Seminyak, located just north of Seminyak on the west coast. Canggu is one of the hottest spots on the island with surfers and if you go – you'll most likely end up with a cocktail or two at Old Man's as you watch the sun descend beyond the horizon.
See my complete guide to Canggu here.
Uluwatu is home to some of the best surf breaks in Bali and to some of the most consistent, sought after reef breaks in the world. Uluwatu is located on the south of the island on the Western cliffs of the Bukit Peninsula where you'll also find the Pura Luhur temple and some of the most exclusive hotels and restaurants on the island.
See my complete guide to exploring Uluwatu here.
Seminyak is one of the closest towns to Denpasar airport (the main airport on the island) and is home to the likes of W Hotel. There's only a few seconds per minute where you'll be without the sound of the taxi horns. It's busy to say the least but the magic of the sunsets is undeniable. There are some absolutely delicious cafes and beach club vibes here too. I would suggest only staying a night or two if you decide to come here, perhaps a good place to kick start your adventure. If you're backpacking – definitely check out my stay at Umahku Hostel.
See my complete guide to Seminyak here
The first time I ever visited Bali we met a local in Kuta and persuaded him to take us to see some of Bali's finest offerings. He took us to the very north of Bali, to Lovina, where we ate at a local warung before waking up at 4am and heading out to watch the dolphins at sunrise. It was magic.
Check out: Banjar hotsprings, Banyumala waterfall, Bedugul, Banjar, and Sekumpul waterfalls.
I recently returned to the north to experience Spa Village Tembok (see my review here) which was just so relaxed. The North is completely untouched when compared to the rest of the island so if you're looking for a more peaceful secluded experience… this could be a good stop off for you.
Considered one of the sleepier towns and host to many family orientated hotels, Sanur tends to be the underdog with young travellers. I absolutely love it here; it's the perfect place for a more laid back Balinese experience. Plus, you are right on the gateway to the nearby islands of Nusa Archipelago, Lombok, Flores, Komodo and the Gili's, all of which you can explore in a day trip or two.
Have you watched my Bali Youtube Series 'How to Travel Bali?'
Where would you recommend to stay in Bali?
What were your favourite spots? I'd love to know!?
Love as always and happy adventuring,
Did you find this post helpful? I'd love you to share it for me.
I can't do this without you.
Pin and save this blog post for later…