On Thursday I finally got to tick yet another incredible adventure of off my bucket list: ascending Bali's active volcano, Mount Batur.
Climbing the 1717m peak was actually something I wanted to do in Bali when I backpacked here 3 years ago but unfortunately I ran out of time. Needless to say, when I found out I was returning to Bali, climbing the popular peak was at the top of my list.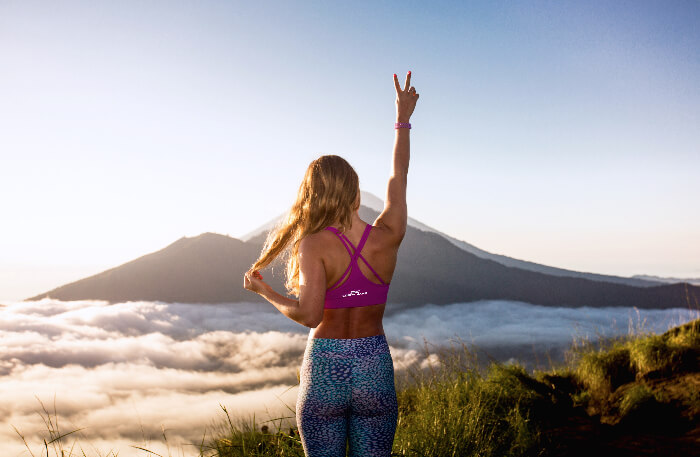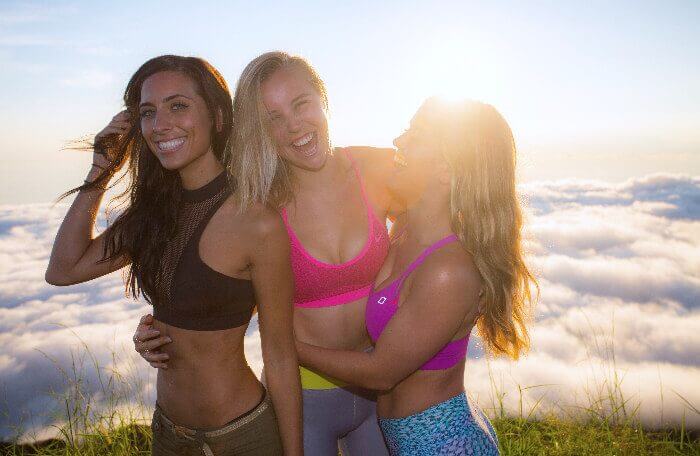 The epic adventure begun with a 1am alarm and a 1.20am departure from our villa in Goa Gong, Jimbaran where we got a taxi to the base of the volcano: Toyabungkah Village (right next to the Batur Natural Hot Springs).
With nothing but a mini torch each to illuminate the dirt tracks that lay before us, we listened carefully to our guides' instructions before beginning the ascent.
It is highly advised to book and complete the hike with a guide, due to the difficulty and confusion that accompanies the darkness at 3am in the morning.
Our climb and transport was included in a retreat I was on, so I can't recommend a booking place from personal experience. But, I know you'll be able to book on a tour wherever you are in Bali, e.g. from Ubud, Canggu or Seminyak.
We engaged our glutes at 4am and powered on up for 2 hours at a consistently steep incline all the way, with just a 'flat relief' every 20-30min or so.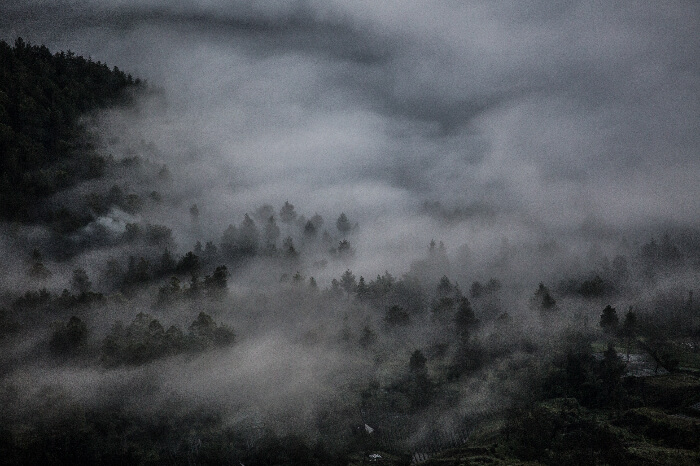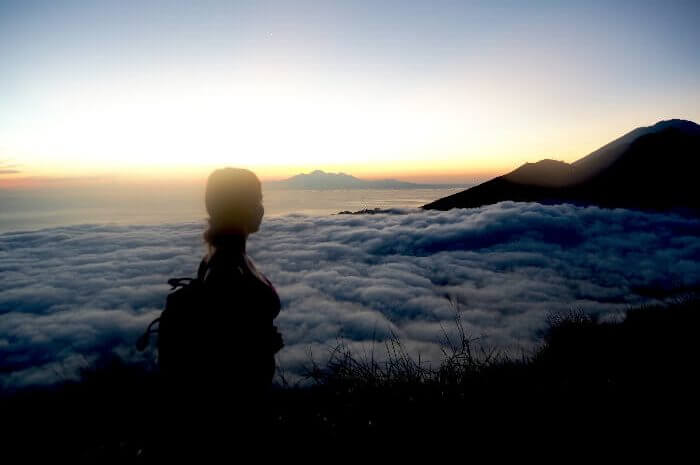 About half way through the ascent, the road does split into two and you can choose between a harder and easier track. Both have very similar views from the top, one is just more physically challenging than the other.
Ever up for a challenge, we all agreed on Mt Batur's harder route and conversation soon turned to silence as we all panted for more breath.
About an hour in, we bypassed the clouds and a glance over my shoulder gave me one of the most incredible views I have ever witnessed.
Now, we've all seen clouds before, perhaps in the sky or on a plane. But breathing in the fresh crisp mountain air and looking down upon a thick marshmallow like duvet of clouds in the flesh is just something else. It didn't look real. The blanket of stars that gazed down upon us twinkled like my eyes as I turned back to the path for the final leg of the climb.
With many a glance over my shoulder in the meantime, we reached the summit with beaming grins as we reflected on the distance we had just covered.
When you get to the summit of Mt Batur there are plenty of benches and areas to rest up whilst locals serve everything from teas and coffees to banana sandwiches and boiled eggs. Trust me, you'll work up an appetite!
The sunrise was positioned perfectly in front of us and the absence of clouds blocking the view (because we were above them) made for THE most stunning transition of oranges reds and pinks until the sun lit up the sky once more.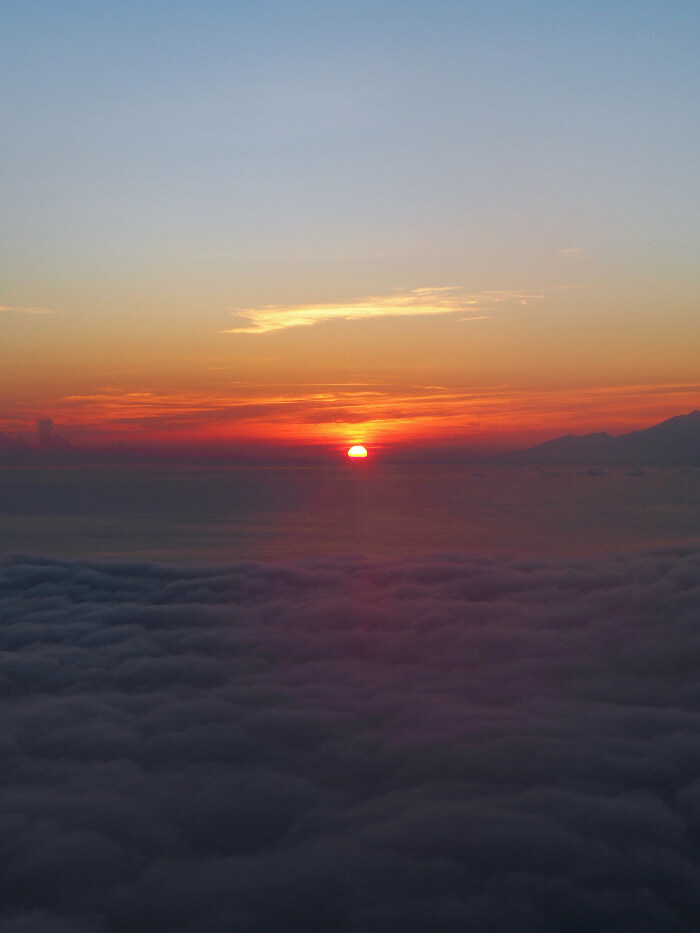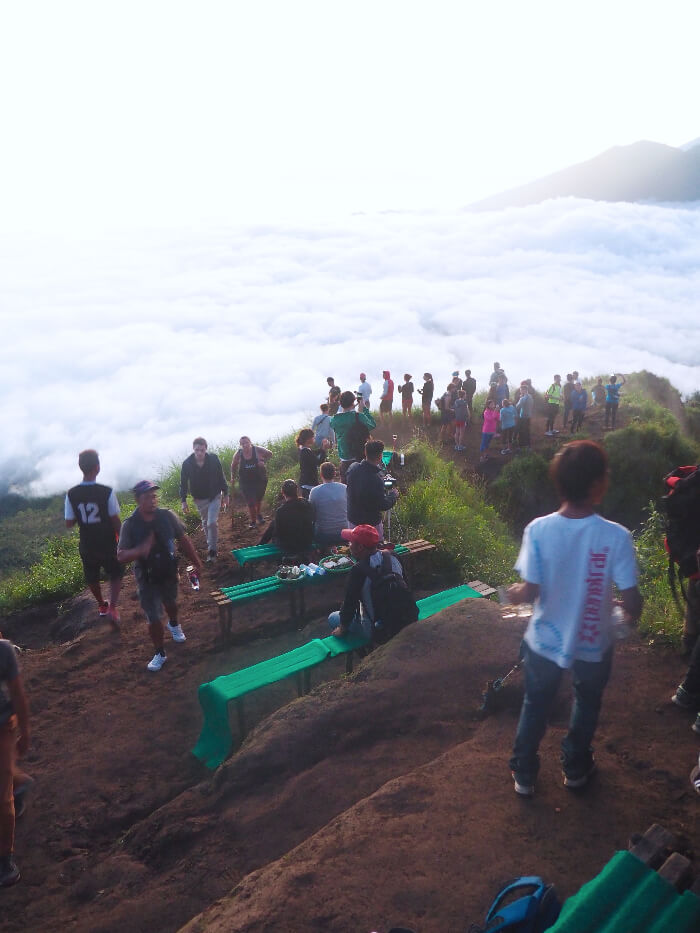 After an hour (I think we spent two!) admiring the view and taking photos, we descended back down to the base and dipped our toes in the hot springs for a couple of hours.
At Batur Natural Hot Springs springs they also offer massages and serve food including fish and chips with fresh fish from the lake. I wasn't at all impressed with the quality of food here, but I'd definitely recommend the foot massage and soak in the hot springs; it's the perfect post climb therapy!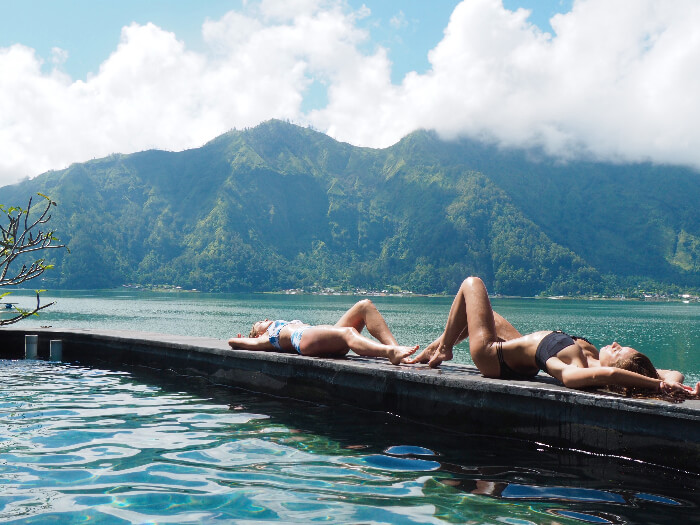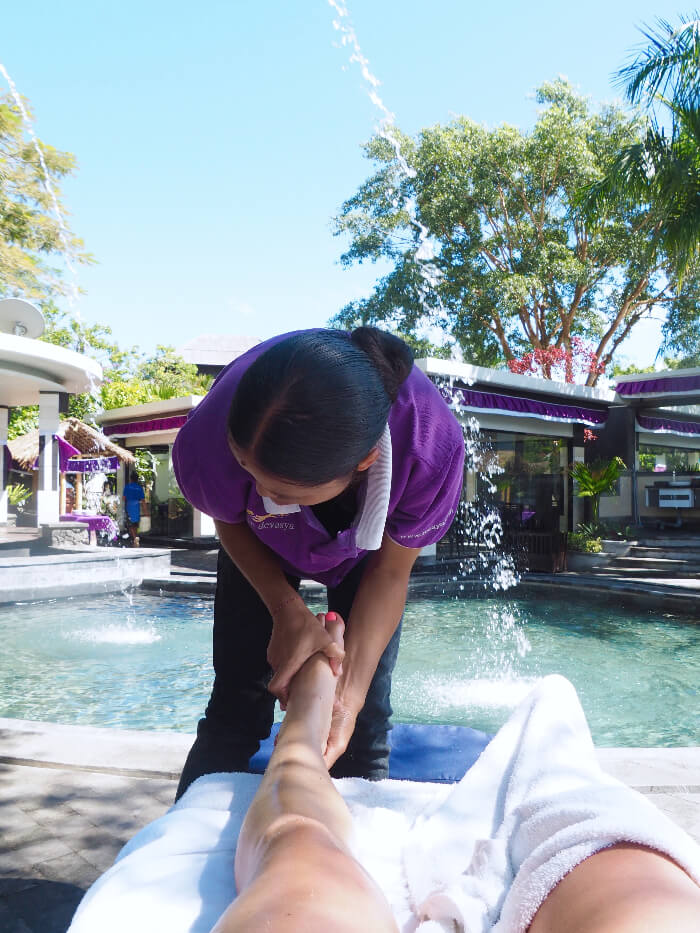 Top tips for hiking Mount Batur…
Book with a guide. It's not expensive and so much safer!
If you book through a hostel or hotel, they'll probably offer a free pick up and drop off service.
Take a bottle (or two) of water.
Wear a mini backpack so you have your hands free (can get a bit slippy).
Take a pack of tissues for toilet needs. but when you're there, leave no trace!
Take some money for snacks and coffee at the top.
Wear comfy shoes with good grip due to the intensity of the climb and the loose rubble on the way down.
Take an extra layer as it will be a little chilly until the sun rises.
Remember your camera!
Combine your trip with a visit to the coffee plantation, where they grow the world's most expensive coffee, Luwak. Book here.
All in all, even though I had seen countless photos of the climb from friends' posts on on social media, you just can't beat witnessing the sunrise and soaking in the atmosphere for yourself. A must do if you're in Bali!
Have you hiked Mount Batur before?
What are your top tips? I'd love to know!
Love as always and happy adventuring,
Did you find this post helpful? I'd love you to share it for me.
I can't do this without you.
Pin and save this blog post for later…