Going hiking for the first time, as a complete beginner, can be a little overwhelming.
Where do you go? What do you take?
In this beginner's guide to hiking, I will run through all the things you need to prepare physically, mentally and what to carry on your hike with you!
It really doesn't have to be scary at all! Really, a hike is just a challenging walk, and you can control the level of challenge by choosing an appropriate trail. With the correct preparation, you will absolutely love it!
Hiking is not only a great way to keep fit while travelling (see more top tips here) but it's a great way to practise self-care, be at one with nature and get away from the day-to-day reality of your life.
There's nothing I love more than some mountain air to clear my head and refresh me for what's to come.
It's also a great way to spend time with friends, which is why I always try and include an active adventure (quite often a hike!) on my WMGT Adventures tours. Book your next tour here! And (bonus)… hikes are often free! For a few hikes you may need a permit or a ticket to get into the National Park, but very often, it's an activity you can enjoy on a very low budget.
But, since not everyone is a practised hiker, I've put together a little guide for all the beginners out there, including my top tips for your first hiking challenges.
Other travel guides we think you may enjoy:
A beginner's guide to hiking…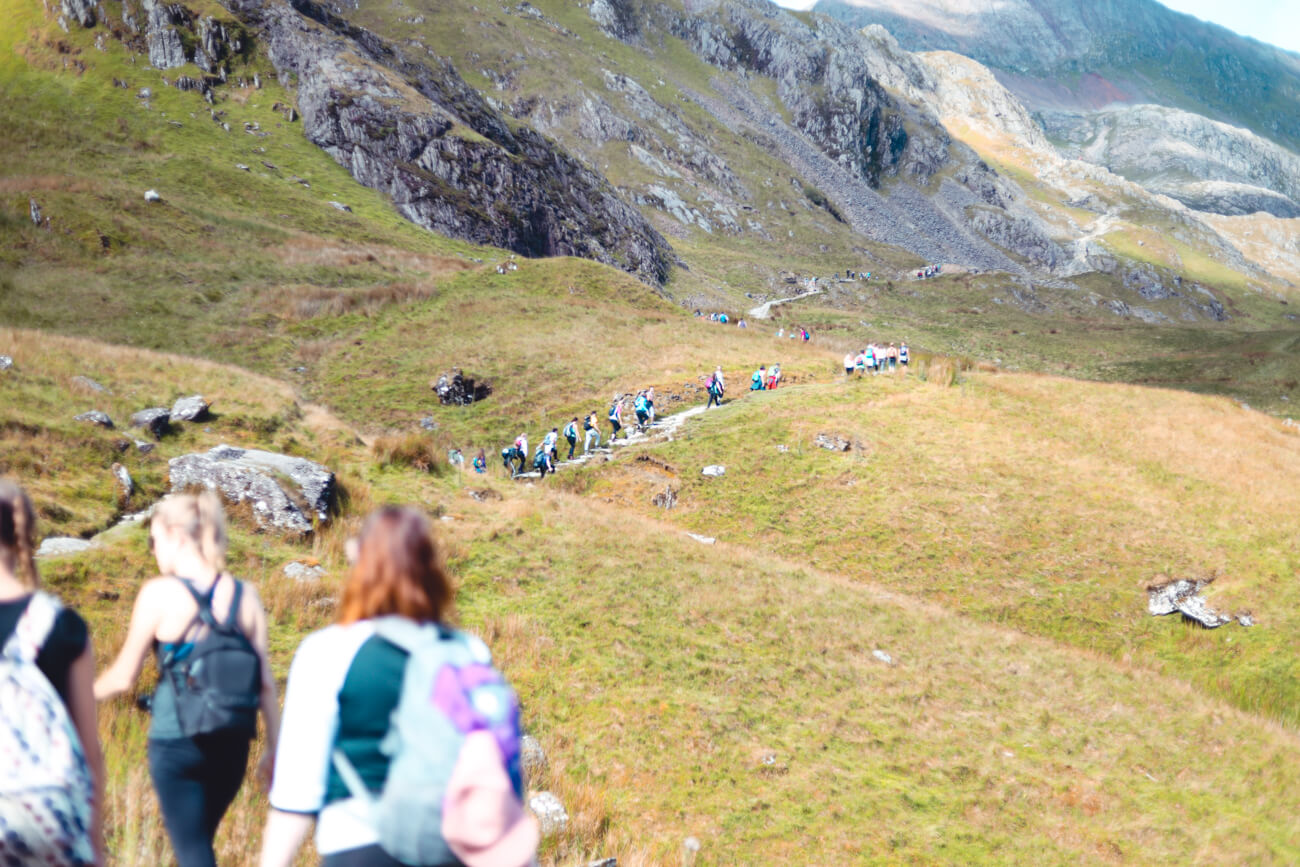 Where should you go hiking? Which trails should you choose?
As a beginner, I recommend that your first hiking experience should be in your local area. This means that you are familiar with your surroundings, and close to home if you get into a sticky situation if you need help! It's fairly easy to research National Parks and hilly areas near you on Google. If you're not sure where to start, checking National Park websites, tourism board sites, and travel blogs are good places to begin your search! The app AllTrails is also great for finding trails near you can saving them offline for navigation on the go.
Once you've explored your local area, and feel confident, you can go further afield! While you're still a beginner hiker, stick to well-known and popular hiking trails so you can get help if you need it.
Things to consider when you're looking at trails include…
Most people walk at 2 miles/3km an hour on a flat incline, so use this to calculate how long your hike will take. Add in extra time if you're going uphill!
For a longer hike, can you split the hike over a couple of days and stop over, or is it going to be one long day?
Difficulty
Incline/elevation
Season/time of year/weather
When researching trails, make sure that you choose something suitable for beginners: not too long, and not too much of an incline. You need to give your body time to get used to this new form of exercise! Base it on your current level of fitness; you have time for the big challenges.
When should you go hiking?
My advice would be to avoid very hot and very cold days, and to avoid any days that a lot of rain or a storm is forecast. This means that yes, especially in the UK, you may need to be flexible. But, your safety is important.
But, in any case, be prepared for all weathers when you pack your bag! Sunscreen, a raincoat, and a hat and gloves will help you a lot. Also, if you wear lots of thin layers, you can put them on or take them off as the temperature outside and your body temperature changes.
In terms of time of day, I would recommend setting off as early as possible. This means that you have more daylight time for your hike, it will be less crowded, and you'll have enough time to go slightly slower if you find it a bit challenging. However, if you're hiking alone, setting off a little later will mean there are more people on the trail which might make you feel a bit more comfortable as a beginner.
Should you train to go hiking?
I would recommend that you do, yes. But, this doesn't have to be the same as training for a marathon. It could just mean making sure that you have a reasonable level of fitness before you complete your first hike.
If you are a beginner in terms of fitness as well as hiking, don't panic! Start walking around your local area (even if it's just around the block), building up the time you walk for and the incline you walk on. If you prefer, you could do this on a treadmill or the stepper at the gym, but being outside is my preference. Any kind of workout to build up your cardiovascular fitness and endurance will help!
If you want to aim for a big hike, then you should train in a similar way that runners do for long runs. Start with small, low incline hikes, and build up the incline and distance slowly. Hike often, but not too often that you injure yourself. Your body needs time to adapt: you shouldn't climb to Everest base camp as your first hike!
What should you wear to go hiking?
Clothing: Any kind of sports clothing, and you'll be fine. I go for some stretchy leggings, and light layers on the top. Take a raincoat for bad weather (something like this will fit into or clip onto your backpack!), a beanie had for cold weather, and/or a cap and sunglasses for hot weather. Many people prefer long leggings to protect from scrapes or bugs, but if it's really hot you may prefer shorter leggings or shorts.
Waterproofs: Weather, particularly in the UK, can be unpredictable. I've heard waterproofs made from Gore-Tex are great for keeping you dry and allowing your body to breathe!
Footwear: For a short hike, a good pair of trainers will do. When you get the hiking bug though, you'll need a pair of walking boots! I currently have the new Merrell Ontario Mid Waterproof walking boots and they're great: waterproof yet breathable, good-looking yet functional, clean-cut yet comfortable. Also, make sure you wear good sports socks!
A good pair of walking boots will change your life. Period.
What should you take hiking?
A good backpack, with back support. Carrying lots of things puts a lot of pressure on your back and investing in something proper will save your back! a 20-25 litre backpack should be big enough for one day, but get something bigger if you plan on doing one hike over several days.
Water. Lots and lots of water! You will need to stay hydrated. At least one litre per two hours.
A reusable water bottle. Fill up on that fresh mountain spring water!
Snacks – things like energy bars and nuts that are high in nutrition but take up a little bit of space.
A mini first aid kit: painkillers, plasters, blister plasters, antiseptic cream, medication, bite cream and repellent, bandages, sterile cleaning wipes, etc.
Hand sanitizer and bathroom products you may need
Weather appropriate accessories (beanie hat, scarf, sun screen, sunglasses, cap etc.)
Camera
A paper map and compass
A headlamp or torch
A phone with GPS (you can download the Google Map for that area in case you lose signal) and a portable charger.
What about using the bathroom when hiking?
Umm… well it's unlikely that you'll find portaloos at regular intervals up the mountain, that's for sure!
My first piece of advice: go before you leave!
If you need a wee while you're out, make sure you're at least 30m away from the trail or path, and 30m or more away from any water sources, and stand/squat and go. If you use toilet paper, take a ziplock bag to take it with you – leave no trace.
Now, if you need a number 2 while you're out, it's not as big of a deal as you might think! Making sure you're 30 metres away from the paths and water sources again, dig a hole about 15cm deep (with a rock or a stick if you don't have a trowel), squat and go. You can use a leaf to wipe, or if you prefer toilet paper, make sure you put it in the ziplock bag to take with you. Bury your business (it biodegrades better and stops the smell), and you're ready to go!
Ladies, if mother nature calls and your period hits on hike day, opt for tampons over pads. They are less messy, and take up less space in your backpack. Even better would be a menstrual cup, or period proof pants such as Thinx. Take a ziplocked bag to put the used products in (leave no trace) – you could spray paint the bag for privacy, if you wish. Take unscented wipes and hand sanitizer to make changing your sanitary products as hygienic as you can, considering you're halfway up a mountain! And make sure you have painkillers to hand in case you get cramps. Most importantly, don't let being on your cycle stop you from enjoying your hike!
Can I take my dog hiking with me?
Sometimes, yes! You should check the route and see if dogs are allowed.
If they are, yay for having a furry friend with you! Make sure you take water and snacks for them. A collapsible dog bowl takes up little space in your backpack (or in their doggy backpack!) and makes for easy drinking. Keep them on a lead if possible, and give way to hikers without dogs – you might love dogs, but not everyone does! And bring poo bags – leave no trace applies to your pup too! Make sure your dog is up to date on vaccinations and treatments to prevent illness, and consider taking dog-friendly sunscreen or boots to keep them safe. In the same way as you do, your dog needs time and training to build up their stamina and endurance – and it might be worth taking them to the vet for a health check before you commit to a really long hike.
How do you stay safe when hiking?
First things first, be prepared! Train well, wear sensible clothing, know your route, have a paper map in case your technology fails you, and make sure you have everything you need in your backpack. Expect the unexpected.
Avoid hiking alone as a beginner. Try and go in company – it's a great day out with friends!
Tell someone where you're going and how long you plan to be gone for. This is especially important if an accident happens and you can't get hold of an emergency contact, and even more important when you go hiking alone.
Top hiking tips for beginners…
Right of way:

Uphill hikers have right of way over downhill hikers.
Order of right of way: horses, hikers, bikers.
It's polite to step to the side and give right of way to the people passing you if you have a dog, because not everyone likes dogs.

Stay on the trail. Not only is this for your safety, but it's to protect the area you're walking in too!
Say hello to hikers that you pass – it cheers everyone up!
If you want to listen to music, use your headphones. If you're talking to your friends, talk to them, don't shout, Some people go hiking for the peace and quiet!
Keep your dog on a lead.
Prepare for any weather – take a raincoat and sunscreen and layers.
Prepare for technology to fail you – take a paper map.
Tell people where you are and how long you'll be gone.
Take plenty of water and snacks, and extra.
Take a reusable water bottle that you can fill up along the way.
Dress comfortably and practically, rather than fashionably.
Leave the wildlfie alone (plants and animals!) and don't feed the animals.
Stay on the trail to avoid contributing to natural erosion.
Fuel your body with something carby but healthy the night before.
Get a good night's sleep the night before, so you can have an early start.
Check the weather before you leave to check your kit is appropriate. British weather changes very quickly!
Save your hiking route offline, in case you lose signal.
Leave no trace. Take your rubbish with you!
Hiking challenges…
Maybe not for your first hike as a complete beginner, but once you've had a little practice!
UK:
Abroad:
Have you been hiking?
What are your top tips for beginners? I'd love to know!
Love as always + happy adventuring,
Did you find this post helpful? I'd love you to share it for me.
I can't do this without you.
Pin and save this blog post for later…