Climbing to the top of Snowdon had been an adventure on my UK bucket list for a while before I finally climbed it. Spending a gorgeous weekend in Swansea followed by another sunny one in Bangor was the exact push I needed to set the date for Snowdon.
As I began pencilling down a few date options for returning to Snowdonia (the National Park that Snowdon lies within), I figured it might be nice to get a group of us (myself and you guys) together to do it. This idea quickly escalated into a 60 person, 2 day event and the 'Global Travellers' family was born. Read more about the Snowdon event and see all the photos here.
Some might ask, 'is climbing Snowdon difficult?' My answer: not if you have a base level of fitness and you are well prepared. Climbing Snowdon is not only one of the best hikes in Wales, but one of the best hikes in the UK, and something that I think everyone should experience. Snowdon is part of the absolutely stunning Snowdonia National Park, one of the UK's 15 National Parks, and the views when you get to the top of Snowdon, as well as when you are walking up and down, are priceless.
In this blog post, I'm going to share all my tips and tricks for climbing Snowdon, Wales' highest peak.
My guide and top tips for climbing Mount Snowdon, Wales…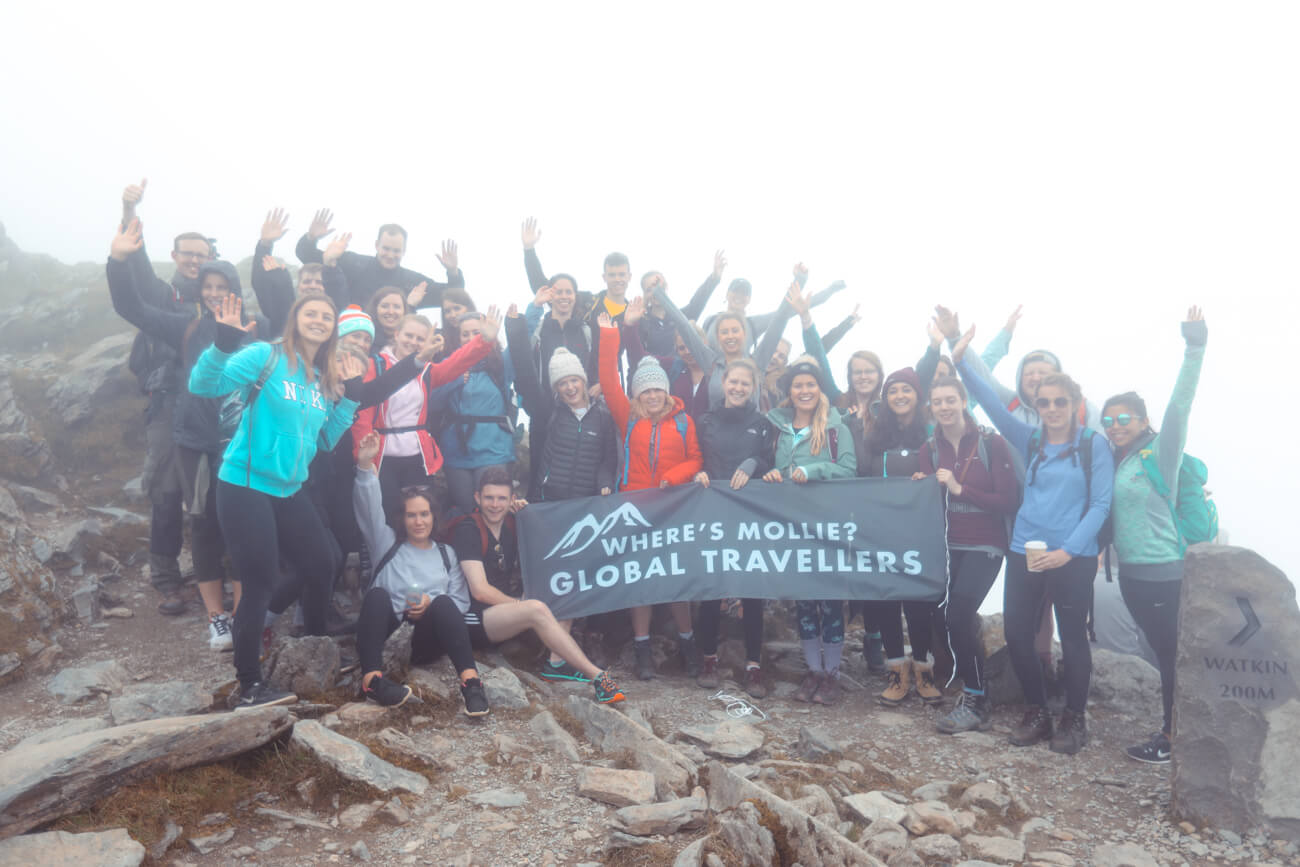 Where is Snowdon?
Snowdon is the highest mountain in both Wales and England, offering views over Snowdonia, Anglesey, Pembrokeshire and Ireland. It stands at 1085m and offers 6 different trails to reach its summit.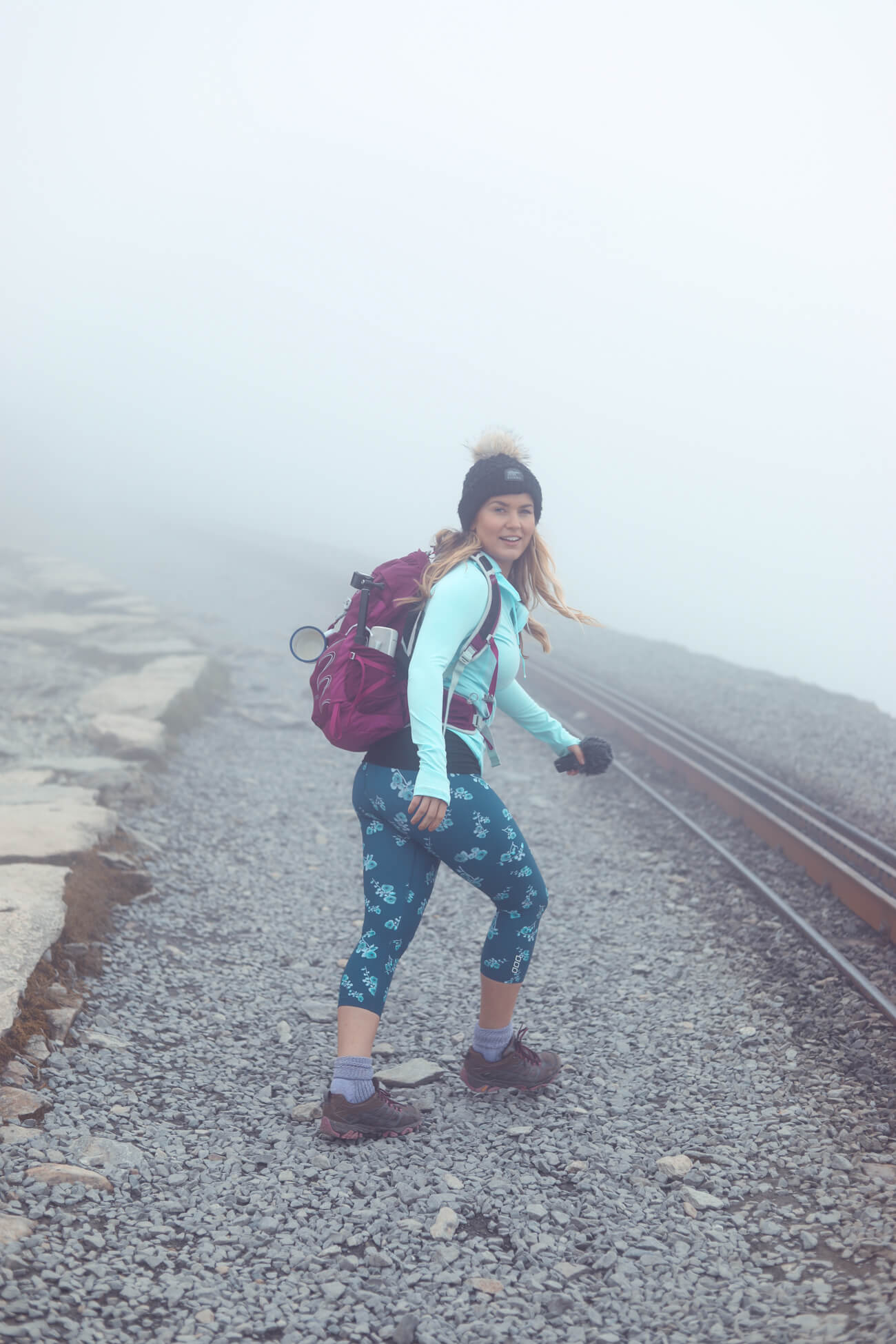 Take a look at the first WMGT adventure and the epic views we were surrounded by when we climbed Snowdon at the beginning of July 2017…
The beauty in Wales is ridiculous, right? You'd easily mistake it for the desirable postcards of New Zealand…
What's the weather like in Snowdonia?
Well, you can mistake Wales for an exotic destination when the clouds disappear and the landscape is actually visible. Unfortunately, Wales is known for hosting a fair amount of rain though so you must be prepared for that. Still, saying that, I've been to Wales on three occasions and had glorious weather every time so it is possible. Check out the weather in my Bangor vlog here.
Should you be making a weekend out of your welsh adventure and of climbing Snowdon, there are so many epic routes and trails within the National Park, so consider more than one if you have time. I hiked Cwm Idwal during my stay in Bangor which was unreal. See my blog post here.
How easy is it to hike Snowdon?
It depends which path we are talking about. There are 6 different paths that lead up to Snowdon, all of which vary in difficulty. So, do your research and stick to a path that best suits your ability. I won't say it's easy as such, but it's definitely doable. There were people in our group that had never climbed a mountain before and we all reached the summit together, without any injuries and without anyone being carried.
After asking around and researching online, I concluded that the best and easiest route for beginners climbing Snowdon, is to go up the Pyg track and down the Miner's.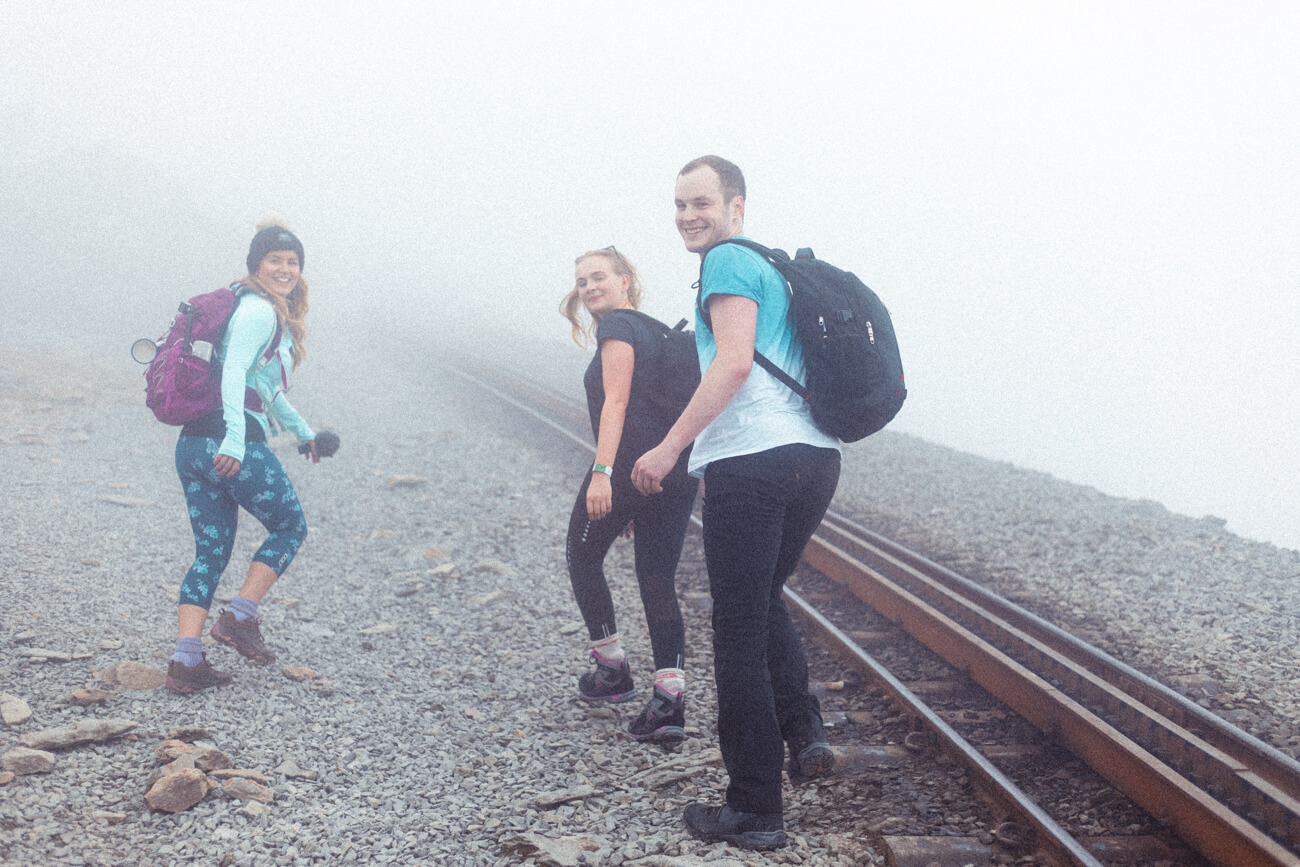 Which path should you take?
As mentioned above, if you're walking with a mixed ability group, the Pyg and Miner tracks are a pretty good bet.
– The Pyg track varies in gradient along the way with a pretty steep last climb as you clamber the scree to the summit. Here you'll certainly need to watch your step but it's nothing too extreme.
– The Miner's track doubles up on the Pyg track as you descend from the summit, until about half way down where the path forks and the Miner's track instead heads down to the lakes and weaves around the base of the mountains alongside the water. The views are truly epic.
Both the Pyg and the Miner's track start and finish at Pen-y-pass where there is a carpark – LL55 4NY.
– Watkin's path has the largest total climb in terms of the meters you ascend vertically, is 8 miles (there and back) in distance and is considered one of the harder paths. There are deemed to be some extremely steep sections with very loose footing.
Watkins path starts and finishes at Bethany Bridge, Nant Gwynant – LL55 4NL.
– Llanberis path is said to be the easiest hiking route and was once used to carry people up on pony back. It's 9 miles (there and back) in distance and is most popular with tourists.
Llanberis path starts and finishes at LL55 4TY.
– Rhyd Ddu path (from what I've read) seem to be a pretty easy stint for the first half but then develops some thinner, steeper ridge climbs as you dare closer to the top. At 7.5 miles (there and back) in distance, it's no Crib Goch, but it definitely hosts some of the narrowest walking ridges in Snowdonia.
Rhyd Ddu path starts and finishes at LL54 6TN.
– Lastly, there's the Snowdon Ranger path. This path begins at the Snowdon Ranger hostel and is 8 miles there and back in distance from Llyn Cwellyn. The trail gains some rapid initial height in a zig zag format before relieving you periodically and then setting you off on the ascent to the summit. The Snowdon ranger isn't deemed too difficult and is a less crowded route compared to the likes off Llanberis and Pyg.
Snowdon ranger path starts and finishes at LL54 7YS.
Take a look at the Pyg Track as we ascended Snowdon…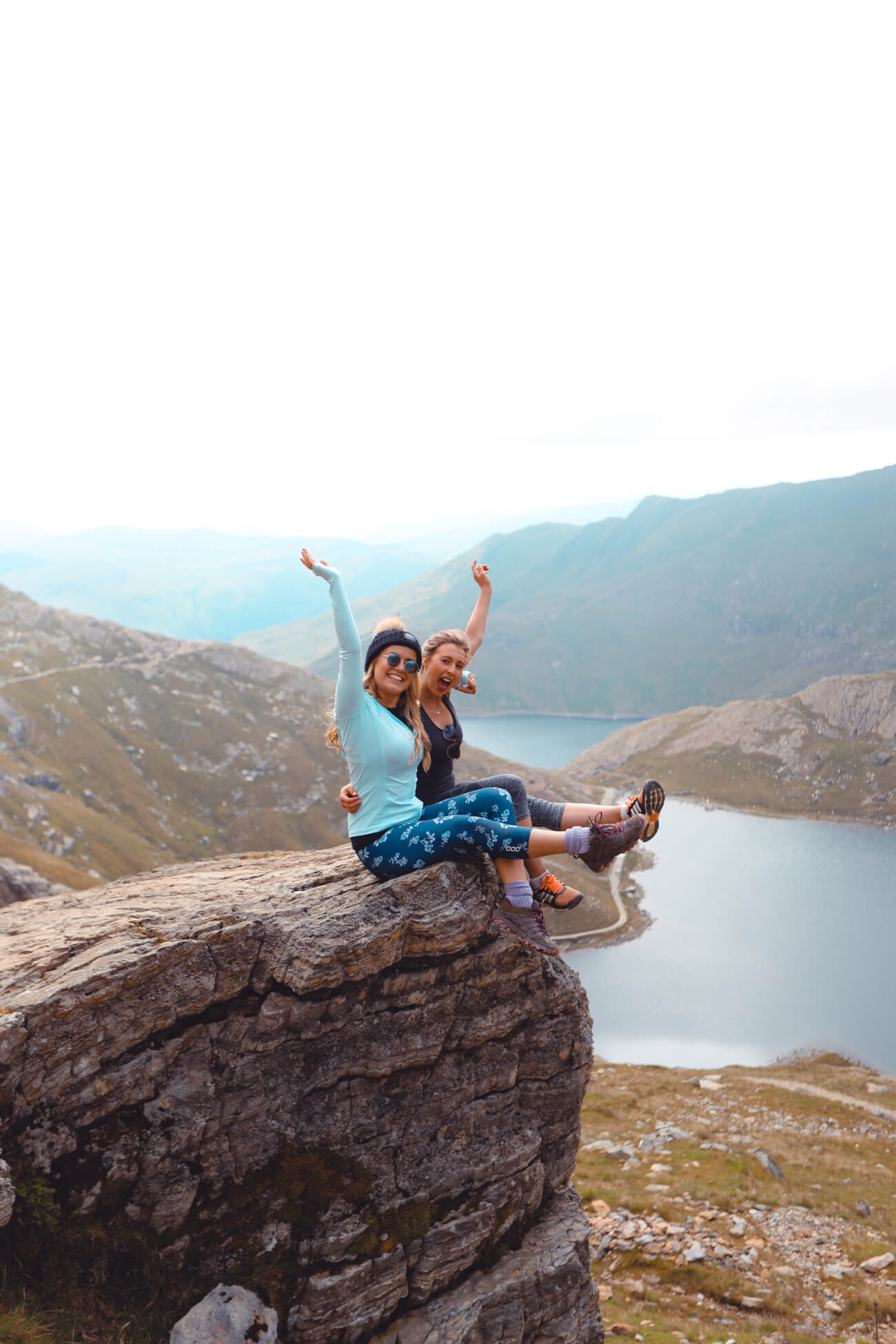 And the Miner's Track down…
What are the essentials for climbing Snowdon?
Comfortable hiking shoes / boots
Most of the paths will have you out hiking for between 4-7 hours so you'll want to make sure you don't accumulate blisters in the first hour, otherwise it will be an uncomfortable ride!
Just as important to cushion your feet and let them breathe.
Hiking pants or workout wear
The comfiest bottoms you own!
Honestly, my temperature fluctuated ridiculously even between 5-minute intervals. The weather in the mountains can change by the minute and when you combine that with a selection of flat paths and steep gradients. Your body gets a bit confused and your outfits should accommodate to comfort yourself. We started the hike with clear blue skies and vest tops and by the time we reached the summit I had my woolly hat, thermals and gloves on!
Waterproof layer / jacket
Wales is known for its rain after all.
A comfortable hiking backpack
It's only recently that I realised the important of such. During these longer hikes, you'll most likely be taking a lot of water and snacks too. When carrying weight and hiking, it's important that the weight is distributed correctly to avoid doing yourself damage! Shop mine here.
The views are pretty remarkable.
Lots of water & snacks
A little medical kit (paracetamol, savlon, blister plasters, tissues etc)
Beanie hat / hand warmers
Sun cream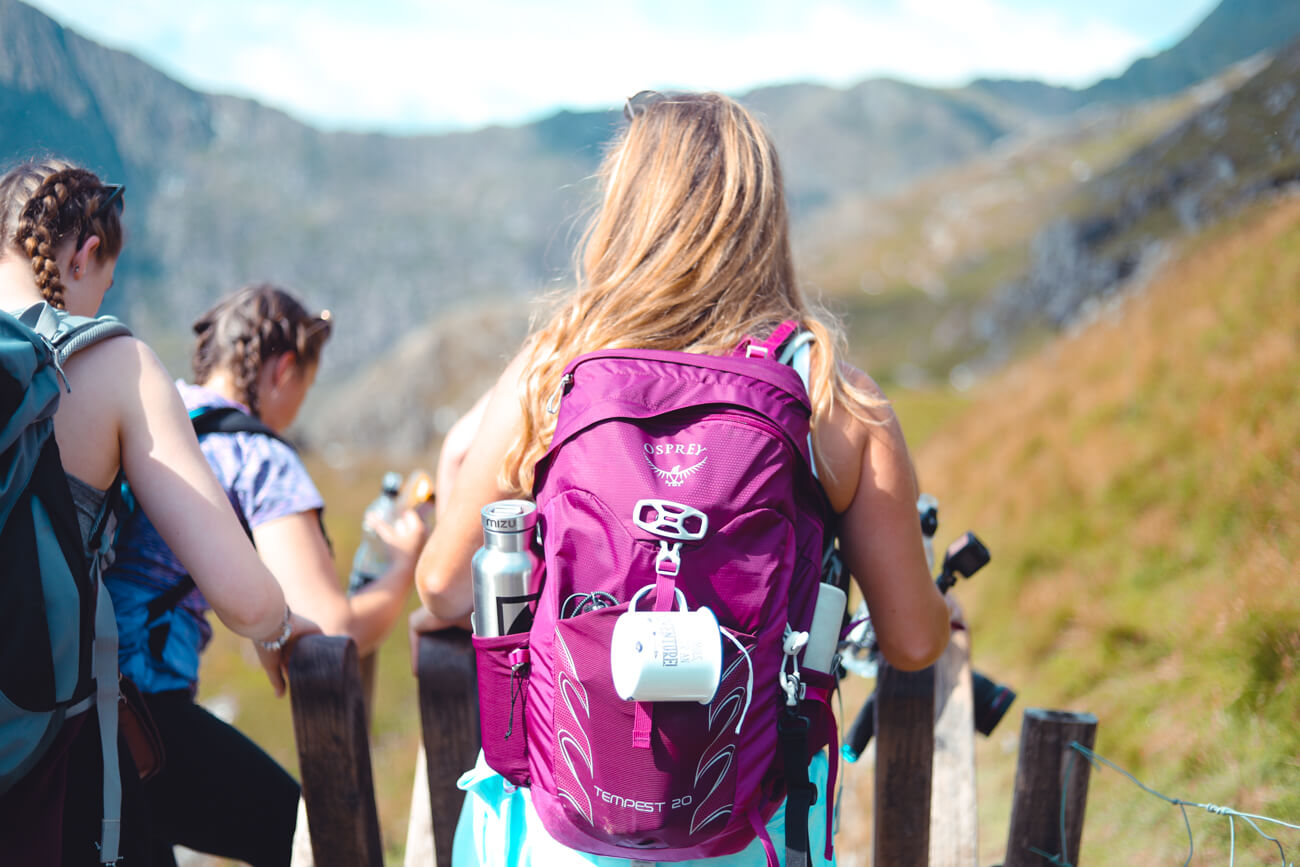 Top tips and things to note when climbing Snowdon:
– There's a Sherpa bus network that operates a route around the foot of Snowdon, valuably connecting the 6 routes should you wish to ascend up one and down another. You can buy a ticket on the day for £5 (day pass) or you can also buy singles. See more here.
– There's a cafe at the summit where you can buy food, hot drinks, get a bit of shelter and go to the toilet!
– If you get to the summit and you just cannot face walking down or are injured in anyway, there is a train that operates down the mountain from mid may through to October and leaves from the cafe. It's pretty pricey, in fact, really pricey, I think a one way trip from the summit down was £29! See more here.
– I didn't get any signal on the route until I got to the top. Some of my friends got dribs and drabs on the way up but nothing solid. Something to bear in mind with a big group. Perhaps make a meeting point and back up plan in case you lose anyone!
– If you start from Pen-y-pass like we did, there is a car park (£10 for the day) but it fills up very quickly, particularly at the weekend and if it is a nice day. If it fills up you'll have to park down in the valley or next village where you'll need to add a 20-30 minute walk back to Pen-y-pass or hop in one of the taxi's that shuttles people up for £2 each.
– There's a cafe at Pen-y-pass car park with toilets and a restaurant to fuel or refuel at after your hike!
Have you climbed Snowdon?
What are your top tips for climbing Snowdon? I'd love to know!
Love as always + happy adventuring,
Did you find this post helpful? I'd love you to share it for me.
I can't do this without you.
Pin and save this blog post for later…