If you're heading to Wales and looking for a complete guide to Bangor, look no further! Bangor is without a doubt one of the best places to visit in Wales, and it's even a strong contender for the best places to visit in the UK. If you're looking for things to do in Bangor or places to visit in Bangor, you're in the right place!
Ever since my dreamy escape to Langland Bay in Swansea, I'd been itching to come back and explore more. Bangor was highlighted as a city break that's easily accessible and filled with adventure, and they couldn't have been more spot on!
There are so many exciting things to do in Bangor, it can be hard to know where to start. With stunning architecture, the world's fastest zipline, and a breathtakingly beautiful university, Bangor really is one of the most unique places to visit in the UK. Not to mention all the Welsh cakes! Bangor really is full of adventures to put on your Wales bucket list. Nestled in the north west corner of Wales, right by Snowdonia National Park, it's a great place to visit in Wales if you want a balance between city life and hiking in Wales, as well as taking on a challenge such as climbing Mount Snowdon!
From going on challenging day hikes to going sightseeing, from enjoying afternoon tea in Bangor to chocolate tasting in the city centre, my time in Wales has been nothing short of adventurous! In this Bangor travel guide I am going to share with you the best things to do in Bangor, the best places to visit in Bangor, what to see in Bangor and my favourite adventures so far. Get your pen and paper ready to create the ultimate Wales bucket list!
If you do happen to plan a trip to Bangor, consider extending it with a trip to the Gower Peninsula in South Wales. It's flippin' gorgeous!
Other blog posts you might like…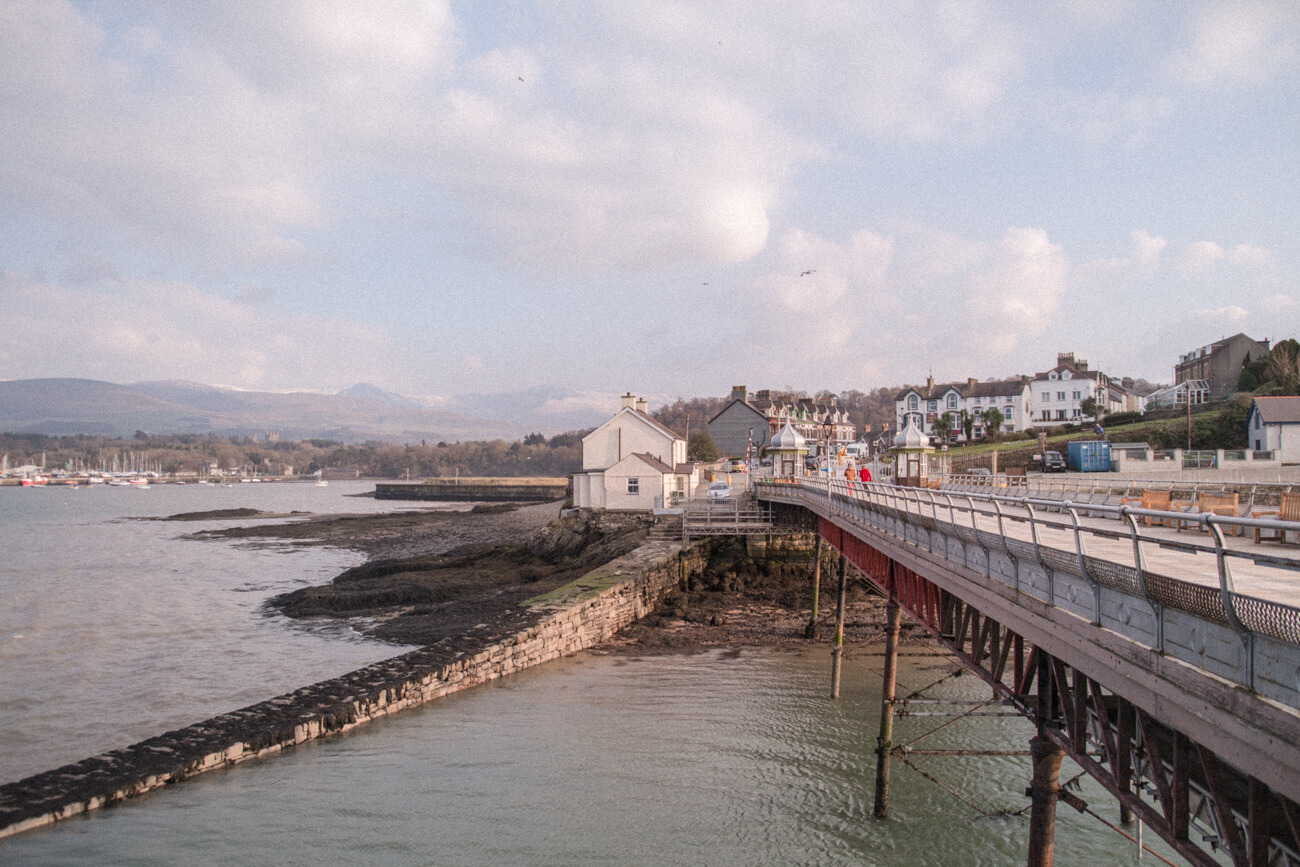 A guide to Bangor, Wales…
How do you get to Bangor?
Train
My friend Lydia and I took the 3-hour direct train from London Euston to Bangor (North Wales). The train station was just a 10-minute stroll into the city centre.
Typically, when I travel I'm either flying or road tripping to my destination. Both have their advantages, but both also have the disadvantages of airport security faffs, delays, traffic jams, navigation mess ups etc. As much as there can be adventure in some of the latter, getting the train really was a breath of fresh air for me!
From there, all I had to think about was which biscuits I wanted with my tea from the on-board cafe and which direction I fancied facing. I used the journeys to edit my content, catch up on work on my laptop, and plan my next adventure while browsing Lonely Planet magazine. Get tips on planning your next adventure here.
Book your train tickets online on thetrainline.com.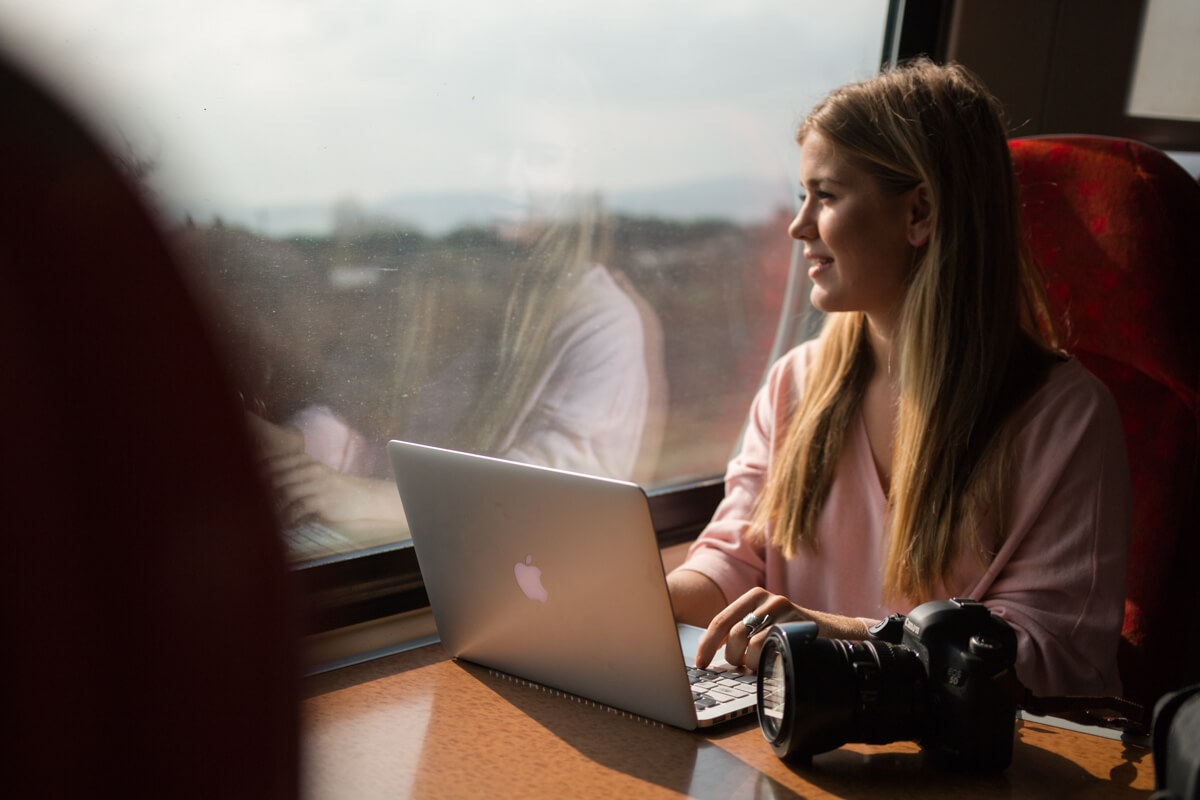 Where should you stay in Bangor?
We stayed in The Management Centre, an Edwardian building that forms part of the university. It's a great, central location if you want to be able to explore on foot. They also do a great carrot and sweet potato soup which was amazing to fuel a day of adventure!
Check out booking.com or Airbnb for more hotels or apartments in the area, or look at the YHA Hostels if you're trying to save money on accommodation!
The best places to eat in Bangor…
Voltaire
I highly recommend the ginger crunch dessert at Voltaire, a vegan restaurant!
Blue Sky Cafe
Blue Sky Cafe is definitely a slice of me, and probably my favourite restaurant-find in Bangor. It was highly recommended to me and sits high in TripAdvisor's recommendations. It's definitely no secret, but it's still amazing. Blue Sky Cafe has an open plan, wooden interior and serves a health conscious menu filled with freshly cooked and locally sourced ingredients.
I noticed they host a lot of live music and comedy nights there too, so definitely head down there, be it for a hot chocolate and marshmallows or an evening cocktail.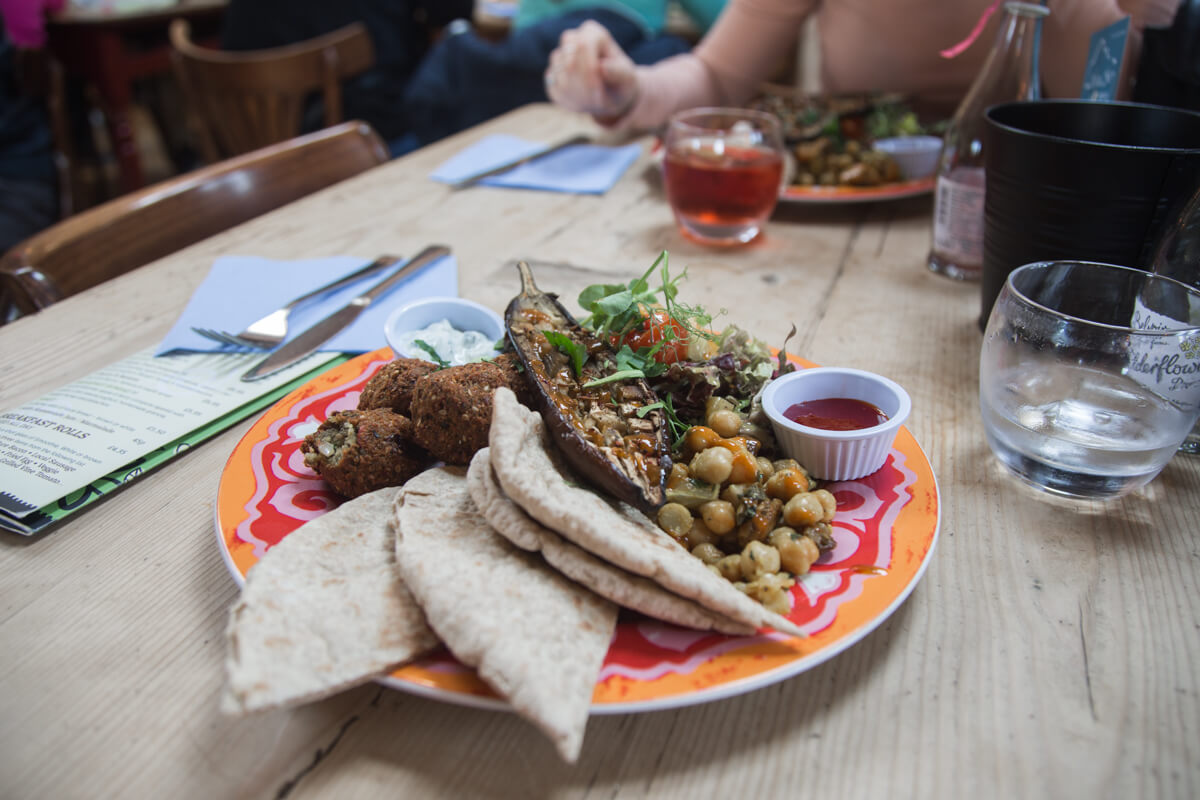 The best things to do in Bangor, Wales…
1. Explore the university.
We accidentally stumbled across the paved balcony at the back of the university, which gave us the most gorgeous panoramic view over Bangor. We then continued on through the side door of the Old Building, founded in 1884, up the stairs and to the third floor for more beautiful views. This is definitely one of the best things to do in Bangor if you love architecture and beautiful landscapes!
While you're at the university, one of the best things to do in Bangor is to head to Pontio, the Arts and Innovation Centre. Here you'll find a cinema, traditional proscenium-arch theatre, as well as pop-up exhibitions, and stunning views across the city from the 5th floor of the centre.
The Treborth Botanical Gardens are owned by the university and visiting is one of the best free things to do in Bangor (although donations are welcomed). Here you'll find large areas of grassland and orchard, as well as greenhouses full of all the tropical and carnivorous plants!
2. Have afternoon tea at the Cricket Pavilion Tea Room & Cafe.
If you're looking to get away from the hustle and bustle of the city centre, treat yourself to an hour or two of full relaxation with a cuppa! Another one of the best things to do in Bangor is to get a takeaway from the Cricket Pavilion Cafe and enjoy your coffee while strolling along the pier.
3. Watch the sunset from Bangor Pier.
Sunset on the pier in Bangor is absolutely gorgeous, and not something you can miss when you visit Bangor.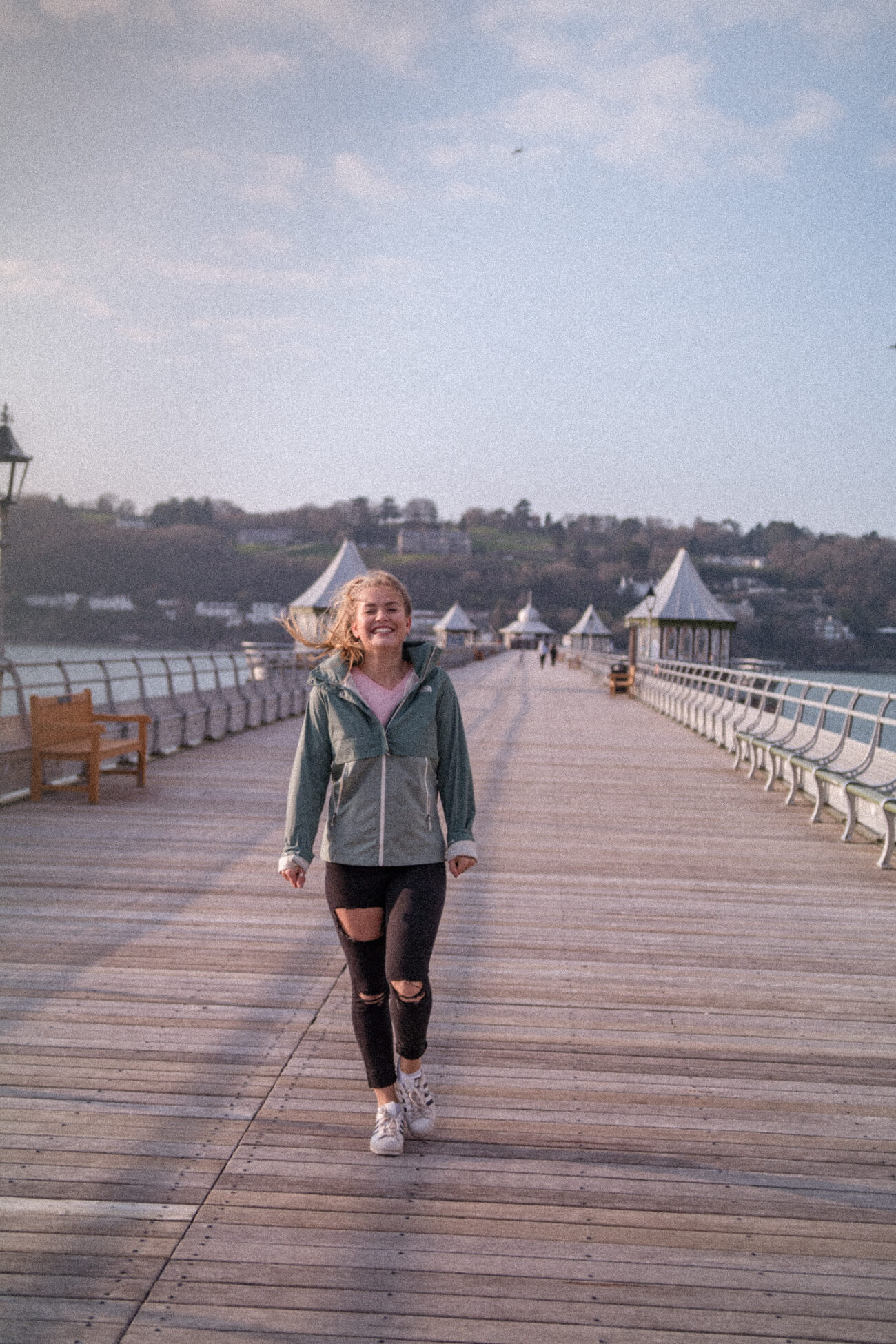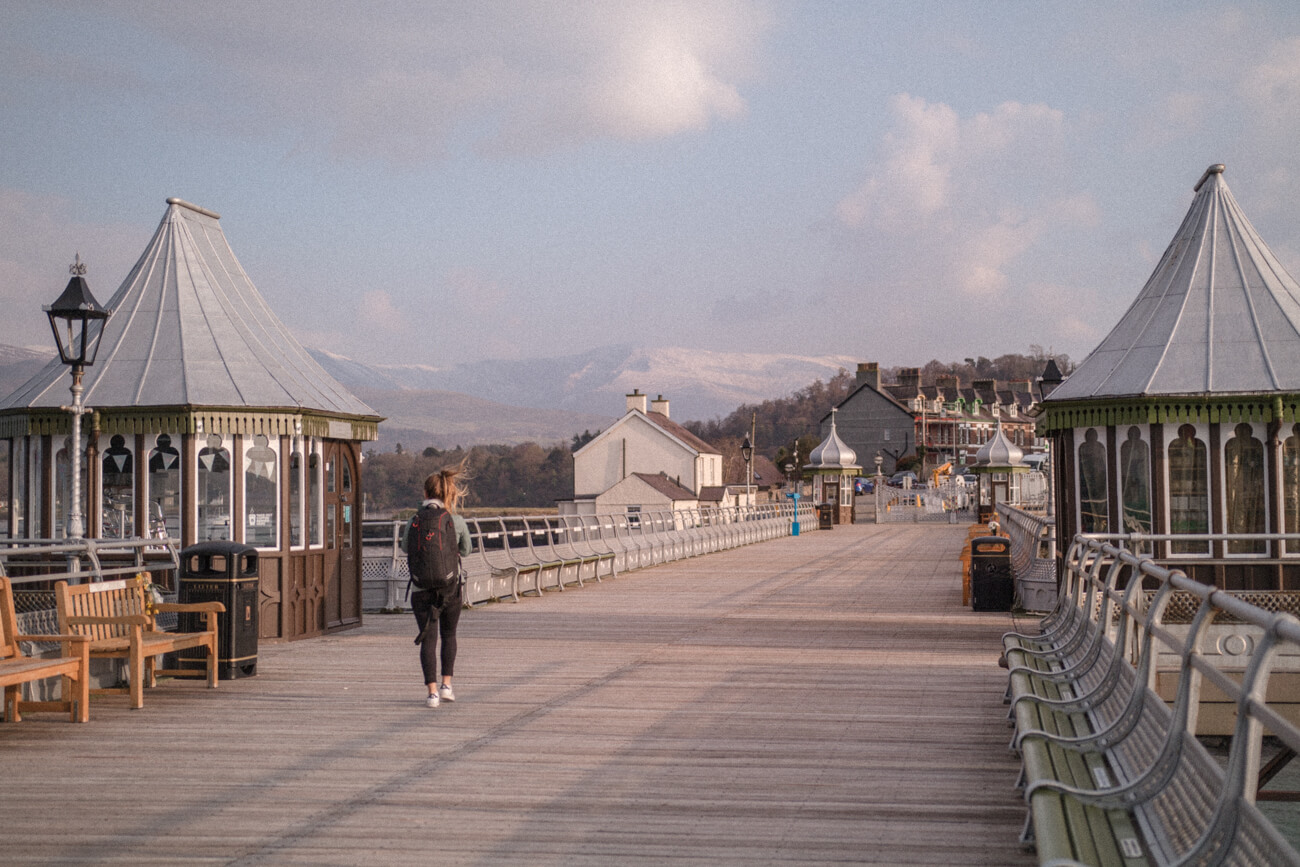 4. Head to Zipworld at Penrhyn Quarry to take on Europe's longest and the world's fastest zip-line.
I have done many a zip-line in my time, and hands down, I can say this was my favourite – it's definitely one of the best things to do in Wales, never mind the best things to do in Bangor! You go so fast, the ground drops as you glide over the quarry lake and the length of the zip line means you have time to enjoy it. Like, really enjoy it and take in the stunning surroundings which, if you go on a nice day like we did, will blow your mind. Check out the website here.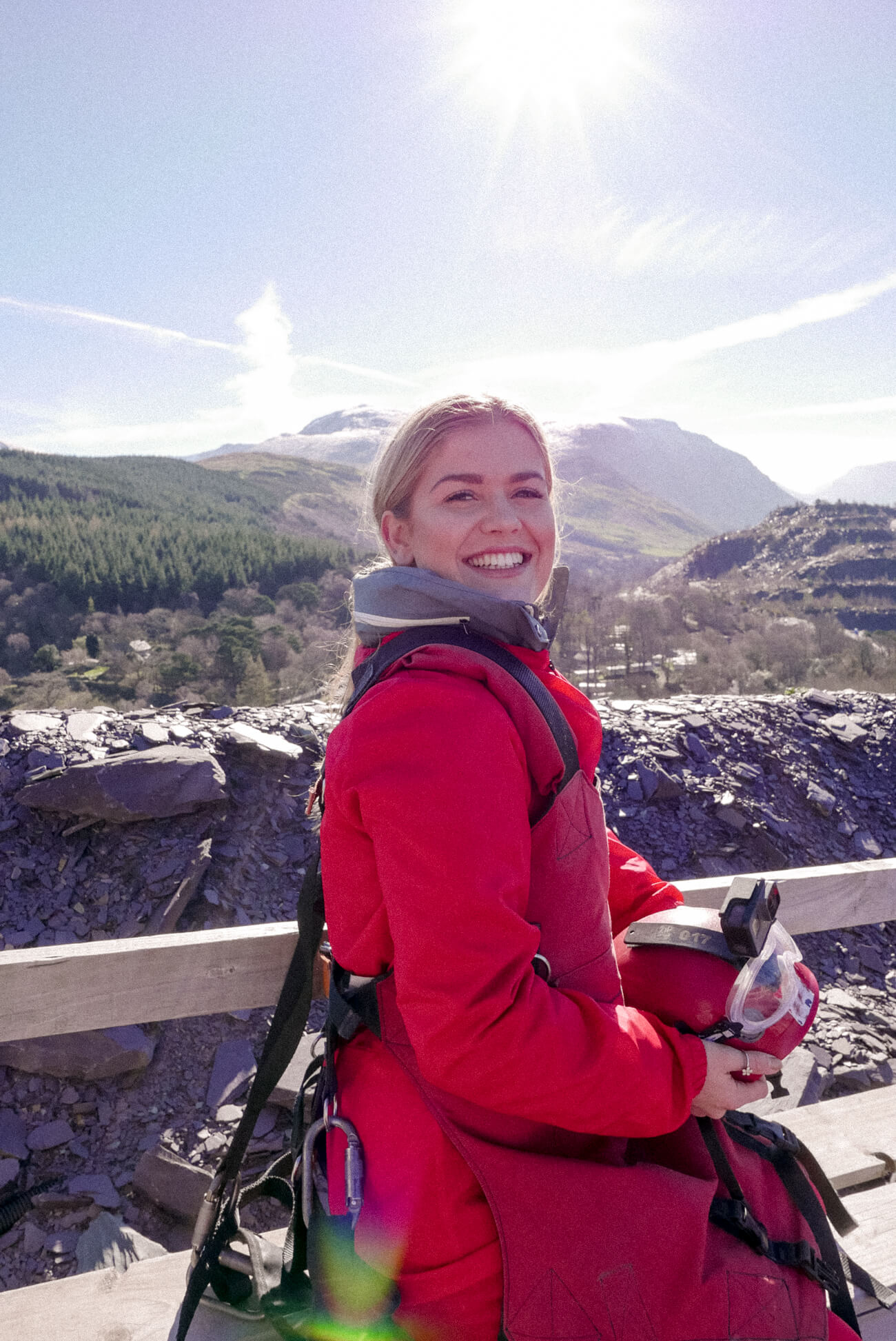 5. Hike the Cwm Idwal walk.
This is a 4.8km hike through part of Snowdonia National Park. It's one of the best hikes in Wales, and if you're looking to get out of the city for a day, it's one of the best things to do in Bangor (well, near, anyway). If you want to go big and you have time, you should definitely consider ascending Snowdon itself. Check out my guide to climbing Snowdon here.
If you'd like to hike but don't consider yourself very fit or even enthusiastic about a strenuous hike, you can still park at Ogwen Cottage and walk up to Lake Idwal, which is equally as stunning. Check out all the photos from my Cwm Idwal walk here.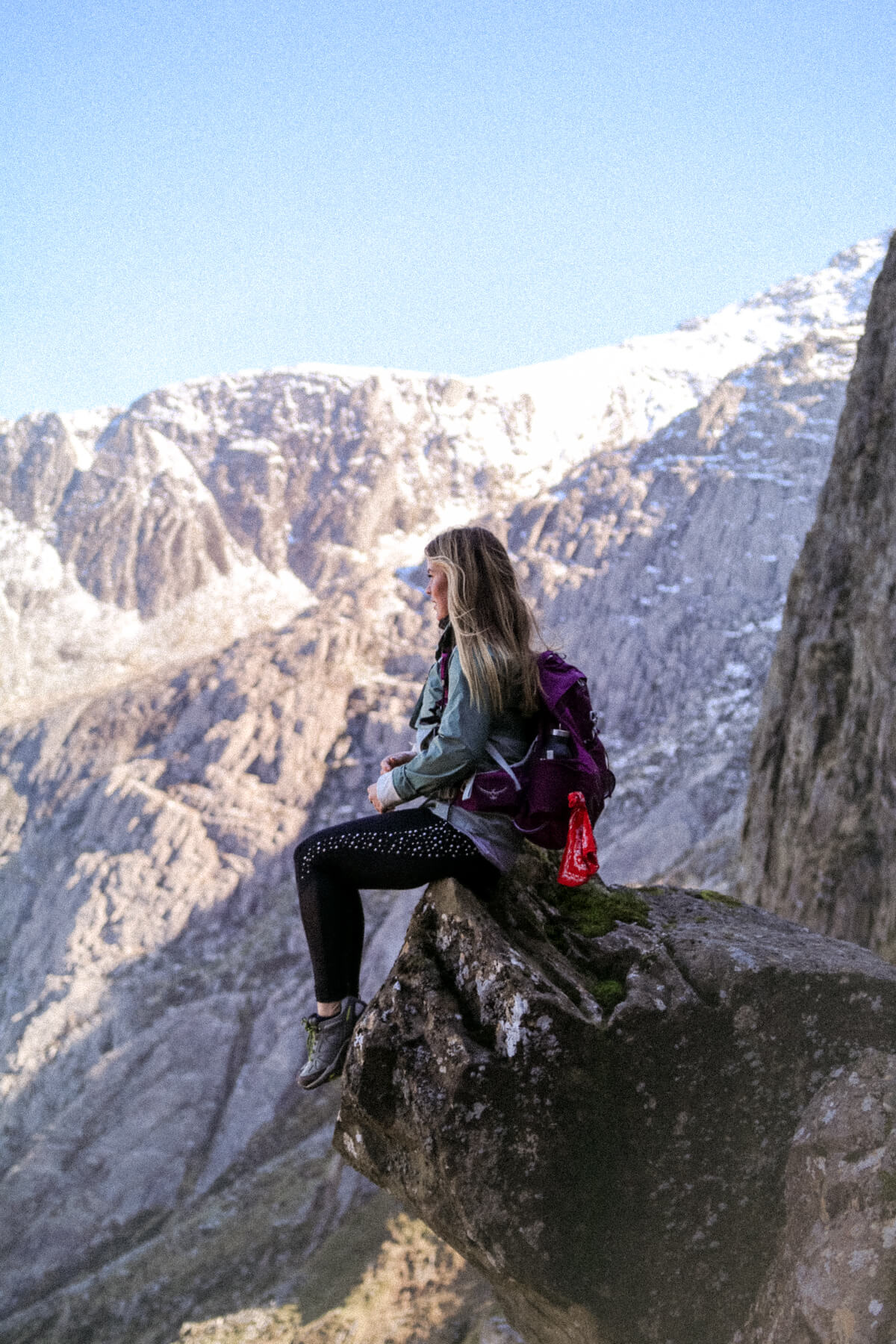 6. Explore Penrhyn Castle.
This country house was turned into a castle in the late 19th century. Marvel at the design and beauty on the inside as you take a tour around the lavish interior, and then admire the building itself from the gardens and woodland that surround the castle.
Now owned by the National Trust, it is easy to get to this castle by car, by bus (about 15 minutes) or on foot (about half an hour).
The castle is actually on the North Wales path that connects Bangor to Prestatyn! If you love hiking, you can add this castle visit to a two-day hiking adventure where you can complete the whole 60-mile path!
7. Marvel at Bangor Cathedral.
This gothic cathedral is at the heart of the city centre, and one of the best things to do in Bangor is to see it from the outside and inside. Its unique history gives you a great insight into Bangor and its past, and is known for its wonderful music recitals. Religious or not, you can't help but feel still as you enter the cathedral to admire the designs and enjoy a moment of silence.
8. Go for a morning wander on the pier.
Garth Pier is one of the longest in Wales, and the 9th longest pier in Britain! It was built by the Victorians and the Grade-II listed pier still has many of its original features. One of the best things to do in Bangor is to wander along the pier in the morning when it's quiet, grabbing a coffee from one of the cafes and enjoying the tranquility and the views across the Menai Strait. If the tide is low, you'll be able to spot some pretty cool sea birds!
9. Learn about Bangor at Storiel.
Storiel, formerly known as the Gwynedd Museum & Art Gallery, Bangor, is the county museum and gallery for Gwynedd and, as well as a permanent display of museum collections representing life in Gwynedd through the ages, has an active programme of temporary exhibitions in the museum and gallery, and special events.
10. Cross the Menai suspension bridge and spend some time in Anglesey.
The Menai Suspension Bridge, completed in 1826 and crossing the Menai Strait, was the world's first major suspension bridge. At the other end of the bridge you'll find Anglesey, the perfect place to spend a weekend if you're looking for more places to visit in Wales. Whether you want to go hiking or do watersports, admire castles or join in some local festivals, there are things to do in Anglesey for everyone to enjoy!
Watch our weekend in Bangor come to life here…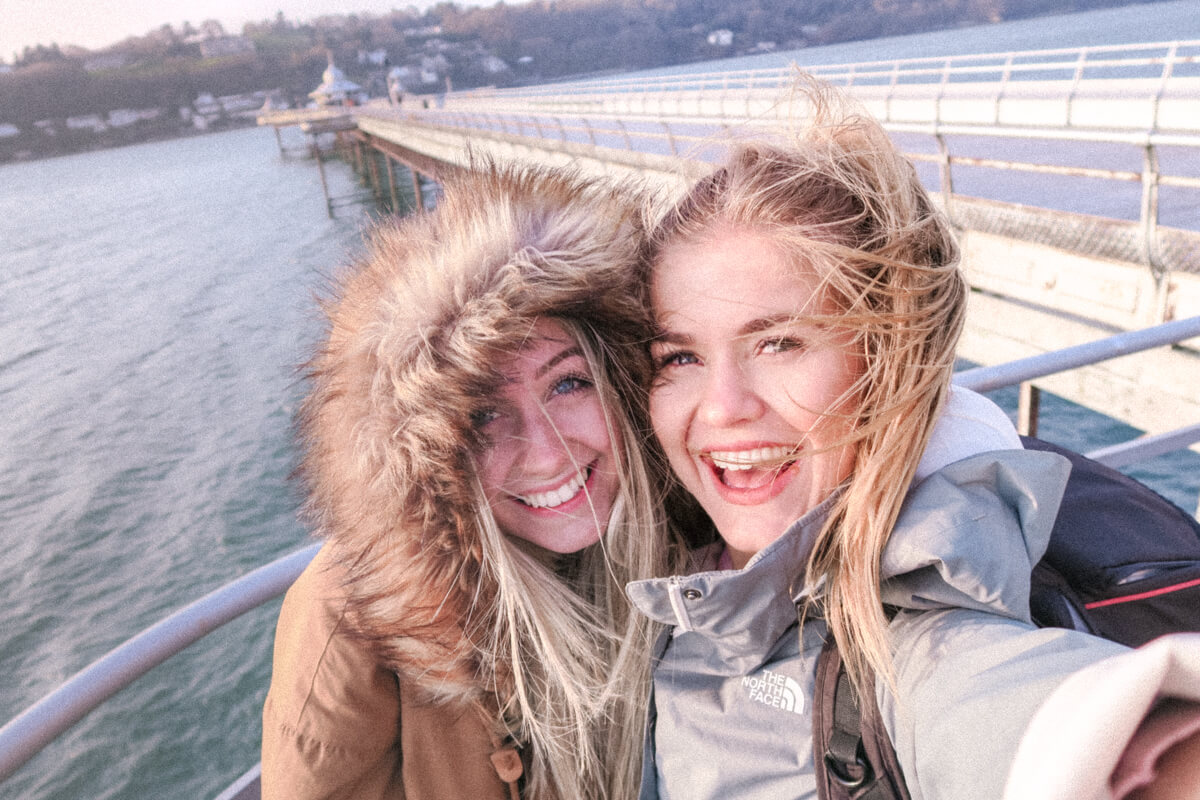 Have you been to Bangor?
What were your favourite things to do in Bangor? I'd love to know!
Love as always and happy adventuring,
Did you find this post helpful? I'd love you to share it for me.
I can't do this without you.
Pin and save this blog post for later…