The city and county of Swansea covers an area of nearly 380 kilometres in the South of Wales and is home to the likes of Swansea Bay, The Gower Peninsula, Langland Bay and the Mumbles, all full of wonderful things to do in the Swansea Bay area. Wales, in case you're reading from overseas, is a country in the southwest of Great Britain, and home to many of the best places to visit in the UK.
The Swansea area itself actually only takes up a very small percentage of Wales, around 2%, but the scenery and rugged coastline that it offers is not to be undermined. I've just got back from a 4-day adventure in Swansea Bay where I was hosted by Visit Swansea Bay and exposed to an itinerary filled with some of the best adventure and local works on offer there.
*This blog post is sponsored by Visit Swansea Bay in that, I was invited to enjoy the area and then create a blog post of my choice to honestly reflect my time spent there. All opinions and photos are honest and my own.
From the Gower Area of Outstanding Natural Beauty and the cliffs broken up by an abundance of little bays, to the Welsh cakes, the wonderful walking and hiking trails, the unique Welsh language and the fresh seafood being served up, Swansea Bay is filled to the brim with experiences to suit every type of traveller. I'm going to expose all my favourite parts and recommendations to you in this blog post so you are ready with all the best things to do in Swansea. Are you ready?
Looking for more Wales inspiration? Check out the best things to do in Wales here.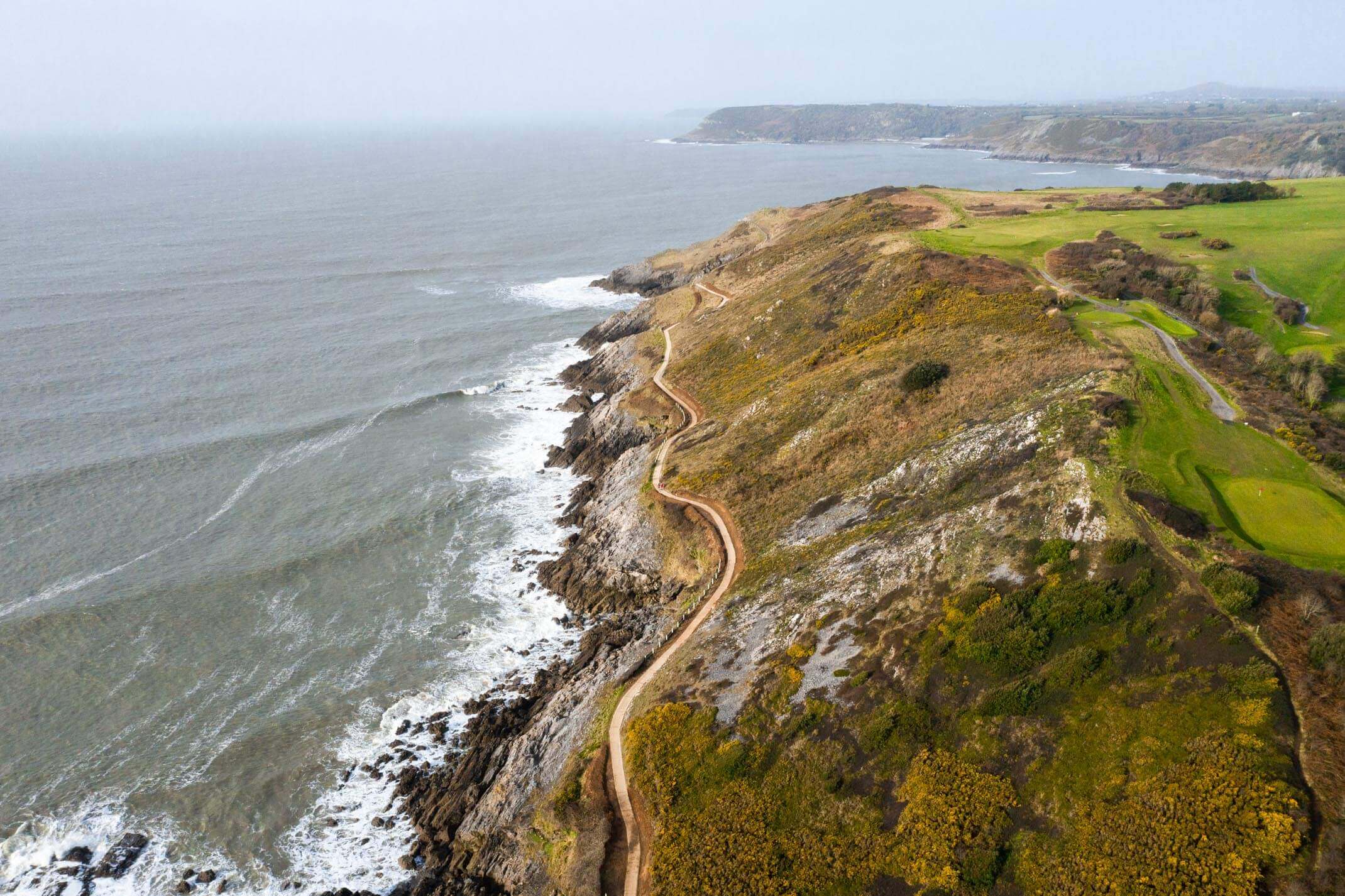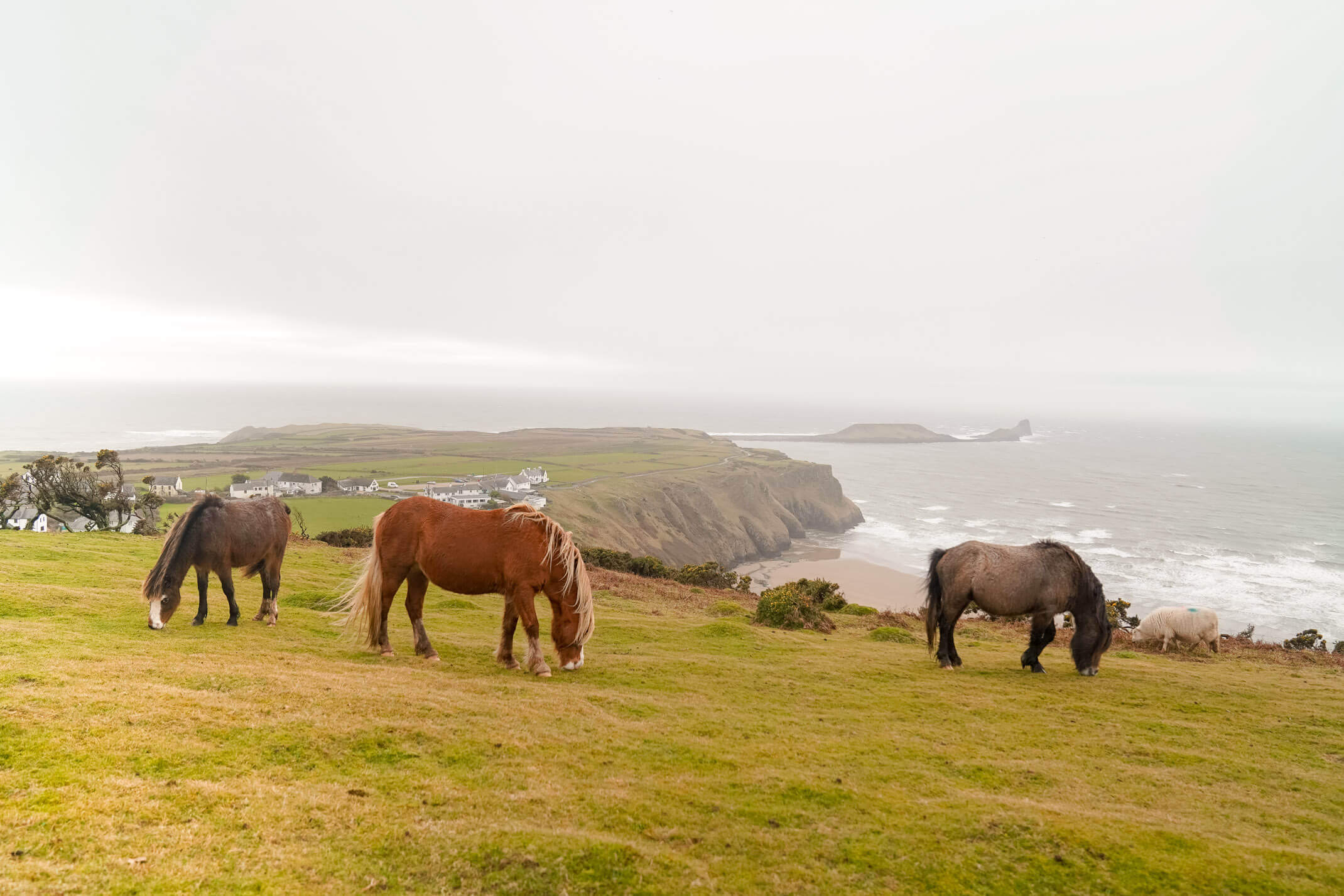 P.s. I've plotted everything that I've mentioned in this blog post, on the Google Map below for you. Click and open on your mobile to navigate between locations!
Where to stay in Swansea Bay?
The good thing about this area being so small is that it doesn't take long to drive around and to get between places. During our weekend we didn't do any journeys over 30 minutes and we explored a lot! So when choosing somewhere to stay, just choose a location you love and that suits your desires.
Are you coming in your motorhome / van / with a tent? We stayed at Pitton Cross Caravan Park (open all year round with views of the ocean!).
Do you want to stay near the beach? My favourite guesthouse is without a doubt, Langland Cove Guesthouse right on Langland Beach.
Fancy somewhere quirky / local? Take a look here for some unique stay options.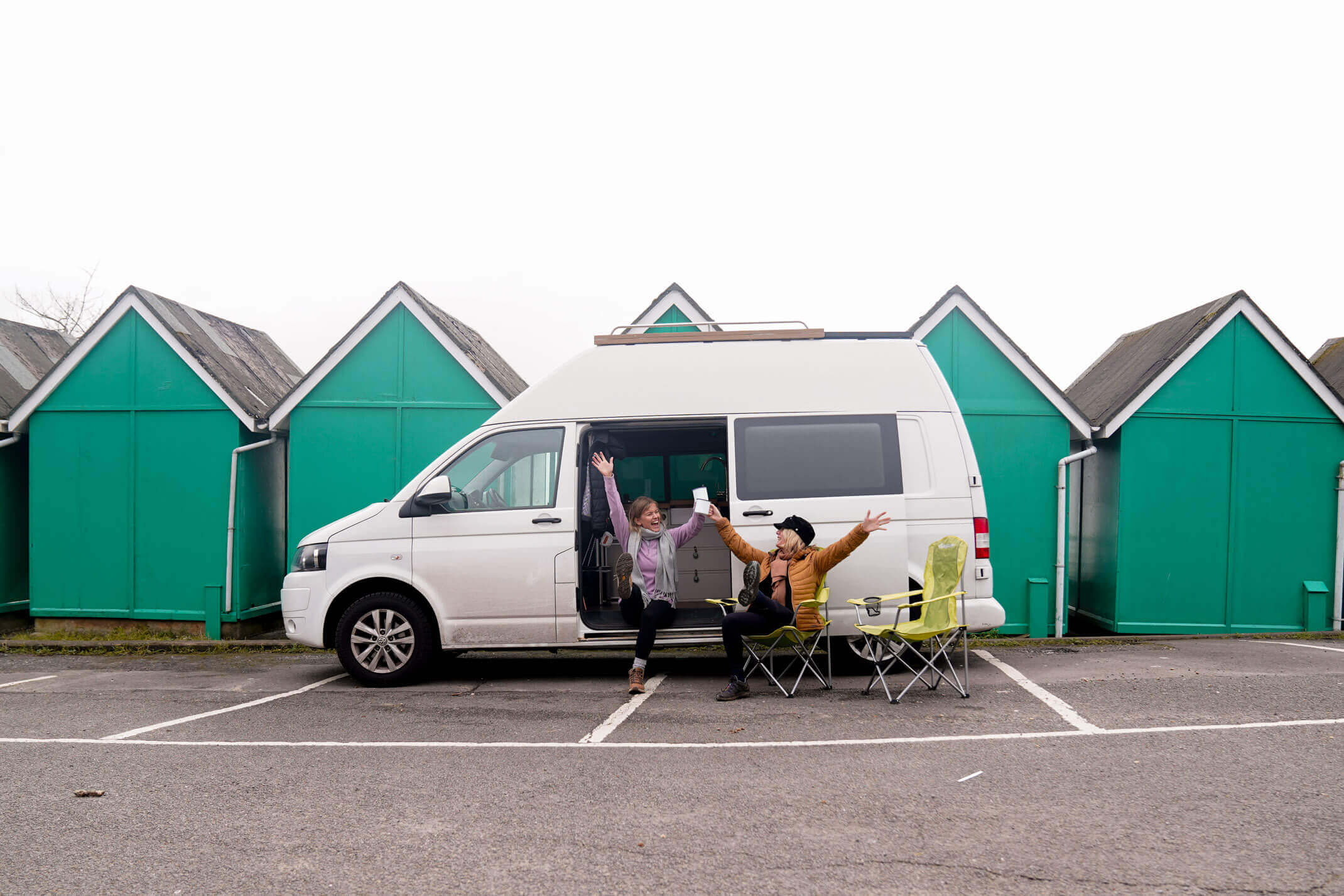 The best things to do in Swansea Bay…
1. Walk some of the 51 miles of coastal path in Swansea Bay
Get your hiking boots on and choose from the many routes that hug the coastline with views across the limestone cliffs, coves and ocean. Rain or shine, these hikes are breathtaking and the fresh air combined with the views will do wild things to you and your soul. Soul food at it's finest.
Download a map of the coastal paths here.
We did (and I can recommend):
the walk from Langland Cove around to Mumbles pier and back
the Rhossili Bay walk up on the downs past St.Marys Church which takes you over to Hillend campsite and back along the beach
Check out all the best walks and hikes in Wales in this blog post.
2. Explore and enjoy the coves and beaches in Swansea
The rugged coastline here in Swansea is interrupted so frequently and hosts cove after cove. If walking between them isn't your thing, one of the best things to do in Swansea is pull up to one of the beaches accessible by car and enjoy food overlooking the ocean be it a picnic or in one of the restaurants.
Three cliffs beach for a picnic. This beach when the tide is out is just incredible.
Rhossili Beach for lunch at The Lookout (best coffee) or a drink at The Worms Head Hotel.
Langland Beach for lunch at Langland Brasserie as you watch the surfers take to the ocean.
3. Soak up the beauty of Rhossili Bay
This is the beach everyone talks about. 3 years on from my last visit, Rhossili Bay still took my breath away. It's just such a vast landscape and standing looking out over the beach just blows my mind. Rhossili Bay has been voted in the top 4 beaches in the UK for 4 years in a row and it's not hard to see why.
Whether it's for an afternoon coffee, a walk over to Worm's Head, a long walk over the headland and back along the beach or for just a gaze and a photo – don't miss the best thing to do in Swansea!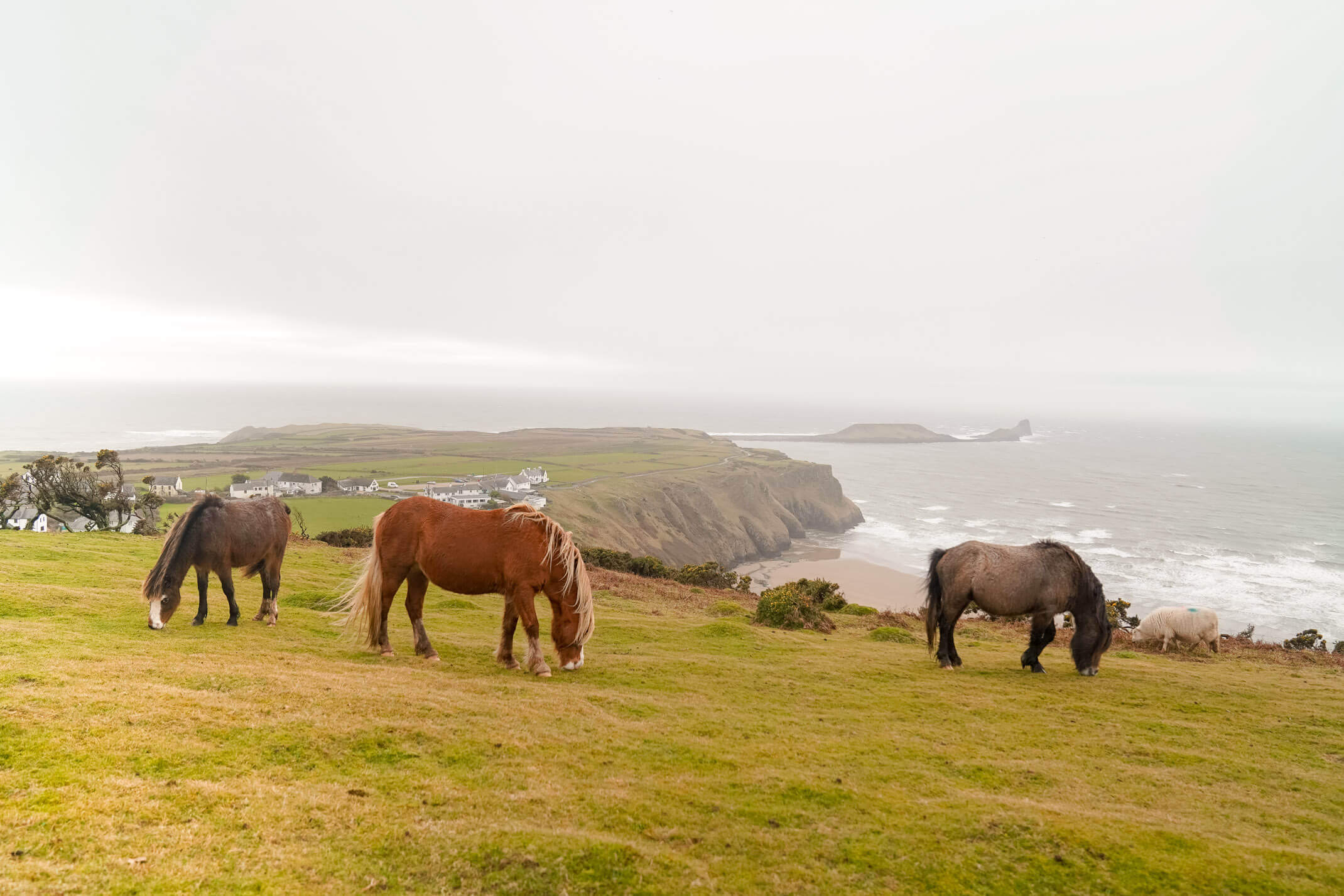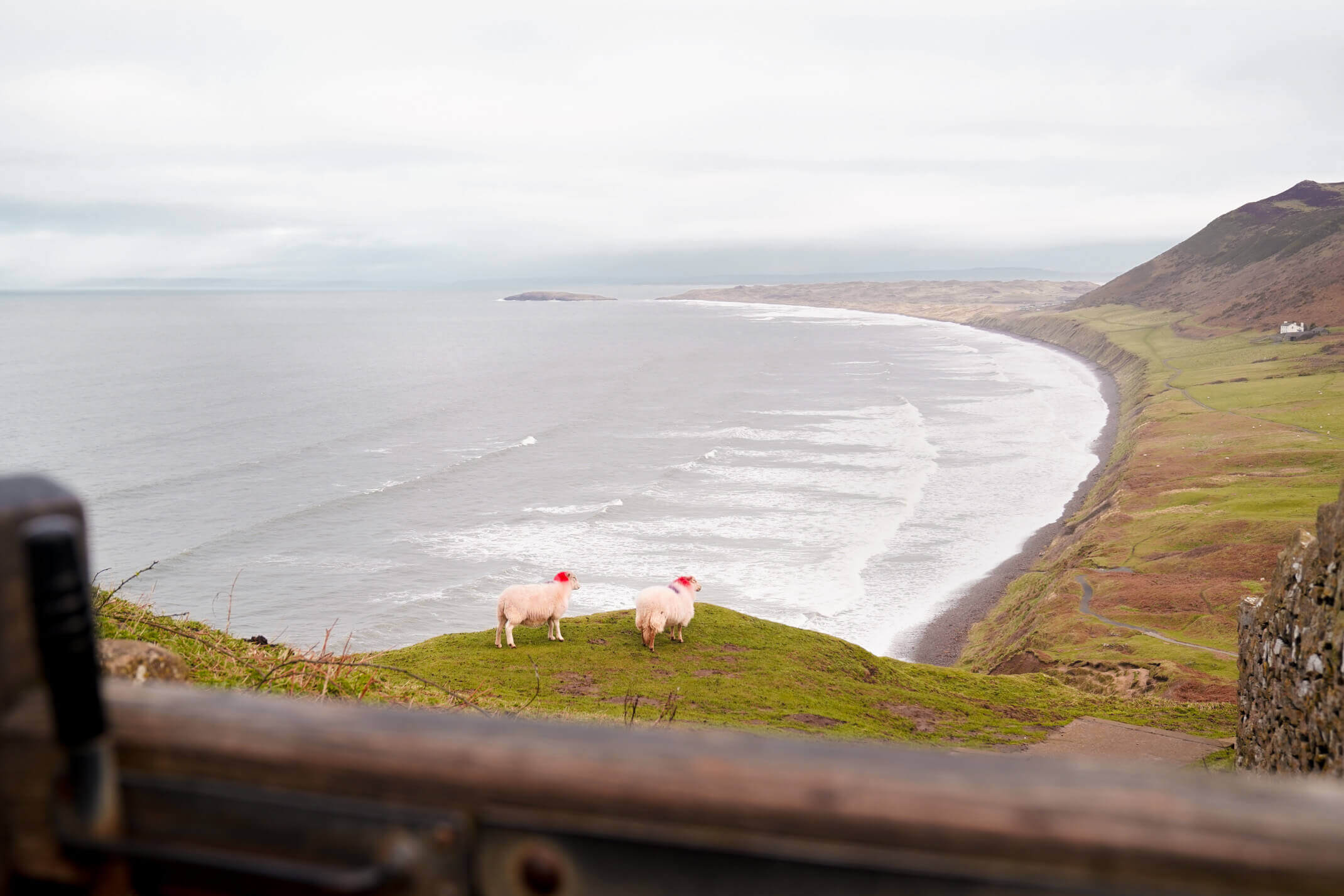 4. Engage in some outdoor adventure, try something new!
Outdoor adventure is huge over here in Swansea – Wales is just the best outdoor playground. I was surprised at how many surfers I saw in the water whilst I was over here, on Langland Beach and Caswell Beach to name just a couple of spots. We only had a few days to play with for adventure and we chose: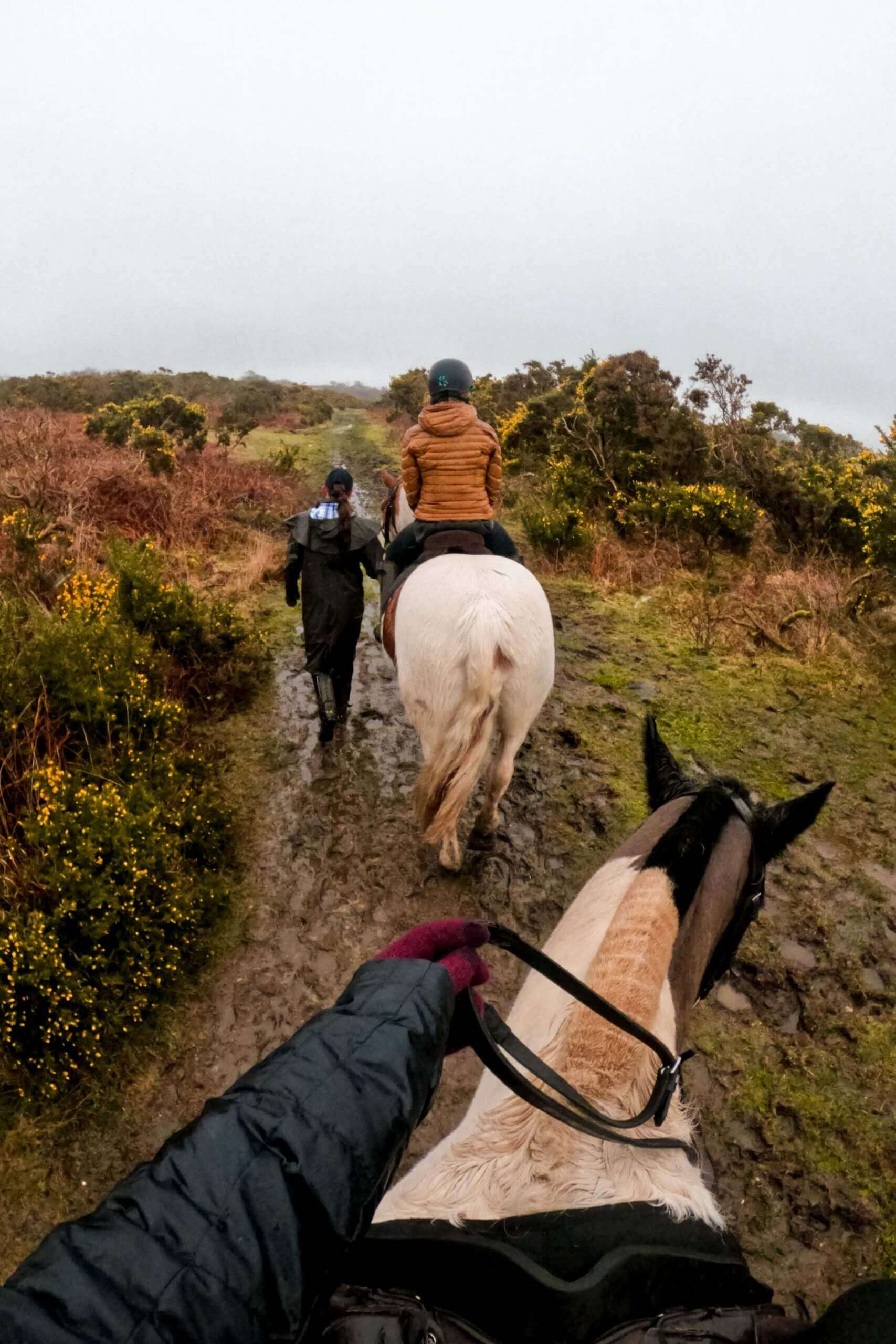 5. Visit Swansea Market
I didn't get around to it this time but rumour has it this is the best place to visit in Swansea to pick up local Welsh produce… including incredible Welsh cakes. You're welcome.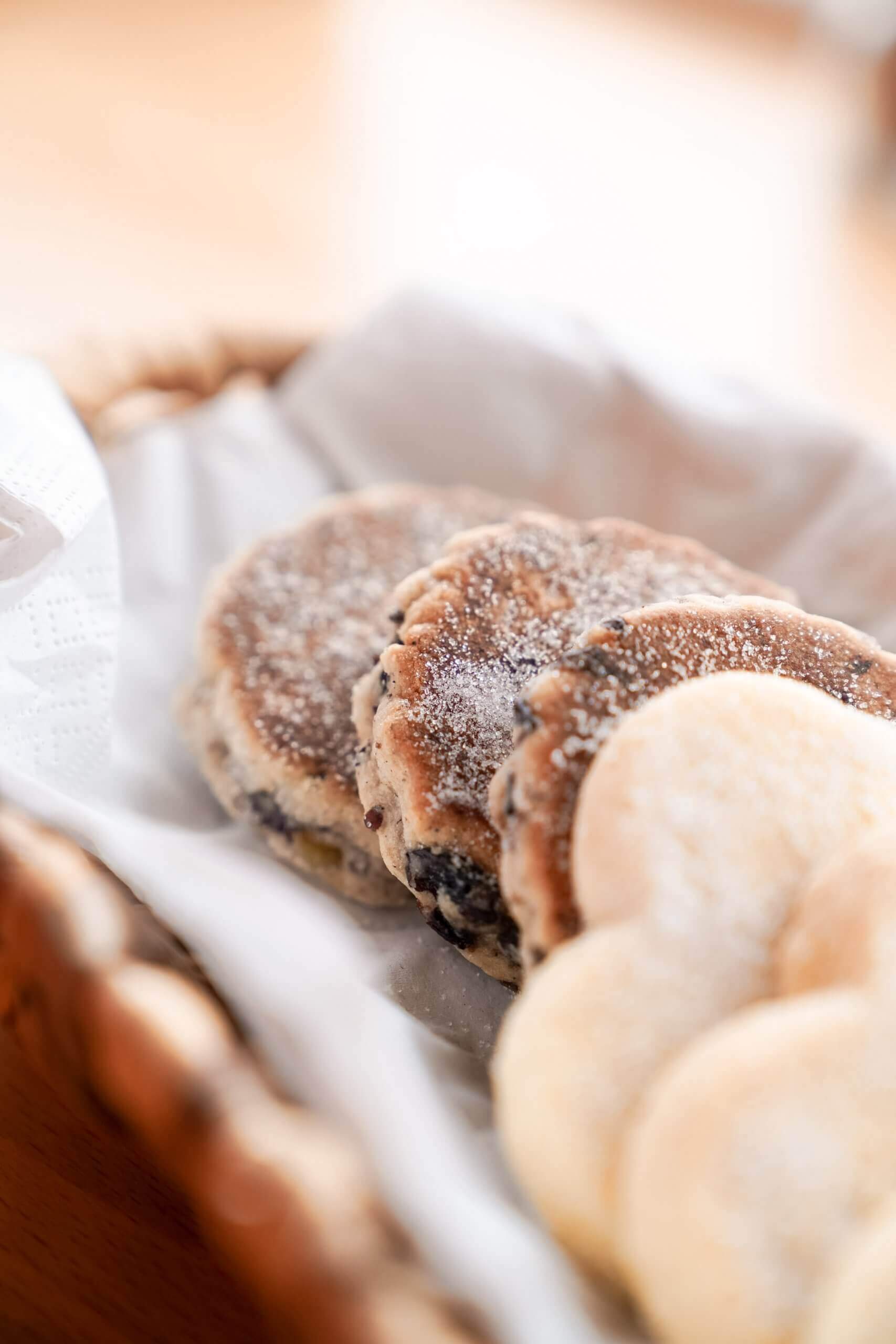 6. Tuck into some countryside grub, in a pub!
You may have heard about the rain that is no stranger in Wales? Don't let the rain warn you off coming, embrace it. Get your waterproofs on, get out in nature and then tuck up in a pub for some hot food and a drink to toast your adventure.
Whilst we were in Swansea we tucked into some great food and warm atmospheres in: King Arthur Hotel and Oxwich Bay Hotel.
I also heard Michelin star restaurant The Beach House is incredible but requires advanced bookings!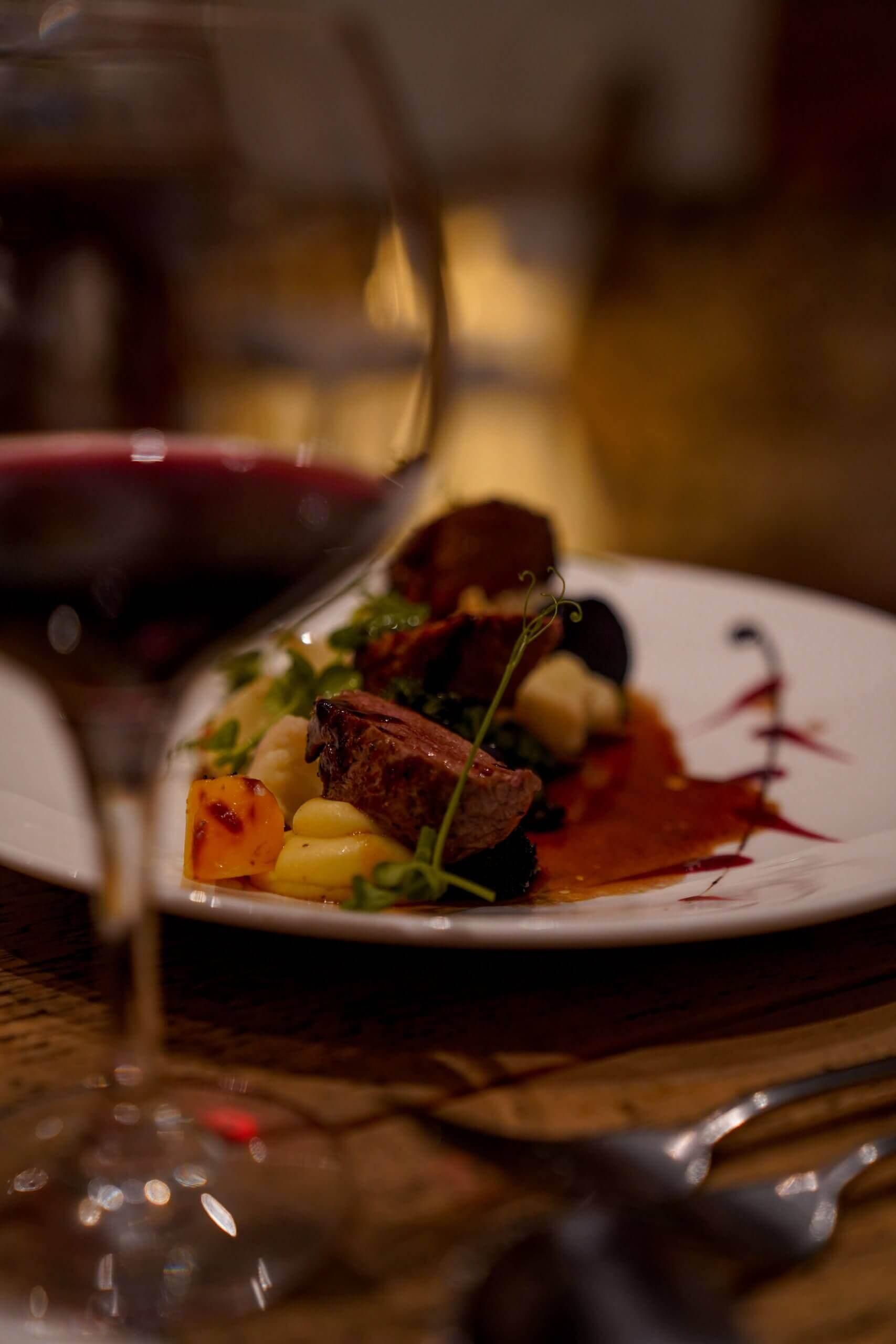 6. Wander the shops in Mumbles and have lunch
One of the best things to do in Swansea is head to the Mumbles, which has a gorgeous array of shops to spend the afternoon wandering through. Mumbles is right on the sea front at Swansea Bay so combining the two is a perfect mix. I can suggest Verdi's (Italian restaurant right on the pier), Momo's (vegan eatery) and The Secret Bar and Kitchen (right on Swansea Bay beachfront).
7. Walk over to Worm's Head
Park up in the National Trust car park, soak up the views over Rhossili Bay and then walk over towards Worms head. Time it 2.5 hours either side of low tide and you can walk over to the two islands (which are cut off at high tide).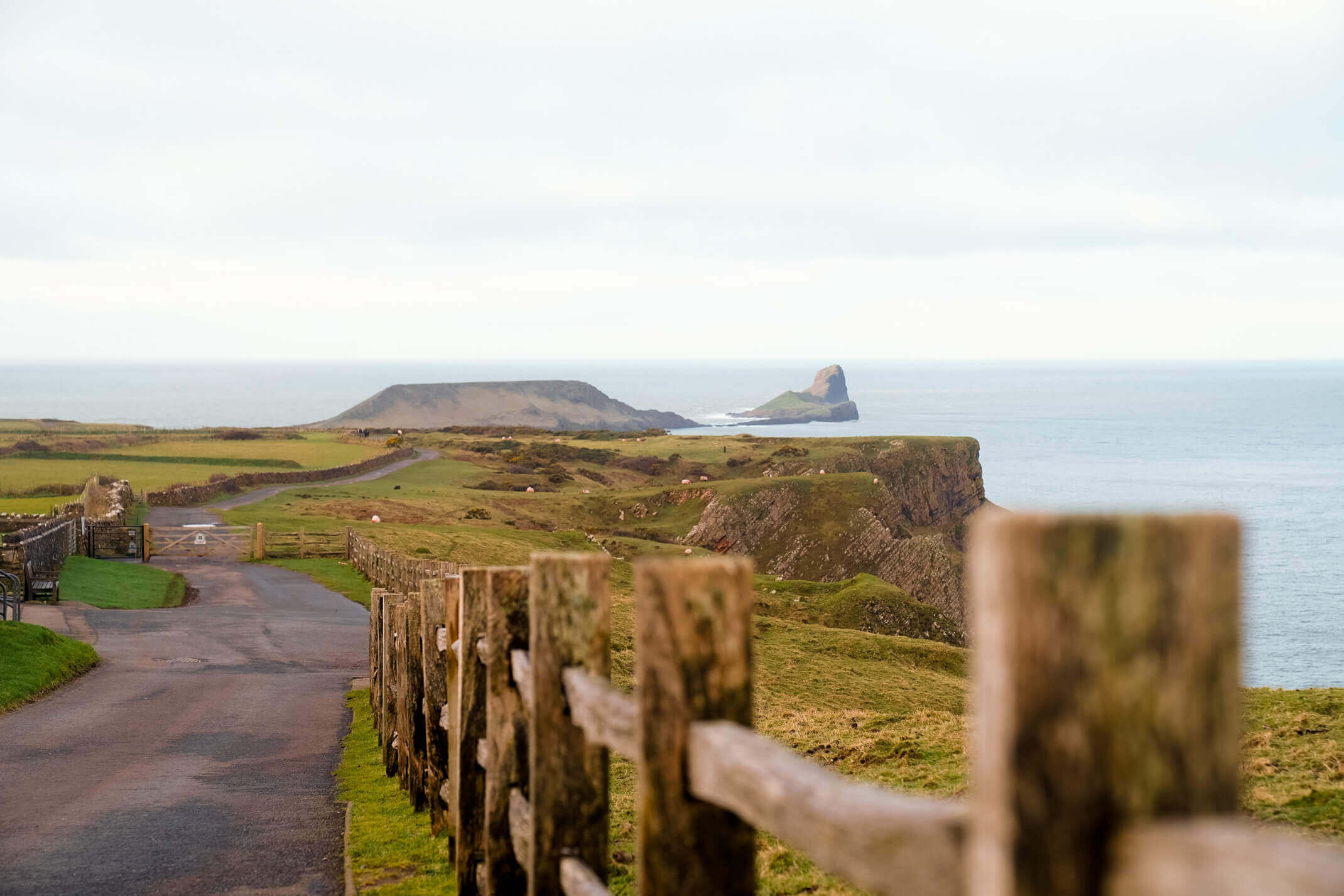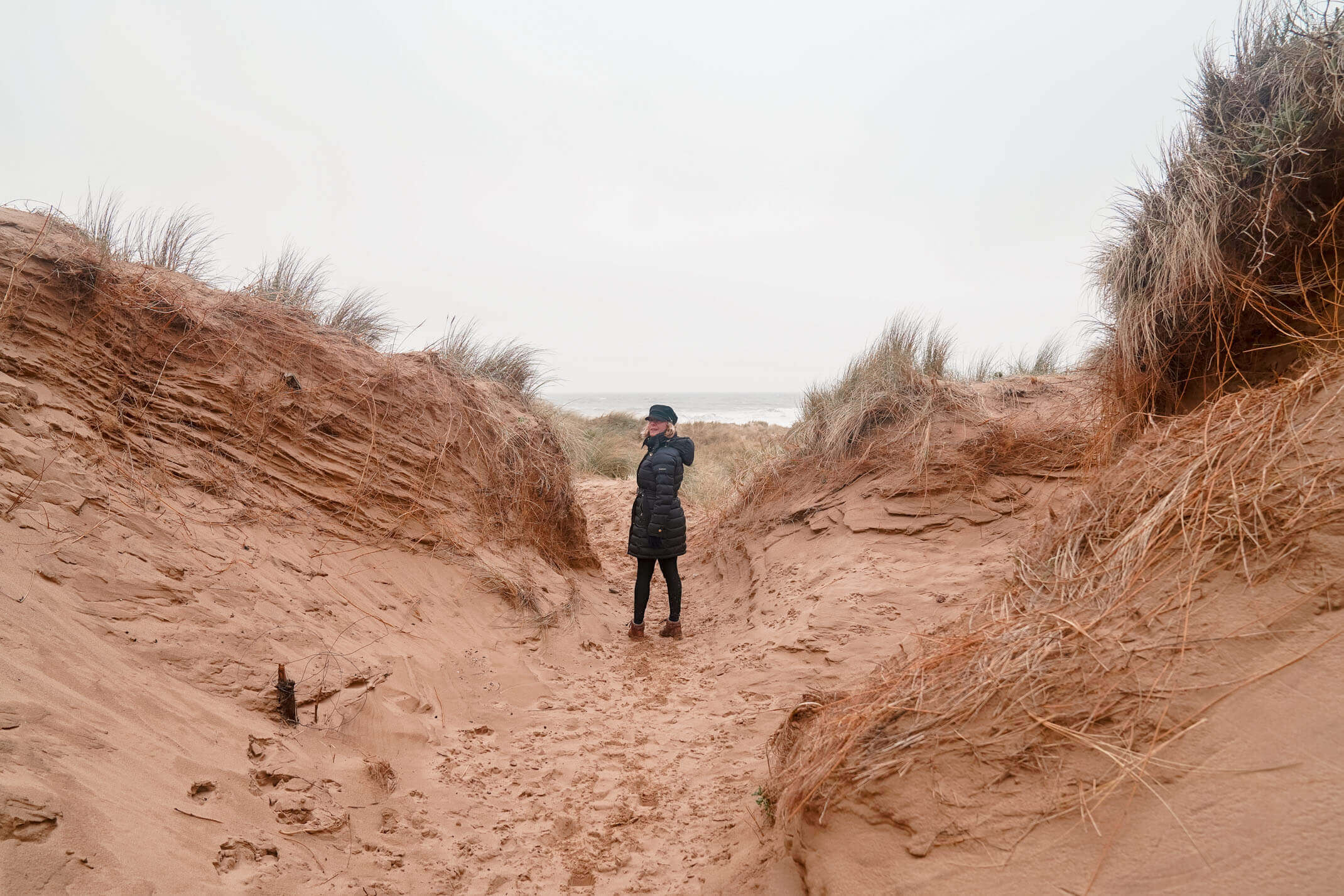 9. Open your eyes to the wildlife around you…
It's everywhere.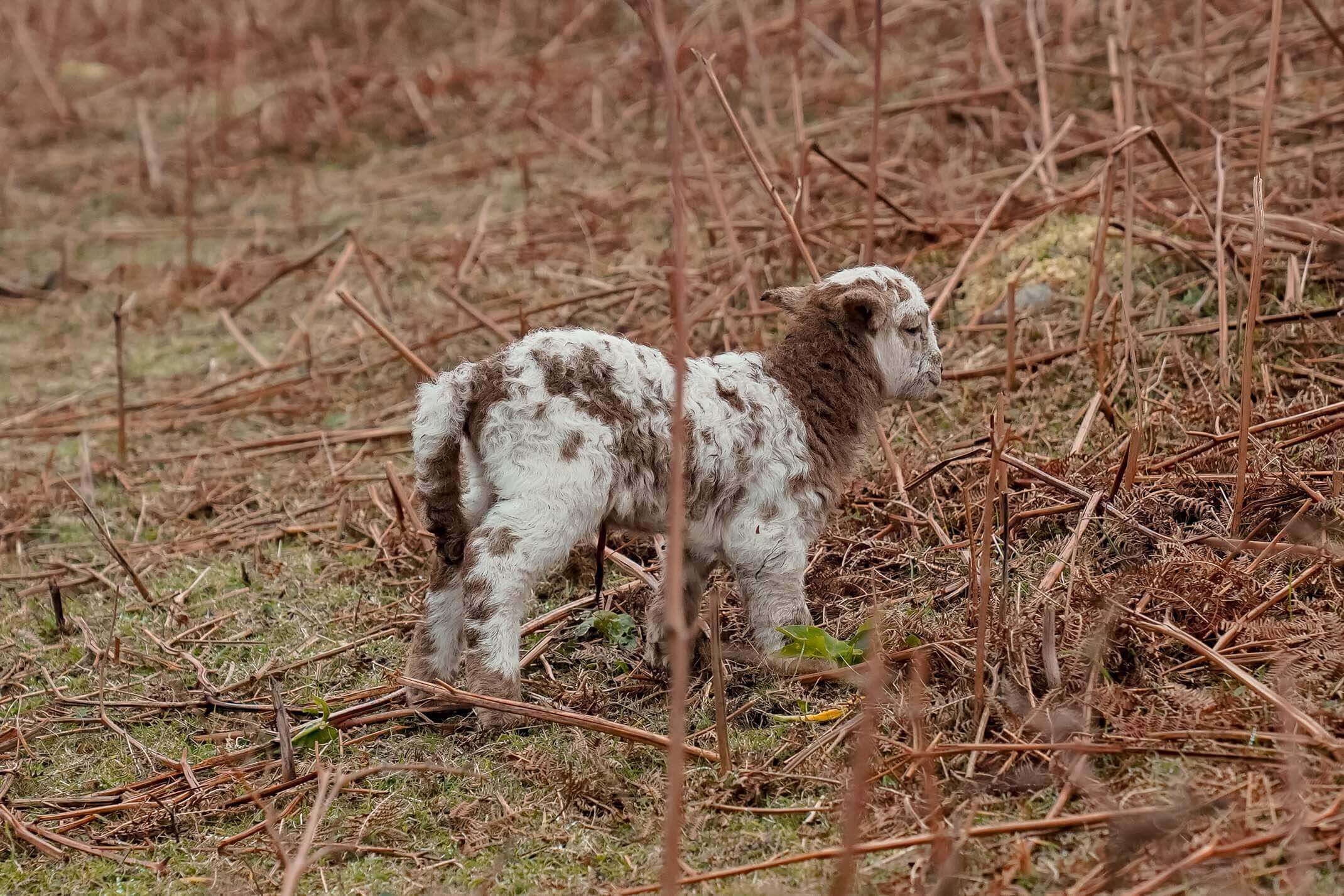 10. Grab an ice-cream, you're by the seaside after all!
We had a delicious hazelnut sundae at Verdi's on the sea front in the Victorian fishing village of Mumbles. The perfect treat after a coastal walk.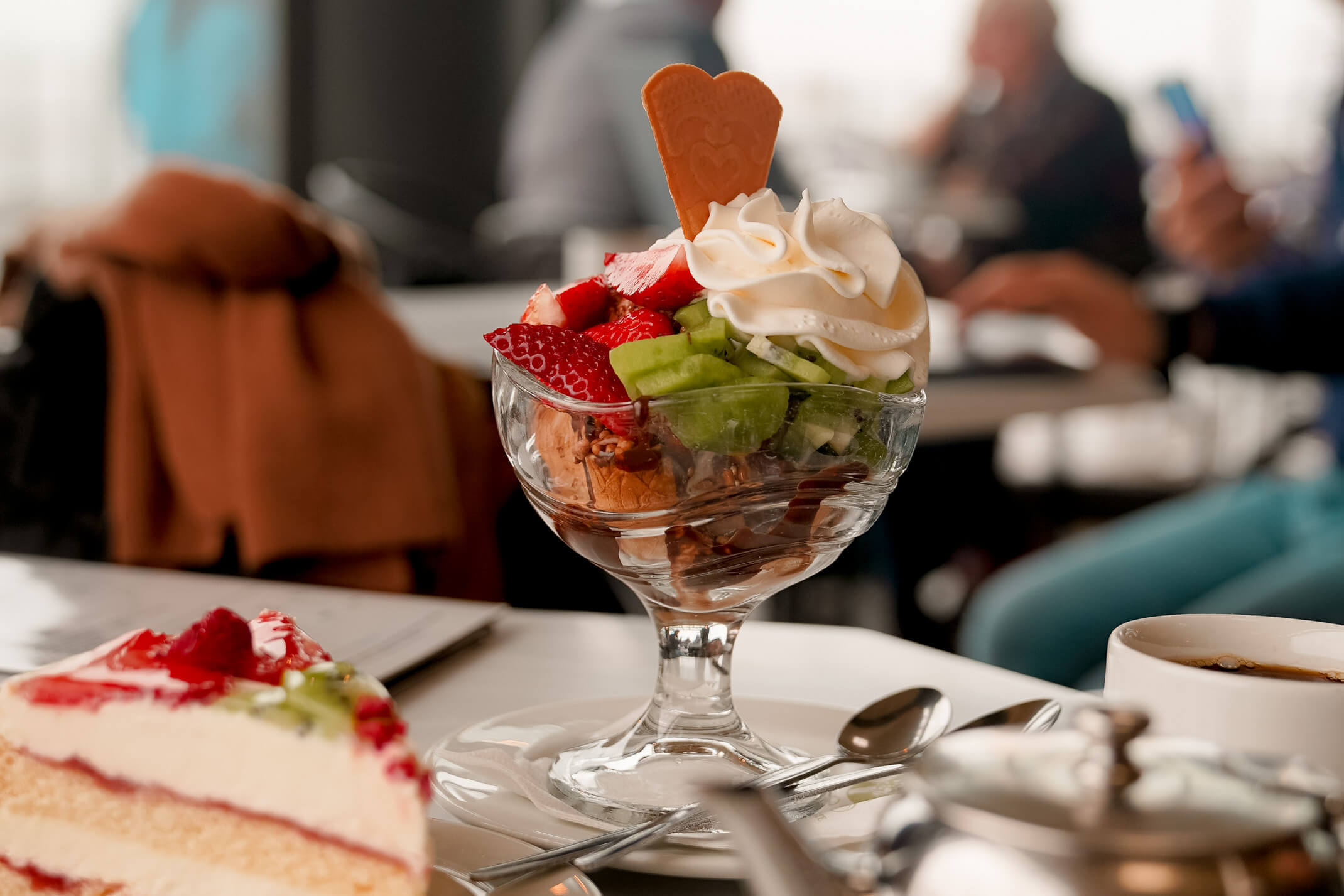 11. Go surfing!
You wouldn't think this was one of the best things to do in Swansea, but it sure is popular! I visited in March 2020 and yes, at the beginning of Spring, there were still many many surfers heading into the ocean. Just make sure you have a wetsuit.
Hire a board and head to one of the Surf Schools in Swansea Bay for a lesson. If you're already a seasoned surfer – what are you waiting for?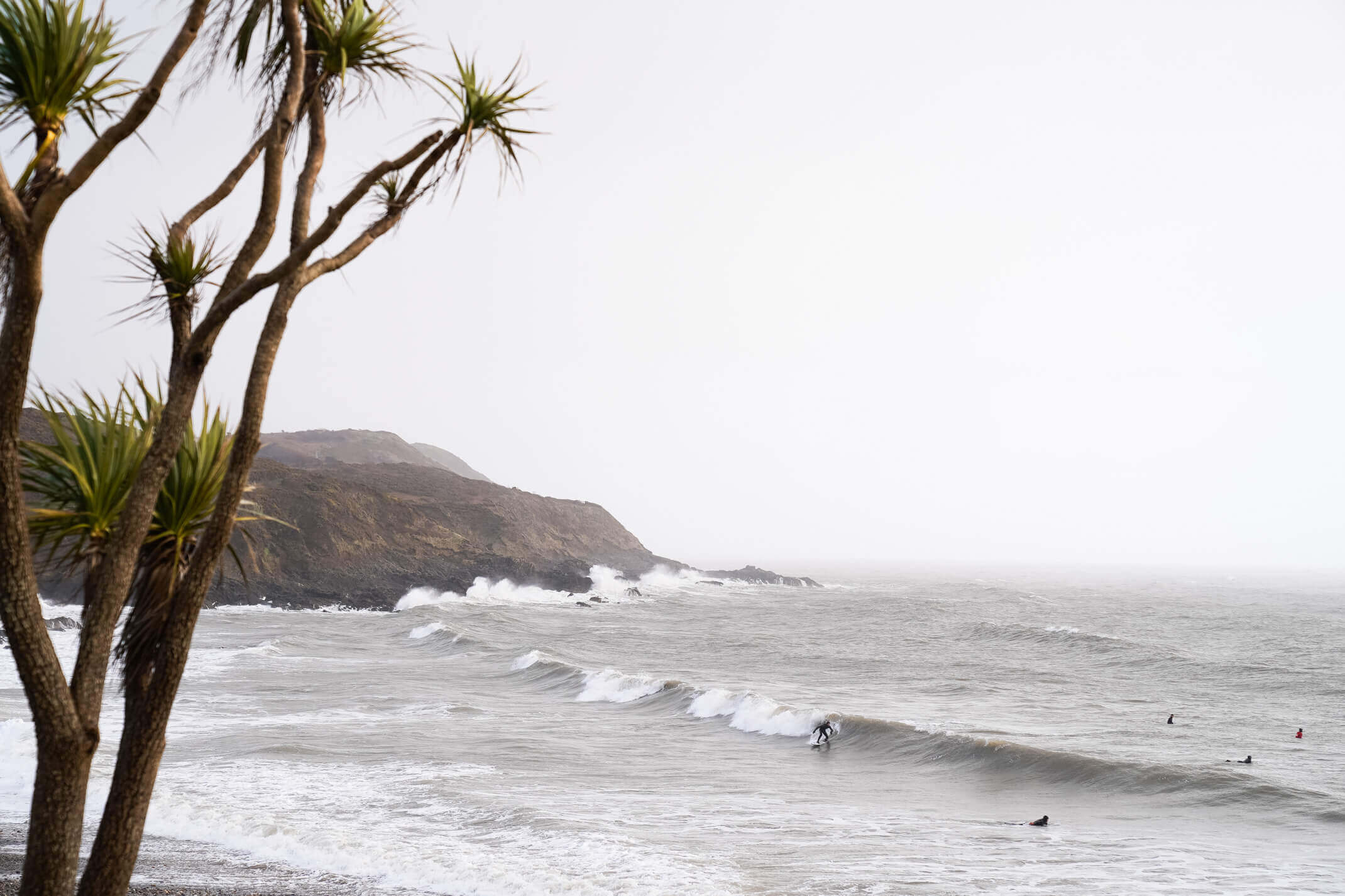 12. Three Cliffs Bay Coffee Shop and the beach!
Three Cliffs Bay Coffee shop is a beautiful little nook to hang out in for a cup of coffee, a bowl of homemade soup or lunch and a glass of wine with a loved one.
Mum and I came here for a bowl of the homemade soup after rock climbing down on Three Cliffs Bay beach, the perfect soul food after a morning in the outdoors.
If you're looking for more tips and inspiration, the Visit Swansea Bay website is filled with information and adventure options!
Happy planning!
Have you been to Swansea?
What were your favourite spots? I'd love to know!?
Love as always and happy adventuring,
Did you find this post helpful? I'd love you to share it for me.
I can't do this without you.
Pin and save this blog post for later…