Pembrokeshire Coast National Park is without a doubt one of the best places to visit in Wales, that is, if you love the outdoors. There are so many places to visit in Pembrokeshire that every outdoors lover, adrenaline junkie, avid swimmer and hiking enthusiast will feel right at home here.
Located in South Wales and within relatively close reach of the thriving cities of Swansea and Cardiff in Wales, and Bristol in England, Pembrokeshire is even a strong contender for the best places to visit in the UK. The Pembrokeshire Coast is one of the UK's 15 National Parks and is an area with natural beauty and landscapes in abundance. There are so many fun things to do in Pembrokeshire; you absolutely have to put it on your Wales bucket list.
If you are a lover of adventure, hiking, stunning landscapes and rich greenery then the chances are you will fall head over heels for the beautiful county of Pembrokeshire in South Wales. Pembrokeshire is home to one of the most wonderful coastlines in Britain, if not the world. And you don't just have to take my word for it. The Pembrokeshire Coast was once voted one of the top two coastal destinations in the world by National Geographic Traveller magazine.
So what can you expect from this charming destination? Think rugged cliffs, hidden coves, blue-flag beaches, a wealth of wildlife plus so much more. And, if you are a thrill-seeker you're in luck! Pembrokeshire offers a whole host of adrenaline sports like surfing, off-roading and even coasteering. Whatever the weather, nothing takes away from the beauty and fun I've had in this UK National Park… You might just need to have a raincoat in your backpack and at the ready.
With almost 300KM of the Pembrokeshire Coast to explore, you might be at a loss of where to begin, but I'm here to help! I've narrowed down some of my favourite places to visit in Pembrokeshire that you MUST visit if you head to this beautiful part of Britain. In this Pembrokeshire Coast National Park travel guide I am going to share with you where to stay in Pembrokeshire, what to do in Pembrokeshire, the best beaches on the Pembrokeshire Coast and my favourite adventures so far. From swimming at some of the most beautiful beaches in the UK to enjoying many of the walking trails, my time in Pembrokeshire National Park has been nothing short of adventurous!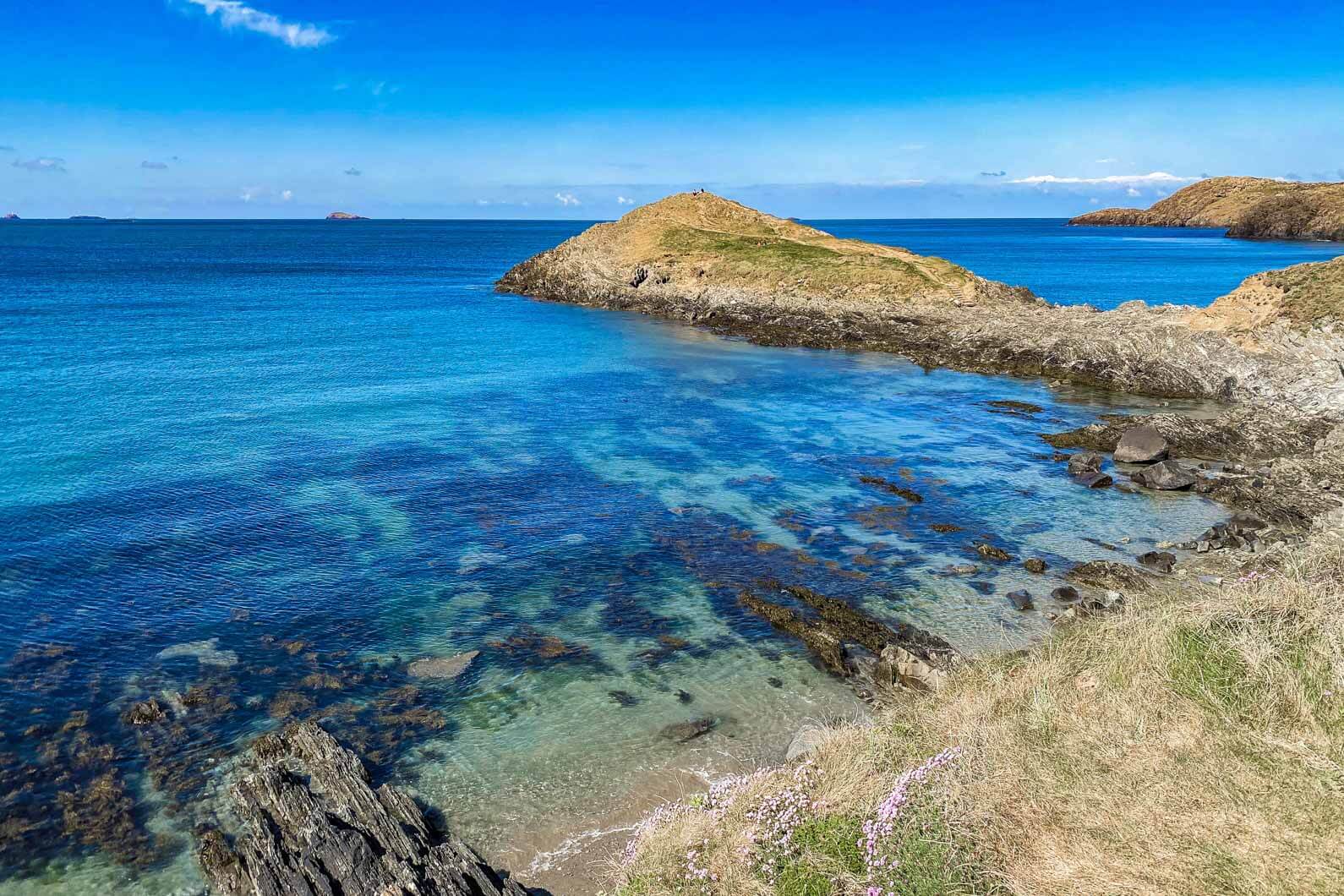 Pembrokeshire Coast National Park:
A complete travel guide
Where is Pembrokshire Coast National Park located?
If you came here wondering 'where is Pembrokeshire Coast National Park located', 'where is Pembrokeshire, Wales', or looking for a map of Pembrokeshire Coast National Park you're in the right place. Pembrokeshire National Park is located in South Wales and it one of three National Parks in Wales.
To drive to Pembrokeshire from within Wales, it's just over an hour from Swansea and just under 2 hours from Cardiff. If you're driving to Pembrokeshire from England, it's about 2.5 hours from Bristol, 4.5 hours from Manchester, 5 hours from Leeds and about 4-5 hours from London and the South East. If you're using a Sat Nav, pop in the postcode of your accommodation or a car park near a walking trail in Pembrokeshire.
Pembrokeshire is a particularly rural part of the country. The easiest and most efficient way to get here is by car. This is not only for convenience but also to find those glorious hidden gems along the Pembrokeshire Coast.
If you do not have a car of your own, another option would be to catch the train into Swansea and hire a car for your trip. From Swansea, the drive into Pembrokeshire is a little over an hour. Book your train tickets online on thetrainline.com.
Alternatively, if driving is not an option then you can find out all about the best bus routes in Pembrokeshire here.
Where to stay in Pembrokeshire:
Where to stay in Pembrokeshire really depends on what type of accommodation you're looking for, and where you want to be based. Once you've got your list of the best things to do in the Pembrokeshire Coast National Park during your time here, plot them on a map and see where the most convenient base location will be. There are also lots of options for accommodation in Pembrokeshire, from camping to glamping, cottages to hotels and more.
There are many wonderful locations along the Pembrokeshire Coast where you can stay, so you will not be short of choice. Here are some of the best places to stay in Pembrokeshire that make great bases for your trip:
Tenby/ Saundersfoot
St David's
Milford Haven
Solva
Fishguard
How to find accommodation in Pembrokeshire:
Apartments and cottages in Pembrokeshire:
Check Airbnb for apartments, rooms and cottages in Pembrokeshire. Check out the best Airbnb stays in the UK here.
Apartments, hostels and hotels in Pembrokeshire:
Check out booking.com to find lots of hotels in and near Pembrokeshire.
If you want to stay in a hostel in Pembrokeshire Coast National Park, YHA have several dotted along the coastline. This is the the perfect option for budget accommodation with close access to places to visit in Pembrokeshire. Book your YHA stay here.
Camping in Pembrokeshire:
There are also lots of campsites in Pembrokeshire, as well as the fact that if you have permission from the landowner, you can try wild camping in Pembrokeshire. There are also options for glamping in Pembrokeshire, if that's what you prefer.
Weather in Pembrokeshire…
As in many parts of the UK, Pembrokeshire weather can be unpredictable. The warmest months are June, July and August, when temperatures average at 17-20°C. However winter in Pembrokeshire is fairly mild at 8-10°C, so pack a coat and don't let the chill put you off!
Budgeting for Pembrokeshire…
Main Meal – £8-15
Beer/Wine/Cocktail – £3-9
Surf Lesson – £40
Boat Trip – £18-£40
Camping – £12-£50 per night
Hostel Room (YHA) – £39-£55
Private Accommodation – £45 – £180 per night
Places to eat and drink in Pembrokeshire…
D.Fecci & Sons, Tenby – A great place to grab fish and chips (and some of the nicest fish and chips i have ever eaten).
35 Main Street, Solva – Come here to try a delicious crab sandwich made from locally sourced produce.
Runwayskiln, Marloe Sands – A cute cafe located close to the beach with lots of veggie and vegan options.
Harbwr, Saundersfoot – A Gastro pub-style bar and kitchen with lovely views of Saundersfoot Harbour.
The Bishops, St David's – Scrumptious pub grub and one of the top-rated eateries in the area.
Top tip: Carry change
My top tip for travelling around Pembrokeshire is to carry some change on you. Many of the car parks along the coast have no option to pay by card. You'll find that some do have the option to pay by phone, however there are times when you will experience little reception,which can be problematic. Carrying a little spare change in your pocket can help to avoid any parking nightmares! Oh, and it can help to avoid toilet nightmares too! Some of the public toilets in the area will charge you 40p for the pleasure so you definitely don't want to get caught short.


The best places to visit in Pembrokeshire Coast National Park, Wales:
Tenby is one of the most famous places to visit in Pembrokeshire, if not one of the most famous places to visit in Wales. It's best known for its delightful multi-coloured buildings that line the harbour.
There are plenty of beaches to visit and things to do Tenby and I would highly recommend all the of the below:
Visit Tenby harbour
Visit Castle Beach and South Beach
Get the boat to Caldey Island
Walk the Pembrokeshire Coast path to Saundersfoot and Monkstone
I was first made aware of this incredible lagoon a few years ago when I saw it in a TV advert. Ever since then, it had been on my Wales bucket list and I can safely tell you it did not disappoint! It's certainly one of the most unique places to visit in Pembrokeshire.
Abereiddy was once a former slate quarry up until 1910, before being abandoned and then flooded. The lagoon is now a hot spot for water sports such as diving, coasteering and kayaking, which are some of the best things to do on the Pembrokeshire Coast.
Next to the lagoon, you will find Abereiddy Beach which is a great spot for surfing, although it's best to avoid surfing here during the summer as the waves are mostly flat.
Abereiddy is also a great starting point for some hikes along the Pembrokeshire Coast Path. One popular route you can take is along the coast to the town of Porthgain.
Whitesands Bay is a stunning blue flag beach located in the St David's area of the Pembrokeshire Coast National Park. I was lucky enough to come here on a sunny day which meant I got to see the colour of the water in its full glory. Honestly, the water was so blue and sparkly, it felt like I was looking out at a beach in the Mediterranean. It's definitely one of the best beaches on the Pembrokeshire Coast!
Again, there are plenty of hiking routes from and through here! One of the best ones being the St David's Head and Whitesands Bay circular route.
Top tip: Parking here is £4 and cash only. If you want to grab a free parking spot there is a lay by a few hundred meters from the beach entrance. If you have passed the house with the colourfully decorated trees then you've gone too far!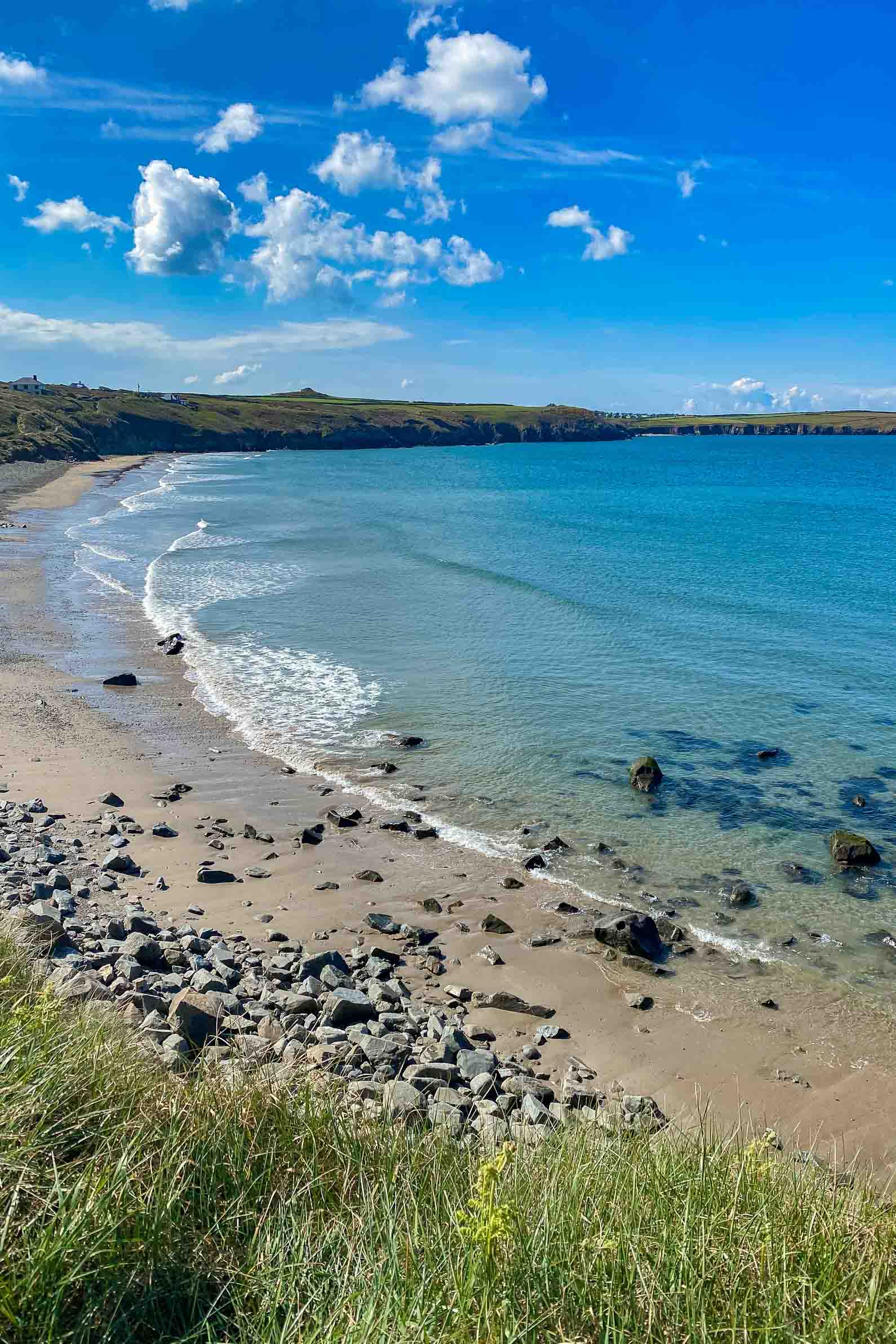 Church Doors Cove is one of the most impressive places to visit on the Pembrokeshire Coast. It is a rocky cove with towering cliffs where a giant "church door" has been formed in the rocks by the force of the sea.
If you are feeling adventurous then make sure to check out the hidden beach of Shrinkle Haven, directly next to Church Doors Cove. There is no dedicated path to Shrinkle Haven Beach so you can only access it via an opening in the rocks on the right-hand side of Church Doors Cove, or by walking around the limestone ridge. Be sure to check the tide times before embarking on this adventure as it's only doable at low tide.
Or, if you're like me, and don't quite fancy the challenge then you can still get some pretty wonderful views of this spot from the cliff-top above, close to the car park.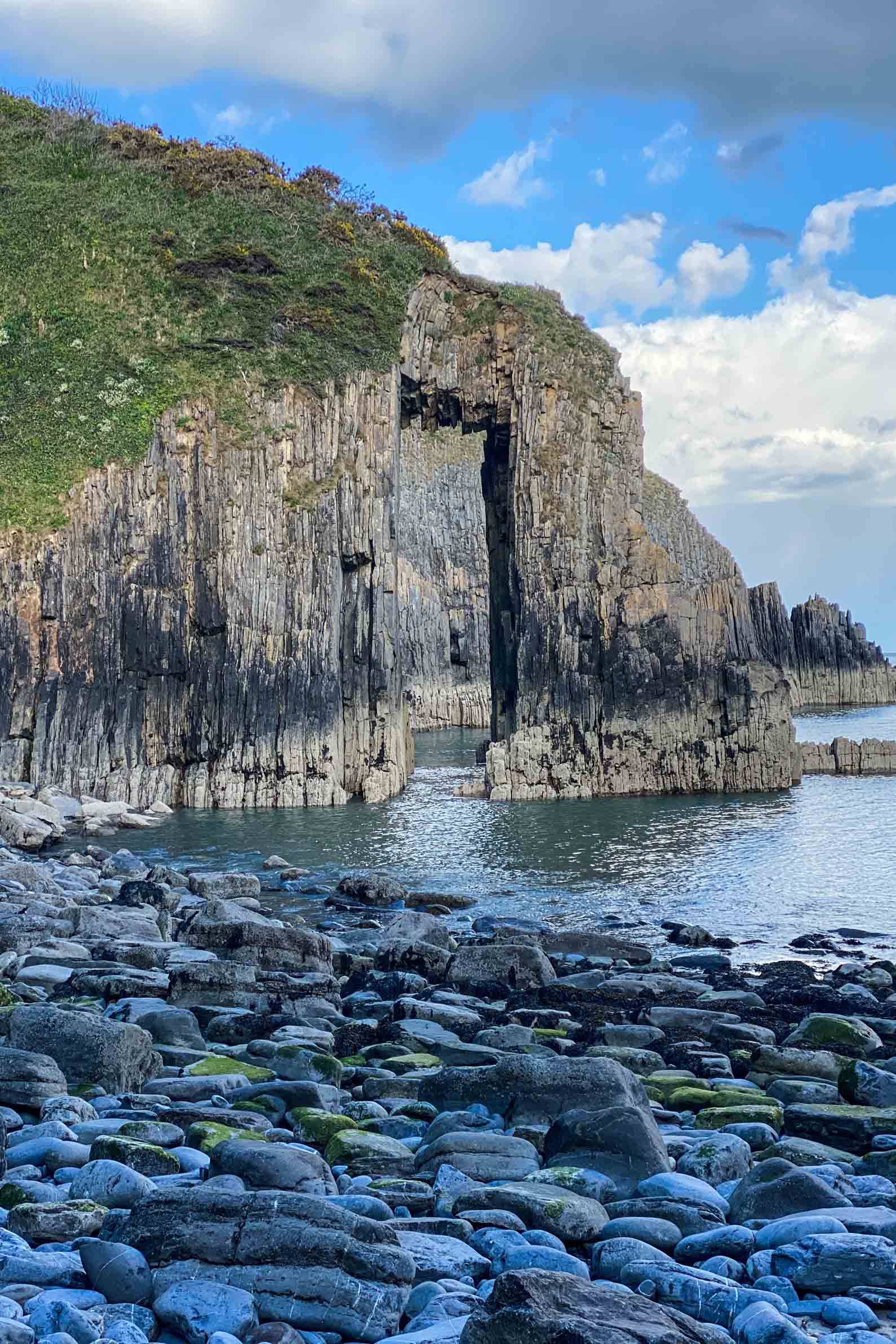 The gorgeous Solva is yet another one of Pembrokeshire's picturesque harbour towns and one of the best places to visit in Wales. Solva is quite famous for its crab, so if you're headed here then trying some is a must. I stopped at 35 Main Street and grabbed a scrumptious crab sandwich, which did not disappoint.
Also, if you want to see some epic panoramic views of Solva harbour and village whilst you're here, then make sure to hike the Gribin coastal walk.
One of the best things to do in Pembrokeshire Coast National Park is to try your hand at surfing down at Newgale Beach. Newgale is a large open beach, with bright blue waters that stretch on for almost two miles which make it the perfect place to try your hand at a bit of surfing. In fact, it's one of the best beaches in Pembrokeshire for surfing, especially if you're a beginner. Surf lessons start at £40.
If getting wet isn't your thing then you can either have a gentle stroll along the beach or walk the coast path on the clifftop to get some spectacular panoramic views of this bay.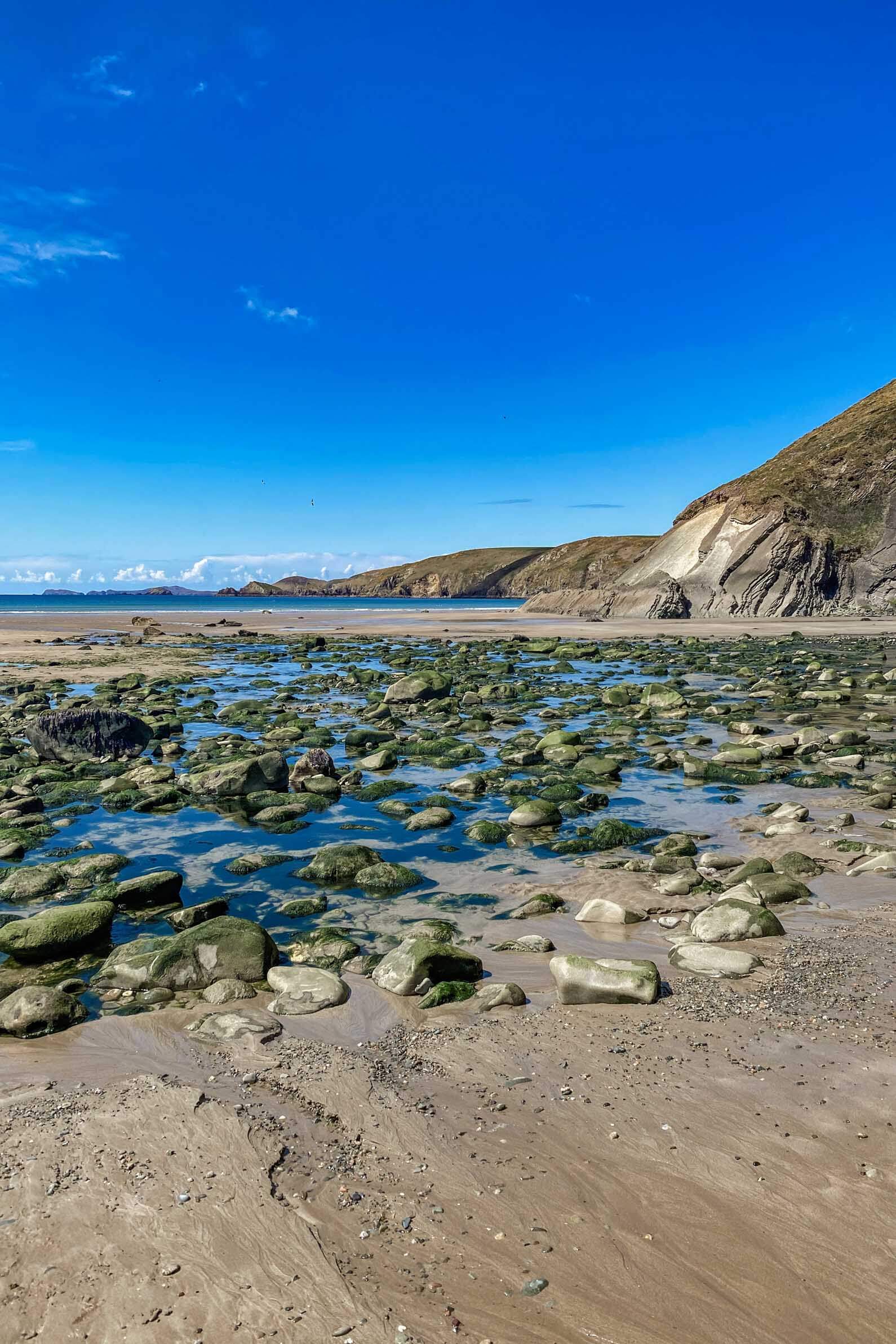 Want to visit one of the top-rated beaches in the world? Well, you can do that right here on the Pembrokeshire Coast at Barafundle Bay. Come here to admire the golden stretch of sand and glittering emerald and blue waters, and of course go for a swim.
There is a short hike from the car park to the beach, where you will have to pass through a small bit of farmland. This farmland is home to a herd of cows, which is just something to be mindful of when you are en route.
There are also no facilities at the beach so you can either pack a picnic or grab some food at the village pub next to the car park.
Wildlife lovers, this one's for you! Skomer Island is one of the best places to visit on the Pembrokeshire Coast (and all of Wales) to see Puffin colonies. Not only can you see Puffins, but you can see Razorbills, Guillemots and even Seals too.
You can book tickets to the island here. You'll get the choice of a boat trip around the island, or visiting the island itself. I would definitely recommend visiting the island itself as you'll get much closer to the wildlife, which is one of the best things to do in Pembrokeshire Coast National Park!
I know, I'm recommending yet another beach, but this is a guide to the Pembrokeshire Coast after all. Plus, this place has featured in not 1 but 3 Hollywood films (including Harry Potter and the Deathly Hallows).
Freshwater West is a wide, sandy beach backed by a large wall of sand dunes. It's popular with experienced surfers as it has the best waves in all of Pembrokeshire. It's a great place to visit if you want to watch the pros at work or simply take a peaceful walk along the sand.
Sheltered between two limestone rocks close to the sea is the small hermit's cell of St Govan's Chapel. The site is shrouded in mystery and it's said that St Govan stumbled across it when being chased by pirates. According to legend the cliff face opened for him and closed up behind him allowing him to hide from the pirates. When the pirates were gone he re-emerged and founded the chapel.
The story has it that if you turn 3 times within the chapel, one of your wishes will be granted! The question is, what will you wish for?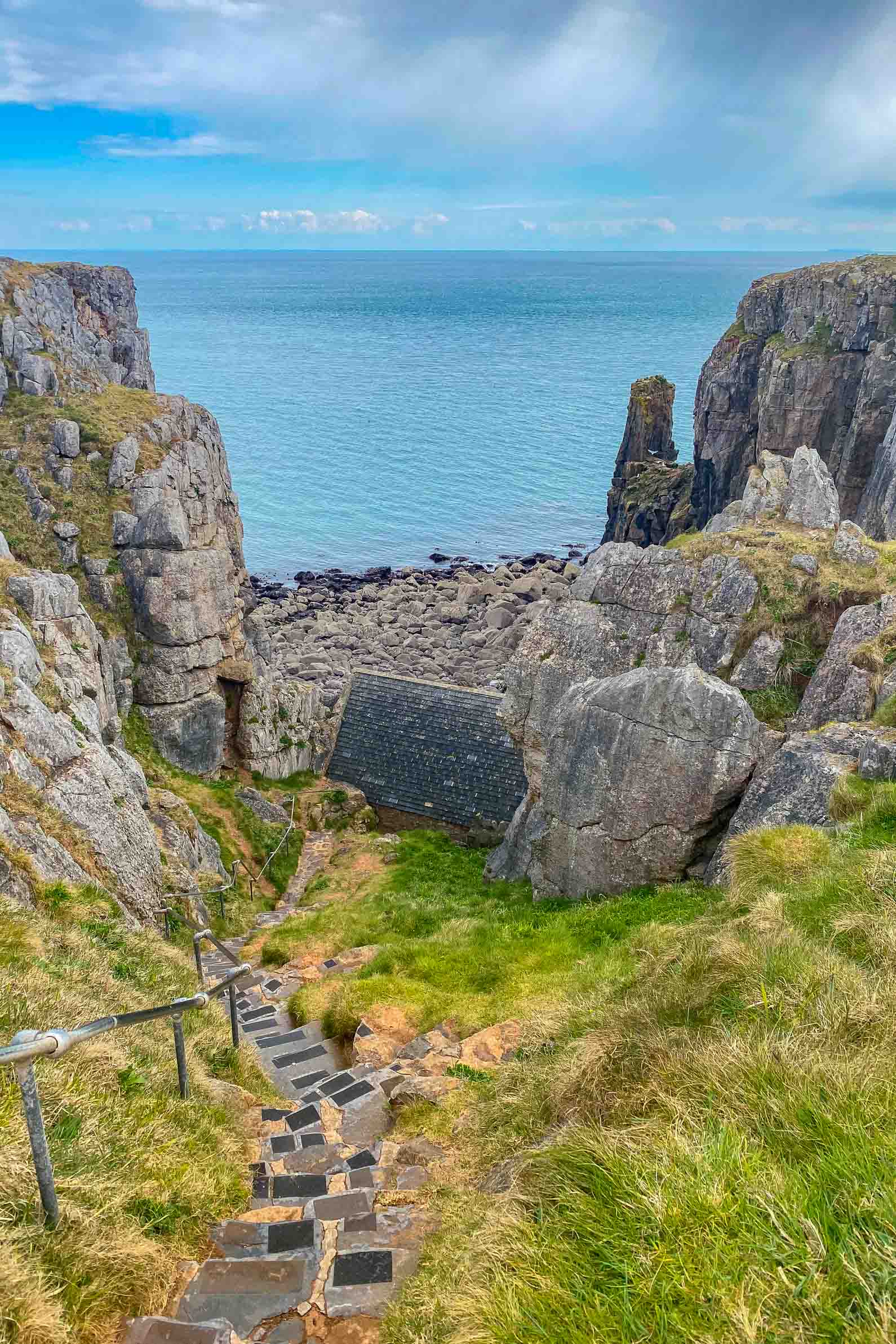 What are your favourite places to visit in Pembrokeshire?
Where are your favourite things to do in Pembrokeshire Coast National Park? Anything you'd add?
Love as always and happy adventuring,


Did you find this post helpful? I'd love you to share it for me.
Pin and save this blog post for later…