If you're looking to spend a weekend in the Lake District National Park, this is the itinerary for you. Full of classic, English things: mainly rain, but also rolling hills and stunning countryside, this adventure is not one you want to miss.
In this Lake District travel guide, I am going to share the ultimate Lake District itinerary with you, filled with the best things to do in the Lake District, the best things to eat in the Lake District and the best places to stay in the Lake District.
As a VisitEngland ambassador over the last year, I have had the chance to expose some of the craziest, dreamiest and most beautiful adventure that my home country, England, has to offer. For this project, I embarked on four 'micro gap' itineraries – itineraries that are experience, challenge and adventure rich, offering all the developmental and experiential opportunities that a traditional 'gap year' would entail but instead – in just a few days. See more about Microgaps here.
So for all of you reading that have full-time jobs, bank accounts not deep enough for a Caribbean escape or with simply less of a desire to jump on a plane – these trips are for you.
Adventure is wherever you decide for it to be and I'm here to prove it.
Other UK travel guides that you may enjoy: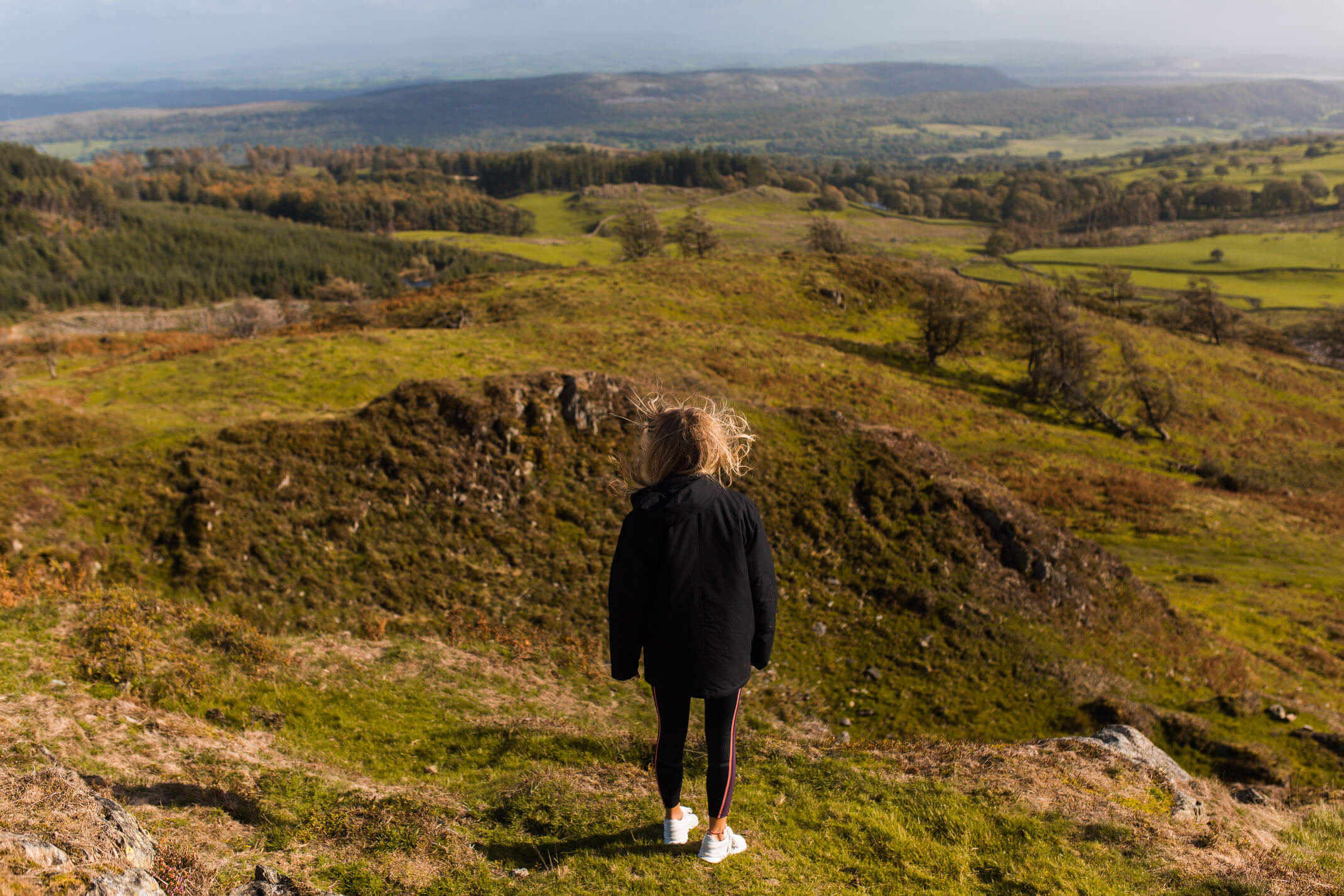 A 3-day itinerary for the Lake District…
Day 1
Admittedly there are plenty of beautiful English locations closer to my home in London that I could have opted for as opposed to the 6 hour drive north, but you know me, mountains over everything.
I picked up a car from Sixt car rental in Battersea the night before departure and set my 6.20am alarm ready to drive the M40/ M6 to the Lake District, located in North West England. Of course we stopped off for food and a coffee so the 5 hours soon turned into 6. If you're thinking of heading away for just a couple of days too, I'd recommend the early start to make the most of the first day.
On the final stretch of the drive you pass through Preston and Lancaster before finally touching down in Lake District. Take the A590 from exit 36 for 10 minutes and you'll arrive at Lake Windermere where you'll be led to adventure in every direction you look.
You'll begin to wind through the English countryside in all it's glory and breathe a sigh of relief as you wave the motorways into the distance.
We took up the opportunity to stretch our legs and make the most of the clear skies we had been welcomed with by walking up to Gummers How.
We parked up roadside near a Gummers How signpost (using postcode LA11 6NR) and meandered for 15 minutes to the top where we glanced over 360 views of the Lake Windermere and the surrounding areas. It's not a strenuous walk at all but there's an incline that will wake you right up after the long drive.
By the time we reached the top of Gummer's How, our stomachs were rumbling incessantly and we headed back to the car. We had a reservation booked at Linthwaite House, a gorgeous boutique countryside hotel and restaurant with views over the lake, at 4pm but had 45 minutes to spare beforehand. With an early night as an incentive, we used the 45 minutes and drove into the nearest town of Kendal to a supermarket to stock up on supplies. Knowing we had a hike planned the next day we grabbed enough food to make ourselves a packed lunch before heading back to the hotel.
Linthwaite House was a stunning place to retreat after a day of adventure in the countryside. A traditional, elegant English property with Hunter wellies lined up at the door and the sound of open fires crackling from within different rooms. The interior was quirky with indulgent leopard print backed chairs, art books laid on side tables and chandeliers gracing the ceilings but the atmosphere was ambient and very welcoming.
I gathered that the majority of people who dine in the restaurant are usually guests at the hotel, it was quiet and very peaceful with very attentive service. It had a very exclusive feel to it and the food matched the same quality.
We were both looking for some hot, soul food kinda dishes so after sharing the burrata with beetroot and truffle arancini we went for the Thai Green Curry. Lydia had the butternut squash option and I went for the Chicken.
It was so yummy.
After a little walk around the property we headed onward 36km (around 45min) to check in to our Camping Pod at Castlerigg Hall Campsite.
I don't know why but I just love camping pods and shepherd's huts. The way they are equipped with the necessities and nothing more makes it the perfect winter alternative to camping. They also make for a great alternative for camping in general as I know setting up a tent and getting up close and personal in this way with nature is not for everyone.
Camping pods still strip away the luxury and bring you back down to earth – the perfect detox from city life.
This 'Inspire' pod is a brand new addition to the Castlerigg Campsite which is reflected in how clean and modern it is inside. The pod has double doors that open up to a wooden terrace with loungers, a bbq and the sounds of water running in the forest immediately in front of you. If that's not enough the campsite as a whole is set with views over Derwent Water.
It's a beautiful location. One that is also home to smaller pods, camping pitches and electric hook ups too for your camper / motorhome.
Day 2
We had retreated to bed pretty early in anticipation of the hike that awaited us this morning. We rose at 6.50am, made our packed lunches and layered up for what looked like a pretty soggy day.
Today was the day we were set to climb and summit England's highest mountain – Scafell Pike which stands at 978m above sea level.
Now, there are plenty of routes to take up to the summit of Scafell Pike some longer than others and some certainly more challenging than others. You can see all your options here.
Ascending to the summit from Wasdale Head is certainly the most popular route and the one most take when completing Scafell Pike as part of the Three Peaks Challenge.
Ascending from Wasdale head makes for a 6.5mile round trip whereas, for example, the route from Borrowdale is approx 10miles.
As you know, we were staying at Castlerigg Hall campsite which was actually closest to the Borrowdale route and on the opposite side of the mountain to Wasdale head but because of the poor visibility and predicted rain / wind we were strongly recommended to drive around that side to complete the hike.
So with sensible heads on (knowing not to mess with nature) we drove the hour around and parked at the National Trust car park by the start of the route.
The main route is very well sign posted and you're pretty much guaranteed to be hiking with others on this popular route. We had company most of the way, even in the poor conditions England blessed us with!
The hike took us 2 hours up and 2 hours back down so we were well within the 6 hour window we had given ourselves. The incline was pretty consistent and didn't have many relief (flat) sections but there are plenty of places to take a breather and break it up. Had the weather been any clearer we would have probably stopped to enjoy the view / our lunch for longer and made a day of it. Instead, it was windy, wet and if we stood still longer for 30 seconds we became very cold so we powered on through.
It's safe to say we were two very satisfied bunnies by the time we had showered and arrived to the Fellpack for dinner, legs aching and tummies ready to be filled.
The food here in this gorgeous little warmly lit restaurant in Keswick was outstanding. Using locally sourced ingredients with a seasonal menu that changes every 3 months – you could certainly tell the chef's were passionate about their art.
The food was incredibly flavoursome – one of those restaurants where you stare at your company like, 'WOW, this is next level. We did good.'
We enjoyed starters of Flatbreads with Chipotle and Tahini Hummus and the Vegan Enchiladas (which happened to be my favourite pick of the lot wow).
For mains we shared the Pumpkin Gnocci with wild mushrooms, toasted hazelnuts & sage Fellpack Chilli alongside the Smoken Salmon Fellpack Salad (hummus, quinoa, chargrilled veg, sun-blushed toms, red peppers, mixed leaves, Dijon vinaigrette).
Both were fresh, divine and daringly full of flavour. I would not hesitate to recommend the Fellpack for an evening meal or lunch in the Lake District. The food and scandi interior vibe gets a 10 from me.
Day 3
Following another restful nights sleep at Castlerigg Hall campsite, we woke to enjoy a cup of tea on our terrace before packing up and taking off to drive to our final activity of our Lake District weekend – the Via Ferrata Extreme at Honister Slate Mine.
Still high on the excitements of yesterdays' achievements we were ready to top it off with some adrenalin and to take on Englands most famous and challenging Via Ferrata (we actually don't have many at all so it's a super unique activity in England).
We checked in, grabbed our harnesses and had a full demonstration before taking to the mountain with our guide Jenny. Shoutout to Jenny because despite the, again, wet conditions we faced – she was enthusiastic and full of life which in turn fed the whole group with excitement.
I've done a few Via Ferratas before some guided and some not and I do find the guided ones have typically been a little less exciting because of the waiting around and the fact alone that you have someone guiding you (feels safer and more legit!). But the route here at Honister Slate Mine was really challenging in parts and the bad weather and low visibility made it really eery!
Although areas were slippery with the rain, it made for a real adventure and in the grand scheme of things – you definitely feel like you conquered more than just a Via Ferrata.
For those not looking for the Xtreme experience, consider the Via Ferrata classic. See more here.
One thing I was actually surprised to learn was that the Honister Mine Via Ferrata is open all year round with cancellations only occurring in strong winds or electrical storms. Happy days!
Not only is the Via Ferrata at Honister Mine in the Lake District an epic experience but it's also SO reasonably priced at £40pp (classic) and £45pp (Xtreme). I've noted prices in a few countries now and this is by far the cheapest!
Watch our Via Ferrata experience come to life here…
Sadly by the time we finished the 3 hour experience, it was time to begin the journey home.
An hour into the 6 hour journey back from Keswick we stopped off at the place we started our adventure – Ambleside and fuelled up with a coffee and salad at Zeffirellis ready to be met again with the M6 which would lead us home to London.
Though it felt like we had only just arrived in the Lake District, the most gorgeous corner of England, we had jam packed so much happiness, adventure and fresh air into the time we spent here.
We summited the highest mountain in England, indulged in the most gorgeous English produce, climbed (pretty much swam) our way through our first English Via Ferrata and cosied up each night right in the heart of nature.
English adventure for me has never been about relying on sunshine (though it's always a welcome addition), it's more about embracing the often overcast skies, popping a coat on and tucking into the gorgeous countryside lifestyle we so often overlook.
What better way to escape the demands of a hectic city lifestyle than by winding down country roads and stopping at a cosy village pub for a glass of vino.
Watch my weekend at the Lake District come to life in this video…
Explore my other microgap weekends in England here…