Before I arrived in Austria I knew very little about this German-speaking country which shares borders with eight other European countries, never mind anything about Vorarlberg where I was due to head on an epic Austrian road trip.
I had spent a brief couple of days in Ötztal Bahnhof, Tyrol with GoPro when they launched the Hero Session two years ago, but aside from that, all I knew was that a few of my friends had done ski seasons in St. Anton and that the winters here in the mountains were amazing.
I am absolutely over the moon that Austria Tourism gave me the chance to uncover more of this gorgeous country as part of the Uncover Austria campaign. And I'm even more delighted that I can show you, first hand through my Vorarlberg road trip, that Austria really is an incredible destination all year round.
For this adventure I explored Austria solo. Well, that's if you exclude the company of the baby blue Fiat 500 I rented from the airport in Zurich, which was pretty epic.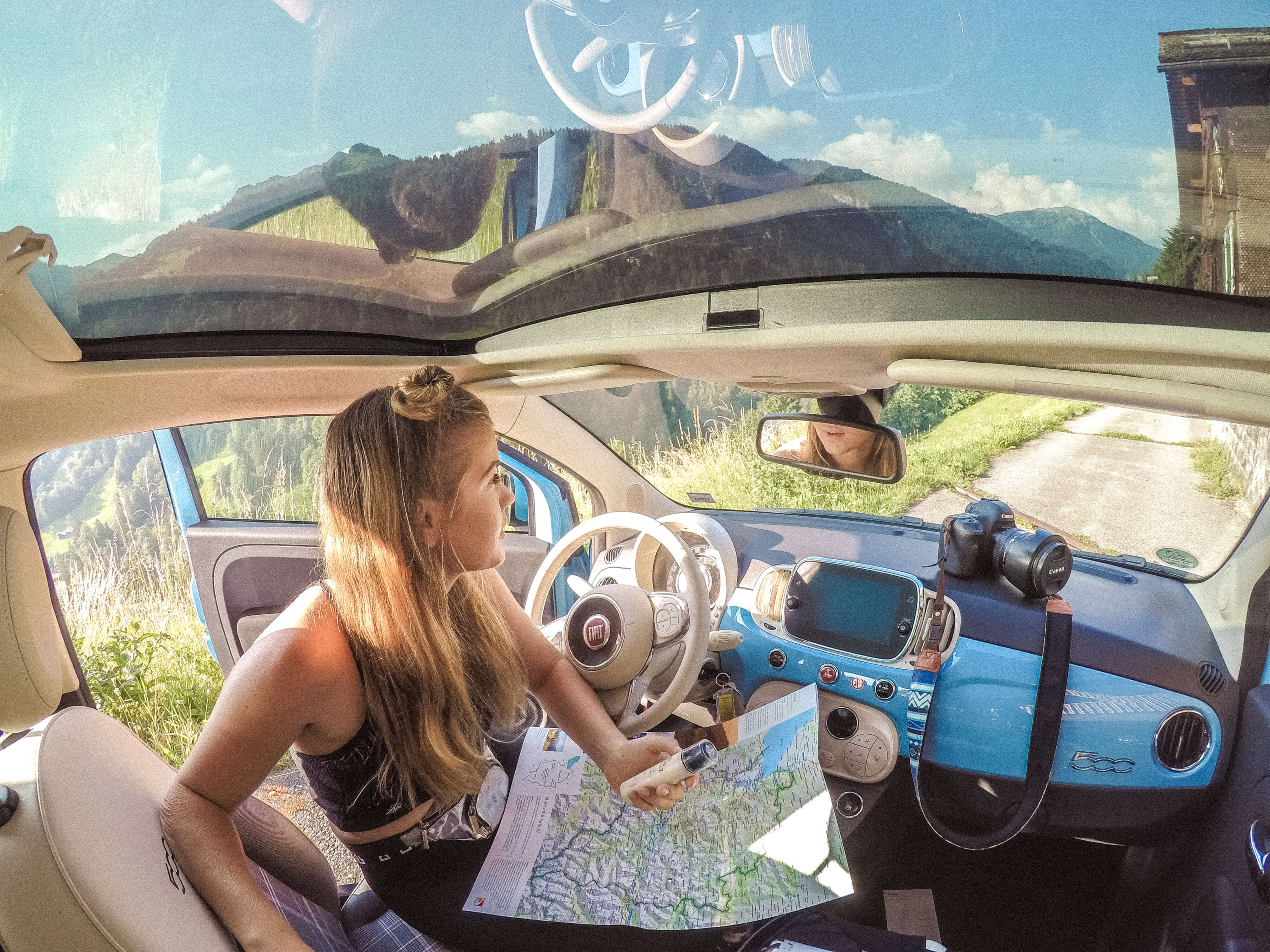 My itinerary took me on an Austrian road trip through four villages in the region of Vorarlberg, which lie close to the borders of both Germany and Switzerland. It's often mistaken for being part of Switzerland, but it most definitely is not.
To arrive in Vorarlberg I flew from London to Zurich, and then drove the remaining 164km into Sonntag Austria, crossing the border near Lake Constance.
Another nearby option would have been to fly into Munich (277km drive) or Innsbruck (159km drive).
My time in each region was planned by the local tourist boards, which meant I truly got the local knowledge and gained exposure to the most outstanding selections of beauty. Great news: I now have the most epic itinerary to share with you.
The Vorarlberg road trip I'm about to share with you is, hands down, one of my favourite ever adventures.
Each region totally had its own unique magic and there was not one day that I loved significantly over another. The incredible cheese and mountain views were pretty consistent throughout!
Here's a little overview of my itinerary, hotel to hotel, with all my favourite finds marked too:
Let's break it down…
Zurich – Grosses Walsertal
Distance: 165km
Time taken: 2 hours
Pronounciation: grosses val-zer-tal
I don't think I'll ever forget the feeling I had opening my curtains as I explored the offerings of my first hotel room at Hotel Krone, Sonntag. Having come from the city, I was overdue a rush of mountain air, and this view quite literally took my breath away. As I stared out to the sensational combination of greens in the valley before me, it brought an unimaginable smile to my face and I had euphoria rushing through every vein in my body.
As of November 2010, Grosses Walsertal became one of the 529 Biosphere parks worldwide, exercising true sustainability. Here you'll find nothing short of incredible forests, meadows, ravines, springs, streams, hills, cliffs, mountain tops, alps and karst formations.
You'll wake to the lush greens and array of florals gracing the window ledges of the traditional Austrian housing, and you'll fall asleep to the sound of the river running below and the last flares of sun smiling through the mountains.
It's pure magic.
Check it out for yourself…
And that's without mentioning the cheese. I tasted my favourite ever cheese here in Grosses Walsertal – Walserstolz. Take note!
My recommendations:
1. The best experience I had here (which is actually a common activity throughout Vorarlberg) was the culinary hike we took through the Sonntag Stein. We hiked through a selection of challenging paths and stopped at different 'Alpes' (huts) in the mountains on the way for a different course of Traditional Austrian food. The food certainly gave you incentive to continue and broke up what was actually an epic 5-hour workout.
You can hike this route alone or book onto the official culinary hike tour for €30.

2. Alternatively, just hike one stage of the hike, grab the cable car from the downhill station of the Sonntag Stein and walk to Alpe Steris and enjoy one of the best and most beautiful breakfasts in Vorarlberg.
3. Take an afternoon stroll through the gorgeous tiny town of Blons, famous for its devastating avalanche in 1954 which killed 80 people in total and left 2 never found. The sad irony is that just a month before the avalanche occurred, it was decided that construction of new and updated avalanche structures were to be made and put in place.
Unfortunately, it was too late.
You will notice installation of these structures throughout the mountains on your Austrian adventure.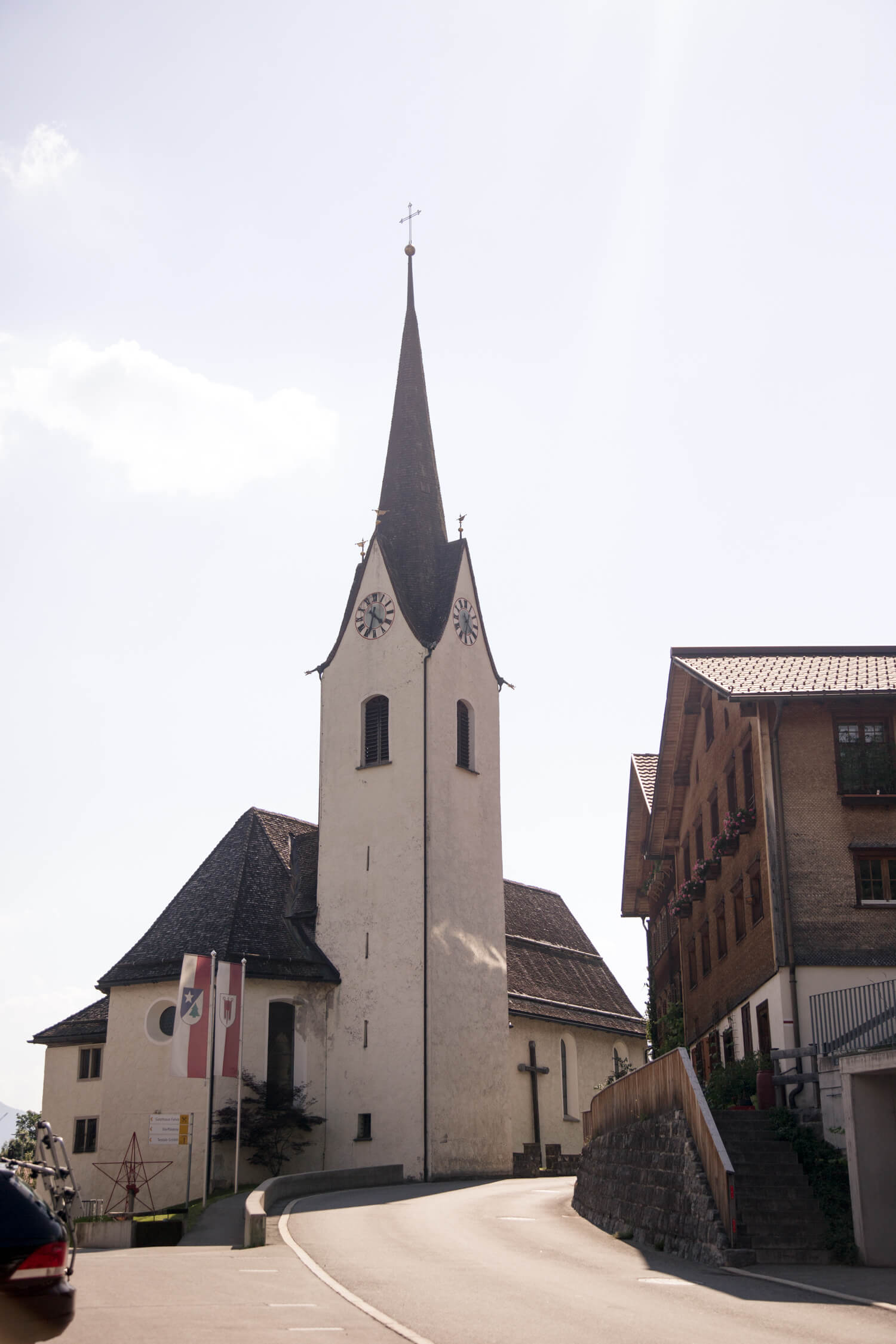 4. Book dinner overlooking the mountains in Prospei St. Gerold. Here I had my first bowl of Beef suppe – a traditional Austrian beef broth with sliced pancake in! De-lish.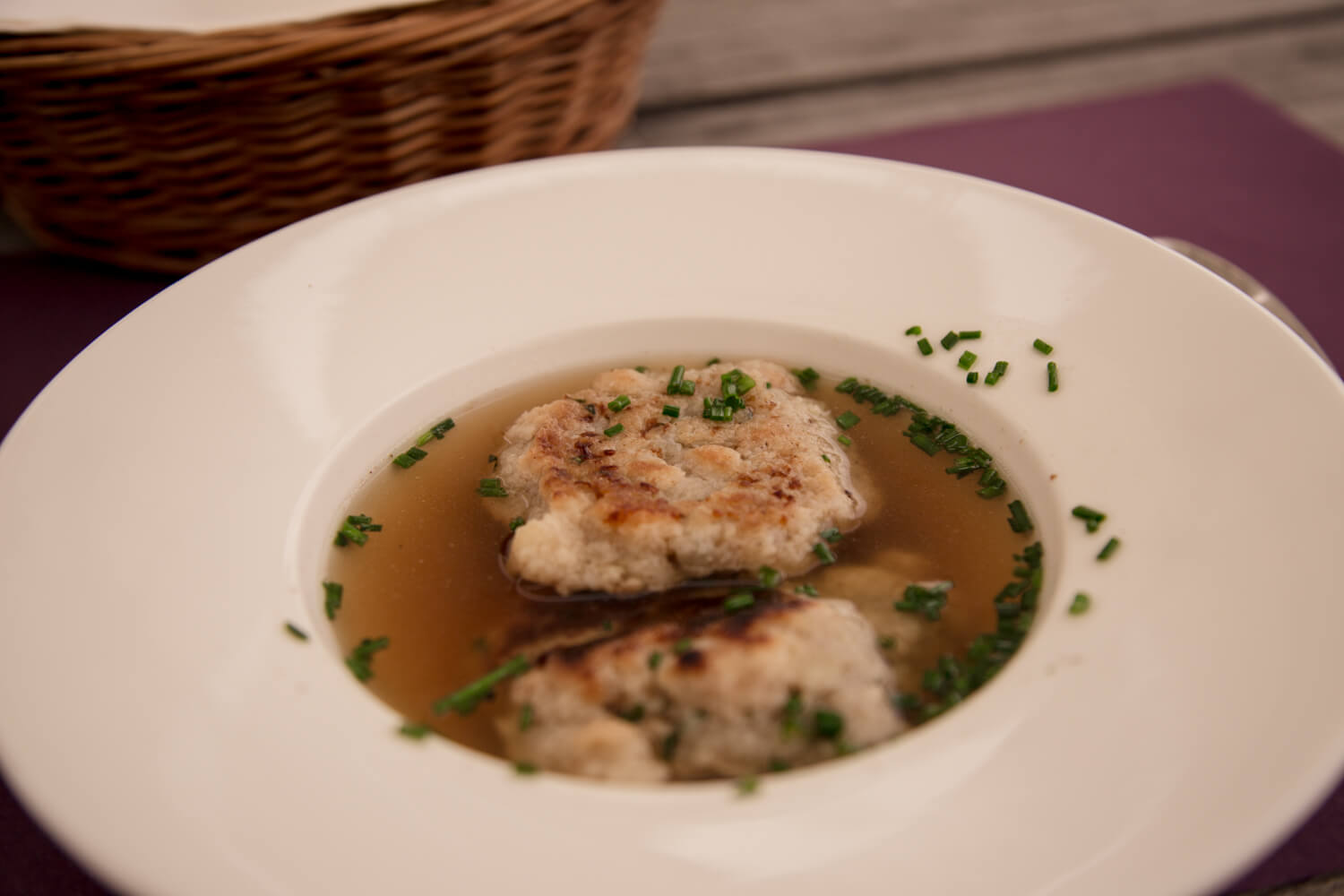 5. Go cheese-tasting or on a cheese-making experience at Biospharenpark Haus in Sonntag (opposite the cable car)
And two things I didn't get the chance to do but will definitely be back for in the near future…
6. Take a guided sunset hike from Zafernhorn (runs every Saturday). It costs €15, starts at 3am, lasts 4-5 hours and includes a mountain breakfast. You can book your spot via the tourist office on – +43 5552/30 227.
7. Buy a freshly prepared calzone pizza from the downhill Sonntagstein cable car ticket office, take the cable car and then begin making your way down the path back to Sonntag where you'll pass an outdoor installment with a clay pizza oven. The tourism board provides cutlery, wooden tables and chairs and the wood for the fire, just bring your pizza and your beverage of choice. There is running water too!
Grosses Walsertal – Bregenzerwald
Distance: 28.9km
Time taken: 40 minutes
Pronounciation: breh-gen-zee-vald
The next stop on my Vorarlberg road trip was just a 40-minute drive from my last. I weaved through the countless layers of rugged adventure that towered over and around me in 50 shades of grey before pulling up to the next region in Vorarlberg and my next hotel in Mellau – Hotel Baren.
Mellau is just one of 22 villages that make up Bregenzerwald – a region famous for its architecture not only in Vorarlberg, but in the whole of Austria. Though I don't typically ponder on design, it's hard to not fall in love with the wooden structures and blooming flowers that snuggle underneath the windows here.
I honestly couldn't help but notice how tastefully and in keeping with the traditions the modern architecture has been raised. More often than not, and it's Bali that comes to mind here, modern structures and buildings stick out like a sore thumb and are an eye sore for years to come. The talent and respect for the traditional look that the architects here have is second to none. The housing, even with some glass walls and solar panels, is so beautiful and so Austrian.
Other regions in Bregezerwald that I visited during my Vorarlberg road trip:
It is here that the traditional Austria housing is protected so you can see it in all it's glory.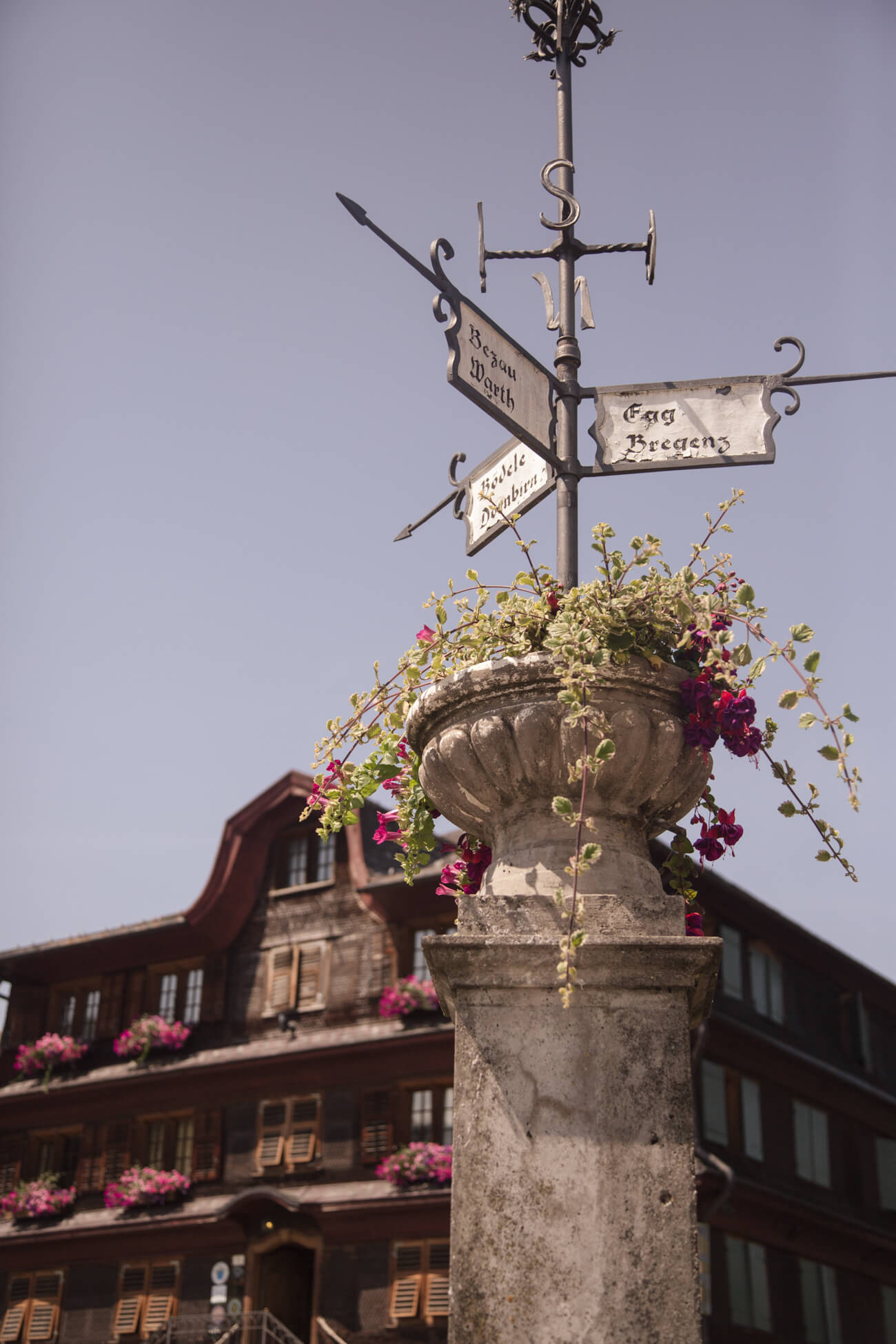 Check out the incredible designs of local craftsmen displayed in different exhibitions that take place in the Werksaumhaus. Have lunch and grab an ice cream here too!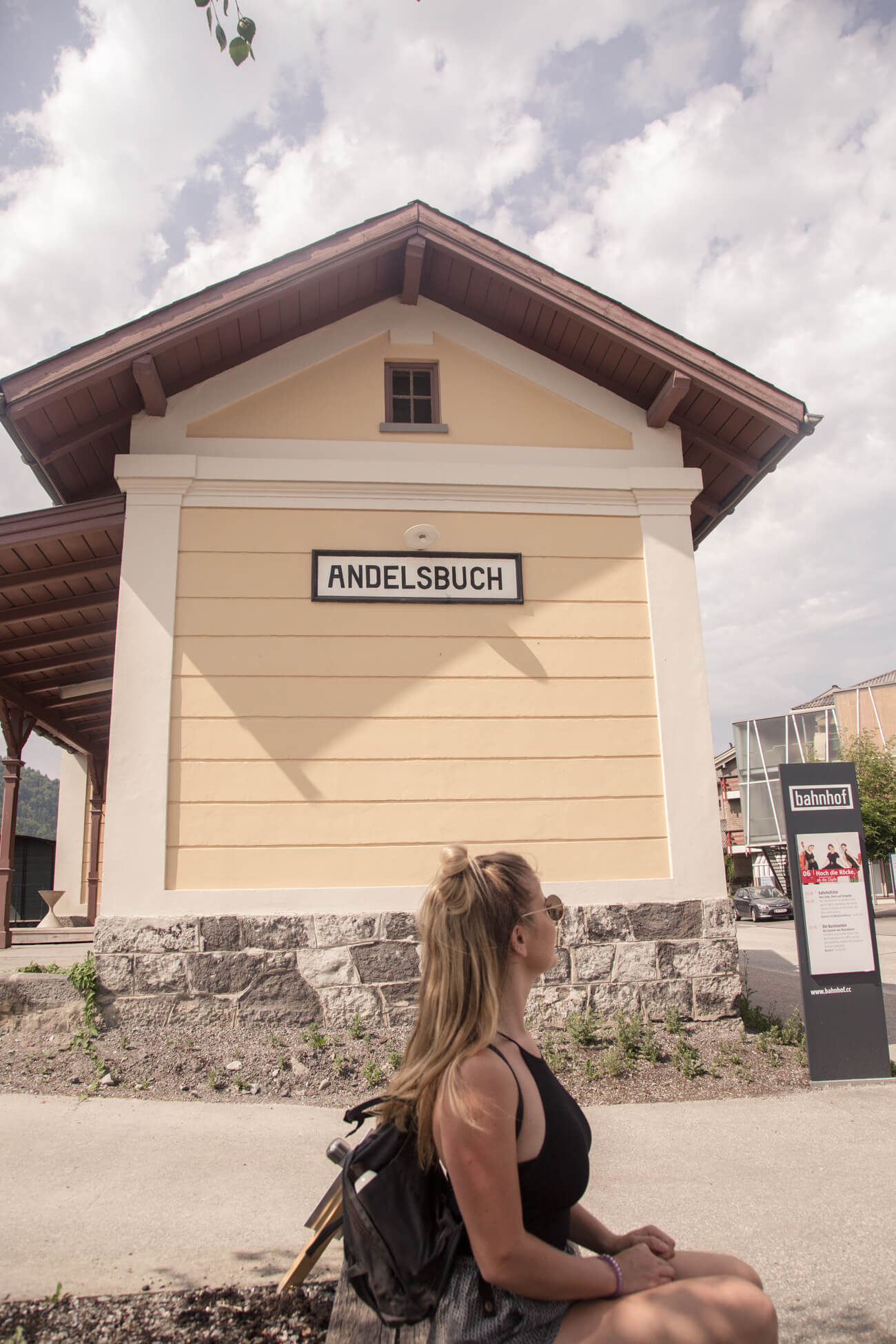 Witness the BUS:STOP project that had 7 international architecture offices come to the village and design these incredible bus shelters for the community. You've never seen anything like it!
Stop by the Women's Museum and then have an exquisite lunch at Ernele.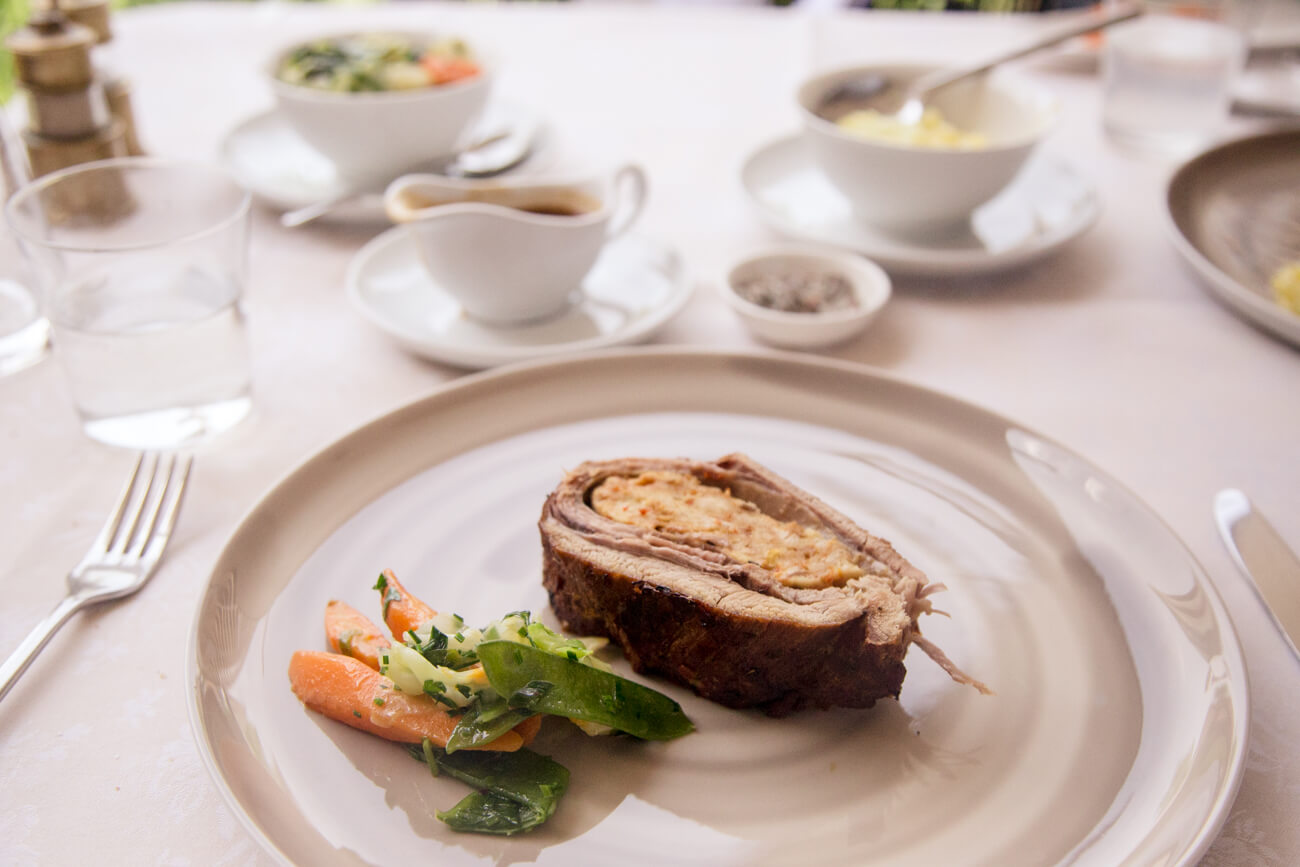 Take the cable car up Diedamskopf and hike the remaining distance to the peak where you can absorb views of over 300 peaks and Lake Constance. There are a few Alpes on the way down to take a break and grab a beer and cheese platter!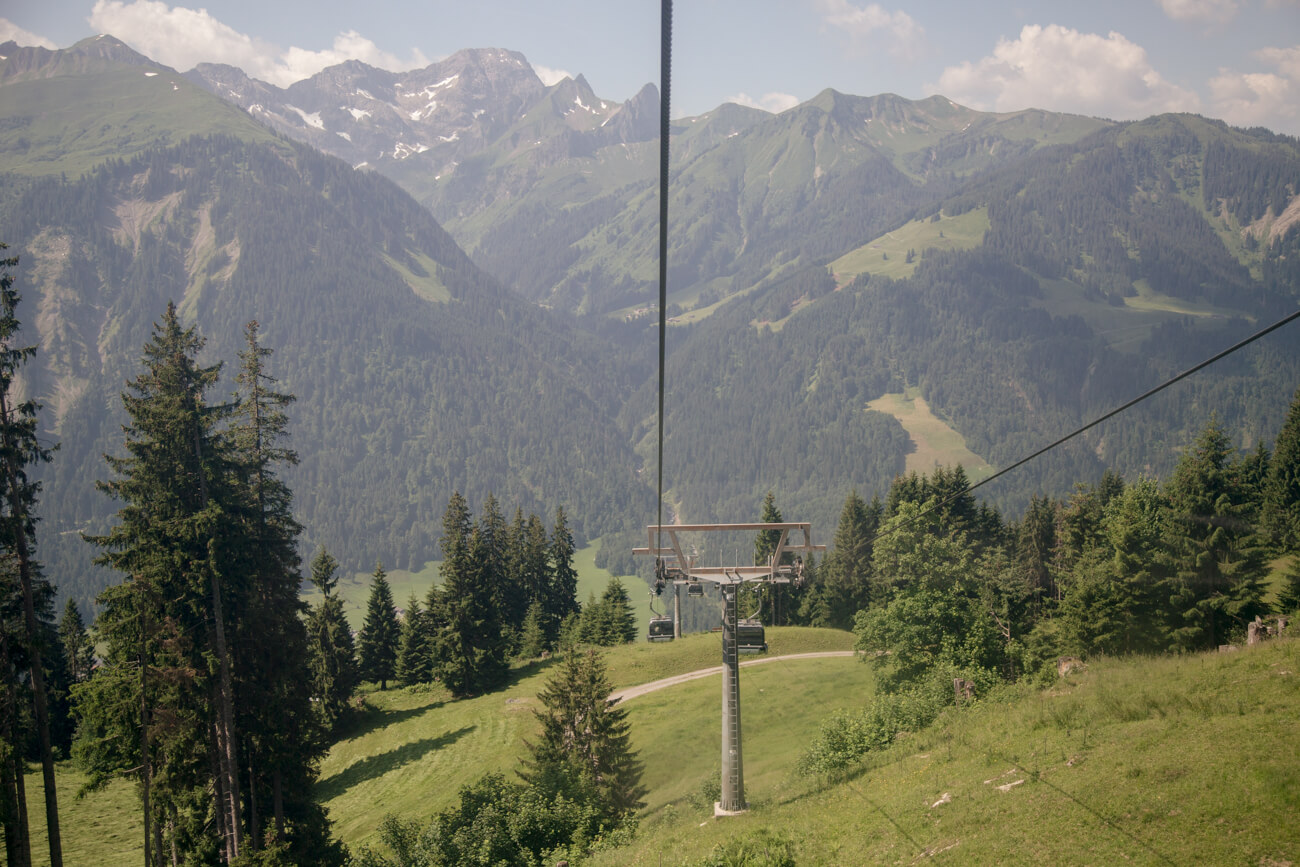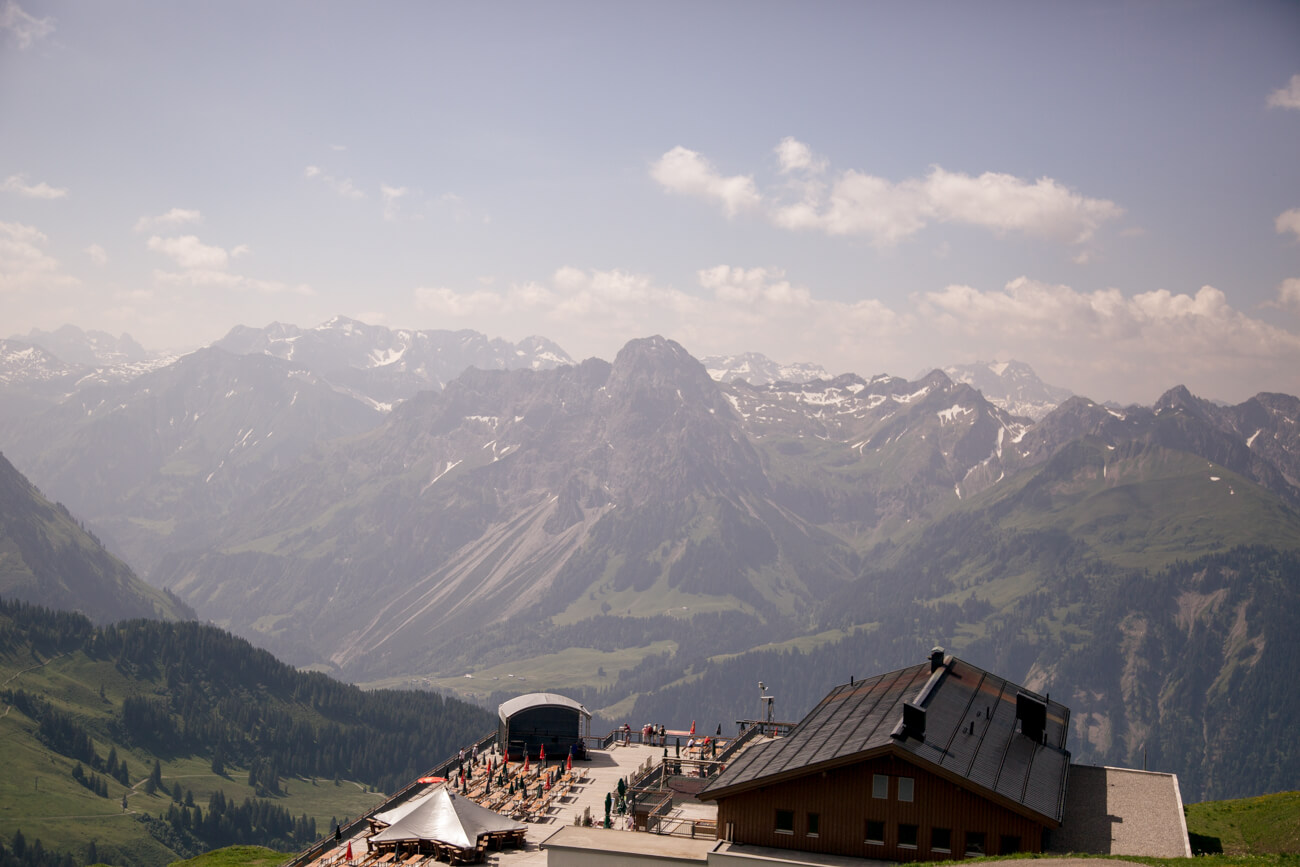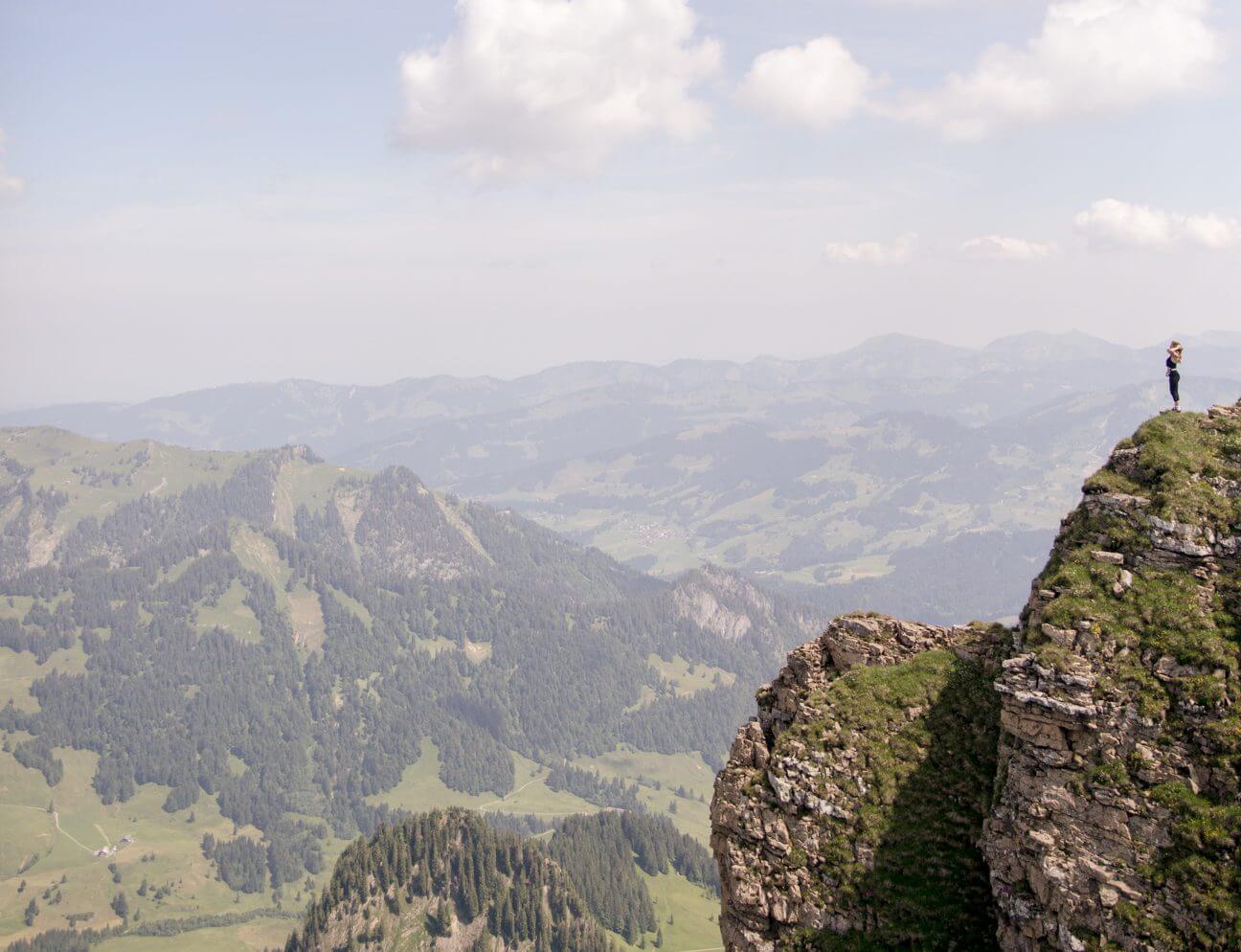 It may not come as a surprise that the 3 main areas of industry fuelling Bregenzerwald are craftsmanship, farming and tourism. It's really so beautiful to drive through this region and the contrast of the countryside you walk on alongside the mountains that surround you is breathtaking and actually rather surreal.
It would be a super cool experience to come and stay on a farm in Bregenzerwald and get a taste of the farm life that is so apparent here. Should you be as interested in this experience as I am, you can directly contact the tourist board for more information, accommodation options and to make your booking.
If you fancy getting to know each town in more detail, Bregenzerwald have created bespoke walking tours that you can complete by yourself following little maps and visual keys. You can see the visual keys below which light up when you press the button and look in. The box of walks is available to buy in any of the tourism offices in town.
I hope you are as blown away by the beauty in Austria as I am!
This Vorarlberg road trip and blog post was made in collaboration with and is sponsored by Austria Tourism as part of their #UncoverAustria campaign – a campaign encouraging people to see more of Austria beyond what they already know. As always, the creativity, opinions and content you see in this post are all my own.
Have you been on a Vorarlberg road trip?
What were your favourite spots? I'd love to know!
Love as always + happy adventuring,
Did you find this post helpful? I'd love you to share it for me.
I can't do this without you.
Pin and save this blog post for later…