After an incredible first four days on my Vorarlberg road trip I was seriously hesitant about how on earth Austria could top it. Of course though, it did. And it did so before I even reached the third destination.
If you missed part one of this mind-blowing Vorarlberg road trip, catch up on this post and then come back here!
Use this map to see the route I took on my Vorarlberg road trip, and all the places mentioned in this post…
Part 2 of my magical Vorarlberg road trip in Austria…
Mellau – Lech Zuers
Distance: 38.6km
Time taken: 46 minutes
Pronounciation: Lech – zurs
The drive from Mellau through to Lech Zuers was a pretty magical drive, one of the most memorable in my lifetime yet. It is such a shame that I was driving with no passenger because I would have loved to have swapped seats and spent the last leg of the drive (from Warth through to Lech) just taking photos for you.
Not wanting to end up driving off the side of the mountain, I resisted the temptation and was forced (wonderfully) to just enjoy the view for myself. My lack of photos also leaves you a pretty nice surprise for when you go on this adventure yourself.
Make sure you do this drive when the sun is up – it's too stunning to miss.
For the rest of the day, the views continued to transport me to places I have only seen competition for in the likes of New Zealand. I really couldn't believe that what I was witnessing was in Europe, right on my doorstep.
I want to make a point here to all of you that you REALLY don't need to travel far or expensively to experience stunning landscapes. All you need to do is get your notepad and pen out and… continue reading this post. ?
For my one day stopover in Lech, I dropped my bags at Hotel Auenhof, a gorgeous traditional Austrian spa hotel right on the river in the centre of town. Then, I headed straight to meet TEAM HIKE at the town bus stop, where we caught the bus for 40 minutes to Formarinsee to start our 14.9km trail.
The trail our guide had chosen was the 1st stage of the Lechweg. The Lechweg is a trail that has existed for centuries, connecting three regions and 2 countries over almost 125km. Thankfully we were only completing 15km of it from Formarinsee back to Lech Zuers, though after hearing about it, I'm itching to complete the full course. The trail starts at 1793 metres high and is a pretty easy hike (with only a couple of little ascents, mostly flat terrain). It only took about 5 hours to complete.
My favourite part? The unlimited fresh cold mountain water on hand pretty much the whole way!
Don't forget your reusuable bottle! Shop mine here.
My tired post-hike feet could not have been more grateful for the pool and variety of steam rooms that are on the basement level of the Auenhof Hotel. Nor did I decline the afternoon tea and chocolate cake offerings, or the six-course exquisite dinner presented among the lush red interior of the dining room. It wasn't hard to imagine just how snuggly this hotel is in the winter months after a day out on the slopes.
Lech Zuers – Bregenz
Distance: 92.6km
Time taken: 90 minutes
Pronunciation: Breg-enz
The last stop on my Austrian road trip was the region of Bodensee-Vorarlberg, which is the furthest west region in Austria, sharing the border with Switzerland, Germany and Liechtenstein.
There isn't much of a drive between the gorgeous villages that sit within this region, so I highly recommend passing through a few during your visit.
For the two days I had to explore, I chose to check out Bregenz, Hohenems, Feldkirch and Dornbirn…
On day one I popped down to Hard (yup, that's the name of a town on Lake Constance) and did some stand up paddle boarding with the trendy lakeside hangout Surfmax. It was only a five-minute drive from Bregenz, and so by afternoon we walked to the lake front for lunch and wandered around the nearly constructed set of Carmen for this years Bregenz Music Festival (an annual summer festival that you HAVE to check out).
By early evening I'd checked into Hotel Weisses Kreuz in the centre of Bregenz, had some traditional Beef Goulash at the hotel restaurant before chasing the sunset glows down to the lake front. I have to say, when I heard Bregenz sat on a lake, I really didn't anticipate how big the lake would actually be. It appears like the ocean and by evening you can sit and watch the sun fall beyond the horizon…
Mountains, lakes, incredible sunsets, the best cheese in the world, gorgeous architecture…
Austria, what DON'T you have to offer?
My last day in Austria was bittersweet and as memorable as the previous six.
I woke at Hotel Weiss to another spread of the finest Austrian coffee, cheeses and breads and set off 33.6km south to Feldkirch, a medieval centre that is popularly used as a base for trips to Liechtenstein. The high standard of gastronomy here is well-known and the markets are one of the many charms that draw people into this gorgeous corner of Austria.
Today, many arrive in Feldkirch to attend the six-week pool bar festival, which utilises the old swimming pool of Stella Matutina for a series of music and cultural events. It's a pretty cool venue, if I do say so myself!
At around 1pm I met Katja from the tourist board. Together we hiked the 2 hour round trail to the ruin of Alt-Ems in Hohenems, which boasted insane views over Vorarlberg and Lake Constance. We most definitely got our sweat on and spend half an hour rehydrating and taking in the view from the Alpe at the top of the trail.
After meandering back down to where we parked the car, we opted for a dreamy lunch at Frida, where I got my hands on a matcha latte and their daily salad mix. If you're looking for a lunch filled with the freshest ingredients, raw contents and superfood boosts, this is the place for you. I was in heaven.
We followed lunch with a dreamy walk through the flower filled, pastel flared streets of the town that is nestled at the foothills of the Schlossberg.
My time in Austria was concluded by another mountain ascent, but this time an easier one as we hopped on the cablecar in Dornbirn and glided up to Karren Panorama restaurant, where we ordered two glasses of Hollunder (elderflower) with soda and toasted to the gorgeous sunshine and the stunning week that I was already feeling nostalgic about.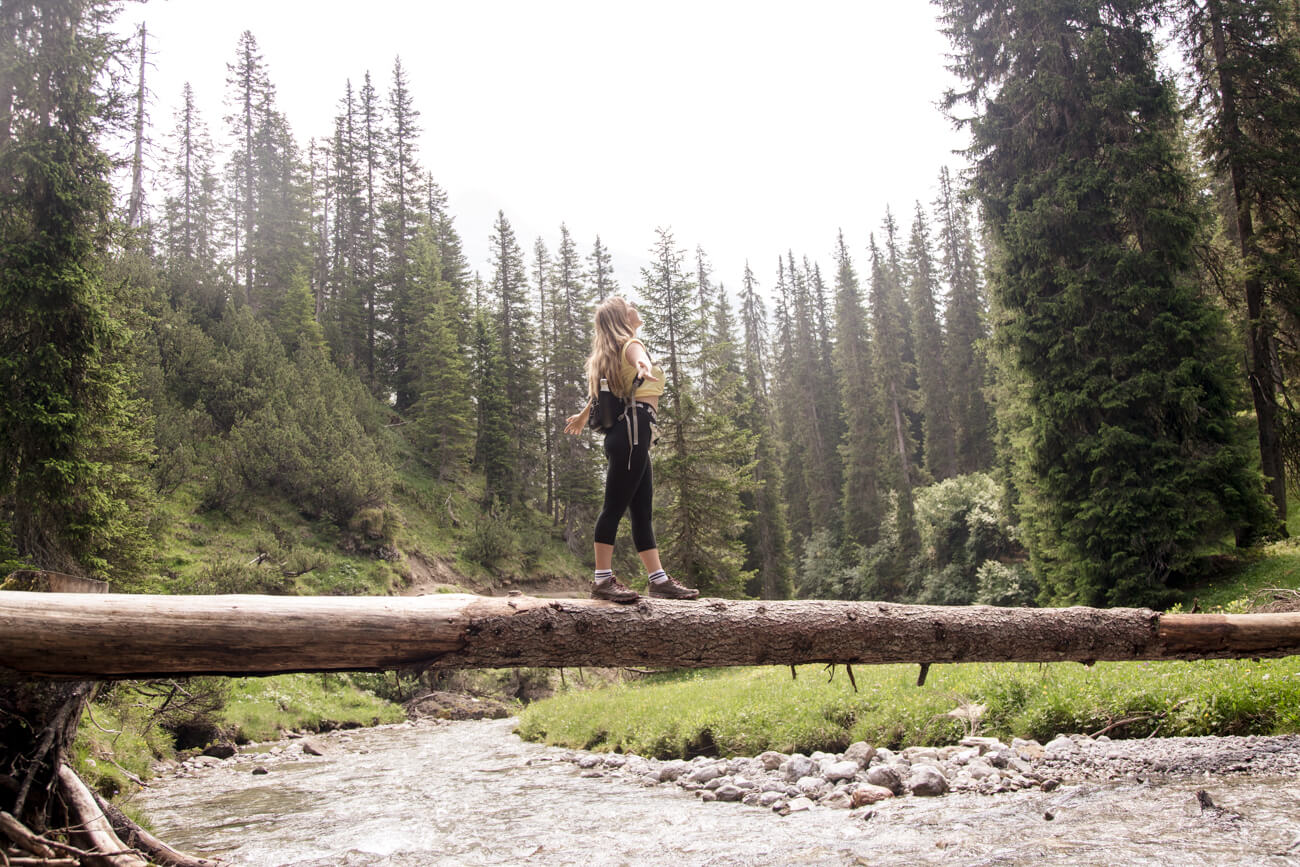 I never imagined the beauty that I witnessed this week would exist in Austria.
For those of us that live in Europe, Austria is a prime example of why we should explore the countries right on our doorstep instead of always looking so far away.
To me, Austria is the legit dream.
There are so many contrasting landscapes within such close proximity to uncover, and that's before you've even started on the likes of the neighbouring countries.
Normally press trips are only a few days long, and even though I am super grateful to have called Austria home for a whole week, it was simply not enough.
Thank you so much to Austria Tourism for having me, and to each region for hosting me. It was an absolute pleasure to document and I hope feel just as excited about exploring this stunning country as I do about returning to it.