It's official, Costa Rica is at the top of my bucket list.
I am so ready to immerse myself in the abundant, rich quality of nature that is on offer in Costa Rica. From what I've heard and read, Costa Rica is truly a playground of nature, consisting of 27 National Parks dotted across the country. Can you imagine?
If you don't find me kicking back and relaxing on the Caribbean Coast, I'll be trying my hand at riding the waves along the Pacific Coast. And then after that, you'll most likely find me spending a few nights in the treetops at one of the eco-resorts before diving into the jungle or climbing Costa Rica's highest mountain. You get the picture… it's adventure central!
In this blog post, I am going to run you through a Costa Rica bucket list of adventures to inspire you to choose it as your next destination / to help your plan your Costa Rica itinerary. I've spent some time compiling the best things to do in Costa Rica to give you an idea of what adventure is on offer in this Central American paradise.
I am all for manifesting dream adventures and planning your dream trip, even when you have no idea of the departure date. Where it usually starts for me is on Pinterest. I begin creating a bucket list of visuals on a board and keep adding to it until I touch down. That's where I'm at. In 2021 I hope to visit Costa Rica and tick off as many of these best things to do in Costa Rica as I can!
Did you know? La costa rica, in the Spanish language, translates to 'rich coast'.
I will say though… most people I've spoken to feedback that Costa Rica is more expensive than travelling through the neighbouring countries of Nicaragua and Panama like American prices. Why is it more expensive? Apparently, it's the most popular US holiday destination which has driven the prices up. Something to bear in mind…
Update: I went in May 2021 and it was INCREDIBLE.


A few Costa Rica facts for you…
Where is Costa Rica?
Costa Rica is one of the southernmost countries in Central America, bordered by Nicaragua to the north and Panama to the south-east.
What's the capital of Costa Rica?
San José is the capital of Costa Rica, located right in the middle of the country. San José Airport is the main international airport in Costa Rica, so chances are you'll be flying in and out of here. Its location makes it easy to access either the Caribbean coast (warm and calmer seas), the Cloud Forests inland, or the Pacific coast (where the surf is!).
Most likely, you're heading to Costa Rica to soak up the beaches, nature, and wildlife so you'll fly into San José and continue your adventure out of the city almost right away.
When is the best time to visit Costa Rica?
The rainy season is roughly from May to November. During this time, it rains almost every day. It doesn't pour all day, every day but expect showers and indeed days of rainfall. Just be prepared during the rainy season and pack appropriate waterproof clothing.
Of course, where it's the rainy season, you see fewer crowds and can enjoy the cheaper prices of hotels and activities in Costa Rica. You can also find cheaper flights to Costa Rica during the rainy season. October is the wettest month, so if you're really not keen on experiencing rainfall during your time in Costa Rica, avoid October!
The dry season is from December to April. You'll get the most sunshine and the humidity decreases a bit. Beach days galore!
Where to stay in Costa Rica…
It depends on what you're looking for in Costa Rica. The best things to do in Costa Rica are spread all across the country so there's no one best place to stay. If you're looking for the beaches and the surf then you'll likely want to head to the Pacific Coast on the west side.
If you're looking for warmer and calmer seas then you may choose to locate up on the Caribbean coast on the east side.
P.s. Spanish is the main language in Costa Rica.
Blog posts you might find useful include…


23 best things to do in Costa Rica...
1. Admire the sustainable living and biodiversity of this paradise
An incredible 27% of Costa Rica's landmass is devoted to national parks and reserves. There is mother nature here in abundance. Not just because here is where this array of vibrant wildlife and species grows and thrive, here in Costa Rica there is a conscious effort to look after Mother Earth and all that lies within it.
Though not everyone is eco-conscious, a huge percentage of the people and the tourism industry here in Costa Rica is. You'll find an abundance of earthy eco-lodges, environment-friendly tours and schemes that help you offset the carbon produced by the tourism that arrives here. Costa Rica, as a country, is one of the world leaders in conscious living and tourism, making an adventure here a very awakening experience.
Look out for the 'five leaves' rating system. It's a sign that the organisation is part of the Government-run CST (Certification for Sustainable Tourism), a programme that encourages minimising the impact on the environment and the support of eco-friendly projects in the local community.
"The development of sustainable tourism must be seen as the balanced interaction between the use of our natural and cultural resources, the improvement of the quality of life among the local communities, and the economic success of the industry, which also contributes to national development. Sustainable tourism is not only a response to demand, but also an imperative condition to successfully compete now and in the future" (CST, 1997).
2. Surf on the Pacific Coast
So where the east coast is most popular for beach holidays and snorkelling, the west (Pacific coast) is the popular stretch for the surfers.
If you're a beginner, Playa Tamarindo in Guanacaste is the perfect place to learn. The waves are small, the beach is long and spacious, and there are plenty of surf schools where you can take lessons.
Then there's Santa Teresa, a low key town with that dreamy surf and yoga lifestyle. Here you'll find your health stores, cafes, smoothie bowls and boutique shops dotted along the roads. This is your hippie centre of Costa Rica, think Byron Bay, Canggu style living.
If you're looking to explore the laid back, surf lifestyle on offer in Costa Rica… the Pacific coast is where it's at!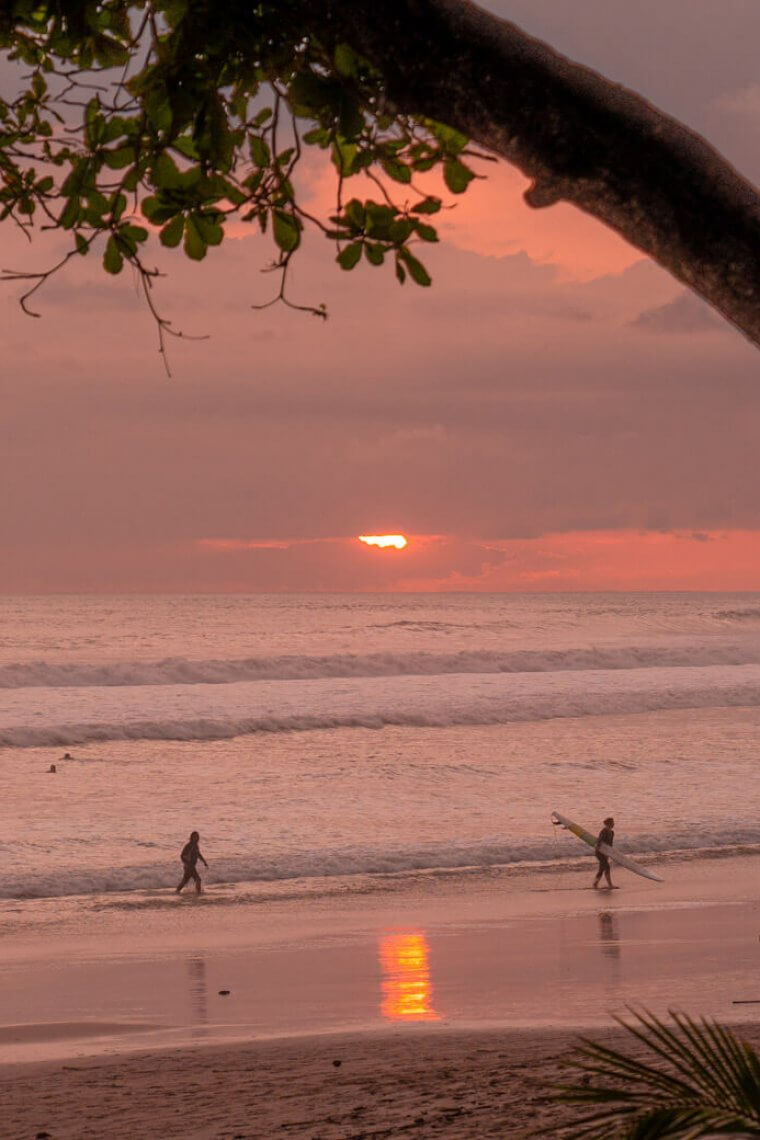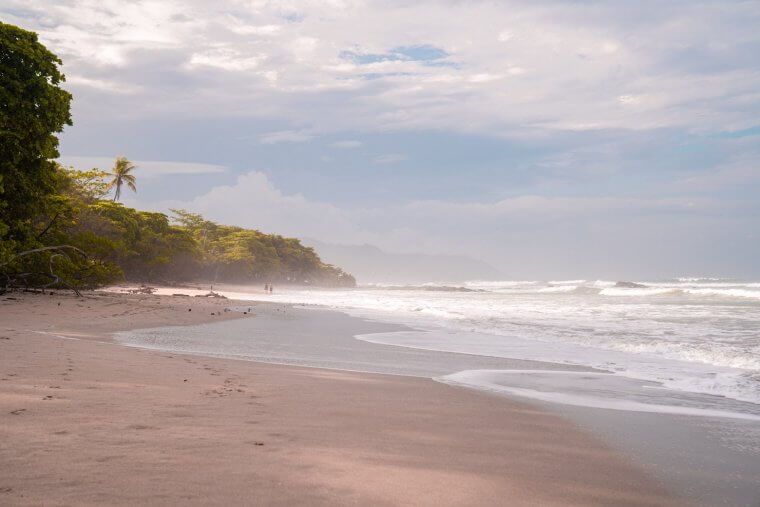 3. Hike Arenal Volcano or admire it from afar
Costa Rica is home to several impressive volcanoes, including a handful of still-active ones. Just 6km from La Fortuna, Arenal Volcano lies. Arenal volcano is very much active (but it hasn't erupted since 2010), standing at 1,633 meters tall.
If you'd like to hike Arenal Volcano, I've heard that the best thing to do is book onto a tour with a guide. You'll need to pay entrance fees etc to access the sacred land.
If hiking isn't your thing, besides the volcano is Lake Arenal – Costa Rica's largest lake. This is a great spot for water activities like fishing, kayaking, and swimming.
Keep your eyes peeled for toucans, parrots and managers!
Other attractions in the area include:
La Fortuna Waterfall
Various hot springs
Stay in La Fortuna for the night! Witness the volcano as a backdrop to your stay
See the best things to do in La Fortuna, Costa Rica here.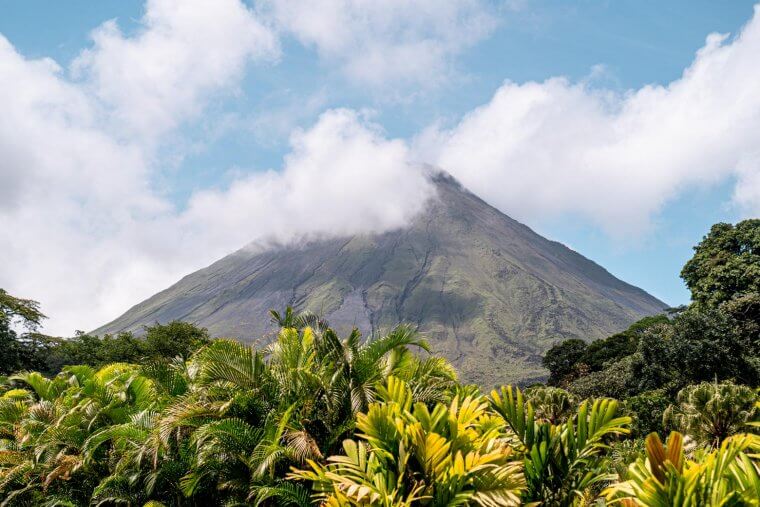 La Fortuna is a gorgeous scenic town located in the Northern Highlands of Costa Rica, about 2.5 hours from San Jose's international airport. The town is centred on a beautiful park with a church. Arenal Volcano, as mentioned previously, provide the most glorious back drop to this town and is visible from most corners of it.
La Fortuna, though considered one of the best places to visit in Costa Rica, has still managed to hold its authenticity and is a gorgeous choice for an overnight stop.
There are so many of the best things to do in Costa Rica nearby so it's the perfect base for a night or two on your Costa Rica adventure.
Nearby attractions to consider:
Baldi Hot Springs Resort Hotel & Spa
Tabacon free hot springs
hike Arenal volcano
mountain bike at the base of the volcano
Don Olivo chocolate tour
Arenal sanctuary reserve
La Fortuna waterfall
See the best things to do in La Fortuna, Costa Rica here.
5. Explore Puerto Viejo de Talamanca

A 5-hour drive from San Jose and located on the east coast (the Carribean coast of Costa Rica) is Puerto Viejo de Talamanca.
With a lush rain forest, stunning beaches and tons of wildlife, Puerto Viejo is one of the best places to go for relaxation, nature and a hint of adventure. You may catch a few waves here in Puerto Viejo de Talamanca but it's more about the beaches. This is one of the best places in Costa Rica for a beach holiday.
Some of the whitest beaches in Costa Rica are located here on this coastline.
If you're looking for a beach holiday with a dose of adventure, consider adding Rio Pacuare White Water Rafting, snorkelling in the turquoise waters or a trip to Tortuguero onto your trip!
Tortuguero is one of the most wildlife intense places in Costa Rica and is located nearby.
6. Visit Manuel Antonio National park
Along the central pacific coast is yet another Costa Rican paradise known as Manuel Antonio National Park.
Its land area consists of approximately 7,000 acres, with an additional 136,000 acres of the marine park. It is one of the smallest and most popular national parks in Costa Rica.
The flora, fauna and activity here is again, out of this world and exploring it is one of the best things to do in Costa Rica. Sloths, howler and white-faced monkeys, toucans, and iguanas can all be seen throughout Manuel Antonio National Park.
Things to do in Manuel Antonio National Park:
relax on one of four pristine beaches
take a hike through the vibrant, green rainforest
explore tide pools alive with crustaceans
observe endangered monkey species
Tip: Planning ahead and arriving early is advised. In an effort to preserve Manuel Antonio from being overrun by tourism, the government has a limited entrance to the park to only 600 (simultaneous) visitors on weekdays and 800 on weekends.
7. Hike Manuel Antonio National Park Trails
If you're keen to embrace the jungle come beach combination that Manuel Antonio National Park offers, then you have 10 different trails to choose from, all varying in length and likely animal exposure.
The trails range from 287m to 9km in length, and easy to moderate in difficulty.
The main trails are the Main Route and the Sloth/Mangrove Routes, navigating you through the heart of the park towards the Manuel Antonio National Park Beach.
Sendero Principal (Main Trail) 2.2 km
Sendero Perezoso (Sloth Trail) 1.2 km
Read more about the trails and research the trails here.
8. Volunteer in the abundant land of Costa Rica
Whether it's turtle conservation, childcare, classroom assistance, teaching English, construction or marine conservation… there are so many opportunities in Costa Rica for volunteering.
Though volunteering may sound free, more often than not you do actually have to pay to volunteer because of the labour, project management and additional costs involved in setting up the programmes.
You can get some inspiration and look at possible volunteer programmes in Costa Rica here.
9. Go snorkelling on the Caribbean coast
I mentioned this previously but it's worth another mention. If you find yourself on the east coast (Caribbean coastline) of Costa Rica, then it would be a sin to not jump into the clear, crystal waters and see the underwater world.
Costa Rica is blessed with two different coastlines and this one shares the same waters of the Caribbean. Yep, dreamy af.
10. Visit one of the many waterfalls
You can't come to Costa Rica without visiting a waterfall… and jumping in the cool waters if you dare (and if it's safe).
Here's some to consider:
Rio Celeste Waterfall
Llanes De Cortes Waterfall (both located in the Guanacaste region)
Bijagual Waterfall
Tocori Waterfalls
Nauyaca Waterfalls (which are amazing for swimming)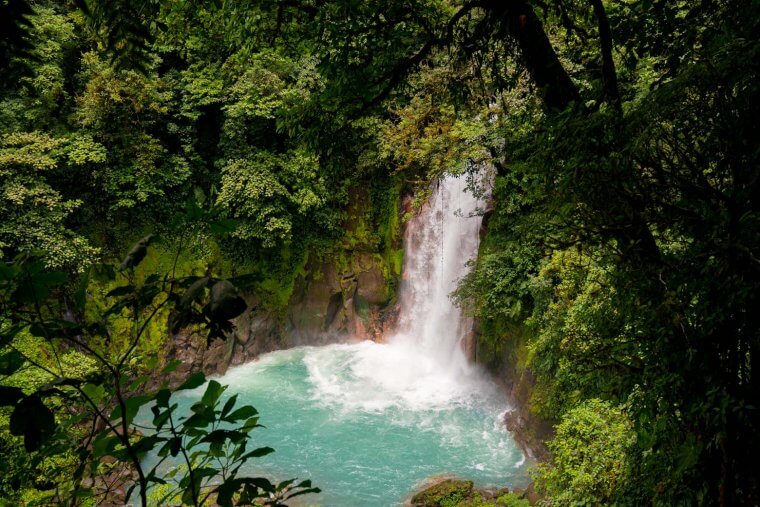 11. Book a treehouse adventure at Finca Bellavista

This off-grid rainforest destination caught my eye when researching Costa Rica. How could it not.
Stay in the treehouse of your absolute dreams on this gorgeous treehouse community resort.
Guests should have an adventurous spirit and be in good physical condition to best enjoy our home. Each rental is privately owned, therefore amenities, occupancies, hiking distances to/from base camp, and overall design vary greatly from house to house. Please review photos and descriptions prior to booking.
Check out the accommodation and book your stay here.
The real wildlife superstar of Costa Rica is the sloth and so sourcing the opportunity to witness these magical creatures is absolutely one of the best things to do in Costa Rica.
The country is home to two species: the two-fingered and the three-fingered sloth.
Strictly vegetarian, the three-fingered sloth is actually very selective about what it eats. Research suggests that they eat 96 species of plants but each individual will have five or six of its own personal favourite plants to eat.
The two-fingered sloth is more active than its cousin and generally larger in size. Contrary to popular belief, they can move quickly when needed and they are incredibly strong swimmers – a good skill to have as it's not uncommon for sloths to sometimes lose their grip and fall from the rainforest canopy into the rivers below.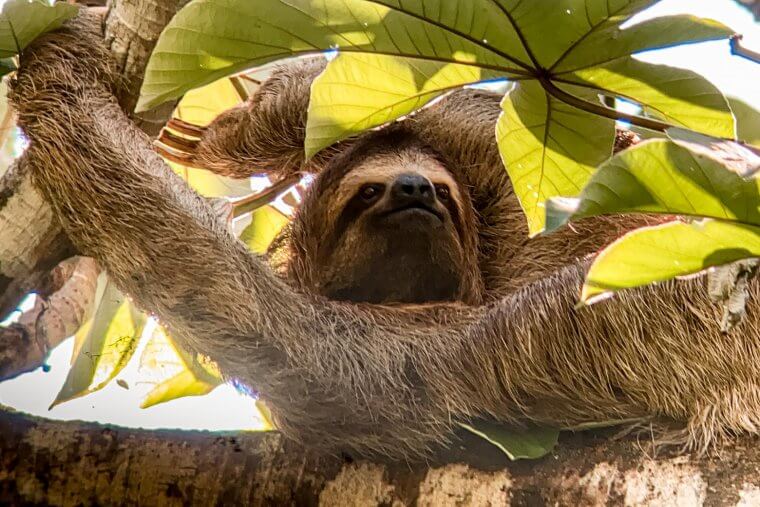 If you're coming to Costa Rica and have your heart set on water adventures, you'll want to add Caño Island Biological Reserve to your Costa Rica bucket list. It is without a doubt one of the best places in Latin America for snorkelling and scuba diving.
In the clear warm waters of the Pacific Coast, you can explore this marine reserve, with five platforms of low coral reefs featuring 15 different species of stony coral.
14. Tortuguero National Park
The exceptionally high rainfall and rich environment where the freshwater meets the sea makes the beaches, canals, lagoons and wetlands of Tortuguero National Park areas of exceptional biodiversity and opportunity for nature lovers. The best way to see the park is by boat but you can also rent kayaks and canoes if you're feeling active.
The main attraction of Tortuguero National Park is definitely the turtles. Here in the park, you can see nesting:
Green Sea turtles
Leatherback turtles
Hawksbill turtles
In terms of the best time to come weatherwise, there isn't one. It rains here all the time, and the peak nesting season is in the rainy season when Caribbean rains can blow in on a north wind and stay for weeks. This is one of the rainiest areas of Costa Rica, and even in the dry season afternoon showers are common.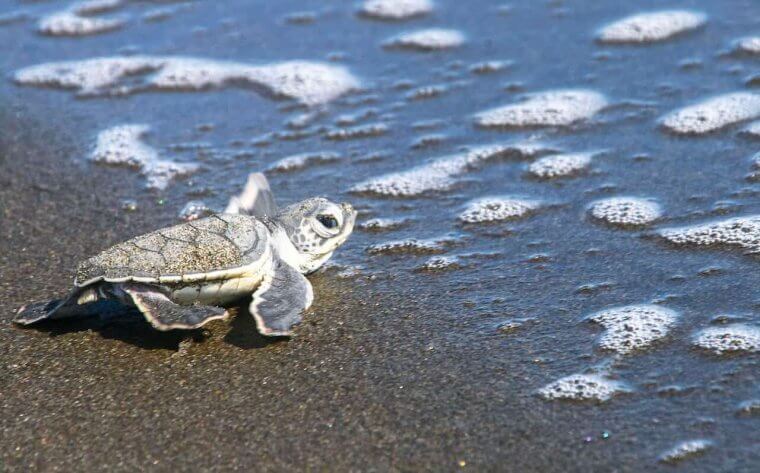 Get adventurous and try white water rafting! It's one of the best things to do in Costa Rica if you love adrenalin activities!
The Pacuare River near the Caribbean coast is one of the best river rafting destinations in Costa Rica, and Río Naranjo near the central Pacific coast is also a highly recommended spot.
16. Monteverde Cloud Forest Walk
You won't research the best things to do in Costa Rica for long before you come across the 'cloud forests' here. This is one of the best ways to get a perspective on the incredible biodiversity and scenery here in Costa Rica.
The one that offers the most spectacular views (and the most popular) is Monteverde.
You can do it in the daytime but you can also do it at night with a guide and watch the forest come alive after sunset.
Cloud forests take their name from their very literal nature. Often taking the form of fog, low-hanging clouds hover around the upper canopy of the forest before condensing onto the leaves of trees and dripping onto the plants below. The sky essentially comes down to the forest, enabling you to actually walk through the clouds — especially when you take a canopy tour on a suspension bridge.
Read more here.
Other cloud forests in Costa Rica include the Los Angeles Cloud Forest, the Bajas Del Toro Cloud Forest, and the Central Highlands Cloud Forest.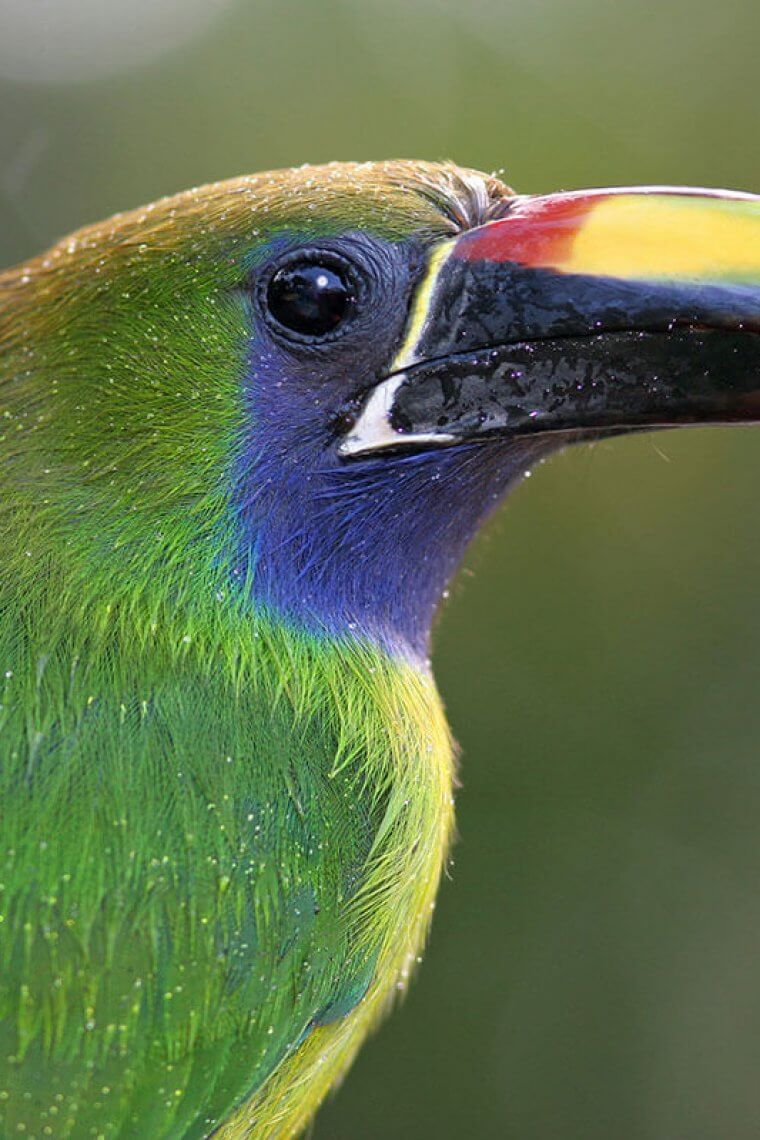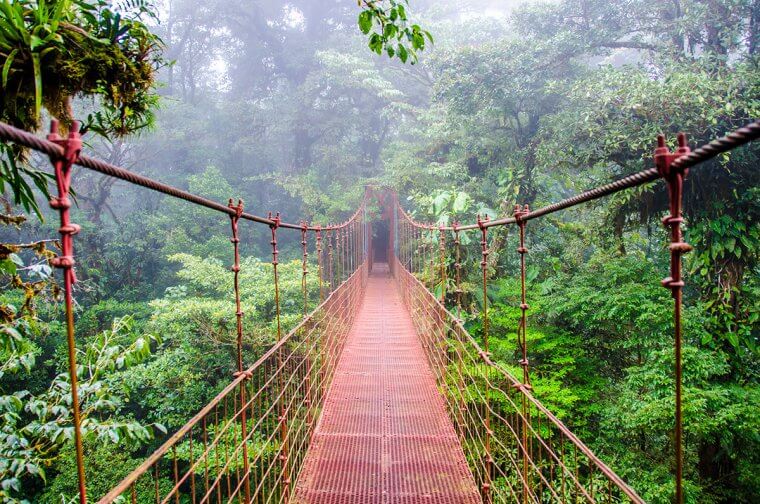 17. Zipline through the Monteverde canopy!
This one is the longest zipline in Costa Rica, totalling 5220 ft (1590m).
Experience the Monteverde cloud forest with a twist on this epic canopy tour. The experience includes a total of 10 ziplines, a hammock bridge, one rappel, and one ride on the mega Tarzan swing. Get your kit on and fly high in the clouds for a unique persepective.
Book your ziplining experience here.
18. Take some beach days!
Wherever you are in the country, you'd be mad to not account for at least a few beach days. Though the majority of Costa Rica's noteworthy beaches are on the Caribbean coast, the Pacific Coast is ridiculous too.
Beach life is one of the best things to enjoy and the best things to do in Costa Rica.
I have a couple of beaches in the Guanacaste Region (Nicoya Peninsula) on my bucket list: San Juanillo Beach and Santa Teresa Beach.
You should also check out Flamingo Beach, which has sand that appears almost pink!
19. Hike Cerro Chirripo the tallest mountain in Costa Rica
Cerro Chirripó is the tallest mountain in Costa Rica, so if you are someone that loves including a big hike on your adventures, this is it.
Rising 12,533 feet (3,820 meters) above sea level, Cerro Chirripó will offer unbeatable views of the surrounding Talamanca Mountains.
Chirripó's dramatic peak is accessible via a 12.4-mile (20-km) trail that climbs over 7,218 feet (2,000 meters) from the tiny mountain village of San Gerardo de Rivas.
Most people complete it in 2 days comfortably but it's absolutely doable in a day.
If you're looking to do it in two, note that camping isn't allowed in the national park. Your only option is to book in at Base Camp Crestones which is located about 14.5 km up the trail.
Tip: The dry season from December to April is considered to be the best time to hike Chirripó. Outside of these months, you will witness far fewer hikers on the trail. Apparently though, during the wet season, it generally doesn't rain before midday, so if you are an early riser May to November could be a suitable option. And you may have a much more peaceful ascent without the crowds!
20. Taste come Costa Rican coffee / chocolate and learn how to make it
Costa Rica makes some of the world's best coffee. Fact,
In Costa Rica there is rich soil, consistent rainfall, and favorable climates, so the coffee beans produced here are of impeccable taste and quality. If you're a coffee lover and want to dive in deeper into the experience, you can book onto a plantation tour.
Costa Rica produces all arabica coffee beans, with most production located around the Central Highlands where the terrain is more mountains and the soil is more fertile from the volcanic activity.
Hacienda Espíritu Santo, Naranjo
Don Juan's Coffee Farm and Café de Monteverde, Monteverde Rainforest
Café Cedral Tour or Santa Maria de Dota Coffee Plantation near the Pacific Coast
Caribbeans Coffee and Chocolate near the Caribbean Coast.
Costa Rican chocolate is also incredibly rich and delicious, so if you're a chocolate lover and not a coffee lover, you should take a look into a chocolate tour!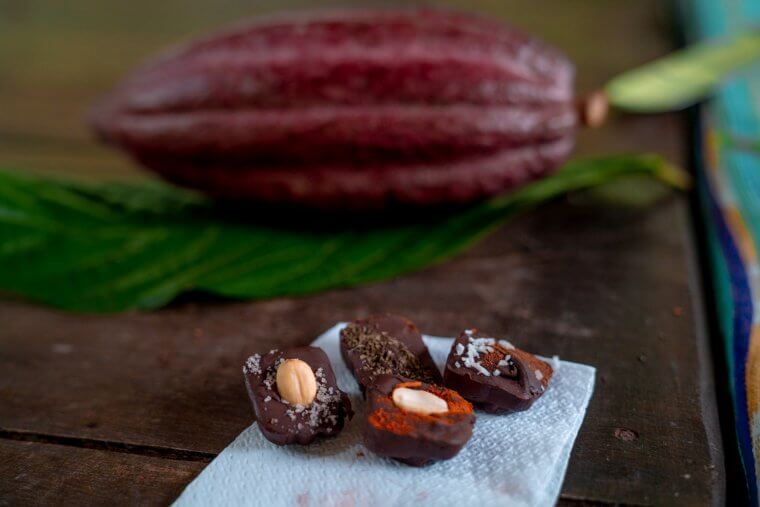 21. Soak in the Tabacon Hot Springs
Located right outside Tabacon and not far from Arenal Volcano (perfect to tie in together on a day out) you have these free natural hot springs.
Park on the side of the road and walk down under the road bridge.
Take your towel, some refreshments and enjoy nature in all its glory.
I recently went and you can find all the information here:
For those of you with your PADI / advanced diving qualifications OR for those wanting to learn and take your first dive here in Costa Rica, this one is for you. Scuba Diving is one of the best and most beautiful things to do in Costa Rica!
Top spots to go diving in Costa Rica include:
Cocos Island: Super remote and known for hammerhead sharks
Tortuga Islands: explore shipwrecks
Catalina islands: find interesting cave diving
Caño island: known for its excellent visibility and variety of marine life, including manta rays, dolphins, and a variety of whales
Bat islands: known for an abundance of bull sharks
Manuel Antonio: a popular place for divers of all levels to explore the underwater world
Tip: You'll typically experience the best visibility between the months of June and September.


What, in your opinion, are the best things to do in Costa Rica?
What's on your Costa Rica bucket list? Anything you'd add?
Love as always and happy adventuring,


Did you find this post helpful? I'd love you to share it for me.
Pin and save this blog post for later…