Argentina might not enjoy the hype that Brazil, Bolivia or Colombia do, but with scenery to rival the best in the world and endless exciting activities, it might just be the jewel in South America's crown. If you're looking for incredible things to do in Argentina, then look no further. In this blog post, I'm going to run through the best things to do in Argentina when it comes to eating, hiking and seeing the sights.
Whether you're looking to eat and drink your way from north to south, see mother nature at her very, very best or adventure in the wilderness, there is something for everyone in Argentina. Here's a shortlist of just some of the incredible experiences this beautiful country can offer.
Get ready to get excited!
Here are 20 incredible things to do in Argentina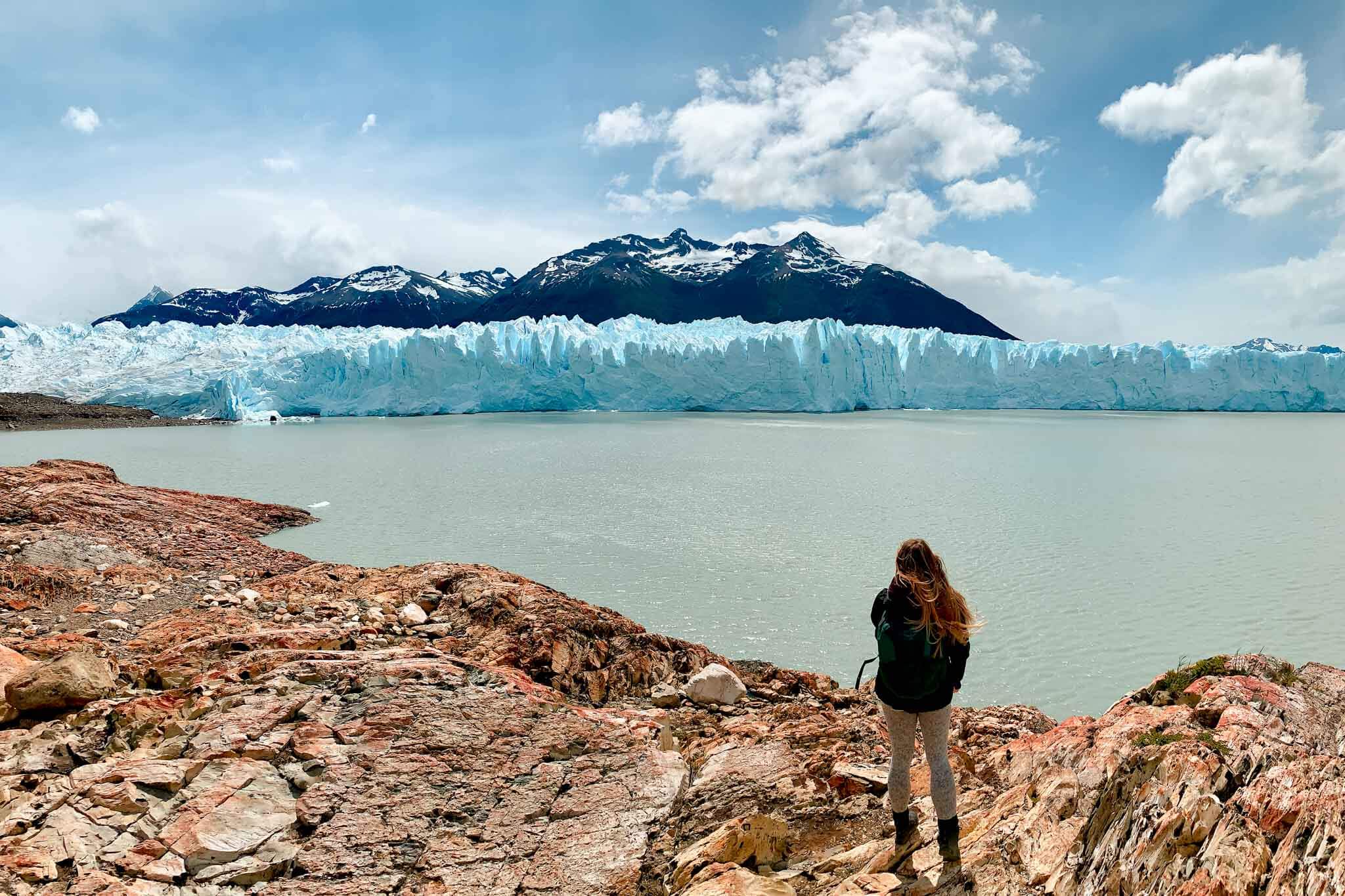 1. Experience the nightlife in Palermo
As the sun goes down, Buenos Aires comes to life, and nowhere more so than in the Palermo district. Grab a cocktail or craft beer from one of the many bars and settle in to watch the hustle and bustle, as tourists and locals fill the streets, ready for a good time.
2. Explore the vibrant food scene
Whatever your taste and whatever your diet, Argentina is a playground for foodies. Experience a traditional Argentine 'asado' (barbecue) or pick up a mind-blowingly tasty empanada from La Carbonera in Buenos Aires.
3. Search for hidden gems in San Telmo
Beautiful San Telmo is the oldest neighbourhood in Buenos Aires. It's full of art and artists and is known for its cobblestone streets and antique markets. Shop until your feet hurt and then find yourself at the San Telmo Market – a sprawling array of cute, independent food stalls.
4. Stamp, clap, sing and shout along with the locals at a football match
Whether you're a sports enthusiast or not, the atmosphere at a football match in the Boca Juniors' home, La Bonbonera, is electric. Make sure you're wearing the home team colours, then join the passionate fans cheering their team, as the sun sets over the beautiful old stadium.
5. Lose yourself in the world's most beautiful bookstore
Ready for a moment of quiet? Find your way to Recoleta and enter the El Ateneo Grand Splendid – a bookshop built into an old theatre. Buenos Aires has more bookshops per person than any other city in the world, but this one is particularly special.
6. Get your skates on and explore Buenos Aires' parks
Strolling through one of Buenos Aires' many beautiful parks, you'd be forgiven for forgetting you were in a capital city. Whether it's the Rosedal rose gardens or the sprawling Bosques de Palermo, this city is spilling over with green space. To explore them like the locals, pick up a pair of roller skates and whip along the perfectly maintained pathways, wind in your hair.
7. Be lost for words at the sight of Iguazu Falls…
Made up of over 275 falls, there's a reason Iguazu draws so many visitors. If you're prepared to embrace the crowds, you'll be rewarded with one of the most breath-taking sights in the world. The scale of the falls is hard to describe until you've seen it. Hike the 'superior' and 'inferior' trails for different perspectives, and end up at the famous Devil's Throat for a real sense of mother nature's power.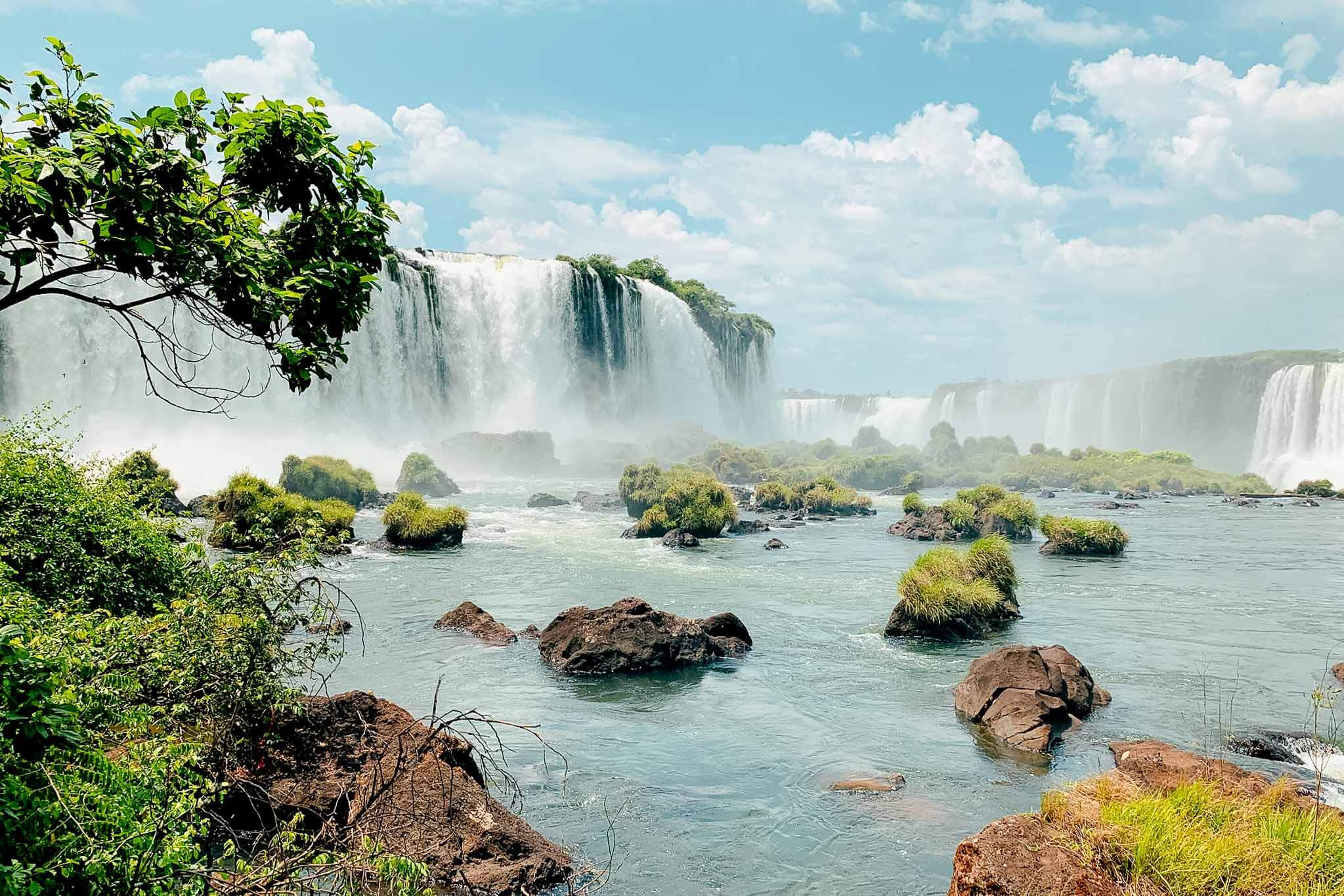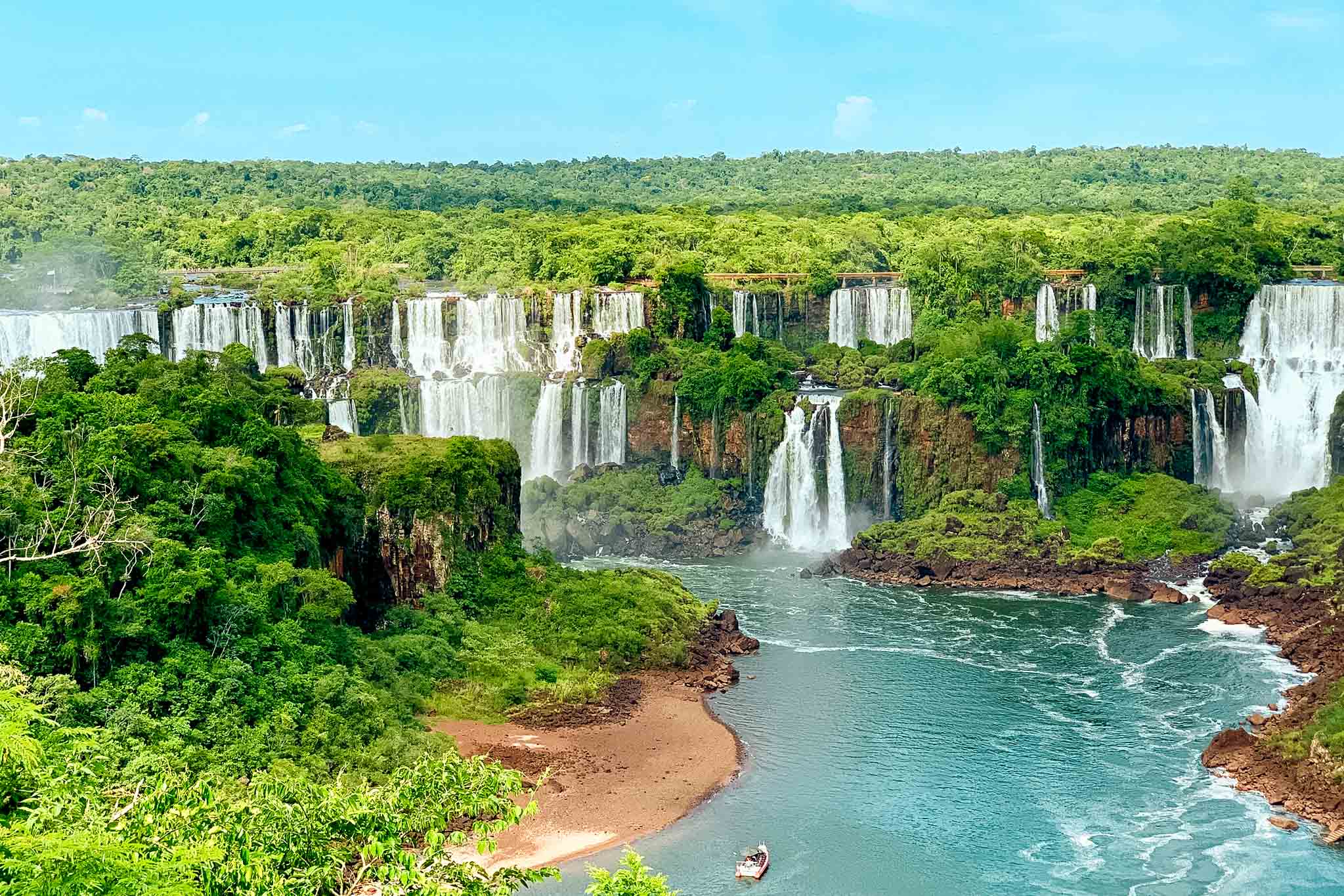 8. …then hop over the border to Brazil to get up close and personal
Once you've had your fill of exploring the Argentinian side, cross the bridge and after a quick visit to customs, you'll find yourself in Brazil, at the heart of the falls, enveloped on all sides by spectacular views. From here you can also jump in a boat and cruise right under the waterfalls (make sure you pack your swimmers)!
9. Have the happiest happy hour in Mendoza
Somewhere between the imposing, snow-capped peaks of the Andes and the vibrant, modern Buenos Aires, sits Mendoza. Base yourself near Avenida Arístides Villanueva so that you're moments away from the fun. With bar after bar spilling over onto the street, some of the best red wine in the world and restaurants to suit any post-happy-hour cravings – surely there's no better place for a sundowner?
10. Get wonderfully lost on a self-guided cycling tour
Whilst you're in Mendoza, don't miss out on the famous self-guided cycling tour of the many famous wineries. For a backpacker-friendly vibe, with rickety bikes and bottomless Malbec if you find your way back to the bike depot, try Maipu Bikes. A similar trip in Lujan de Coyo with Baccus Bikes will give you even more spectacular vineyards and high-end bodegas in which to stop, sip wine and share a cheese board for lunch.
11. Experience true luxury in the Uco Valley
If you want to see the very best of the wine regions, visit the Uco Valley. Casa de Uco is a creative boutique winery and hotel, where you can hot-tub in the middle of the mountains and horse-ride through the vines. A night's stay isn't cheap, but why not visit for lunch and a bespoke wine tasting with the resident winemaker?
12. Hike in the shadow of Mount Aconcagua, South America's highest and grandest peak
If wine isn't your thing, it isn't all Mendoza has to offer. Nestled in the foothills of the Andes, the region also has some of the best hiking in the world. Summiting nearby Mount Aconcagua, the largest mountain in the world outside of Asia, might be a stretch for most of us, but the soaring, snow-capped peaks provide trekking views that are nothing short of spectacular.
13. Explore the Argentine way – on horseback!
Get a real gaucho experience by checking into a homestay on a ranch and helping care for the horses. Be rewarded with an exhilarating ride through beautiful Argentinian landscapes. Try the province of Cordoba for authentic 'estancias', folk music and family vibes.
14. Take a cable car over the mountains in San Carlos de Bariloche
Deep in the heart of Argentina is their 'Lake District', filled with beautiful hikes and turquoise water. For spectacular views and rotating mountain-top bars (yes, really) climb aboard one of Bariloche's cable cars and get ready to be wowed.
15. See views like no other from Cerro Llao Llao
For the best views in Bariloche, or maybe the world, take the short but steep hike up Cerro Llao Llao. Take a drink and snack… you're never going to want to leave!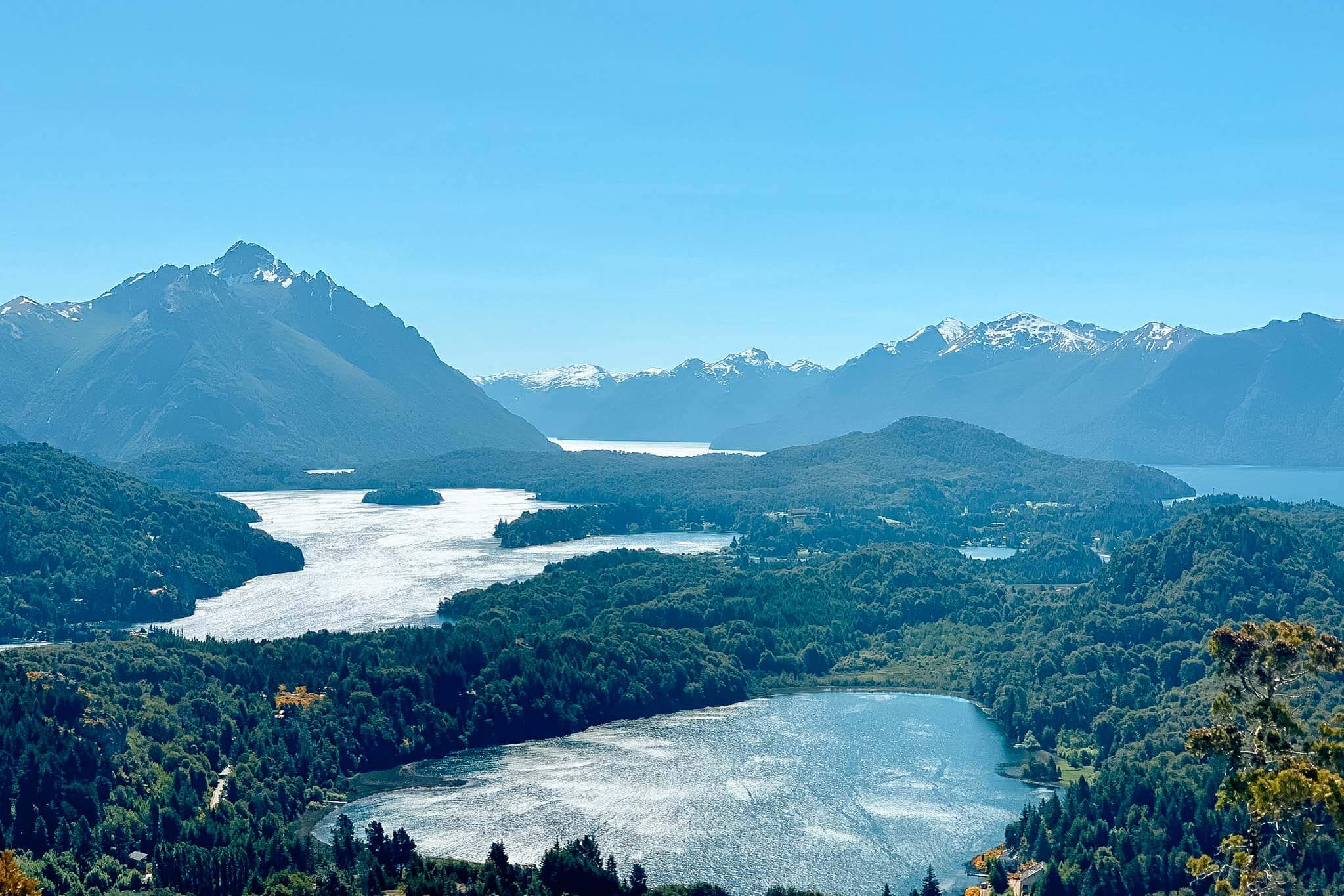 16. Indulge your sweet tooth in San Carlos de Bariloche
As well as the views, Bariloche is renowned for its chocolate and ice cream, and with flavours ranging from vegan pineapple and basil to an eye-wateringly rich chocolate ganache, it's absolutely worth including in the itinerary. Mamushka, in particular, will lure you in for a third and fourth scoop…
17. Drink mulled wine in the middle of nowhere
Whether you fly or drive, the journey into the heart of Patagonia is an experience in itself, and when you arrive, you'll want to put your feet up. There's no better place than La Vineria – a cosy little bar serving craft beer, mulled wine and great coffee, hidden in the tiny mountain town of El Chalten, a home for adventurers.
18. Pull-on your hiking boots and set off in search of Mount Fitzroy
The mountains are calling! Dust off your hiking boots and set off on the Sendero Fitzroy in search of Mount Fitzroy. It's a hefty 30km round trip, with an agonising ascent at the end, but it's worth every glute-burning step. If the jaw-dropping views look familiar, it's because famous Fitzroy is the mountain range featured in Patagonia's logo! When you return to El Chalten, reward yourself with a snack from 'Simple', a cute independent shop offering treats for every dietary requirement imaginable.
19. Cruise on turquoise glacier water and clamber on one of the world's only advancing glaciers.
The Perito Moreno glacier is not only beautiful, it's a fighter – despite climate change causing most glaciers to shrink, Perito Moreno is advancing – by almost two metres a day! See the movement for yourself and watch from the viewing platform as the shards crack away, or strap on some crampons and feel the ice crunch beneath your feet as you hike up and onto the glacier itself. Tours go from nearby town El Calafate.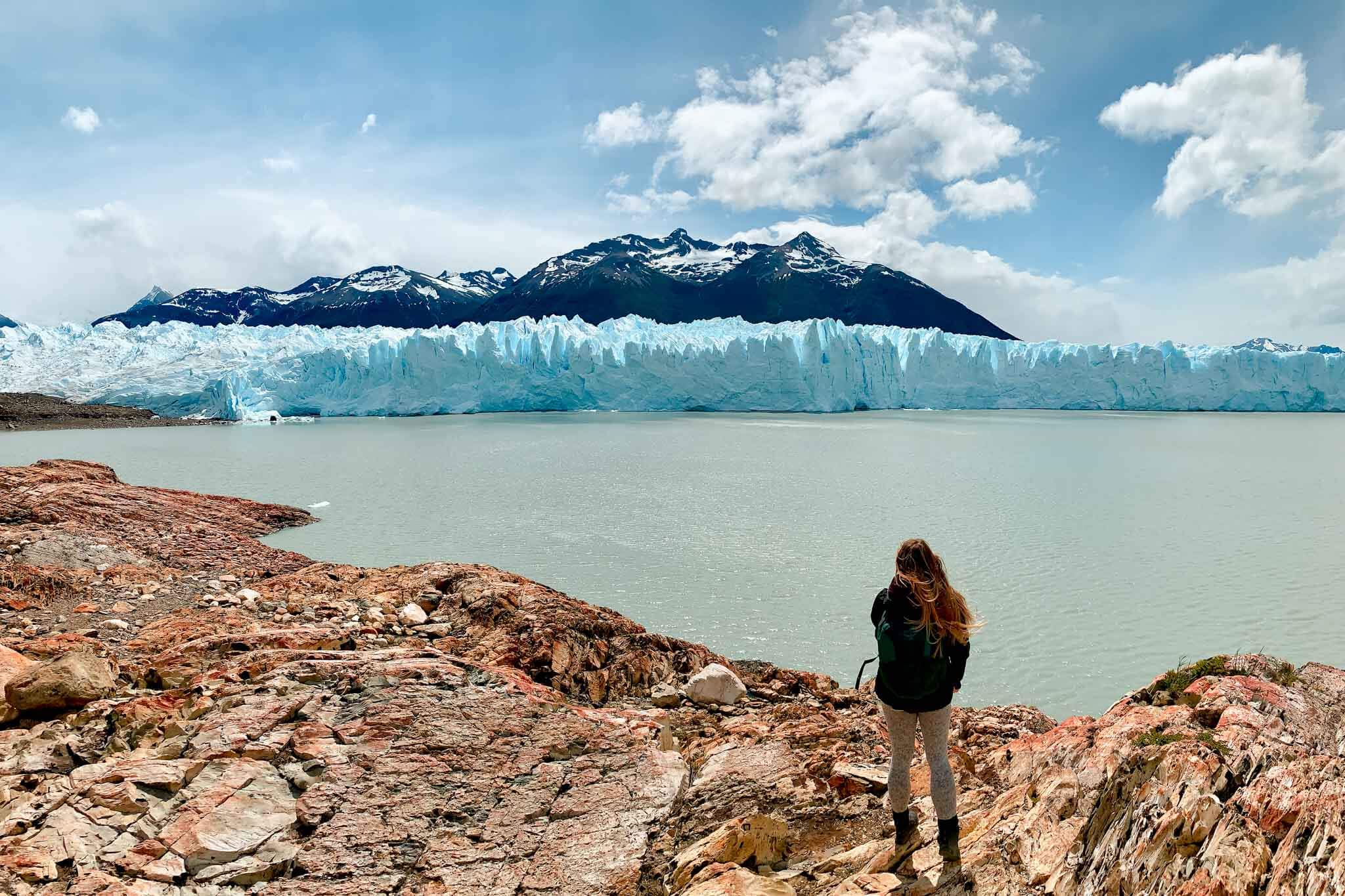 20. Visit the 'end of the world' in Ushuaia
Where better to end your trip than at the world's most southern city, Ushuaia. Feel almost in touching distance of Antarctica as you sip a hot chocolate and look out for the many penguin and seal colonies that make the surrounding islands their home.
Have you been to Argentina?
Where are your favourite places to visit in Argentina? We'd love to know!
Did you find this post helpful? I'd love you to share it for me.
I can't do this without you.
Pin and save this blog post for later…