If you're looking for an amazing Brazilian travel destination that is off the beaten path, look no further than Lençóis Maranhenses. This incredible area is located in the northeast of Brazil and is made up of white sand dunes and crystal-clear blue lagoons. It's definitely worth adding to your travel bucket list as this is one of the best places to visit in Brazil! In this blog post, we will provide a detailed 7-day Lençóis Maranhenses itinerary. From where to stay to the best things to do in, this Lençóis Maranhenses travel guide will help you plan a fantastic trip to this Brazilian gem!
Other travel guides you might find useful…
Lençóis Maranheses is a national park located in the state of Maranhão, in the northeastern region of Brazil. The park is made up of large sand dunes (lençóis) and freshwater lagoons (maranhenses). It's a truly unique place you won't find anywhere else in the world!
This place may not be the easiest to get to, but I've highlighted how to get to Lençóis Maranheses in this blog post so travellers from near and far can experience this natural wonder for themselves.
The best time to visit Lençóis Maranhenses is from late June to September when the rains have stopped, and the lagoons are full of water. However, keep in mind that this is also the busiest time of year, so it's best to book your accommodation and tours in advance. It's high on Brazilians' and international travellers' bucket lists as it's one of the best places to visit in Brazil.
Before reading on, here are some agencies I'd recommend booking tours listed in this itinerary with:
And in relation to accommodation and where to stay, there are recommendations on where to stay in Lençóis Maranhenses throughout the itinerary.
So without further ado, here is your detailed Lençóis Maranheses travel guide for a 7-day itinerary.


A 7-day Lençóis Maranheses itinerary...
Day 1: São Luis and Barreirinhas
Catch a morning flight to São Luis so you can make the most of this first day of travelling; you'll want to make the most of your time to explore one of the best places to visit in Brazil!
After arriving in the city of São Luís, make your way to the bus station to catch a bus headed to Barreirinhas. The journey will take approximately four hours. Once you arrive in Barreirinhas, check into your hotel and relax for the rest of the day.
There are many hotels and pousadas (guesthouses) to choose from in Barreirinhas, but I recommend choosing a hotel slightly outside of town and by the river as this is a much quieter area and many of the pousadas have decks and pontoons you can relax on while enjoying the river views.
If you haven't booked a tour online or with a tour agency already, speak to reception and ask them to book tomorrow's tour. They will then confirm what time pick-up is for tomorrow morning (usually around 8-9 am).
I stayed at Pousada Boa Vista and would 100% recommend staying there for the first part of your Lençois Maranhenses itinerary. It's great in terms of affordability. The rooms are simple but have aircon (you'll want this after a long day in the sun!), and the food is delicious. The staff are also incredibly friendly and helpful.
Other pousadas you could stay at:


Day 2: Take a tour of Lagoa Azul and Lagoa Bonita
After breakfast, you'll be picked up from your hotel in a 4×4 for your tour around two of the biggest lagoons in the National Park: Lagoa Azul and Lagoa Bonita. This tour, even though the most touristy, is still one of the best things to do in Lençóis Maranheses. No Lençóis Maranhenses travel guide would be complete without this tour!
Both of these are right at the edge of the park, so they are easy to get to on foot once you get to the entrance into the dunes. But getting to the entrance of the lagoons is a whole different story! Be prepared for a day of river crossings, dune bashing and off-roading in a jeep, as this is the only way to get around here (it's part of the fun!).
The first stop on your tour will be at Lagoa Azul, which is famous for its stunning blue waters. You'll have some time to relax here and dip into the refreshing waters. You'll also get swarmed by little fish who will nibble at your toes (it's ticklish, but don't worry, they won't bite).
The rest of the morning will be spent exploring the nearby dunes and taking refreshing until the jeeps come back to pick you up at around 11:30 am to whisp you off to lunch. Lunch is at a local restaurant where you'll have the chance to try some of the traditional dishes of Maranhão and take a well-needed break from the heat.
After lunch (and quite a bit of time for digesting!), you'll get back on your jeep and head to Lagoa Bonita. Lagoa Bonita is one of the largest and more touristy lagoons in the park (there could be well over 100 jeeps there at sunset at once) BUT this is the best part of the park to be at for sunset, which is why most tours finish here in the afternoon. It's a must-do on any Lençois Maranhenses itinerary. The dunes are endless, and most people are lazy to make it past the first two lagoons, so all you need to do is walk a little further and get a dune all to yourself.
Word of warning: don't be too far from the entrance to watch the sunset as you don't want to be caught at the back "race to your jeep" rush as soon as the sun goes down. The highest viewpoint is quite literally at the top of the stairs of the entrance anyway, so it's the place to be to take in the sunset. There aren't many words that can describe the sunset from Lagoa Bonita (but the image below can). The reason this tour is unmissable is because of this! Watching the sun go down over Lagoa Bonita is one of the best things to do in Lençóis Maranheses and, probably, one of the best things to do in Brazil.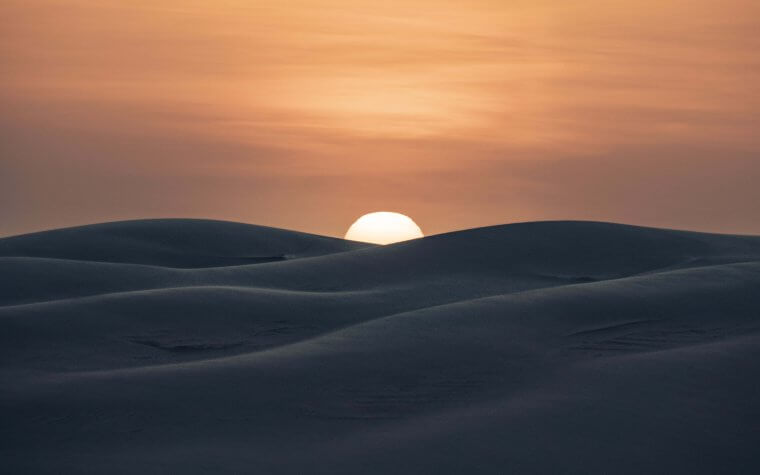 Day 3: Boat Tour down Rio Preguiça & arrive in Atins
Time to kill two birds with one stone: getting to your next destination on this Lençois Maranhenses itinerary, the town of Atins, where you'll be staying the next couple of nights, and taking the boat tour down Rio Preguiça. You can take your luggage with you, the boat can hold the suitcases!
There's also an option of packing a smaller backpack or suitcase to take with you for the next couple of nights and leaving your larger suitcase in your hotel if you plan to return to Barreirinhas (ask them if they offer this).
The boat tour takes around three hours in total and will drop you off right at your hotel in Atins. On tour, you'll see some of the mangroves and get to know a little bit more about the river ecosystem, as well as see some of the animals that live there. You'll also stop in the two local fishing villages of Caburé and Mandacaru, where you can explore a bit, climb up to the top of the lighthouse, buy some souvenirs or try some açai!
The last stop on the boat tour will be Atins. Your hotel will have organised a 4×4 or quad to pick you and your luggage up. There are no roads in Atins, everything is just sand, so the only way to get around is by quad or jeep.
Atins is quite a small village, but there's enough to keep you busy for the next couple of days. There are a few restaurants, a couple of bars and a few souvenir shops. There's also a beautiful beach which is great for swimming, sunbathing or relaxing with a book. It's also right on the edge of the national park so you can explore that a bit too!
For the rest of the afternoon, I would recommend either having a chilled one and heading down to the beach to sit back on a chair and watch the kitesurfers until sunset or going on a sunset horse riding tour! Sempre Atins is the only company that runs these tours, and the price for the sunset tour is R$540 per person. I've included this ride in my best things to do in Lençóis Maranheses blog (which you can read here), as it's truly EPIC.
Where to stay in Atins:


Day 4: Exploring Canto de Atins
If you're feeling active, book yourself onto a mid-morning quad bike tour to explore the dunes on this side of the park, or if you feel like hitting the water, you can book yourself onto a kite-surfing lesson. Vila Guara offers lessons for beginners and also lends out equipment for more experienced kitesurfers.
Alternatively, if the last few days of your Lençois Maranhenses itinerary have caught up with you, you could always take the morning to yourself to have a late breakfast by the beach and find yourself a sunlounger in one of the beach cabanas to lie on for the rest of the morning. Atins beach really feels like a little piece of paradise, and relaxing on the beach with an açai bowl in hand is one of the best things to do in Lençóis Maranheses if you ask me.
After your chosen morning activity, take a moment to have some lunch; there are many beach huts dotted along the bay and pick one that takes your fancy. Charme Beach Bar is the trendy place to be if you're looking for a bit of a buzz, but all the restaurants down the beach serve up fresh seafood if that's what you're craving.
After lunch, it's time to head back into the dunes to explore the lagoons further into the Park, referred to as Canto de Atins. Make sure you book onto the tour that takes you to Lagoa do Gaveāo as well as Lagoa das Sete Mulheres, these are the two best lagoons to visit in Atins, and no Lençóis Maranheses travel guide would be complete without it. This tour will take about 4hrs, and pick time will be between 2-2:30 pm.
You'll spend the rest of the afternoon swimming in the lagoons, relaxing on the dune or just taking in the views. You'll notice this part of the park is MUCH quieter than the first tour in Barreirinhas to Lagoa Bonita and Lagoa Azul.
The tour guide will drop you back in Atins just after sunset, where you can enjoy a quiet dinner at one of the restaurants in town. If you fancy it, there's also a bar with live music some nights. Check with your hotel reception to see what's happening during your stay (this is usually at Jungle restaurant bar, though!)
Restaurants I'd recommend:


Day 5 & 6: Overnight stay in Santo Amaro
After seeing the dunes on both these sides of the park, you must be thinking, "it can't get better than this?!" But, let me tell you, it can! Santo Amaro is the furthest village into the park, and it's where you'll find the most beautiful dunes, lagoons and beaches. This Lençóis Maranheses itinerary had to include at least one day in Santo Amaro! (If you're staying for longer than seven days, I'd recommend a second night here!)
The only way to Santo Amaro is by 4×4 from Atins. There are many tour companies in Atins that offer a transfer service to Santo Amaro. Ask your hotel to contact them and book this for you. The transfer will take about an hour, and the price is usually around R$120 per person.
Once you arrive in Santo Amaro, check into your hotel (I recommend Vila do Junco) and take a moment to settle in and walk through the village (it's small and won't take long).
Grab a bite at one of the local restraunts for lunch, like Pousada Agua Doce or Pousada Cajueiro, before setting off into the dunes to visit Lagoa da Gaivota and Lagoas das Andorrinhas. This is a 3hr tour and, as always, takes you to bathe in some beautiful lagoons before taking you to the top of the tallest dune to take in the sunset views. (I hope you're not sick of this Lençóis Maranheses travel guide yet!)
For dinner, I recommend heading to Rancho das Dunas as they do a fantastic seafood moqueca (a traditional Brazilian dish).
Get an early night, as the next day will be a long day.
On the second half of your overnight stay in Santo Amaro, you will be doing quite a bit of trekking as you head to a special (and final) lagoon: Lagoa Emendadas. This is a half-day tour and requires a certain level of fitness as you'll be trekking 2 hours to get to the lagoon and two hours back.
The Lagoa Emendadas is a unique lagoon because it's one of the only lagoons in the park that doesn't dry up during the dry season, and as it's one of the few tours that require quite a bit of hiking, it's also one of the less touristy lagoons.
Make sure you take plenty of water, sunscreen and insect repellent with you as there are no facilities at the lagoon itself.
After your time at the Lagoa Emendadas, it'll be time to start making your way back to where you started: Barreirinhas!


Day 7: Sobrevoo over the National Park and back to São Luis
It wouldn't be a complete Lençóis Maranheses itinerary without the iconic sobrevoo (flight) over the National Park. This is the best way to see the scale of the dunes and lagoons, get some amazing aerial shots and really finish the trip on a high (quite literally, in this case).
Two companies operate flights over Lençois Maranhenses: AVA Sobrevoos and Voar Fotografia Area. Still, the easiest way to book is through a tour company, like G.I Connect and Sunrise Tour.
There are different routes you can take for this flight, and I've written more about them in this blog post that highlights the best things to do in Lençóis Maranheses. Prices for the sobrevoo over the National Park start at R$450 for a 30min flight and can take up to 4 or 6 people depending on the plane's size.
After your early morning sobrevoo, it'll be time to check out of your hotel and make your way back to São Luis for your next flight (this may be a flight back home or wherever your next destination in Brazil may be!).


I hope you enjoyed this Lençóis Maranhenses itinerary and that it inspired you to visit this truly unique and magical place! It's an absolute must-visit and one of the best places to visit in Brazil.
Found this Lençóis Maranhenses travel guide useful? Bookmark this page and share it with your friends!
Looking beyond a 7-day Lençois Maranhenses itinerary? This blog on the best things to do in Lençóis Maranhenses will give you more inspiration on what to do.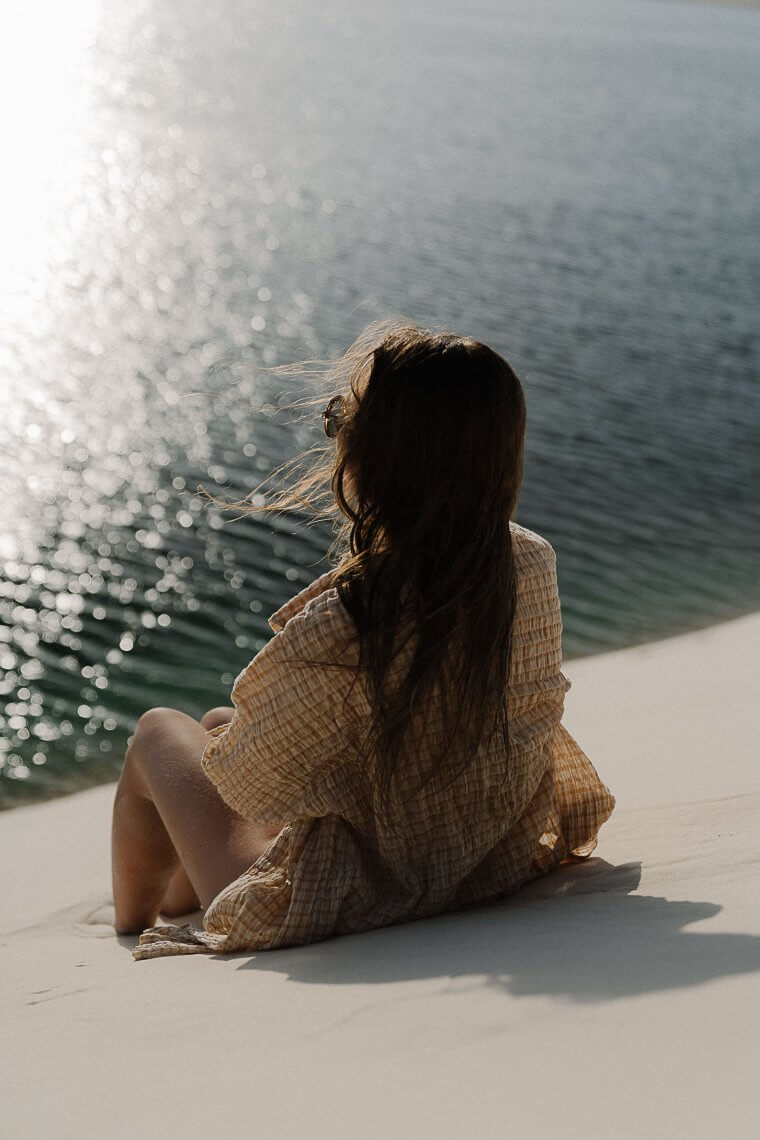 Have you been to Lençóis Maranhenses?
What are your top things to do in Lençóis Maranhenses? Anything you'd add to this Lençóis Maranhenses itinerary?
Love as always and happy adventuring…
Did you find this post helpful? I'd love you to share it for me.
Pin and save this blog post for later…