If you're looking for the best things to do while visiting Florianopolis, Brazil, then you've come to the right place! This beautiful Brazilian city is a paradise of beaches and outdoor activities, with plenty of culture and history, are thrown in as well. From exploring the vibrant nightlife scene to lounging on some of Brazil's most stunning beaches, there are countless ways to enjoy this amazing destination. In this Florianopolis guide, we'll share our favourite things about this magical place so that you can make the most out of your stay. Whether it's your first or tenth time in town, these tips will help ensure an unforgettable experience!
Florianopolis is in Santa Catarina, on an island off the Southern Atlantic Coast of Brazil. It's known as Ilha da Magia, which translates to Island of Magic. This unique location means that Florianopolis beaches are some of the best beaches in all of Brazil, which is one of its top attractions for tourists. There are 42 beaches to explore here, with something for everyone from surfers and sunbathers to nature lovers and sightseers.
See all Brazil travel guides here.
As well as its beaches, Florianopolis also offers plenty of outdoor activities. Whether you're looking to explore the lush green mountain hikes or take a boat out onto the sea, there are plenty of options here to keep you busy. For those looking for culture and history, there are also many museums and galleries to explore in the city.
Of course, no one can visit Florianopolis without experiencing its famous nightlife. There are plenty of live music venues, bars, clubs and restaurants to choose from throughout the city – something you won't want to miss out on!
Overall, Florianopolis is a beautiful destination that offers something for everyone. Whether you're a beach bum or an adventure seeker, this magical island has it all and more. Hopefully, this Florianopolis guide will help you plan the perfect trip to the island of magic – have a great time!
Other travel guides you might find useful…
The best time to visit Florianopolis
As the lagoons are made up of rainfall water, the best time to visit Lençóis Maranheses in Brazil is when they are at their fullest, which is right after the rain stops, making July, August and the start of September the best time to visit Lençóis Maranheses.
Even though it's technically Winter in the Southern Hemisphere, you should expect hot and dry conditions in the North East (around 28C-34C degrees!).
How to get to Florianopolis
Florianopolis is in the state of Santa Catarina and has its own airport. The airport has some international flights, but all are from South America (Argentina, Uruguay, Chile). If flying from Europe or America, you'll need to connect through bigger airports like São Paulo, Rio de Janeiro or Recife.
If you're in São Paulo or Rio de Janeiro and are looking for a more affordable (but not time-efficient) option, there are buses that run from both cities to Florianopolis.
National flights from São Paulo cost between £120 – £200 (depending on how far in advance booked!), and flights take 1hr. Buses cost £40 – £60 round trip, and travel time is 11-12hrs each way.
Getting around in Florianopolis
Florianopolis is 54km long, so taxis, Uber and car rentals are all great options if you plan to visit multiple locations.
For freedom and flexibility, car rental is always the best way to go, but it is the most expensive option. Car rental prices start at R$ 80 – 100 per day (better prices are offered the longer you book!). Most car rental companies offer to pick up and drop off at the airport. Car rental companies I'd recommend are:
The next best way to get around the island is by Uber. As cities and popular locations are dotted over the island, Ubers sometimes can take a little longer to reach you but rest assured, there are available all around the island; you might just need to be a little patient. Top safety tip: enable the passcode verification in your Uber app to ensure you get into the right one. This isn't specific to Florianopolis, as it's one of the safest cities in Brazil, but something I started to do while travelling in Brazil, and now I have this enabled everywhere I go!
Where to stay in Florianopolis
There are various accommodation options available in Florianopolis, depending on your budget and preferences.
Where you stay depends on what activities you're looking to do. If your focus is surfing and beach activities, stay in Campeche, or Praia do Mole. Most of the hotels in these areas are eco-hostels or small boutique resorts. We stayed at Pousada Aldeia da Praia, and we can only sing their praises! This is a small family-run bed and breakfast with just five rooms, right next to Campeche beach.
Other accommodation options at Campeche in Florianopolis:
If you want something more upmarket in Florianopolis and closer to the buzz, stay in Jurerê or Lagoa da Conceição. There are plenty of resorts, pousadas and hostels here, and it's just a short drive to the beaches.
Hostels in Florianopolis:
Pousadas in Florianopolis:


Without further ado, here are The best things to do in Florianopolis
The best things to do in Florianopolis, Brazil
Florianopolis beaches are known as a surfing destination and are a great place for beginners and experienced surfers alike.
Praia do Mole is one of the most popular beaches in Florianopolis, and it's also a great spot to learn how to surf. There are several beginner-friendly breaks here, making it the perfect place for first-timers. Mole Surf School and Selina hostel both offer classes, equipment rental and board hire.
Campeche Beach has become increasingly popular amongst travellers and experienced surfers. It has a consistent swell, and the waves here are great for all levels of surfers. It's become a bit of a hub, and there are plenty of surf schools in this area, like:
If surfing is high on your agenda, this is one of the best things to do in Florianopolis.
2. Take a boat ride to Ilha do Campeche
Ilha do Campeche is one of the most beautiful islands in Florianopolis, and it's just a short boat ride away. There are no cars or buildings here, so it's perfect for nature lovers and beach-goers alike.
The island has secluded beaches, crystal clear waters and abundant wildlife, making it a great spot for snorkelling, kayaking or simply just soaking up the sun with a cold drink in hand.
Getting to the island is easy per se, but as it's a popular destination, it's 'competitive' as there is a limit on how many boats can leave daily. So it's recommended to book an early tour (leaving between 7-8 am) to guarantee access to the island. You can "prebook" onto a tour with your hotel or tour operator or drive to Praia da Armação and queue to hop on to a boat that has spaces left.
The boat ride across takes around 40 minutes each way, and you'll spend around 3-3.5 hours on the island.
Visiting Ilha do Campeche is one of the best things to do in Florianopolis, so include this in your Florianopolis Brazil itinerary.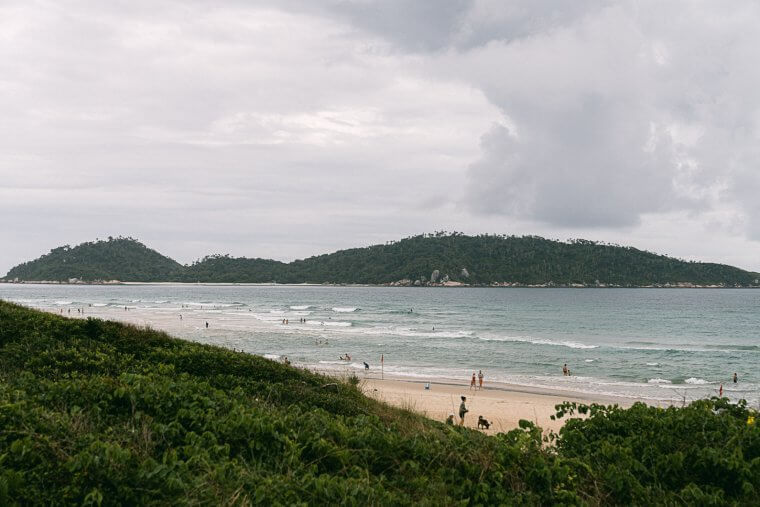 3. Go sandboarding at Dunas de Joaquina
If you're looking for a fun activity, then sandboarding at Dunas de Joaquina is one of the best things to do in Florianopolis. The dunes here are perfect for those wanting to try sandboarding or even just take a scenic walk around the area.
To get to the dunes, either park on the road that leads down to Praia da Joaquina or ask your Uber to drop you off at Via Praia Hotel so you can walk up the dunes. There's one little wooden hut where the guys who rent the sandboards just rock up, and ask for a board, and that's your activity for the afternoon.
4. Hike to a remote beach and have it all to yourself
Florianopolis has 42 beaches, so you're never too far away from the sand and sea. There are plenty of beautiful beaches to choose from, but the best ones are those slightly off the beaten path.
There are quite a few Florianopolis beaches that are only accessible through hiking trails:
Lagoinha do Leste – moderate hike, 1.5hrs each way

Praia dos Naufragados – easy hike, 25mins each way

Praia do Matadeiro – easy hike, 1hour each way

Praia do Gravatá – easy hike, 35mins each way
All but one of the hikes above can be done without a guide. The hike to Lagoinha do Leste can get tricky and isn't as easy to navigate as the others, so it's best to go with a guide.
These hikes are great for those wanting to escape crowds and get away from it all. Plus, you'll be rewarded with a beautiful beach all to yourself!
Paragliding is one of the best things to do in Florianopolis if you're looking for a thrilling experience. There are several spots around the city where you can go paragliding, but the most popular ones are Praia Mole and Lagoa da Conçeição. The views here are incredible, and it's an amazing way to soak up the scenery.
A flight costs around R$ 300 – 350. Just make sure you book your trip in advance.
Below are some schools/tour operators that offer paragliding:
Florianopolis is surrounded by stunning beaches, so it's no wonder this is the main reason tourists from all over the world choose to come here to get a taste of the sun, sand and sea.
The most popular beach in Florianopolis is Praia Mole, well-known for its laid-back vibes and great surfing waves. It's a great spot for beginner surfers, with its long stretches of beach and gentle waves. It's also perfect for swimming and soaking up the sun.
Other popular beaches include Joaquina Beach (great for surfing as well as relaxing), Praia dos Ingleses (good for relaxing), Praia Brava (great for bodyboarding ) and Praia da Armação (good for swimming and relaxing).
For those wanting to try out some kite surfing, the best spot is Praia do Campeche. It's one of the windiest beaches on the island, making it perfect for kite surfing.
No matter what type of beach activity you're looking for, Florianopolis has a beach to suit your needs. So make sure you add this to your list of things to do in Florianopolis!
7. Make the most of the nightlife
If you're looking for a night out with friends in Florianopolis, then there are plenty of bars, pubs and clubs to choose from. The city has a vibrant nightlife scene that caters to every type of music or vibe.
Lagoa da Conceicao has many lake-side bars and pubs that serve up delicious cocktails and often have live music playing. Some of the most popular bars are The Black Swan and Santa Club Lisboa
For those wanting to hit up some clubs, Jurere Internacional is where you wanna be. Parador 12, Acqua Plage, and Cafe de La Musique are the most popular and frequented clubs in the area.
8. Watch the sunset in Antonio de Lisboa
Santo Antonio de Lisboa is a small coastal village in the northwestern part of the island. its unique location makes it one of the best places to watch the sunset in Florianopolis.
It's best to visit in the evening, just before sunset, as this is when it gets really busy with locals and tourists alike who have all gathered here to have a peaceful evening by the water. There are plenty of restaurants and cafes here, so it's a great spot for dinner or drinks with friends.
The village itself is also worth exploring, as it's full of colourful buildings, narrow cobblestone streets, and picturesque views over the ocean. It's definitely one of the most beautiful places to visit in Florianopolis, Brazil.
9. Hike around Lagoa do Peri
Lagoa do Peri is a freshwater lagoon located in the southeastern part of Florianopolis. It's surrounded by lush vegetation, making it one of the best places to go hiking and explore nature.
There are several trails around the lagoon, ranging from easy to more challenging. The views here are breathtaking, especially at sunset when the sky turns all shades of pink, orange and purple.


So those are some of the best things to do in Florianopolis! From paragliding over the beaches, exploring the nightlife, watching beautiful sunsets and hiking in nature – Florianopolis has something for everyone. So why not add it to your travel bucket list?!


Have you been to Lençóis Maranhenses?
What are your top things to do in Lençóis Maranhenses? Anything you'd add to this Brazil bucket list?
Love as always and happy adventuring…
Did you find this post helpful? I'd love you to share it for me.
Pin and save this blog post for later…