If you're planning a trip to Costa Rica, this blog post is for you. Don't move an inch.
I've just got back from one month travelling and exploring this gorgeous Central American country and in this blog post I am going to share all of my lessons, findings and top tips to help you plan your visit (and not make the same mistakes!).
We will go through top tips for renting a car in Costa Rica, what to expect from the roads in Costa Rica, how much it costs to eat in Costa Rica, examples prices in Costa Rica, all the way to how to be a sustainable tourist in this country, what money is accepted in Costa Rica and how to choose your destinations wisely. Yep, there's a lot of really important knowledge in this Costa Rica travel guide and you'll be left with more top tips for travelling in Costa Rica than you thought possible. I got you.
Did you know?
Over 25% of Costa Rica's land has now been turned into protected parks and reserves. There are currently 27 national parks, 58 wildlife refuges, 32 protected zones, 15 wetland areas/mangroves, 11 forest reserves, and 8 biological reserves, as well as 12 other conservation regions! This land is incredible.
If you're planning your dream trip to Costa Rica you're onto something out of this world!
At the same time though, it's important to do your research before travelling to Costa Rica because Costa Rica is known to be the 'Switzerland of Central America'. Mhmmmm… not cheap. Don't worry we have ways to save money in Costa Rica in this blog post too!
Let's tuck in, shall we?
Other blog posts and travel guides you might find useful…


Top tips for travelling in Costa Rica
1. Costa Rica is a lot more expensive than it's neighbouring countries
This was probably the advice I was given the most before heading to Costa Rica, forget mozzie spray.
'It's so expensive' were the words on fellow travellers lips. I have to say, it's true. Travelling in Costa Rica isn't cheap, particularly if you want to make the most of the abundant land and visit multiple national parks, waterfalls and reserves. Some are cheaper than others, for example the Uvita waterfall entry was $4 per person. For the Rio Celeste waterfall (and National Park entry) it was $15 with parking.
Most things come with a price and so it's important to account for the extra costs beyond the basics (transport, accommodation and food) when planning and budgeting for your trip to Costa Rica.
I probably felt the costs a little more as I was travelling solo and choosing to stay in hotels / Airbnbs / guest houses, as opposed to hostels and shared rooms. In my opinion, there are always ways to cut costs and save money on a trip, including in Costa Rica so fear not, don't let these comments put you off the trip of a lifetime here!
2. You can use either USD / CRC in most places
If you're confused about the currency accepted here in Costa Rica, let me clear things up for you.
Costa Rica's national currency is the colón (Costa Rican Colones) but US $ dollars are pretty much accepted everywhere too.
When you withdraw money at ATMs you will most likely be withdrawing in CRC but when you pay by card you can choose to pay in USD or CRC.
Basically, as long as you have USD or CRC you will be fine to pay. If the vendor only has CRC and you pay in USD, they will calculate the change in CRC for you. So you just may end up with a mix of currencies in your wallet.
One top tip for travelling in Costa Rica, I will say, is that when you withdraw / get money exchanged prior to travelling get a mixture of small and large notes. Some people struggled to give me change when I was breaking the larger notes.
Also, if you're driving and use the toll roads available in Costa Rica, it's great to have some change rolling around for a speedy drive through.
3. Paying in cash can secure you a cheaper price
Another top tip for travelling in Costa Rica and reason to carry at least some cash around with you is that cash can secure you a cheaper price or better deal with vendors.
I would never advise carrying too much cash but a mixture of card and cash, particularly when shopping is a great idea!
Cash was also useful for me in Costa Rica when they had a power cut (more frequent than you think, usually due to rain) and I was needing to pay in a restaurant when card machines were down.
Oh, and for parking, you'll need some small change/notes. A lot of paring areas are run by locals that ask for a small donation and of course, don't take card.
4. Look out for the 10% service charge and 13% tax!
The taxes in Costa Rica are something to look out for, particularly if you're on a budget and not wanting any surprise additions to your bill at the end of the night.
On menus, restaurants and bars will disclose whether the taxes are included in the prices or excluded and added to the bill at the end. Keep an eye out for those!
5. Pay attention to the weather and seasons when booking your trip
A top tip for travelling in Costa Rica is to pay attention to the seasons when you are planning and booking your trip.
Consider what activities you plan to do in Costa Rica. Consider the focus of your trip. Is it sunny beach days? Is it nature? Is it an outdoor adventure? Or it is tucking away into a retreat space and embracing all the land has to offer? Are you needing to cut as many costs as possible to make it affordable? Looking to avoid the crowds, or get stuck into them?
Whatever your intention, it's important to do your research on the clear seasons here in Costa Rica to ensure you get the most out of your trip.
Top tips for travelling in Costa Rica:
The winter (wetter season) season is May – October
The summer (dry season) is November – April
September / October is said to be the worst time to visit as a lot of businesses shut down (particularly on the Pacific Coast) during these months as it's very rainy.
However, Sept / Oct are considered the best months for the Caribbean Coast which sees dry and sunny weather.
April / May is the shoulder season so you can secure some great deals on transport and accommodation before the weather turns to full Winter motions.
The weather will affect the car hire recommendations (4WD are recommended in the winter months as roads can flood and driving can become more challenging on many roads in Costa Rica).
Dive into Costa Rica weather a little more here.
6. Hiring a car is one of the best ways to see Costa Rica
Hiring a car in Costa Rica is one of the best ways to see the country… no doubt about it. I rented a 4WD for the month that I was exploring and there wasn't a moment of regret.
Advantages of renting a car in Costa Rica include:
Reduced need to book onto expensive tours to see. the popular spots and waterfalls
Flexibility and freedom
Ability to change location and plans with minimal organisation/stress
Can arrive at popular spots at a time of your choice, often avoiding crowds.
Can reach off the grid Airbnb and cool locations!
However, there are many things to consider when booking a car in Costa Rica. I was unsure about a few things and a few things caught me off-guard so I'm going to share my learnings with you!
Pay attention to insurance policies when booking your car.
In Costa Rica, it is not essential to have insurance like it is in many countries like the UK. This makes not having third-party insurance a huge risk. When I booked my 4X4 online it advertised it as 'fully covered' and in the UK this means fully covered lol. However, when I got to pick up my car they informed me that third-party was not included and pulled out their additional documents and small print. Had someone damaged my car on the road or whilst parked I would have been liable. Having no idea of the driving conditions or roads at this point I paid the extra £300 to cover myself. A bit of a blow but it gave me peace of mind. Just a note, be careful of wording when booking and check for third party insurance. Often the price is a baseline and you need to pay insurances on top!
I recommend getting an SUV or 4X4 for the clearance
Of the 3000miles+ I covered in Costa Rica, I would say 60% were absolutely fine and the rest required full attention, avoiding potholes and adjusting speed to account for varying terrain levels. A top tips for Costa Rica when hiring a car would be to get an SUV or 4X4 for ease and comfort.
The roads vary from amazing and smooth to some of the worst I've driven on
It totally depends on what part of the country you visit. Some of the worst roads I encountered were around Santa Teresa (Nicoya Peninsula) and up in Monteverde. But many and most of the roads across the country were absolutely fine!
There are assistants at the gas stations that fill your car for you, you can sit in your car
Pretty sweet! Particularly if you are a tourist and need assistance anyway. Often they will give your windows a quick clean so it's nice to drop them a tip if you have some change!
How much is fuel in Costa Rica?
In May 2021, it was 689 colones per litre for regular petrol and for diesel 553 colones per litre. Cards were accepted at every station I stopped at.
Have some cash for the toll system.
I only paid tolls on my large journeys on the highways. They were never above 1000CRC so they aren't expensive but I'd recommend having a little pot of cash for them!
I only came across like 3 sets of traffic lights in a whole month of driving, one in Quepos and the rest coming into San Jose, the city!
Download Google Maps offline so that you have directions when you lose signal / WIFI
Don't park under coconut trees
(if they drop they will do some damage!)
7. Tap water is drinkable
Tap water in Costa Rica is generally known as safe to drink.
The choice to drink tap water is at your own discretion. It's best to ask and check with the restaurant/hotel/bar you are at before drinking it. Sometimes in rural areas, it can be a safer option to drink bottled water but of course, where it's safe to drink tap water, this is a better option for the environment.
I carried a reuseable water bottle around with me in Costa Rica and never struggled for places to fill it up. I also drank tap water and had no problems (of course our systems are all very different though so go with what feels best for you).
8. National Park and trail fees add up
As mentioned earlier, if you want to make the most of the abundant country that you are visiting, you are going to want to visit at least a few trails, parks and waterfalls whilst you are here in Costa Rica.
Chances are, it's the flora and fauna that have bought you here.
There seemed to be a fee on most places I visited, though of course if you listen to tips from fellow travellers, do your research (like you are doing on this post) and are curious, there are always alternatives that can save you money!
For example:
In Arenal, you can pay for a day pass to one of the Hot Springs resorts OR you can head to the free spot on the river for a dip in the same geothermal springs. See more in my Arenal guide here.
You could pay for one of the many Sloth trails or you can spot them in the wild. On my Chocolate Tour they had 3 resident sloths in the trees! In Manuel Antonio, I spotted 3 in the trees on the beach!
Example prices in Costa Rica:
Rio Celeste National Park entrance – $13.50
Curi-Cancha Reserve – $20
Monteverde Cloud Forest Reserve – $25
Uvita Waterfall entrance – $4
Montezuma waterfall access – 3000CRC
Manuel Antonio National Park entrance – $18
Tour guide for Manuel Antonio (recommended) – $15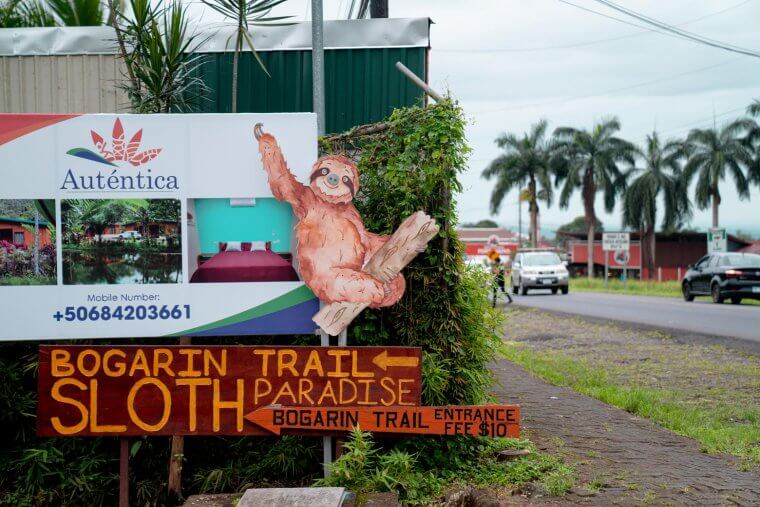 9. It's a good idea to learn basic Spanish phrases
There were many times that I actually couldn't communicate with the gorgeous Spanish humans in front of me. For this reason, and out of respect for the culture and country through which you are travelling, I'd suggest learning a few of the basic phrases. Such a fun part of travelling through a new country!
Here are a few to get you started!
Donde esta el baño = where is the toilet
Hola = Hello
Adiós = Goodbye
Por favor = Please
Gracias = Thank you
Lo siento = Sorry
Sí = Yes
No = No
¿Quién? = Who?
¿Qué? = What?
¿Por qué? = Why?
¿Dónde? = Where?
10. Look out for 'sodas' - get some local food!
Sodas are small Tico (Costa Rican) eateries where you will find local food, locally priced. This is a great way to save money on food as eating in a soda tends to be a lot cheaper than the international and western establishments.
But aside from cost, I LOVED the local cuisine. Lots of beans, plantain, rices and sour cream!
I've included my favourite sodas in all my Costa Rica Travel guides.
11. Casado is the local dish
A Casado is an authentic Costa Rican meal using rice, black beans, plantains, salad, a tortilla, and an optional protein source such as chicken, beef, pork, fish and so on. Of course though you can make it veggie like I did!
Even if rice, beans, meat and plantain aren't your thing… my top tip for travelling in Costa Rica would be to try the local dish at least once.
You can see my vegetarian option below. The Casado is a versatile dish and there is always the option to have meat / no meat and add any extras you fancy!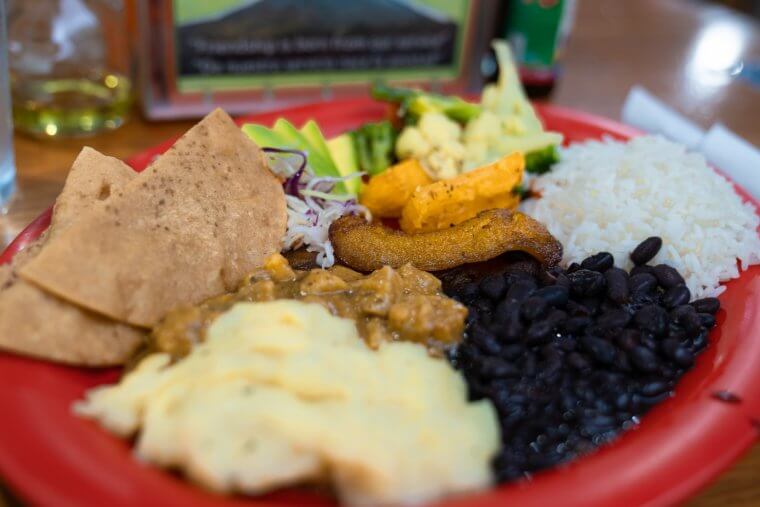 12. Bring Binoculars with you to embrace the flora and fauna experience
Okay so I've always had an appreciation for nature but Costa Rica takes it to a whole new level.
The species, colours and abundance here are ridiculous. If you're looking to spot some of the wilder, more camouflaged animals e.g. the sloth, bringing a pair of binoculars is a wonderful idea.
I didn't even consider bringing mine but I wish I had, just to enhance my walks more.
Luckily though, enough people had them and were kind enough to lend them to you if they spotted something amazing.
Alternatively, when you're visiting National Parks you can hire a tour guide that will bring all the equipment and more. This is one of the many perks of having a tour guide for a small extra cost.
Basically, you could walk through a park with 10 sloths in the trees without seeing a thing if you aren't paying attention / have the binoculars to observe them in the tree tops.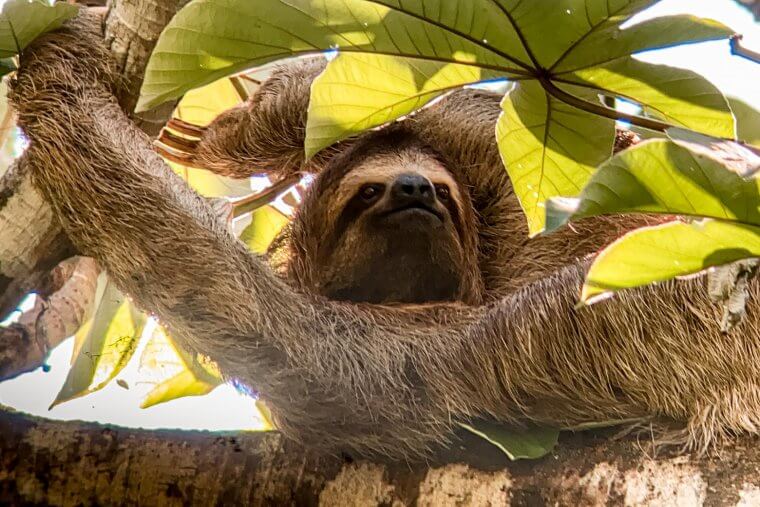 13. Consider paying the extra for a guide on some of the tours / national parks
This leads on from the last point.
Of course when paying for a National Park entrance you think, what do I need a guide for. But honestly, if you're ever going to get a guide, let it be in Costa Rica.
Sure you can piggyback onto someone else's tour along the way but having that one to one experience and opportunity to ask questions was one of my absolute favourite experiences in Costa Rica.
I got a guide in Manuel Antonio National Park and he had been walking the park and lands here, studying the species for 15+ years. You just cannot compete with that kind of knowledge. It was fascinating and it was the densest experience with nature during my whole month in Costa Rica!
See all my Costa Rica travel guides here.
14. No toilet paper or other down the toilets (only human waste)
It's actually been so weird coming back to England and putting toilet paper down the toilet again.
Across the whole of Costa Rica, you are asked to place toilet paper and any waste that isn't derived from the human body, in the bin. Simples.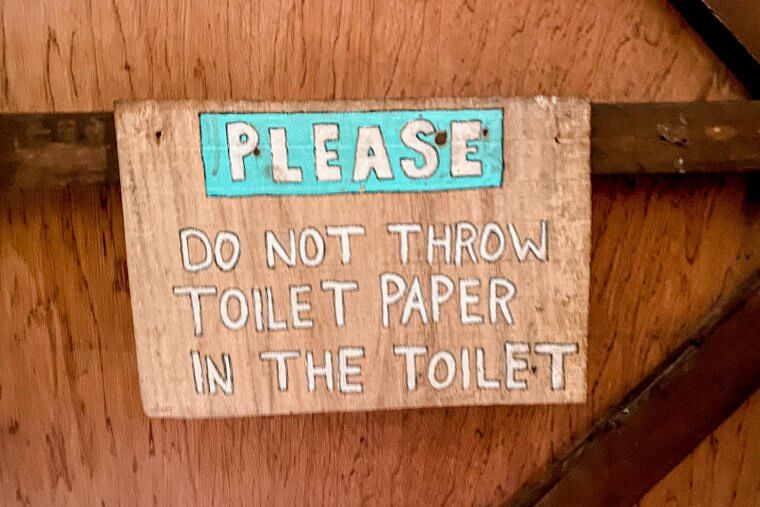 15. Bring an insulated waterbottle to keep your drinks cold on hikes / long drives
Gosh I was so grateful to have bought my insulated water bottle with me to Costa Rica. This has to be one of my top tips for travelling in Costa Rica.
Whether it's on a long drive, a day at the beach, in your room with just a fan or a day hike, it's so refreshing to open your bottle to cold / ice-cold water – particularly in the 30-40 degree heat and humidity!
16. Bring hiking trail shoes and water shoes
Another thing I was so happy I thought to pack – hiking shoes!
I know space in your luggage can be limited but with the number of epic trails, hikes, waterfalls and rocks to explore here in Costa Rica, you'll be using them a lot more often than you think.
Even the short hike to Montezuma Falls, near Santa Teresa, was demanding of a grippy shoe. At one point I took my shoes off (nearing the waterfall) and nearly slipped big time. I put my Merrel hiking trainers back on immediately. The pathways and walks aren't always maintained and as manicured as you may hope so having shoes with a good tread is a good idea!
Hiking trainers or Teva sandals are perfect!
17 Bring a poncho / raincoat / umbrella for the downpours
Need I say more… when it rains it rains.
18. Use the local laundrettes when your clothes get damp from the humidity!
If you are visiting Costa Rica in the shoulder season or in the winter (rainy) season as I did then you may be going from rainstorms to A/C, or rainstorms to humidity/fan rooms. If your clothes aren't given the chance to dry properly, they can start to get a damp smell.
Fear not, there are local laundrettes in most towns and villages. I washed my swimwear and any other bits every week for just a few dollars.
19. Selina hostels are the vibe for young travellers, whether you stay there or just enjoy their bar / restaurant areas
During my month in Costa Rica, it only took me about a week before I realised that there was an establishment on most young travellers lips… Selina's.
Selina provides guests with beautiful places to stay, travel, and work abroad indefinitely .- Selina
What stood out to me about each Selina property was the attention to detail and the consistent strength in their branding. Each property was lined with a eye-catching art, gorgeous nutritious menus, areas perfect for social gatherings.
Basically, whether you're a digital nomad looking for somewhere to work and have your breakfast, whether you're a traveller looking to connect with others over a cocktail, or looking for somewhere to stay that's affordable, in a prime location and has music, cocktails, style and wellness offerings… this is it.
I stayed at Selinas in Monteverde because I wanted to be around people as a solo traveller and it did not fail me!
They have other properties in Costa Rica in:
Jaco
Manuel Antonio
La Fortuna
Monteverde
Santa Teresa
Puerto Viejo
San Jose
Tamarindo
20. If you're short on time choose Monteverde OR La Fortuna
If you're at the stage where you figuring out your itinerary my top tip for travelling in Costa Rica would be to map out the locations you're thinking and then list the activities you desire to experience in each. You will find that in a few locations, activities will be very similar, like Monteverde and La Fortuna.
In both of these destinations, you can: admire views of Arenal Volcano (so long as the weather permits), do a chocolate farm tour, coffee plantation tour, engage in trails, adrenalin activities and more.
If you're short on time, this could be a good way around it.
Check out my Costa Rica travel guides below to get a better idea of what each destination offers: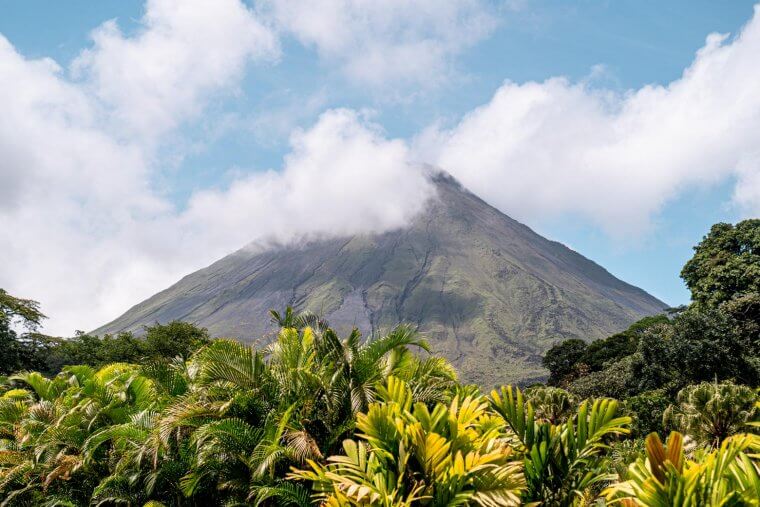 21. Keep an eye on your belongings, just be wary!
22. Bring a facemask for the dust
Forget COVID, there are some areas of Costa Rica that I wanted to wear a mask because of the dust!
Where roads haven't been tarmacked yet and the roads are dry, cars passing can mean churning the dust up into the air and into everyone's airways lol. There were big trucks sprinkling water across the roads to prevent this but, bring a mask.
23. Respect and enjoy this sustainable country
A few top tips for travelling in Costa Rica, in a respectful way:
Take your litter off the beach with you when you leave.
If you take food into national parks, leave no trace when you leave.
Learn some of the local lingo!
Don't let taps and showers run unnecessarily
Turn off lights and electrics when not in use (AC is expensive!)
Bring a reusable water bottle and fill it up instead of buying single-use plastic
Respect wild animals and keep your distance, don't scare them
Leave wildflowers and plants alone, protect the land
Eat and support local where you can!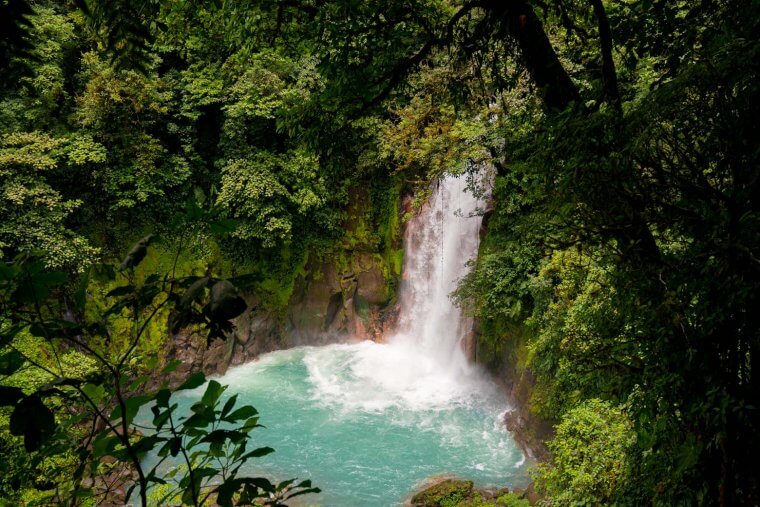 Have you got a top tip for travelling in Costa Rica??
Love as always and happy adventuring,


Did you find this post helpful? I'd love you to share it for me.
Pin and save this blog post for later…