Monteverde, which translates literally to 'The Green Mountain' is located in the Puntarenas province, just a 2.5-hour drive north of Costa Rica's capital San Jose.
As one of the country's major ecotourism destinations and one of the most popular places to visit in Costa Rica full stop, I have no doubt you've already got the Monteverde on your Costa Rica bucket list.
Perhaps you've been told about the Monteverde Cloud Forest Reserve? The zip lines? The coffee tours? The wildlife night walks? The butterfly gardens?
It's all here in Monteverde and in this Monteverde travel guide, I am going to share with you the best things to do, see and eat whilst in Monteverde, to help you prepare and plan your trip.
Monteverde Cloud Forest Reserve is a great addition to your Costa Rica itinerary, particularly if you're looking to witness some of the incredibly diverse wildlife that Costa Rica is home to. In Monteverde, where you will be sat on the Continental Divide at 4,662 feet (1,440 m) above sea level, you have many opportunities to encounter endangered, rare and extremely diverse wildlife as well as (and including) over 2500 species of plants, 1,200 species of amphibians and reptiles, 100 species of mammals and over 400 species of bird.
Yep, it's mega-diverse here in Monteverde and a haven for those of you looking to adventure through some of Costa Rica's finest flora and fauna.
Monteverde is also home to nearly 30 species of hummingbirds and encounters with howler and capuchin monkeys are very common!
Basically, get Monteverde on your Costa Rica bucket list, get your pen and paper ready and tuck into this Monteverde travel guide. I got you!
Other blog posts and travel guides that you may enjoy: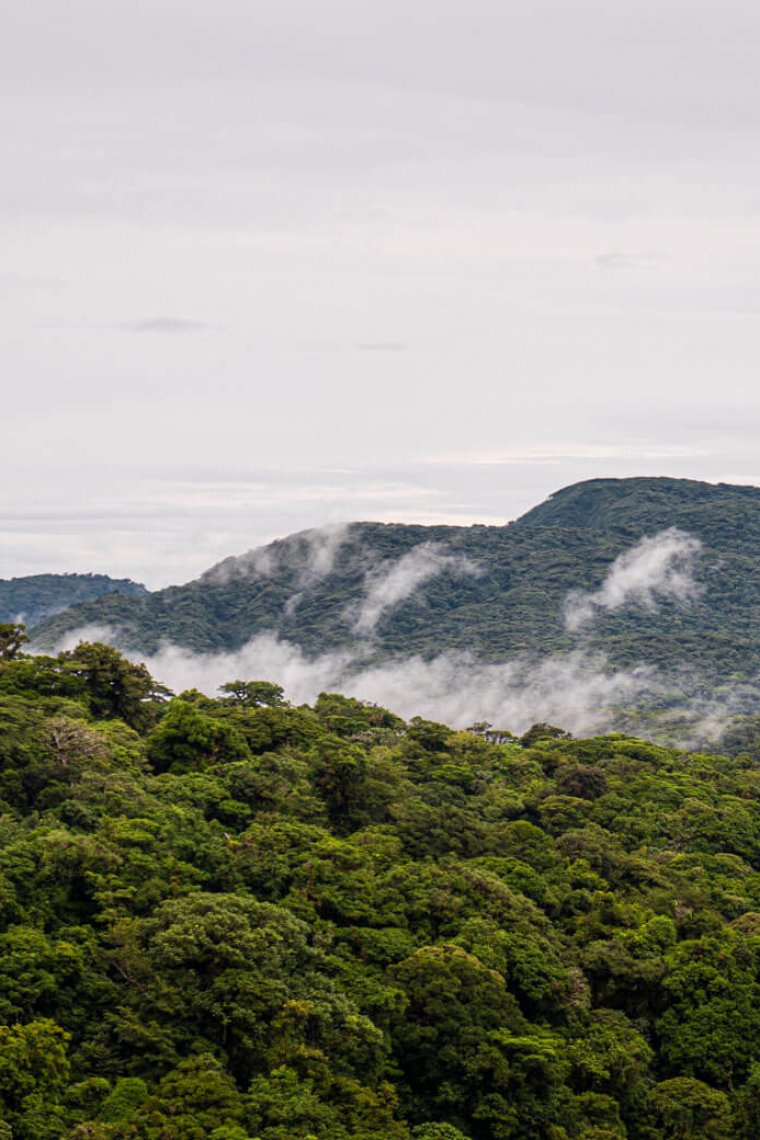 Where is Monteverde? How to get to Monteverde?
If you're flying straight into Costa Rica and looking to head straight into the mountains and explore Monteverde then chances are you'll be landing at Liberia Airport or San Jose Airport?
Monteverde Cloud Forest is a 2.5-hour drive north of San Jose (SJO International airport)
Monteverde Cloud Forest is a 2.25-hour drive southwest of Liberia Airport (LIR Airport)
Monteverde is a town located in the Cordillera de Tilarán mountain range so if you're driving from the coast you can expect the ascent to this region to bring about a drop in temperature. I drove from Santa Teresa to Monteverde (4.5 hours) and the temperate dropped from 36 degrees to 19 degrees! Something to bear in mind when packing.
See more about the climate and weather in Monteverde year-round here.


Where to stay in Monteverde?
You can indeed stay in Monteverde itself or you can also stay in the nearby, popular town of Santa Elena. It is here that the majority of tourists to the Monteverde Cloud Forest Reserve stay.
I stayed at Selina Monteverde which was in Monteverde itself and walking distance from the Monteverde Cloud Forest Reserve but I would have been equally happy to stay in Santa Elena too – this is where the 'hustle and bustle is'. Important to note if you're solo travelling and without a car as I can imagine you'll want to reduce taxi / bus expenses.
My accommodation recommendations for Monteverde:
These are the only two I can recommend from experience however take a look on Booking.com / Airbnb in Santa Elena / Monteverde and take your pick.
I always recommend to plot your must-see's and must-do's on a Google Map first, then book accommodation near all of your hotspots. This saves on travel and time!
If you're finding this Monteverde travel guide useful, I'd love for you to share it with your friends!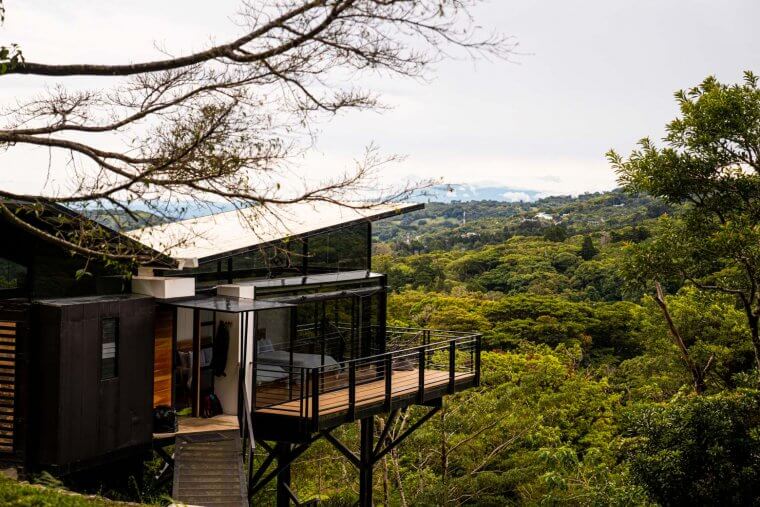 Example prices in Monteverde:
(As of May 2021.)
Cocktail = 3500-4000CRC
Main meal = 2500-8000CRC (it really depends how local you eat!)
Coffee = 1500-2000CRC
Standard double private room 50-90$ USD per night
Hostel bed in shared dorm 15-40$ USD pn
Let me know in the comments if there are any other example prices you'd like from me in this Monteverde travel guide.


If you're driving into Monteverde, be careful on the road, particularly at night. The roads are dirt tracks with lots of rocks and potholes. If you aren't paying full attention to the road and your speed, you could do some serious damage to your car.
Know that there are other reserves aside from the main Monteverde Cloud Forest Reserve to explore. Consider checking out Curi-Cancha or Santa Elena too. See more information below.
Do your research and talk to people. to get a recommendation for a coffee, sugar cane or chocolate tour. There are so many available and it can be hard to choose / trust which one to do. A recommendation is always helpful.
Bring a couple of layers, the temperature really varies up here in the mountains.
Bring a raincoat and/or umbrella! I visited in May, the start of the rainy season and I couldn't have been without my raincoat!


My favourite places to eat in Monteverde:
Pollo Asado – pictured below this little local spot was a serendipitous find. I was hungry and driving past and noticed a load of locals queuing. Usually a good sign hey? I pulled up, smelt the most glorious smell of grilled chicken and spices and immediately ordered chicken and tortilla with chimichurri (tomato salsa) for 2300 CRC (£2.62) – BARGAIN! And unbelievably tasty! You must go!
Cafe Monteverde Coffee shop – Great place to try the locally sourced and ground coffee with a yummy treat. They do vegan cookies and warm cinnamon buns! Here you can also buy coffee to take home!
San Lucas Treetop Dining Experience – A little fancier, set course type place. Set high in the trees with only glass windows separating you from the glorious cloud forest – this is a special occasion place!


Best things to do in Monteverde: A Monteverde travel guide
1. Have a cup of local coffee!
Whilst in Monteverde, you are surrounded by some of the yummiest coffee in the world. It would be rude not to try some of it hey!
In Cafe Monteverde, you will find a chic, clean interior where you can sit with your coffee and read, sample the coffee for free or just pick some coffee up to take with you on your travels.
There are vegan kinds of milk in here and plenty of treats to accompany your coffee. A perfect post-hike treat!
2. Bird watching in Curi-Cancha Reserve
Curi-Cancha is one of the other reserves I was talking about earlier.
Curi-Cancha is located a 5-minute drive from Monteverde Cloud Forest Reserve so you could easily combine them both on the same day or on consecutive days if you're spending a few days here in Monteverde.
Why visit Curi-Cancha?
It's known as a birdwatcher's paradise. Sightings here include that of:
Resplendent Quetzal
Three-Wattled Bellbird
Blue-Crowned Motmot
Orange-bellied Trogon
… and many others! Over 200 species of bord have frequently been making Curi-Cancha Reserve their home.
Sightings of mammals here include:
armadillo
coati
agouti
kinkajou
ocelot
two-toed sloth
three species of monkey: mantled howler, white-faced capuchin and spider monkey.
Upon a $20 USD entry, you are given a map of the trails and the trails are signposted all the way around. As well as wildlife spotting you can observe the incredible flora, walk down to the river and snap some pictures at the lookouts along the way.
Tip: Bring your binoculars and if you can, hire a guide too. Unless you have a sharp eye, having a tour guide will give you the best chance of seeing the animals!
3. Book on to a coffee, cacao sugar cane tour!
If Monteverde is your one location inland whilst travelling in Costa Rica then you must do a coffee/sugar cane/chocolate tour whilst you're here. Monteverde is one of the best places to do a coffee tour and learning about where your favourite foods and beverages come from is so fascinating!
There are so many to choose from and I doubt they are that dissimilar from each other. I didn't do one here, I went on to do one in La Fortuna, near Arenal Volcano however I was recommended the following:
4. Visit the Monteverde Bat Jungle
Get up close and personal with 90 live bats of 8 species in this stimulated jungle environment. The enclosure is 17m in length and the tours are around 45 minutes.
If you're keen to dive into the world of bats, this is it! Located in the centre of Monteverde, tours are just 8000CRC.
5. Dine at one of the Treehouse restaurants
A visit to Monteverde is all about diving into nature, right? Why end your up close and personal experience and limit it to just the day. Dive into one of the stunning treehouse experiences for dinner during your time in Monteverde and choose from the below…
San Lucas Treetop dining experience
Tree House Restaurant (pictures below)
6. Book a couple of nights at Kapetsowa Container Loft near Monteverde Reserve
I mean, look at those views. You cannot get much better views of the mountain and sunsets here in Monteverde than that.
One of the best things to do in Monteverde without a doubt!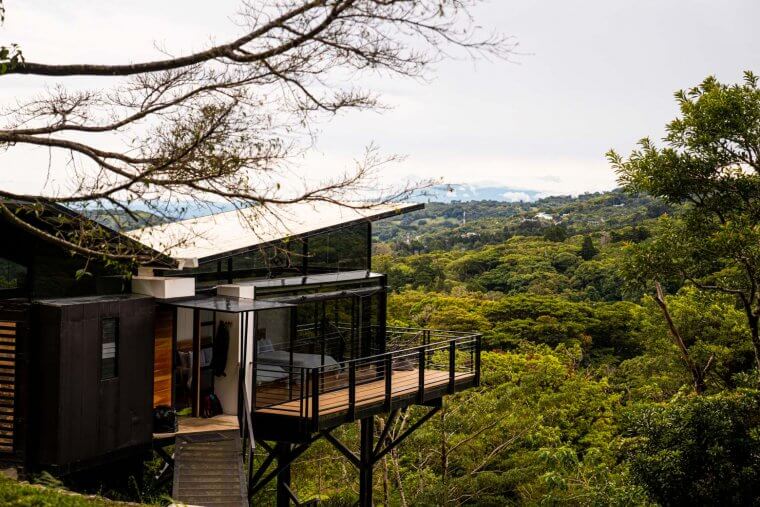 7. Visit Monteverde Cloud Forest Biological Preserve
A visit to Monteverde Cloud Forest Preserve is without a doubt the most popular thing to do in Monteverde.
Priding themselves on the unique opportunity they offer for visitors to reconnect with the natural world, the team at Monteverde Cloud Forest has been fiercely protecting one of the most endangered ecosystems on earth for over 50 years.
Only 1% of all forests on earth are now classed as cloud forests and your trip will be a sure and valued donation to their conservation efforts.
It is here that you can enjoy the healing energy of walking through the canopy, the clouds and being amongst some of the most beautiful flora and fauna in Costa Rica.
The reserve is open every day 7am – 4pm, all year round.
Tip: It has been said that the best time to spot wildlife is first thing in the morning, so set your alarms and get down there early!
8. Swim at San Luis Waterfall
San Luis is a 100m/330ft tall waterfall that takes around three hours to hike to. You'll need to trek through the rainforest near Santa Elena and will need some proper hiking shoes for the trail.
The waterfall is so worth it and is perfect for a swim, albeit a little cold so bring your swimmers!
You will be charged $10 adult, $8 child at the trail entrance to enjoy this gorgeous land. See more information here.
9. Book onto a night tour to see the wildlife
Some wildlife you can see in the day, some come alive at night.
Extend your dose of flora and fauna even further and book a night tour through one of the reserves. Your accommodation will be able to recommend a tour company or you can pop to one of the tourism centres in town, you won't miss the adverts! Its one of the best things to do in Monteverde!
If I had stayed another night in Monteverde I would have loved to do this!
10. Go hiking in the Santa Elena Reserve
Also a cloud forest and very close to Monteverde is Santa Elena Reserve. Here you can enjoy 13km of trails, all varying in difficulty if you're looking for another place to hike. Flora and fauna are in abundance here too… not that you doubted that for a minute.
Tip: It's been said that this reserve offers some of the best views of Arenal Volcano!
Open Monday – Sunday, 7am – 3pm.
See more on the website here.
11. Book on to a tree top adventure / adrenalin activity!
If you're feeling a little more adventurous and perhaps have completed many hikes in Costa Rica already, why not add a dose of adrenalin to your Monteverde adventures and opt for a different perspective of the Cloud Forest. Some fo the options you have:
Extreme Bungee Jump in the forest – book here
Extreme canopy tour (zip lines, swing and bungee) – book here
Selvatura Park Combo tour (zip lines, bridges and canopy walk) – book here
I met a few people that went out on one of these tours, it's definitely one of the most popular things to do in Monteverde if you're keen on an adventure.
Not only does it get your adrenalin pumping, but you also get an awesome perspective of the forest and you get to meet and witness the animals up there too!
Is there anything else you'd add to this Monteverde travel guide?
Where are your favourite things to do in Monteverde? Anything you'd add?
Love as always and happy adventuring,


Did you find this post helpful? I'd love you to share it for me.
Pin and save this blog post for later…