If you're planning a trip to Costa Rica, chances are you'll have Santa Teresa near the top of your bucket list amongst many of the other best things to do in Costa Rica. Santa Teresa is the destination most people come to soak up the surf, the yoga and the beach-bum Costa Rican dream.
I've been here a week and it's safe to say, I don't want to leave. I've extended two nights already. Once you settle in, it becomes a very comfortable little bubble of paradise.
Have you no idea what to expect from Santa Teresa? You're in the right place. In this Santa Teresa travel guide I am going to share all the tips from my recent stay!
Think an abundance of international travellers, surf shops, tropical boutiques, pastel-coloured everything, hand-woven bamboo lanterns, yoga studios, ceremonies and all the holistic offerings to choose from. Oh of course and let's not forget Santa Teresa is one of the best places to surf in Costa Rica.
After spending 1 week here in Santa Teresa, I am ready to share with you the best things to do in Santa Teresa, my favourite finds in Santa Teresa, places to eat in Santa Teresa and top tips for your stay here in Santa Teresa.
In this Santa Teresa travel guide, I am going to fully prepare you for your visit and get you excited to visit this Pacific Coast paradise.
Other travel guides and blog posts that you may enjoy: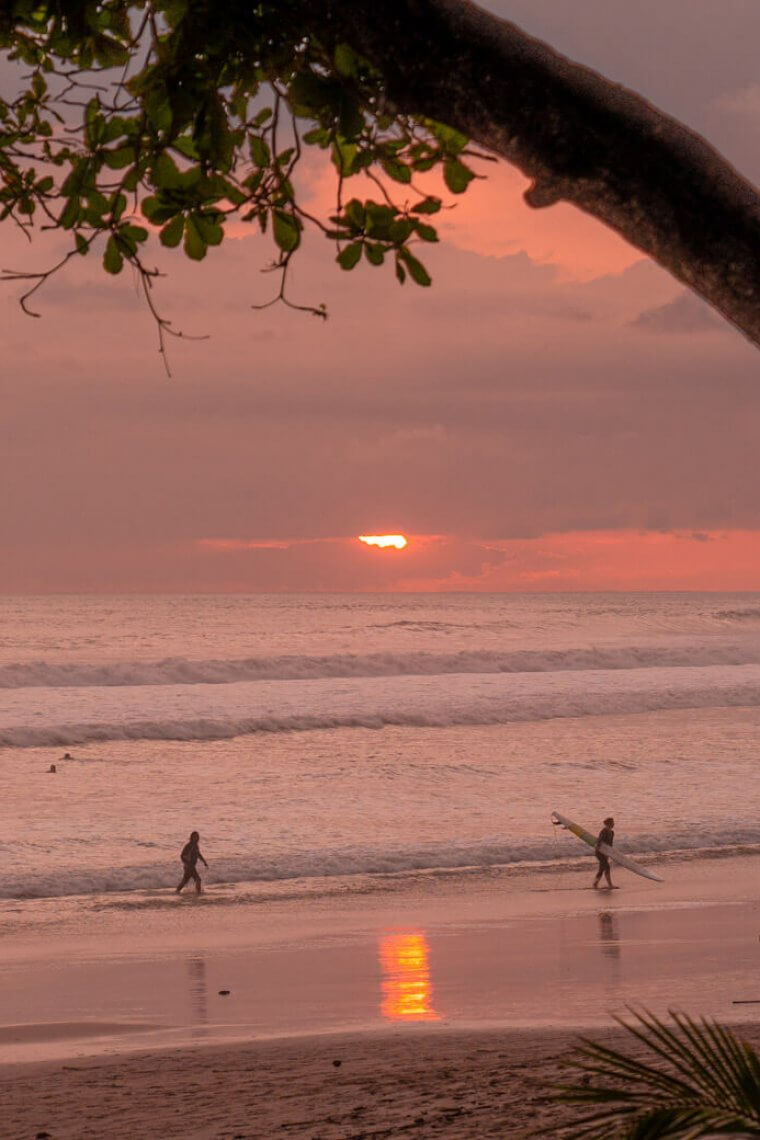 The ultimate Santa Teresa travel guide, Costa Rica
Where is Santa Teresa? How to get to Santa Teresa?
Santa Teresa is located on the south Pacific coast of Costa Rica, a small town in the Puntarenas Province. It is located about 150 kilometres west of the capital city of San José and unfortunately isn't the most straightforward place to get to.
However…it's so worth the journey.
Only a few extra hours stand between you and your Costa Rican dream once you touch down in the main international airport – SJO!
The best way to arrive in Santa Teresa is by landing at San Juan Santamaria International Airport (SJO) in San Jose, (the capital city of Costa Rica).
From SJO your travel options are:
land shuttles organised by your accommodation (enquire with them, most do them)
connect onto a local flight to Tambor (TMU) which is an hour drive to Santa Teresa
hire a car (4-hour drive) and take the ferry across from Puntarenas to Paquera
jump on a Public bus (takes around 7 hours) for $15
Alternatively, you can fly to Liberia (LIR), in the northwest region of Costa Rica, from which Santa Teresa is a six-hour drive.


Where to stay in Santa Teresa?
Santa Teresa has a pretty straightforward layout. All of the best things to do in Santa Teresa are located along one main road that runs parallel to the oceanfront. Anywhere along this 2km stretch from Santa Teresa north, down to Mal Pais is a great place to stay. There are many hostels and Airbnb's along the main road and then dive further away from the road and you can secure some gorgeous ocean view villas in among the palm trees.
One thing I would consider when booking your accommodation in Santa Teresa is whether you have a hire car or not. If you're going to be walking everywhere then you'll want to be along the main stretch to reduce those walks in the midday heat. Perhaps think about the type of adventure you'd like in Costa Rica and then book your accommodation in and around those hot spots.
My accommodation recommendations for Santa Teresa:
Lost Boyz (great vibes, hostel, pods, social spot)
Selina's Santa Teresa (perfect location, hostel, apartments, all the vibes)
CAMINO Airbnb (just off the main road, quieter, clean private rooms with shared kitchen) See images below.
Banana Beach (on the beach front, a little pricier but very vibey!)
If you find this Santa Teresa travel guide useful, I'd love for you to share it with your friends!
Example prices in Santa Teresa:
(As of May 2021. 1$USD = 620CRC)
Cocktail = 3500-5000 CRC
Main meal = 4000-7000 CRC
ATV 1 day rental = 50-70$ USD
Iced coffee = 2000-2500 CRC
Standard double private room 50-90$ USD per night
Hostel bed in shared dorm 15-20$ USD
Let me know in the comments if there are any other example prices you'd like from me in this Santa Teresa travel guide.


Top tips for Santa Teresa:
Bring a face covering / goggles for driving ATV / bike on these roads
Burning Man has nothing on the dust currently in Santa Teresa. It only takes a bike to lift a mound of dust into your ears, eyes toes and everything in between. It can make you feel pretty dirty, particularly if you're wet and straight out of the ocean. For health and safety when driving or even walking, bring yourself some goggles / sunglasses / mouth covering!
Great news, they are tarmacing the main stretch of road as we speak!
Selina's is the place for the best WIFI
Eat Street is a dreamy morning hang out, acai bowls, hammocks and watching the world go by!
Avocado Sushi and Suma is bomb,
Banana Beach Bar for sunset music and vibes
Hire an ATV for the day to explore a little further north on the coast


My favourite places to eat in Santa Teresa:
DRIFT BAR – Great vegan and veggie options but a full international menu. The veggie burger is amazing!!!! Even if you drop in for a cocktail and one of their vegan desserts, be sure to pop down.
BANANA BEACH – sunset cocktails.
SELINA'S – Post sunset cocktails by the pool. They also serve a great iced coffee / kombucha.
EAT STREET – perfect for lunch or dinner, casual dining vibes with a communal eating area. Wonderful smoothie bowls and cocktails too!
SUNA – very reasonably priced sushi with a sunset view from the upper deck.
TACO CORNER – cheap, great tacos
CAFE SOCIAL – great coffee and salads
ROCAMAR – beach front dining! Literally on the beach. Dip whilst you're waiting for your food! The vegan tacos are great!!


Best things to do in Santa Teresa: A Santa Teresa travel guide
1. Hire an ATV and explore the coastline
I'd say about half of the traffic on the roads is made up of ATV's like the one pictured below. The other half? A mix of motorbikes (those with the surf racks on like in Bali), bicycles and cars too.
ATV's are around 50-70$ USD a day to rent and make for a fun day out. They are also really handy to get around with if you're looking to explore more than one spot during your time in Santa Teresa.
I'd recommend:
Take a picnic and explore the beaches north of Santa Teresa, including Playa Hermosa and Playa Divina.
Top tip: Ensure you have sunglasses at the least, goggles preferably and a bandana or facemask – the dust is REAL on the roads.
2. Hire a board / have a surf lesson!
Most people that head to Santa Teresa come to enjoy some of the best and most consistent swell in all of Costa Rica.
There are plenty of surf shops that have a board for you to rent, some right on the beach. You can rent a board for half a day or a full day from $10 USD.
If you are staying in Santa Teresa, head down the walkway beside the Selina complex and you'll see a board rental on the left-hand side, a 2-minute walk from the coastline.
Get in for a sunset surf if you can – gorgeous scenes!
Tip: Be careful of the currents and rips here in the water, they can be very strong. The swell in Santa Teresa was big during my time here and it was hard work even without a surfboard.
3. Hang out at Eat Street post-surf and dine at one of the containers offering food
I loved this place so much. Eat Street is one of the best places to hang out in Santa Teresa – you won't miss it.
There's a variety of vendors to choose from with a communal eating area filled with tables, chairs and hammocks.
Grab a burrito, taco, vegan buddha bowl, coffee, coconut water, vegan treat or smoothie bowl and pitch up with your new friends for breakfast, lunch or dinner!
You can also just come and grab a cocktail / beer and soak up the social vibes!
Tip: This is a great place in Santa Teresa to hang out as a solo traveller. I spent many a morning here having a drink/smoothie bowl whilst reading my book and enjoying the energy of other travellers gathering around me.
About 40 minutes of dusty off-road tracks away, lies one of the Santa Teresas most popular day trips – Montezuma Falls. Hire an ATV and go explore this gorgeous beach town and the waterfalls (there are 3 on different levels).
Montezuma Falls is the perfect place to cool off after your hike. Bring your swimmers!
If you're driving, park in the main car park at the bottom of Montezuma town (₡1000) from which you can hike up (for free) and across to the bottom waterfall (pictured below and the most popular one) in around 20 minutes. If you have time, you can hike around the back of the waterfall up some steps to see the other too.
Alternatively, you can park further up at Sun Trails lodge and explore the two upper waterfalls before making your way down to the bottom, third one. If you go with this option, be sure to have ₡1000 cash for the entry fee.
Tips for visiting Montezuma Falls:
Wear shoes with some kind of grip. The rocks are rather slippy and the steps are sometimes steps and sometimes more like mudslides. Teva's or a waterproof shoe with tread are an idea, in order to clamber through both the water and contrasting terrains.
Remember your swimmers
Bring your GoPro for photos
If you come from the upper trails carry ₡1000 cash for entrance fee!
Keep an eye out for boa constrictors, raccoons, white-faced monkeys, coatis and a variety of hawks that all reside here!
This is one of the best things to do whilst you're in Santa Teresa, make sure you don't miss it!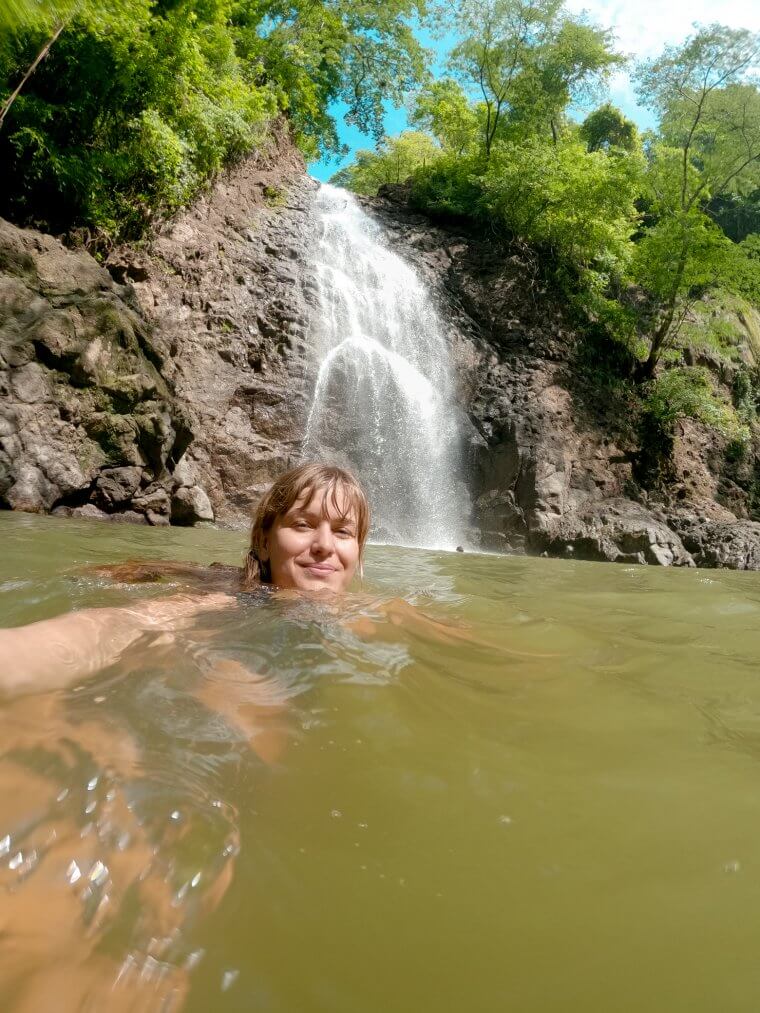 Oh are we doing the best things in Santa Teresa? Sorry sorry, ignore me.
No, but seriously, I may well have been one of the last to experience the extent of the dust here. By the time I left Santa Teresa, they had nearly completed tarmacking the entire stretch of road!
All hail the tarmac (or those with long hair anyway), it took 2-3 washes to get that dust out!
Horizon (nice rooftop yoga)
Zeneidas Surf Garden
Zen Den
Funky Monkey (they do ariel silk too! So fun!)

Santa Teresa is the perfect place to dive into a yoga class, holistic offering or to sign up for a massage. There are so many options, below are some of my favourites:
7. Vegan treats from Drift!
This was one of my favourite places to eat in the whole of Santa Teresa. I came back like 4 times in one week.
Not only is the menu, cocktails, vegan desserts and outdoor ambience amazing but the customer service is 10/10. The guys here made me, as a solo traveller, feel so welcome.
Drift is a great vegan/veggie restaurant option in Santa Teresa which is lit by fairy lights by evening. Highly recommend their veggie burger with yukka fries and sun-dried tomato veganaise.
Oh and their vegan chocolate fudge balls for dessert are banging.
8. Relax under the palms on the beach
The days can get hot here in Santa Teresa. Take your book and relax in the shade under the palms and enjoy the view with a coconut!
I know, I know. You don't need to be told twice. This is one of the best things to do in Santa Teresa, hence making it to this travel guide!
9. Watch one of the gorgeous sunsets in Santa Teresa
I'm going to put it out there, this is like, the best thing to do whilst you're in Santa Teresa. The sunsets here on the Nicoya Peninsula are just ridiculous. Even when you don't think it's going to be a good one, it usually is.
If you're not surfing sunset, grab your friends, some beverages and head down to watch the sky light up…
10. Explore the little boutiques and have a cocktail at Selina's
Guaranteed you'll drive past this gorgeous pink and blue building during your time in Santa Teresa.
Selina's have nailed the vibe here in Santa Teresa. If you're looking for somewhere to get some work done – the internet here is the. best in Santa Teresa.
If you're looking to meet other travellers – the space outside the back of Selina's is always filled with social butterflies.
If you're looking for somewhere to have a cocktail after the sun sets, Selina's is conveniently located on the walk back up from the beach…
Oh and there are 5/6 cute boutiques located on the road side of Selina's waiting patiently for you to enter and get your new evening outfit…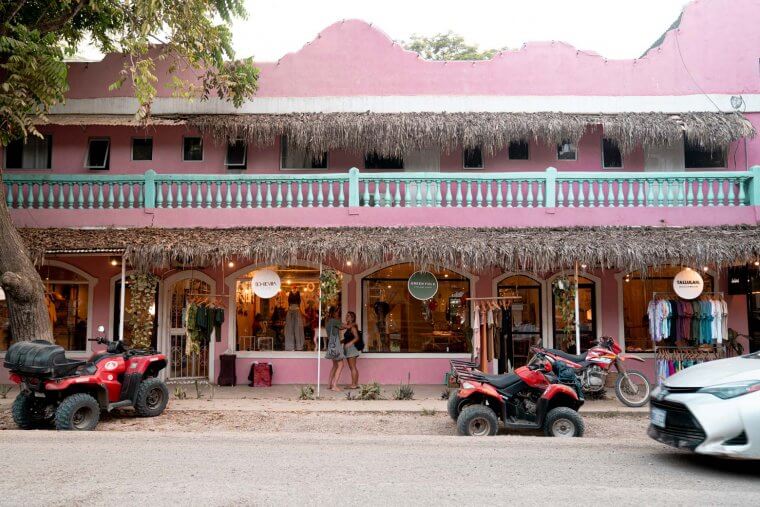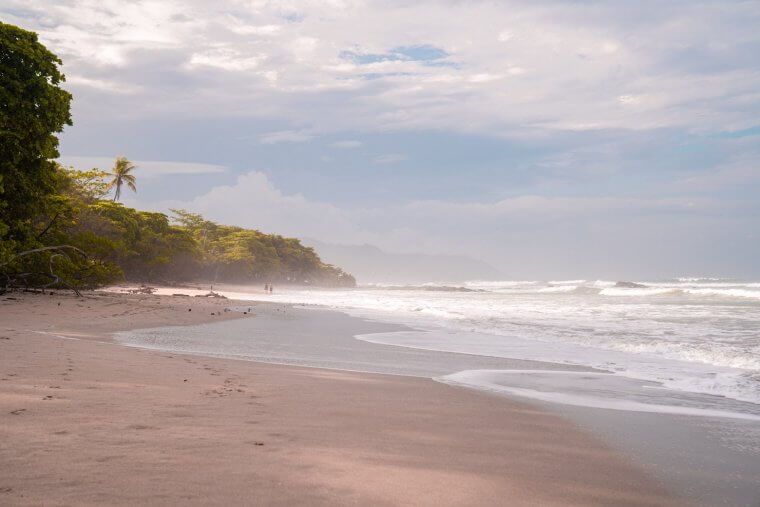 Is there anything else you'd add to this Santa Teresa travel guide?
Where are your favourite things to do in Santa Teresa? Anything you'd add?
Love as always and happy adventuring,


Did you find this post helpful? I'd love you to share it for me.
Pin and save this blog post for later…