Welcome to my La Fortuna travel guide!
Chances are you are looking to visit Arenal Volcano on your Costa Rica adventure and you've realised that La Fortuna is the gateway location for doing so?
You have been doing your research well! La Fortuna is the town that most people will choose to stay in when planning their adventures around the famous Arenal Volcano.
It's staying in La Fortuna or booking into one of the hot spring hotels in Arenal itself (which can be a lot pricier).
Whichever you choose as your base for exploring, you're close to the Arenal Volcano National Park and all the attractions in the area. La Fortuna is just a 10-minute drive from Arenal and so the two choices are very close indeed.
There is no best place to stay for visiting Arenal Volcano, just the place that feels good for you.
If you choose La Fortuna as your base when exploring Arenal Volcano National Park and the surrounding area, then you are choosing to rest in a town that is filled with restaurants, life, shops and more… all with a postcard-perfect backdrop of the symmetrical volcano.
It's so gorgeous! Particularly on a sunny morning and when the view of the volcano is clear!
More about Arenal Volcano…
Until 2010, Arenal was Costa Rica's most active volcano. Though Arenal is still active (one of the 5 active volcanos in Costa Rica), the regular spewing of lava, gas and ash following the 1968 explosion came to a standstill in 2010.
Between 1968 and 2010, visitors to the area could marvel at the 5,673ft, symmetrical, cone-shaped appearance of Arenal volcano as it displayed activity. Since 2010 though, Arenal volcano has been considered 'sleeping'. Experts do believe we will see Arenal volcano's activity once more, but when? No one knows.
Some of the best things to do in Arenal include tours of the cacao farms (where you make your own chocolate), soaking in the geothermal springs, sloth watching, river rafting and hikes through Arenal Volcano National Park.
See my complete travel guide to visiting Arenal Volcano here.
In this blog post, I am going to share with you the best things to do in and around La Fortuna, my top tips for La Fortuna, the best places to stay when visiting La Fortuna and much more.
This is a complete travel guide for those of you planning to add Arenal / La Fortuna to your Costa Rica road trip or central America adventure.
Other blog posts and travel guides that you may enjoy:


The best things to do in La Fortuna, Costa Rica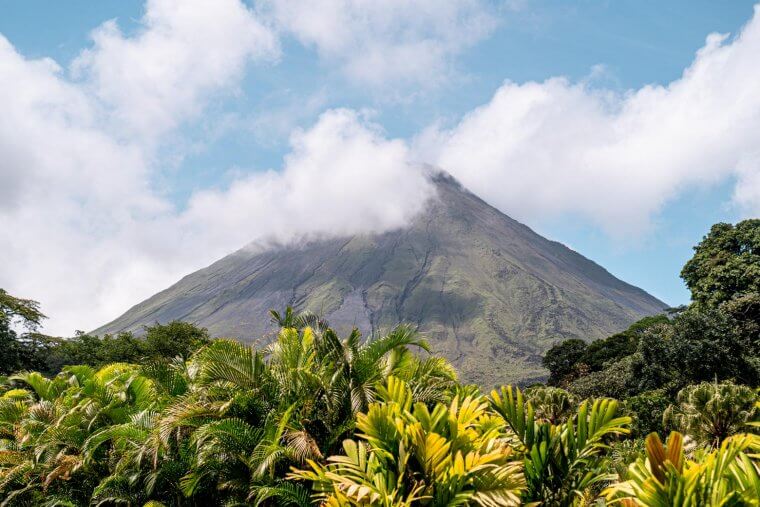 My accommodation recommendations in and around La Fortuna:
I stayed in this gorgeous Airbnb (pictured below) on a cacao farm, just a 10-minute drive from La Fortuna. It was so peaceful and away from the town in a real 'local' neighbourhood. I have to admit, as a solo traveller, I like to have a little more 'life' on my doorstep to engage in and with however for a few days it was glorious to wake up to the sound of the birds and enjoy breakfast in the heart of nature.
This was the second place I stayed in during my time exploring Arenal. I love this place SO much and wouldn't hesitate to come back. It was walking distance from La Fortuna, clean, equipped, attention to detail and very affordable. This Airbnb (pictured below) is a renovated container with a porch to enjoy breakfast with views of the volcano! I even had a few hummingbirds enjoy breakfast with me.
Example prices in La Fortuna:

(As of May 2021.)
ATV 1 day rental = $40-60
Cocktail = 3500-4000CRC
Main meal = 2500-8000CRC (it really depends how local you eat!)
Coffee = 1500-2000CRC
Standard double private room 50-90$ USD per night
Hostel bed in shared dorm 15-40$ USD pn
Let me know in the comments if there are any other example prices you'd like from me in this La Fortuna travel guide.


Top tips for visiting La Fortuna:

Wake up early for the best chances of seeing the volcano, another reason to stay at an accommodation with a view. I saw it on day 5 as the sun came out finally!
Book your accommodation in La Fortuna instead of Arenal to save money!
Eat at local restaurants to save money on food. You can eat for as little as 1000-2000CRC
Visit during the rainy season for 'off season' cheaper prices on accommodation. The rainy season is May-November.
You can rack up a big bill by booking lots of activities here. A lot of activities available here in Arenal are also available all over the country. Bear this in mind and don't get too much FOMO in one place.
Look out for 'sodas'. Sodas are small Tico (Costa Rican) eateries where you will find local food, locally priced.
Take a reusable water bottle with you. Tap water is drinkable and it will save on single used plastic and your pennies!
Get a massage with Maria at Los Sueños Spa in La Fortuna! Best massage i've EVER had!


My favourite places to eat in La Fortuna:
Organico Fortuna – You can always rely on me to find the places with the smoothie bowls, avocado toast, bullet coffee and matcha lattes… this is it! Serious great food though, the bottom left image is the Mahi Mahi with avocado and almond sauce with roasted veggies!

Chocolate Fusion

– if you're looking for the organic chocolate meal kind 😉
Soda Viquez – Fabulous place to try the local dishes!
Soda la Hormiga – the top-recommended 'local' place to eat in town. Great food!


Best things to do in La Fortuna: A travel guide for La Fortuna
1. Take one of the wildlife tours / walks in the area
In and around La Fortuna / Arenal Volcano National Park, there are plenty of opportunities to witness the diverse flora and fauna that Costa Rica is home to. If you're ready to see some sloths in the wild (who isn't) there are some great opportunities to do so in Arenal / La Fortuna.
I walked the Bogarin Trail (pictured below) and wandered through the woodland for about an hour and a half. It was gorgeous! This is one of the best things to do in La Fortuna.
The Bogarin Trail is one of the best chances and places to see sloths in La Fortuna. Tickets cost $10 to enter, with guides coming at an additional cost.
Would I recommend a guide? Honestly, the guides know their stuff. They know the environments the animals like, they know where they tend to hand out, they have the binoculars and the eye for spotting. They know the land, the fascinating flora and everything in between. I would highly recommend getting a tour guide and can recommend this tour.
We didn't go with a guide but could see where guides were stopping along the way for a cheeky marvel (budget tip right there). Of course though, if you're coming just to see a specific animal and want to maximise your chances of seeing them, getting a guide is absolutely the way to do it!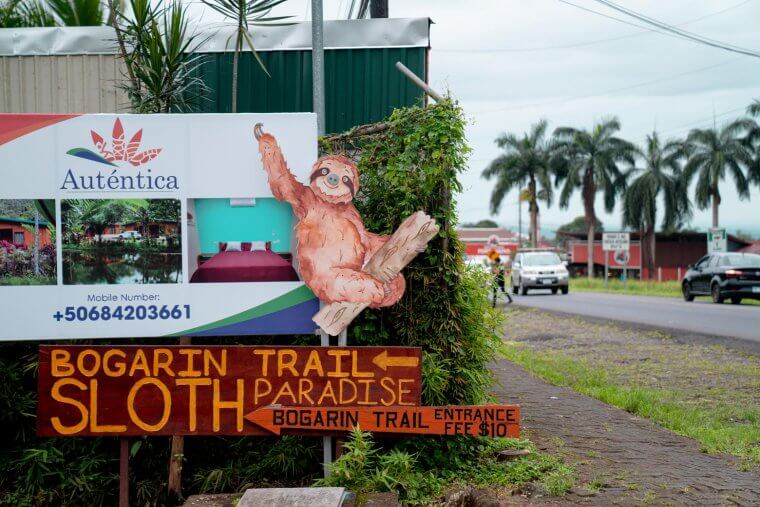 2. Explore Arenal Volcano National Park
Though it is now prohibited to ascend or hike the volcano itself (safety reasons), the best experience to get up close and personal with this incredible landscape is by hiking around the National Park.
By doing so you can witness lave flow remains from the 1968 eruption along with unique ecosystems and a diverse range of exotic species.
There are many routes and trails you can choose from, all with varying ability levels and lengths, but do not fear – you don't need to go far for a view!
Arenal Volcano National Park entry is $15 USD per adult. 100% of park admission fees go directly to Costa Rica's National Park Fund to support conservation.
3. Enjoy the geothermal springs around the base of the volcano
Without a doubt, visiting the hot springs is one of the best things to do in La Fortuna – you must have it on your bucket list!
Heated geothermally (from the Earth's interior) Arenal Volcano has gifted the area with mineral-rich hot springs. There are many hotels and resorts that take advantage of the water and pump it into their own offerings but you can also enjoy the hot springs river for free!
You have a few options to enjoy the hot springs from La Fortuna:
Stay at one of the hot springs resorts in Arenal and enjoy the inclusive use of the pools
Purchase a day pass to one of the resorts and enjoy the pools for a morning, afternoon or evening (some include treatments, dinners and more)
Soak in the free river hot springs (see pictures below)
Notes for visiting the free hot springs:
Google Free Natural Springs Tabacon and the spot has been marked on Google Maps
You will need to pay 2000CRC to the guy on the road (he will watch your car, effectively this. is parking cost)
Remember, though you save money by soaking in the river springs for free, remember the temperature is not monitored and there are no lifeguards. Enter at your own risk.
If you enjoy the free hot springs, take your rubbish with you when you leave. Leave no trace.
The river hot springs are an amazing option if you're on a budget and are just passing through for a quick dip!
4. Get out in nature and be present with the abundance of Mother Earth all around you
Costa Rica is without a doubt the most beautiful, abundant and vibrant country I have ever visited.
The flora and fauna here are like nothing I've ever seen and going on a hike / getting out to enjoy it is one of the best things to do in La Fortuna. There are so many plant and animal species that only live inland and this is a great place to keep your eyes peeled.
5. Visit a coffee plantation / drink a locally sourced coffee
6. Do a cacao tour and learn how chocolate is made!
A tour of a cacao farm…This was one of my favourite experience in La Fortuna and is considered one of the best things to do in La Fortuna.
I absolutely loved my tour at Eden Organic Farm. We learnt about the Mayan / Aztec roots of cacao, its original and intentional uses and then went on to see how it's grown, selected, fermented and dried here on the land.
We got hands-on with making 'God's Drink' and our own chocolate bonbons from all of the spices and toppings. We got to see what goes into chocolate and just how far we have bought chocolate from its origins in society today.
Yarixa was my tour guide and she was so wonderful. I've not seen a bad review of Eden tours and my Airbnb host recommended them also!
Book your tour with Eden Organic Farm here.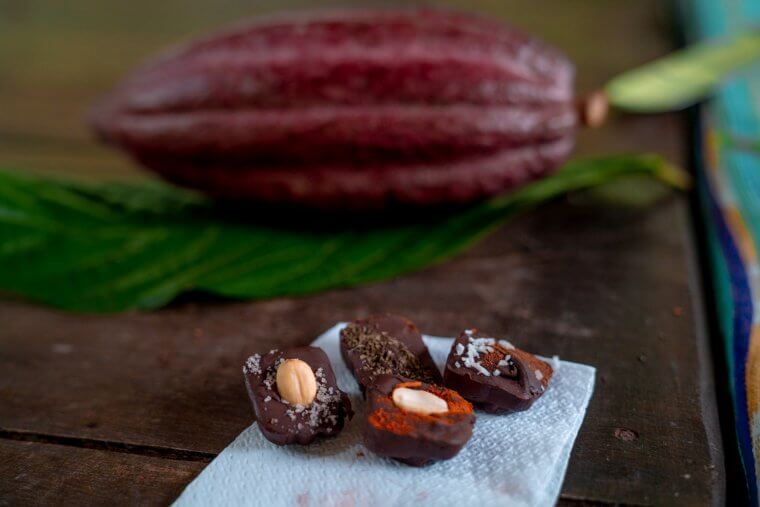 7. Buy some local chocolate to take home / for yourself hehe
If you don't get a chance to do the chocolate tour, but want to try the chocolate. I have great news for you.
Eden Organic (the farm tour i did) have a shop in town selling their chocolate!
They have bars of chocolate, cacao balls, different flavoured chocolate bonbons, hot drinks… all sorts! You can dine in, take some away or purchase some as the perfect La Fortuna souvenirs.
The shop is called Chocolate Fusion and is located in the centre of La Fortuna, see picture below.
The best thing to do in La Fortuna? I'd argue it!
8. Visit Caño Negro Wildlife Refuge
Though it's a 2-hour drive from La Fortuna, La Fortuna / Arenal is one of the most popular places for people to access a Caño Negro Wildlife Tour from. Whether that's a wetlands tour in a pontoon boat, rafting or hiking!
Located near the border with Nicaragua, Caño Negro has been considered by many to be the third most important wetland in the world.
Its extremely humid conditions give a home to very unique species and many people travel here to witness monkeys, caimans, iguanas, crocodiles, sloths, and many rare birds!
Top tips:
bring binoculars
speak to your accommodation about tours, they may be able to do a deal for you!
stay present and alert, nothing is guaranteed to be seen – you're in the wild!
9. Visit La Fortuna Waterfall
La Fortuna Waterfall is located just 6km outside of La Fortuna town so not far to jump in a taxi / drive to!
It's pretty easy to reach with a 20-minute hike followed by the glorious opportunity to see the 75m tall waterfall and have a dip!
The entrance fee is $15 USD and its well worth bringing a picnic and lunch to spend the afternoon here!
Opening hours are from 8:00 a.m to 5:00 p.m daily.
10. Take a selfie with the volcano... obv.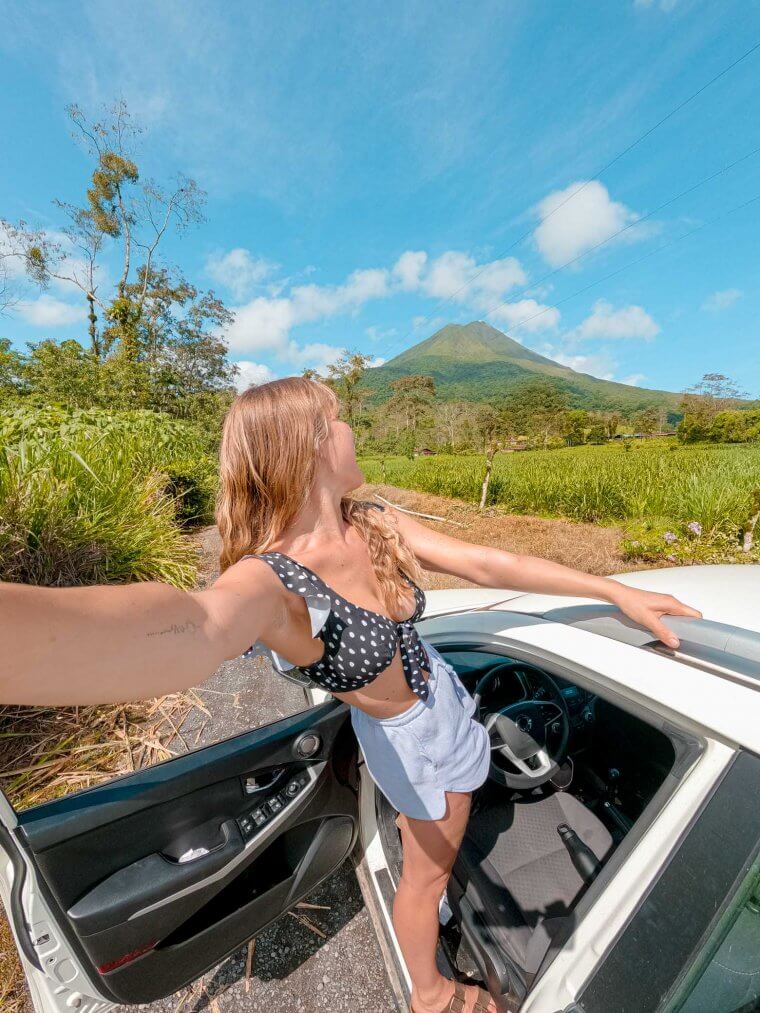 11. Take a day trip to Rio Celeste National Park
Around an hours drive north of Arenal and La Fortuna is Rio Celeste National Park. Hello turquoise waters, they remind me of the waterfalls in the Philippines. The waterfall is accessed via a 25-minute walk/hike (it's pretty easy) through the forest and then the final descent is pretty epic, leading you down beside the waterfall.
Unfortunately, you cannot dip in this waterfall you can only admire it and admire the nature around it. You can however drive a little further down the road, beyond the National Park entrance, and find an opening to the river where you can bathe in the same water (it comes straight from the waterfall), for free!
Also, I saw Morpho butterflies and two sloths in the trees above the falls – it was insane! Another reason to have your binoculars with you…
There are many other trails you can explore in this National Park which are included in the $13.50 entry ticket to the park. You could easily spend the day here.
Top tips for visiting Rio Celeste National Park:
Rio Celeste National Park is open 8am – 2pm daily.
No single-use plastics are permitted, no drones either. Bags are checked upon entry.
Parking is 2000CRC cash
They sell coconuts and food at the entrance
There are toilets at the entrance
When you drive up towards the national park, locals will wave at you to pull over and park. This isn't an essential action, they are just trying to get your custom!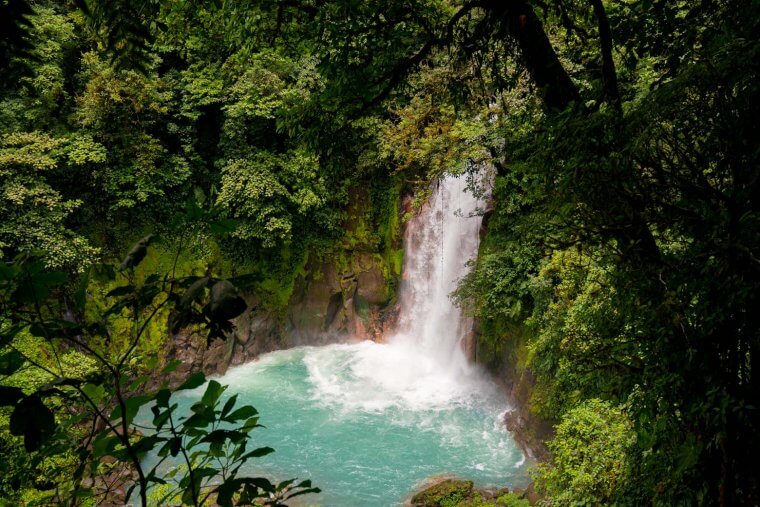 12. Drive on to Monteverde Cloud Forest Nature Reserve
Home to the famous Monteverde Cloud Forest Nature Reserve, this is a spot not too far from here that you should definitely consider heading to next.
13. Drive on to Santa Teresa, Nicoya Peninsula
Looking to add some ocean time into your Costa Rica itinerary?
I spent 1 week soaking up the coastline, beaches, surf and yoga in Santa Teresa / Mal Pais and it was glorious.
The perfect compliment to an inland adventure.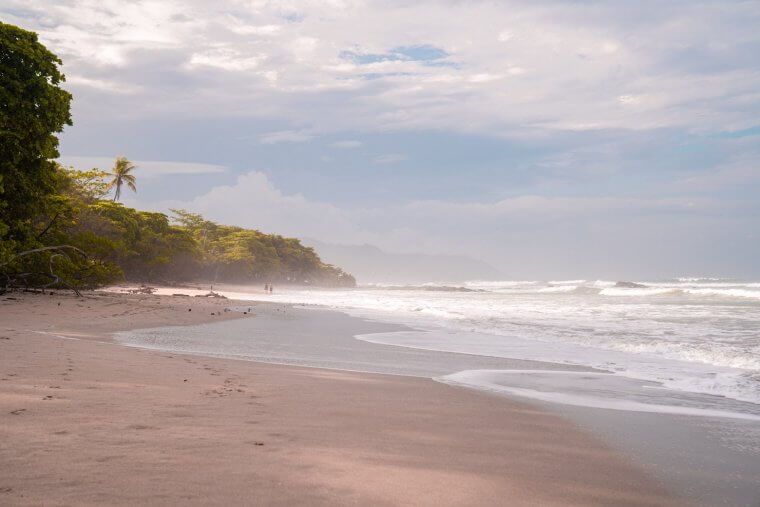 This was actually one of the things I didn't do – but would have LOVED to do.
If you're keen on a dose of adrenalin, this is the activity for you!
Book your rafting experience from Arenal here. It's one of the best things to do in Arenal!
16. Visit or adventure on Lake Arenal
Just the other side of the Arenal volcano is the gorgeous Arenal Lake. It is currently the largest lake in Costa Rica at 85-square-kilometres and is the perfect place to walk, cycle, fish, kayak or take on a water activity!
You won't go far without seeing companies advertising their adventures around it. Actually, as I write this, I remember driving past a quad bike centre and they do quad bike tours of the lake with volcano views! That would be so fun!
17. Get a volcano mud wrap and massage at Los Sueños Spa
This is actually me saving the best til last.
So I'd heard that having a volcanic mud wrap or treatment whilst visiting La Fortuna / Arenal was one of the best things to do here.
I didn't plan to do so but one evening, after a long drive, I fancied treating myself to a massage and drove past this place. They had an offer for a 1hour 15minutes, $55 package (Volcanic mud face mask, massage, reflexology and hot stones).
It was absolutely INSANE. Maria, my therapist was so intuitive with her massage. Deep, healing and, well, the best massage I've ever had.
So much so I came back for another the next day before I left.
Is there anything else you'd add to this La Fortuna travel guide?
Where are your favourite things to do in Arenal / La Fortuna? Anything you'd add?
Love as always and happy adventuring,


Did you find this post helpful? I'd love you to share it for me.
Pin and save this blog post for later…