The Philippines undeniably hosts some of the most beautiful waterfalls and shades of water in the world. Just like when visiting Costa Rica, you'll want to make sure you visit at least one on your adventures here.
There are so many opportunities, whilst travelling the Philippines, to dive into these waters and into the adventures that they provide. Canyoneering, or canyoning, is one way to get up close and personal with these gorgeous landscapes. One of the most popular places to do it is in a little town called Badian, home to Kawasan Falls. Canyoneering in Badian is one of the best things to do in the Philippines!
Here in Badian, there is a jungle trail whereby, with a professional guide, you can encounter over 10km of hopping, skipping, jumping, swinging, scrambling and swimming through the turquoise Gatorade-like waters. All the way to the gold at the end of the rainbow: Kawasan Falls, one of the best places to visit in the Philippines.
My canyoneering adventure in Badian is up there with my favourite memories in the Philippines, and I highly recommend it if you love getting active, and fancy pushing a few boundaries (in the form of cliff jumps). Definitely one for the Philippines bucket list!
See all my Philippines travel guides here.
Other travel guides/blog posts you might be interested in…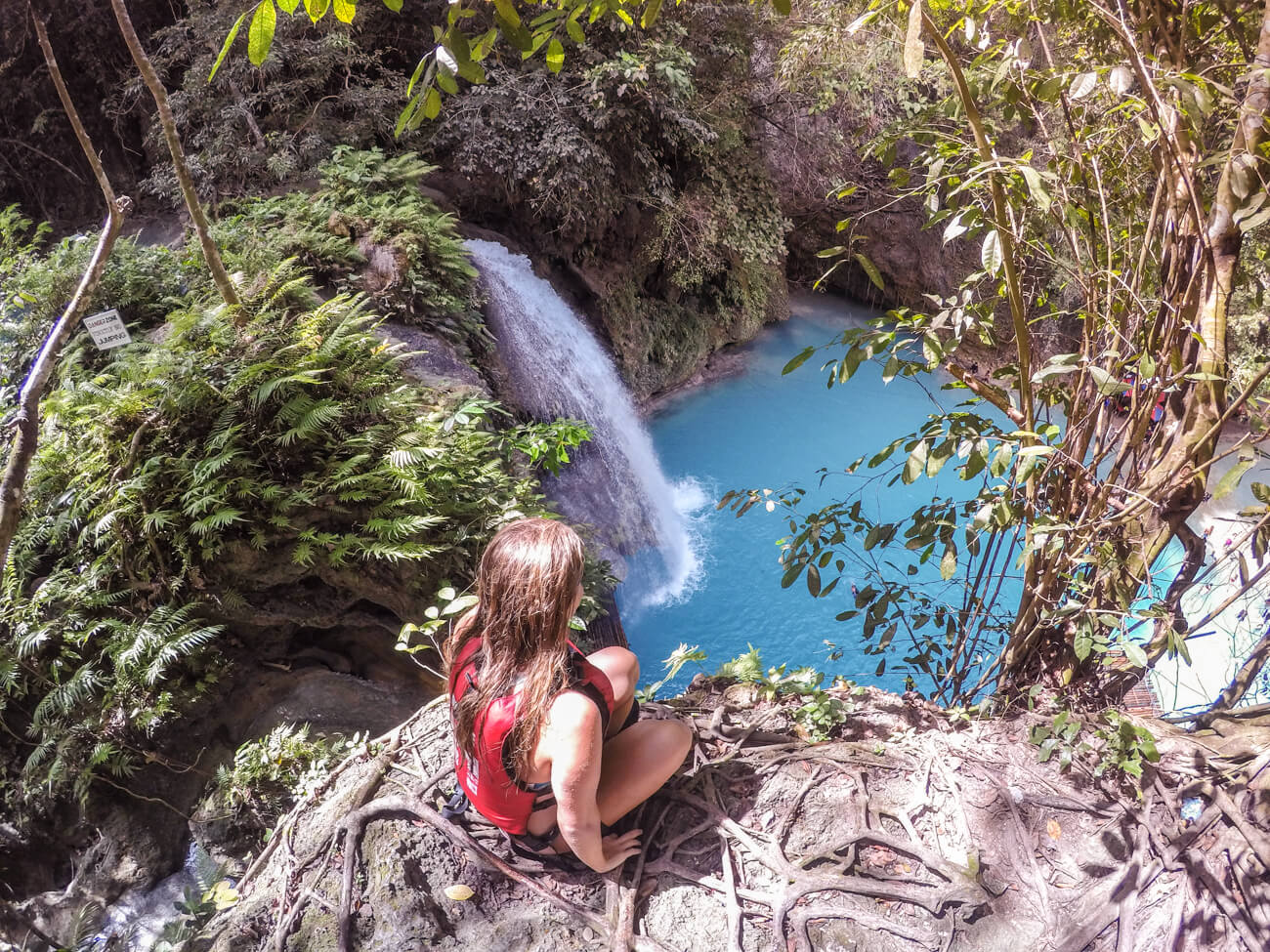 My guide to canyoneering in the Philippines…
Where is Badian? How do you get to Badian?
Badian is located in the south west of Cebu, a popular island in the central Visayas of the Philippines.
If you are heading from Cebu City, you can get a bus from the south terminal which takes 3-4 hours, and will cost you around 120PHP.
Tip: Buses going south will be heading to Bato but there are 2 different routes. One is Bato via Oslo and the other is Bato via Barelli (this is the one you want for Badian).
Tip: Tell the driver you are heading to Kawasan Falls and they will drop you outside the Matutinao Catholic church which is where all the canyoneering operators are.
Or you can opt for a taxi for 1,600-2400PHP which will take 2-3 hours.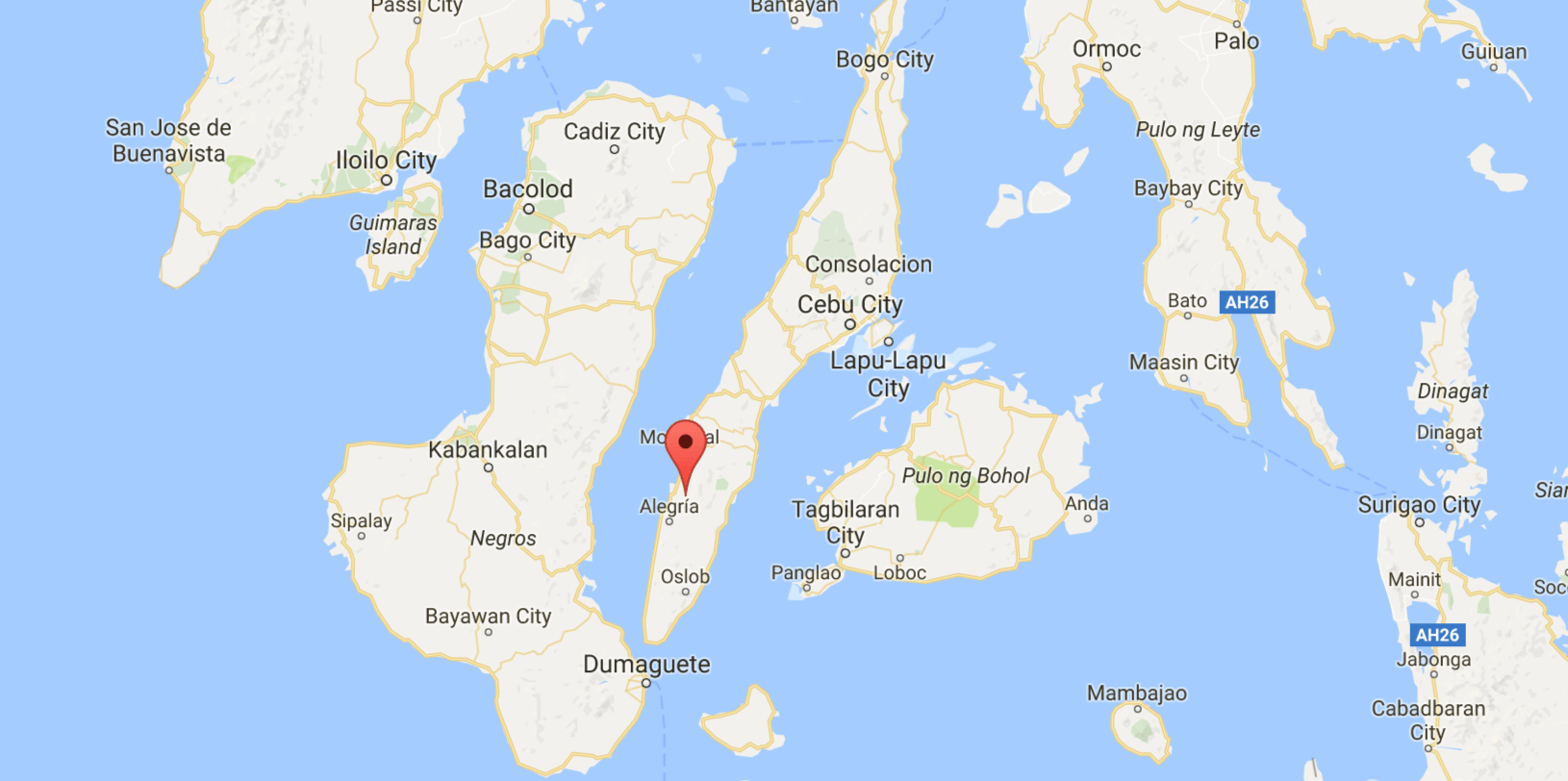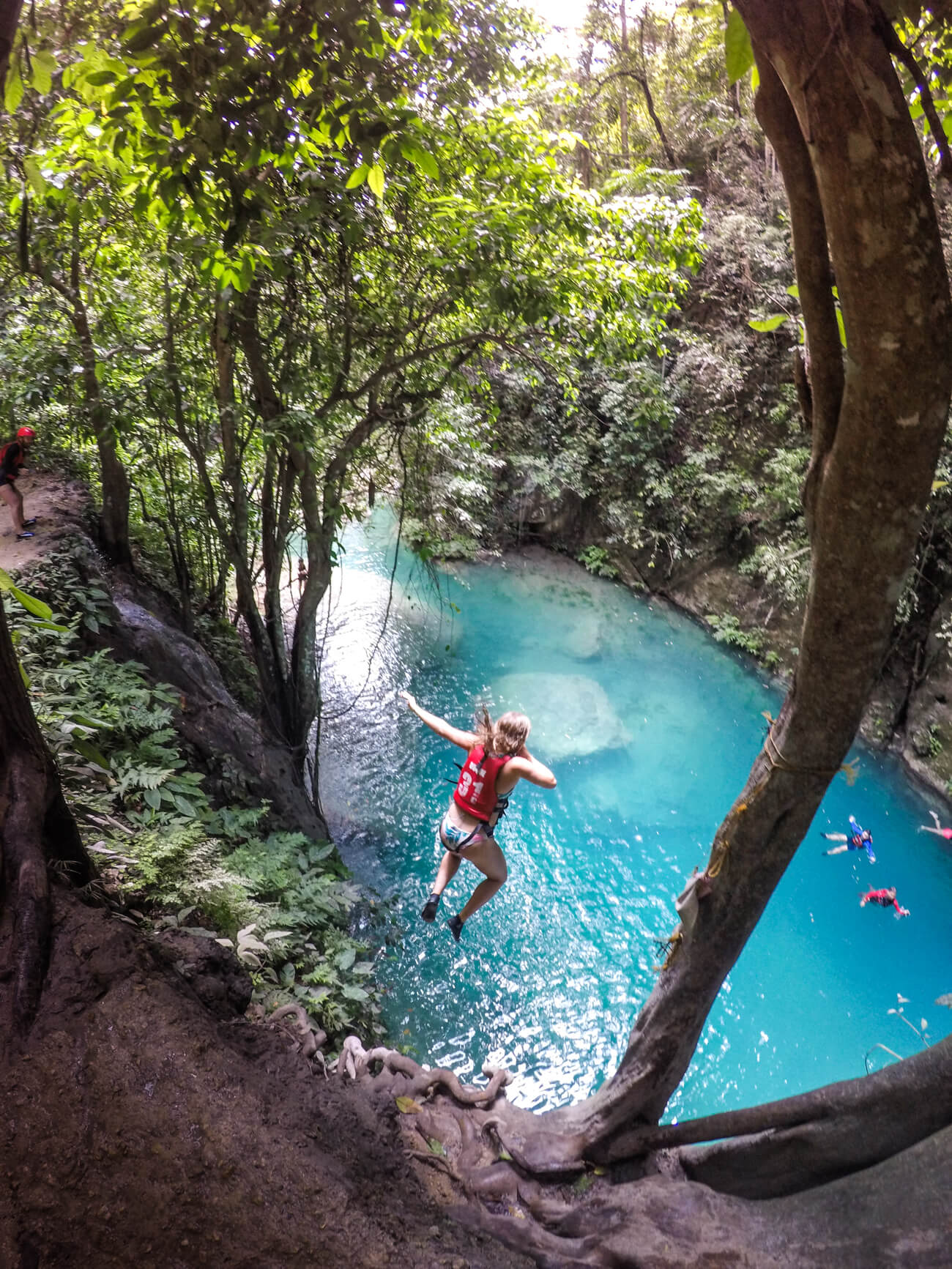 Who should you book canyoneering in Badian with?
There are 20+ operators that run tours for canyoneering in Badian, the ultimate Philippines bucket list experience. They all operate on the same route so you are effectively booking the same experience wherever you go. This is an activity I would just choose via recommendation.
You can book through a travel agent on the streets in Moalboal or you can just turn up in Badian and take your pick. You can even book ahead online with some companies, like I did with Kawasan Canyoneering.
If you would like to book through Kawasan Canyoneering (which I highly recommend) here are the details…
Email – kawasancanyoneering@

gmail.com

Phone number – +63-0918 654 4111 / +63-0905 333 2623
Website – http://kawasancanyoneering.com.ph
Address – 6021 BADIAN, CEBU, PHILIPPINES
How much does canyoneering in Badian cost? What does the tour include?
My Badian canyoneering tour cost 1,500PHP. After asking around, all the operators seemed to be identical in price, which government set price, so if you are being offered any less, be careful. They may not be official guides and this isn't an activity you want to risk your safety on.
This price includes: safety gear (life jacket and helmet), a bottle of water and a fudge bar (that tuck into your life jacket front pocket), entrance fees to the parks/waterfalls, transfer to the start of the trail, a professional guide and lunch upon return back to the restaurant/reception.
Note: There are no additional fees that you will incur unless you need to borrow shoes (20PHP), or want to buy a snack along the way or a beer when you return.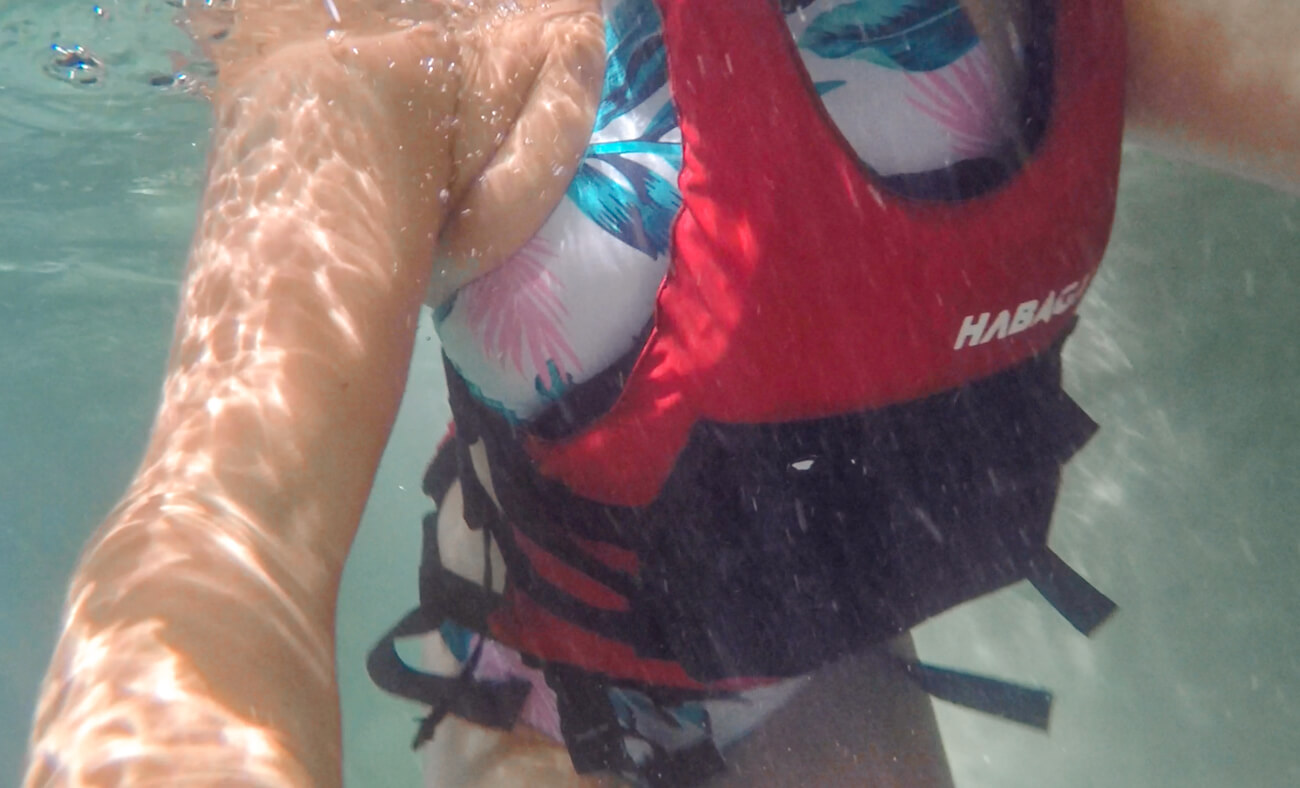 Where should you stay before and after canyoneering in Badian?
Badian is a 20km ride from the nearby hotspot of Moalboal. Check out my guide to Moalboal here. Moalboal is a great base to use for a multiple of activities and is only a 25-minute ride from Badian.
I was quoted 300PHP to hop on the back of a motorbike from Moalboal to Badian, but bargained with them for 150PHP and then managed to get my return journey easily for just 100PHP. So seeing as transport is cheap, unless you particularly want to stay close to the activity or start super early, I'd base yourself in Moalboal. I stayed at Viviannes Nipa Huts in Moalboal. See my experience here.
Alternatively, if you want to stay right where the activity is, there is accommodation in Badian, but it's very limited. Check out Lambug Beach Homestay here and get £25 off your first Airbnb booking here.
My experience of canyoneering in Badian with Kawasan Canyoneering…
I woke around 8am in Moalboal and headed to Badian on the back of a motorbike for about 9am. There I checked into Kawasan Canyoneering and ordered a light breakfast from the restaurant attached to them, whilst our guide prepared our gear.
Note: Gear and entrance fees are included in the tour fee, but extra food before you start is not! It is a great way to relax before your adrenaline-rushing day, though.
At 9.30am I was joined by another couple who were a wonderful addition making our adventure squad a lovely total of 4 (including our guide, Reymer).
Some of the other groups on the trail had up to 10-12 people to a tour guide. I'm not sure what the limit is, but it was nice to have a small group.
We popped on our shoes, life vests and helmets before each jumping on the back of a motorbike and riding to the start of the trail. It took about half an hour to get there, as the trail actually begins at the Kanlaob River, Alegria. The roads are ever so uneven here in the Philippines too. which adds time on to any journey.
Here we signed into a logbook and begun the ultimate Philippines bucket list adventure…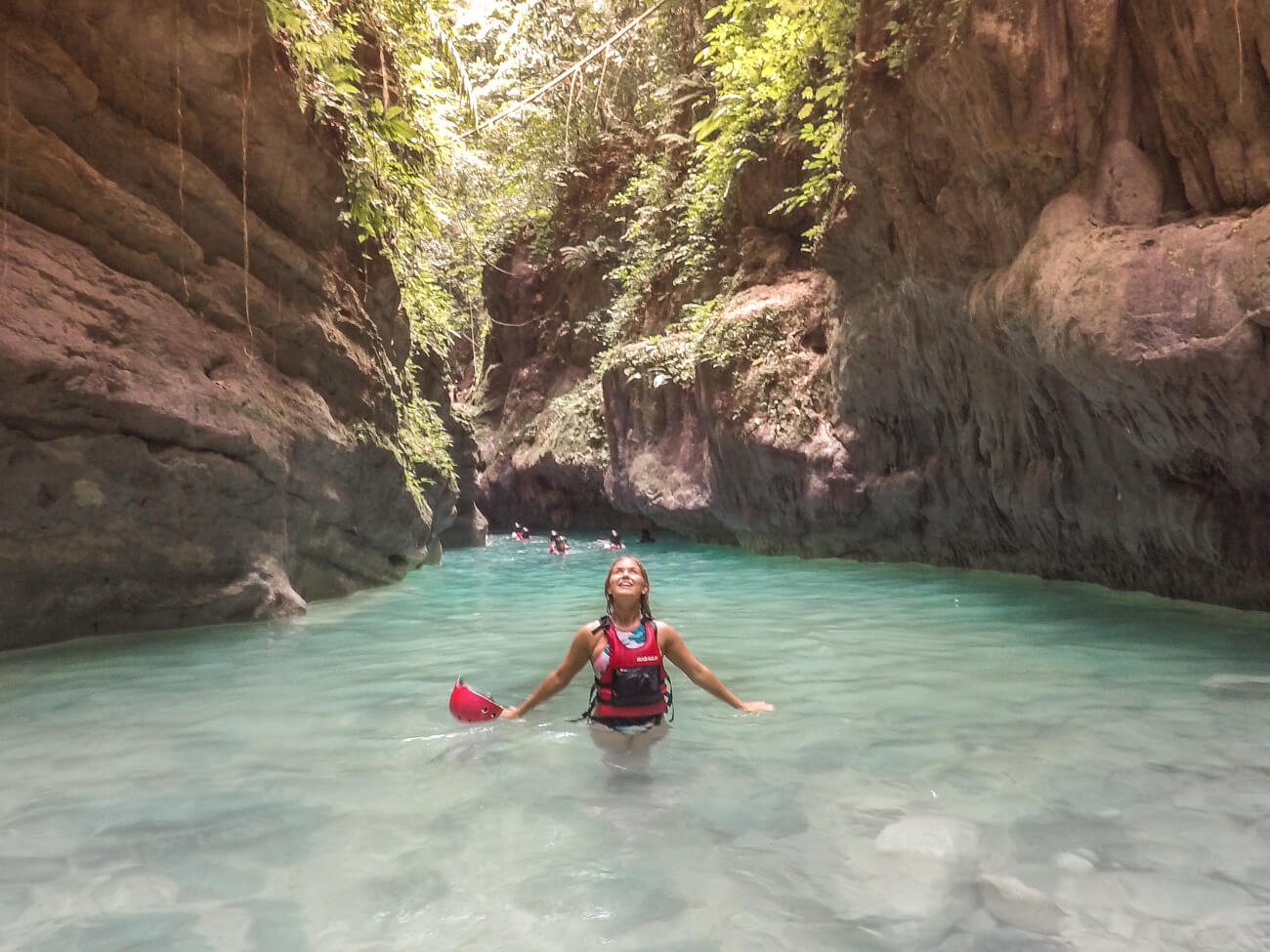 Have you been canyoneering in the Philippines?
What else is on your Philippines bucket list? I'd love to know!
Love as always and happy adventuring,
Did you find this post helpful? I'd love you to share it for me.
I can't do this without you.
Pin and save this blog post for later…