For the first time on my 4-month adventure, entering the Philippines was me entering a brand new country and I had absolutely no idea what to expect. Likewise, it was the first time that I'd entered a brand new country solo. Eeeek! I chose to spend the first few days of this exciting adventure in Bohol.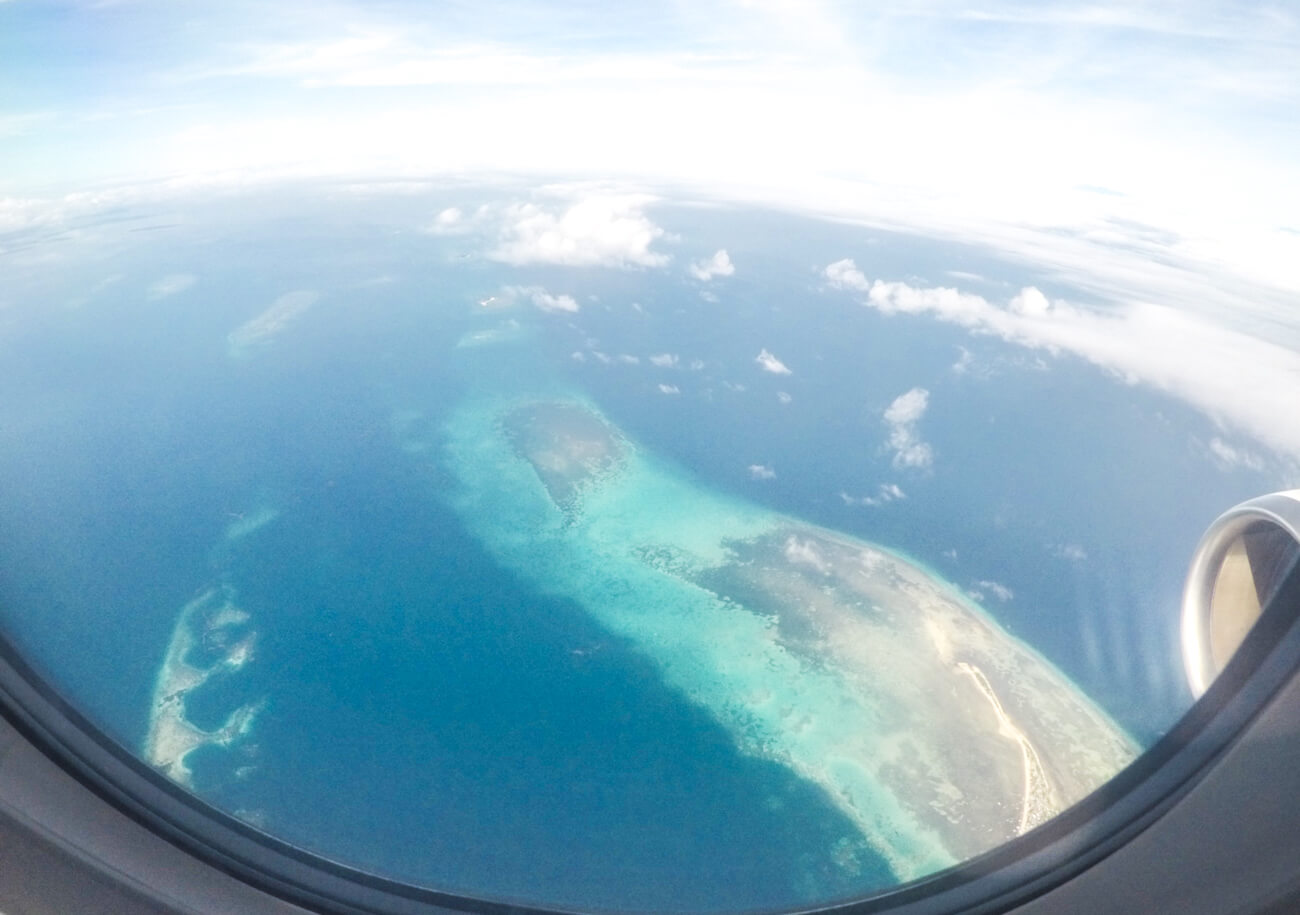 As much as I consider myself an experienced and confident traveller, I definitely got nervous.
I started thinking, 'Am I going to get lost, be stuck in a bug infested dorm and be in the middle of nowhere on my own?"
These were similar to thoughts I'd had on my first ever backpacking trip to Asia in 2013. In the past, I would have freaked out. Now I know that if I don't like where I am, I simply pack my bags and go somewhere else. So now it's no more than passing butterflies. See my tips on travel nerves and anxiety here.
Here's my mini guide to Bohol, the Philippines…
How do you get to the Philippines?
If you're flying internationally into the Philippines, you will most likely be touching down into Manila before branching off elsewhere. For my first 10 days I decided to branch off to Bohol in the central Viyansas, so after landing in Manila I connected down to Tagbilaran Airport, Bohol.
This flight cost me £90 (after baggage and fees) which was actually more than I expected after reading endless comments about the £20 internal flights available. Saying that, I did book 2 days before I flew, so you should book in advance to get the cheap flights.
After landing in Terminal 2 at Manila Airport, I grabbed my luggage and hopped on the free shuttle to Terminal 4 which comes every 15 minutes. If you prefer, there are also an abundance of taxis outside the terminal to use.
Do you need to have your visa in advance to enter the Philippines?
As a UK citizen there is no need to purchase a visa before entry. British citizens can stay in the Philippines for up to 30 days, visa free, as long as their passport is valid for the duration of their stay and they have evidence of onward travel. If you wish to stay longer, you can apply for a 59-day video from the Philippines embassy.
Note: Visa terms can change. Be sure to consult your government foreign travel office for more accurate information at your time of travel.
How do you get to Bohol?
As you exit arrivals, you will be inundated with taxi drivers, tricycle drivers and tour guides. Take a deep breath and politely decline all offers until you have exited the crowd.
– By Tricycle. Yes, it's a popular mode of transport here. Just approach a driver and say you are going to [the address of your accommodation]. A tricycle can accommodate 1-3 people, it will take 25-30 mins and should cost you 250-300PHP Don't pay any more than that.
– By Jeepney. This is another popular mode of transport and the cheapest. You will need to take a tricycle and go to the Jeepney Terminal at Bohol Museum which should cost 15PHP. For my accommodation, I took a jeepney that sayidTAWALA/ALONA, telling the driver that my stop was at Bohol Coco Farm. Make sure you find out which jeepney/stop you need for your accommodation! Jeepneys only cost 20-25PHP, however they are available only until 5:30 pm and .
– By taxi or car, which is the most expensive option and will cost you about 600-800PHP.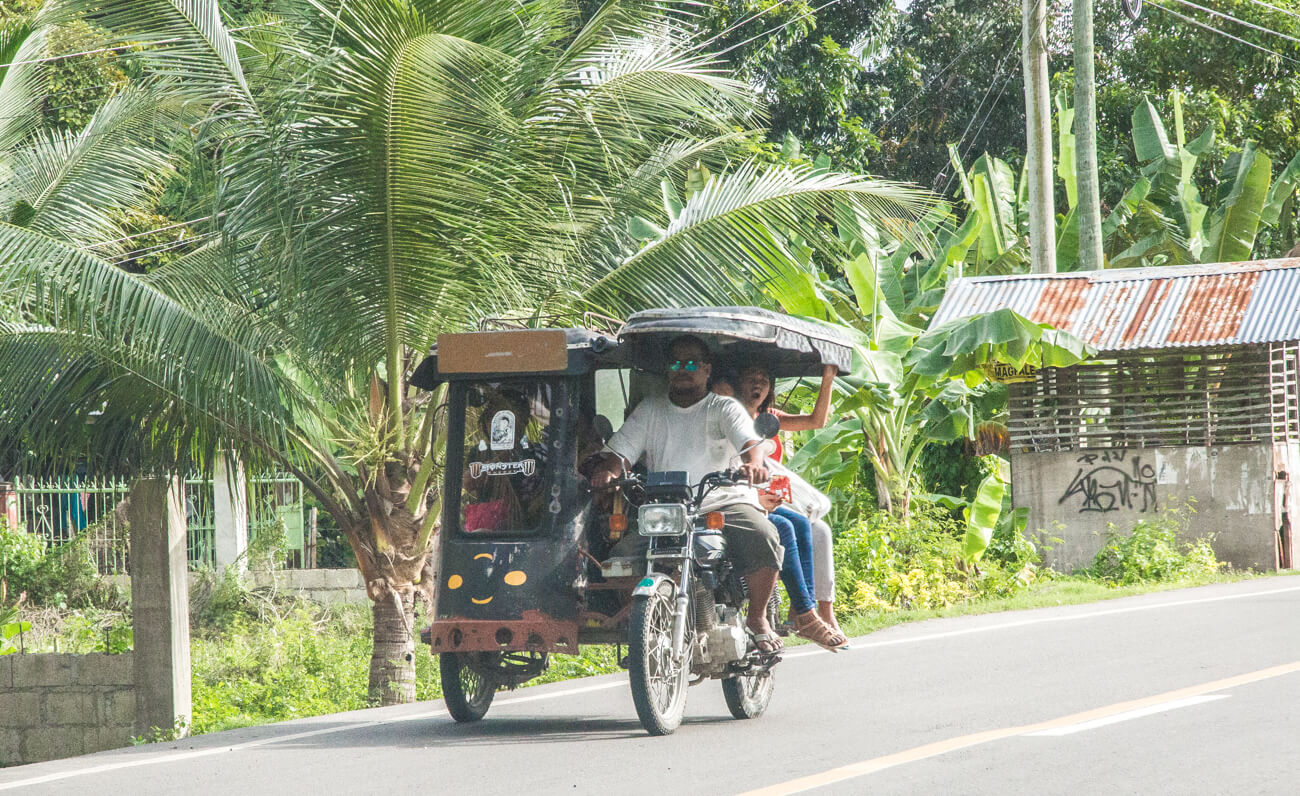 Where should you stay in Bohol?
Tagbilaran airport is located in Tagbilaran city, on the main island of Bohol. There is also another island conjoined to Bohol by two driveable and walkable bridges called Pangalo Island. Both are beautiful and worth researching accommodation for.
Panglao Island is where a lot of the upper market hotels and resorts are located and is considered the most popular 'tourist' destination of the two islands. If you are looking for a location to base your hotel search around and want to be in this area then look at Alona Beach or White Beach.
Bohol Island is a lot larger and most people who stay here head to Loboc or the city itself.
Take a look at the accommodation on offer here on booking.com, my go to when I'm looking for an overview on accommodation available. Alternatively, check AirBnb. Click this link for an AirBnb discount!
For my stay, I wasn't looking for a resort to check in to, and neither do I usually like staying in the super 'touristy' areas. However, my given rule when travelling solo is to locate myself near a 'busier' area for at least the first night so that I can settle in and seek help easily should I need it. After having a little look around online I decided on a hostel, obviously, because I love the social vibe they have. Simple as.
See my '10 reasons I prefer hostels to hotels' here and my 'how to choose the best hostel guide' here.
I chose to stay at Bohol Coco Farm… A wonderful choice and one I would highly recommend for both backpackers and travellers looking for a social experience. Bohol Coco Farm is run by a Filipino family and most of the guests I met there were European travellers which, as a solo traveller, was nice and comforting. It soon felt like home.
See my tips for making friends when solo travelling here and my tips for solo travel in South East Asia here.
I stayed in a female dorm which cost me 350PHP for one bed for one night. Alternatively you can book a hut to yourself (sleeps 2) for 800PHP.
They have an awesome restaurant on site. I especially recommend the Coco Pancit (£1.29) and the coconut pudding bites (25p). Additionally, you get free, fast WiFi and free, delicious breakfast included in your stay. Should you want to explore the island, Bohol Coco Farm have motorbikes for hire at: 1-3 hours 250PHP / 4-8 hours 350PHP / 24 hours 400PHP.
Is there anywhere else you should consider staying on Bohol?
With hindsight, if I was backpacking in the Philippines again, I would stay in Loboc for 2 days. It's closer to the main Bohol attractions like the Chocolate Hills, Loboc river cruise, zip lines, hanging bridge and waterfalls. I met some girls who recommended Twilight N. Then, I would go and explore the beaches and incredible Cabagnow Cave Pool in Anda, East Bohol. And finally, I would finish up with a few days of relaxation on Pangalo Island.
Browse the best price hostels and properties to stay in on HostelWorld here
Watch my video about my experience volunteering in the Philippines, or check out the full blog post here…