South Australia is best known for its world-famous wine regions, wildlife of Kangaroo Island and the markets, bars and restaurants in Adelaide. But there is so much more than meets the eye in this southern central Australian state. If you're looking for the best things to do in South Australia, this is the travel guide for you!
You may not guess it from its lush southern coasts, but South Australia is also one of the most barren parts of the continent and is home to some of Australia's most beautiful outback. Experience the rugged beauty of the South Australian landscape as you wind your way through the weathered peaks of Ikara-Flinders Ranges National Park, up toward the quirky mining town of Coober Pedy, and out to Australia's largest lake: Kati-Thanda/Lake Eyre.
Best of all, travelling in South Australia is often quieter than travelling around many of the other Australian states, such as travelling in Western Australia or New South Wales. As it is home to only 8% of the Australian population and so many beautiful wide-open spaces, you can explore it in the busy summer months, and still find a pocket of nature to yourself. South Australia is the ultimate Australia bucket list destination.
Let's dive into all the fun things to do in South Australia as well as the best places to visit in South Australia with this guide to the best things to do in South Australia.
Other travel guides you might find useful…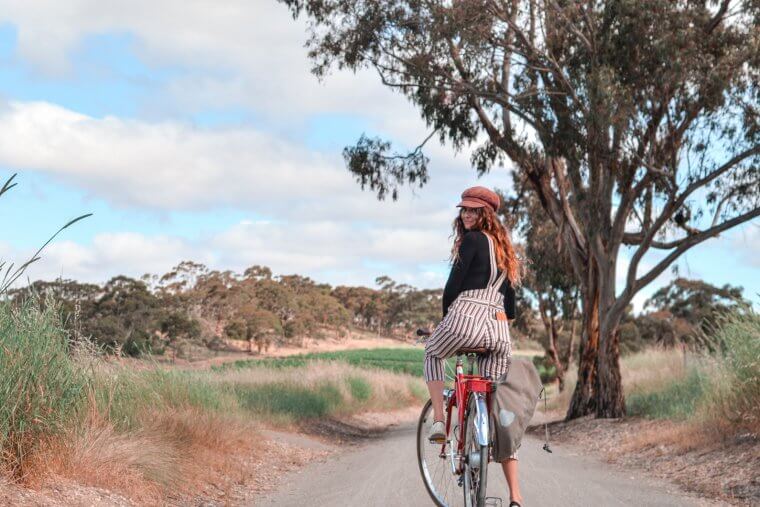 The best things to do in South Australia...
Adelaide is the capital city of South Australia and has been recognised as one of the most livable cities in the world. Nicknamed the '20 minute city' – everything is almost exactly within 20 minutes of one another and makes travelling in this South Australian city easy. From quirky speakeasy bars to bustling markets, visiting Adelaide is one of the top things to do in South Australia. Some of the best places to visit when travelling in this South Australian city include:
Adelaide Zoo
Adelaide Zoo is Australia's second-oldest zoo and is home to over 2500 animals and 250 species to meet.
Adelaide Botanic Gardens
The Adelaide Botanic Gardens features 50 hectares of pristine gardens in the heart of this central Australian city. Enjoy a day exploring this city oasis by winding your way through the gardens, soaking up the majestic architecture and enjoying lunch under the shade of the giant oak tree at the Gardens Kiosk.
Glenelg Beach
This popular city beach is rich with heritage and renowned for its wide-open spaces, sidewalk cafes and buzzing vibe. This is the perfect place to unwind while staying close to the action.
Adelaide Central Market
Adelaide Central Market is one of the largest undercover fresh produce markets in the Southern Hemisphere. These vibrant markets are the perfect place to come stock up on fruit and veg while in town. Also don't forget to treat yourself to one of the many artesian goodies on the premises!
2. Take a Flinders Ranges and outback road trip
While the southern fringes of South Australia are deceivingly fertile, the northern regions show the true rugged character of this outback state and are debatably some of the best places to visit in South Australia. And what better way to experience the rugged landscape of the South Australian outback than with a road trip!
Starting in Adelaide, wind your way north to experience a slower pace of life – driving through rugged mountain ranges, past vast untouched wilderness and experiencing the beauty of the wide-open road. Some of the quintessential stops on a South Australia bucket list road trip include:
Ikara/Flinders Ranges
The rugged, weathered peaks of the Ikara/Flinders Ranges are the largest mountain peaks in South Australia and hold important cultural significance to the Adnyamathanha people local to this region. Wilpena Pound – a bowl-like natural amphitheatre in the heart of the ranges – is a popular South Australia bucket list destination and a must-see when travelling in South Australia.
Coober Pedy
As you approach this 'Opal capital of the world', you will notice this town is surrounded by little hills – which are in fact piles of dirt leftover from old mines.
So be sure to heed the sign on entry 'unmarked holes' – this mining town is filled with holes. But that's not all that's hiding underground in Coober Pedy.
Here the homes, bars and restaurants are also built underground. This unique architecture was designed out of necessity so that this town's mining residents could escape the immense heat. For a once-in-a-lifetime experience, book a night underground at one of the hotels in town.
Kati Thanda-Lake Eyre
Kati Thanda/Lake Eyre is Australia's largest salt lake… but this is not your average lake. Lake Eyre has only filled to capacity three times in the last 160 years, and floodwaters cover it on average every eight years. When it does, this lake comes alive with wildlife, but most of the time this lake is an immense salty plain that becomes increasingly muddy, the further you walk onto it (this was my experience!). On all accounts, it is a magical sight to see and a perfect photo opportunity. Don't forget polarized sunglasses – the white salt is incredibly bright.
This internationally renowned wildlife haven is just across the water from mainland South Australia…but it feels like a world away. This South Australia bucket list island is home to 509km of coastline, pristine beaches, and exploding with native bushland, wildlife and adventure. This island is accessible via a 45-minute ferry from Cape Jarvis, or by plane departing from Adelaide airport. Kangaroo Island is one of the best places to visit in South Australia for a weekend getaway to soak up the slower pace of Island life while travelling in South Australia.
The Eyre Peninsula is a marine-lovers paradise. Rich with wildlife and natural attractions, this is one of the best places to visit in South Australia to explore pristine beaches, go surfing, swim with dolphins and sea lions or join a whale watching tour. This South Australia bucket list region also boasts incredibly fresh seafood and supplies over 65% of Australia's seafood. Some of the best places to visit on this South Australian peninsula include:
Streaky Bay
The picturesque township of Streaky Bay is filled with South Australia bucket list attractions: swim or surf alongside the iconic orange speckled rocks, swim with sea lions, see Murphy's Haystacks, and more. Be sure to grab a bite at the cute little cafes and restaurants in town.
Elliston
Elliston is a small coastal town on Waterloo Bay best known for its rugged scenic coastline. Drive along the headland Cliff Top Loop to see the sculptures, and try to spot dolphins riding the waves below.
Port Lincoln
This coastal paradise has been dubbed the seafood capital of Australia and is one of the best places to visit in South Australia for seafood. Sitting on Boston Bay – the largest natural harbour in Australia – it is bustling with cute cosy cafes, restaurants and small-town charm.
Lock's Well Beach
This stunning beach is renowned as one of the best places to catch wild salmon when travelling in South Australia. Descend the 120-metre wooden staircase to go fishing or to simply soak up the panoramic views of Lock's Well Beach.
5. Barossa and Clare Valley Wine region
Spending a weekend sipping on wine, soaking up the quiet of the country while overlooking the rolling hills in the award-winning wine region of Barossa and Clare Valley wine region is easily one of the top things to do in South Australia.
Located within an hour and a half of Adelaide, these two neighbouring regions are the perfect hinterland retreat. With so many cellar doors to explore, there is no better way to experience them all than by bike! While cycling around the Barossa is often the more popular choice, I recommend heading to explore the less-touristy Reisling Trail in the Clare Valley. This dedicated eucalypt-lined cycling track is the perfect way to explore the wineries at your own pace. Insider tip: hire a bike in town early in the morning so you have plenty of time to explore the 30km track!
6. Cactus Beach, Point Sinclair
Cactus Beach is one of Australia's most renowned and remote surf beaches. Log off for the weekend (there is not a lot of reception here!) and grab a seaside campsite to spend your days surfing or soaking up the sun on the campsite's very own private beach. A weekend at this surfing mecca is by far one of the best things to do in South Australia and the best places to visit in South Australia if you love to surf.
On the drive in you also will drive along a narrow stretch of road surrounded by water – but not just any water. On one side you will see beautiful bluey-green water and on the other is the vivid pink of Lake Macdonnell. The pink colour is created by the salt-loving algae 'Dunaliella Salina' that excretes red pigments that transform the colour of the water. The colours are most vivid in the morning or afternoon and can fluctuate with the seasons. Seeing a pink salt lake should be on every South Australia bucket list!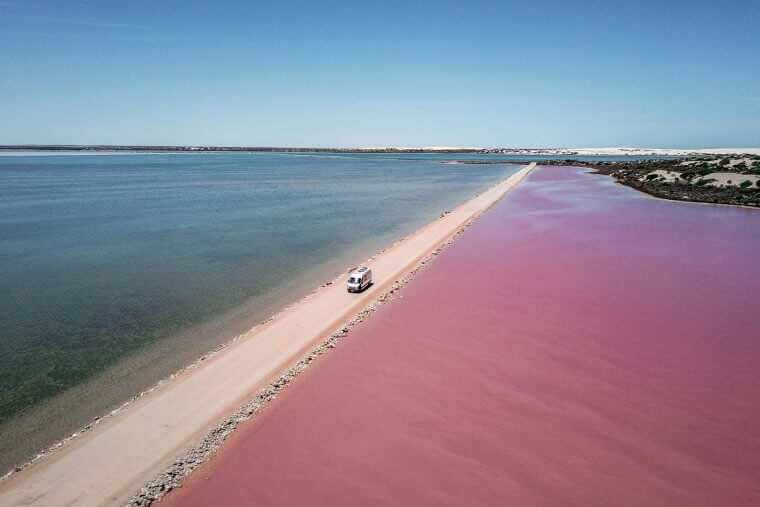 Just a short 25-minute drive outside Adelaide tucked away in the Adelaide Hills, is the little German town of Hahndorf. This beautiful town with its brown timber trimmed German-style heritage buildings is the oldest surviving German settlement in Australia.
A visit to this elm-lined main street, filled with bakeries, boutique stores, and German bars to explore, is one of the best things to do in South Australia. Treat yourself to a traditional pretzel or apple strudel from one of the many bakeries and immerse yourself in this cultural escape. If you are looking for other fun things to do in South Australia in this region, then don't miss strawberry picking at Beerenberg Farm.
8. Bunda Cliffs on the Nullarbor
A list of the best things to do in South Australia wouldn't be complete without mentioning the Nullarbor plain. The Nullarbor plain stretches across the southern edge of Australia between the goldfields of Western Australia and the Eyre Peninsula in South Australia and is the longest, straightest and flattest road in Australia.
When travelling in South Australia along the Nullabor, there is not a whole lot to do other than immerse yourself in the arid outback, spot native wildlife, enjoy the solitude – oh and of course, see the iconic sheer cliffs of Bunda Cliffs. These 90-metre-high cliffs stretch for over 200 kilometres – making them the longest line of sea cliffs in the world, and an Australian bucket list destination. Be careful when viewing these cliffs as they are limestone and crumble easily.
This may not be a regular tourist attraction, but if you're road tripping around Australia, or are making your way to Western Australia, standing on the edge of these cliffs is an experience you won't forget anytime soon. Driving up to the edge (a safe distance), and making a coffee overlooking these surreal cliffs was easily one of my top things to do in South Australia.


What are your favourite places to visit in South Australia?
What are the best things to do in South Australia? Anything you'd add to this Australia travel guide?
Love as always and happy adventuring…
Did you find this post helpful? I'd love you to share it for me.
Pin and save this blog post for later…