Zion National Park is one of the "Mighty 5" of the national parks that Utah, USA has to offer. If you're looking for the best things to do in Zion National Park, the best places to visit in Zion National Park, the best hikes in Zion National Park or even the best places to visit in Utah, this is the blog post for you. Zion National Park has got to be one of the best national parks in the USA.
Are you heading out on or planning a USA adventure? Be sure not to miss out on visiting at least one of the USA National Parks whilst you're stateside. USA National Parks are some of the best in the world and make for the road trip of a lifetime.
Originally, when I had planned on visiting Utah, I thought about trying to cram in all five national parks in Utah on one trip. I quickly realized that I had bit off more than I could chew. There are so many beautiful places to visit in Zion National Park and wonderful hikes in Zion National Park, and I wanted to make sure that I got the most out of my experience there without feeling rushed.
Hikes in Zion National Park that are well-known are The Narrows and Angel's Landing: two very unique hikes, which are two of the best hikes in the USA. When hiking the Narrows, you will spend most of the time in shin-deep water, traveling up the river in a narrow valley. Angel's Landing is known for its steep climb and "Walter's Wiggles" which is a series of 21 switchbacks.
So, with that in mind, I headed out to Springdale, Utah with my boyfriend for the ultimate two-day adventure! Keep reading for the best 2-day itinerary for Zion National Park, with all the best things to do, places to visit, hikes, and adventures to go on.
Other travel guides you might find useful…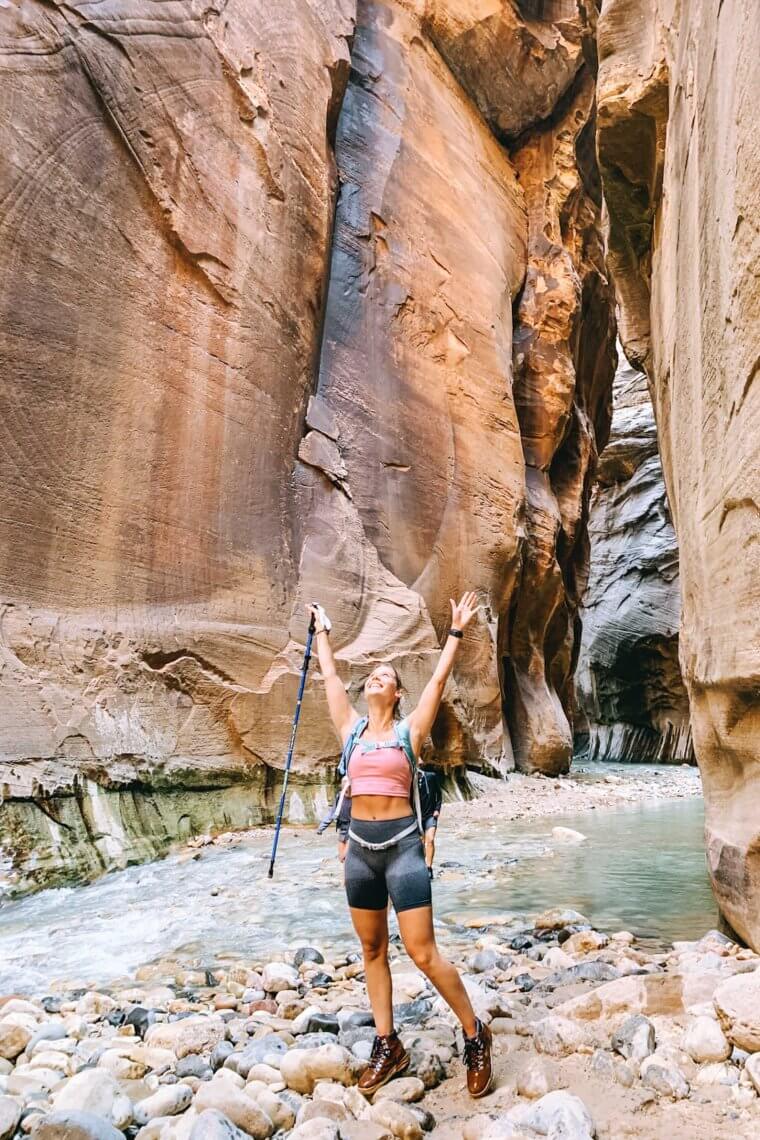 Where to stay near Zion National Park...
There are many options to consider when looking for a place to stay near Zion National Park.
If you are looking to save money, you could stay in a city further away from the park such as St. George, Utah, or Hurricane, Utah. Keep in mind that those options are 20-45 minutes away from the park and would require that you drive to Springdale.
We opted to stay in Springdale for a few reasons, one being the ease of access to the park. Zion National Park does not allow private vehicles past a certain point, and therefore, parking options are limited. Springdale offers a free shuttle that will bring you throughout the town and to the entrance of the park.
I stayed at Bumbleberry Inn, which is a family-owned hotel with beautiful views and a cute little hobby farm on the property. It averages about $175/night. There are plenty of other options to stay in Springdale including bed and breakfasts which tend to run cheaper, and other hotels that are similar in price. Any of the options to stay in Springdale are beautiful. Each time we stepped outdoors we were mesmerized by the view surrounding the small town.
If you're looking to soak up the outdoors, there is camping within the park that is the cheapest stay option but does book out quickly.
Top tips for visiting Zion National Park...
Accommodation: Stay in Springdale, because there's a free shuttle to/from the park.
Zion National Park fees: There are fees to get into Zion National Park (find out more details on the fees here):

Private Vehicle + occupants: $35. Valid for 7 days.
Per Person without a vehicle: $20. Valid for 7 days.

When to visit Zion National Park: The busiest time of the year at Zion National Park is October. In order to avoid large crowds and higher costs, I would choose to avoid visiting in October. With that being said, the best time to visit due to the free shuttle system and weather is April-November.
Utilize the Park Online Resources: The shuttle system is easy to use, but to make visiting the park even more seamless, you can download the Greater Zion app on your phone which provides real-time trail conditions, parking, and a shuttle map. The Narrows are subject to flash floods, so please utilize this app and check the weather before beginning the hike.
Weather: Keep in mind that it gets very hot during the day, so the best time to do these hikes is in the morning.


The ultimate 2-day itinerary for Zion National Park, Utah...
Day One: Canyon Overlook Trail & The Narrows
Catching the best sunrise and sunset is my favorite thing to do on vacation! We started off the day by grabbing coffee at a local favorite called Deep Creek Coffee Company and drove out to watch the sunrise at Canyon Overlook Trail.
From our hotel, the trailhead was about a 15-minute drive along Zion-Mt. Carmel Highway. We drove through the famous Mt. Carmel Tunnel and reached a small parking area to the right of the road shortly after the end of the tunnel. Just across the street, you will find the trail entrance.
We hiked for about 20-minutes and came to a spot that had some rocks to sit on where we could enjoy our coffee and the view. As the sun rose above the canyon, the rocks danced with different hues of reds and purples. Sunrise is definitely one of the best times to experience the hikes in Zion National Park!
After sunrise, we made our way to breakfast at Oscar's Cafe. Bumbleberry Inn provides breakfast as part of the stay but unfortunately, they had a fire in November 2020 which burned their restaurant down. While waiting for the new restaurant to be built, guests receive a breakfast voucher to Oscar's Cafe, which is a breakfast hotspot in the town and is located just across the street from the hotel.
We then made our way to the Springdale shuttle stop to be brought to Zion National Park. The shuttle stops at the Zion National Park Visitor Center and there is a pedestrian bridge to get to the park entrance which can be found by heading towards the river. At this dropoff spot, there are some food stops and an outfitter company that has hiking gear rentals if you need to grab anything prior to entering the park.
After paying the park fees and entering the park, we followed the signs to the Zion Canyon Shuttle. This is the shuttle that will bring visitors to the portion of the park that is off-limits to private vehicles and where the majority of the hiking trails in Zion National Park are.
To reach The Narrows, one of the best places to visit in Zion National Park, you must get off the shuttle at stop number 9, Temple of Sinawava. You will walk about a mile before reaching the water along a trail called Riverside Walk.
The hike in total is about 9.4 miles out and back. We chose to hike into the Narrows for two miles and then turned around, making our total hike about 6 miles. I would describe this portion of the hike as walking on bowling balls through cold water, which sounds unpleasant, but is actually quite a unique and fun experience and definitely one of the best things to do in Zion National Park. The nice thing about the hike is that you can choose to go as far as you would like!
I recommend wearing hiking boots of your choice with long wool socks. A hiking pole is not required but definitely makes the hike easier. Make sure to bring a light jacket along as part of the valley can be a bit colder than the temperatures in Springdale.
We ended the day by watching the sunset at a local restaurant called Bit and Spur Restaurant and Saloon while enjoying some dinner and margaritas!


Day Two: Angel's Landing & Emerald Pools
The next day, we set out to do Angel's Landing, which is known not also for being one of the best hikes in Zion National Park, but also one of the scariest hikes in America, and with good reason! There is a section at the end of the hike that begins at Scout Lookout and leads to the famous Angel's Landing that is made of chains that hikers use to support themselves while they climb the rest of the way up.
With that said, this should not deter you from doing the hike at all! Up to Scout Lookout, it is a safe but strenuous hike with equally gorgeous views and is a must-do hike in Zion National Park, in my opinion!
Knowing that this hike has become more popular over the past few years and one of the best things to do in Zion National Park, we started the day early and walked from our hotel to the park entrance which was a 20-minute walk. The Springdale shuttles don't start until 07:00 and we had the goal of getting on the first Zion Canyon shuttle which leaves the visitor center at 06:00. This hike can be found at stop number 6, The Grotto.
Once we got to The Grotto, we made our way towards Angel's Landing via the West Rim Trail. The hike to Scout Lookout is about 2.1 miles with around a 1,100-foot elevation gain, which makes the majority of the hike uphill. While this is a strenuous hike, the views are well worth it! When we reached Scout Lookout, we decided to give the chains a try. After the first section of chains, we decided it wasn't for us, and made our way back down after letting a long line of people pass us.
The chain section is one-way and difficult because you don't know when people are coming up or down. Responding to the congestion on this trail, from 1st April 2022 everyone who hikes Angel's Landing will need a permit. It costs $6 to apply for a permit for up to six people (non-refundable). It is done on a seasonal and day-before lottery basis; if you are successful you will be charged $3 per person for the permit, and if you are not, you can apply for a future lottery. Find out more about Angel's Landing permits here.
Even though I didn't make it to the top of Angel's Landing, I was still able to enjoy some amazing views! I also love a hike that makes me feel like I got in a good workout, so overall, this hike was right up my street and definitely one of the best hikes in Zion National Park.
After making our way back down from Scout Landing, we decided to do the Emerald Pools hike, another of the best hikes in Zion National Park.
This hike begins along the West Rim Trail just like Angel's Landing and there is a sign that can be found right after crossing the bridge over the river which will lead you to the pools. Instead of going straight at the sign to continue towards Angel's Landing, you will turn left at the sign and head up a set of stairs.
The hike begins at shuttle stop 6, The Grotto, and can either be an out and back hike or can end at stop 5, Zion Lodge, where you will find the Lower Emerald Pool. The first pool you will come across during the hike is the Middle Emerald Pool. If you continue straight, you will see a sign that will lead you to the Upper Emerald Pool. We decided to turn around and head back to shuttle stop 6 after we reached the Upper Emerald Pool because we were getting tired and hungry, but it is common for people to hike down to the Lower Emerald Pool and grab the shuttle at Zion Lodge.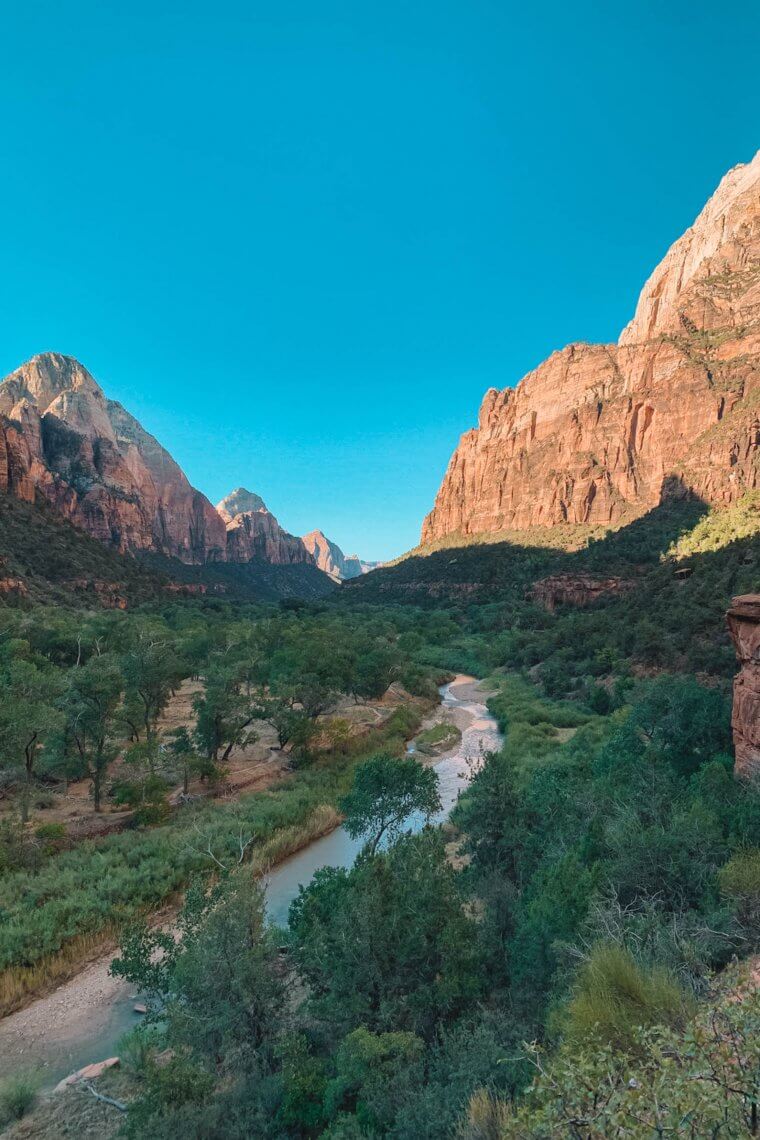 We wanted to explore the town a bit more (there are lots of places to visit in Zion National Park, but Springdale is worth spending some time in too!) so made our way back to our hotel on foot, stopping at Cafe Soleil for some delicious muffins and coffee. After getting back to our hotel, we enjoyed some time cooling off and relaxing at the pool. As dinner time approached, we gathered some drinks from the local grocery store and ordered take-out from Zion Pizza and Noodle Co.
Then we made our way to find a spot where we could enjoy a little sunset picnic. Watching the sunset is definitely one of the best things to do in Zion National Park! We drove towards Canyon Overlook Trail and found a spot to pull off that was along Zion-Mt. Carmel Highway before reaching the tunnel, which was less than a 10-minute drive. There, we enjoyed pizza and salad for dinner while watching the sunset.
Utah is also known for its breathtaking star gazing, so we decided to stay after sunset to watch the stars as well. Staying to watch the stars definitely did not disappoint us, they were the brightest we have ever seen and we were lucky enough to see a few shooting stars while we were out there. This was the perfect way to end our trip!


What are your favourite things to do in Zion National Park?
Have you got any favourite places to visit in Utah? Anything you'd add?
Love as always and happy adventuring…
Did you find this post helpful? I'd love you to share it for me.
Pin and save this blog post for later…