Welcome to my San Francisco guide, or SF as the locals would name it. I am so excited to give you my favourite spots and finds in this world class city sat up in northern California, on the west coast of the USA.
If you're planning a trip to San Francisco you've probably got the likes of the Golden Gate Bridge and Pier 39 on your bucket list. Rightly so! But, this city's offerings go way beyond that and having visit 3 times now to stay with friends and attend Burning Man – i'm ready to share some of my favourites with you!
Before we dig into the details, there's someone I want you to meet. Someone who you'll be spending a lot of time with if you're intending on a summer in San Francisco…
Karl the fog.
Yup the fog has a name. Here in SF the fog that crawls in across the bay in San Francisco is a thing. It's so odd to see. Sometimes you literally just drive into it, where it definitively sits. The fog is so well established that it has it's own name and social media presence @karlthefog. LOL. What causes the fog?
'San Francisco is surrounded by water on three sides. As the hot summer California air rises, it creates a vacuum for the cold, high-pressure, moisture-filled ocean air to rush in – hence, the fog.'
Reason I mention it is because, if you plan to come to SF during the 'summer' months, the temperature is very likely to fluctuate due to this fog. I've just spent 3 weeks in San Francisco 22nd August – 11th September and I'd say the days were evenly split between sunshine and chilly foggy days with a breeze. Bring layers!
A guide to visiting San Francisco
Everything i've mentioned in this blog post is pinned on the Google Map below for you!
Getting to San Francisco
San Francisco's main airport is SFO International Airport which is located south of the city about a half an hour drive. That'll be the place to fly into!
Check flights on SkyScanner here from other destinations.
Getting from the airport into the city centre
From the airport you have a couple of options:
Train: 3-4 trains depart an hour from SFO airport to Downtown SF – see more info here.
Lift: call upon a friend with a car
Uber: Download the Uber app and get an uber!
Getting around San Francisco:
Here in San Francisco they don't have undergrounds or extensive train infrastructure like we do in London. It's definitely something I took for granted in London prior to my visit to San Francisco. I think California as a whole lacks in public transport options, which when coupled with the over population causes some ridiculous traffic mares. I've witnessed this in both SF and LA, enough to put me off ever living / commuting there for sure.
In terms of exploring, there are buses and you can of course walk / cycle.
Note: San Francisco's terrain is very hilly and so cycling and walking certain routes could prove challenging. I learnt the hard way with my ambitious but epic San Francisco bike route.
Uber will literally be your best friend here. Unless of course you have a car / get accommodation close to the centre and stay exploring around there!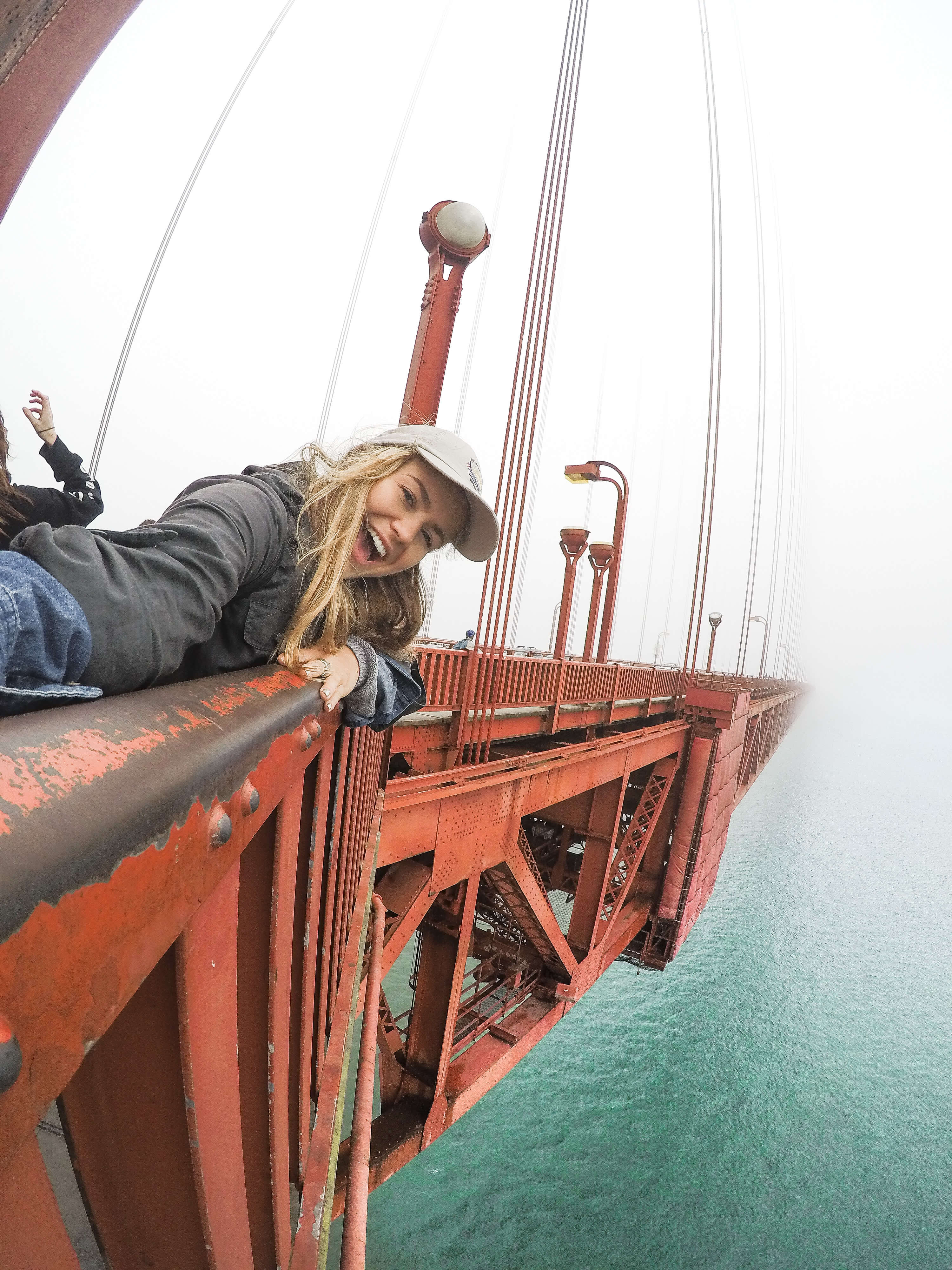 Budgeting for San Francisco
There's no doubt about it. San Francisco is one of the most expensive places to live and to travel through in the world. If you have friends living there – you've struck gold with those friendships (that's if they'll have you). Particularly if you want to be experiencing the incredible and diverse food and cocktail scene in SF, you'll want to prepare to spend.
Example spends on my trip:
$28 Uber pool from the airport to the Haight district.
$60 (evenly split bill) for a main course, some sharing plated and a cocktail at a sit down restaurant
$10 – $15 cocktail out
$15-20 average meal / brunch out
$10 acai bowl from local fresh food market smoothie bar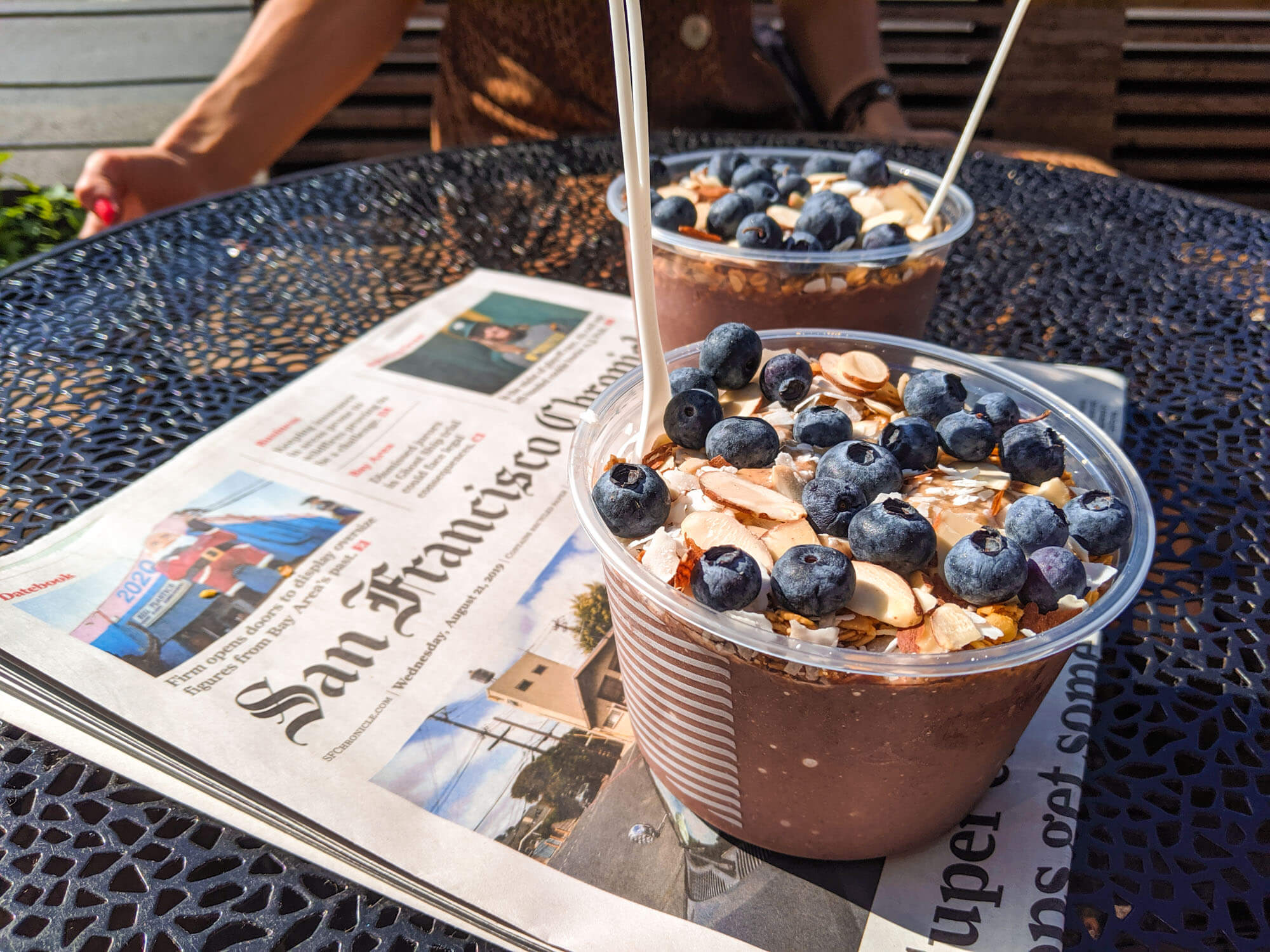 Things to do whilst in San Francisco
Some of my favourite…
Places to eat:
Padrecito (made-to-order Mexican with local ingredients offered in a colorful interior with a downstairs bar)
Gracias Madre (epic vegan Mexican food and cocktails with a put a dress on, classier type vibe)
Souvla (epic epic greek salads dotted around town and available on Uber eats!)
Ploy II Thai (lovely little spot in Haight-Ashbury for a thai sit down meal)
Judahlicious (vegan cafe and juice bar)
Blue Barn Gourmet (amazing salads, locally sourced produce with sustainability and the heart of service)
El Techo (awesome rooftop bar with amazing bar food, restaurant too!)
Places to drink:
El Techo (the rooftop bar is the perfect place for cocktails under the heaters!)
I didn't go out very much to experience the nightlife in San Francisco but when I get to returning, I'll be sure to update this section!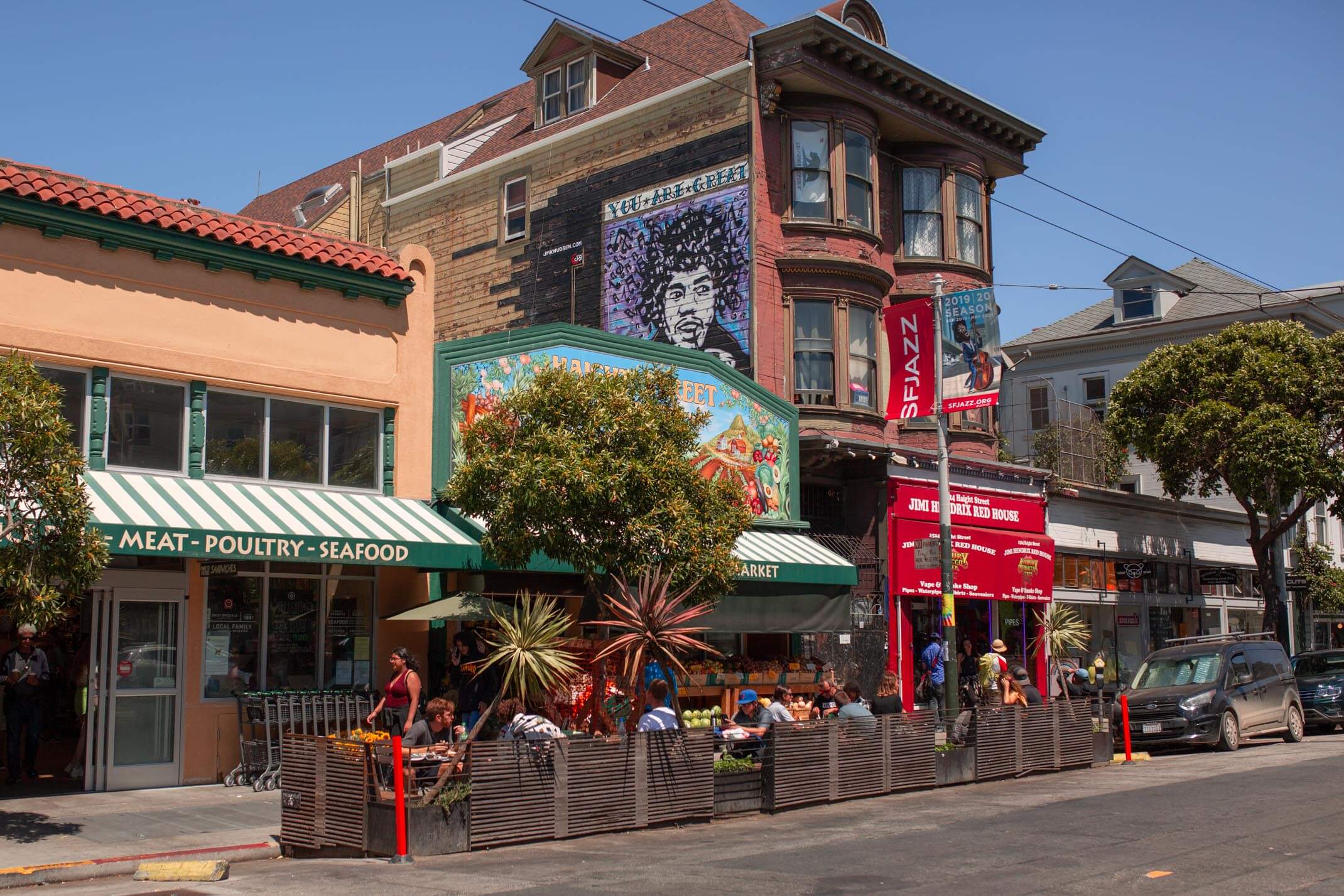 Sightseeing and things to do in San Francisco
1. Walk across the Golden Gate Bridge, obviously.
Did you go to San Francisco if you didn't get a selfie with the Golden Gate Bridge though?
2. Take a walk / run through Golden Gate Park
Set over 1,017 acres this gorgeous area in San Francisco has so many places to explore, relax or take your lunch time run through. There's a variety of events and activities that take place in this green corner of the city.
3. Pier 39
Home to SF's beloved sea lions and possibly one of the most touristy places in town, for good reason. Experience views of the Golden Gate bridge, Alcatraz and the bay, browse the many shops located here, visit the aquarium, grab a cocktail or lunch. It's all happening here and for a first visit to SF, i'd suggest adding it to your hot list!
4. Take a yoga class
I signed up for the free new student week at Yoga Tree and did the 90 minute yoga class post Burning Man to stretch out the week of dancing. Needed! Sign up and take a class here – www.yogatreesf.com.
5. Watch the sunrise from Twin Peaks
An epic spot that looks out over the city!
6. Take a day trip over to Alcatraz
Just 1.5 miles off the shore of San Francisco is Alcatraz Island. Here the first lighthouse on the Pacific Coast was built and then it went on to be the location for a federal prison for notorious convicts such as Al Capone. An awesome day trip if you fancy diving into history! Book in advance – it's a popular tour!
7. Visit Union Square
Every city has a central location where you'll find the hustle and bustle of city life. Union Square is San Francisco's! Here you'll find all your high end stores, bars, music venues and entertainment corners.
8. Ride the famous Cable Car
If you're heading into town to check out Union Square, why not hop on board one of San Francisco's cable cars – the last manually operated cable cars in the world. Another great photo opportunity!
9. Sample delicious food at the Ferry Building!
If you're anything like me, tasting food will move to the top of your list. The ferry building is a famous building in SF to see in itself but head inside and you'll find a market filled with shops both big and small showcasing local producers goods. Here you can get a taste of everything from freshly caught fish and world class wine to artisan cheeses.
See the website here for more information.
10. Explore the Haight
My favourite neighbourhood in San Francisco (i might be bias because my friend lives there). This colourful and very trendy pocket of SF is home to all the colourful townhouses, coffee shops and clothing stores. The main high street has an eclectic collection of shops, eateries and markets for you to browse and wander through.
Haight street is THE place to go before Burning Man to pick up any last minute outfits / costumes. Honestly it's full of shops offering the perfect garments and accessories. See all my Burning Man guides here.
Be sure to grab a smoothie / acai bowl from Haight Street Market.
11. Hire a bike and explore SF!
My route was slightly ambitious considering the amount of hills there are in San Francisco but it's still an awesome was to cover ground if you're only here for a limited amount of time.
See my epic SF bike route here.
12. Take a day trip down to Pescadero
Small town vibes, quirkly coffee shops and a beach that has you feeling a million miles away from the city. Pescadero is just a 40 minute drive out of the city and it's here you can get your fix of ocean air and spacious surroundings. My girlfriend and I headed down one afternoon during my stay and we walked through the very small village interacting so sweetly with the locals before jumping in the ocean and soaking in the hot tub beneath the Pescadero lighthouse – highly recommend. $8 each for a 30 minute session overlooking the ocean. Pay and grab the key at the hostel by the lighthouse (there's only one).
Have You Been to San Francisco?
Where were your favourite spots?
Love as always + happy adventuring,
Did you find this post helpful? I'd love you to share it for me.
I can't do this without you.
Pin and save this blog post for later…