31. Take on the Mt Norquay via ferrata in Banff National Park.
Step out of your comfort zone and enjoy 360 views of the Canadian Rockies! With everything from beginner 1-2 hour routes to whole-day adventures for avid climbers, via ferratas make for an awesome active adventure so put this one on your Canada bucket list!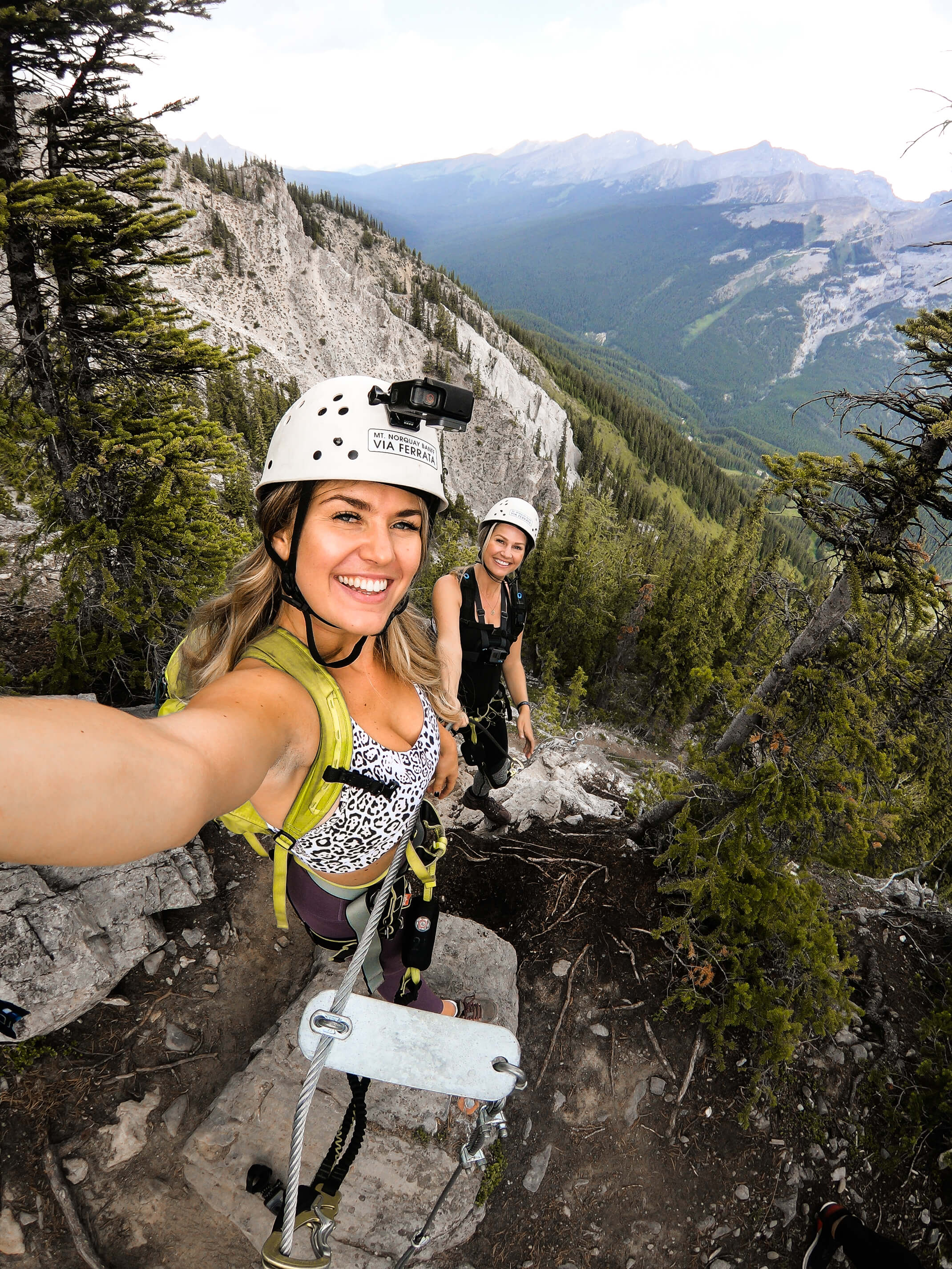 32. Try heli-skiing or heli-hiking!
These active adventures do not involve jumping out of a helicopter and hitting the slopes! Think of the helicopter as the ultimate cable car that can take you to the freshest powder anywhere in the region. And then, you can ski or hike!
Heli-skiing and heli-hiking trips happen all over Canada, so check with your local tourism board for the best companies to go with!
33. Visit the 'Big 4' on a polar safari in the Northwest Territories.
In the Northwest Territories you can see the Canadian 'Big Four': muskoxen, caribou, moose and bison.
You can also go dog-sledding, skiing in a forest, and have picnic at the top of the world (on the Arctic Circle!).
34. Road trip through Quebec and Newfoundland & Labrador.
For a wild road trip, get a camper (or a car and a tent) and road trip through Quebec and Newfoundland & Labrador. With landscapes that rival those in Iceland, this road trip is for those of you who want a survival adventure in the wilderness!
35. Explore the Haida Gwaii archipelago.
There are no chains or big brands here, so on these islands you can live slowly, learn about the indigenous Haida Nation, and experience British Columbia's ragged wilderness.
36. Enjoy Edmonton, Canada's underdog.
Edmonton isn't often mentioned alongside the likes of Vancouver, Quebec and Montreal, but it's still a city in Canada you should visit. Edmonton's gorgeous downtown landscapes, trendy neighbourhoods, humungous shopping mall and close proximity to Jasper National Park are merely a few of the highlights I discovered about Canada's hidden gem. Fall in Edmonton is truly stunning and you can enjoy the blue skies in the city among the reds and oranges in the trees.
37. Discover the heart and soul of Halifax.
Steeped in maritime history, this city is well worth exploring. Visit the Citadel National Historic Site and grab lunch from the Farmer's Market to enjoy in the Public Gardens.
38. Visit the sand dunes on the prairies of Saskatchewan.
There's more to the prairies than farmland! The Great Sand Hills are largely unvisited and remind you that Canada really does have everything in terms of landscapes. The Athabasca sand dunes are more well-known but less accessible, and serve as the most northernly active sand dunes.
39. Head to Squamish, 'the adventure capital'.
Another area I'm yet to visit, and it's accessible as a day trip from Vancouver or great for a holiday in itself. Here you can bask amongst a wealth of activity including and not restricted to: rock climbing, kiteboarding, mountain biking, cross country skiing, bouldering. Let me know which you try first!
40. Visit Manitoulin Island.
Manitoulin Island is the largest freshwater island in the world! With over 100 inland lakes on the shores of the island, this small-town feel place is the perfect place for a getaway. The Manitoulin Island lifestyle embraces a close mutual relationship with the environment and resources of the land, making it a peaceful and spiritual place.
Have you been to Canada?
What's on your Canada bucket list? I'd love to know!
Love as always and happy adventuring,
Did you find this post helpful? I'd love you to share it for me.
I can't do this without you.
Pin and save this blog post for later…