What do endless mountainscapes, outdoor adventure and unparalleled beauty have in common? Well, Whistler, Canada – of course.
Before 2014, I had never heard of Whistler. That all changed when I signed up for ski instructor training that was to be held in Whistler, BC. I had no idea what to do in Whistler (other than ski, of course) and the mecca that Whistler was. Before arriving, I was painstakingly unaware of its heritage, that it was home to the Olympics, that it housed over 200 ski runs, 2 magnificent mountains, and endless opportunities for adventure, hiking, biking and more – both in summer and winter.
Truth be told, when I first arrived, I was bombarded with the grandiosity of this town. Thirty minutes end-to-end, it was a much larger ski town than I was used to. But slowly and surely, the mountains found their way into my heart. The dusting of snow on peaks as far as the eye could see worked its magic, and I slowly began to get the hype.
One day after skiing, I was waiting at the bus stop, and I caught a glimpse of the British Columbia slogan plastered all over the bus number plates. It read: 'Best Place on Earth', and as I sat there, sweaty and content, surrounded by the fading candy cane skies painted against the pearly white peaks – all I could think was this IS the best place on Earth. This slogan has since been revised, and number plates now simply go by 'Beautiful British Columbia', but in my opinion, both are true – this really is one of the best and most beautiful places on Earth.
Long story short, my 7-week ski instructor holiday turned into an almost 4-year love affair with Canada, most of which I spent exploring the very best of what to do in Whistler. I have had the joy and privilege to explore this little mountain town like a local. Many traditional Whistler travel guides will give you a tourists perspective, but If you are looking for the best things to do in Whistler, Canada – including the top things to do in Whistler in summer and the best things to do in Whistler in winter from a locals view – I have you covered with this local-inspired Whistler travel guide.
If you have arrived here after a Google search of 'things to do in whistler canada' 'things to do whistler summer' 'things to do whistler winter' 'what to do whistler' or 'whistler travel guide' – you've arrived to the blog post you need…
Let's tuck into this Whistler travel guide…


The best way to begin a Whistler travel guide is to guide you on how to get there right!
Whistler is conveniently located just under 2-hours from downtown Vancouver and the international airport YVR. There are plenty of buses running daily to Whistler from the international airport if you're looking for a low cost way to get to Whistler during summer or winter. These typically cost around $32 CAD one-way.
Alternatively, you can rent a car and drive up. Either way, be sure to have your camera ready! The views along the Sea-to-Sky Highway are some of the best views in Canada.
The best places to eat in Whistler
No Whistler travel guide would be complete without touching on a few of the best places to eat in town. Whether you are visiting in the summer or winter, Whistler is full of epic dining experiences and eateries begging to be explored. Here are a few of the best things to do in Whistler, Canada, for those foodie travellers out there.
If you are an omnivore, then be sure to add Crystal Lounge to your list of the best things to do in Whistler, Canada. Here you will find the best (and cheapest!) wings in Whistler during their happy hour special. This is the perfect apres after an early finish on the mountain.
Go Green at the Green Moustache
If you are wondering what to do in Whistler if you are craving something healthy, hearty and delicious, do not pass up a visit to the Green Moustache. This is whistler's 100% organic, plant-based cafe, perfect for smoothies, whole food meals and yummy desserts. Their Buddha Bowl is one of my all-time favourites for just $15.95 CAD it really hits the spot!
Grab a coffee from Ecologist
This relatively new kid on the block has taken the whistler coffee scene by storm. Located in the Olympic Plaza, this little boutique clothing store is a serious underdog with its unassuming little cafe in the back. This is a perfect cosy nook to enjoy a sit-down coffee or simply grab a great to-go coffee as you stroll through town. Feeling decadent? Be sure to try their Nutella Latte to take your mocha to the next level.
Picture a white-glazed horizon, a dusting of snow sprinkling down as you bask in the ultimate cosy cabin vibes, feasting on a fully loaded plate of gourmet Waffles. That has been my experience of Crystal Hut every time. Crystal Waffles are located at the top of Crystal Chair on Blackcomb Mountain. This little cabin hut can only seat up to around 20 people, so even when it is packed, it is the perfect intimate dining experience. The only caveat is that this does require a level of skiing ability to get there. But if you can get there, it is hands down one of the best things to do in Whistler in winter on the mountain.
Quick tip about dining and tipping in Canada, it is customary to tip the service providers. After ordering, you will be given the option to tip between 10-20%. 15% is a typical tip, but if someone is going above and beyond, an 18-20% tip it's a great way to show your support for their work.


The best things to do in Whistler Canada...
The best things to do in Whistler during

Winter
If you are a skier or snowboarder, chances are Whistler is on your bucket list (for good reason!). While the skiing and boarding are unparalleled, there are plenty of things to do in Whistler in winter, both on and off the slopes.
1. Go skiing or snowboarding
A visit to Whistler in winter would be incomplete without skiing at Whistler Blackcomb. This HUGE resort encompasses 2 mountains, over 200 marked runs, 8000+ acres of terrain, three glaciers and 16 alpine bowls. With everything from gondola-accessible beginner areas to extreme double and triple diamonds for the most expert and all the cruisy blues in between – there really is something for everyone. Top tip for first-time riders: Whistler Mountain is a perfect beginner-friendly hill. With a designated beginner area with its own set of chairlifts and carpets, you will have a fantastic time.
This resort is quite akin to European resorts in that there are two separate mountains to explore: Whistler Mountain and Blackcomb Mountain. What makes Whistler great is that it has a gondola that connects them! On its completion, the Peak-to-Peak gondola broke the world record for being the longest continuous lift system in the world and the highest lift of its kind.
Travelling at a whopping 7.5 metres per second in a short 11-minute ride, you can be on the opposite mountain. How wild?! There are also two glass floor cabins that give a nerving view of the valley below through a sectioned-off piece of glass.
3. Unwind at the Scandinave Spa
Hot springs and alpine adventures have gone hand in hand throughout human history. Revealed by the indigenous for their healing properties and as sacred spaces, in more modern times, hot springs have become a place for rest and rejuvenation. The Scandinave Spa captures the magic of mother natures beauty and restorative powers with its thermal therapy journey.
After getting into your robe and swimmers, you are free to wander through the stone paved grounds – soaking in hot tubs or sweating it out in saunas, then cooling off in Nordic waterfalls or plunging into icey pools on repeat. One of the standout features of this spa experience is the strict no phone, no talking rules (which truthfully are a god-sent!). Giving you the serenity to soak up all those soothing nature sounds – you will walk out of this place feeling like you are floating on cloud nine.
Starting at $105 CAD, this is easily one of the best things to do in Whistler in winter. However, it is equally magical in the summer months.
4. Visit the cultural centre
The Squamish Lil'wat Cultural Centre is a recent addition to the town and a very welcome addition at that! Here the local Squamish and Lil'wat people invite you to learn about this region's rich and unique culture. For $20 per person, you can join an hourly guided tour between 10 am-4 pm to see these mountains, valleys and rivers through their eyes.
The best things to do in Whistler during Summer
In my first winter season in Whistler, someone said something to me that I will never forget. They said, 'people come to Whistler for the winter but will stay for the summer'.
After almost 4 years of living here, I can confirm this statement is incredibly true. While there are plenty of things to do in Whistler in winter, Whistler really comes to life in the summertime.
Between June and August, take advantage of the longer days (the sun sets at 10 pm in the peak of summer!) with hikes, bikes and more in this outdoor lover's adventure playground! If you are wondering what to do in Whistler in summer – wonder no more. Keep reading this Whistler travel guide.
One of the many joys of Whistler is the laid-back local vibes. One of my absolute favourite things to do in Whistler in summer is heading to Lost Lake. This lake is tucked away in the Lost Lake trails near the lower end of the village, furthest from the base of the mountain. You can walk along the village trail or catch the free shuttle from the Gondola Transit exchange near the base of Whistler Mountain.
Whether you choose to soak up the sun on the grassy banks, cool off in the shallows or enjoy the loop by bike or foot, this is one of the best things to do in Whistler, Canada.
6. Go to the Whistler Markets
If local produce, artesian goods and freshly baked bread are your jam, then Whistler Farmers Markets is an absolute must-do. This market runs every Sunday from May to October in the Upper Village Stroll at the base of Blackcomb Mountain.
Whistler itself is home to endless fantastic hiking opportunities. However, it is also the perfect hub to access top-rated Canadian trails nearby.
When the ski season winds down, and the summer sets in, Whistler's peak becomes home to a unique hiking opportunity: the Ice Walls. Up the top of the mountain, where the temperatures stay nice and cold, the snow doesn't melt! So in the summertime, you can get the unique opportunity to hike through trails surrounded by walls of leftover snow from the winter. These can get up to three metres high, depending on the snowfall of the previous season.
This classic hike is just 30 minutes south of Whistler, in Squamish. Climbing up a set of steep stairs, through winding forest, and finishing atop the Stwatamus Chief – this hike offers panoramic views over Squamish and onto the Howe Sound.
Panorama Ridge is a bucket list hike and is easily one of my top-rated things to do in Whistler, Canada. This 28km return track is a beast. I personally did this hike in a day, starting at 5 am, and returned to the car – very sore – at around 3 pm. On the way, I saw a bear, the vivid blues of Garibaldi Lake, was greeted by a whisky jack bird and marvelled at countless epic views.
Doing this in one day is a hustle, so I would recommend breaking it up and booking a campsite for the night.
Located around 50 minutes north of Whistler, just beyond Pemberton, is the magic of Joffre Lakes. This three-tier lake hike offers incredible wildlife viewing and vivid turquoise blue lakes to explore. This hike takes around 3 hours to return. This is frequently cited as one of the best things to do in Whistler, Canada, so it can get quite busy. To help reduce foot traffic, this hike now requires a free day pass, so be sure to book your spot online in advance!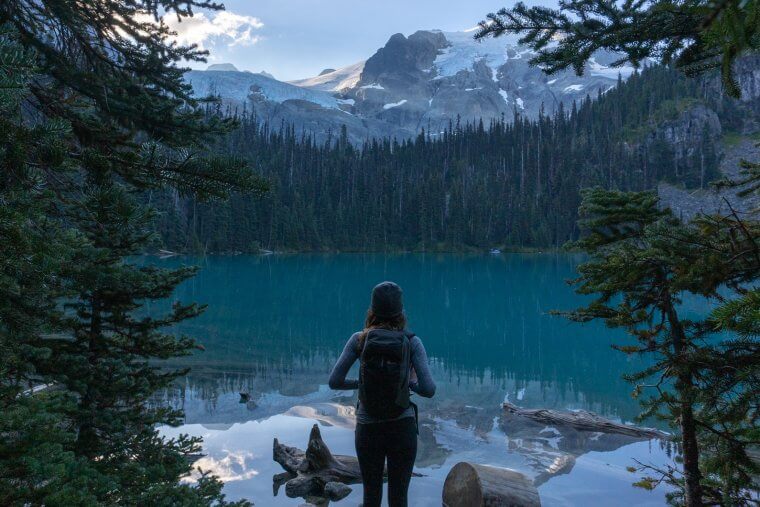 8. Paddle along the River of Golden Dreams
Beginning in Alta Lake, the River of Golden Dreams winds its way north, connecting with the grand glacier-fed Green Lake. A River of Golden Dreams tour is one of the best ways to experience the lakes of Whistler, all while soaking up the magical views of the mountains surrounding you.
Easily one of the best things to do in Whistler in summer if you are looking for something active but also incredibly relaxing.
If you have ever tried skiing or boarding and loved it, chances are you will love mountain biking. In the summer months, the Whistler locals swap out their boards and skis for their downhill bikes. Using many of the same trails, Whistler Mountain transforms into a bike park. This is one of the best things to do in Whistler in summer for avid bikers and novices alike.
There are plenty of beginner-friendly lessons and clinics to learn this up-and-coming sport.
10. Ride the longest zip line in North America
The Sasquatch zipline in Whistler is not for the faint of heart. This 2 km (1.2 miles) zipline traverses across from Blackcomb Mountain all the way to Whistler Mountain and can clock speeds of up to 100kmph. All I can say is that make sure you have your shoes on tight! It is mind-boggling to be that high in the sky, soaring above the valley.
This tour costs around $145 CAD and, despite the larger price tag, is absolutely worth the splurge. This tour only runs during the summer months, so it is always one of my top recommendations for things to do in Whistler in summer.


What are your favourite things to do in Whistler British Columbia?
So there you have it! The best things to do in Whistler, Canada! Are there any top things to do in Whistler in summer or things to do in Whistler in winter that we have missed? Anything else you would love to see added to this Whistler travel guide? As always, happy adventuring.
Love as always and happy adventuring…


Did you find this post helpful? I'd love you to share it for me.
Pin and save this blog post for later…