After heading out to Alberta and exploring Banff National Park alongside parts of Jasper and Calgary, I decided to extend my Canadian adventures for six days on Vancouver Island where a good friend of mine lives.
I know, I know. How lucky am I? After 5 years of near-constant travel, I now have friends located in the most beautiful of places and just like my home is an open one, I'm very lucky to have the offer returned.
If you're looking for the best things to do and see on Vancouver Island, you're in the right spot.
I always let you guys know, ahead of time, where I'm off to, as I just love hearing your recommendations, and this time it was no different. For the best things to do and see on Vancouver Island there was a lot of Tofino, Tofino, Tacofino, Whales and Poutine.
I was pretty happy with the prospect of that on the horizon, but in reality, Vancouver Island was so much more.
In this Vancouver Island travel guide, I'm going to share with you the best things to do and see on Vancouver Island along with all the images I took of this incredible nook in Canada.
Other posts and guides on my blog that you may enjoy:
Explore all the Canada travel guides on my blog here.
The best things to do and see on Vancouver Island
Getting to Vancouver Island…
So Vancouver Island is completely separate from the city of Vancouver (duh, it's an island) but before going I'd thought it was just a little ride away from the city and easy to switch between them both. In reality, though, it's not as simple as it might seem to travel between the two (there's about 70km between them) and Vancouver Island is ha-uuuuge (it takes about 5.5 hours to drive from Victoria at one end of the island to Port Hardy at the other end).
The likeliness is though, that whether you decide to stop off or not in Vancouver, you'll probably be connecting flights there to get to Vancouver Island.
That is unless you take the ferry. The ferry between Vancouver (Tsawwassen and Horseshoe Bay) and Vancouver Island (Victoria and Nanaimo) takes 30 mins – 2 hours, depending on which route you take. Prices are $17.20 each way for a foot passenger (it costs more for vehicles). For more information about schedules, prices and reservations check out www.bcferries.com.
Airports on the island:
The main (and cheaper) airports to connect to are Nanaimo or Victoria, but there is also Tofino, Comox, Campbell River and Port Hardy. You can check flight prices here.
A little about Vancouver Island…
Vancouver Island is the largest island on the West Coast of North America. During my time on the island, I only explored Tofino, Ucluelet, Nitinat lake and the drive from Nanaimo. If you look on the map, you'll see I seriously only touched the surface with what Vancouver Island has to offer.
Most people I'd spoken to about Vancouver Island, prior to arriving, highlighted Tofino as their favourite place. It's also the most popular with tourists. Should this be where you're looking to head and you fly into Nanaimo, you'll need to get a car and drive 3hrs to get there. There are buses that run between Vancouver and Tofino, going through Victoria and Nanaimo.
The best things to do and see on Vancouver Island
These recommendations were the incredible things that I got to experience during my time on the island and are, in my opinion, some of the best things to do on Vancouver Island. As mentioned, I only explored around Ucluelet / Tofino area plus a little camping trip to Nitinat Lake so this is just a taster!
1. Hire a board and go surfing
I think if you live on Vancouver Island it's pretty much a given that you own a surfboard or two. The lifestyle here seems to perfectly accommodate a lunchtime surf or a 'wrap everything up early afternoon and spend the rest of the day at the beach' way of doing things.
I rented a longboard for 24 hours from Relic Surf Shop in Ucluelet. I paid $28 CAD (£16) for 24 hours so I guess that's a pretty good benchmark if you're wondering how much it will cost. There are plenty of surf shops!
I used my friends' wetsuit which kept me so snug in the water – I'd definitely recommend one too (I went in summer at the end of July).
Surfing is 100% one of the best things to do on Vancouver Island – jump on in!
2. Visit Long beach
There are plenty of beaches to choose from for surfing on Vancouver Island but this was one that we went to. (We also tried Wickaninnish). The waves were super kind to me and there are some super cute cafes to warm up with a hot drink after.
What's a surf without a hot cup of cocoa or poutine to warm you up afterwards? Best things to do on Vancouver Island? I think so!
3. Go hiking
Vancouver Island is stunning. There are SO many hikes for all different abilities and so many different terrains to enjoy them on.
I didn't do any crazy hikes when I was there but I did a lot of walks, mainly around and to beaches.
4. Head to Cox Bay Lookout for sunset
Take a few of your favourite beverages and hike to the top as the sun goes down.
The hike is at the end of the beach and isn't too hard (distance: ~4 km, time: 45 minutes, elevation gain: ~400 m). There aren't many signposts, so stick to the obvious trail, and you'll need wellies or waterproof walking boots as it can get pretty muddy! There's free public parking at the beach.
Absolutely one of the best things to do on Vancouver Island.
5. Go camping
Vancouver Island is a camper's dream. Lakes upon lakes upon beaches upon lakes. There's nature all around and it's waiting for you to explore it.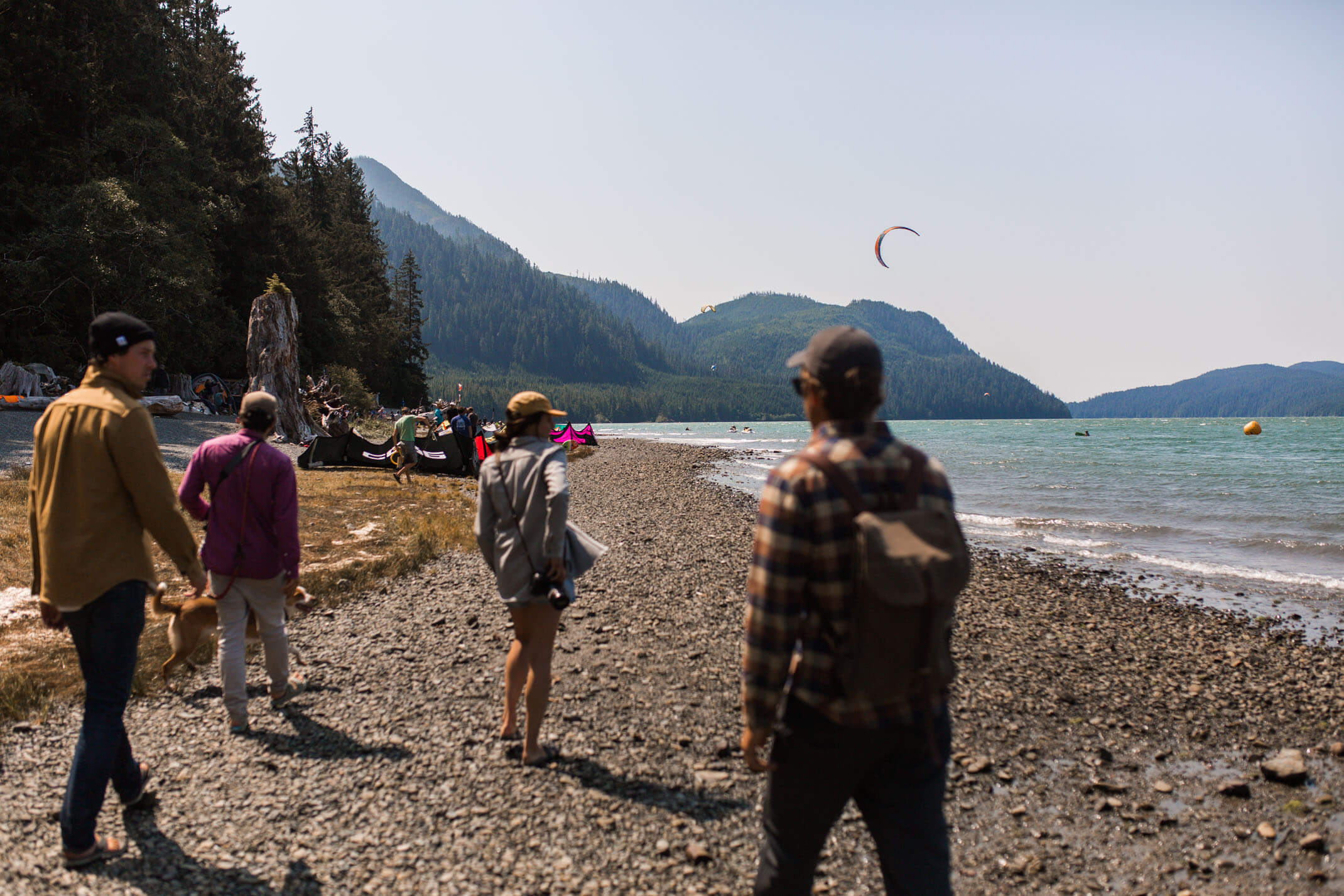 6. Explore Tofino
The place everyone talks about and for good reason. It really is beautiful and it's definitely one of the best things to do on Vancouver Island.
My favourite thing? There's an agreement in place that stops big chains from buying into the property and opening things like… McDonald's.
All the shops are local businesses that give the town real, authentic and quaint vibes. Restaurants get busy but there's still a very 'surf town' run down type feel. Take an afternoon to browse the beautiful selection of surf, jewellery and homeware stores.
Other restaurants highly recommended in Tofino:
– Kuma (awesome Japanese)
– Wolf in the fog (locally sourced, higher end dining)
– Tacofino (the taco van that ALWAYS has a queue)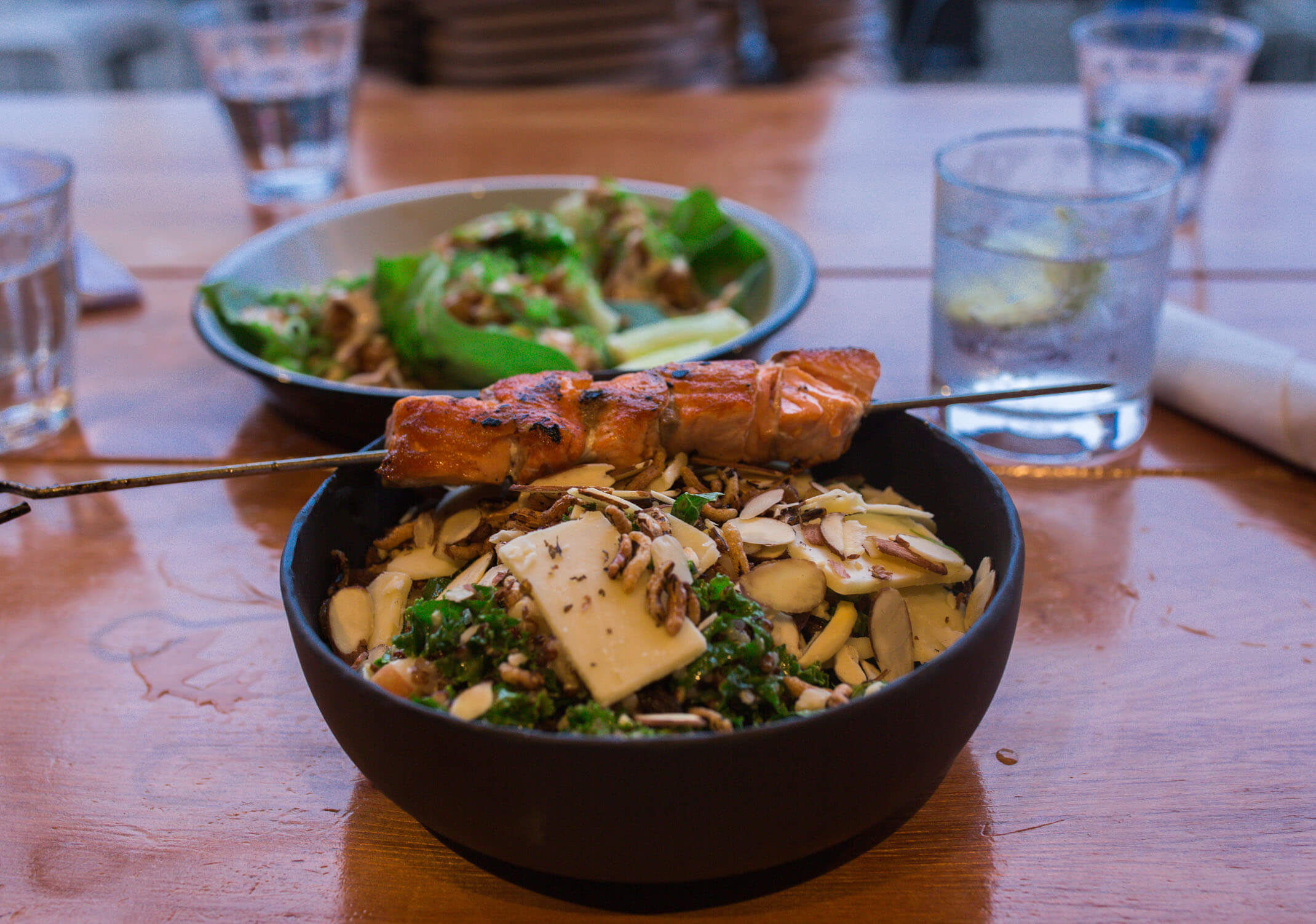 7. Go Beer tasting at Tofino Brewery
Grab a local beer and some bar snacks here. Open 7 days a week from 11am-10pm! You can also get some beer to go! Private tours can be arranged for 5-15 people @ $15 per person. The tour is 1-1.5 hours and includes beer tasting and a tour of the facilities.
Find out more here.
8. Go whale watching
When you come from the likes of the UK, the prospect of seeing whales in the wild is extremely exciting. So this is absolutely up there at the top of the best things to do on Vancouver Island. If you like Whales that is…
As travelled as I am, seeing whales in the wild is something I had never done before so I took my time in Vancouver Island as the perfect opportunity to experience it. There's not much that will prepare you to be graced by the presence of these incredible animals.
I went with Jamie's Whaling in Ucluelet and paid $124 for a 3-4 hour experience. It was definitely worth it considering the length of time, the knowledge of the guide and what we saw.
We saw two humpbacks during our tour and they jumped out right before us. One was a familiar face in these areas that goes by the name of Pinky (55ft).
Fun fact: The largest recorded humpback whale was 89ft/27m long!
9. Half Moon Bay
Park at the start of the Willowbrae trail and hike 1km through the rainforest down to Half Moon Bay.
For more information about this hike and others in Tofino, click here.
Things I'd like to do next time I'm on Vancouver Island…
Camp and hike at/around Kennedy Lake (and generally, hike a lot more!)
Visit Hot Springs Cove
Explore Victoria
Visit the U'mista Cultural Centre
Go wine-tasting
Road trip around the whole coast!
Have a beach fire with friends
Have you been to Vancouver Island?
What are, in your opinion, the best things to do on Vancouver Island? I'd love to know!
Love as always + happy adventuring,
Did you find this post helpful? I'd love you to share it for me.
I can't do this without you.
Pin and save this blog post for later…