'The rockies are going to blow your mind.' These were the words on everyone's lips when I revealed my next destination – Banff, Canada.
The three weeks I spent in Canada were initiated by a four-day adventure invitation I had received from GoPro. For four days only, GoPro would fly 50 athletes and content creators out from across the world into the Kananaskis Country for camera training and mountain adventure.
But as ever with GoPro family events, the adventures are over in a flash. I had pre-empted that four days wouldn't be enough, that I wouldn't want to leave and that I'd feel as if I'd just had a mere taster of what the Rockies have to offer. So I extended my time on the ground and pushed my return flight to London back two weeks.
Oh, how glad I am that I did.
Canada is my favourite country in the world to explore so if you're considering Canada or Banff and your next travel destination – you have chosen well.
In this guide I am going to take you through the best places to eat in Banff, the best things to do in Banff and the best adventures in Banff. There are a few top tips for Banff, Banff restaurant recommendations and if your adventures are going beyond Banff, I have multiple comprehensive Canada travel guides here.
Other guides and posts on my blog that you may enjoy:
How to spent 48 hours in Banff during summer…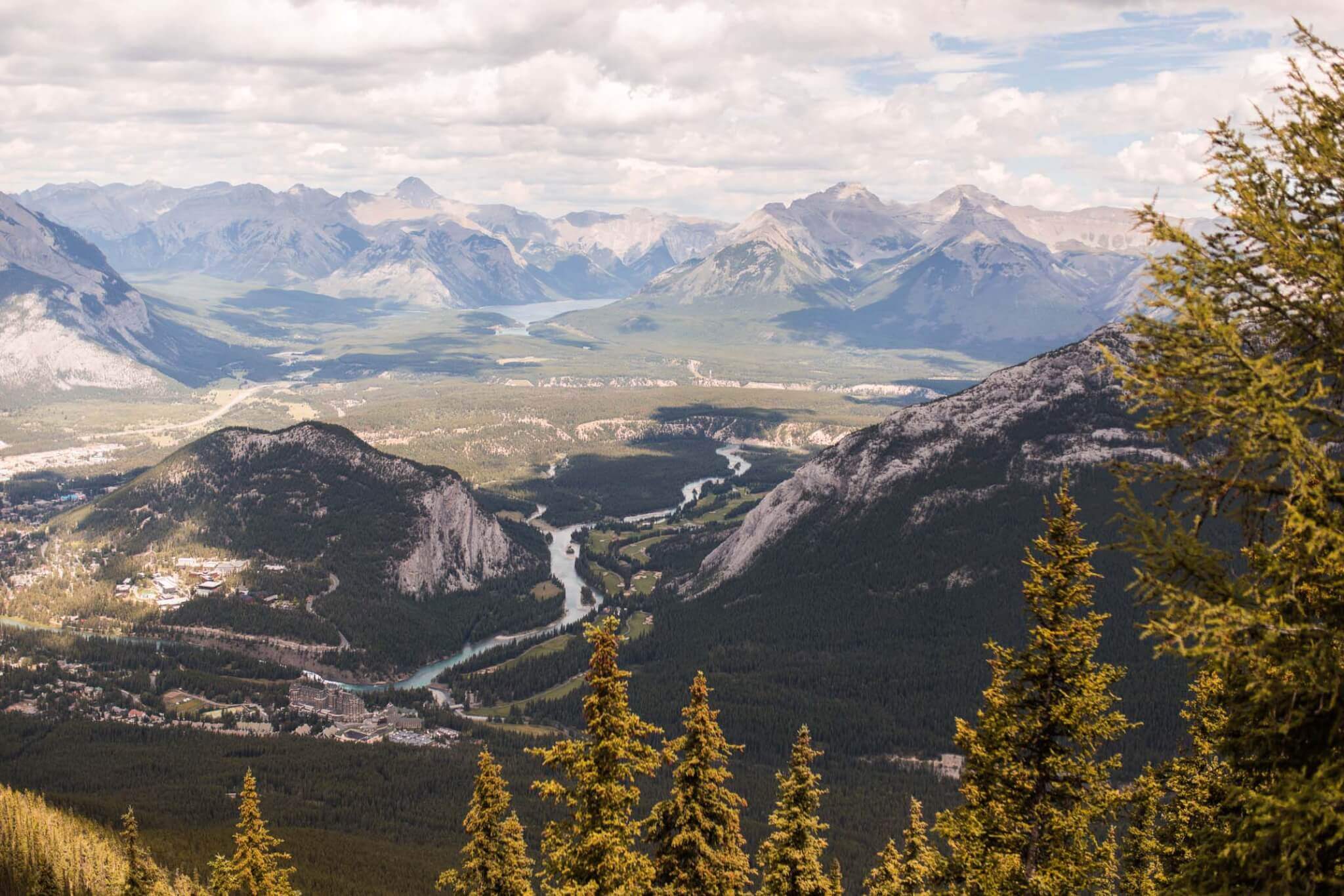 Mum and I had decided that we didn't want to be rushing around during the seven days we had together. The plan wasn't for me to get content and shoot guides, the priority was to actually have some time out from the pressures of my job and to enjoy some quality time with Mumma.
Of course though, I love photography and had my camera with me most of the time, so I'm still going to draw upon the knowledge I gained of the area and the activities we enjoyed together to help you with planning your trip.
Here we go, here's my guide to planning your time in Banff, Alberta.
Booking Accommodation in Banff…
I pretty much always like to be spontaneous with road trips. When I'm given time off, or time to use as I please, I like to get rid of any kind of schedule and feel the freedom of going 'where the wind takes me'. Let me just say during summer here in Banff (we came 20th-26th July) this approach isn't going to do you ANY favours.
When looking to book accommodation on the day / for the next day there was NOTHING on Airbnb / booking.com. When I say nothing, I'm serious. I've never been in that situation before!
We ended up having to drive around town looking for any residence that had a vacancy sign outside. When we found one, even though it was the most basic of hotels, it was in excess of $300 a night (for the two of us in a double).
It wasn't cheap.
Don't get me wrong, I don't mind splashing out on accommodation every once in a while, but when it's this basic and you're hardly spending any time in the room – I can't help but resent it a little.
We stayed for two nights at Irwin's Mountain Inn.
This room actually was decent, they upgraded us as they said no-one would have booked this room because of the price so they'd rather keep the cheaper ones available. LOL.
Regardless, there weren't may other options. There aren't other villages you can drive to that will make it much cheaper. In fact there's few and far between when it comes to accommodation in The Rockies.
During summer in the Rockies, accommodation comes down to supply and demand, and as the hugely popular (and rightly so) location that it is – the demand far outweighs the supply, hence the prices.
What to pack for summer in Banff:
Summertime in Banff is from June to September.
I thought I'd be good with shorts, some activewear and a waterproof. I somehow forget Banff was located smack bang in the mountains and that mountain weather is very unpredictable. I would say the key to packing for your time here is layering. For example, when we hiked up to Tunnel mountain (40 minutes) we went from gorgeous sunshine to being really cold to rain and all the way through the cycle again.
Best places to eat and drink in Banff:
Good Earth, coffeehouse and whole foods cafe, does an amazing coffee and matcha!
Nourish Bistro – a vegetarian restaurant – one of my favourite meals in Banff!
Beaver Tails pastries – I didn't go, but I've heard they are great!
Elk and Oarsman rooftop bar and restaurant (with an extensive gluten free menu)
Park Distillery Restaurant and bar (gin lovers, its a gin distillery with awesome gin cocktails – they also have signature campfire cooking!)
Best things to do in Banff:
Hike Sulphur Mountain
We did this hike when we needed a good sweat. Let's just say it provided it. Of course you can take it at the pace you wish but should you need a workout, the gradient is steep and persistent and will give your legs a challenge! The mountain sits 2,451m high and the hike is 5.5km long with 650m elevation gain. T
Take the Gondola up to Sulphur mountain and have coffee at the top
An alternative for those that don't want to walk. Admission is $58 for an adult and $29 for a child when booked at least 48 hours in advance, or $64 / $32 respectively on the day. If you go before 10am, one child goes free with every paying adult! There are also bundle deals with other experiences in the area.
Meander through the town, have a roof top drink at Elk and Oarsman or the Parks Distillery Bar
Hike up to Tunnel mountain
This one's an easier climb with views all over Banff town. It took about 30-40 minutes to get to the top at a chilled pace. Take a picnic for the top or take some drinks for sunset!
Hire a canoe, kayak or stand up paddleboard from Banff Canoe club and spend the morning exploring on the water with 360 views of mountains.
Canoes and kayaks start at $40 per boat for the first hour, and then $20 for each additional hour. Paddleboards are $125 for the day or $25 an hour. You can get discounts by becoming a club member!
Drive 10 minutes out of Banff to Norquay and take in the views from the Cliffhouse Bistro at the top of the Gondola.
Here in Norquay there's also a Via Ferrata you can do – for those seeking a little more adrenalin!
Explore Lake Minnewanka, a 21km long lake perfect for canoeing, or hiking and/or biking round. Since it faces north, it can be a good spot to see the Aurora Borealis!
If you're keen for some more hikes / more extensive hiking then head to Banff information centre right in the town where they will kit you out with both maps and ideas!
Day adventures from Banff:
Drive to Lake Louise for sunrise: one of the most picturesque sunrises you might ever see and beautiful views of the Victoria Glacier. Get there early to get a good parking spot as it is a popular spot. Fairmont Chataeau, a hotel on the lake, operate canoe rental during the day for $115/hour per canoe or at sunrise – $125 / 1.5 hour canoe rental, starting at approximately 5.30am and including breakfast for up to three people (all rental prices are cheaper for hotel guests, so you could even combine it with a stay on the lake!). You can find out more about renting a canoe on the lake here.
Moraine Lake is also beautiful at sunrise, but the road to the lake is only open from May to October. Again, you'll need to arrive early to park. Emerald Lake (the colour of the water is in the name) in the Yoko National Park is equally as stunning! Both have lodges that you can stay in if you wish (for the Moraine Lake Lodge click here and for the Emerald Lake Lodge click here).
Drive up the Icefields Parkway, the 232 km highway connecting Banff National Park, Lake Louise and Jasper, and see the glaciers, waterfalls, mountains and forest.
Have you been to Banff?
What were your favourite spots? I'd love to know!
Love as always + happy adventuring,
Did you find this post helpful? I'd love you to share it for me.
I can't do this without you.
Pin and save this blog post for later…