'How much is a road trip in The Rockies going to cost me?' That's the killer question, right?
You want to know how much your road trip through the Rockies in Canada will cost you so that you know how much to save? This blog post is going to help you understand how much different things will cost you as you venture through the Rockies in Canada to inevitably help you estimate how much you'll spend.
It's quite literally impossible for me to just sit here and estimate a figure for you as individual spending habits very so much.
For example, I'd much rather get out my camping stove and do a homemade curry with a bottle of wine as opposed to a fancy restaurant. There's nothing wrong with fancy restaurants of course – I love them – but I personally prioritise adventure and nature experiences over fine dining.
Having just done a 6-day road trip here in the Canadian Rockies myself, I am ready to share with you all the expenses I incurred to help you figure how to budget for your road trip through the Canadian Rockies. Ready?
Here's how to budget for a road trip through The Canadian Rockies
Everything you will need to consider…
Flights
Calgary Airport (YYC) is the most conveniently located airport to access The Canadian Rockies from.
You can fly directly to here from London, LA, all over the states, and other major international airports worldwide.
Check your flights on SkyScanner here.
Transport costs
We rented a car for our 6-day road trip. We picked it up from Calgary airport when we landed and dropped it off before our departing flight. Super easy.
If you aren't keen on getting a car, you'll either want a camper van (very, very popular option here in Canada) or you'll be racking up a pretty big taxi bill.
Public transport isn't going to make your road trip easy. There are buses and shuttles between Banff and Calgary airport (check the schedule and prices here) There are far fewer connections between Jasper and Calgary; a quick search came up with about one a day from Sundogs and Brewster. I don't actually know what these are like, though.
Regardless, to obtain the freedom and all the adventure that a road trip can bring – you'll want to cruise in a vehicle of your own, which is exactly what we did.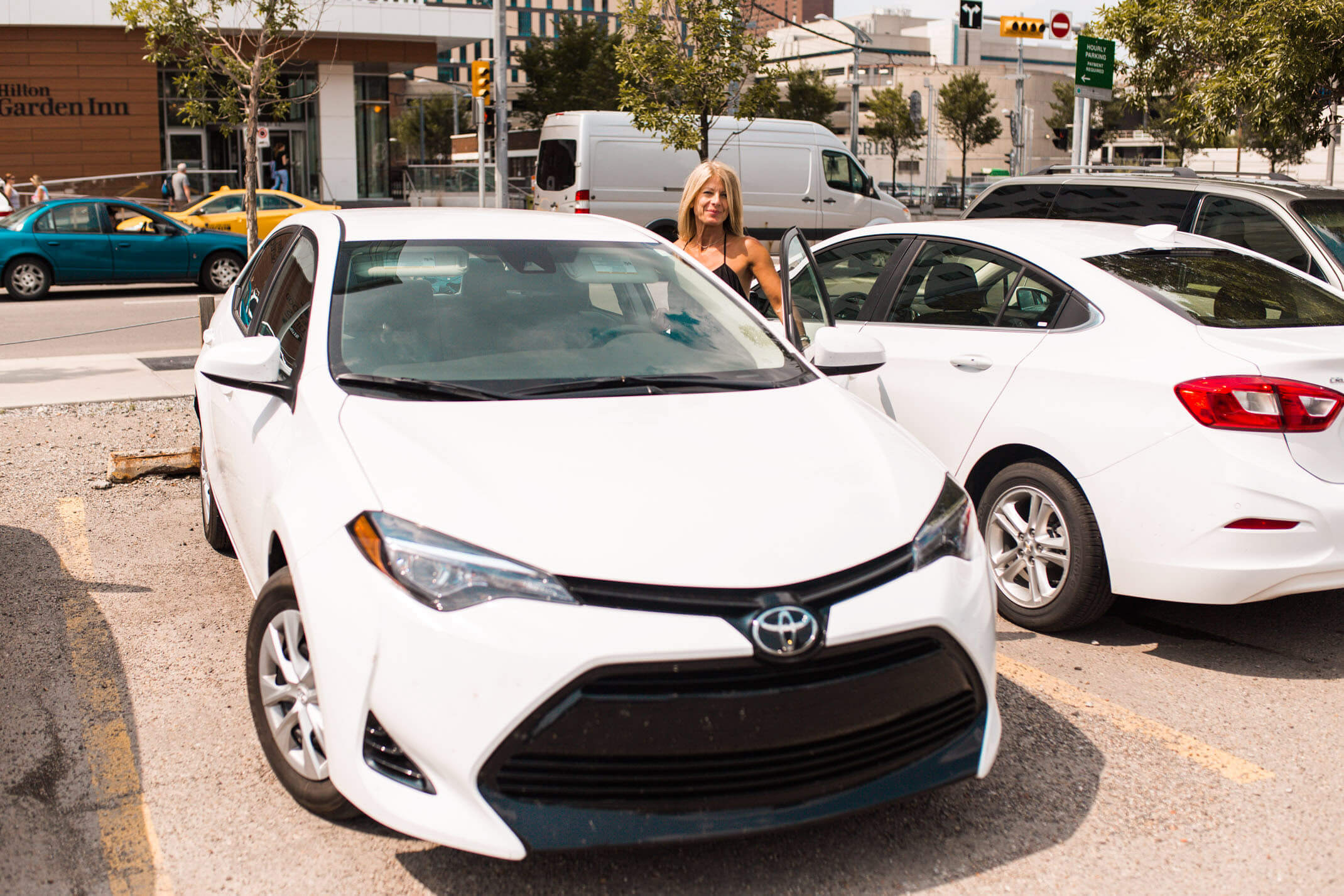 Car rental
Here's what we paid:
Car hire for 6 days – £373
Price included local tax, an additional driver and a £120 (£20 a day) surcharge for an under 25 years-old additional driver.
Car type: Ford Focus
Note: We didn't pay for the extra car insurance to reduce the excess costs of any damage/repairs, but of course it's always recommended. Accidents happen!
Average cost of car hire: £60 a day.
Of course this depends on the car you choose and whether you get add-ons like a sat-nav, etc.
Fuel: $90 for a fill up ($2.019 $/L).
Miles completed: 1300km
Park passes
Park passes are often misunderstood when it comes to visiting The Rockies. I certainly had no idea how they worked before going.
Basically, every vehicle that enters the national parks here, will need a purchased pass displayed in the window. That's regardless of if you're stopping by for lunch, stopping for a picnic or staying for a week.
Pass fees are calculated by the number of people in the car, so for my mum and I it was $9.80 for each of us, each day we were in the park.
So each day we paid $19.60 in park passes.
Note: If you're visiting both Jasper and Banff National park in the same day, you don't need two passes. One pass covers all.
There's an awesome article here that will answer all of your park pass queries.
Accommodation
This one's a sore subject.
If you've read any of my travel guides before, you'll probably know that I'm a 'make it up as you go along' kinda girl when it comes to road trips, a 'let's just be spontaneous' kinda girl. I tend to book Airbnb / booking.com locations pretty much as I cruise up the hotel driveway.
It's no surprise that in The Rockies you don't want to arrive with this approach in mind, particularly not during peak season, which is exactly when we headed there. However, no one told me that… hahaha… and I hadn't done my research… hahaha… (it was a personal trip that I wanted to leave open with no agenda).
I'm not actually sure how much cheaper accommodation is when you book in advance, but I guarantee you'll be saving something and you'll get more choice in accommodation too.
Honestly I've never been on booking.com before and seen all accommodation completely sold out, sold out, sold out, sold out.
There was nothing.
(This was booking at 2pm for the same evening which, I know, is risky anyway, but I've never been caught out.)
We had to drive around and literally take whatever we could find which meant jumping out at every hotel and checking at reception.
We turned down (and laughed) at the $300-500 quotes we were getting for basic rooms per night, but after a lot of driving and a realisation that it was getting no cheaper we sucked it up.
Day 1: Airbnb in Calgary – £34
Day 2: Glenogle – £200
Day 3: Glenogle – £200
Day 4: Irwins Mountain Lodge – £186
Day 5: Irwins Mountain Lodge – £186
Day 6: Ramada airport hotel – £85
Total: £891
Total per person: £445.50
Average per person, per night: £74.25
Food and drink
On average to dine in a restaurant you'll be looking at $10-15 for a meal. Not badly priced at all.
You're probably going to spend $4 ish on a cup of coffee and $10-14 on a cocktail / glass of wine, too.
Rough total and guide for a 6-day road trip during summer in the Canadian Rockies similar to ours
Based on a trip for two people in July ($ CAD)
Car hire: $631 / £373 ish
Petrol: $150 / £90 ish
Accommodation: $1508 / £891 ish
Park passes: $98 / £58
Total: £1412 (between two)
Of course, you still need to add to this your:
flights/transport from where you're based
budget for food and drink
budget for activities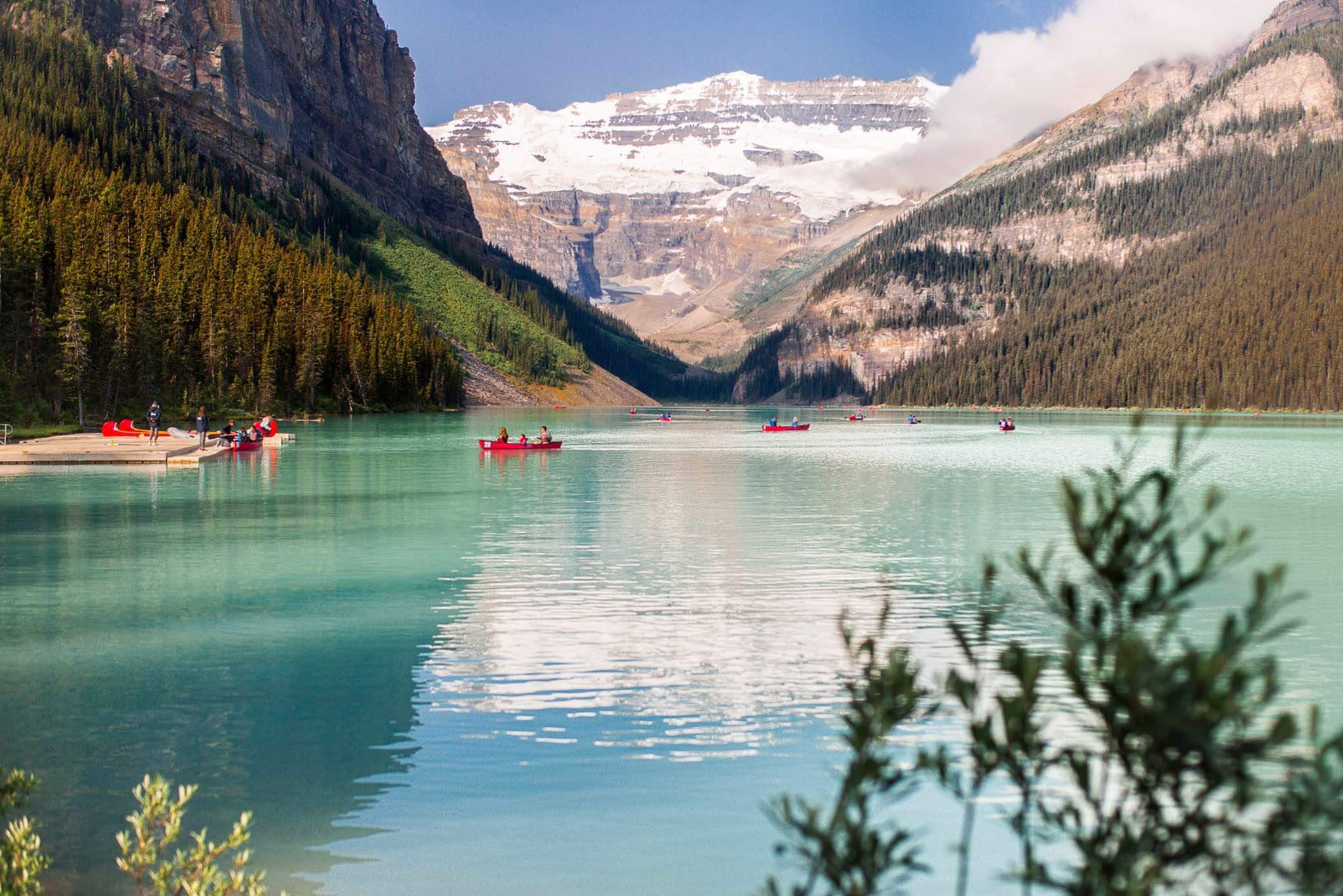 Have you been to The Rockies?
What were your favourite spots? I'd love to know!
Love as always + happy adventuring,
Did you find this post helpful? I'd love you to share it for me.
I can't do this without you.
Pin and save this blog post for later…