I had fallen completely in love with Vancouver way before I even landed into YVR international.
Honestly, I've been telling people that I'm moving to Vancouver for about 4 months now. This intention was ignited by my fourth road trip in Canada through the Kootenay Rockies region in June. If you've ever been to Canada you're probably sat there knowing exactly what I'm on about. There aren't many people that visit Canada without falling in love.
If you're planning a trip to Vancouver and are looking for the best things to do in Vancouver, the best things to see in Vancouver and the best places to eat in Vancouver, you're on the right blog post.
My time in Vancouver was everything my soul needed (very welcome R+R after Burning Man). There's just something about British Columbia. The people, the landscapes, the lifestyle and the priorities people have out here really speak to me. You could narrow it down to, and hold one thing responsible for its magic… nature. See my guide to planning a British Columbia road trip here.
Nature is at the heart of everything and everyone in British Columbia.
For those of you yet to dive into the wonders of this North American country, Vancouver is a city located on the West Coast of Canada nestled right between the mountains and the ocean. By summer you can hike, cliff jump, scuba dive and climb in the same day and by winter you are spoilt with choice for ski regions to hand. Vancouver has an international airport, a thriving wellness scene and yoga scene, beaches and has under a 2 hour flight time from the likes of San Francisco and LA.
This Vancouver travel guide comes after I've spent 5 days with my Vancouver raised girlfriend, Monika, who lives in North Vancouver. Mon completely spoilt me with her comprehensive tour of, not just the city, but the region as a whole.
In this Vancouver travel guide, I am going to take you through all the best things to do in Vancouver during summer, the best places to eat in Vancouver, the best adventures in Vancouver and the free things to do in Vancouver. Hopefully, by the end of this travel guide, I will have successfully done my job and you will be utterly convinced to add Vancouver to your bucket list!
More on me moving out to Vancouver in another post – I'm serious.
Other guides and posts on my blog that you may enjoy:
A guide to visiting Vancouver during summer
Getting to Vancouver
Vancouver's main airport is Vancouver International Airport (YVR) which is accessible from London on a direct flight with a duration of less 10 hours. It's also a 2 hour from from San Francisco which is how I accessed it on my US / Canada trip this August with WestJet.
Check flights on SkyScanner here from other destinations.
Vancouver is a pretty popular destination for a West Coast road trip so if Vancouver is taking your fancy consider planning a bigger trip. You will not regret it. See my Canada road trip inspiration here.
Getting from the airport into the city centre
From the airport you have a few options:
$8-10 CAD. The SkyTrain which takes you from the airport to Downtown Vancouver in 20 minutes – all information here.
$40 CAD ish taxi
Note: there's no Uber / Lyft service currently operating in Vancouver but there's rumours.
Rent a car from the airport (get your road trip on!)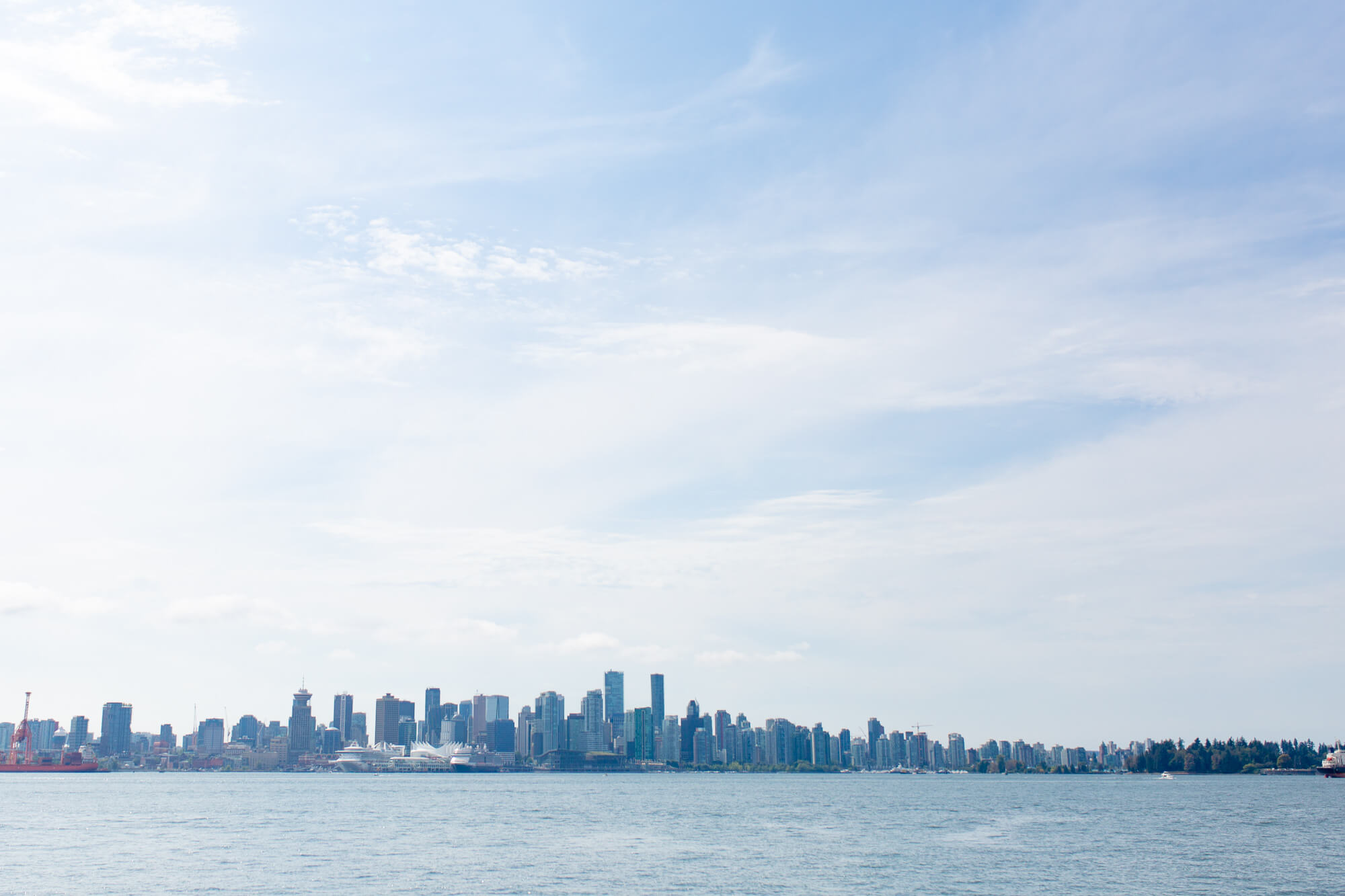 Getting around Vancouver:
Unlike London, there is no extensive underground / metro system that will connect you quickly to all the corners of the city and suburbs that you wish. There are however a select number of trains, buses and a sea bus that will cover most of the ground for you. If you wish to be exploring beyond the city and diving into the incredible abundance of nature on Vancouvers doorstep (you'd be crazy not to) then you'll want to grab a car.
Vancouver transport options:
Budgeting for Vancouver:
Examples of spending ($ CAD):
$9 SkyTrain from airport to Downtown
$40 taxi from airport to Downtown
$30 a night in a hostel
$4-6 for a coffee in a coffee shop
$5 for a scoop of ice cream
$20 for a yoga class
$10-15 for a meal out
ALL THE FREE NATURE AND ADVENTURE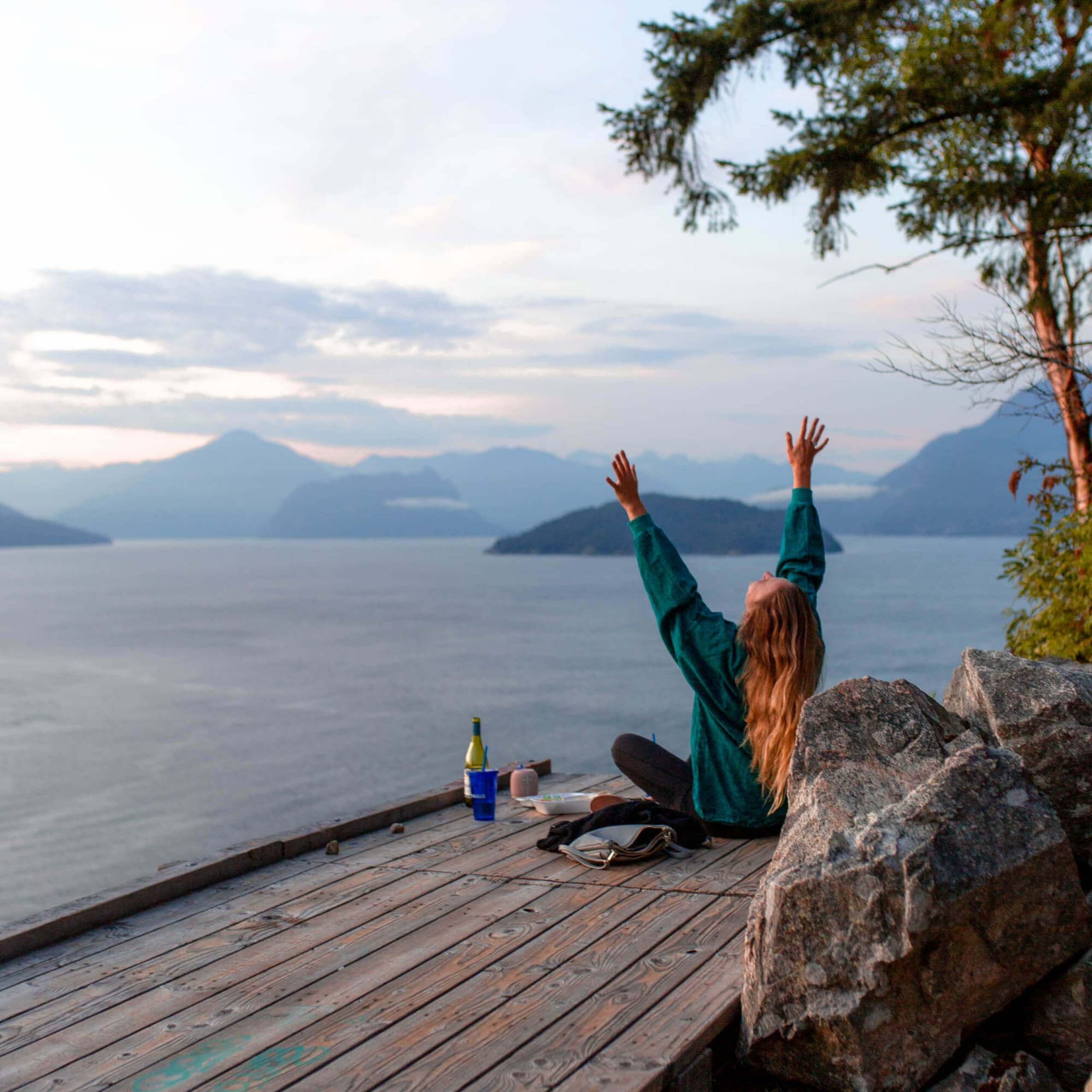 I've pinned everything mentioned in this post in the Google Map below for you…
Places to eat and drink and hang out whilst in Vancouver during summer…
Places to eat:
Tacofino Taco Bar (the infamous taco's)
Meet Vegan
Granville Island public market
Nuba in Yaletown
The Naam, Kitsilano (24 hour insane Vegan and Veggie restaurant)
Chickpea Restaurant
Jamjar Canteen (dreamy Lebanese)
Miku Vancouver
Cafe by Tao, North Van
The Main, East Van
Jappadog (Japanese hot dog) – Vancouvers most successful food trucks that are dotted and move around the city!
Friday night market at the shipyards with live music, North Vancouver
The Shipyards, North Vancouver (awesome bunch of shipping containers and restaurants on the water!)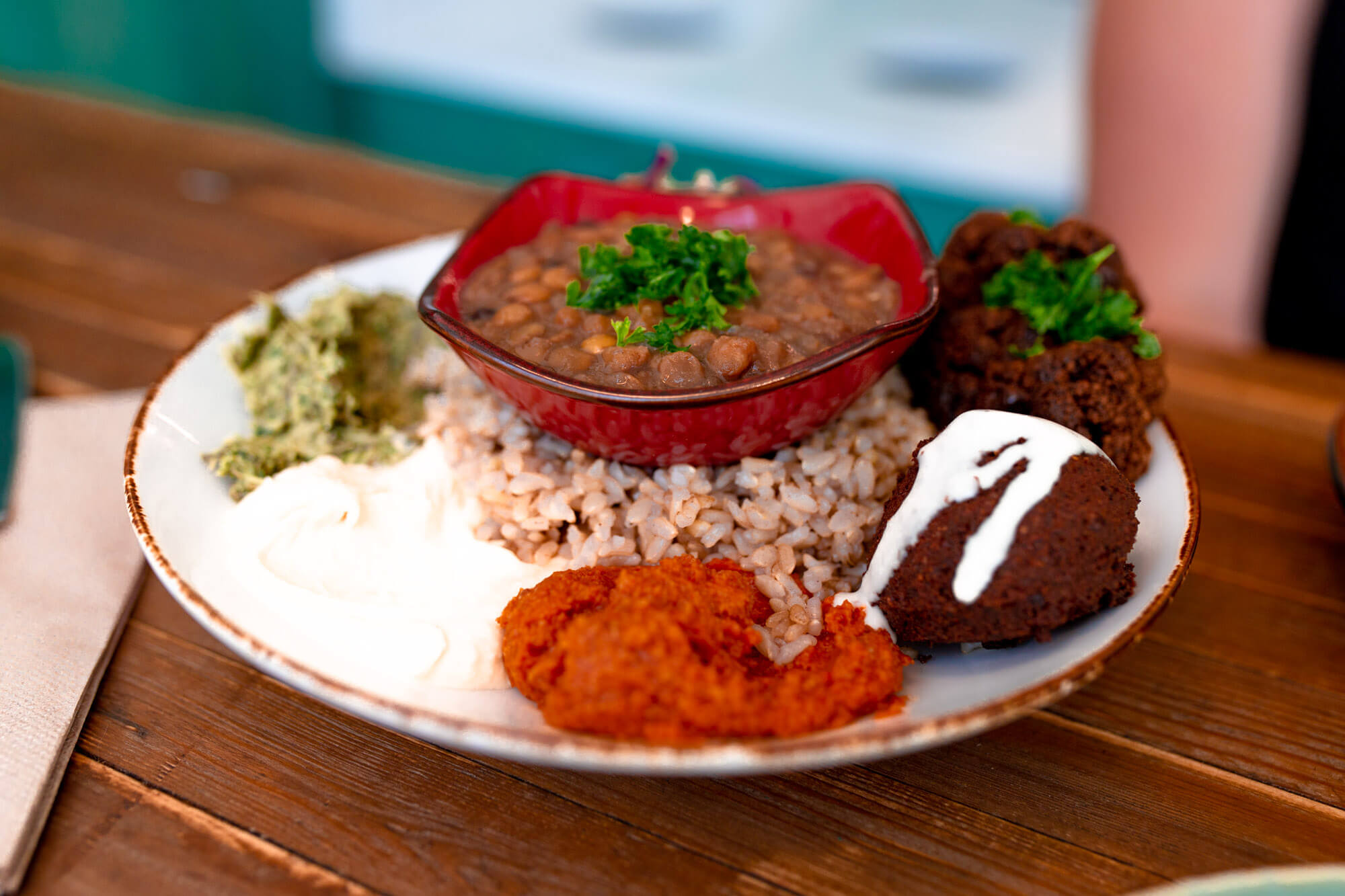 Sweet treats:
Earnest Ice Cream (epic creative flavours and vegan options!)
Cartem's doughnuts (epic vegan flavours available)
The Juice Truck (vegan soft serve in East Van)
Places to drink:
Coffee at End Of Line General Store, Lynn Valley
Friday night market at The Shipyards, North Van
Las Margaritas (mexican cocktail vibes) inKitsilano
Breweries in East Vancouver
Granville Street in Downtown (clubbing and bars)
Lamplighter pub in Gastown
Gastown in general for weekend drinks!
The best things to do in Vancouver in summer…
1. Go on a hike for a view
There's a few to choose from. Most people go for Grouse Mountain (looks down over the city) but we did Cypress (city and island pano). All depends if you have a car or not, options are endless if you do! There are some more options here for you.
To hike Cypress mountain: We parked at the resort and took a 4 hour round hiking trail up to the summit which gave us views one way over to the islands and the other over the city. An epic way to gain perspective over Vancouver and the surrounding landscape. Required some moderate physical ability and I'd recommend hiking shoes!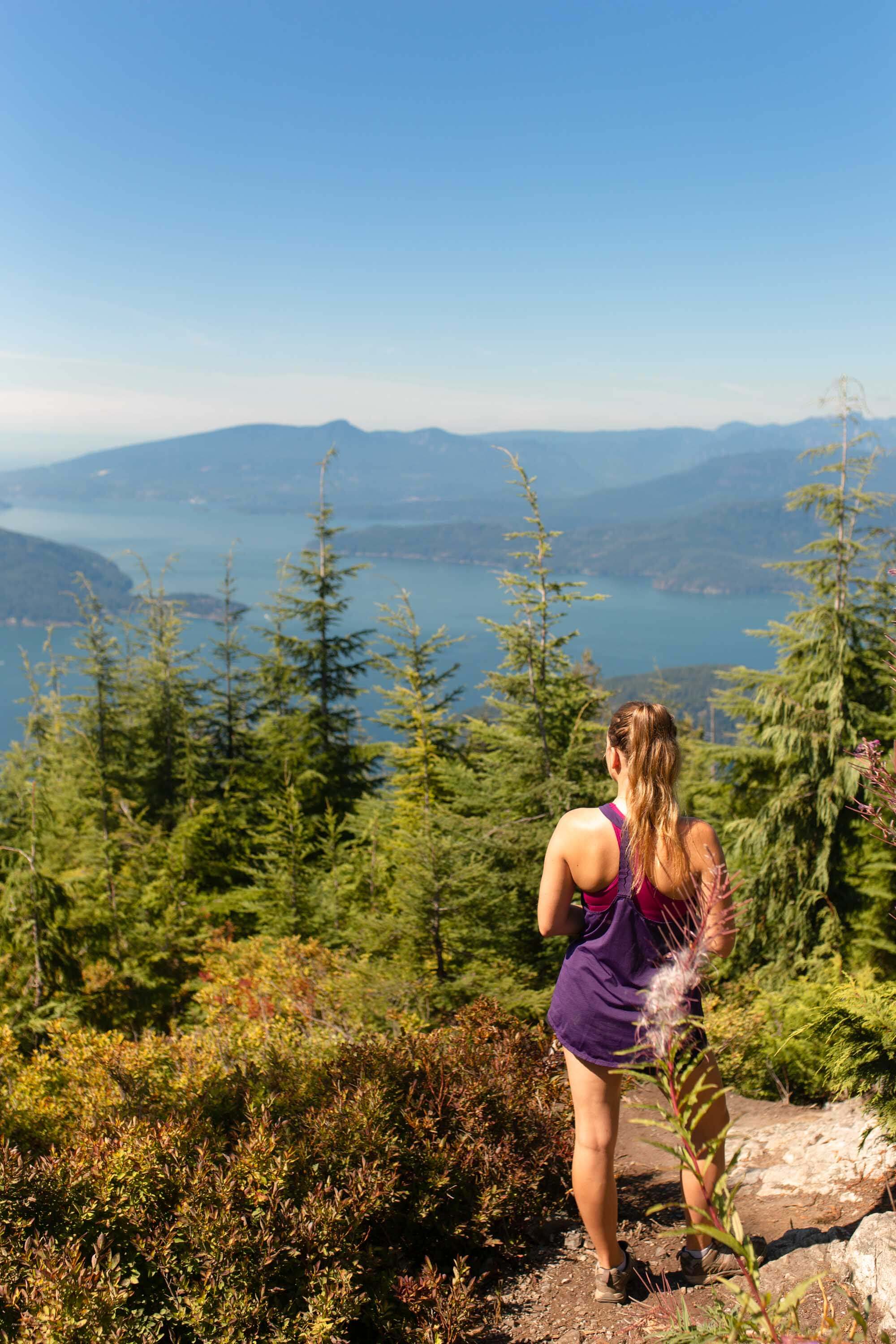 2.
Brahm's Tams Drum Circle at Stanley Park's Third Beach
Every Tuesday during summer when the sun is out!
3. Head to The Shipyards in North Vancouver
An awesome social hangout that's been recently developed in Lower Lonsdale – the lively centre of North Van. The Shipyards used to be an old abandoned, gross not that appealing, shipyard. It's now been converted into a cultural space and venue for markets, festivals and live music.
4. Have a drink in the Breweries of East Vancouver
5. Explore Lynn Valley
I stayed right next to this area and it was simply gorgeous. Walk across the suspension bridge, check out the emerald pools, soak up the fresh air or if you're keen, take your swimmers and dip in the fresh waters!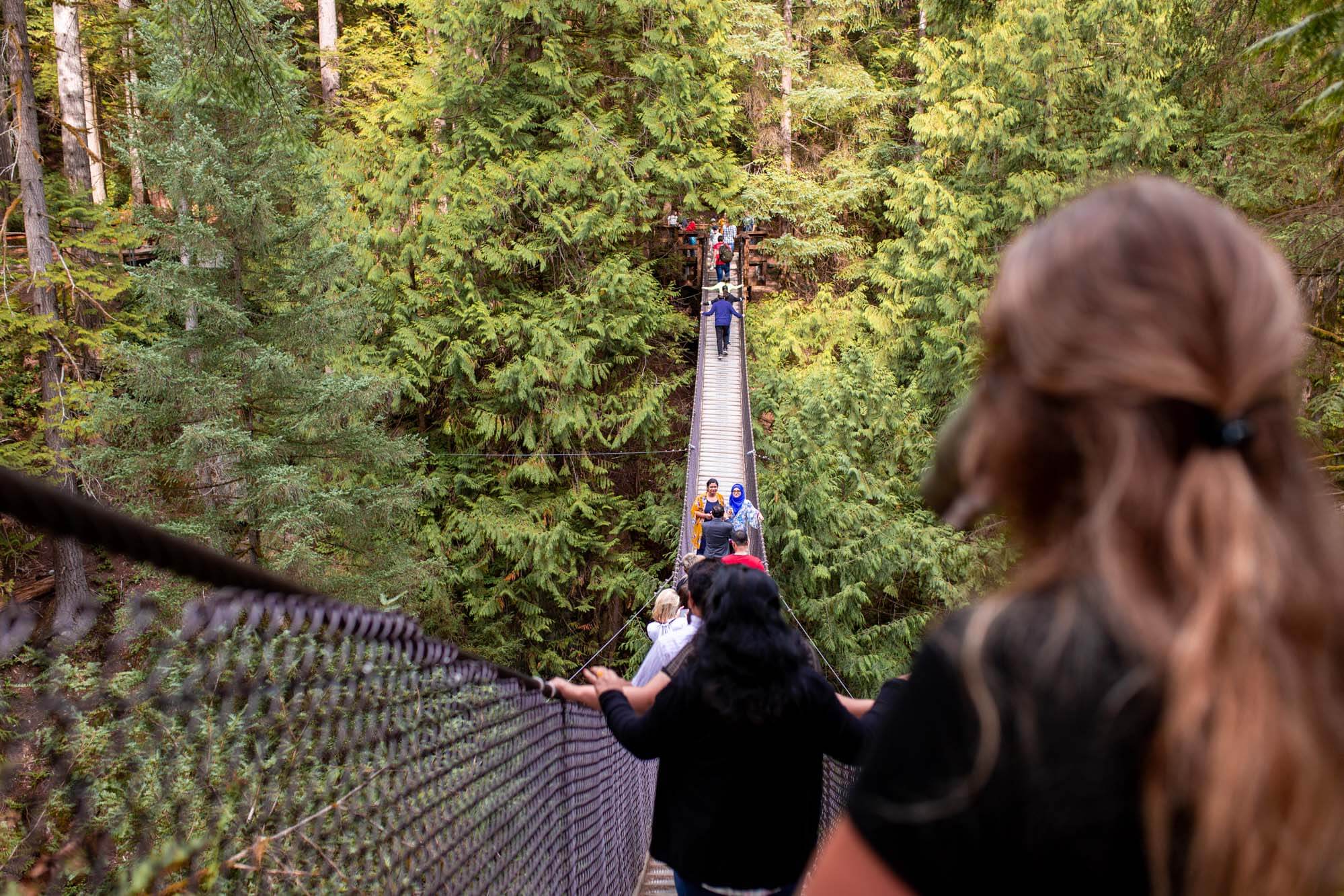 6. Cycle around Vancouver sea wall
7. Soak up the views from Grouse Mountain
If you're just down for the view, take the Red Skyride up to the top but if you're keen for the workout – take the steps up to the top. Rumour has it these step are pretty intense but a great workout for those seeking it! Adrenalin junkies – consider the zipline! See more information about Grouse Mountain adventures here.
8. Check out one of the many beaches in Vancouver
I never actually got time to visit the beaches in the city but I've heard they have a lovely vibe.
9. Cliff jumping at Lion's Bay
Within 30 minutes of our 4 hour hike up Cypress mountains we were down and cliff jumping into the relatively warm summer temperature of the sea. Take shoes to jump with if you go, requires a little rock scrambling to get out! Take a picnic and enjoy at sunset.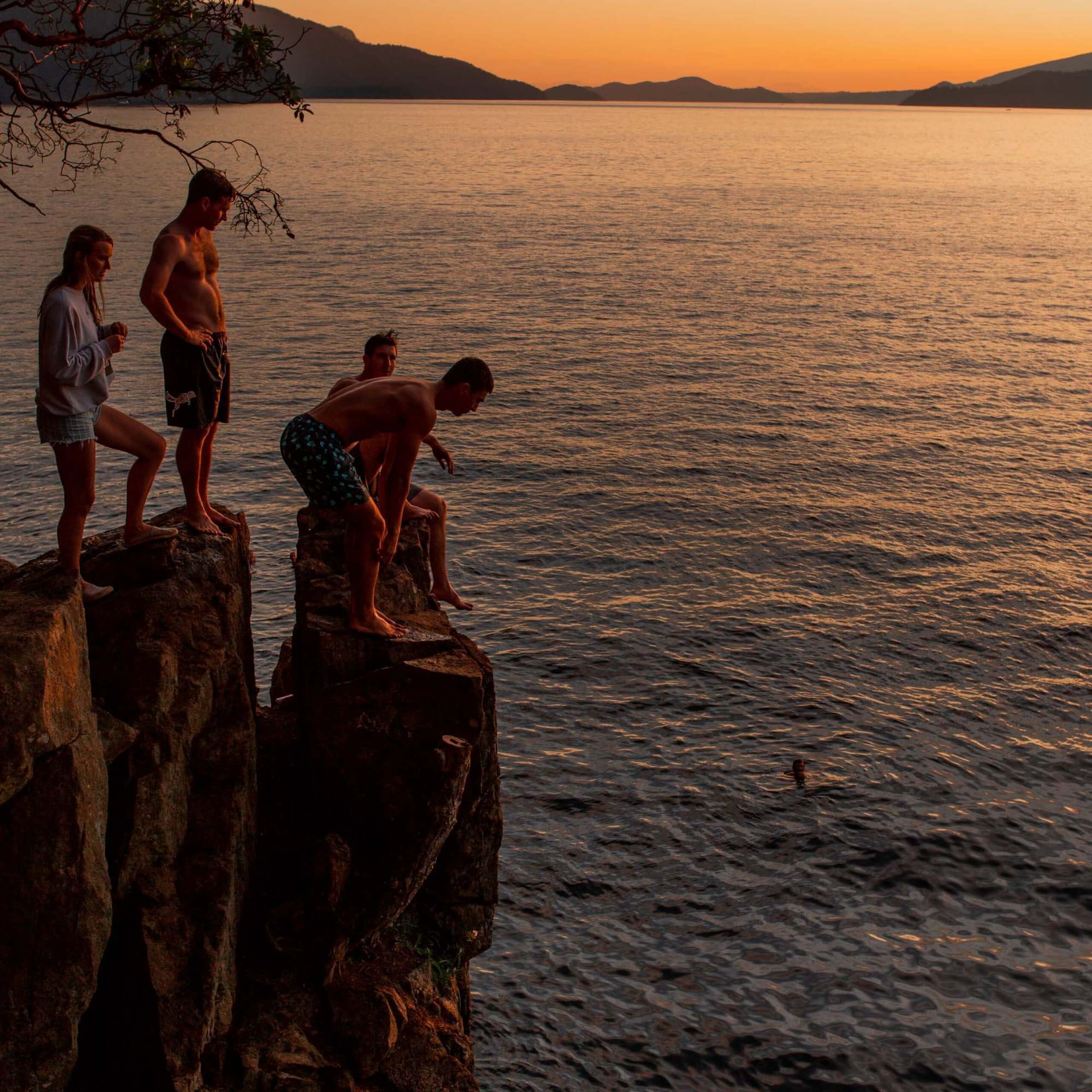 10. Drive the sea to sky highway
One of the most stunning drives I've ever driven, particularly at sunset. The photo you see below of the platform overlooking the islands was located on this route heading out of Vancouver down by Horseshoe Bay ferry terminal. It's not an official spot and I don't want to spoil it but keep your eyes out and be curious!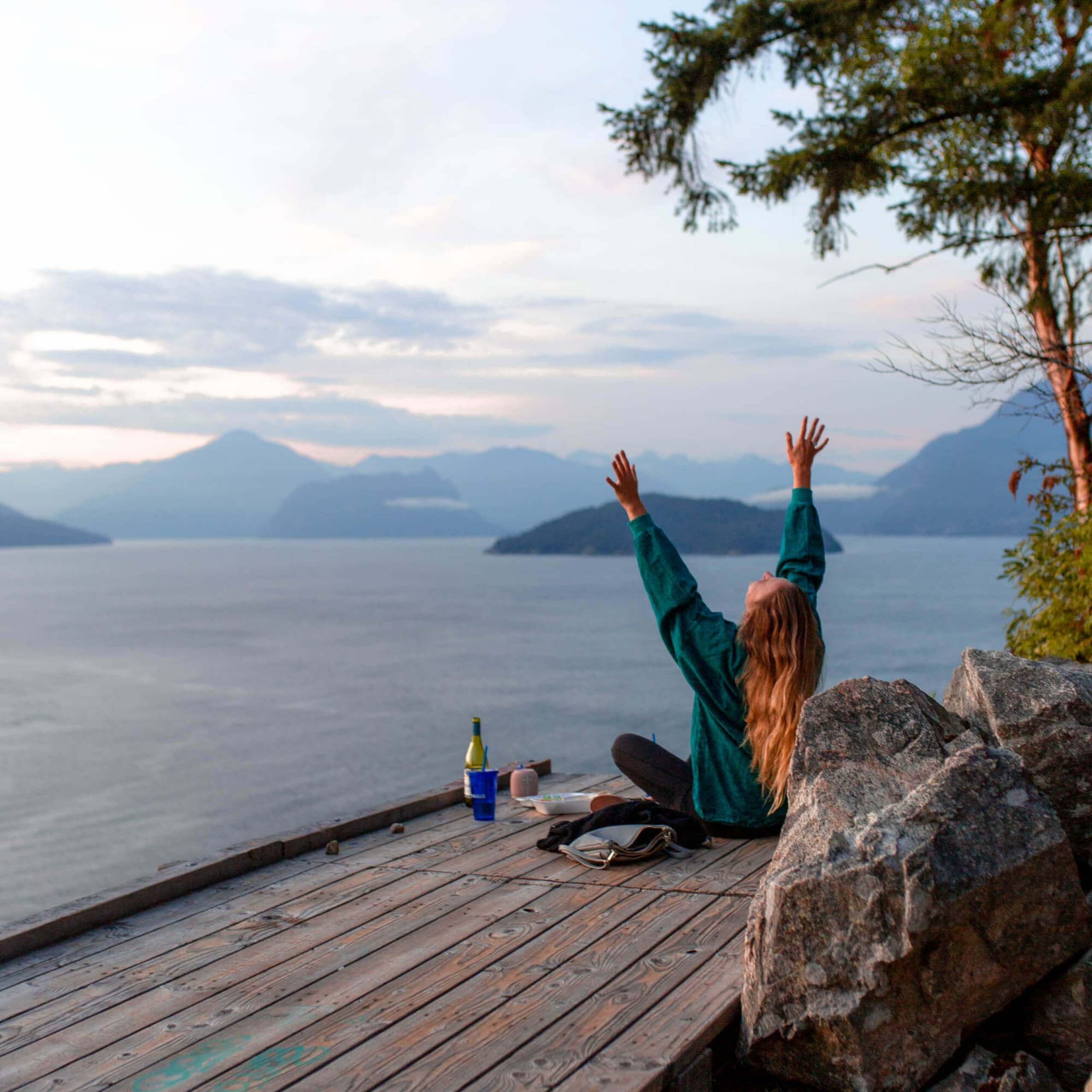 11. Explore the local produce at Granville Island Market
12. Come on it's time for the Capilano Suspension Bridge selfie
Possibly the most highly recommended thing when I reached out to you guys. I actually didn't end up getting around to it but it looks epic. Save it for a clear day to make the most out of it!
13. Explore Stanley Park
There's an outdoor swimming pool, an aquarium, a Theatre Under The Stars (see productions here), beaches, afternoon tea room, tennis courts and more.
14. Watch a film at EVO outdoor cinema, Stanley Park
17. Drive 45 minutes ish up to Squamish
One of the most famous climbing scenes in the world. Don't forget to check out the sea-to-sky gondola!
18. Drive 1 hour 30 minutes up to Whistler
The world renowned ski resort and adventure hub. Think mountain biking, zip lining and hiking!
Have you been to Vancouver?
Where were your favourite spots? What are your favourite things to do in Vancouver?
Love as always + happy adventuring,
Did you find this post helpful? I'd love you to share it for me.
I can't do this without you.
Pin and save this blog post for later…